The audience hates tired of tired of your ads, then be sure to try these 6 methods!
The source of the article is . . Master Knife Marketing
ID:yingxiao2019
The biggest headache for all marketers should be:Advertising is not good, users are particularly disgusted with marketing.
Why does the audience hate marketing?Because most of the advertising and other marketing behavior, easy to arouse a typical feeling of disgust - "psychological resistance."
That is, when a person feels that his freedom of movement is threatened or denied, the resistance is generated.
How to reduce this"Heart.""Resistance"?
1、Perceived target barriers:Let the user see what to see in this environment
You're watching a play seriously, and suddenly you jump out of an ad and you're feeling what's on your mind. It must be very unpleasant.
Because of the sudden emergence of advertising, it hinders what we would have liked to do in the current scenario.
So, how do you break it?
In fact, the easiest way is to:
Reduce your goals by making your marketing more consistent with what users should see or do in the scenario
Hinder.
For example, what would a user do in an elevator?
Pay attention to what?
Generally speaking, in the short elevator ride time, users do not have a particularly important thing to do, may look at the property notice ah, the latest what activity information and so on, so elevator advertising, just to meet the audience in the elevator scene for information needs ...
2, perceived advertising clutter:Let users expect ads
Imagine, when you're chasing a play, when the TV series starts with an ad and your TV show looks right, suddenly comes up with an ad, which is more offensive?
I think it must be the second one. The ad appears to block what you're about to accomplish, but the first ad is perceptible to the user.
But the TV is on.
Sudden ads are unpredictable for users, who clearly feel "uncontrollable" and therefore more disgusted.
So, if you have to target ads that interfere with your users' goals, you should show up in a predictable, determine way that allows them to expect you to advertise.
When the audience into the elevator scene, in fact, already know that the next elevator TV will be a series of ads, with expectations, so will not form a particularly strong antipathy, if the content of this advertisement is interesting, it will be more like the audience.
3, the justification of the reasons:Provide value to users
Earlier, in order to reduce "ad resistance", to make ads in line with the user's usage scenarios and to make ads appear in a predictable way. But even so, advertising disturbances still exist, how to break?
One important thing is the square
The style is:
There is a justification for your interruption of the user.
For example, the ad we pushed is good for you.
From this content, you can learn the secret of beauty skin care, can get great benefits...
In short, let your ad design isTo meet a user's needs,
Not to "rush to sell".
4, increase the nature of entertainment:Let the user hi up
Increased entertainment,
Make users feel interesting and reduce their antipathy to ads.
Why put "increasing the nature of entertainment" out to speak alone. Because entertainment consumption is an important area of consumption for all mankind.
If you don't understand how to entertain, be happy, and reduce stress, you can't do good marketing.
Speaking of entertainment advertising, these two years of rise
Brain hole advertising,
Sand sculpture ads, self-deprecating ads, God-turning ads......

pass

Broadcasts are particularly extensive.
5, take advantage of the fan's crowd effect:That is, the "star" effect
The term "star" here is not just about the stars of the film industry and the entertainment industry,It's all about the people, animals, and events that make the user a crowd effect.
In the past two years, a new term has been created, "plant grass", that is, the "star" fan effect, the crowd effect,
"Amly" audience, and finally achieve "pulling grass."
For example, some time ago, Li is now because of the hit drama "Dear, Love" popularity soared, taste all hand in hand with Li's advertising
Landing on trendy media elevator television, launched a gentle attack on the current girlfriends.
6, to provide targeted care:Let users know that you care about her
Let users know that you really care about her and really understand her, not the cold business interests.
For example, Why can Keep impress the audience and get their approval and love for a series of advertisements published on the new trendy media elevator TV? Because it has a deep insight into the user's needs pain point, tells the user's true story, so moving.
There's nothing wrong with marketing itself,
But the audience
It's really anti-marketing. All we have to do is take appropriate steps to reduce this antipathy.
In the right time, place, media, to the audience like to hear the form of content to impress TA.
Community elevator is such a high-quality scene, in this environment, the audience's mentality is more relaxed, while limited by the elevator closed, boring
Environment.
will be more inclined to accept marketing messages.
This is also trendy media as a focus on household consumption of the community media platform, its 200 million households covering the population of 700,000 elevator television, more than 16,000 customers become an important choice for marketing.
Products sold home, advertising trendy!
Review of previous periods
❶ See ≠ see!Good media to make your content valuable
❷ China outdoor advertising market research report out!The building elevator will be the first outdoor advertising scene
❸ Flower King Le and Ya landed in the trendy media, and Song Zuer together get to release the girl's power N way!
❹ Marketers will sing "The Pit We Stepped On Together In Those Years"!
❺ Why do people like "toxic" elevator ads?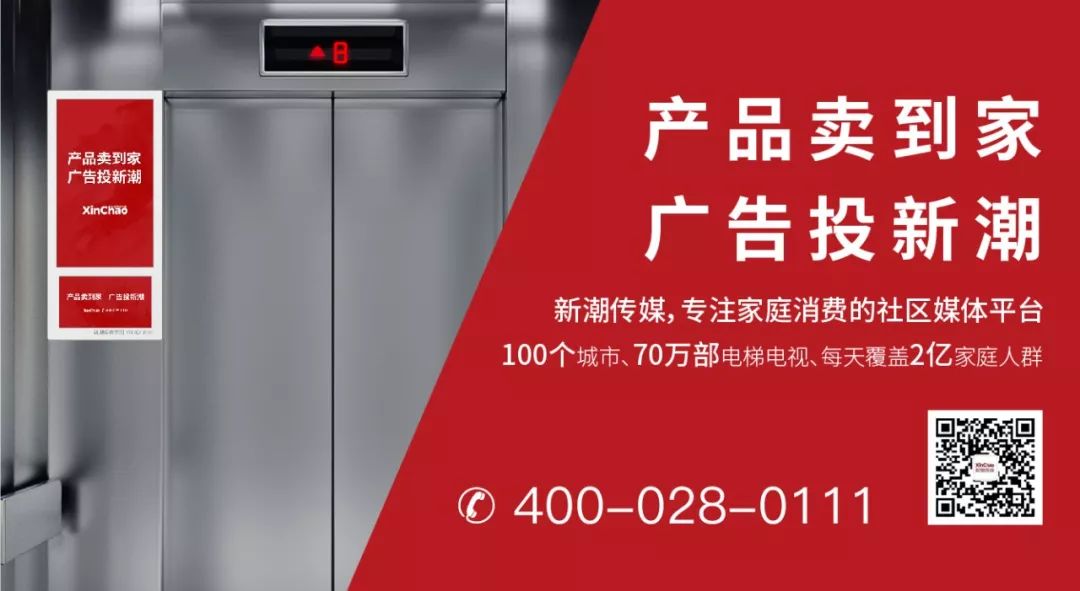 ---