Marketing intelligence: bottle advertising new tricks, 9 years later Yang Yang then jump "dandelion", a "leave calendar", the first "white-haired home book"!
✪This column is full of marketingMarketing Creative Officer (topcxo)It's a blood-filled broadcast for you✪
CXO Daily: Ten minutes a day to blow up your marketing brain hole.
Are you happy on Thursday?
1、After 9 years Yang Yang dance "dandelion"!
It's about to be the New Year, what's your most memorable taste of the year? Do you remember what you looked like nine years ago? When the light of the male god shines on Yang Yang's head, do you remember his green appearance? Recently, Master Kong launched a micro-movie, "Don't Forget the First Heart, Romantic Year", for its jasmine tea drink. In the short film, Yang Yang recalls himself eight years ago, re-performing the solo dance Dandelion he performed at the age of 17 as an outstanding graduate of the PLA Academy of Arts and Crafts in Nanjing Military Region. It is reported that this creative agent for the civilized advertising (Civilization).
CXO reviews:Think forward, don't forget your first heart!

2、Zhou Dong took you to a cool year!
Every New Year, every household is hot and lively, red and red. Mom and Dad were busy cooking and sweating. New Year is so hot, less Sprite how to do! Recently, by Sprite with Zhou Dong brought together the New Year's advertising film said to give everyone to "lower the temperature", a "cool" year!
CXO reviews:If Zhou Dong comes to my house for the New Year, I will be very hot!
3、The bottle advertising paper that makes you feel embarrassed to look down!
Before, the small official has introduced the taste of the whole day C Scrabble bottle, like what "please warm, hug me", by netizens played as "hello color, don't hold me"! Recently, the taste all day C againThere's a big trick, like thisSpell the words together and you'll be embarrassed to read: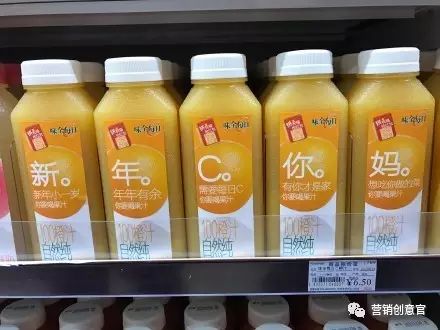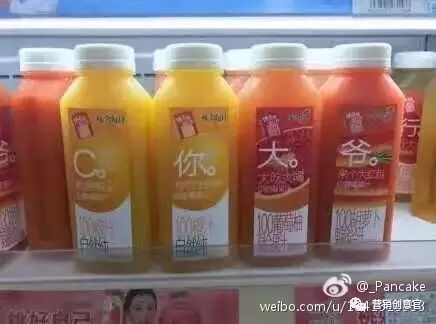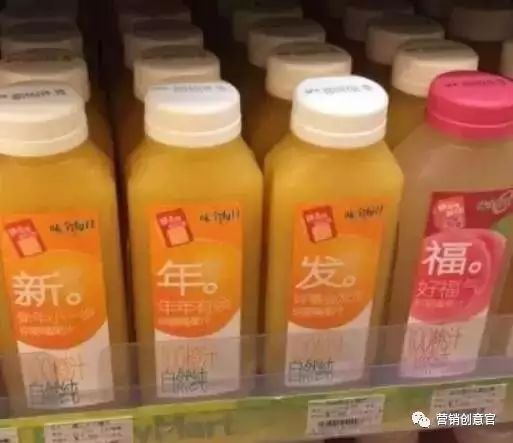 CXO reviews:Taste all day, C
4、You may need such a "leave calendar"!
A recent microsal called the Leave Calendar made a "Leave Calendar". It's the kind that can just tear off the leave strip. If one day you don't get used to the number of national statutory days, you can always rely on this increase in the number of days. As long as you dare to ask for leave, any reason can be found here!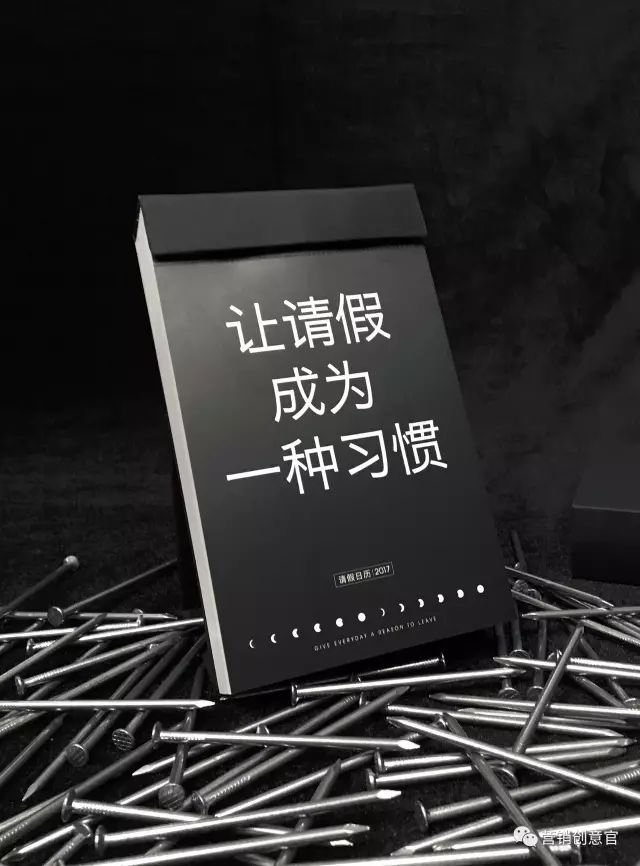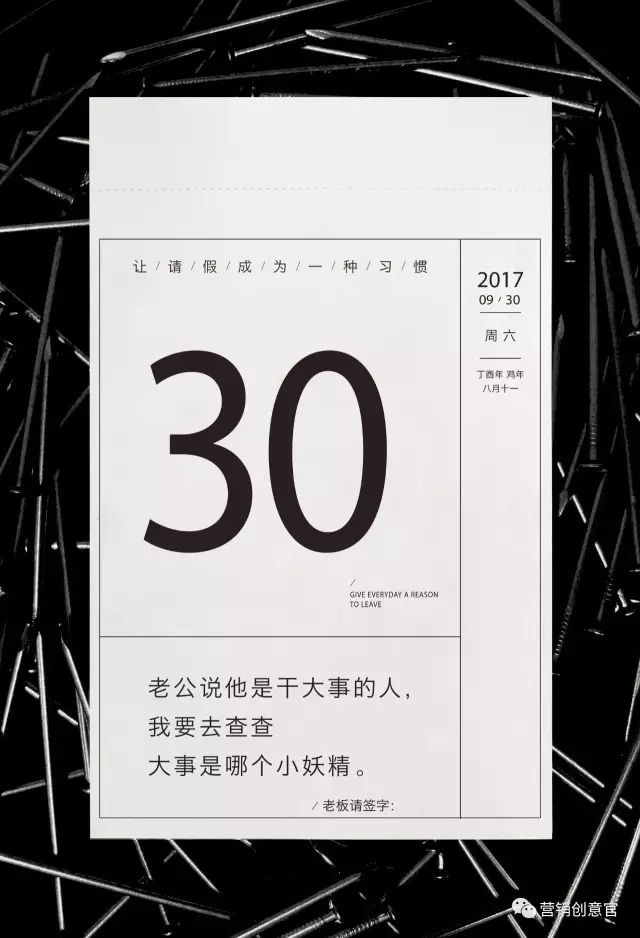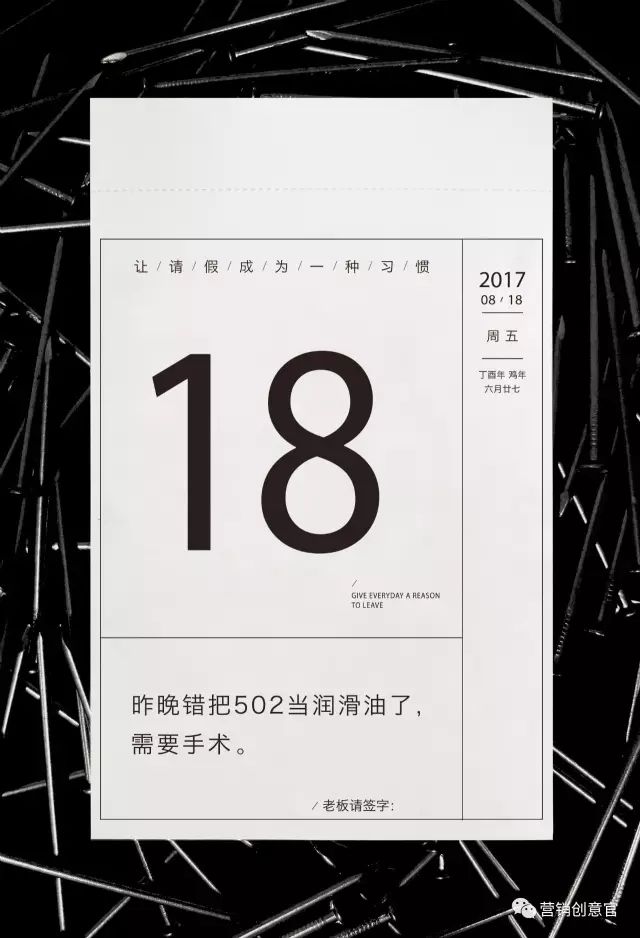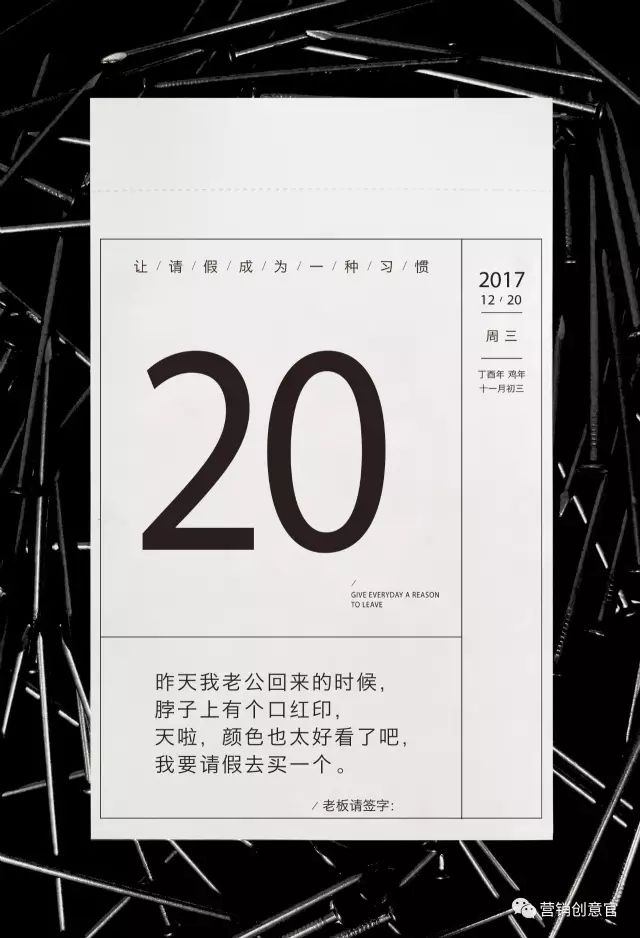 CXO reviews:Dare to find the boss to sign, are warriors!

5、PUMA 2017 Star Endorsement Line-up Exposed! 
The so-called New Year's weather, sports brand PUMA recently announced five brand spokesman officially joined the 2017 brand all-star line-up, respectively, Yang Yang, Liu Wei, Liu Yanran, Li Now, and Zhang Yuhui. Of the five spokesman, all but Liu Wei is the Asian brand image spokesman signed by Puma in March last year, and the other four stars are the new brand spokesman for Puma 2017. The All-Star lineup co-interprets the brand's 2017 Retro Star Proposition.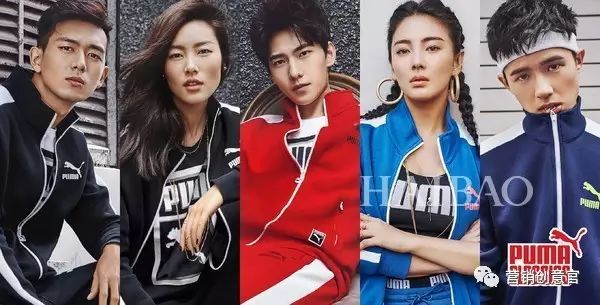 CXO reviews:Fresh meat and flowers are there!
6、Emperor, this is your palace Phoenix Castle!
If KFC is the net tweezers of "not doing the right thing", then McDonald's is the whole mule of "doing the right thing". Novelty taste has always been mcdonald's pursuit, in addition to the previous joint Michelin chef launched hamburgers, McDonald's recently launched two magic flavor of hamburgers: "Ben Palace Fengburg", "Good Shrimp Fort", as well as a good meal partner "enjoy the princess laugh lychee bubble tea" and "everything big chicken box." That's right, mcdonald's main court wind this time!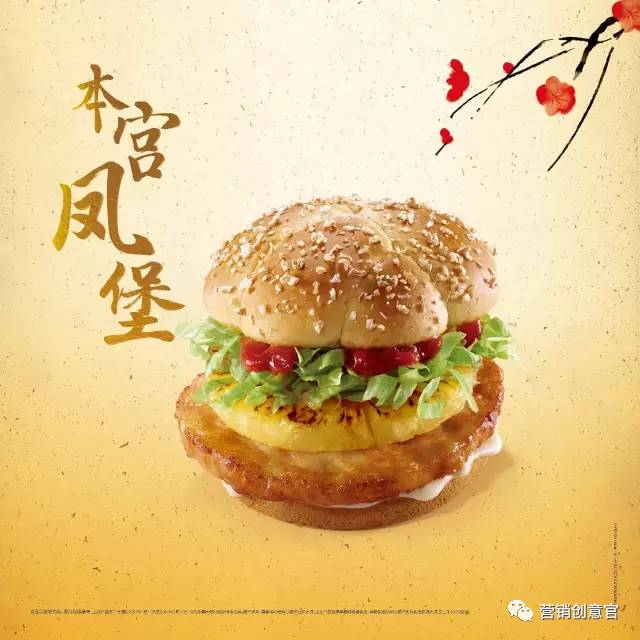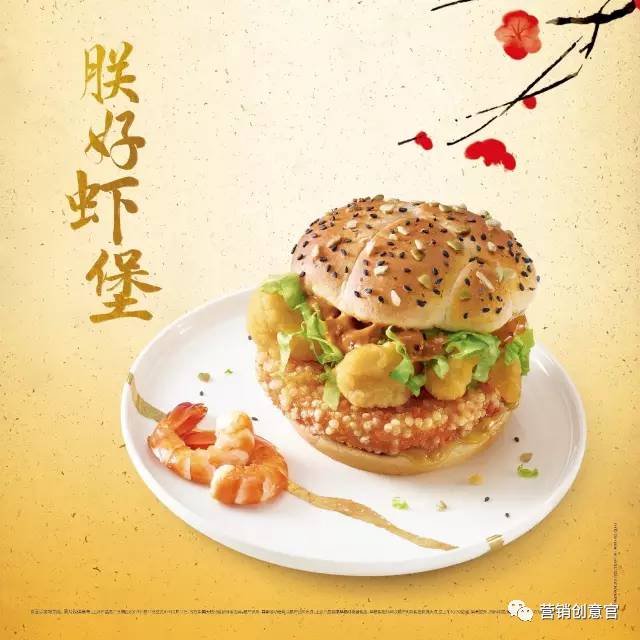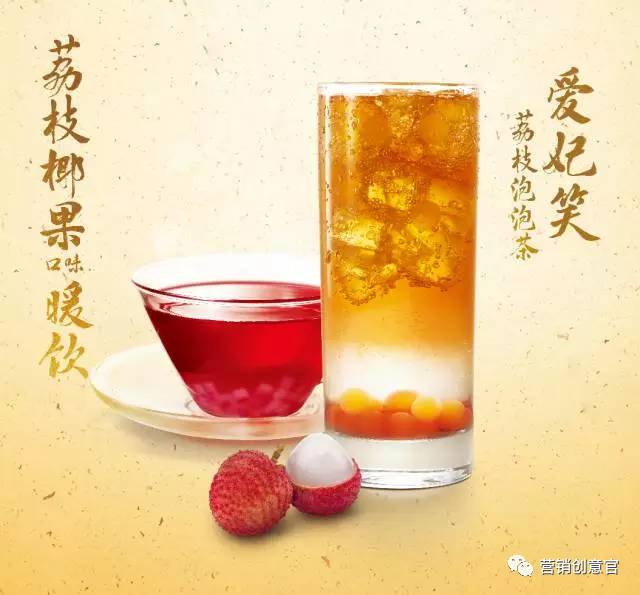 CXO reviews:Black anchovies!
7, the history of the first "white-haired family book"!

Do you remember when the last time you went back to your hometown, when you traveled with your parents, and when you went back to your parents? New Year's Pass is coming, in order to call on everyone to go home for the New Year, living home hand in hand with the sky and sky planning a "white-haired family book" activities. They invited three elderly people: 76-year-old Chen, 80-year-old Grandfather Wang and 72-year-old Grandma Li, with their white hair embroidered with three special "white-haired family books", to express their thoughts on their distant children.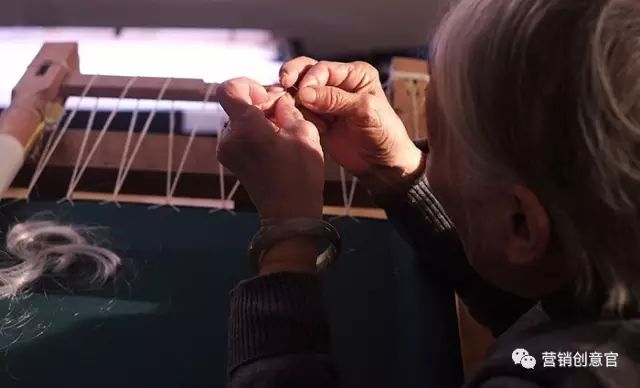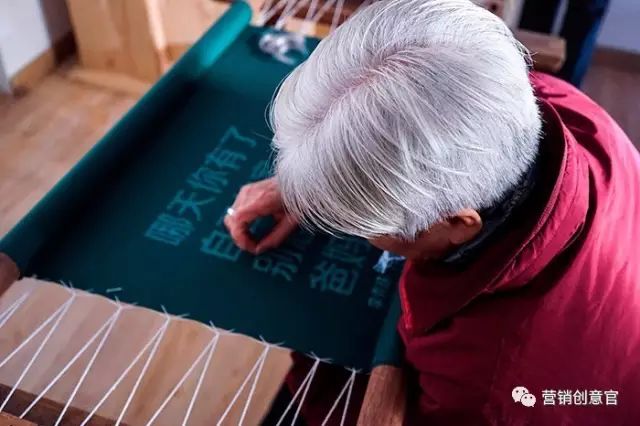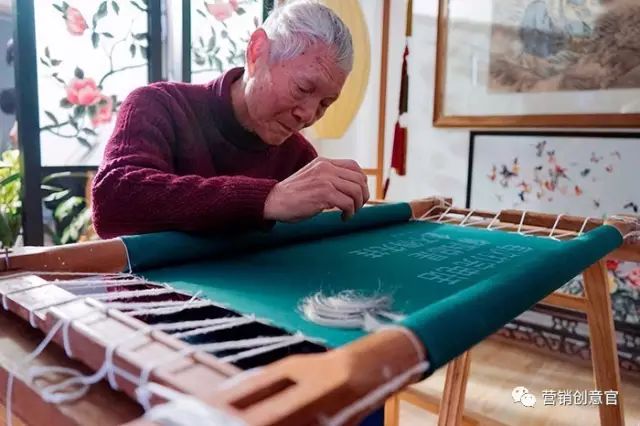 CXO reviews:Evoking do not know whose heart, but hurt is the old man's eyes!

8、Elope to the sky!
It may not be easy for a couple to "elope" to the moon, but it's still possible to "elope" to an altitude of 35,000 feet and have an "air wedding"! Recently, McCann Hong Kong and MRM//McCann Shanghai jointly organized a large-scale online promotion event for Cathay Pacific and Cathay Dragon. Couples who are related to travel can vote at the event via video photo, and the three most popular couples will have the chance to try out a romantic romance at 35,000 feet.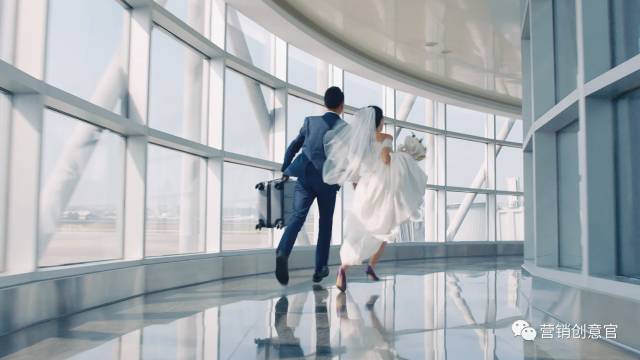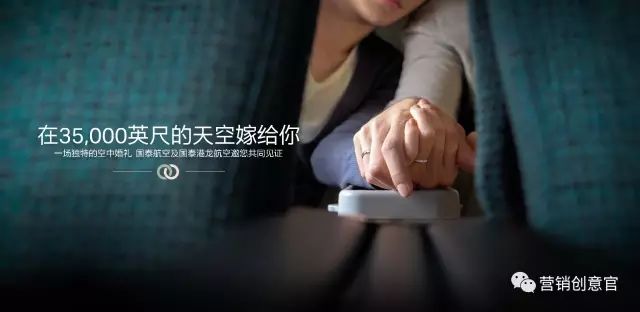 CXO reviews:As long as there you are, the wedding is every place!
9, 2017 small goal: "New Year does not wash dishes"!

2016 is over, regret or not regret is irretrievable. But fortunately you still have 2017! What small goals do you want to set in the new year? If you haven't thought about it yet, Fang Tai has one for you, for example: New Year's day don't wash dishes! What are you doing if you don't do the dishes? Of course it's a red envelope - but this red envelope is a bit of a test of your ability to coordinate your hands!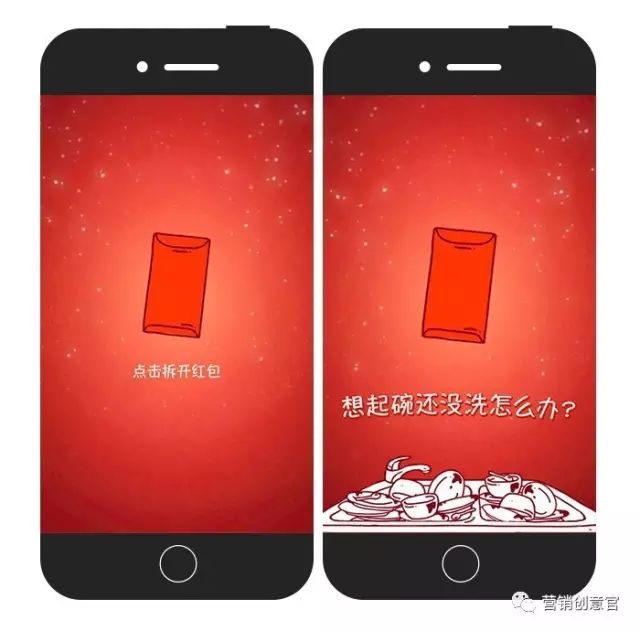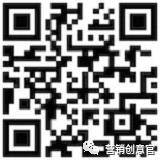 CXO reviews:Aunt must have robbed the most!
10. Your Volkswagen is in distribution....
Want to ask everyone what they usually buy online? Cosmetics, household goods, electronics....? But have you ever bought a car online? That's right, it's online shopping! Recently, Volkswagen (Denmark) announced a "touch-the-net" in which consumers can place orders directly through the company's official website and then send them home by courier. To that end, VW also filmed a short video recording the reaction of passers-by when they saw the car package in the treasure chest.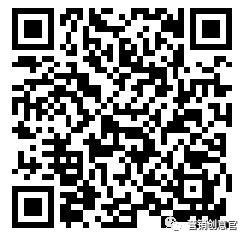 CXOComments.:Express a car, what do you think of the courier car?
---
DoMarketing - Marketing think tank: The only official public number on the marketing think tank website.

Has been stationed in today's headlines, a little information, daily express, Sohu and other clients.
Won the "2015 China Digital Marketing, New Digital Media Award."
If you like the article, please pay attention to our public number.
Please identify our WeChat ID: Domarketing-001.
All the other fakes are skunks!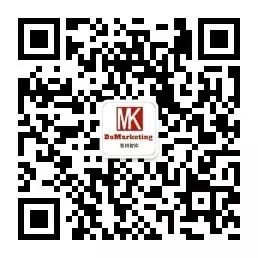 Press and hold QR code to follow us
---