WeChat Public was fined 232,000 yuan for publishing illegal advertisements New list intelligence
Alipay "in place" feature release: can find people nearby to borrow money to borrow charging treasure
Recently, Alipay version updated to 9.9.3 version, finally April Fool's Day creative "in place" function online. It is understood that "in place" is a location-based life service platform, users can issue a variety of personalized needs on it, and look for people nearby to provide services.
If your phone is about to go out of power, you can make a demand on Alipay "in place" and the system will match whether someone nearby offers a charging power supply based on positioning. If you are short of money, you can also initiate a demand to borrow money on "in place". And for capable users, they can not only "in place" to help others, but also clearly mark the price, with services in exchange for compensation.
WeChat team responds to WeChat public number "brush volume"
On the afternoon of September 29th, the WeChat team tweeted through WeChat in response to a question about the public's "swipe volume". 'Technical means will continue to be strengthened to ensure that the platform is authentic, fair and equitable,' the tweet said.
On the evening of the 28th, some microscopic reading volume appeared serious "shrinking", operators have speculated that the brush WeChat reading of the tool down, or Tencent officially for brush reading behavior control. And the WeChat team's response, although not specific why, but undoubtedly enhance people's confidence in the healthy development of WeChat.
Microsals bound to more than five public numbers were forcibly untied
At 5 p.m. on September 29, operators reported receiving a "public number binding exception notice" on the phone, showing that "the micro-signal bound public number exceeds the normal number limit and has now been untied".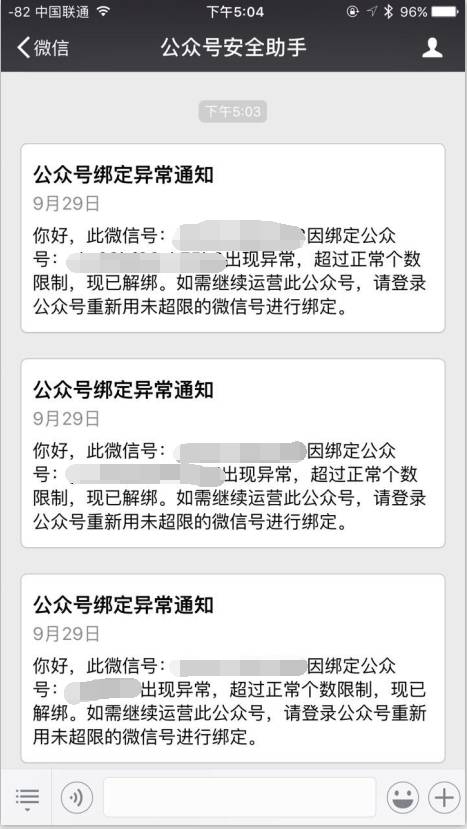 Some operators speculate that this may be the after-effect of WeChat's efforts to fix a bug that could bind more than five public numbers on September 22nd. But at present, not all of them have been untied, but in batches. After that, it remains to be seen.
"Black phoenix app" repeats the "big word" mistake was shut down in the small black house
On the afternoon of September 28th, many people in a circle of friends sunburned a picture of "a certain story in 2016". After identifying the QR code in the figure, you will enter the generation page, as long as you enter the name, you can generate a picture with a story, the bottom of the picture has a fixed line of small words "editor-in-chief black phoenix app", the form is similar to the "big word" that once brushed the circle of friends.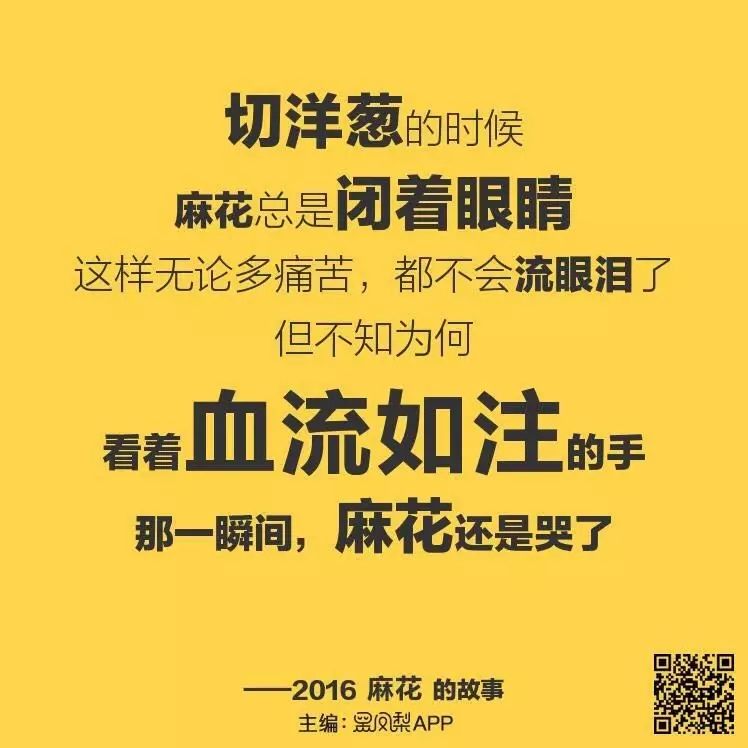 In the evening, the page that identifies the two-dimensional code jump changes quietly, from the jump-generating page to the public number "Black Anchovies App" attention page, the attention can only be generated H5.
However, just after 11 p.m., when everyone wanted to play the H5 again, it was discovered that the public number had shown that "the public number could not be noticed because of the violation".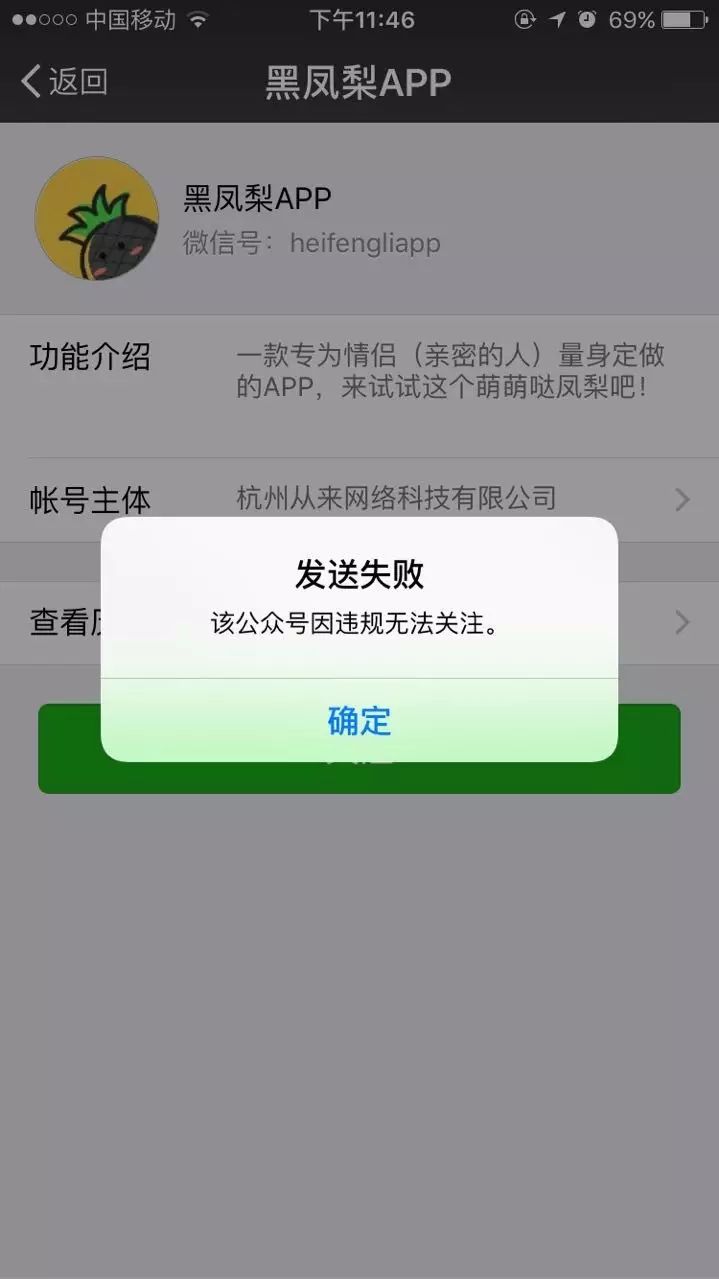 The afternoon jump generating page has also been blocked, prompting "this page contains games, interactive test content, by multiple people complaints." "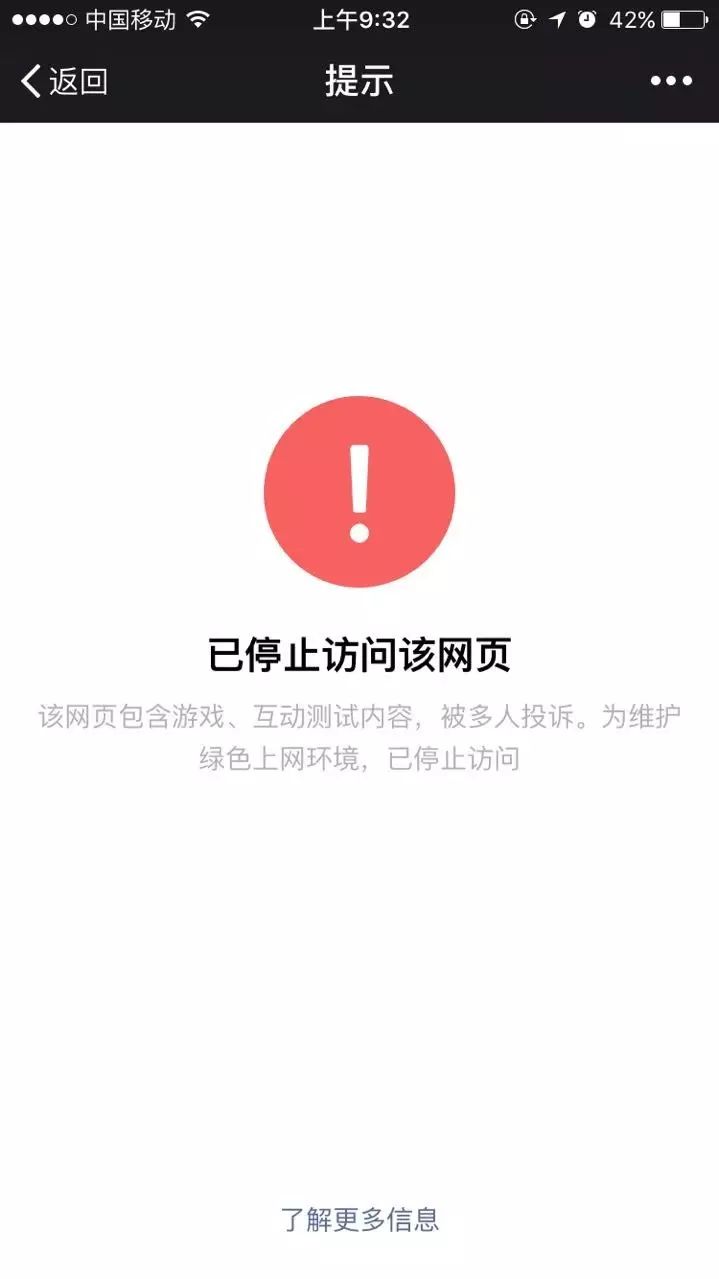 WeChat Public was fined 232,000 for publishing illegal advertisements
Recently, Wenzhou City Market Supervision Bureau of Wenzhou Internet Media Co. , Ltd. using WeChat Public Platform to publish illegal advertising, fined 232,000 yuan, which is the city's current new types of illegal acts issued the highest fine.
It is reported that the network media company is mainly engaged in advertising, e-commerce technology development, corporate image planning and other business services, under the name of registration and operation of at least 42 WeChat public number. On September 18, the Municipal Market Supervision Bureau, in accordance with the relevant regulations, ordered the parties concerned to stop publishing illegal advertisements, confiscated the advertising expenses of 8,500 yuan, and fined 232,000 yuan.
The editor-in-chief of Serious Gossip issued a statement asking "normal people" to delete the tweets and apologize
On the morning of September 29th, "Normal people" tweeted, "After the subscription number can't be swiped, these large readings are like this...", which exposed the suspected brush number of the public, including "serious gossip" was also nominated, but after "serious gossip" bloggers themselves confirmed that the tweet was a shanzhai number.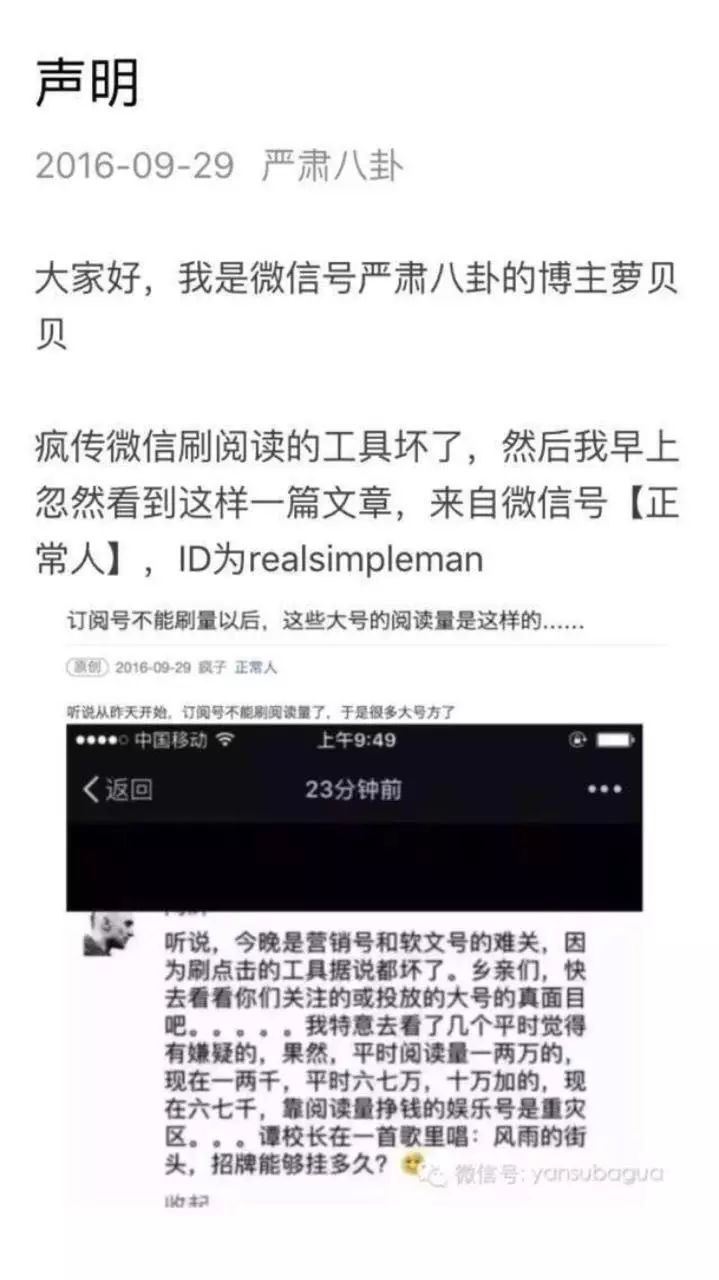 At 1 p.m., "serious gossip" blogger Lobebe issued a statement saying "normal people" published "serious gossip brush reading."(Quantity)"It's false information, asking the other person to delete the article and clarify the apology."
"1986, Life and Death Drift" sold for $2 million
On September 28th Whale Book and its team sold 50 per cent of the film adaptation of 1986, Life and Death Drift, for $2 million. It is reported that the other side is an international company with a deep Hollywood background, after which Queanbee Pictures will work with it to develop the script, as a producer, the two sides intend to invest 20 million U.S. dollars to shoot the film.

Content entrepreneurs are welcome to actively serve as intelligence officers in the new list, collecting information on various industries. We accept all valuable breaking news, explosive mailbox:pengyi@newrank.cn
- The End -
The above is published using the New List Editor. New list editor, multi-platform one-click distribution, mass online picture search, big data to help you understand "what's worth writing", rich style center, may be the best editor in China.
| New List Hot Texts . .
Push-and-push analysis | Headline Conference | Small program
Lao Xu won the prize | Minute-level monitoring | Ding morning
Today's headlines | Mimimon Anniversary Interview | The new studio

Read at ten o'clock | Serre Financing | Net-a-Go conference 
Uncle Dao | Public trademark war | Luo's thinking

E-commerce reports | if sell lipstick | Change the name of the official name
 Host Xiaobei | The fourth anniversary of the official | The content is cashed out
Level 3 distribution | Friends circle ads | Bulk sign-out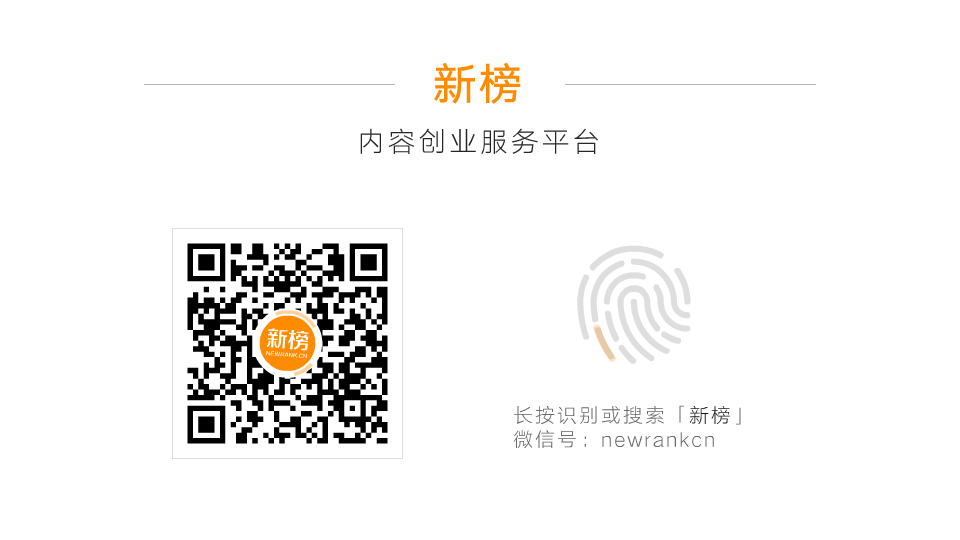 ---