Foreign internet company Q3: Amazon's advertising growth far outsed that of Google and Facebook

Last week, Foreign Internet companies such as Facebook and Google reported Q3 results.
eMarketer predicted at the start of the year that while Facebook and Google would still account for more than half of the market, the two giants' market share in the U.S. would shrink for the first time in 2019.
According to third-quarter results, Facebook and Google firmly dominated the majority of online advertising market share with growth rates of 29% and 17%, respectively, and the "three little dragons"Amazon, Pinterest and Snapchat's advertising business grew by 45%, 47% and 50%, respectively, far faster than the two major industry giants。These post-joined media players are slowly eating into the traffic market, long dominated by Facebook and Google, while also providing brands with more marketing opportunities and diverse options.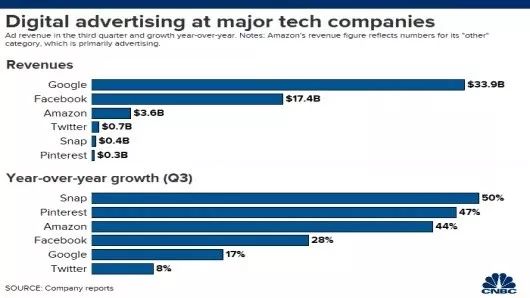 Photo source:CNBC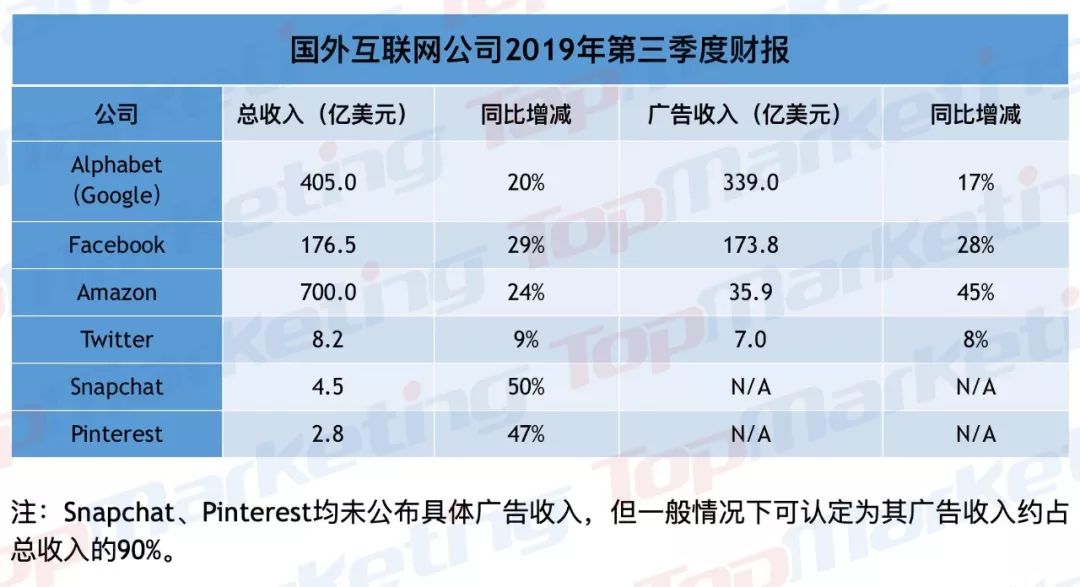 Alphabet, Google's parent company:Slowing growth,
Operating costs continue to rise
Alphabet's total revenue was $40.5 billion in the third quarter, including $33.9 billion in advertising, up about 17 percent from $29 billion in the same quarter last year.Google's revenue from traffic (TAC) was $7.49 billion, or 22 percent of advertising revenue.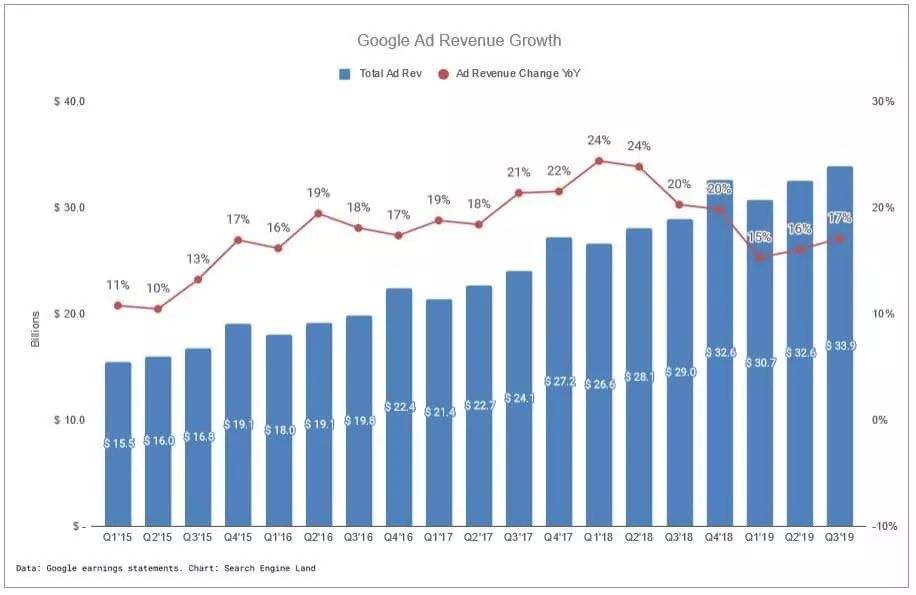 Changes in Google's ad revenue

Google CEO Sundar Pichai said revenue growth was driven by the mobile search, YouTube and cloud segments, but the results did not show specific revenue for each segment.

The vast majority of Google's advertising revenue comes from Google's own productsIncluding Google Search, Google Maps, Gmail, YouTube, Google Play and Google Shopping, total advertising revenue was $28.6 billion, up 19 percent from last year.Another part of Google Network Members had revenue of $5.3 billion, up 9 percent from last year.

 Alphabet ad revenue breakdown

In addition, paid clicks on Google's apps are up 18% from last year, but only 1% from the previous quarter.Cost-per-click (CPC) is down 2% from last year, but up 3% from the previous quarter.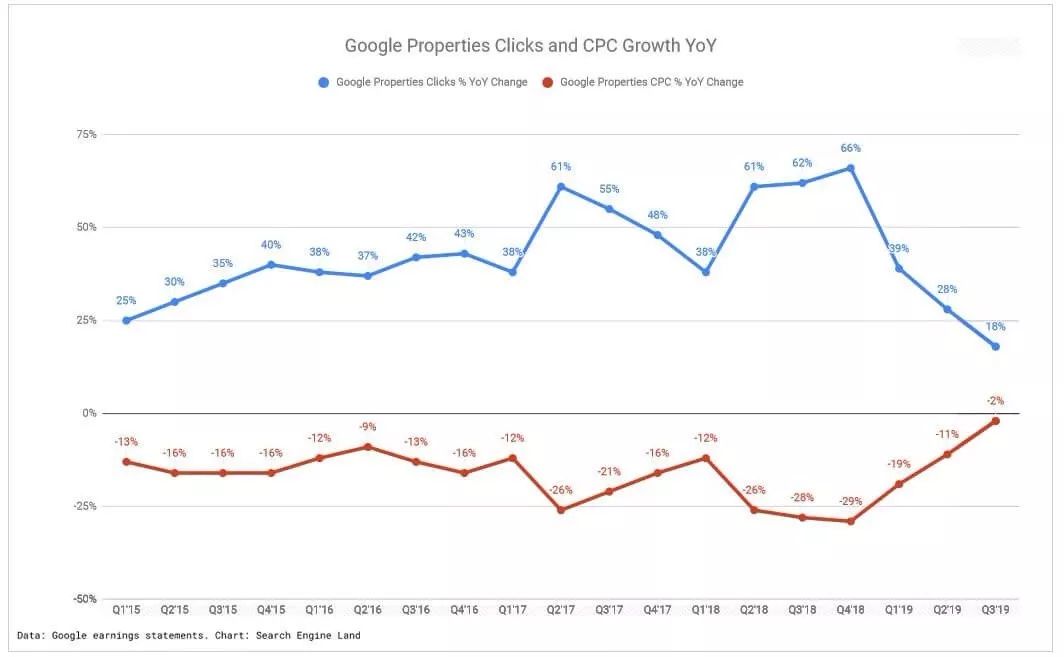 Google CFO Ruth Porat attributed the drop in hits on YouTube to strict rules on implantable ad videos early last year aimed at keeping advertisers' brands safe, raising the bar for YouTubers to pick up ads.
Even so, Google's third-quarter revenue fell short of forecasts, largely because its rising costs were much higher than the "in-account" rate.
Google's total operating costs rose to $31.3 billion in the third quarter, up 25 percent from the same period last year, according to earnings.By contrast, the company's net income grew by only 21%.In addition, day-to-day administrative spending rose nearly 48 percent from last year to $2.6 billion.Much of the spending is due to a dispute in France over suspected tax evasion that came to light in September, and Google has now agreed to pay a $554m fine.
No matter how mobile search and tringe remain the main drivers of Google's business.In the future, Google will continue to apply artificial intelligence and machine learning technology to The Full Management of Campaign and automate advertising on multiple platforms.

Facebook:The situation is constant,
But business capabilities remain tough

Facebook reported third-quarter revenue of $17.65 billion, up 29 percent from the same quarter last year.Facebook currently has 1,623 million daily and 2,449 million monthly live users worldwide, with an average revenue (ARPU) of $7.26 per user.Overall, Facebook did better in the third quarter, with higher-than-forecast earnings figures also helping stock prices rise.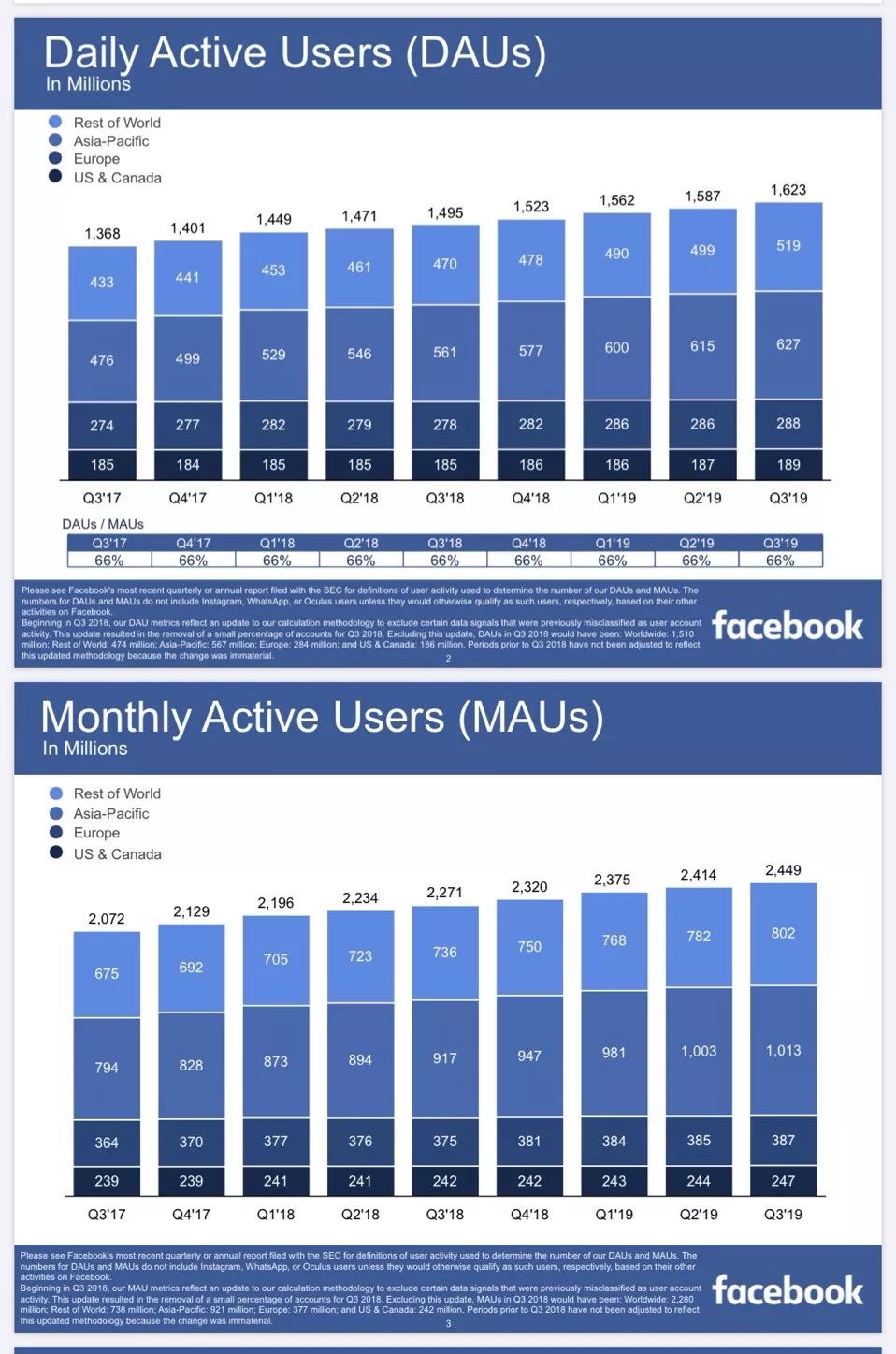 It's not hard to see from Facebook's DAU and MAU growth chartsFacebook's users in North America and Europe are already largely saturated, while there is room for growth in Asia Pacific and elsef。
Analysts predict that Facebook's growth in Q4 will continue to slow to 24 per cent and that total revenue will fall to 22 per cent next year from 26 per cent in 2019.
From the advertising business,Facebook is shifting its focus from its core streaming ads to Stories。Facebook is also exploring other cashable products, such as Instagram Explore, Instagram In-App Shopping, Messenger Customer Service Consulting, WhatsAppPay and more.
At the same time, Facebook has been under pressure from public opinion, from privacy data breaches to questions and objections to its global virtual currency, Libra, to uncensored political ads on Facebook, which has been the subject of much foreign talk in recent days.
Especially after Twitter announced it was stopping its political advertising business, people around the world were looking at Facebook.According to the Financial Times, the Trump administration has spent $15.7 million on political propaganda on Facebook since the beginning of last year because it is compared to other social networking software.Facebook can reach high-value people and bring votes and financial support to candidates。But it also confirms that while Facebook has been in constant condition, its user value and traffic exposure remain tough and are one of advertisers' first choices. 

Amazon:The ads are bright,
E-commerce profits are at record lows

Amazon's third-quarter revenue was $70 billion, up 24 percent from last year.Advertising revenue was $3.59 billion, up 45 percent from last year and higher than in the previous two quarters (34 percent and 37 percent).。
While Amazon's revenue growth was more positive, its net profit fell.Amazon's net profit fell to $2.1 billion in the third quarter, down 26 percent from $2.9 billion in the same quarter last year.Among them, AWS Cloud contributed 70 percent ($2.3 billion) in profits, while e-commerce was at its lowest level since early 2018 because of high costs.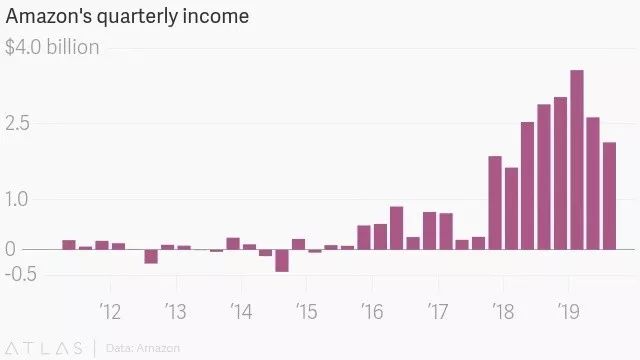 Changes in Amazon's quarterly net profit

Prime Day in the third quarter was described by Amazon as the biggest shopping festival in history, surpassing even Black Friday and Cyber Monday combined, with 175 million items sold in 48 hours。Amazon's free one-day mailing program for Prime members, however, also costs a lot.It is reported that in the first two quarters, Amazon spent each quarter on this projectAbout $800 million。
In addition, Amazon said it would spend $1.5 billion in the fourth quarter to expand warehouses and selections, as well as more in cloud and advertising.
The company forecast fourth-quarter revenue of between $80 billion and $86.5 billion, well below Wall Street's forecast of $87.4 billion.
But Amazon's advertising products, which have natural e-commerce genes, seem to be becoming increasingly popular with advertisers.
E-commerce advertising and mobile search are growing at a leap forward, according to the Q3 Digital Advertising Standards report from research firm Marine Software.Compared with last year, marketers' advertising budgets for e-commerce increased by 115% in the third quarter.Much of the growth in e-commerce advertising is attributable to Amazon ads and its Prime DayCPC is up 10.5% from Q2.Retailers spend about 40 percent of their budget on shopping ads, and clicks are up 14 percent from the same quarter last year.

Twitter:A technical failure caused the share price to plummet.
The "water inverse" will last until 2020

Twitter didn't fare well in the second half of 2019, with a series of technical glitches that caused It to lose the third quarter.
Twitter reported third-quarter revenue of $824 million, well below its forecast of $876 million.Advertising revenue was 700 million, up 8% from last year, and the number of commercially tradable daily active users was 145 million, up 17% year-on-year.
Twitter's shares plunged 20.8 percent in pre-market trading after the results were announced.Twitter attributed the third-quarter loss to a user privacy data breach caused by a technical glitch.
The bugs come from a set of products Twitter offers advertisers called Mobile Application Promotion (MAP), which helps advertisers promote mobile APPS on their platforms, including app downloads, conversions and user engagement.Twitter has been described as helping advertisers deliver more accurately, inadvertently using private information that users are reluctant to disclose, including their device data.
This means that advertisers can run APP ads on the platform based on user device data.For exampleThrough Twitter, advertisers are able to know a range of information about the user's operating system, device model, WIFI connection, mobile phone operator, and even the old and new device, such as the user of the new device, who is more likely to see the ad to download the app.
Although Twitter has asked users if they would like to disclose their information to partners before using the information, it actually syncs the information with third-party partners regardless of whether the user agrees or not.Twitter calls it an unexpected bug and has stopped advertisers from using the information to run it.
After stopping accessing user information, Twitter's access to information became increasingly limited and targeting was restricted, making advertisers reluctant to pay for Twitter ads at previous prices, which reduced Twitter's advertising price in the auction.
The company said the "water inverse" will continue into the fourth quarter and even 2020, and will have an impact on the entire advertising business in the near future。Twitter's fourth-quarter revenue is expected to be between $940 million and $1.01 billion, below refinitiv's forecast of $1.06 billion.

Snapchat:The highest revenue growth,
Or into DTC, retail brand new favorite

Snapchat's total revenue was $450 million, up 50% from last year, higher than Refinitiv predicted.The number of daily users worldwide grew by 7 million to 210 million.
Of the growth population, 5 million came from other countries, while North America and Europe grew by only 1 million, with average revenue per user (ARPU) of $2.12.
Snap said fourth-quarter revenue would be between $540 million and $560 million, and fourth-quarter sales would rise 41 percent.The number of daily users will reach 214 million to 214 million.
In addition, Snap's net loss has been falling, to $227 million from $255 million in the previous quarter.
Snapchat has long been popular with brands for its users' high viscosity and activity。Snapchat CEO Evan Spiegel says Snap users open the app up to 30 times a day.
In terms of advertising products, Snapchat's Discovery Story Ads has been a major investment in the DTC brand.Spiegel said the number of Snapchat users posting and reading has been growing, but the company hasn't disclosed its Stories growth figures in the past two years.Moreover, since Stories was successfully copied by Instagram, it has posed a serious threat to the development of Snapchat's Stories advertising products.Instagram's fast-shooting ads are higher on ROI than Snapchat and Facebook, according to a March 2019 media buying survey by foreign media DIGIDAY.
But Snapchat is also trying to highlight the need to provide better service to brands.Just last month, Snapchat launched a new advertising tool, Dynamic Ads, to appeal to retailers and DTC brands who have gathered on Instagram.This product enables advertisers to automatically produce ads in real time based on product categories and present them to users in different forms according to their preferences.At a time when Instagram is becoming more crowded and advertising is becoming more expensive, Snapchat may be the best choice for many e-commerce retail brands.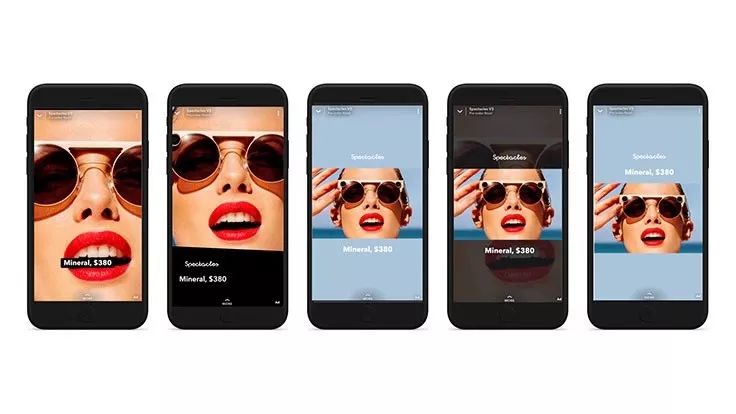 The same footage can be automatically adjusted to different formats on Snapchat and presented to users

Pinterest:47% revenue growth,
561% net loss growth

Despite the rapid growth of Pinterest's advertising business, it is hard to hide its continued loss on revenue.
Pinterest reported total revenue of $280 million at Q3, slightly below Refinitiv's forecast.Global monthly active users were 320 million, an increase of 28%, of which 240 million were from countries other than the United States.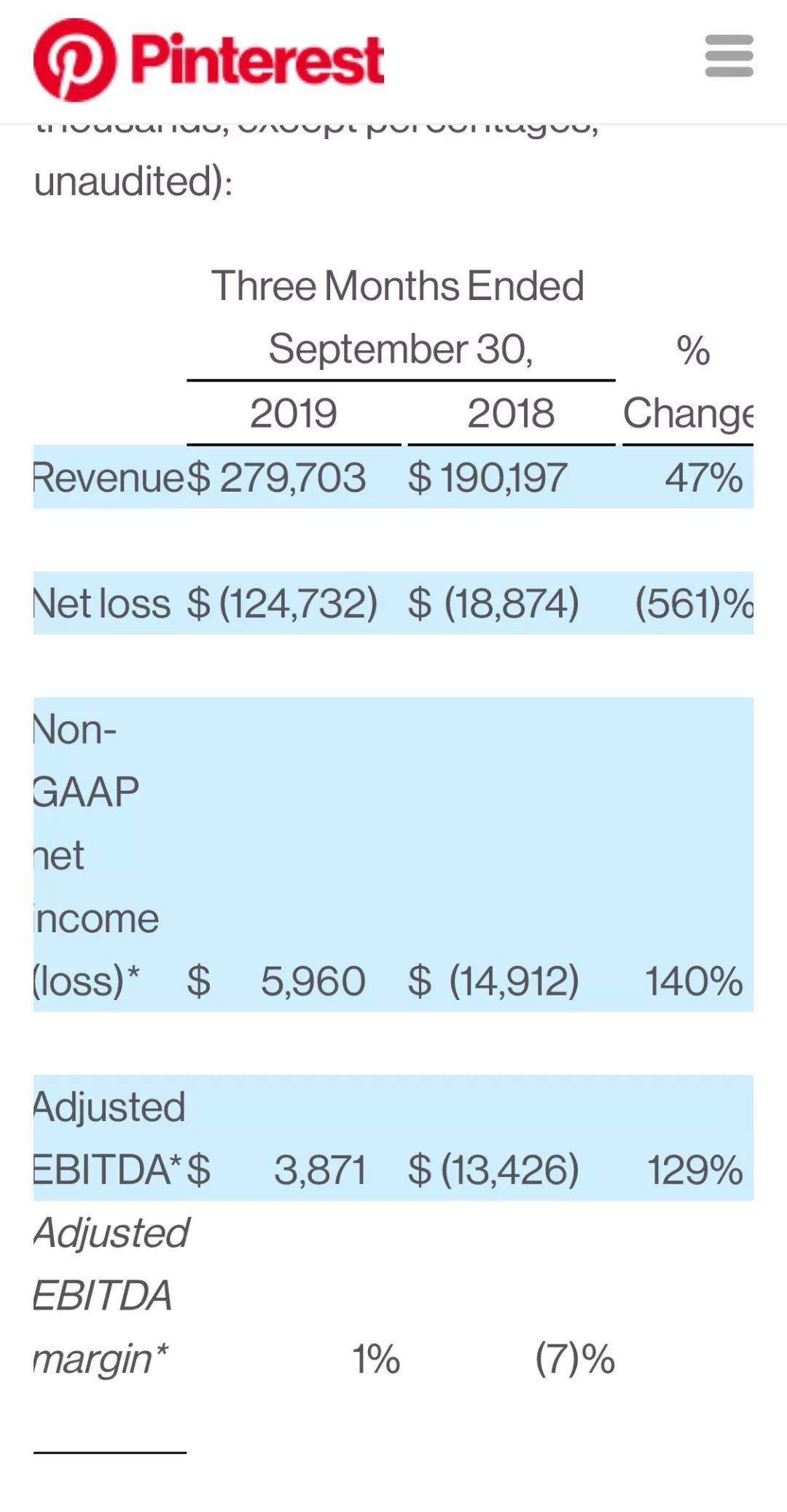 Notably, Pinterest, which is just starting out in cash, is still booming, with revenue up 47% from last year, surpassing Amazon, Facebook and Google.But Pinterest's growth also appears to have slowed in the third quarter, compared with the company's growth in the first two quarters, at 54 per cent and 62 per cent, respectively.

Also growing was Pinterest's net loss.Pinterest's net loss in the third quarter was $120 million, up 561 percent from last year (Q3's net loss was $18.9 million last year).
The company said full-year 2019 revenue would be between $1.1 billion and $1.115 billion, compared with Refinitiv analysts' forecast of $1.12 billion.
Shopping ads are a feature of Pinterest.Pinterest added 75 percent of its merchandise categories in the third quarter, pushing its advertising business further into the global market and working with e-commerce platforms such as Shopify to stream it.
In terms of products, Pinterest is also constantly improving its advertising capabilities.In September, for example, the Shop the Look ad was updated to allow advertisers to tag 25 items in one ad.Advertisers can also upload personal images or even videos on the Pinterest-branded home page, with a shopping key attached to the image, allowing users to jump directly to purchase, and the updated home page can also support real-time customer service and feedback.
It is reported that in the next phase, Pinterest will launch a new Campaign dedicated to global new user growth.As of the third quarter, Pinterest had opened its advertising business to users in 28 countries around the world, 21 more than at the end of last year, and added small and medium-sized European countries such as Malta, Czechoslovakia, Greece and Hungary.Pinterest has tried to increase user engagement in other markets, but has not been very successful in countries such as Russia, Australia and Africa.In terms of brands, although Pinterest has not yet had any marketing action, but its brand and advertising products in the future in the global market prospects are still relatively optimistic.
In terms of advertising revenue, Google and Facebook are ranked first and second respectively, while other emerging social platforms are accelerating their journey to cash in and grab traffic.It's worth noting that data privacy security on veteran social media, such as Facebook and Twitter, is increasingly a top concern for the industry.On media platforms where young people gather, such as Snapchat, Pinterest and Instagram, Shopable Ads, which shortens shopping paths, has become a major trend in advertising.

---