Google bought giant ads in Times Square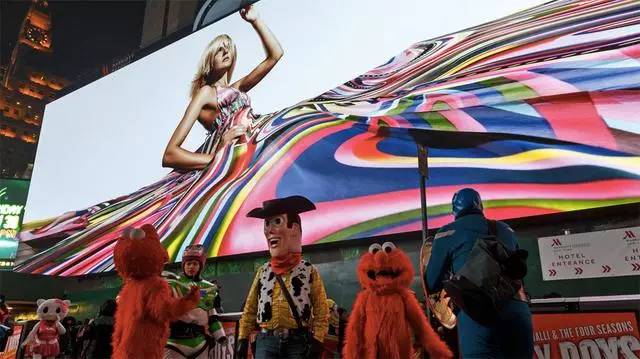 Tencent Technology News The world's most famous square is not New York Times Square (also known as New York Times Square). Times Square also has some of the world's most valuable outdoor billboards.In recent days, Times Square has installed a giant LED advertising screen, which is expensive, and search giant Google (Weibo) has become the first advertiser to taste the gold. Google will also be in the air during the Countdown to the New Year.
The largest and most expensive billboard in Times Square history will be lit up Tuesday night local time.
The LED ad screen is eight stories high, the length of a football field, and covers the entire block of Broadway from 45th Street to 46th Street.With 24 million pixels, each "pixel" emits three types of light, blue, red, and green, making up the image at a resolution that exceeds that of today's most advanced televisions.
According to the New York Times, the giant ad screen is priced at $2.5 million every four weeks. Advertising industry sources say it is one of the most expensive outdoor billboards in the United States.
From Tuesday to November 24, a studio called Univered Everything will use this screen for a spectacular display of digital art. Starting on the 24th, Google will buy advertising space and will play Google ads until the New Year.
It's unclear what products and services Google will use the ad screen to promote. As we all know, Times Square will hold a world-famous countdown and carnival celebration in the New Year, this advertising screen will also attract the attention of the celebratory crowd.
"In Times Square, size is everything," said Harry Coghlan, president of ClearChannel, a U.S.-based company that specializes in outdoor advertising, according to reports. "
As soon as the outdoor billboard resource went on sale, Google reportedly negotiated and promised a long-term purchase, so it may have negotiated a discounted price of less than $2.5 million.
Times Square is distributed with a large number of outdoor electronic billboards, and depending on location, size, playback time, screen quality and so on, the price of each billboard is not the same.
According to statistics, near the Times Square intersection, a total of 300,000 pedestrians pass by every day, many New York locals may look down at their mobile phones passing by, but here is the world's famous tourist destination, many tourists come to Times Square, a variety of billboards will also attract their attention.
If it were during the countdown to the New Year, many television stations around the world would broadcast the Times Square event live, and the electronic billboards would have attracted the attention of audiences from all over the world and would have been more valuable for advertising.


Share creative fresh design, fun anecdotes, cold jokes, classic abstracts, reading reviews, workplace guides, financial management and other fresh creative life information, tap the Internet's hottest new news!

Pay attention to microseelectr signals:NetsXX
---