InBever Forward-Looking Google: Ad realization traffic, AI power the IoT layout
---
The Measures for the Proper Management of Securities and Futures Investors were put into effect on July 1, 2017. This material produced through WeChat, Daoyun, etc. is only intended for professional investors of financial institutions in CITIC Securities customers, please do not forward this information in any form. If you are not a professional investor in a financial institution among CITIC Securities clients, please do not use this information in order to ensure the quality of service and control investment risk. This information is difficult to set access, if you cause inconvenience, please understand! Thank you for your understanding and cooperation. If you have any questions, please send an email to kehu@citics.com.

---
Asia Money Xu Yingbo team to participate in the Tech technology industry, please support!
Xu Yingbo, Chief Analyst, Forward Team,010-60838704

Hong Jiajun, Senior Analyst, Forward Looking Team,010-60836741
Key points of investment
1
Internet leader, continuous innovation drives growth
Advertising is the core of revenue and extends to the data industry chain
Search business created the Internet leader, the establishment of Alphabet to improve the organizational structure.Founded in 1998, Google focused on search in its early years, and with the acquisition of new businesses such as YouTube, Android and Motorola Mobility, the multi-directional layout of the data industry chain has become the world's largest Internet company for users and traffic. In 2015, the company restructured for two years, establishing Alphabet Inc. as the listing body and holding Google Inc. through its XXVI Holdings Inc., and other Bets, an independent company, in its original technology innovation division. This enhances the independence of the innovative business, strengthens incentives, and promotes forward-looking experimental projects.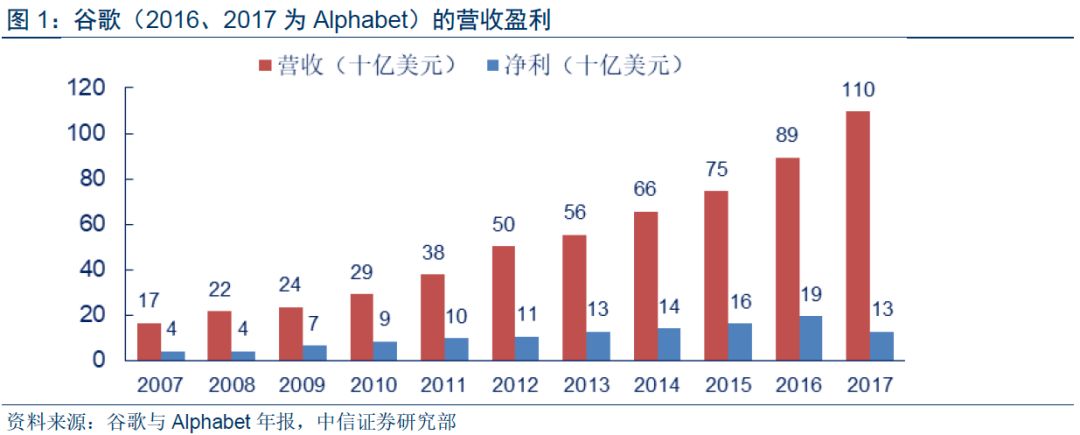 Revenue continued to grow in double digits and research and development costs and operating efficiency improved.The company's revenue has been growing at double-digit rates for many years, with revenue of approximately $109.7 billion in 2017 and net profit of $21.2 billion. "In terms of profitability, the firm's gross margin is between 55 and 60 per cent, with research and development as the main expense." Companies have traditionally encouraged innovation and personal research, rather than being commercial or profit-oriented, and the conversion rate of related costs is not easy to control. Sundar Pichai, who becoming Google's CEO in 2015, has embarked on organizational and incentive reforms that have led to a gradual improvement in the company's research and development investment and operational efficiency.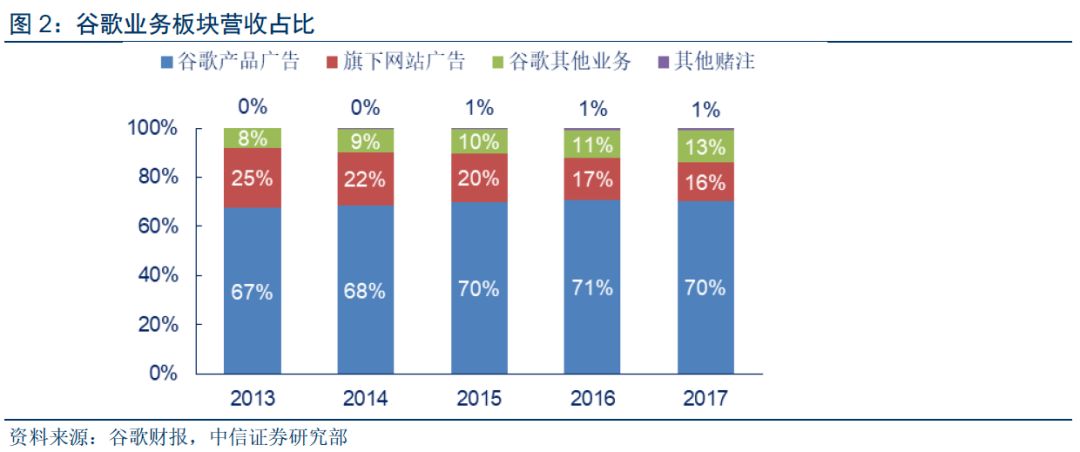 Advertising is the company's main source of revenue.In 2017, advertising-related revenue was 95.4 billion yuan, or 86 percent of the company's total, with Google's website revenue of 77.8 billion (-22 percent) accounting for 70.2 percent and alliance members 17.6 billion (-13 percent) accounting for 15.9 percent. Google's website refers to page search, Gmail, YouTube, Maps and other Google pages and services revenue, alliance members refer to AdMob, AdSense, DoubleClick and other advertising agency platforms. In recent years, the company's advertising business has maintained a growth trend, mainly due to traditional media advertising, continued migration to networked devices and mobile, driving the size of the digital advertising industry.
Other businesses are growing at a high rate, and Other Bets is in the investment phase.Other business is mainly the data chain upstream and downstream products and services. In 2017, related revenue was approximately $14.3 billion, or 12.9 percent, including application platform sharing, cloud services, and smart hardware. Other Bets, another subsidiary of Alphabet, is positioned to focus on forward-looking product development and venture capital in areas such as autonomous driving, healthcare, and venture capital, including artificial intelligence DeepMind, smart healthcare Verly, venture capital google Capital and Google Venture, which contributed a combined 120 million revenue, or 1.1%, in 2017. But the company's pre-tax operating loss was $570 million, thanks to massive research and development spending.
From search engines to all-round layouts
AI is the first, multi-headed and connected to the Internet of Things.In terms of product dimension, Google provides online search, video, mail, maps and other services for individuals, enterprise-facing operating systems, cloud services, patent licensing, as well as hardware-type smart home, mobile phones, notebooks and other products. In 2016, the company adjusted its development strategy from Mobile First to AI First. In technology development, Alphabet's research and development spending in 2017 was $16.6 billion (US$, the same as below), accounting for 15 percent of the company's revenue, up from $12.9 billion in marketing costs. From traditional search engine services, email, video, operating systems, to cutting-edge artificial intelligence, driverless, smart home, Google is occupying the leading position in the industry.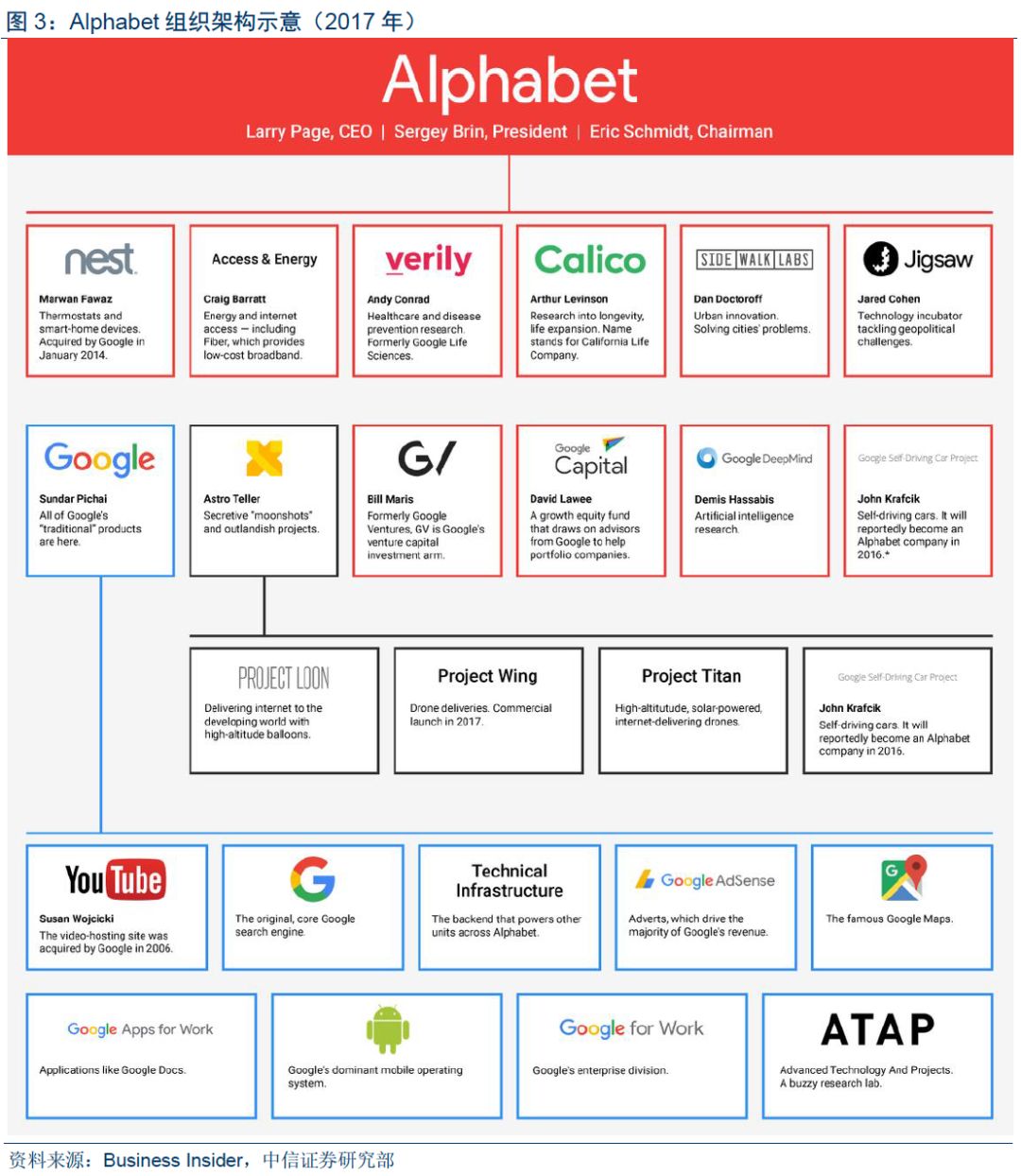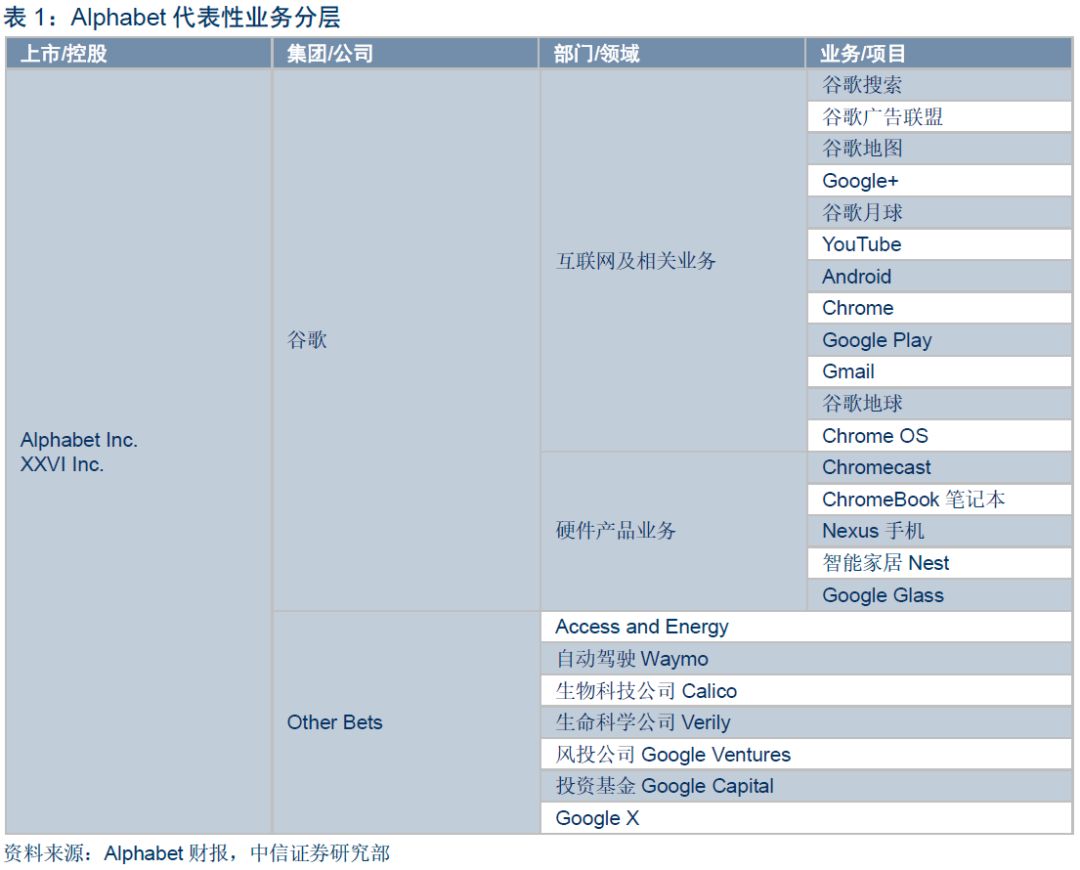 The tax reform affects earnings in 2017 and returns to growth in 2018
Remittances to overseas income are subject to a one-time income tax and a decrease in net profit in 2017.The U.S. tax code after 1986 required companies to pay no tax on their overseas profits until they were remitted back to the U.S., and since the U.S. has a corporate income tax rate of up to 35 percent, most multinationals leave their profits in countries with lower tax rates. According to Moody's, the ratings agency, Apple, Amazon and Google had $1.4 trillion in overseas cash reserves as of December 2017. In December 2017, the U.S. passed a tax reform bill that lowers the corporate tax rate to 20 percent, while companies that remit overseas profits to the U.S. will be subject to a one-time income tax of 14.5 percent.
Cash on the books is expected to increase dividends and buybacks, tax reform is conducive to medium- and long-term net profit increase.Under the tax reform bill, Alphabet remitted some of its overseas profits in the fourth quarter of 2017, when its effective tax rate increased to 138 percent and its full-year effective tax rate rose to 53 percent, affecting a 35 percent year-on-year decline in net profit to $12.7 billion. While this detracts from the company's current earnings, large amounts of cash will stimulate share buybacks and dividends, which will have a positive impact on share prices, and will boost future profitability as the effective tax rate decreases.

Second-quarter earnings were bright, with revenue and earnings market expectations.Alphabet reported revenues of 32.7 billion euros in the second quarter of 2018, and a net profit of about 3.2 billion euros, better than market expectations, after acknowledging a 4.3 billion euro fine from the European Union. Among them, advertising revenue was $28.1 billion, with paid clicks up 58%, average click-through charges down 22% and total traffic costs up 26%.
Other Bets reported revenue of $150 million, or 49 percent, but an operating loss rose to $730 million. Notably, capital expenditures totalled $5.5 billion, or 93 percent, mainly from data centers and hardware production equipment. Overall, Google's revenue, research and development, and capital spending are still on the rise.

2
Technology builds barriers to aid flow realization

Become a search leader with algorithms
Google is the leader in search, video, operating system and other fields, advertising is an effective way to cash out.Larry Page and Sergrey Brin founded Google in 1998 to promote a search engine based on the self-created algorithm PageRank. After the establishment of a few years, it has overtaken the industry leader Yahoo!
At the same time, Google continues to launch online application services, covering life services, productivity tools, content platforms, operating systems and other fields, become the largest traffic, the largest number of users of Internet companies, brand value is also the world. However, with the exception of business tools and content platforms, most of Google's services do not charge users, but use advertising such as keywords and banners as a way to cash in.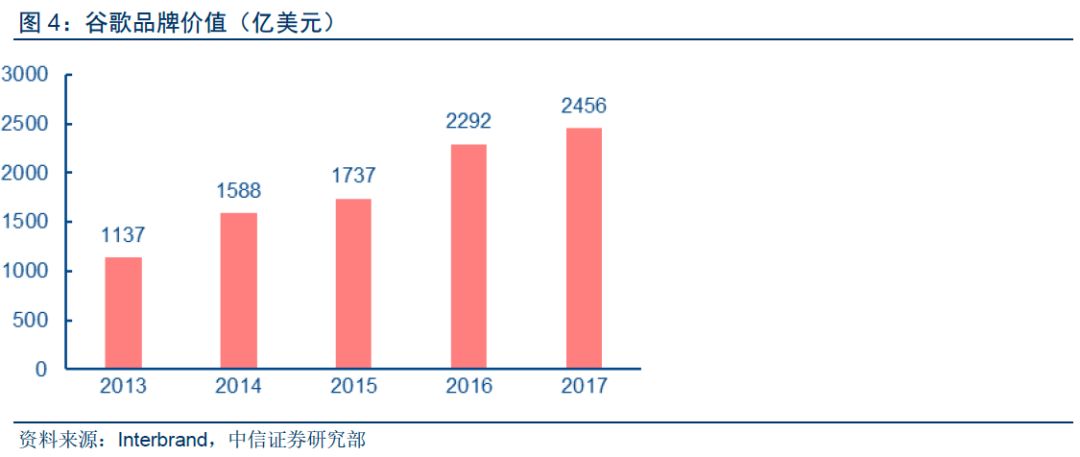 The advertising market continues to be digital and social networking sites and content platforms are growing rapidly.With the popularity of the mobile Internet, the advertising market size of traditional media has declined. Digital media has overtaken television as the world's largest advertising channel in 2017, according to research groups eMartker and Statista, and the market will be 17% CAGR in the three years from 2018 to 2020. Of these, the search portal's share of digital advertising is about 40%

Optimize recommendation algorithms and display methods to improve the quality of your ads.Google owns about 33% of digital advertising based on its share of search and other service traffic. Depending on how you push, your company's ads can be divided into keyword search (AdWord), display ads (AdSense), and Gmail mail push. Since online advertising is billed based on metrics such as clicks, length of stay, and actual spending, most platforms will increase the number of ad impressions per page or display sort to increase overall revenue, but Google has done the opposite, using algorithms to balance user experience with business bargaining power.
Take search ads as an example, Google according to keywords to judge the user's purchase intention, as well as the historical click-through rate of related ads, a comprehensive decision on the number of pages of advertising display, in the order of paid recommendations, not simply consider the cost per click (CPC), but will be integrated link page quality, user click-through rate and other indicators to intelligently sort. Thanks to Google's use of data algorithms, even if you reduce the number of ads displayed, you can still improve your ad click-through rate and customer performance by making accurate recommendations.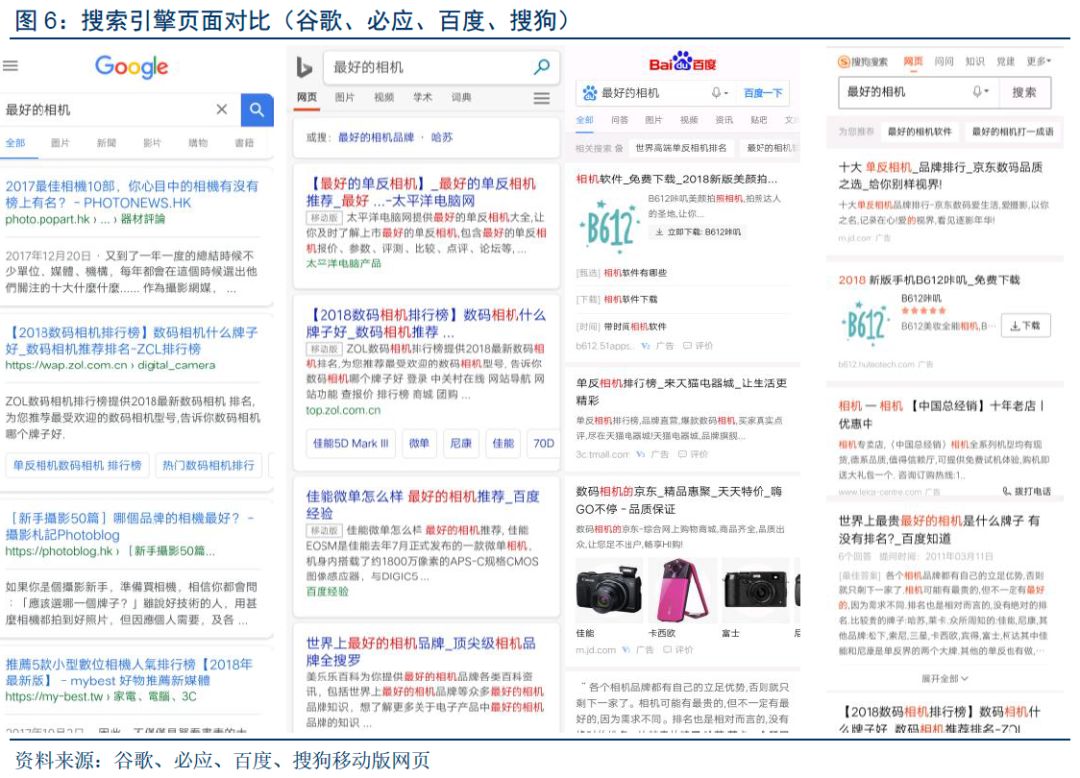 Continuous mergers and acquisitions to build technical barriers and industry share.Google expands its customer base and business reach through acquisitions of mature platforms such as Double Click and AdMob, while acquiring startups such as Smart Voice Company Metaweb, recommendation algorithms RankBrain and Lever Sense, to optimize search results to ensure user experience and stickiness, and to increase the accuracy of recommendations to increase advertising efficiency and business revenue.
Giants compete for traffic, and industry competition intensifies
The social field is highly competitive and has strong geographical attributes.The growth of search portals in digital advertising has slowed, while social networking sites and video platforms are growing rapidly, and Statista expects video platforms to overtake search portals as the largest digital advertising channels by 2020. Facebook's share of the market for social apps is well ahead of Google's social platform, Google Plus, and its advertising revenue is growing faster than Google's this year as the sector grows at a high rate.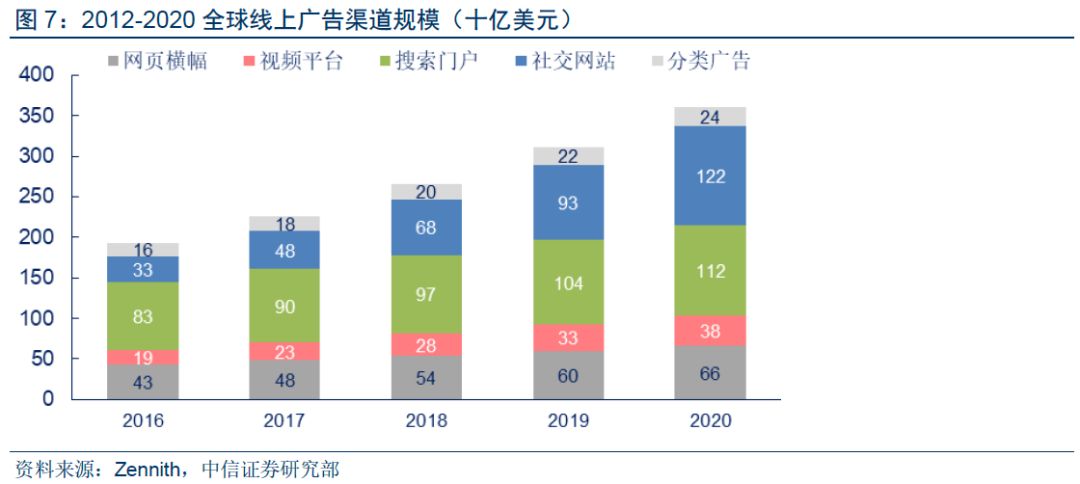 Launched YouTube TV with cloud services to impact the video world.Google, which bought YouTube in 2005, is still the world's largest video platform, but its market share is not as good as its search portal, and it faces fierce competition from giants and start-ups such as Netflix, Hulu and Amazon Video.

In April 2017, Google launched YouTube TV, an integrated network television platform that integrates paying users with a hard drive and unlimited cloud storage that can be stored for up to nine months for multiple programs at the same time. In addition, YouTube TV enhances social and intelligence attributes by using deep-learning recommendation algorithms to deliver accurate pushes based on user preferences, and by using Google Assistant to post voice comments, search for movies, and contact customer service.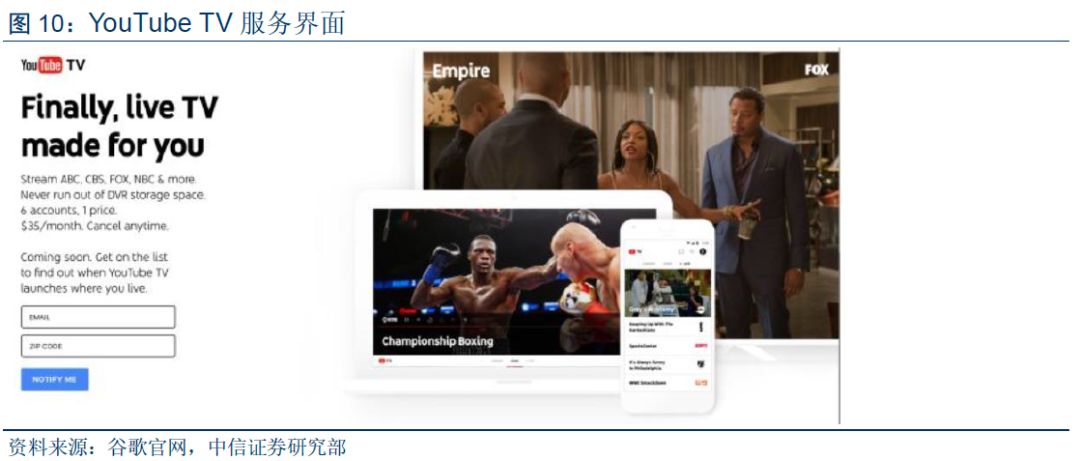 Traffic acquisition costs (TAC) continue to rise due to limited total personal time and increased data value.Compared with the Internet in the PC era, the mobile Internet is based on smart phones as the main medium, because of the small screen size, the display interface of smart devices attracts high user attention, and the information recorded by smart machines has both depth and breadth. As a result, mobile traffic acquisition costs (TACs) have also risen more than the company's revenue growth, with Google TAC rising from 21 per cent to 23.7 per cent in the two years from 2016 to 2017, resulting in a decline of more than 2 per cent in gross margin.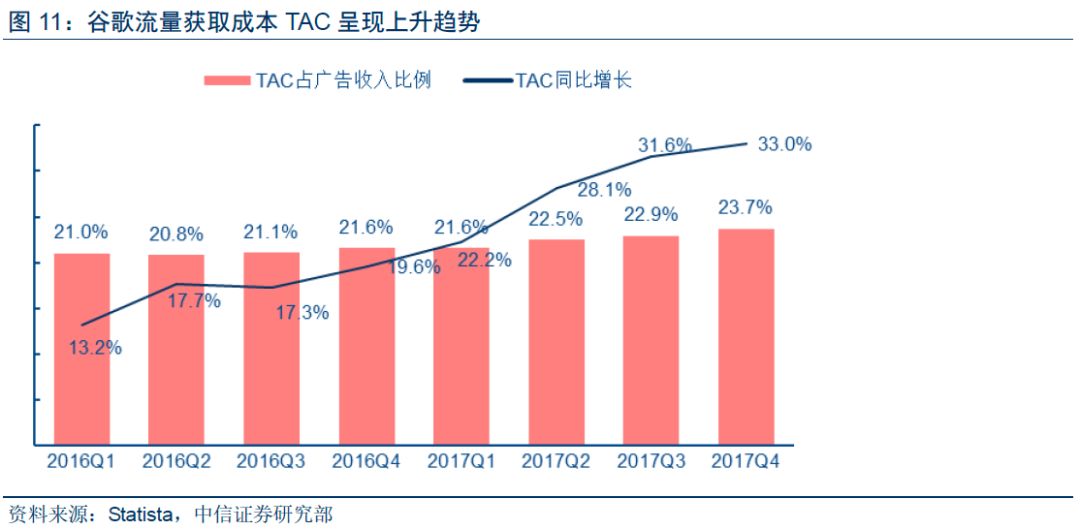 User data regulation tends to be stricter, and data analysis and information push are more sensitive.Precision push and machine learning need to be based on a vast amount of information, including the user's history and personal data, causing personal information security disputes. Even if Internet companies claim that all information is encrypted and desensited with the user's consent before it is used, there are still concerns about privacy outflows.
On the regulatory front, regulators in some countries and regions have also expressed concern about the misuse of personal information by companies and increased their oversight of IT giants. We judge that the increasingly stringent regulatory trends will increase the cost and scope of data acquisition and use, directly affecting the advertising business of the giants. The new product line will be Google's future growth driver.
3
Implementing "Artificial Intelligence First"

Thick and thin hair, accumulation of AI technology
Actively acquire artificial intelligence enterprises, cultivate talent and technology reserves.Google's artificial intelligence division was established in 2011 and now has more than 100 teams using machine learning technology, including search, voice assistant Google Now, Gmail, Android and more. Since 2006, Google has acquired a number of start-ups in the field of artificial intelligence, fully layout related technology accumulation and productization capabilities.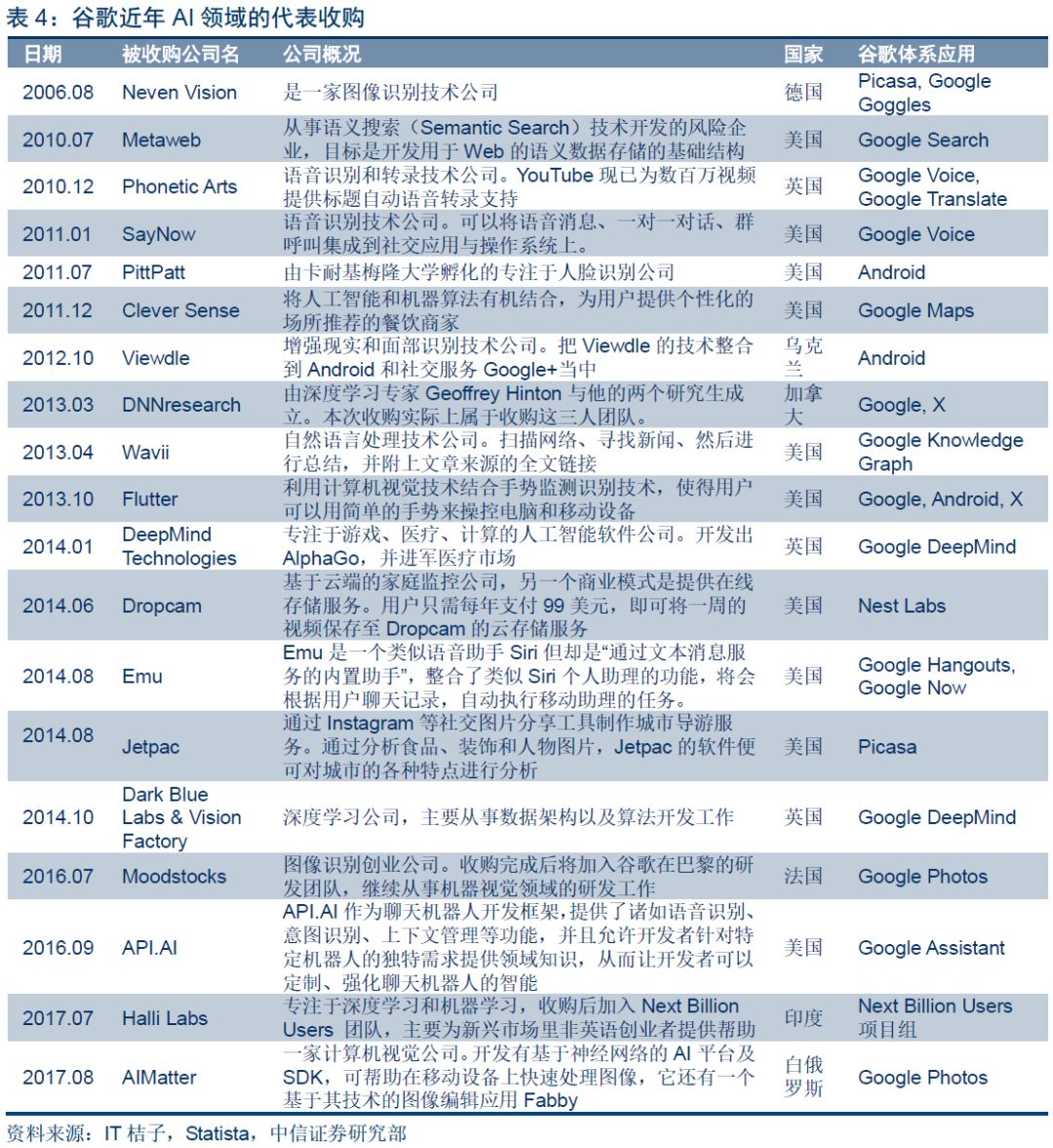 Research and development is the core driver of growthPublic welfare and diversity have become characteristics.By the end of 2017, the company had about 80,000 full-time employees, nearly 40% of its research and development staff, and the proportion of research and development investment had increased year by year. One of the features of Google's research is the diversity of project areas and the autonomy of its employees;
In recent years, the company gradually attached importance to the investment efficiency of resources, research and development areas and projects have been reduced, but the overall scale continues to improve. In 2017, Google's research and development spending will be about $16.6 billion, or 15 percent of revenue, and continued investment will transform Google's "engineer spirit" and further catalys advances in artificial intelligence and the Internet of Things.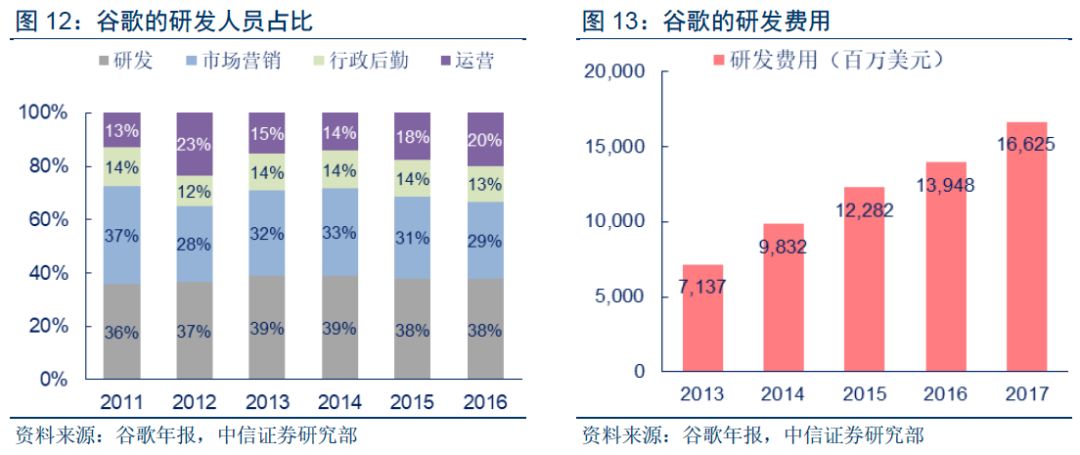 Create a deep learning platform, hard and soft combined development
Based on neural networks, develop TensorFlow, a deep learning architecture.Google first released TensorFlow in 2015, a second-generation artificial intelligence learning system based on DistBelief that uses tensor algorithms to analyze and process data in neural networks, primarily for deep learning in areas such as speech and vision. TensorFlow is an open source architecture that supports platforms such as Android, Linux, MacOS, Windows, and can be programmed in Python, C++ and CUDA programming languages, including optimized for mobile devices, reduced model load times, support for hardware acceleration, etc., and can be trained on reel neural networks by entering training samples.

Dedicated chip TPU, hard and soft combined to support deep learning.Google has been layout neural network chips since 2006, and after the release of the TensorFlow architecture, it made its dedicated chip, the Tensor Processing Unit, available for efficient execution of specific algorithms such as TensorFlow. The chip uses 8bit of low-precision computing to reduce the number of transistors used in operations, sacrificing some of the deep learning accuracy in exchange for a significant increase in power performance and calculation. At the same time, TPU uses pulsation array to optimize matrix algorithm and co product operation. AlphaGo, which famously beat chess player Li Shishi, uses a TPU chip
In February 2017, Google opened Cloud TPU's Cloud Deep Learning service, which allows developers to rent 180 teraflops of floating-point computing and 64 GB of high-bandwidth memory (base cost is only $6.50 per hour) through the Google Cloud cloud platform. Thanks to better suitability than regular GPUs and FPGAs, the chip provides a powerful hardware foundation for TensorFlow's machine learning, enabling engineers and researchers to iterate faster and improve technical ease of use and cost-effectiveness for their architecture and cloud services.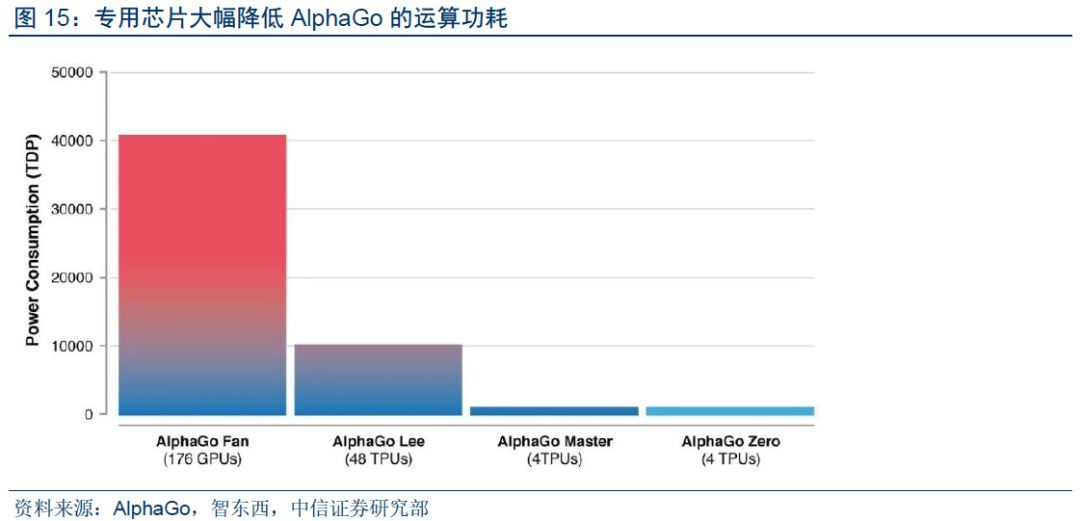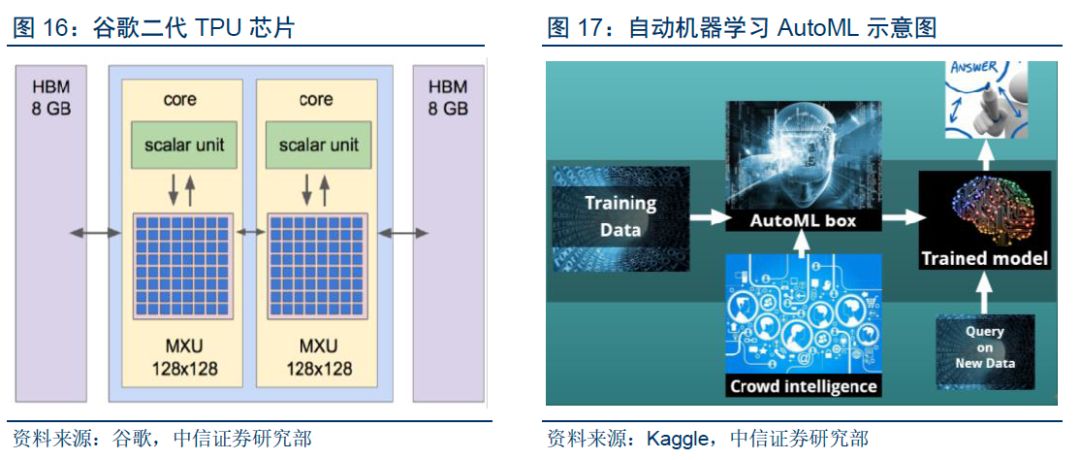 Can AutoML Vision simplifies the user interface and promotes automated machine learning.In January 2018, Google released Cloud AutoML Vision, a cloud service that automatically models machine learning and provides custom image recognition systems. Users do not need a professional background in machine learning, as long as they understand the basic concepts of the model, upload tag data on the system, you can train and manage the model on google cloud, and the whole process can be done through the drag-and-drop interface. According to Google's plan, AutoML vision will be integrated into translation, video, natural voice processing and other fields in the future.

Cloud services are an important channel for AI evolution
Consolidate your vast online service base and continue to power your distributed computing/storage benefits.Google's cloud services are based not only on the growth track, but also on the use of online data and machine training to continuously improve their AI capabilities and usage scenarios. Google's current cloud services already cover technology facilities, platforms and services, but market share and revenue are still far from between Microsoft, Amazon and SalesForece;
Public cloud helps businesses reduce costs and expand IT capability boundaries.According to Gartner statistics, the global public cloud market (IaaS, PaaS, SaaS only) was $104.7 billion (up from 26.8% YoY) and the Chinese market was nearly RMB25 billion (up 45% YoY). The global market is expected to exceed $200 billion by 2020 and is in a period of rapid growth. In the area of IaaS for cloud services, Gartner estimates that the relevant market size will be about $50-60 billion in 2018, with Amazon Cloud AWS with a clear first-in-the-nation advantage and a solid market share and ecosystem, accounting for 44%.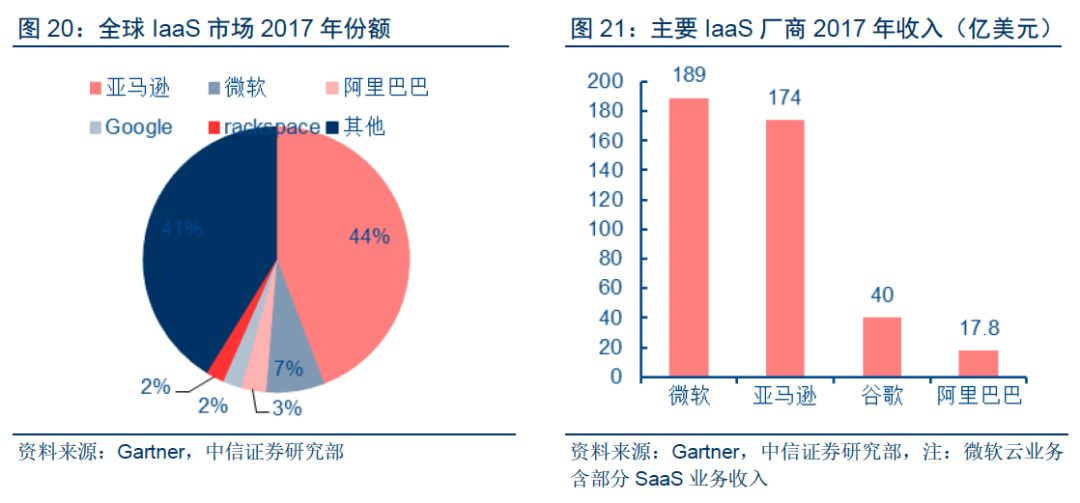 4
Take advantage of AI and move the ecology to the Internet of Things

Build a mobile connected ecosystem with Android
Market share is an absolute advantage.Google bought Android, Andy Rubin's start-up, in 2005 and launched its smart phone operating system of the same name in 2007 based on its software system. Android's open architecture and ecology, HTC, Sony, Samsung and other international brands recognized, its market share increased year by year. Android's smartphone market share reached 23% in 2010, according to IDC, and nearly 86% in 2017.
With its large ecological system, it provides favorable conditions for the promotion of native applications and three-party application platforms.On the official App Store (Google Play)., with nearly 4 million active apps, nearly twice as many as on Apple's App Store. Like iOS, Google's official app store pumps in paid apps and streams, and google actually earns less on the app platform than Apple because of Android's three-way app store and users' pay habits.

Improve security and user experience to ensure the sound development of the platform.Compared with the closed system of iOS, Android system is a congenital short board in system fit and application platform security. Google continues to improve Android, for example by offering incentives for "vulnerability hunters" to encourage experts or amateurs to report security vulnerabilities to Google, and by removing malware from the platform and integrating a cleanup tool, Google Play Store Protect, into the system to identify malware that isolates phones.

Voice Assistant leverages AI technology to improve the interactive experience of intelligent hardware.Google first applied neural network technology to speech recognition in 2012, and deep learning led to a significant increase in speech recognition rates. At the 2016 Google I/O conference, Google Assistant was released as a bridge between hardware devices and operating systems, allowing users to operate devices with smooth voice. Google Assistant has been able to invoke the main features of Google's new hardware products, such as voice interaction with pixel phones, machine simultaneous interpretation of VR products, interaction between smart speaker Google Home and peripheral devices, and installation of Android Auto, an on-board system.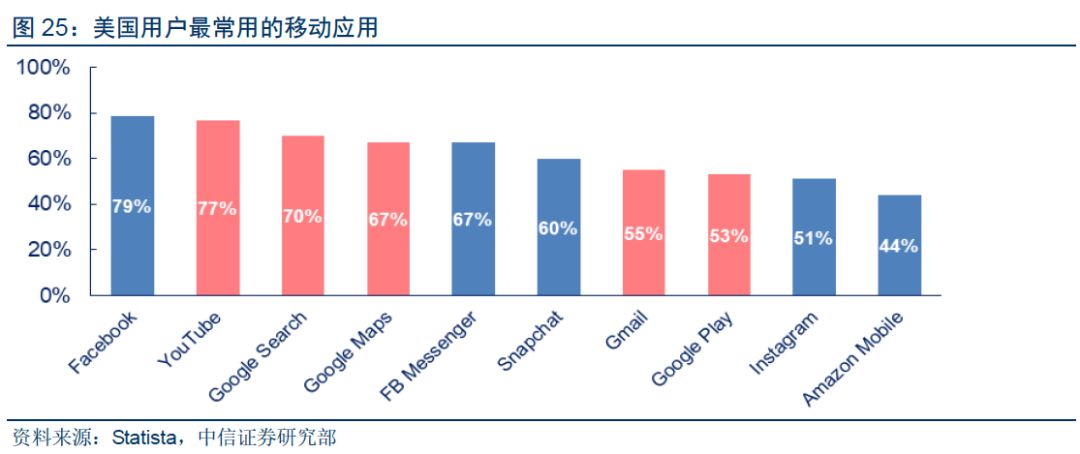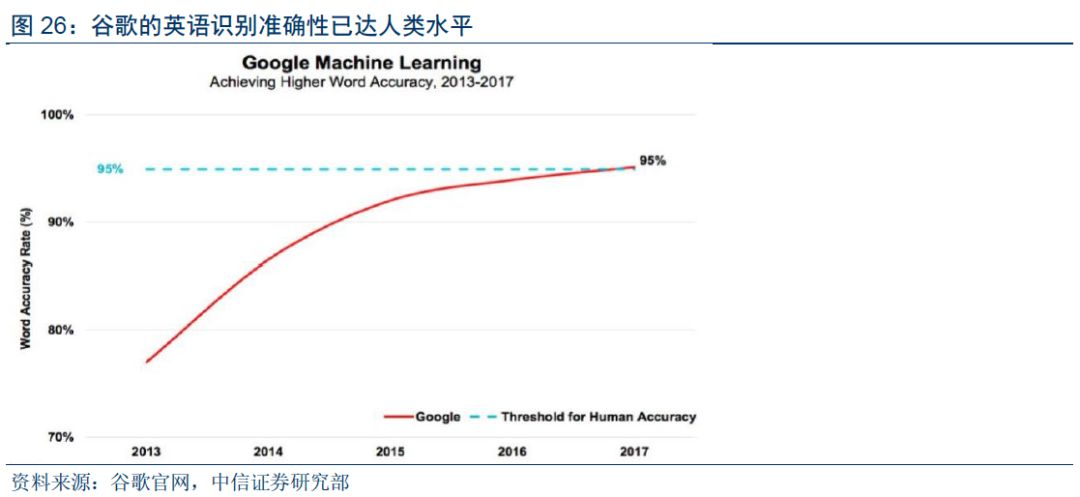 Multi-layout IoT domain
After the Internet and mobile Internet, the Internet of Things is expected to be the next high-growth area.Google's share of search, video and mobile operating systems is high, growth has slowed, and advertising revenue is largely dependent on industry-wide growth. In recent years, the Internet of Things access terminals and traffic show high growth, Google from the operating system, hardware, core technology and other aspects go hand in hand, layout of smart home, medical, car networking, smart city and other scenarios. The business includes Google's Android, Nest Smart Home, ARVR devices, and new technologies such as Waymo, Calico and Verily under Other Bets.
Smart speakers serve as a home hub and an entry point for voice interaction.Amazon launched the Smart Speaker Echo in 2014, using voice assistant Alexa, which focuses on remote voice manipulation, smart home device control hubs, and life services applications, and has since become a popular hardware category. Google also launched its speaker product, Google Home, in 2016 to compete with the Echo at a better price/performance ratio, with a share approaching the Amazon Echo in the fourth quarter of 2017. In addition, Google Home can collaborate with Google Eco, including playing YouTube music by default, interacting with Chromecast, calling search directly, email, calendars, maps and other mature apps.

Driverless competition is fierce, with Google Waymo leading the industry in mass test data.Driverless is a long-term trend in the industry, vehicles will also integrate environmental sensing, vehicle networking, artificial intelligence and other fields of cutting-edge technology, is expected to become an "intelligent information center." In addition to traditional large car manufacturers and Tier 1 suppliers, IT giants and many start-ups have joined the ranks of self-driving as key scenarios in the IoT and data chains.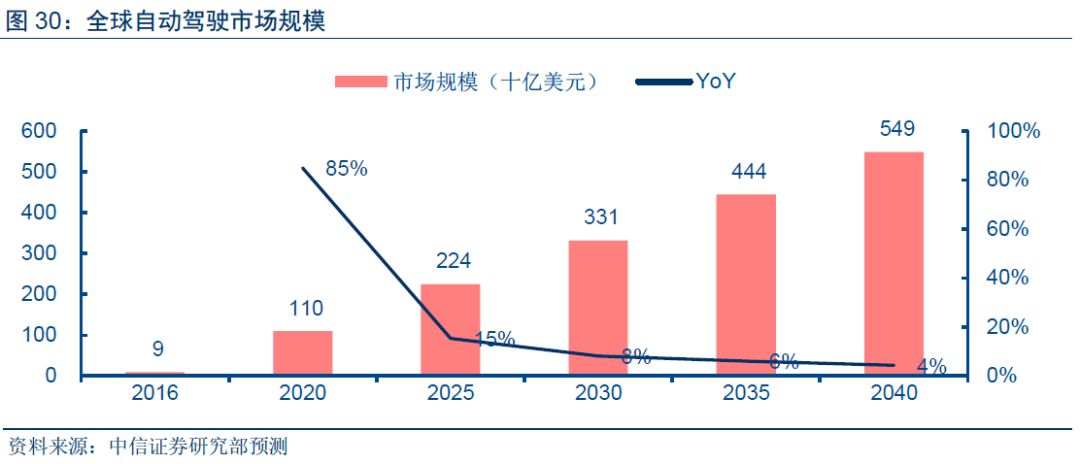 Alphabet's Waymo is a unit focused on self-driving systems. In November 2017, Waymo completed 5.6 million km of road test drives and 4 billion km of simulated driving, the industry's first, using Altera's Arria FPGA chip, Intel's XMM communication chip, and lidar covering short, medium and long distances, eight vision modules, and radar.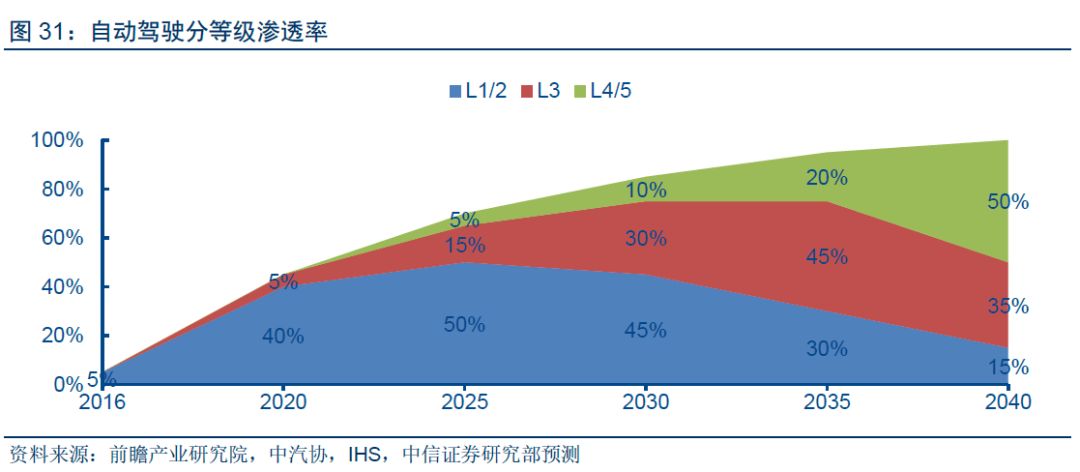 Waymo's driverless commercialization is advancing rapidly.2017In November, Waymo released driverless passenger transportation, and its Pacifica test vehicles offer public transportation in Phoenix, U.S. In early 2018, Google announced that it would further work with car manufacturers and travel platforms to commercialize its driverless taxi business. Using its data and hardware development capabilities, Google combines core hardware such as TPU chips and high-wired lidar to enhance the overall performance of unmanned vehicles while helping to reduce costs and help shorten the commercialization process.

Risk factors
       1) Streaming search and advertising industry competition intensified;
       2) Increased cost of traffic acquisition;
       3) AI's input recycling cycle is too long;
       4)Emerging scenarios such as autonomous driving have not been as expected.
Xu Yingbo

Chief Analyst of Citic Securities Prospects Research, graduated from Tsinghua University's Department of Automotive Engineering and entered CITIC Securities Research in 2007 as an automotive industry analyst. In 2016, Ms. Xu led the establishment of a forward-looking research team to lead cross-industry research and cross-border research focusing on frontier areas such as "data industry chain and artificial intelligence", "new energy vehicles and intelligent driving" in China's securities market. Ms. Xu has repeatedly won the first place in the automotive and auto parts industry for best analyst in New Fortune, the first place in the automotive industry in the Crystal Ball Award and the Taurus Award, and the second place in the automotive industry for best analyst in II All China (institutional investor). Asia Money Asia Currency Best Analyst in 2017 "Tech" was second in the tech hardware industry.
Special statement
  The information contained in this information is intended only for professional investment institutions and for the timely exchange of research ideas in the context of new media. The information contained in this information is extracted from the research report published by CITIC Securities Research Department or is a follow-up interpretation of the published report, and if there is ambiguity as a result of the excerpt of the report, the full contents of the report on the date of publication shall prevail. This information only represents the judgment on the date of publication of the report, the relevant analysis and speculation may be made without notice, readers should also keep track of the latest research progress.
  This information does not constitute a specific securities in the specific price, specific time point, specific market performance judgment or investment advice, can not be equated with guiding the specific investment of operational advice, ordinary individual investors if the use of this information, may be due to lack of interpretation services on the key assumptions, ratings, target prices and other content of the report to understand the ambiguity, resulting in investment losses. Individual investors are therefore also required to seek guidance from professional investment advisers. This information is for informational purposes only, the recipient should not rely solely on the information of this information to replace their own independent judgment, should make their own investment decisions and bear their own investment risks.
---