Facebook's marketing guide

Facebook is big.
As the world's largest social network,
It has more than 2.2 billion active users,
Sixty-six percent of them log on every day.
Facebook has such a large user base that most marketers can't ignore it. I bet your ideal audience uses Facebook almost every day.
The question is: How do you market these users?
The good news is that Facebook's ad platform allows you to find your ideal audience from scratch. You can target by location, demographics, and interests.
In this guide, I'll show you the basics of how to use Facebook. The guide is intended for beginners who want to promote their business on the world's largest social network.
Facebook started out as a social network for college students, but by now it's used by almost everyone connected to the Internet. Facebook's minimum age is 13, and there is reason to believe that people over the age of 13 are using it.

Facebook doesn't publicly publish the age group with the most users, but a survey shows that the social network is the most popular with the 18-29 age group, while people 65 and older use the social network the least.
I can assure you that no matter what age you're targeting, there are more than enough people on Facebook.
How do I promote it on Facebook?
Facebook has three tools:Pages, ads, groups.Each has its own purpose, and combining them can be achieved on a larger scale.
Facebook pages are similar to profiles, but apply to businesses, organizations and public figures.

Users can like a page, which means that they will automatically receive update status for that page in their news feed, similar to WeChat's subscription to a public number, which will automatically receive the content of the public number update. Users can also choose to like a page without paying attention to it.
Although a friend of a page needs a friend, anyone can like the page, not just the fans. The page also doesn't have a limit on the number of friends/fans, unlike profiles, which are limited to 5,000 friends.
Advantages:The page is free and easy to set up.
Disadvantages:It's hard to get a foothold and build a fan base.
Facebook provides an excellent targeted advertising platform. You can create ads for specific geographic regions, ages, levels of education, and even the type of device you use to browse. Facebook also allows users to turn off ads they don't like and like them below: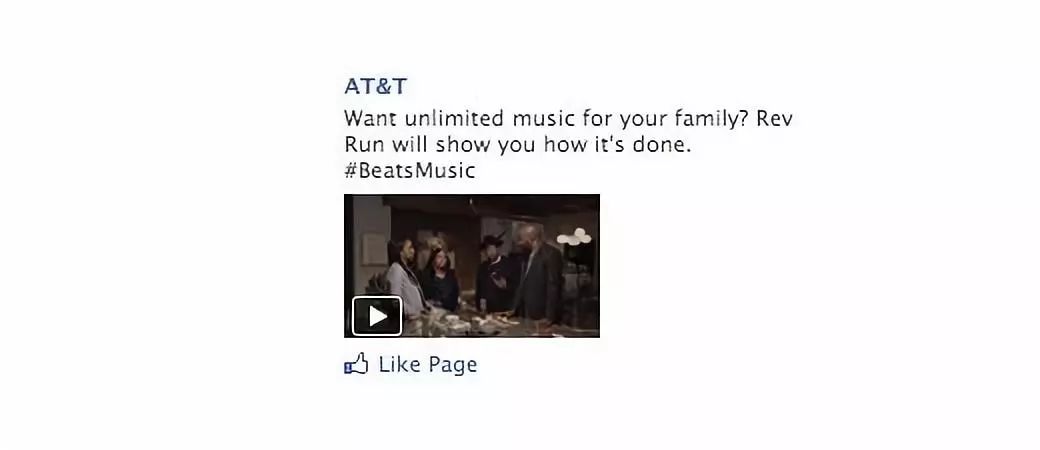 Advantages:Ads have powerful targeting parameters.
Disadvantages:Depending on your goals, advertising can become expensive.
Facebook groups are similar to discussion forums, but have other features for pages and profiles. You can create industry or product-related groups as a way to connect with potential customers.
Advantages:Free, high participation.
Disadvantages:Management teams can be time-consuming.
How do I market my Facebook page?
The Facebook page is the easiest way to get started with Facebook marketing. They are free, relatively easy to set up, and very flexible. There are not too many disadvantages.
Unfortunately, many companies don't make the most of them, or worse, use them heavily. The following guidelines will help you avoid these pits.
Your profile photo should be your business logo, that's it.
Cover pictures are another matter. It depends on what you decide to put here. Someone posts a photo of the employee, someone uses a photo of the artwork and puts the contact information in. In fact, just choose a photo that highlights the theme of your page and catches your eye.
The About section is located directly below the company logo. Here you can tell visitors what you do.
Make sure you're here to provide good information about what your company is doing, what's different, and other interesting details. If you can, take the time to write an introduction specifically for your Facebook audience. If you don't have time, you can copy the text from the "About Us" page on your website. Be sure to fill in all the data under Basic Information.
Remember to be friendly and informal. Casual tones usually work best on Facebook. Here are a few good examples.
HubSpot tells us what they did and gives us a contact information:
WP Engine shares their work and the number of customers they have, which helps build credibility: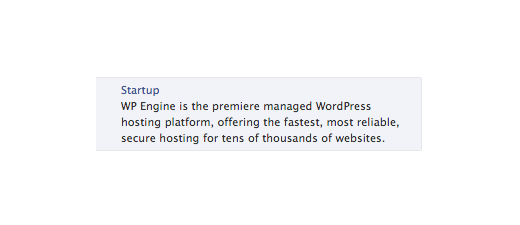 You can also put business hours in the About section.
The label is located in a small square to the right of the About section. Here's ESPN's tag:
Facebook allows you to use up to 10 app tabs, which Facebook administrators call the Favorites section. Photos and likes are required tags. Feel free to move the Like tab, but you must keep your photos. The top label can be put up to 4.
Think about your visitor's priorities. If you're in a brick-and-mortar store, you may need to make location labels. If you hold a webinar, you can use the event tag to get people to sign up and attend the webinar. Social media is primarily used for engagement, so the more fans you have, the closer you get to you, and the better marketer you'll be.
What you post to the wall appears in the newsfeeds of all the people who "like" your page, just as you do when you post content on your personal page.
So make sure what you post is really useful to your fans. Don't post duplicate updates on the same thing, and don't post too many updates, brush the news streams of fans.
Here are some ideas you might want to post to the wall:
A link to a company or industry-related article

Link to your blog post

Coupon code for the product

Announcement of new products

Link to online tools that fans may find useful
Make sure your post is valuable again. Also, do not post several times a day unless there is a special event.
Getting fans on your page is a great way to inspire loyalty.
Asking questions in your update will get people involved and in their own way.
Your requirements depend heavily on your product and nikki, but asking open-ended questions usually gets the best answer. Asking for ideas for new products may be a great way to convince fans that your company cares about what they want. Get more engagement on your posts and get your posts to the top of the list.
Spam is one of the fastest ways to lose fans. If you don't do anything, just post promotional materials about your company and don't add anything of value, you'll have a hard time getting and retaining fans.
Before you send any updates, ask yourself if you're honest about adding value to your conversation. If not, do not send.
Pay attention to the statistics
Facebook provides some very good analysis for the page. Be sure to pay attention to them. If you're seeing a surge or drop in fan numbers, check out your recent posts to see if you can figure out why. Then, publish more or less of this content.
Facebook collects a lot of demographic information about its users and has one of the most targeted advertising programs online. You can target people based on anything you find in your profile and track the status of each segmented audience.
Ads can run by impressions or per click. Facebook offers bids for other ads similar to your ads, and you can tell if they match other ads in your industry. You can also set a daily limit, such as a few hundred dollars a day, to control your budget.
There are many types of ads to choose from.
You can create ads that point to your Facebook page or your website. You can create ads to promote Facebook campaigns and provide RSVP links. You can create ads for mobile apps.
Facebook used to offer the option to like any ad on Facebook. But that's changed now. People can like ads or hide them. When you turn off ads, Facebook asks people to explain why they don't like them.
This is valuable information to gain insight into why your ads are not performing well.
Powerful positioning options
As mentioned earlier, Facebook has the most powerful targeting tool of any online advertising program.
You can target almost anything in a user's profile.
For example, you can start at the location, specify the city, zip code, county or state. This is very effective for local businesses. You can also choose basic demographics, including age, workplace, education, birthdays, and more.
You can target ads to people who have recently moved home. So if you own a gym in Scottsdale and want to find everyone who has recently moved to the area, you can do so.
You can also target your audience based on your interests. For example, if you have a product for baseball fans, you can enter baseball in the interest field. Or maybe you've written a book, and you're sure that people who like another book will like you, too, and you can enter the title of the book under Interests.
You can even target a list of private users. If you have a list of email addresses for people you want to target, you can use Facebook's ad manager to target them.
Another big advantage of targeted ads is that you can create different ads for different target audiences. Targeted ads will get better results.
If the target is baseball fans, you can create separate ads for different popular teams. You can have an ad specifically for Red Sox fans, one for Yankees and one for Cubs, and then show them only to people who show they're fans of those teams in their interest.
Or, suppose you target them based on their love of a book. You can mention the book in the ad itself to make it more likely that it will attract their attention. Create different ads for different books and target them accordingly.
Facebook is not only powerful. It's also flexible. No matter what type of company you run, it has enough marketing options to tailor your marketing efforts to your company, budget and time constraints.
Of course, you may need some time to understand what it does. Facebook is still growing rapidly, and every day it becomes an integral part of social media marketing.
It's also important to hit the iron while it's hot. For now, companies that are proficient in Facebook marketing still enjoy the advantage of early entry. Once more traditional marketers enter the field, competition will intensify, advertising prices will rise, and users will become more selective.
If Facebook isn't currently part of your campaign, start using Facebook. Set aside some time to mash up, start some testing activities and see what happens. Anything needs to be practiced to be good at it.
I recommend starting now and learning from these courses:
Learn more about Facebook practice, welcome to participate in our Facebook marketing master training camp, once a month, two days with computer practice, in order to ensure the effectiveness of the course, only 20 people, interested pleaseSweep the code or read the original textLearn more about signing up.
---