Foreign trade people must see: the most complete Facebook marketing strategy!
Actually, as we said earlier,

1. Facebook's Groups and Notes marketing
(http://mp.weixin.qq.com/s/mONEFbfoQBRSM9XDpuaYtA )

2. Edit the page profile (description), change the page cover photo problem, increase the number of page fans (likes), post, improve the speed of reply to the page's message, set the preferred Page audience problem
(http://mp.weixin.qq.com/s/1WJlgtu-NTK_u_lsd95ncQ )

3. Create a store on your Facebook page, etc
(http://mp.weixin.qq.com/s/tEiscoD0g7q8ezrb4f5ccA )

These all belongThe scope of Facebook marketing, today we have to refine a little more, hopeYes.Help everyone do wellFacebook marketing!
Let our customers and orders roll in~
First, create an offer on the home page:
Go to the home page,Click on the left navigation"Preferential.":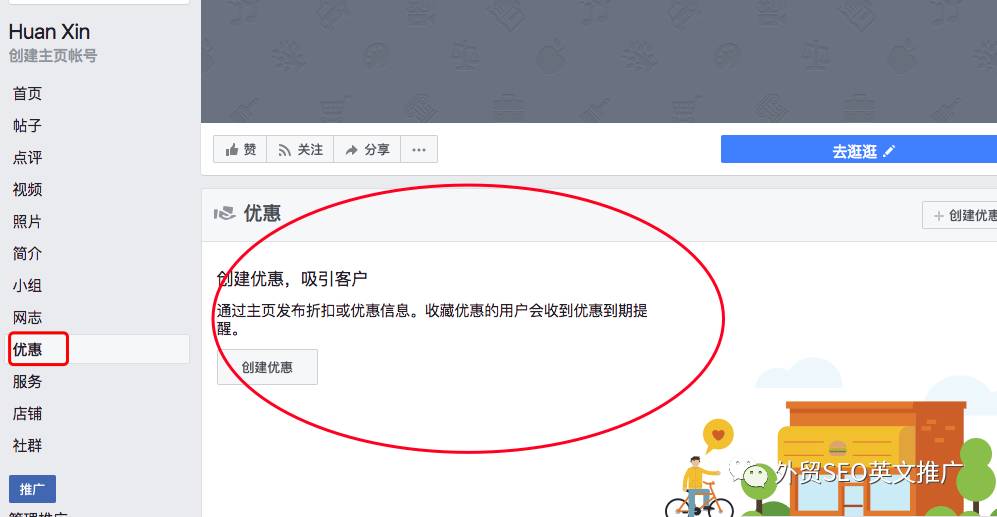 Click "Create a offer" and the image below appears in this create interface: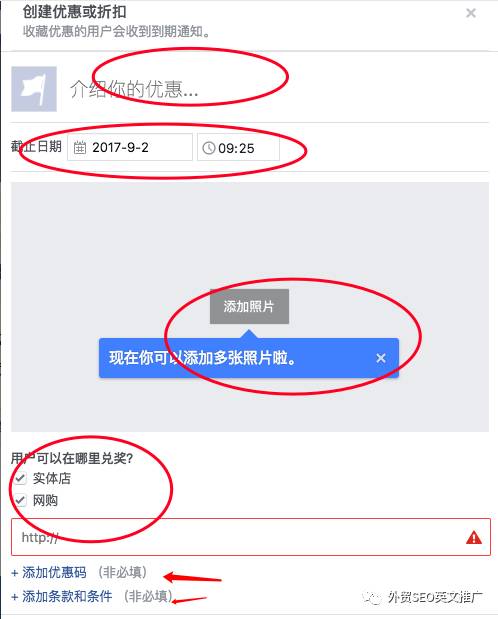 What we need to do is: introduce your offer, set the deadline for the offer, add an introduction picture, set the location of the offer (physical store or online shopping). Alternatively, you can add a coupon code and important rules and legal details that describe the offer.
Second, on the home page to promote activities
Don't say much, it is recommended that you first open the circle of friends to see if you have forwarded such content:"Share this feed to your circle of friends and set likes30you can take screenshots to where and where to collect the prize…"
I've done it before, I've forwarded a circle of friends in an eyeglass shop, and I've got a pair of beauties…But try it and throw it away...Scammers, say anything imported, but wear super uncomfortable....Then, from then on I have a very bad impression of that eyeglass shop, can not afford activities do not engage in, how can this deceive people's young hearts…
Haha, it's the right word,How do I organize promotions on my Page?
In fact, it is very simple, first of all, you have to choose the right gift according to the budget and your fans' hobbies, gifts should be unique, do not value too low or easy to get, do not count too few finally can only talk to peoplesorryThe gift is gone….(Remember, don't play if you can't afford it, don't go to the pit man, cheat and play with the trust of the fans, and you'll only get away with it).
You can then follow the practices of your circle of friends by posting an active post on your Page and toping it. (It's best to invite fans to retweet posts to their home pages.) )
And tell them to send information such as contact information (email or phone or home address) to your home page.
Finally, you can deliver the promised gift to your fans.
Attention:Gifts must be selected, can be the product trial, product model, product instructions, product free trial, some relevant knowledge manual, and even learning videos,pdfdocumentation, etc.
Be sure to have enough appeal, which is the key to the success of the event, in order to fully mobilize user engagement, to enhance brand awareness or attract more fans.
Third, the deliveryFacebook Advertising.
In. Facebook ads make it easy to find the right audience, get people's attention, and get results。 Methods and management tools for crafting adsGoogle AdWordsthe interface is very similar.
How toFacebookOn ads?

1First, openhttp://www.facebook.com/advertisingpage, click after landing"Create an ad (Create an Ad)",
Choose your marketing goals: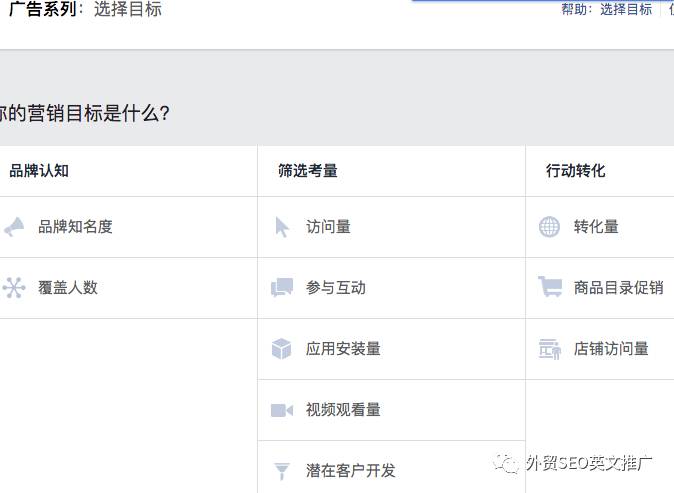 By selecting one of the targets, letFacebookGet a better understanding of what you want to do to give you the best advertising options:
2Create an ad account:
Once you've selected your target, you'll be prompted to create an ad account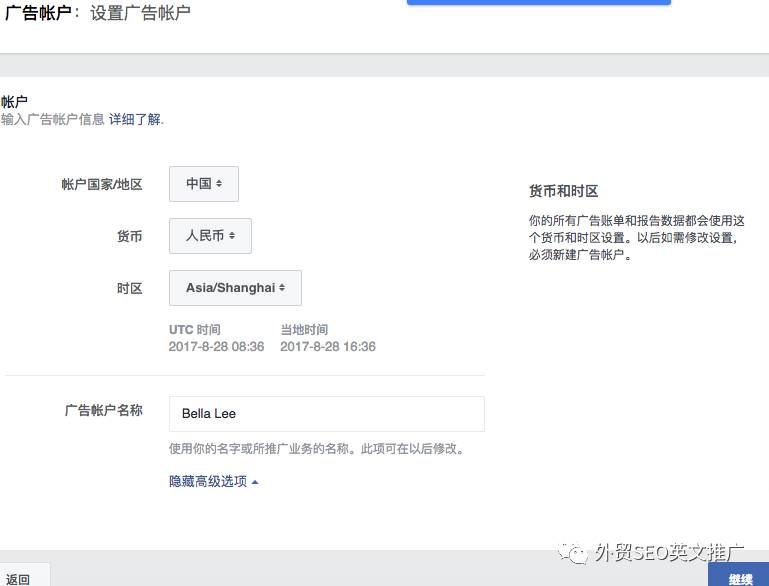 3To enter the settings of the ad group: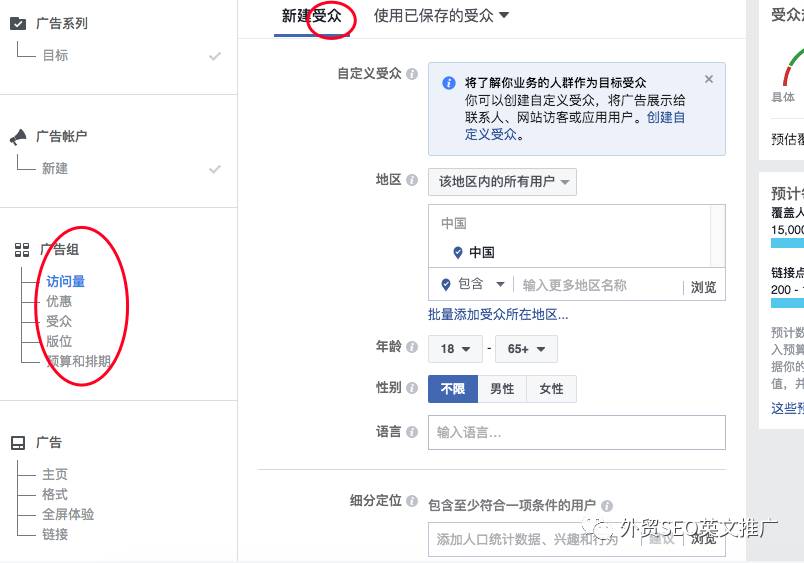 You can choose whether to create offers, target audiences, select layouts, edit budgets and scheduling, and more.
Audiences can be divided by location, age, gender, and interests.
Layout there, recommended selection"Automatic layout"。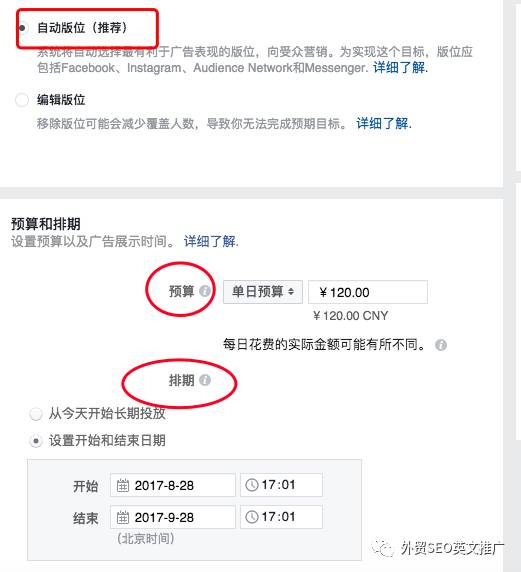 The budget is divided into a one-day budget and a total budget:
•     If you want to keep running ads, you can choose a daily budget. A daily budget is the amount you are willing to spend on this particular ad each day. Remember, this is an average, so there are times when you may be slightly above or below this amount.
•  If you only want to run ads for a specified period of time, we recommend that you choose a total budget. And then.FacebookYour total amount is automatically distributed evenly over this period of time.
Scheduling means that you can choose the right schedule for your ad. You can set your own start and end dates from today or later.
There's one at the bottom"Advanced options":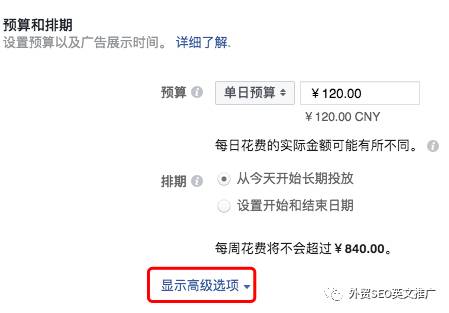 Clicking on the advanced options will appear"How your ads are optimized: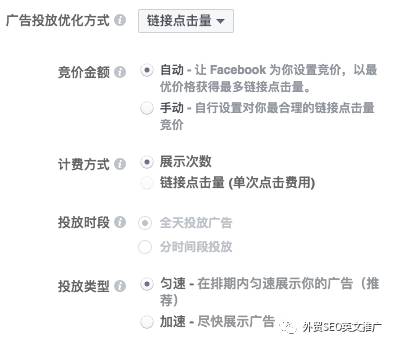 Billing methods can be calculated by click-through rate or view rate.
In general, it is recommended that you pay per click-through rate, although the number of views of ads is very large, but the real click-through rate is not high, so choose to pay per-click rate on the one hand to achieve the initial effect of advertising, on the other hand, also reduce the cost of advertising.
4Set up ads
①format to determine the appearance of your ad

②Then upload the image based on the content of the ad by filling in external links, titles, ad words. Choose the call to action you want.
Note: Upload an image to determine the percentage of text in the ad image. Ads may Chinese reach all audiences if the image is over-accounted for
5Finally, click on the ad preview on the far right side of the page and sort the ads made properly.
FacebookThere is a built-in system that analyzes ad impressions, click-through rates, and pass-through click-through rates to help users determine which ad capital investment rate is the highest and best for corporate pages.

Fourth, create a group on the home page (group)
This is the same as when you mentioned earlier about creating a group on your profile.
Groups created with a page, more authoritative! Actively join more people, later you use it to do promotional effect will be better.
V. Create a web page on the home page (Notes)
Google gives much more weight to web pages on its homepage than it does on its homepage.
The net on the home page must pay special attention to quality, high quality, high value and high authority! Such a network more, others will think you are very professional very strong, and then the sense of worship brought"It's not that you don't buy it" loyalty~
Six, the right time to post the right post
You can't post at any time, and the time you post needs to be the time that makes the most people see it.
Generally speaking:
In.FacebookThe best time to post content is on Wednesday afternoon3:00。
Other good posting times are Saturday and Sunday afternoons12:00-1:00and Thursday and Friday afternoons1:00-4:00。 Thursday and Friday's post participation rate was higher than usual18%。 And on weekend afternoons1:00-4:00Get the most hits.
In.FacebookThe worst time to post is on a weekend morning8:00before and in the afternoon8:00later.
It is recommended to make a comprehensive selection based on your target customers, active time, etc.
In addition, posts are also skillful:
Posts are not much in the fine.
If you send some boring product introductions or official website links every day, suddenly the home page as your product warehouse, or a large section of Chinese English;....  okI believe no one can stand you…
Even if you publish product links and other developments on your website, you have to use some interesting language to unearth the highlights of the product, everyone's life is under a lot of pressure, who wants to see your faceless text.
In a word, the post should pay attention to the user's participation, your post should be able to cause and fan interaction to come, fans willing to give you praise, give you comments to communicate with you!
You can ask fans questions, tell stories,
Note posts should be good at using emojis, research shows:Use emojis to increase33%posts will also be shared more33%, adding emojis at the same time is more important than posts that don't57%The number of likes.
You can make material in conjunction with hotspot events,Hot topics often cause explosive effects, which depends on your insight into the current situation and editorial ability;
You can add photos and videos to your posts.Relevant research shows , the use of pictures can be increased120%(Compared to plain text posts)If you are multi-image upload including album images this percentage will increase180%。 Video, on the other hand, is a big trend on social media.
Also, it's important to be good at it@Label!
Socially, everyone wants to be the focus if you're in the spotlight @That mood must be differentto be used appropriately@Tags can get fans closer to the home page.
Seven, fast-tweet posts
When you post on your Page, you can choose"Push the post"。

Push posts to reach more audiences than your Page followers (fans).
You can refine your audience yourself, and you can choose to tailor your post's audience by their age, region, interests, and more: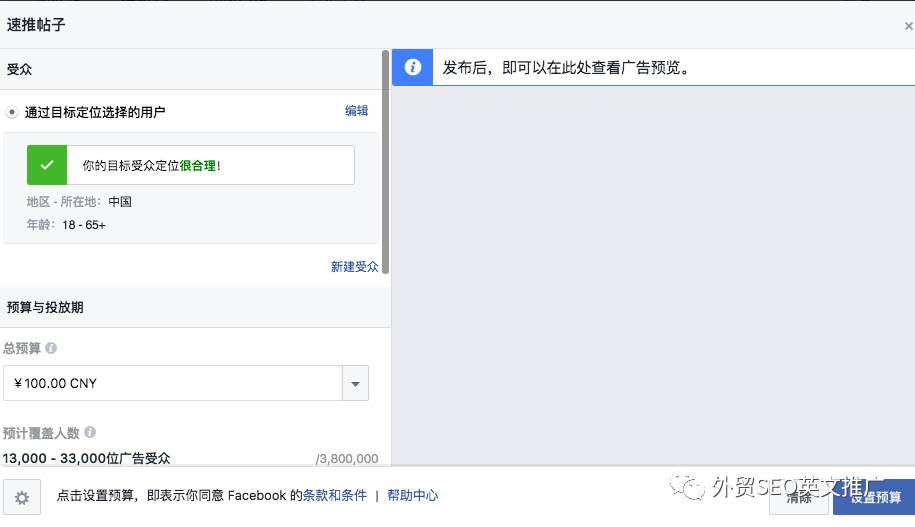 EightTop high-popular posts
We all know how to dress and how to dress well Will make a good impression.
The home page is the same, it also needs the face, we want to put good, bright spots to the visitors, some bad cover up!
So, for some likes, comments are high good posts we can set the top of the home page,
For some poor interactions you can choose to hide, set up as shown in the following image: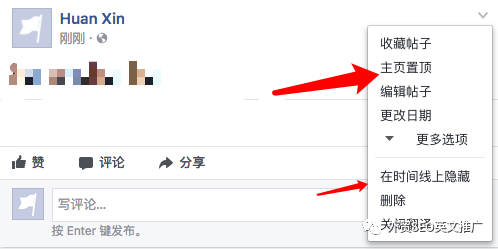 Nine, the use of network red people marketing
As you often see,facebookSome red people are just onepostThere were tens of millions of likes, thousands of comments. Really envious there is no~
(Haha, at this point, Xue's tweets suddenly appeared in my mind.)....)
In fact, we can use it as a way of advertising marketing, such as let the red people give us a post, put a link to our home page~
First of all, go to find the red people related to your product category, judge whether it is relevant or not is very simple, to see if the red people hair things are basically the same category as your products;
It is recommended to give you a website:fanpagelist.com That's an introduction to usfacebookFan leaderboard website, there are a lot of network data and categories worthy of our reference.
After finding the relevant Red Man, then judge the quality of the Red Man resources:
In addition to the number of fans also depends on the frequency of his message, this is very important, if the frequency of daily texting is too high, usually the effect will not be much better.
Also, look at the quality of his fans, as there may be large quantities of fake powder zombie powder.
Go and see how the Reds' posts interact with their fans, if there's tens of millions of powders, but there are only a few hundred likes.ok, if not to buy fake powder, or the poor quality of the text to die, only rely on this money regardless of fans….This kind of red person is not an option, please red person to send us a post the cost is usually not low...Don't let the money drift.
Finally, I would like to emphasize that attention to negotiation skills, communication must be specific and detailed, the other is Don't forget the three~
TenFacebookA good marketing tool
1)Facebook  Insights
This is a statistical analysis tool. I feel like a Google Analytics tool.
It analyzes what you createdfacebookHome page access statistics, but also statistics applications and withfacebookConnect to the website (provided you are inappand put it on the websitefacebookstatistics code), to tell you yoursappOr which page of the site isfacebookUser welcome to help you analyze customer needs.
Facebook  InsightsAccess:
Go to the home page and click on the top left"Results analysis"(It's called under the English interface.)insights), as shown in the following image: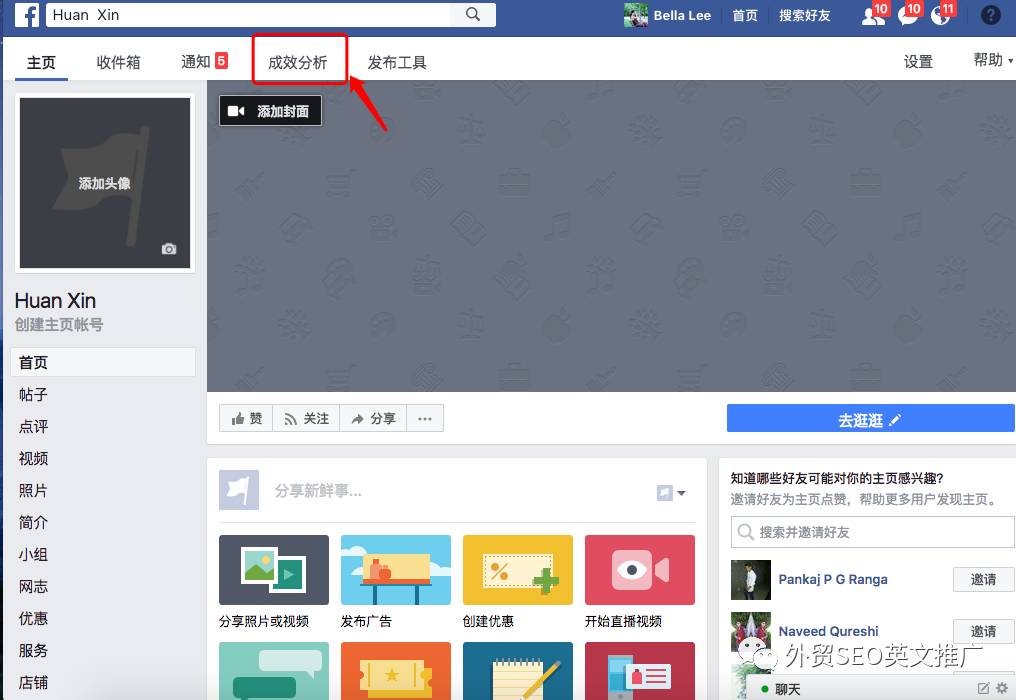 Once clicked, go to the following image of the interface: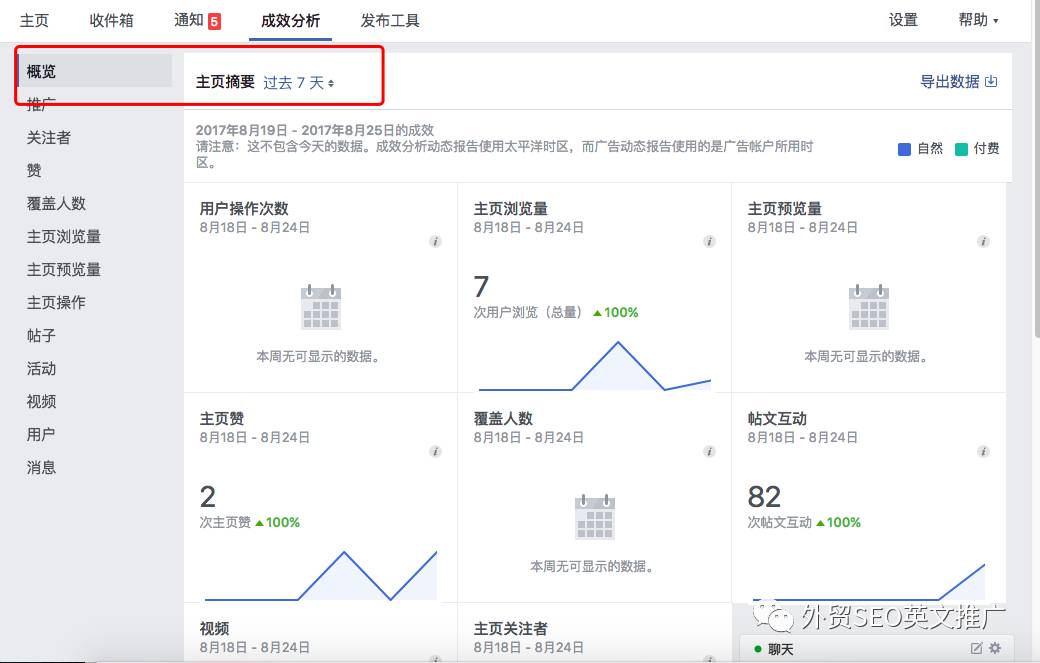 (Note: The daily data is recorded based on the Pacific time on the West Coast of the United States.) )
"Overview."The section shows your home page near7A summary of your day(excluding today), including the number of user actions on your Page (i.e. the number of clicks on contacts and call-to-action buttons), views, likes, post reach and post interactions, and more.
Then continue to look at the navigation bar options on the left, and we'll choose a few important lectures:
(1)"Followers":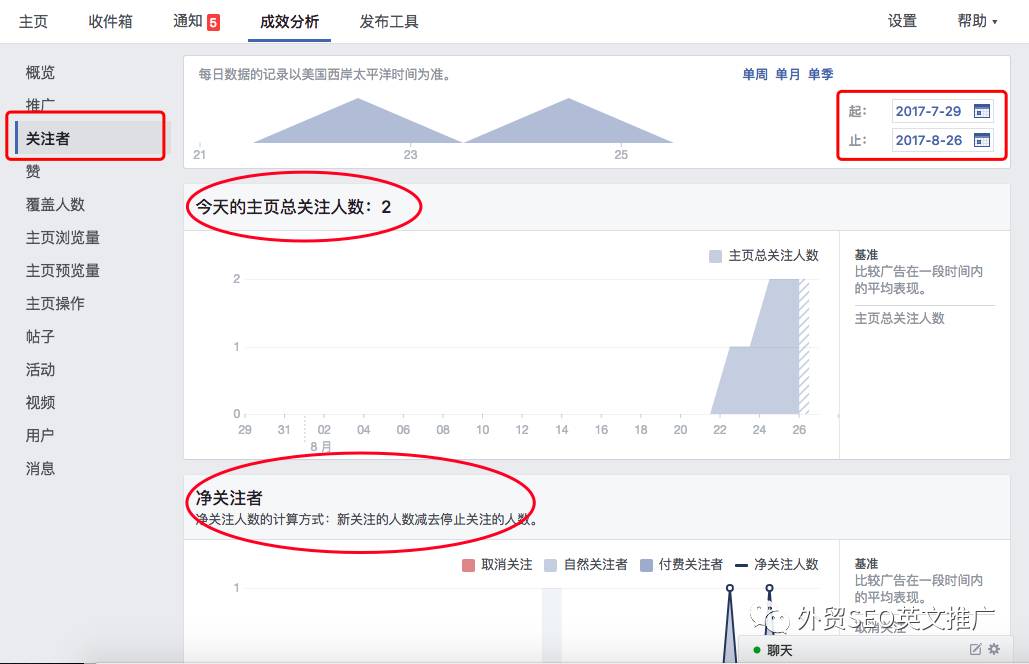 It statistically analyzes the total number of followers on the Page (which also clearly gives the number of followers per day) and the number of net followers (i.e., the number of new followers minus the number of people who stopped following) and where the Page's follows occur.
Attention:
①For analysis results, you can set your own time period, with due date settings at the top right of the image above.
②As shown in the following image, you can drag to choose the time period as you like, to see the number of followers and the number of people who stopped following it during that time period:


③Click on the one on the right"Total page followers"will give this time period"Average.", as shown below:

(2)"Praise."
Follow the one above"Followers"The situation is similar.
(3)"The number of people covered"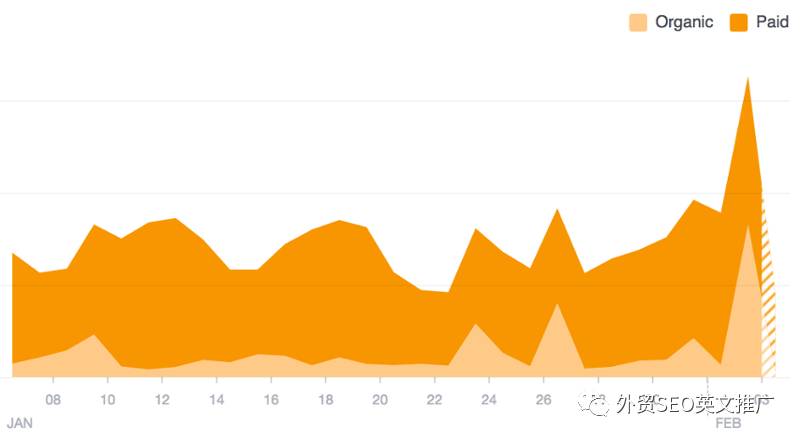 Gives the number of people reached by the post (that is, the number of people who saw the post).), according to Nature (organic)and pay(paid)Two to subdivide.
In addition, the post's likes, comments, shares, and the post's choice to hide, report as spam and cancel the like.
Note: The more likes, comments, and shares a post gets, the easier it is to appear in News Feed (News Feed), can reach more users;
If a post is always chosen to hide or report it as spam and like and un like it, the post rarely appears in News Feed and covers very few people.
(Attached: Where is News Feed?)
Go to your profile: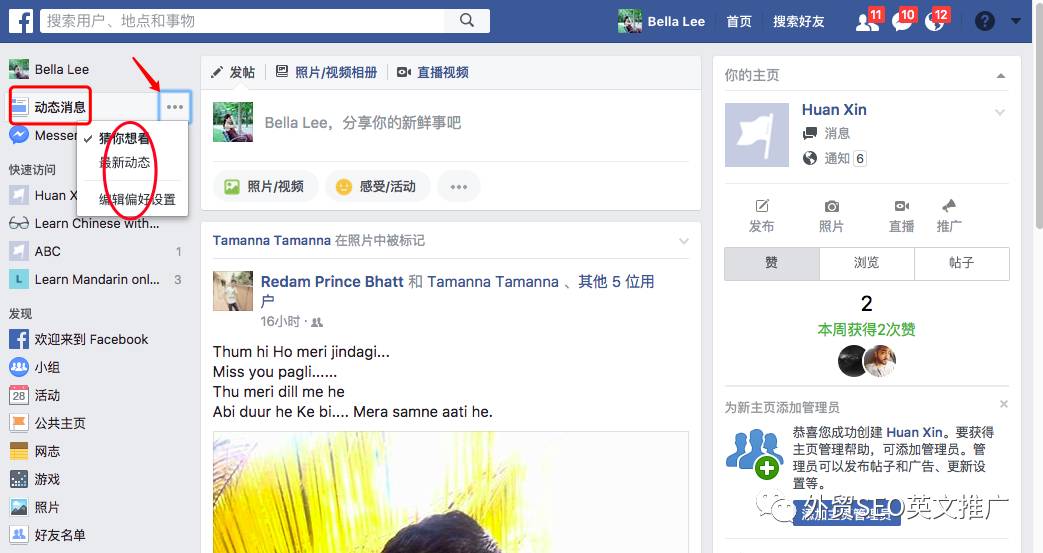 The second on the left sidebar is News Feed, which is calledNews Feed.
Posts we post on our profile or Page (even if reading permissions are set to public) don't immediately appear dynamic, as is our WeChat circle of friendsqqIt's not the same.
Whether a post appears in News Feed is going throughfacebookFiltered,
In general, the number of comments and likes a post receives and its dynamic type (ex: photos, videos, status updates) increases the likelihood that the post will appear in News Feed.
In addition, as shown in the red circle above, you can click to make preferences for the display of your News Feed: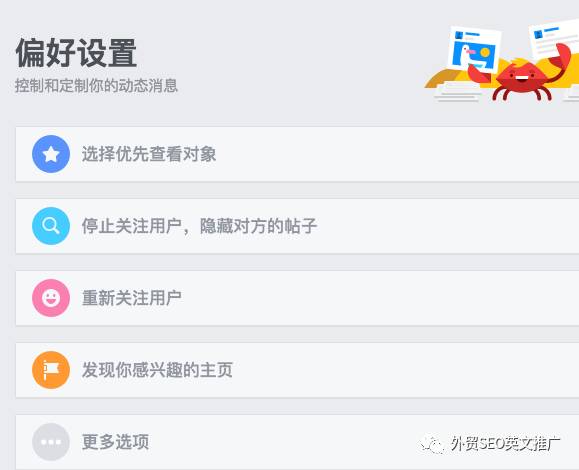 )

(4)Page views
It can help you find out which section of the page people are looking at when they enter it.
Give your adjustment and marketing direction.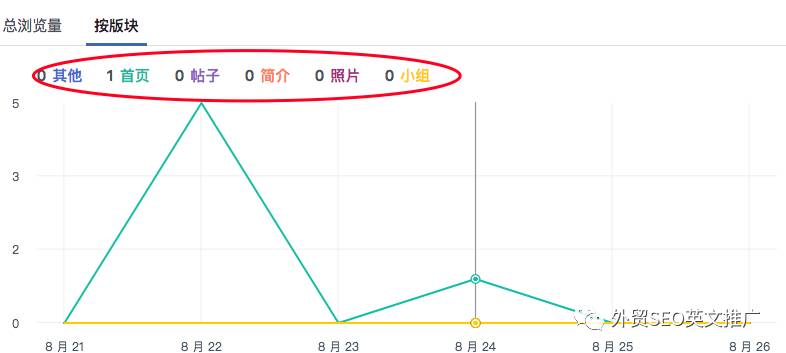 Plus, there's one"The main source":

See where your Page's traffic is mainly coming from, it could be your site, it could be a blog or search engine, etc.
(5)Home action
Give the number of times users in the home page action: how many people clicked the home page call to action button, how many people clicked the phone number, how many people clicked on our website button and so on

(6)Post.
 This part is useful!
①Fans' online time period

I believe I don't have to say more, we mentioned it earlier"Post the right post at the right time", fans online more time is the right time~
②The situation in which the post was posted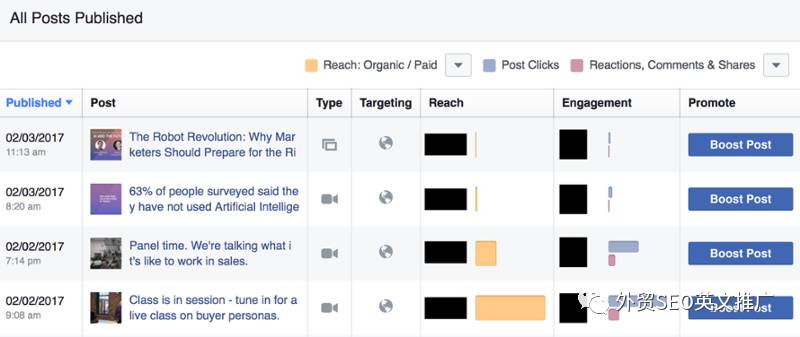 Posts are arranged in chronological order, and the earlier the time.
It gives the type of each post, target audience targeting (targeting), covering people (Reach), participate in the interaction (Engagementand so on.
You can see which types of posts are more popular with users.
Also, click"Reactions, Comments, & Shares."Follow the inverted triangle drop-down menu you can choose from"Participation rate"to see the rate of interaction in digital form. You can top posts with the highest engagement rates, or use paid ads to further enhance it.

2) https://sharescount.com/ And. http://shareyt.com/SocialCounter.php
These two URLs are used to view social sharing data.
You can view every blog post on your siteFacebookShare with other social platforms to help you analyze your users' hobbies and needs.
Eleven things not to do:
1.Spam, spam
Sending spam or email is one of the quickest ways to lose fans, and if you have a promotional message, turn on Message Bombing Fan Mode. In addition to simple promotional information, nothing else useful, that fan may put up with you twice at a time, more times to turn the table....
Before I added a Japanese purchase on WeChat, originally thought about when and when to turn over her circle of friends or directly find her, the result she always moved to send me a message (hate once a day), remind me what arrived and what activities. Sometimes I am busy, suddenly heard WeChat ring, thought there are customers looking for me, thinking that can not slack ah, hasten to open to see….Results.……Alas, more times, I had to delete her.
soFor some information, it's recommended that you make the most of your home page or store and try not to post it privately (personally, I prefer to see their messages from my circle of friends rather than them send me privately, which I think is about active and passive selectivity).…)。
Before you send an affair, ask yourself honestly how often you've been posting recently, which is attractive to fans, and the people who like this message make up a few percent of them.
2.Buy lots of home page likes
For some purposes, some people buy large amounts of likes (i.e. fans) through illegal channels.
This is similar to Taobao brush list, but the brush is too strong, inevitably will be sealed.
Think about it, you buy these large number of likes of the source is certainly not much better, you think the seller will go to great pains to find you an account interested in your products? Pull it down, these accounts may be risky problem accounts.
Like you bought it.ok, as if quite a face, like a non-business society changed into a high-end business suit, like a look. But, an opening, or the flow of air is annoying, this is exposed.
You post, like the comments are very few, who to believe you hundreds of thousands of fans but only a little interaction?
As you may not know, not every post will appear in News Feed (News Feedon the .
This is byFacebookAlgorithms pay special attention to participation rates. These fake likes we buy can reduce the participation rate of our homepage, which ultimately leads tofacebookPrevent our posts from being seen by others.
In addition, over time, real fans will perceive this, they will think that the enterprise is bad behavior, not reliable, and then become black powder....
3.Enthusiasm for a large number of free auto-plus-like software
Now there are a lot of auto-add people on the market, automatic likes or automatic reply to information and other software, we may feel more trouble-free, but, this kind of software used more, your account is particularly easy to seal. It is not recommended that you use this kind of software.
---
Follow foreign trade SEO English promotion, backstage reply to Facebook
Get a free Facebook marketing video tutorial!!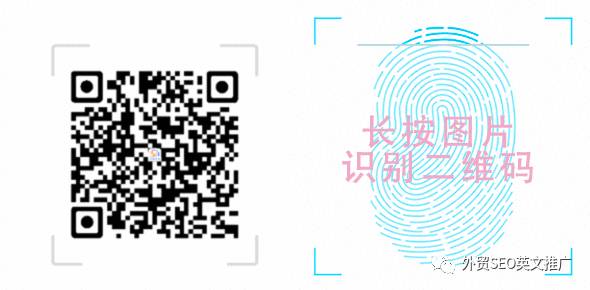 Look, the tutorial is complete! Let's do it!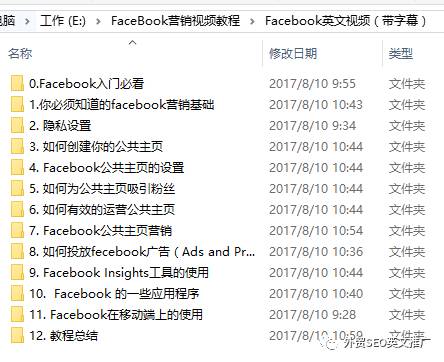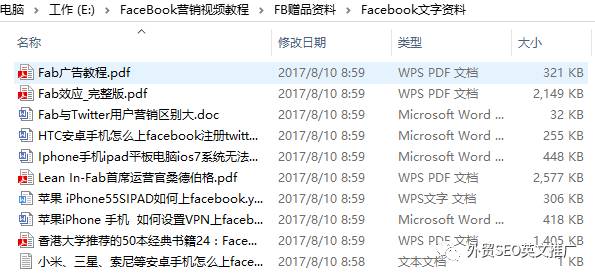 ---