Facebook's advertising process and structure
1, the previous
If you're new to Shopify and haven't voted much, come with me to do a basic understanding of Facebook ads.
First, when you're learning about Facebook ads, or even ads on other platforms, you can look at the rules of the platform first. For Facebook ads, you can take a look at the official courses: Facebook blueprint and Facebook help center, the two best learning tutorials.
2, advertising preparation
First of all, must go to the agent to open an account, now personal account advertising is basically not possible. Sign up for a Google Mailbox and then sign up for a Facebook account with your email.
(It is recommended here to register one or two more mailboxes, with Google, Yahoo, and then in different browsers on the computer to keep one, nothing to give others praise, and strive to chat with other foreign friends.) Because the domestic Internet needs "scientific Internet access", and the company, if the PLANE of the aircraft is not the same, it is easy for Facebook to think that you are landing in a different place, and then sealed. So it's always good to have one or two numbers. In addition, if you can chat with other friends on Facebook, the account will be blocked in the future, need to verify, it will be much easier to get back the account)
After the agent opens an account, invite your personal number to manage your Page and ad account. You can run ads.
And it is recommended to share advertising accounts with multiple personal numbers, advertising accounts are blocked, where advertising data can be shared with others, to avoid their own "assets" can not be taken out.
3, advertising structure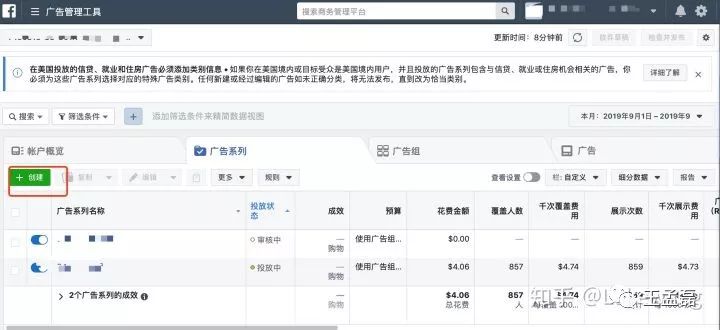 Open the ad's business manager backstage and you'll see what your ad is like here.
Ads consist of 3 parts, campaigns, ad groups, ads, the relationship between the three is shown below. Think of your campaign as a home folder with several sub-folders (ad groups) and then ads below the sub-folder.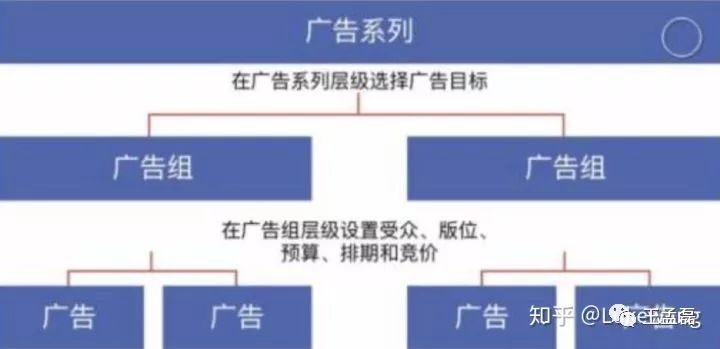 Campaign campaign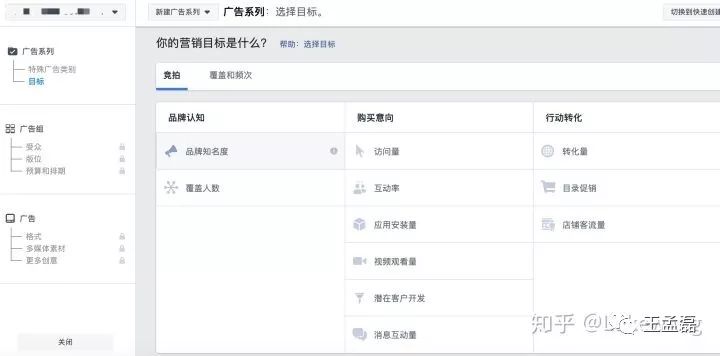 Campaigns are used to set ad goals. We can't just look at the results of ads, for example, if our goal is to interact, then we should look at the audience's reaction to the post, the degree of interaction.
The three main categories of advertising goals are also a process for people to shop: first have a certain understanding of your product, then think, and finally act (buy). It's not possible for everyone to come up and buy this thing, and we don't usually shop like this.
Of course, a lot of the time we're directly targeting conversions (then you're not all talking about it in vain). But part of Facebook's biggest push is its re-marketing, which stores the data we accumulate about the behavior of those who act on our product pages, and then finds the people who are most likely to buy our products. So great people usually choose other targets to burn money to get users' data and use it for re-marketing. That's the beauty of Facebook ads.
Ad group ads set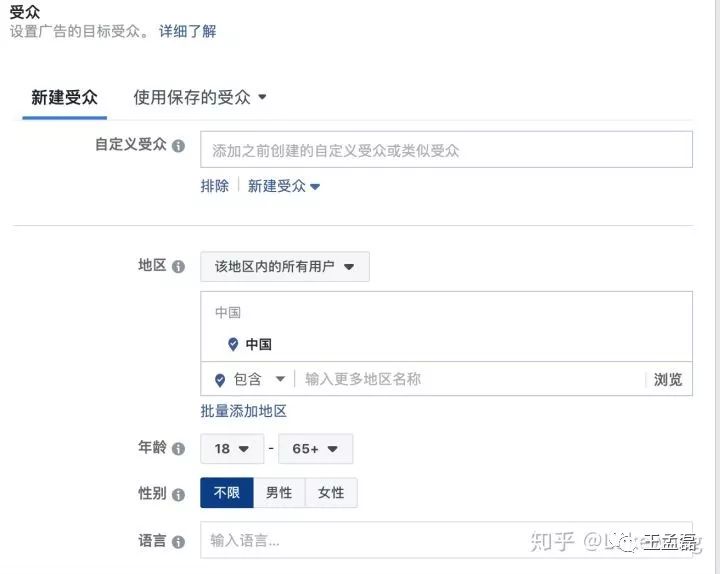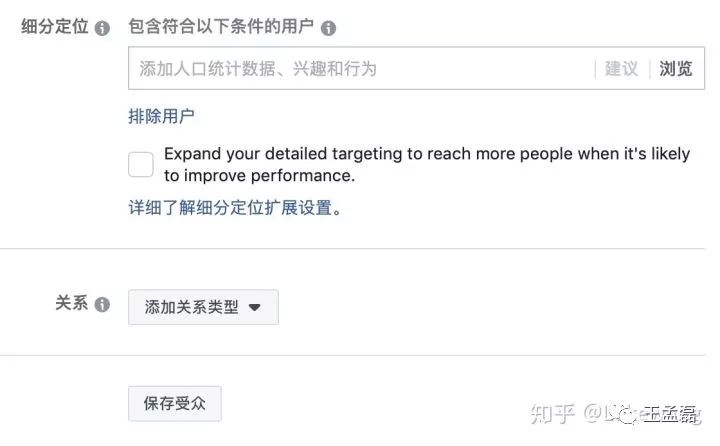 4, detailed introduction

4-1 
As the campaign has already mentioned earlier, it's primarily about setting your ad goals, and that's the origin of all your behavior. What is the purpose of your doing this?
4-2
Ad group here, we want to set various conditions
4-2-1
Audience
There are three audiences: core audience, custom audience, lookalike audience.
Because we start running ads, there is no data accumulation, can only set the following countries (run global or Europe and the United States, whether to exclude certain countries such as China, India, Africa, Pakistan, etc.); age (Facebook can shop users, generally older, young people go to the shopping platform or snapchat); interest (depending on your product, add some interest characteristics), and layout. With these settings, your ad's audience is the core audience (the most original audience)
When these settings are in place, the ads run for a while, and Facebook's pixels record the user's behavior on your site (buying, adding a shopping cart, initiating checkouts, or just viewing them), and then go to the ad management platform - the audience to create a custom audience based on the user behavior recorded by Facebook pixels.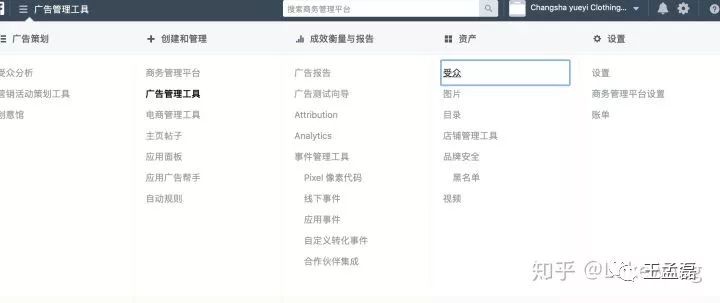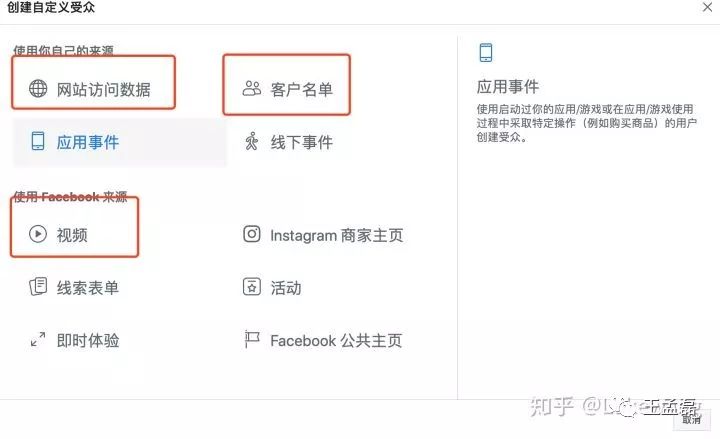 A lookalike audience is when Facebook tracks a customer who interacts with your site (buying, adding a shopping cart, initiating a checkout, or just viewing it), analyzes the people in his database who share the same characteristics as the group and finds them out.
So usually we can create a custom audience, such as a 30-day buy-out, and then use this data as a source of data, and then get a batch of data based on the country (US, UK, Canada, etc.). The larger the audience, the less accurate it is. So we try to choose 1%, 1%-2%, 2%-3%.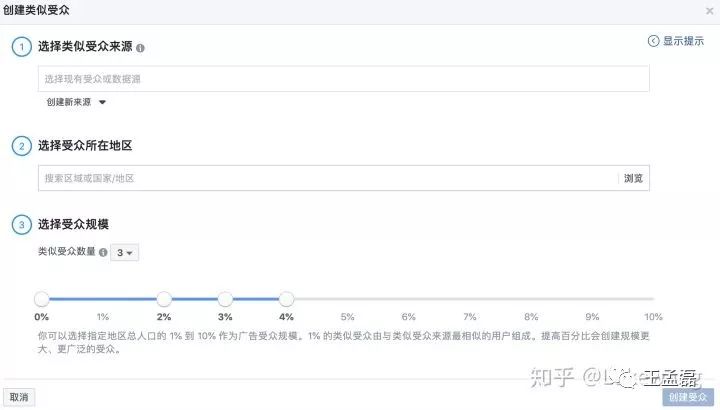 4-2-2
Here, there are basically two categories, 1 is to select certain countries, such as Europe and the United States, and then set their country more active time to start running. Because the U.S. is the biggest source of traffic for all products, if a product doesn't explode in the U.S., then basically he can't explode (with special exceptions)2 is to run around the world and then exclude certain countries, such as India, Africa, Pakistan, Bangladesh, Hong Kong, China.
4-2-3
Age depends on your product, age, because most people who shop on Facebook are older (many of the young people go to Snapchat, or to shopping platforms like amazon), so if your product isn't that special, age can be set a little older, such as 35 plus. But the result of advertising, a lot of times is to try, then adjust, and then try again, so you can set different ages, gender to compare which effect is better.
4-2-4
Segment positioning here, you can choose demographics, interests, behaviors.A lot of times this interest is very important, different interestsThe crowd's reaction to the product is different, and it is recommended to start with your product and consider what product he will fit.(To put it here, sometimes we can use some spy tools to find good products that others run, but.)Is that even if the material is the same, the national age is the same, the final result is very different, here interest positioning accounted for a large proportion)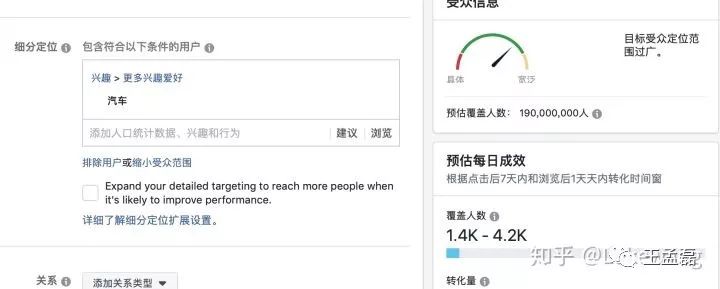 4-2-5
If you budget, there are now two more. 1 is directly in the ad group, set the ad budget optimization, or directly set the budget of each ad group in the ad group, depending on their own considerations.
4-3
There are many factors to the ultimate success of a product, of which the proportion of advertising material is very large. Good creatives can be very easy to drain, even if his paper, title, etc. are not so good, but as long as the material is great, then the chances of success will be much greater. (A lot of times we have to "learn" from processing other people's material or make a simple material ourselves, so here really feel a good independent station team, need a good video clip production members to help create good material)
5, summary
Facebook's ad delivery is a constantly tweaking effort, starting with testing your core audience without having to set conditions so precisely that Facebook can help you find your customers. Wait until there is some data to adjust, this time the role of remarketing is very obvious.
I am Wang Menglei, a cross-border e-commerce practitioner. Learn and share your knowledge about cross-border e-commerce here and hope to learn with you. I have created a new cross-border e-commerce blog, and a public number Wang Menglei, I hope you can follow me.
---