How can I prevent your Facebook ads from losing money? Pay attention to this hidden feature!
Facebook's ad delivery optimization, you always keep an eye on multiple data in your account changes, and make timely adjustments, how can you not make mistakes?
Here to mention facebook ads come with an automatic optimization function, because the location is hidden, not easy to be seen, but the role is not small, can help you reduce a considerable amount of work, help you monitor the ups and downs of advertising data, reach a critical point, the first time to make pre-set adjustments, such as increase or decrease a certain range of advertising budget, increase or decrease bidding.
How do I set it up?

First define the conditions that trigger automatic optimization of FB ads and create rules. In projects, ad groups, and individual ads, there is this feature button: Create create.

Established this rule: it can work for an ad group, or it can work for an entire ad project: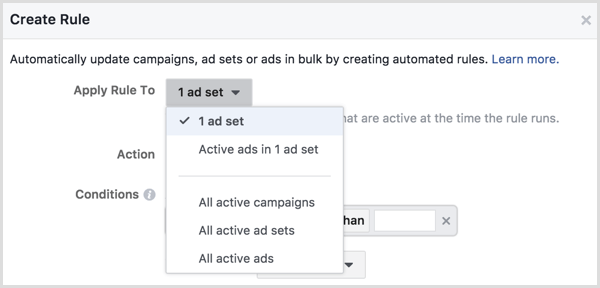 In the Action option, select a fixed action to optimize adjustments, such as pausing an ad group, or increasing your daily budget by 10 points: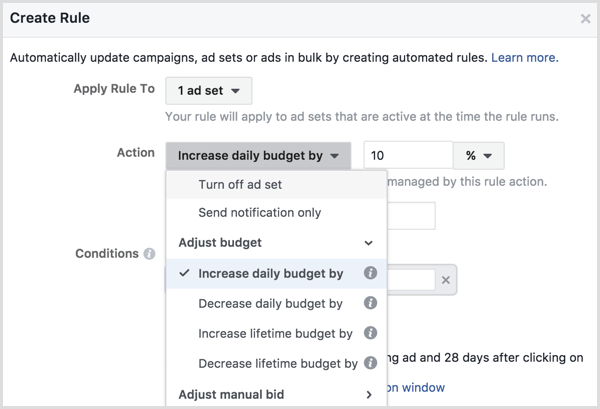 Under the Condition option, select the conditions that trigger this action:
For example, when the unit price of the CPA is less than a certain value, the above action is performed - automatically appending the budget for the day by 10 points.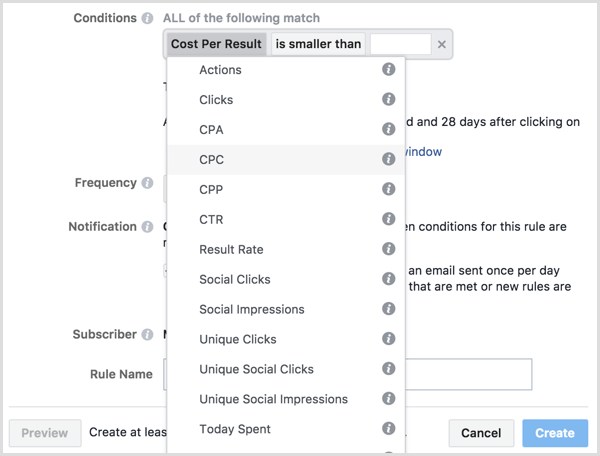 Finally, give each rule an easy-to-identify name, which makes it less difficult to view when similar rules are established.

When the rules are in order, you can see them here: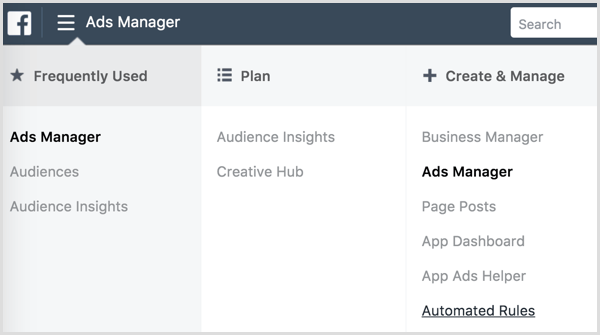 Because Facebook's ad fluctuations have an innitable and sophisticated computational composition, it's necessary to keep the ads running for a while and then estimate a reasonable range of data fluctuations. Also pay attention to the following 3 key points:
When important PPC metrics fall, such as lower guest costs, you need to complete adjustments as quickly as possible before the day's budget is exhausted to ensure you seize valuable opportunities.

Don't change your ads frequently, leave space for Facebook ads to be automatically tested and optimized.

When advertising is abnormal, think more about whether there are other reasons, such as the ups and downs of the market cycle, users' habits, these external causes have nothing to do with FB.
The auto-optimization function can be described below, which can save labor from those aspects:

#1: Manage your ad spend
For example, when the average cost of cPA over the past 7 days exceeds $50, then the ad is automatically suspended for one day.

For PPC, if the average click unit price over the past 7 days exceeds $30, then the ad is automatically suspended for one day.
Because Facebook's ads come with an optimization process that automates testing and remediation, the volatility is large and cannot be based solely on a given day, and it is recommended to use the weekly average as a reference value to implement automatic optimization.
Similarly, there are adjustment options by percentage:

Conversely, when there is a better market, such as CPA and ppc unit price decline, the average cost of customers is reduced, you will be willing to raise the bid to cut as large a piece of cake as possible, so set:

Also, if you don't want your budget to be spent quickly, add another rule:
When the budget reaches XXX, pause

This gives you a total control over your ads, the total cost you can accept, the maximum cost you can get for each click/customer, and the ups and downs of the increase or decrease adjustment, depending on your situation.

#2 prevent ads from failing

Google's search text ads, once identified, can be used for a long time,Effects fluctuate less, while Facebook ads are the opposite。

A good advertising idea, when users see it for the first time, may feel good, but when they see it for the 10th time, they may feel bad.
Therefore, automatically manage the frequency of advertising, you can also use this automatic optimization function to establish this rule:When the frequency is greater than 7, pause the ad.

Ad frequency is an ad repeat impressions, 7 is the limit, generally considered less than 5 acceptable, and in our hands-on tutorial, practice tells us that 3 is our recommended reference standard.
When the frequency exceeds and the pause does not guarantee that the suspension will improve the performance of the ad, then another email alert will need to be sent to remind managers to take action, such as replacing a new ad idea.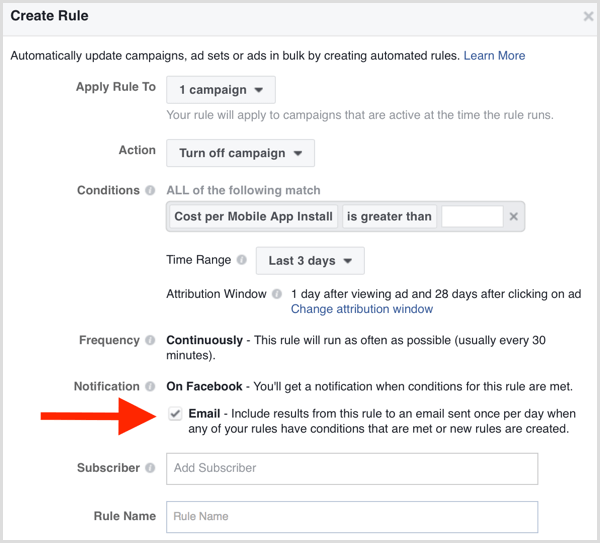 Such reminder messages can be very helpful in improving efficiency in account management in which multiple members participate.
#3, the budget is automatically allocated depending on the performance of the ad:

We often get caught up in the misconception that Facebook ads are actually about making money, not just saving money. Pursuing money savings, such as keeping bids as low as possible, may make you miss out on the best time to make money. And access to high-quality customer resources, a lot of times is the need to dare at the right time, decisive bid, so that at the end of the day, may be more than expected harvest.

This can be achieved by automatically allocating a budget, such as increasing the budget by 50% when the unit price of the CPC is less than one cent, reducing the general budget when the CPC is higher than two gross five, and automatically stopping advertising when the price is greater than three cents

Together, these three rules provide the ability to automatically optimize the configuration budget: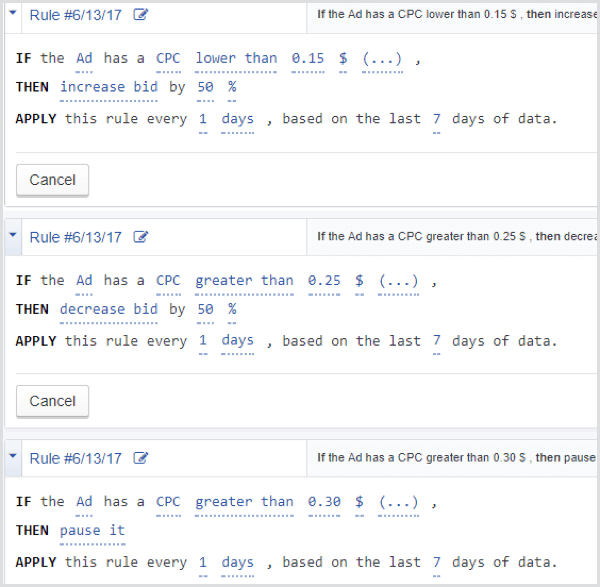 CPC is important, but CPA is the only measure of effectiveness.
Summary:

There are a lot of things you need to do to make your ads run successfully, including designing and optimizing Landing Page, audience selection, and ad ideas, but these efforts don't require constant adjustments like ad serving optimization.
So the Above-mentioned Facebook ads "auto-optimization" function, you can help you in the delivery of bulk performance monitoring, risk management, easier to seize good opportunities, increase investment when the effect improves, stop loss when the effect changes, suspended delivery.
These trivial but critical executions are handed over to the Facebook system to automate before you gain some degree of liberation and freedom to focus on the larger goal - how to earn better output.
Interested in quickly mastering more Facebook advertising and fan marketing practical skills, you can follow the following tutorial, no theory, all are taken to use the steps to disassemble, now learn to be ready to use, please pay attention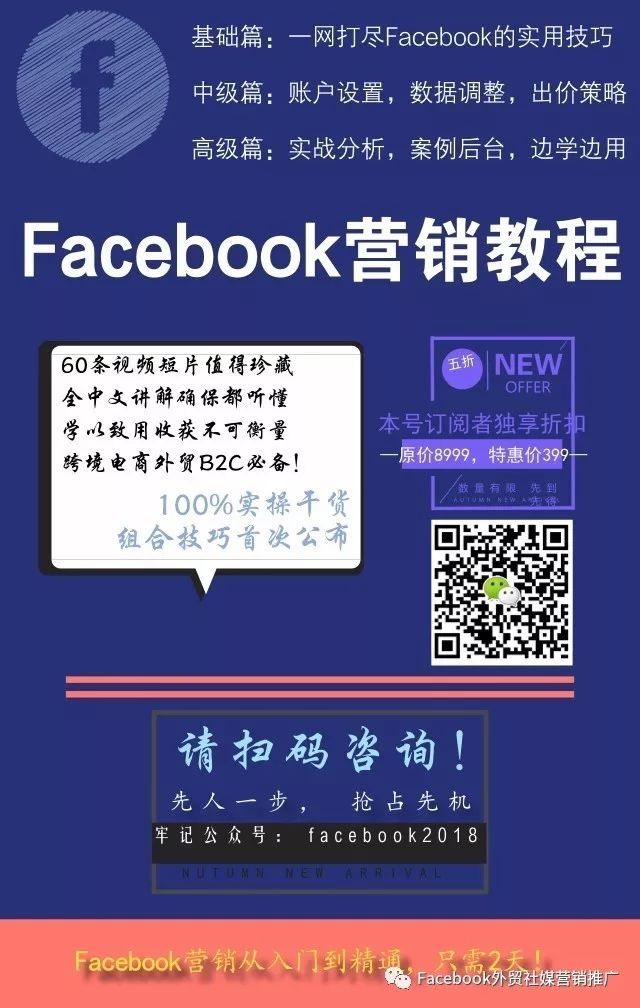 ---