Facebook pays for a collection of ad articles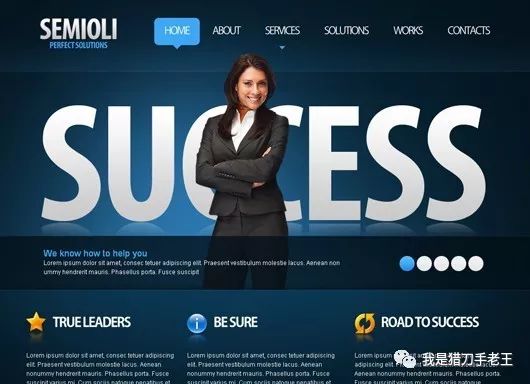 We don't do paid advertising ourselves, and we don't involve this kind of knowledge, because advertising in the end still need to spend money to get experience, you put a million ads, you are also very easy to become a master. But can't resist everyone's enthusiasm, also can't reply to so many Facebook enthusiasts curiosity, so put together some articles, hoping to help everyone.

New website and low budget, how to run Facebook ads works best?
---
Just made a new site, do not know the product is not strong, want to do Facebook ads streaming, but do not want to spend too much budget? Maybe you can try these methods

1. Low budget, advertising can't run out? Set up.The ad deadline is the next dayTry it.
2. ToInto a goalinstead of exposure and clicking.
3. Set up 1 campaign with 1 ad group and1-3 ads, don't score too much, too much can't make FB automatically optimized.
4. Do not test too much with A/B
5. Set a daily budget (can be less than 10 knives)
6. UseFB defaults, automatic bidding, automatic location, FB will find the cheapest way to achieve your goals
7. Campaigns have a budget of less than $100/day, with the best audience size1 to 50,000 people.
8. Don't use too detailed positioning methods, generally with custom lists, interest words, LAL.
AccumulationPixel data
10. Ads at least run24 hoursReassess.
11. Advertising production process
l Creative reference==》
---
---
---
---
1. Add a call button to the picture,CTA(Call to action), boot click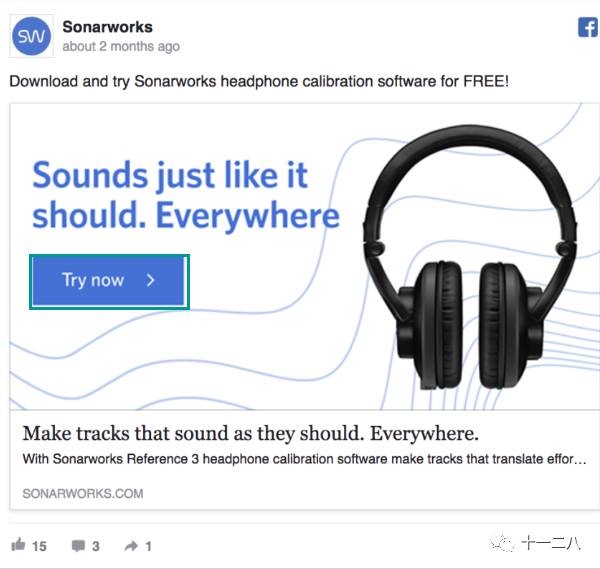 2.Limit the time
-Limited-time activities, such as The Limited Time Offer, can create tension
- UseCountdown., before looking at which domestic also did the countdown map of new mobile phone product release, the effect is still good
3.SALE plus red plus time(Now On)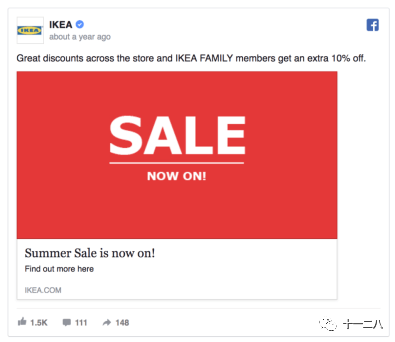 4.List.Benefits., which is recommended for reasonable use hereEmojis 
 And.Symbol.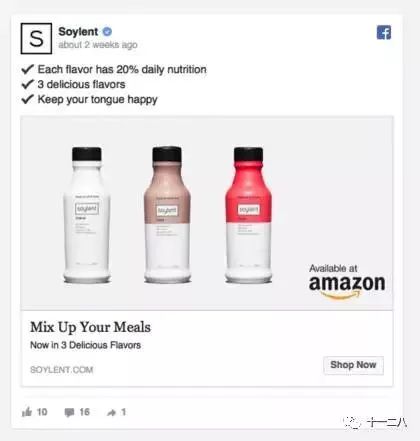 5.Discount (30% OFF)And.Free Shipping!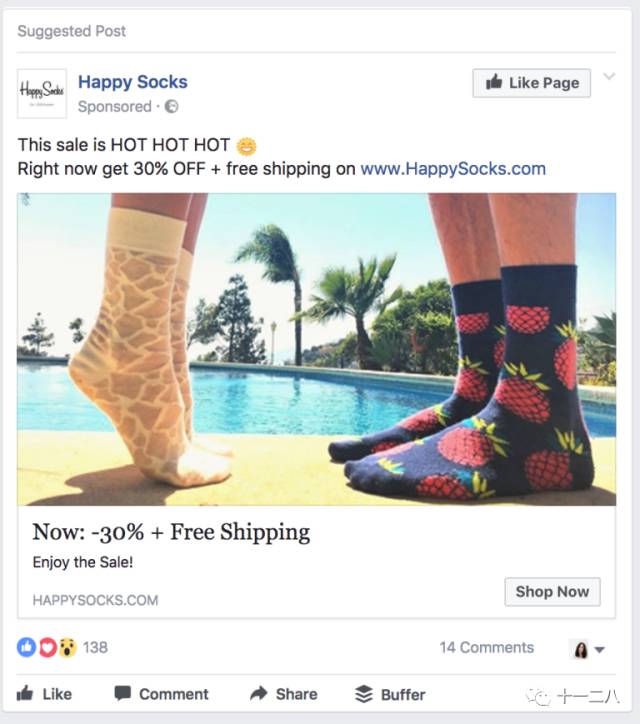 In addition, Amazon stores can ship directly from the U.S., you can write Ship from US, write down the advantages.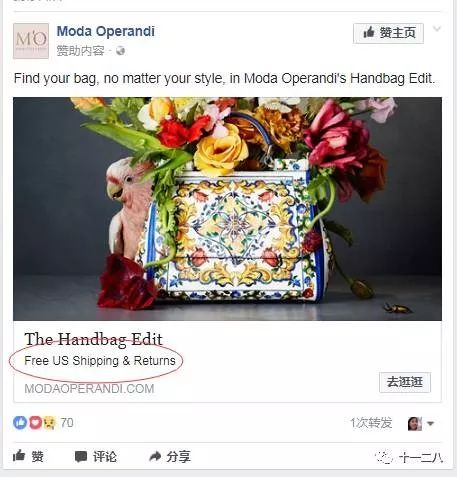 6.Use.Curiosity.
Can't help but analyze the following case, there is really a heart machine.
The first sentence is "Private Sales Start Now!""Who doesn't like "secrets"?
The second sentence is "50% off".
The third sentence, "Free Shipping and Return," gives people a sense of trust.
Originally the object of re-marketing is mostly to shake the product, see such a powerful activity, naturally under the order.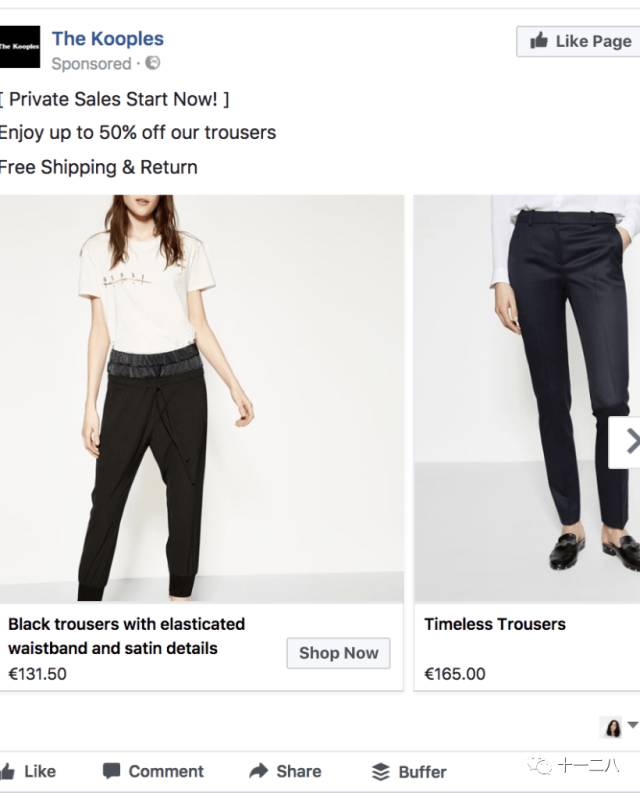 7. Who doesn't like it?Try it for free(free trial)What about it?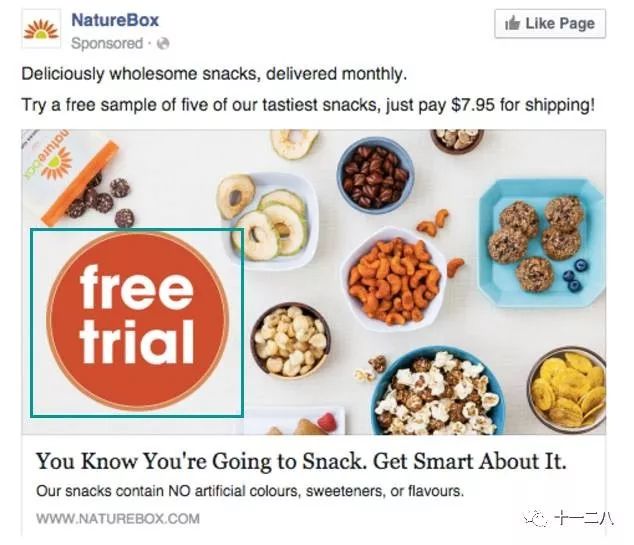 8. UseDigital.Stimulate interest and senses, more specific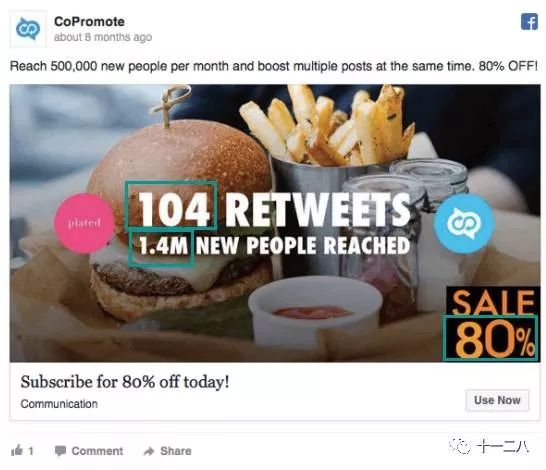 9. Add it to the picture"Like"If the user's heart also agrees, it will make people can't help but like oh.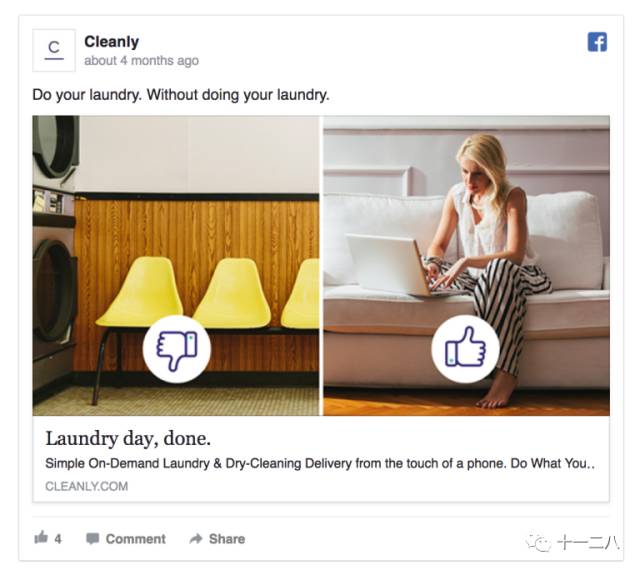 10.Use.QuizGet a lead, especially suitable for B2B Oh (this can also extend a lot, here is not expanded)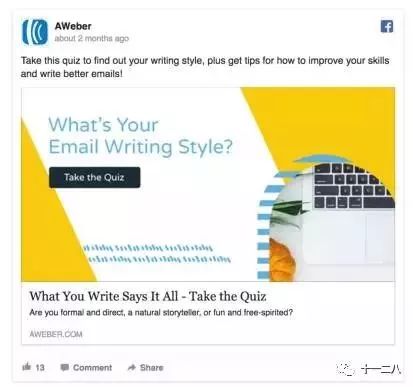 11. E-commerce in generalThe rotationIt works best.The form of advertising: Multi-map ads, turntable ads, slide ads, videos, canvas, choose the right one for you.

- A product can be displayed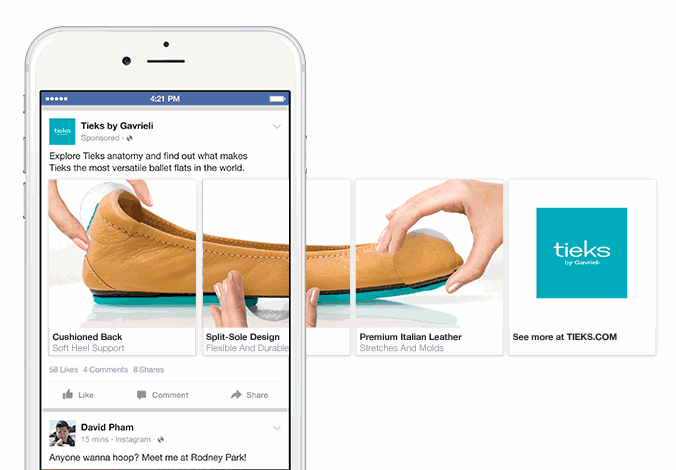 -More to come, multiple products are on display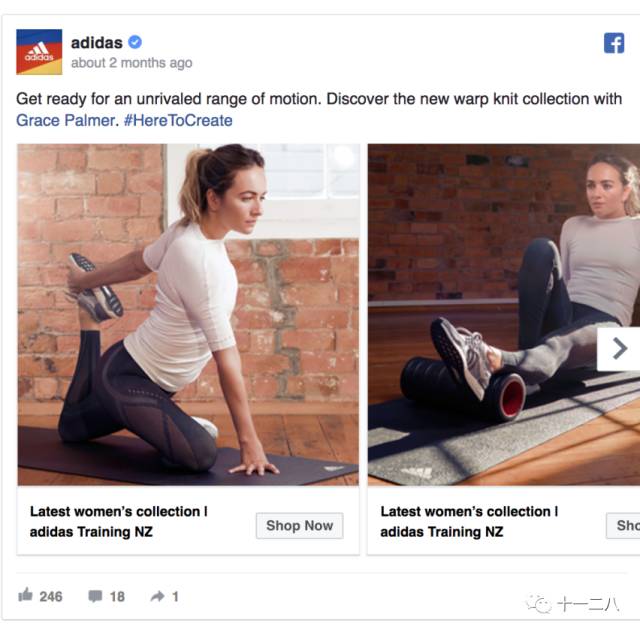 12. The three most attractive people and things:Smiley faces, children, animals(Dog and Cat)
I used to see TV ads abroad, and there were really a lot of ads about kids and dogs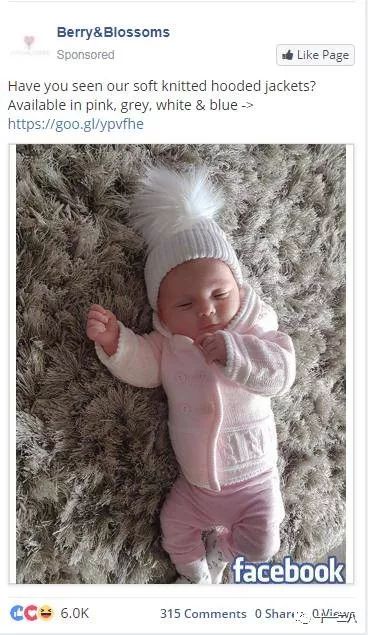 13.Use.Color.
-Color stacking.An ordinary picture, add layers, is not forced to come up all at once, and easy to deal with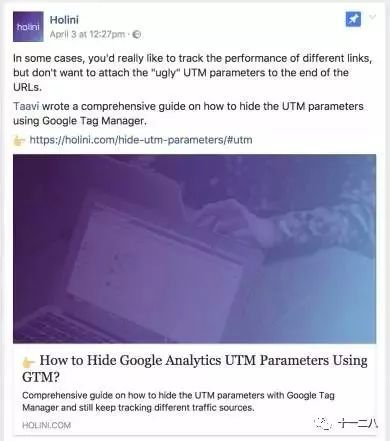 -The contrast between the cool spots and the warm huesstimulates the senses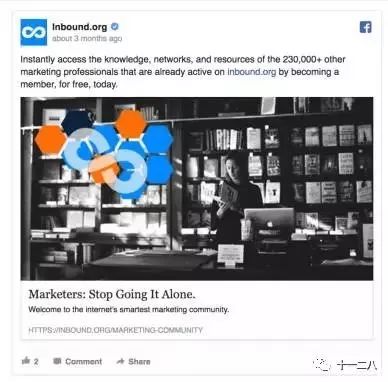 - Take advantage of itGradient., giving a soft feeling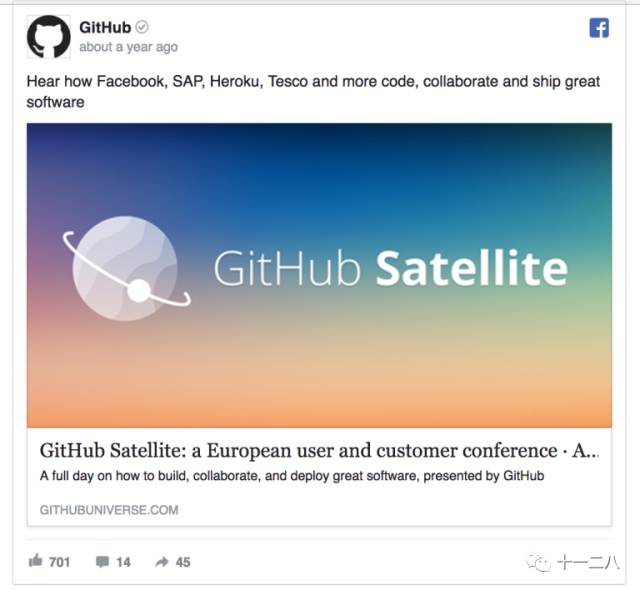 14. JoinLogo(PayPal)to convey brand sentiment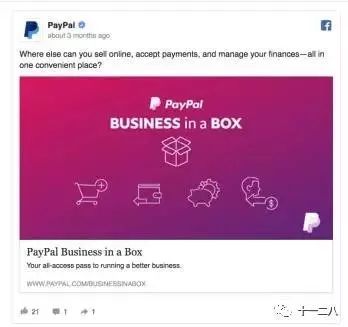 15. UseContrast.
-The contrast between left and right, highlighting the differences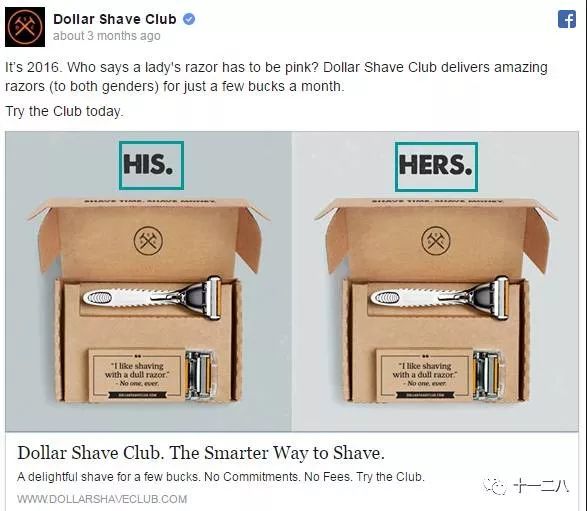 - Clear and fuzzy contrast
1. Too many text, more than 20% of the picture text
2.hashtag too much

3. Set the material according to subjective preference, do not do the test
4. Grammar error
---
---
---
---
l Find free material sites==》https://unsplash.com/
Excellent free picture website abroad
Burst
Superfamous
Startup Stock
MMT
Pexels
Magdeleine
Stock Snap
Picography
ISO Republic
Function
Raumrot
If there are other good ideas, welcome to the front row message Oh.
l Canvas is done
12. The best time to post,10PMLater (audience local time)
13. With questions (?) and picturesCan improve interactivity
14. The best posting days areSunday.
15. Original videoPublishing closer to the real world works better than using YouTube directly (with ad nature).
16. A short paperMore interactive
17. Yeshashtag(#)More interactive
18. Half of FB users use onlyMobile devices。
19. Run.Low-cost areasHome fans
20. After installing pixel for a month, you can try segmenting site visitors
l Press last visit:Within 14 days(Low conversion costs and high conversion rates),Users who have visited your site for 14-60 days, or more than 60 days。
l Pages accessed by user:1 page,2-5 pages,5 plus pages(Focus)
l By Page: Home, Product Page,Add the purchase page(Focus)
l By dwell time: less10 seconds, 10-60 seconds,More than.1 minute(Focus)
If the previous ad doesn't work well, you can copy the previous ad and change some variables
21. Split the ad test
l Create a new oneDon't use the original
l Test.24H or more
l Don't test the same ads at the same time, there will be competition
l Set a budget with a minimum50 clicks, you can estimate your own budget.

---
---
How do Shopify no-goers make six figures a month?



---
2017 is coming to an end, and looking back at the year, I can't believe I chose to enter the e-commerce industry without knowing anything about online commerce. In June, I was speechless, and then I started learning about Facebook advertising. Now, I've been able to make a new store six figures in a month.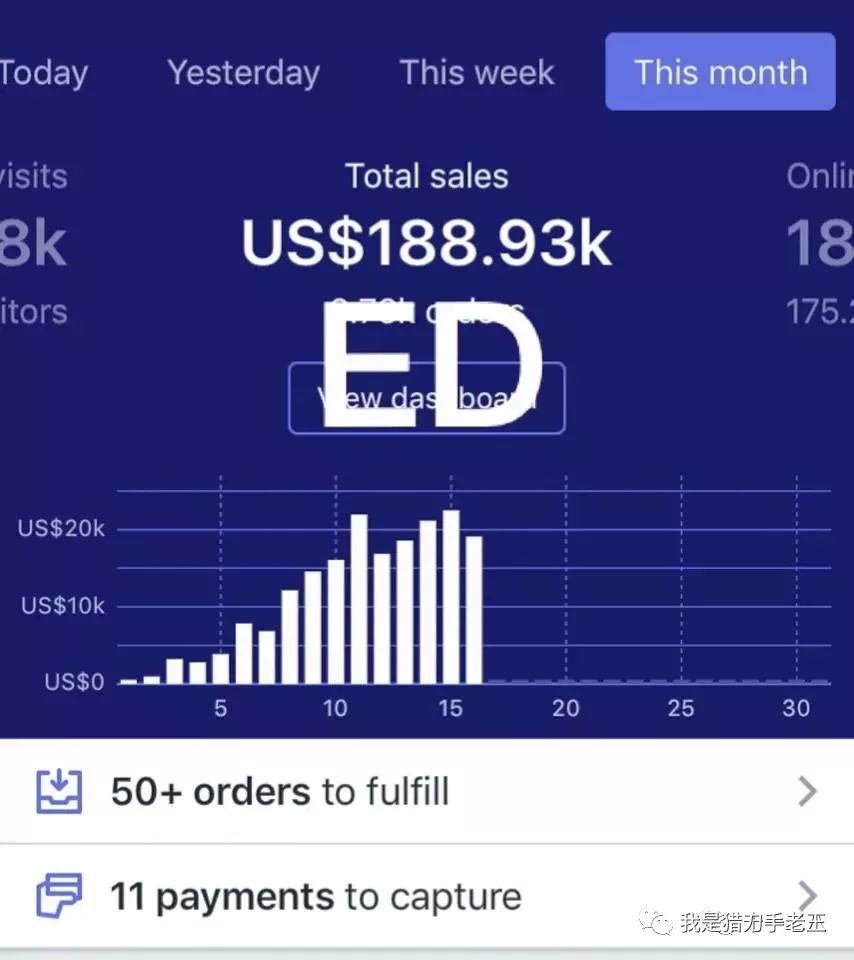 Unlike other people, the way I study is difficult, and I don't even have enough money to buy courses. I will now try to provide you with something of value.

I started entering the e-commerce industry in January and lost almost a few thousand dollars in the first six months without any profit. I was wrong because I thought I could sell anything to anyone, and I was wrong, I started selling bracelets, jewelry, watches, and I failed badly. I also asked everyone around me to find out what went wrong...

Well, in order to keep the story short and not everyone is interested in my loss, then I'll be right.

 

One, focus on your products

You also need to know where you are. You'll know what to sell, and you'll know how to sell more efficiently. You have to sell only products that you are sure have an appetite for the mass market. It's easier when you don't know how to choose something. You need to spend more time understanding your products. Testing 10 products with a $5 budget for each ad group is basically not going to work unless your product itself is valuable. Quality is always more important than quantity, and I measure one or two products every week, each with a minimum of ten ad groups. Some products may have sold a lot at other big stations, but I'm still doing well here. Be creative and think, outdo your competitors in advertising, materials, essays, and more.
 

Second, a wide audience works best for me

I'm talking about 25 to 80 million, and basic CPM can be as low as $7 in the U.S. But don't get me wrong, I'll run a million audiences, too, but when I'm scaling, more than 25 million people are the best. When you have about 500 to 1000 VC/ATC/PUR, go to LLA decisively.
 

Third, how to choose the advertising target?

It doesn't really matter to me whether the pixels are new or mature, Facebook just knows who's going to make the conversion better. I still choose to buy conversions at the beginning, even when I don't have any purchase data yet. If your product is out of order, leave the rest of the work to Facebook and let him help you find your potential customers.

I haven't used PPE in a long time. For me, it's all directly into the goal. If you want to buy, then WC is your best choice. However, if PPPE is useful to you, then you should stick to your method.
 

Four, Scaling

I'll use all the Scaling methods, as long as you can say it.

When I can keep a minimum of 3 ROAS in an ad group for two or three days, I'll call it. I used to use replication, but now it's hard to keep ROAS good with replication. What's useful to me now is simply to create a new ad group with the same audience and not change any settings except your budget. This method is very useful to me at present. Because of my large audience, I'm not worried about audience re-enses at all. All my ad groups are in automatic mode. Scaling ranges from $20 to $50 to $100 to $300 to $1,000 to $2,500, and all ad groups have the same budget.
 

V. Delete some bad comments

It's not hard, you can't imagine how much less sales someone's "you can buy at Amazon can buy at a lower price."

 
It is very important to manage your funds well

It's great to make money, but it's bad not to have money to pay suppliers. Start outsourcing early or create a team. Your only job is to make money. More time - more profit. Maybe I was lucky, I didn't hire any customer service assistants, and I had a friend who helped me with my clients. As a college student, he is very happy to get paid $300 a month.

Everyone has 24 hours a day. You need to work in your store to increase conversion rates. Sometimes a small change can increase the conversion rate by 1%. These are difficult to predict. Want money? Then don't be lazy.

My advice is that there is still a long way to go in distribution. But finding some capital to build your own brand is definitely the best way out. If you're new, if your ads don't work or you lose some money, you don't have to worry too much. Hopefully there will always be. I spent countless sleepless nights and money trying to figure out how Facebook ads work. Don't stop trying, there's a lot of white silver waiting for everyone to pick it up.

I'd like to give you some data about my store:
Total interest rate: 30%

Victory products: 3

Conversion rate: 4.5%

Target country: US-UK

Thousands of shows cost: about $10

I won't do it unless there's enough liquidity for me to do more

Average guest unit price: $30

Cost of sale: $5

Email marketing: 6% of total sales

 

Some app recommendations I use:
– also bought
– best currency conv
– flexify
– klaviyo
– loox
– massfulfil
– shopmessage
– yo

Some Facebook tips you don't know
---
And you introduce some more practical FB tips, the end of the article has eggs Oh
1. Create automatic rules for ads and automatic reminders.
In.BM background automatic rules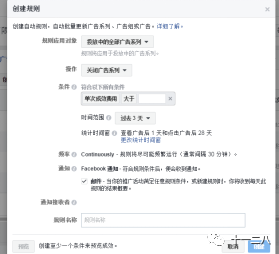 2. How to test with A/B Fast.Multiple target audiences?
Create multiple new ad groups by clicking "Detailed Targeting Variation" to add multiple audience variables and create multiple ad groups.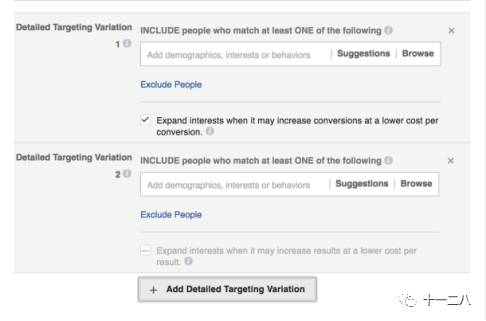 3. Edit the text of the linked link that has been dropped
(1)Post a Page post, ready to advertise
(2) WaitAds pass
(3) In advertisingStop before you start
(4) As long asAds pass, openBM backgroundClick on the Home Post and you'll see it
(5) Release
4.How to addFB Home Video?
5. Home.
(1)How do I see who likes my fan pages?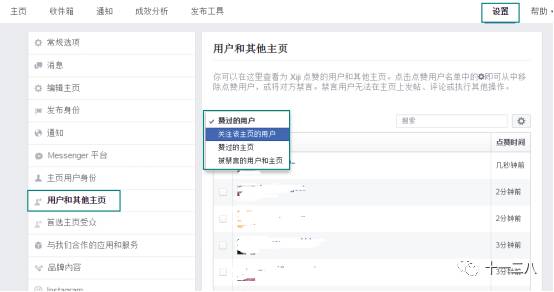 (2)How do I compare competitors' home pages?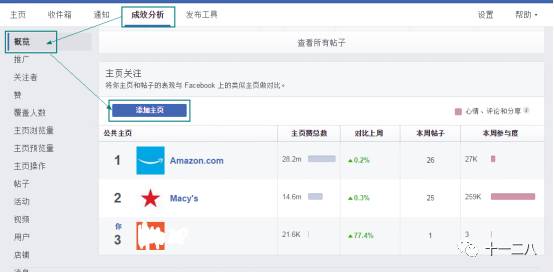 6. How to download yoursFB profile? In case of need (seal)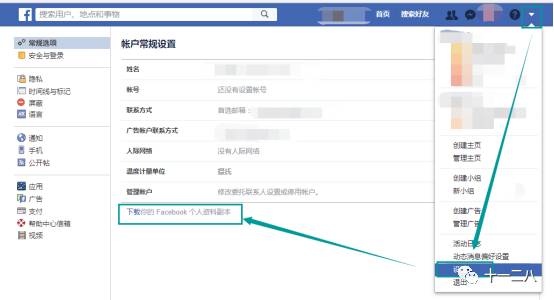 7. How do I set your ad preferences? Receive competitive ads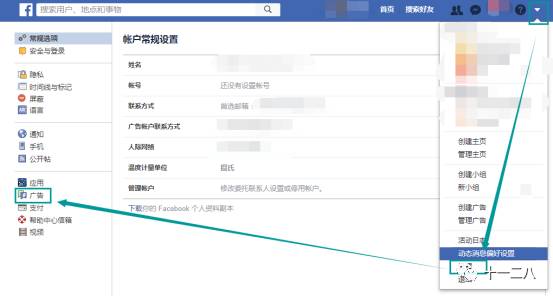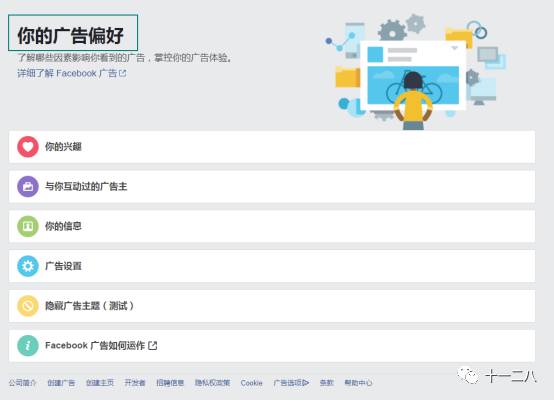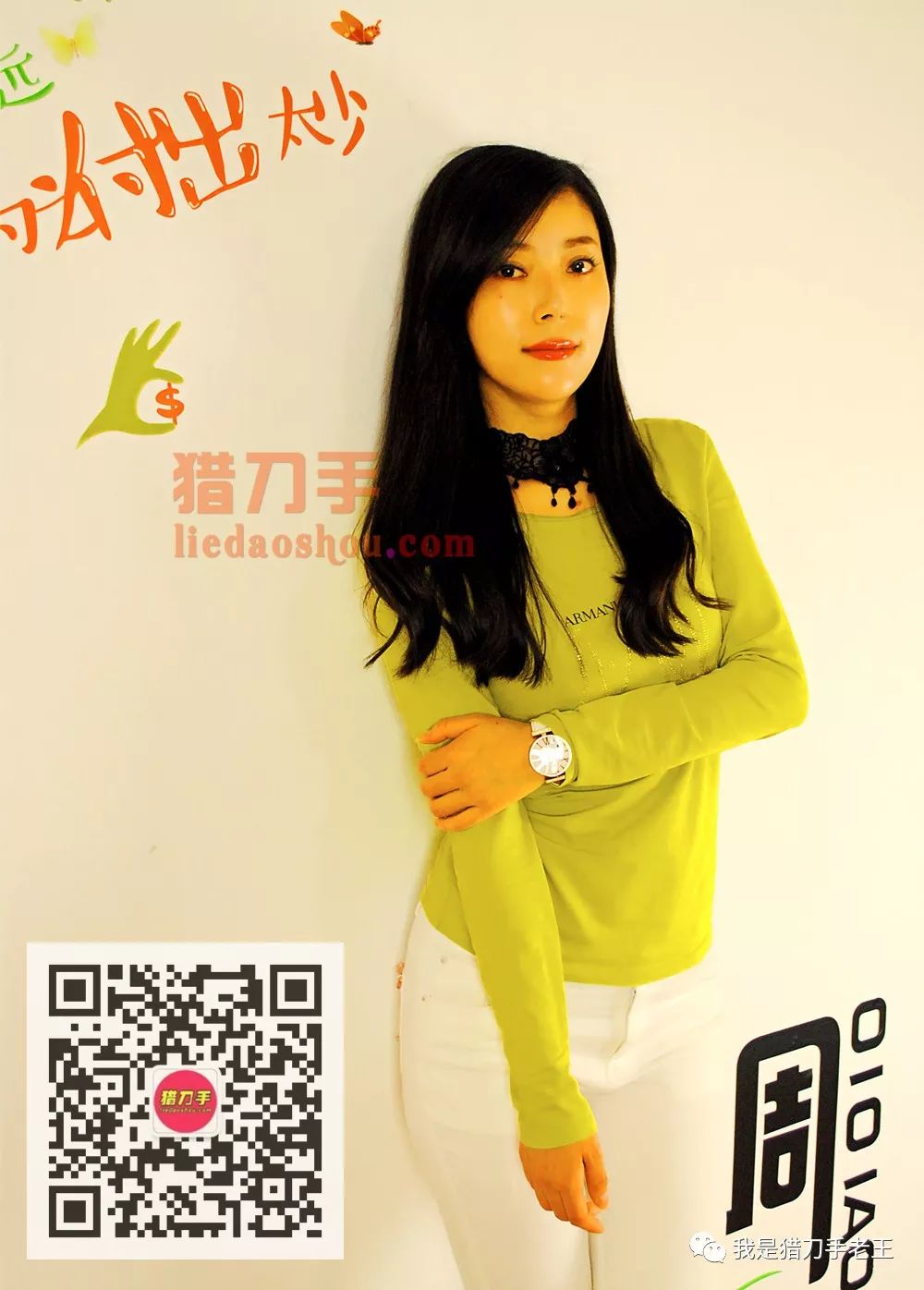 ---
---
---
---
Under what circumstances would it be useless to advertise on Google or Facebook?
---
The hardest part of running your own e-commerce store is how to get the target traffic.
If you start your e-commerce business entirely from scratch,Use.GoogleOr.FacebookRelease.PPCAdvertising is definitely the best way for you to get visibility,Proper advertising investment will help you generate high revenue.
To determine this, you have to consider the choiceFacebookAdvertising, orGoogle Adwords。 It depends largelyYour product and target audience。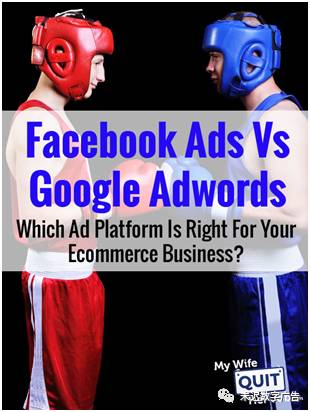 Find the uniqueness of your product
Some companies often run Facebook or Google ads directly when their products aren't good enough, but lose a lot of money in the process. If your product falls into the following categories, you will face difficulties in selling anyway:
(1) You sell the same products as large brick-and-mortar retail stores such as Walmart. If consumers can find items at their local store, there is little chance of buying them by inglying on your website. If you're advertising specifically for a paper clip or convenience sticker you're selling, it's hard to get conversion rates unless your price is cheaper than your competitors'.
(2) There are many attractive websites on the Internet that sell products that may be very similar or exactly the same as yours.
If you don't have a clear product advantage, it's hard to beat a mature competitor unless your product is cheap.
SoMake sure your products have strong value propositions and quality before running ads.
The purpose of marketing is to spread the benefits of your product to consumers, and to clearly convey your product message to consumers so that people know why they are buying your product rather than competitors.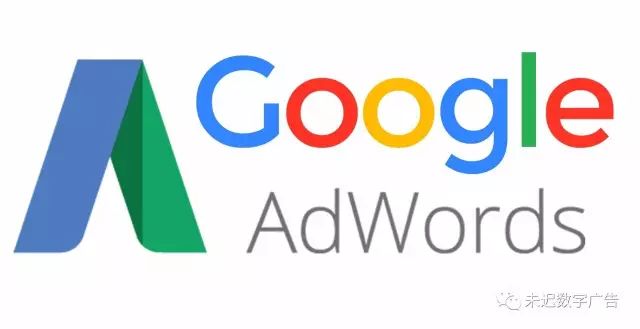 Before you invest in Google Adwords ads, you need to find out if your product has a search volume. Think about the keywords that people usually type.
But you doPay special attention to people's search intentions - whether it's research or buying。 For example, if you're selling chocolate cake, the user searching for "chocolate cupcakes" might be searching for a cake recipe rather than a bakery.
The following image is Google's search results for "chocolate cupcakes":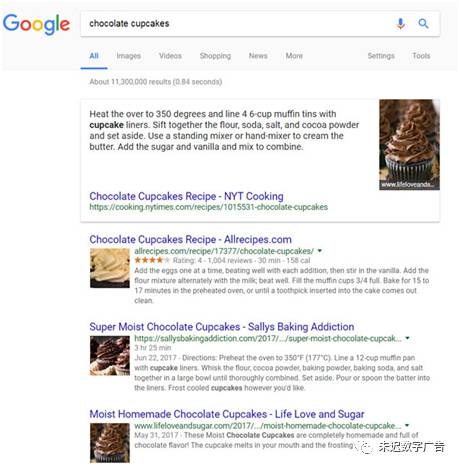 Most of the search results are cake recipes, and if you want to use this keyword to promote your product, it won't work very well.
In addition, in some cases, users search for keywords that match you, but they are looking for specific products that you don't necessarily have to sell. For example, when people search for the keyword "cloth napkins", they tend to want to buy cheap polyester napkins, which often doesn't sell to sellers of napkins.
But keyword conversion rates like "wedding handkerchiefs" are particularly high because the word is specific and the intention to buy is clear.
In general, Google ads are perfect for you if people are searching for product-specific keywords.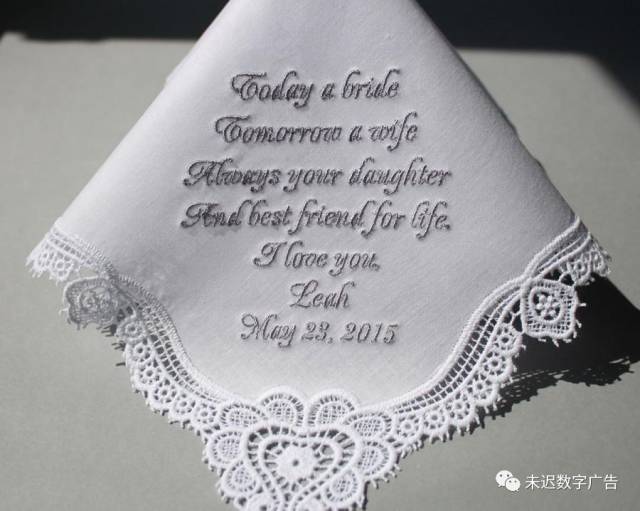 Under what circumstances does Google Adwords not work?
If you're introducing a new product that doesn't have a search volume, Google Adwords isn't for you, because using Google Ads requires keywords with a lot of search volume.
Assuming you're selling gifts in your store, using the "gifts" keyword is too broad because it doesn't reflect the customer's search intent, which can be difficult to convert unless you have a large selection of products.
For example, if a user searches for a linen napkins, they may want to buy a butterfly-themed napkin, and if you don't have one, you can't sell anything.
In summary, when developing an advertising strategy, you need to think carefully.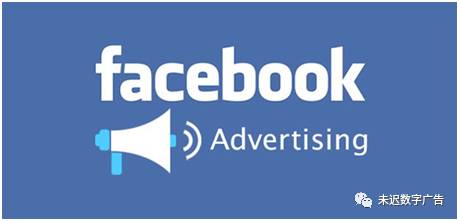 02 FacebookAdvertising.
If you're clear about your target audience, Facebook ads are an ideal choice. For example, if you're selling a special bike helmet with a built-in camera (which can be used as a rear-view mirror), you can easily target cyclists.

Suppose you sell a product that lets a newborn baby sleep, and the new parents are your goal.
Facebook ads can effectively convey your unique value proposition in your ads.In Facebook ads, you can add detailed videos and images to actively promote your product. As a result, users who don't know anything about your product may see the benefits of the product and make a purchase.
Products like aprons, which use Google's text ads, are difficult to effectively market because thousands of stores target the keyword "apron".
But if you add a video ad to Facebook, it might resonate with moms to some extent and get sales.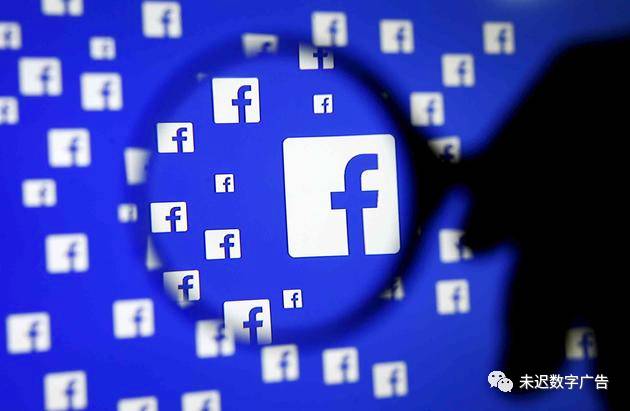 Under what circumstances does Facebook ads not work?
While Facebook ads can boost sales of most products, they have no effect on certain products, such as time-sensitive products (seasonal products), or products that are useful only in exceptional circumstances.
For example, with products like insoles, Facebook has a hard time locating which users need which types of insoles.
In this case, using Google search ads will do much better than Facebook.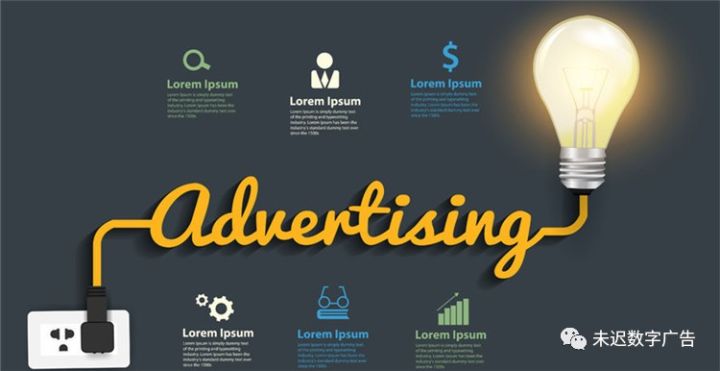 Summarize.
For some products (Handpasses, towelsFacebook ads and Google ads are very effective. But some products, you need to make platform choices.
You need to be aware of some basic issues, such as that you're launching a brand new product that no one knows about, so Facebook is the first choice. If there's a need for your product and people are actively looking for it, choose Google.
If your product is difficult to understand and needs to be explained, Then Facebook is a better advertising medium because you can show the benefits of the product in your ads. You can also provide guidance information to obtain a user's email address.
Facebook is still the first choice if you know exactly what groups of potential customers are "mixing" on the Internet (e.g., hobby organizations, magazine readers, forums, etc.).
But if your product is time sensitive and less specific, Google ads usually work better than Facebook.
Either way, you need to clarify your value orientation and make advertising choices, otherwise it's hard for you to make a profit.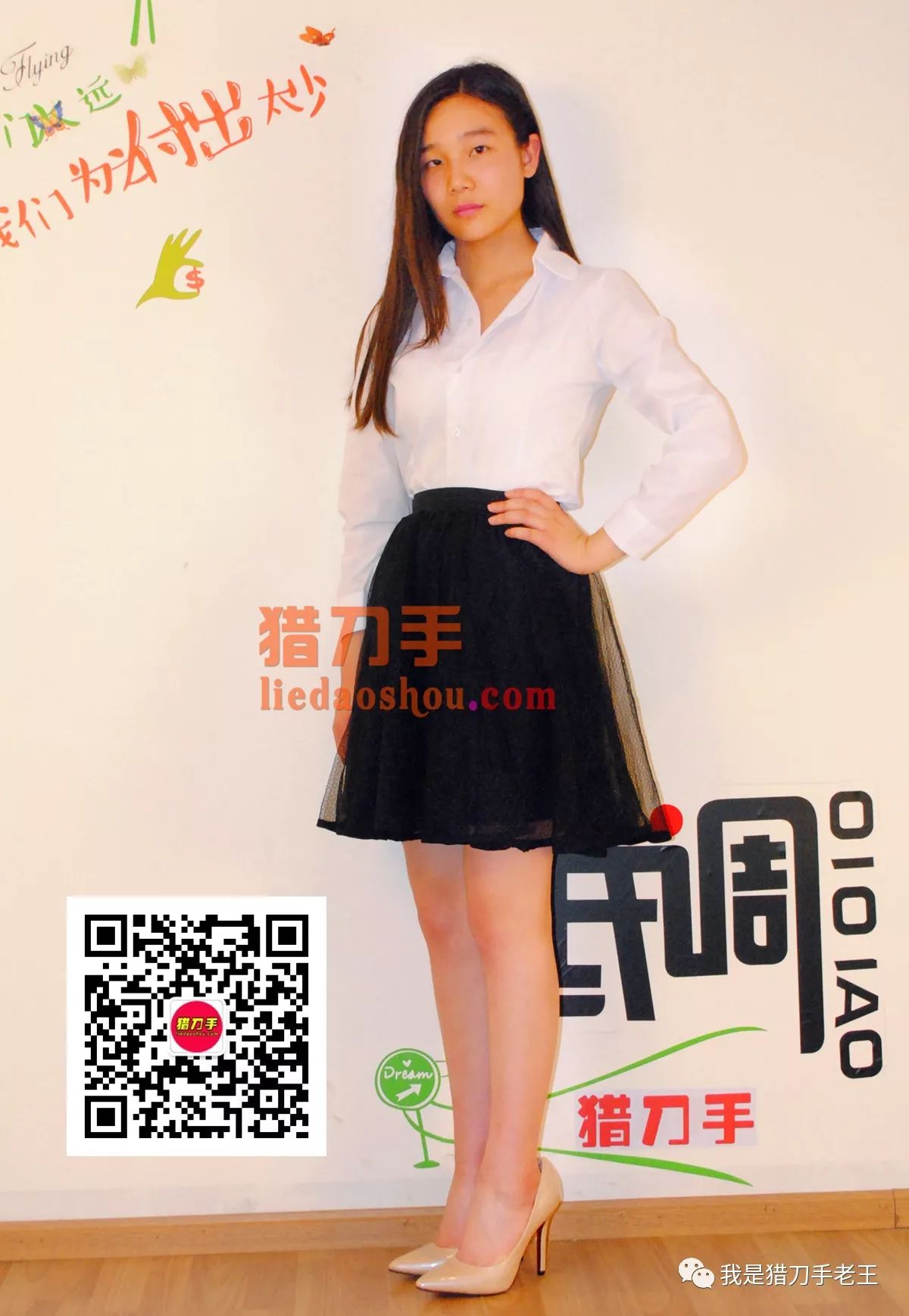 ---