Facebook Insider ---- black card ads
Well, tell me about the inside story of the black card in the Facebook ad today. The following inside information is true and valid, without any fiction.
I often hear a lot of people's reaction, ah, my Facebook ads are shut down again, I clearly did not do anything, and shut down.... how to do?

Well, let's start with history, and you'll know what's going on.
That's how the story should begin.
Early on (around the winter of 2012, or a little earlier) some of the first people to play facbeooks found this interesting thing that could be used to burn Facebook ads with black cards. Few people were willing to go public at the time, except the very private group that could get the message.
Black card, simply put, this credit card he is not yours, but you can use it to burn ads.
So what's the way to steal your credit card?
First, the card number and the 3 digits on the back of the card. We know that Facebook-bound credit cards are paid for as ads and have not yet entered a password. So as long as this group of people get the card number number and the card back three digits is equivalent to free money to help them burn ads. You know a lot of foreigners don't know that these things could have been tied directly to Facebook backstage, so it's entirely possible to get this kind of card number information
Second, we know that many foreigners like to use credit cards to shop on websites (independent sites). So at this time your information is very likely to be leaked. You may run into phishing sites, and information vulnerabilities in the site itself give hackers a chance to storm the library. Or a lot of people buy user information directly from the website's channel vendors
And a website life cycle if the goods can not be sold, then this time the site operator began to sell guests' email, credit card information. That is, selling all the customer's information. That's why you can often have ads selling data in a lot of qq groups, especially some Facebook groups, as shown below.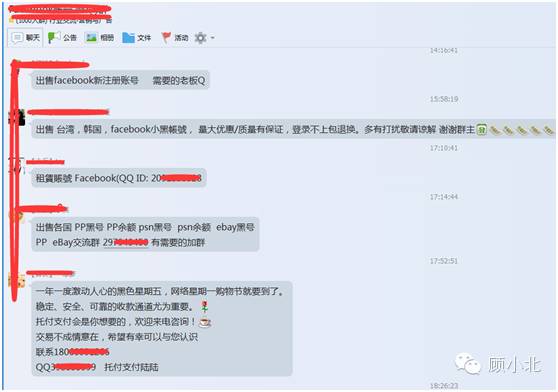 In nonsense, all the Facebook accounts, pinterest accounts, Twitter accounts, a lot of them can be scanned out. And then it's marketing, which is very common. So sometimes your number isn't yours, and at some point you suddenly find that you've been talking to someone and sending a message, but it looks like you've never done it before....
Third, buy the student's credit card details directly. For example, many overseas students have the habit of using credit cards, after graduation to return home to sell credit cards. The data is then resold for export and domestic sales.
At this stage as long as you have a credit card number and the back three digits can immediately burn ads. And what's more, you can burn imitation cards, and even more deadly things facebook is to burn the money first, and then the next day in the notice of how much you burned yesterday (so time is delayed), and these two are fatal.
So it's normal for a card to burn $100 a day, $1000. A state of mind is burning someone else's money. This means is almost lying down can make money, watch movies every day, think about the country of life, feelings...
Repeat, you'll ask if you burn a Facebook ad with a foreigner's black card, don't foreigners know? As I said earlier, time is delayed, which is fatal. The second point is, you really don't know what some foreigners are doing, burning for half a month did not stop the card.
At this stage, a group of people in the circle earned it.
Imitation limits
Ads can still burn, but you can't sell imitation cards. So Facebook has limited the launch of counterfeit products. For example, LV, Le Pen glasses. . . the restrictions on imitation cards are greatly limited, meaning that this wave of people rely on violence to obtain funds is very difficult, and the genuine into their legal glasses. Genuine really no interest, really can't see that little profit ah.
This time (March 2013) this wave of people, began to do jumps. What do you mean. Is the first to build a genuine website such as miscellaneous glasses, wait until the Facebook ads pass, in doing a jump, jump to imitation cards. Then the violence began again.
This period is not very long, up to three months. Because Facebook found this to be a huge vulnerability, it began to restrict it, based on the activity of the Facebook account, consumption... A series of algorithms
But this wave of people are not willing ah, it is too violent. So decided to keep the account for a while. Not with the new number to advertise, is to have ads before, the account can remain active. This can only go to sweep the number.
So if the sweep is the Japanese number, it specializes in writing a text in Japanese language (before regardless, the Japanese number also advertises in English) okay, to ensure the stability of the account, activity, in order to be safe. Still intend to burn the genuine, but with real money to burn.
For example, use your own money to burn for 15 days, 100 to 200 dollars a day. Facebook slowly believes that your account is stable and fixed consumption, as if very good. But facebook silly this wave of people are not silly ah, wait until 15 days later, on the basis of burning genuine, continue to create a Facebook advertising group, start burning imitation cards, or first genuine, and then jump.
At the same time, in order to ensure that the credit card is not related to this wave of people, they used 7-weight vpn to log on to facbeook. And it's all a lot of accounts that are decentralized.
This stage fooled facbeook for five months.
During this period, this wave of people have money, began to be proud, channel merchants, collection merchants found some imitation brand particularly popular, so many technologies and methods are slowly spread out, a spread of this market know more people. During this time, Facebook's ad payment system made several portfolio changes, as follows:
The first Facebook account card must be the same as the IP address. You can't be a Chinese card landing with an American ip
Second, Facebook's account card should be the same as your facbeook registration location.
Third, Facebook's account card and your ip address, facbeook account registration to be consistent.
So all three aspects, have greatly affected the stability of peer Facebook account opening.
During this period, this wave of people, some people hand in hand, some people dive into the study.
Behind the back, some people simply imitate the card do not do, burn the genuine. From this wave of people hatched a lot of master, in fact, is not a master, is rich, have the courage, simply burn the genuine. All over the country 5 companies, are dedicated to advertising, advertising has reached Foxconn's process, very standardized, but also to prevent the loss of personnel to learn even if, face-to-face chat, a year down 1000w profit is absolutely there.
Well, back to the first question, how to solve the account block.
My answer is, I ignored it, I didn't want to solve the problem, the above question I have understood with you very clearly. It's all broken by a group of people, we don't care about that anymore.
Would you ask if there is a legal danger of such an act?
The official language is that our attitude is clear and consistent, we firmly oppose card theft, theft of unknown accounts, we emphasize that businessmen should have legitimate experience and do things properly.
Yes, yes, be sure to listen to the official.
Oh........
---