Accenture Interactive has announced the acquisition of digital advertising agency MXM
来源:adexchanger.cn(adexchangercn)
On March 29, Accenture Interactive announced that it had signed an acquisition agreement with Meredith Xcelerated Marketing (MXM), a New York-based digital agency.Accenture, the consulting giant, is increasingly taking over the traditional advertising agency business.MXM is understood to be the 20th marketing agent ever acquired by Accenture since 2013.
The terms of the deal have not been disclosed.Accenture commented, "MXM focuses on content and is a leader in integrated marketing, cross-channel strategy development, and creative execution."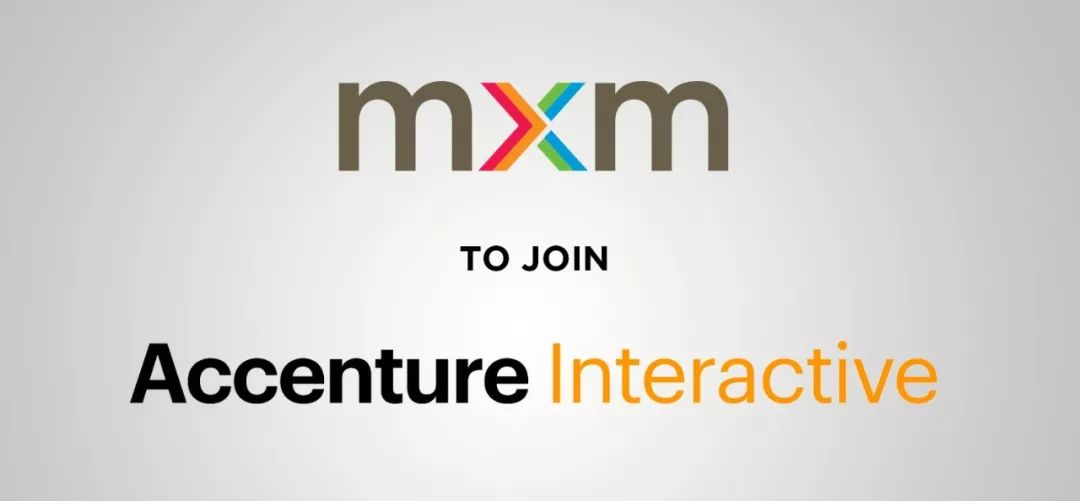 In the past few years, Accenture has acquired a number of independent advertising agencies in an attempt to compete more directly with traditional institutions.
"For Accenture Interactive, this acquisition is a great opportunity to expand our talent and marketing capabilities ... Combined with other acquisitions, MXM will enhance creativity, digital marketing, content strategy and marketing execution for our North American business. Jeannine Falcone, North America marketing director at Accenture Interactive, said in a statement.
Accenture did not disclose financial details of the deal, but said it was awaiting final approval and the deal was expected to close within 60 days.
"The acquisition of MXM reflects our commitment to enhancing Accenture Interactive's existing capabilities in marketing services by improving data and content products," Brian Whipple, Accenture's senior global managing director of interactive digital marketing, added in a statement. "Incorporating MXM into our current capabilities and powerful marketing intelligence platform, Accenture Interactive will be designed, built and operated worldwideBest.A leading company in customer experience. "
According to Accenture, MXM "has superior data and analytics skills, award-winning content creation and strong customer engagement." "MXM is part of Meredith Corporation (NYSE:MDP), a leading U.S. media company, with more than 450 technical, creative and performance marketing professionals in the U.S. and Canada. MXM's key customers include Kraft Heinz, Lloyd's, Volkswagen and WebMD. Accenture Interactive said the acquisition would increase the consulting firm's influence in key U.S. markets, including Dallas, Des Maine, Detroit, Los Angeles, New York and Washington.
"We are excited to join Accenture's interactive family," MXM President Georgine Anton said in a statement. "The combination of Accenture Interactive and MXM will play a strong role in the market, and the depth of Accenture Interactive Services will deepen MXM's capabilities to better serve existing and new customers."
"Accenture Interactive will create an environment for MXM to deliver best-in-class, single-source, integrated solutions to its customers - a significant competitive advantage for Accenture Interactive and now an advantage for MXM," Anton continued.
The acquisition comes at a time when the advertising industry is hotly debated about the "threat posed by consulting firms to traditional agency models". In early March, on a conference call on WPP's fourth-quarter earnings, Martin Sorrell, WPP's chief executive, played down threats to the survival of its proxy business from consulting rivals Accenture and Deloitte, calling the concern "fake news" and saying WPP had won most of the vote against the consulting giant.
Arthur Sadoun, chief executive and chairman of Publicis Groupe, took the opposite view a few weeks later, saying the group would shift its strategic focus to consulting in its three-year reform plan for "2020: Sprint to the Future" (2020: Sprint for the Future).
---