China-U.S. Collision: 5 Comparisons between Digital Advertising Consumers in the Two Countries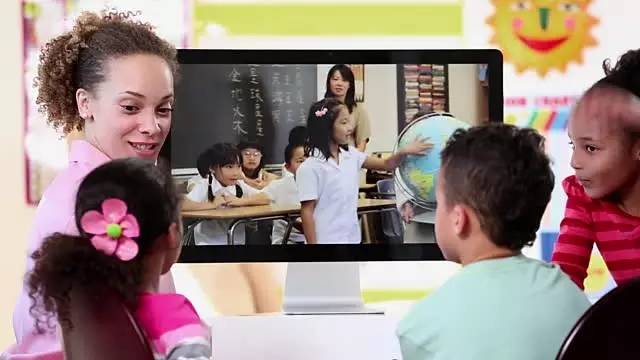 For the development of most businesses, "Going out "has never been easy. In the era of rapid development of new media advertising, enterprises should think deeply about the digital strategic layout of their new media, especially in overseas markets.
Which channel strategies should be used to ensure accurate delivery of information to the target customer,and create value-added services?
How to structure its delivery media marketing strategy?
How do I deliver high-quality content across multiple screens and maintain a good user experience?
Today, we're here to read China Media Consumer Research to learn about user portraits of Chinese and American consumers in digital advertising.
Deloitte conducted a global survey of media consumer behavior, which looked at changes in media consumer behavior from a global perspective, with a sample of 2,000 people in each country, covering five age groups: teenagers, young, middle-aged, and older, and surveyed how consumers interact with new media such as television, video, the Internet, advertising, games, and their behavior and consumer preferences. This report analyzes the focus of the media market in China and the United States in the digital advertising industry.
The trend is summarized below: 

In advertising, friends or acquaintances recommend the most impact on consumer buying decisions, both in China and the United States.


For online ads, pre-video patches and social media ads work best, while search engines, online games, and app download ads don't work well.

On the mobile side, most Chinese consumers are willing to accept mobile ad pushes if they get free content and deliver it accurately.
Chinese and American consumers are most affected by word-of-mouth marketing, and the United States looks down on traditional advertising value
U.S. consumers are most vulnerable to acquaintance recommendations and TV ads, while Chinese consumers are most vulnerable to acquaintance referrals and online stranger reviews when making purchasing decisions. Television, newspaper and cinema advertising still has a high impact on Chinese and American consumers, and traditional advertising remains.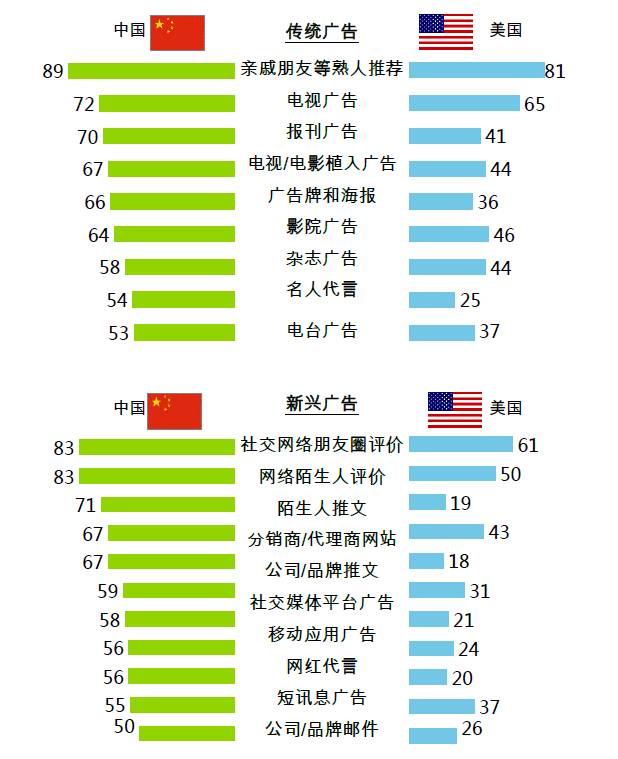 The extent to which ads influence audience purchasing decisions (%)
In the era of self-media, the audience is no longer just passive advertising recipients, but active word-of-mouth spreaders. Consumers in the purchase decision-making process, tend to actively search for word-of-mouth evaluation, advertisers in the control of brand image and influence consumer decision-making increasingly passive. For advertisers, it is imperative to turn passive into active, guide consumers to become brand spokesman and use social media channels to enhance brand reach.
There are three ways to do this:
First, use the influence of KOL (Opinion Leader) in the UGC (User Production Content) community and social e-commerce sites to shape and spread brand reputation.
Second, the use of incentives to stimulate consumers on the brand and product evaluation, sun, the desire to share.
Third, optimize the brand's website and social media homepage, tailor native ads, hard ads and soft push for different types of social media.
Despite the decline of traditional media, its huge user base and containment functions will not collapse in an instant, so advertisers should not lose out, for television and newspaper audiences to serve the right ads can still create value.
U.S. consumers prefer static advertising, while Chinese consumers do
Of all the online ad types, the most influential U.S. consumers were Spot Search Engine Ads (43 percent) and Banner Ads (38 percent). Chinese consumers, on the other hand, are trending in the opposite direction: the most influential are pre-video postings (43 per cent), followed by social media advertising (33 per cent). The types of online ads that have the least influence on Chinese and American consumers are app download ads and window ads, respectively. It can be seen that the form of sudden and disruptive advertising is the least popular.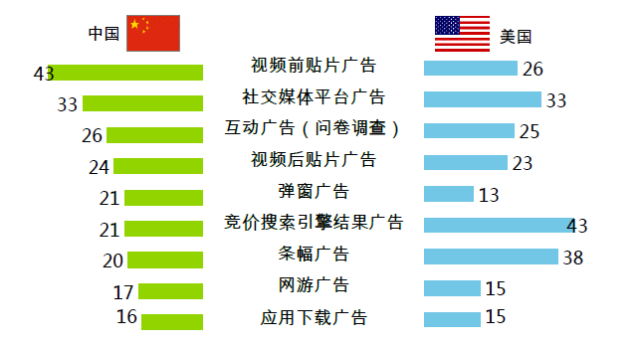 Different types of online advertising impact (%)
In the new media era, the number of online advertising is soaring and there are many channels, but not every type of online advertising can influence consumers' purchasing decisions. Advertisers who carefully plan the delivery channels of online advertising, then the increase in marketing costs also result in the waste of media resources. So when developing an online delivery strategy,
First of all., you should understand the Internet usage habits and preferences of your advertising audience as a whole.
Secondly.to make the form and content of your ads permeate your audience's online activities and enhance the user experience. At the same time,Highly active social networks provide space and platform for the further development of new types of advertising, such as social media native advertising and interactive scene application advertising.
It's worth thinking about for advertisers and advertisers, how to use the social needs of the audience and express their demands, to guide consumers through comments, forwarding, follow-up, sun orders and other activities for the brand voice.
Ad agencies can help advertisers increase target consumer reach by deep big data mining to optimize the size and format of pre-video patch ads. Pre-patch ads that are tailored to the content of online video programs and targeted at the audience's interest preferences for precision pushes have become a trend.
Precision advertising is more acceptable to the Chinese public than in the United States
Chinese viewers are less sensitive to personal privacy than U.S. viewers, with nearly half of respondents saying they would like to submit personal information online to obtain more personally targeted ads. Although Chinese viewers are relatively tolerant of the collection of personal information online, in fact most consumers are still concerned about information security. A whopping 86 percent of respondents said submitting personal information online gave them the fear that their identities could be compromised.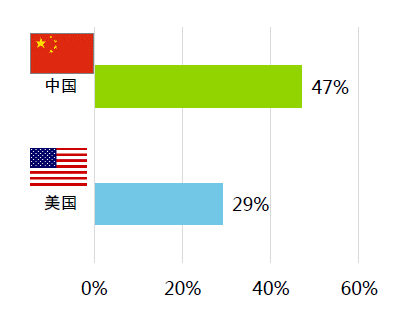 Willing to provide more personal information onlineGet ads that explicitly target your personal interests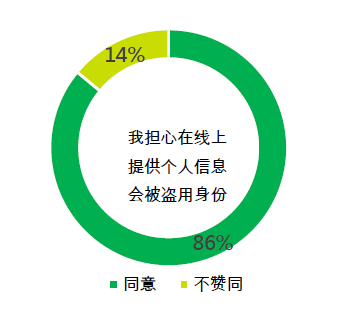 Risks of providing more personal information online
Advertising companies need to find a balance between user privacy and business value as they move into precision advertising through self-built digital platforms or acquisitions of digital advertising agencies. With the enhancement of audience privacy protection consciousness, advertisers need to invest more in data security technology while developing data mining technology.
Among the many data, how to deal with data "noise" to improve quality will be more important than the data algorithm itself, especially in China, a large amount of noise may deviate from the results of data analysis, so data pre-processing will be one of the key research directions in the field of data processing in the future.
Ads are short and sharper and more eye-catching, and the length of the video's front and back patch ads is easier to accept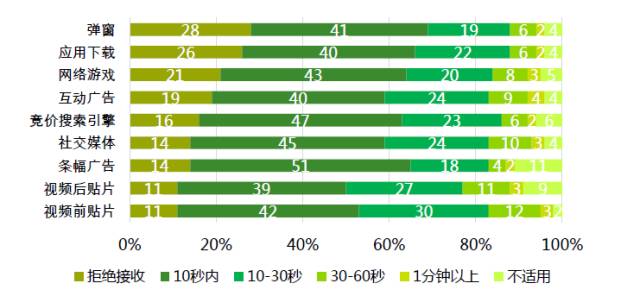 Audience acceptance of the length of time available for online advertising (%)
Surveys show that most audiences can accept ads for less than 10 seconds, while ads older than 30 seconds are not acceptable to most audiences of any type. Visible, short and sophisticated ads can catch the audience's eyeballs.
In all types of ads, audiences can accept pre- and post-video ads for longer periods of time. For advertisers and advertisers, it may be useful to integrate the characteristics of each delivery channel, linking together to create a mechanism for in-depth communication with the target users. For example, using 10-second interactive ads as a gimmick on social media to engage interested audiences with full-page ads or micro-movies on video sites, or even designing interactive mechanisms to engage your audience in the creation of brand stories.
Although mobile ads are more disruptive, they can be received if you get free content
According to the survey, as many as 83% of viewers think mobile ads are more disruptive than TV and computer ads, but 76% are still willing to compromise and watch mobile ads in order to access free content resources. Although 80% of users reject mobile ads, nearly 60% of the audience said they would accept targeted ads.

Audience acceptance of mobile ads (%)
For advertisers, mobile advertising audience base is large, high reach rate, low cost, cost-effective, but in the past subject to the mobile phone screen is relatively small, limited display space and users of the mobile phone subjective control, the value of mobile phone advertising has not been fully excavated. Until mobile social APP popularity and the maturity of big data technology, micro-blogging advertising, friend circle advertising and other native advertising and its carrier integration, its value will no longer be calculated in advertising size and display space, in the support of technology and data, creativity and content relevance will become the focus, so as to integrate brand ideas and advertising content.
Native advertising can provide users with value, stimulate user participation and enhance advertisers' marketing effectiveness, promote the upgrading of media marketing value and enhance the ability of media realization by using the data mining in the background and the creativity and content relevance of the front desk.
With the continuous expansion of the mobile Internet field, mobile advertising will not be limited to mobile phones, tablet ads, wearable devices such as smart watches, sports wristbands and so on will become the medium of mobile advertising.
1. Traditional advertising will focus on integrated marketing, in China and the United States, friends and acquaintances recommended are the most able to influence consumers to buy decision-making television advertising is one of the most "powerful" traditional advertising, but in the fragmented media environment, the audience tv advertising is difficult to focus,Integrated marketingCommunication is imperative.
2. Online delivery channels should be focused, pre-video patches and social media advertising are the best, search engines, online games and app download ads are low performance,Accurate advertisingMore easily accepted by the Chinese public, helping to promote the growth of procedural purchases of advertising displays.
3. Mobile adsMost Chinese consumers are willing to accept mobile advertising pushes if they can get free content and deliver it accurately, despite the disruption it can cause to consumers.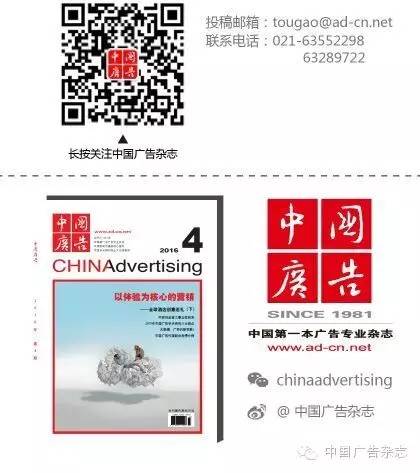 ---