Facebook marketing, these plug-ins can come in use!
About the author: Han Xijun, focus business school star lecturer, business English major, proficient in foreign trade sales, SEO, EDM, social channel marketing, etc., belongs to the technology flow of marketing experts, good at research and thinking, in the industry for 8 years, has been doing business at the same time adhere to sharing. Currently in a well-known U.S.-funded companies as overseas marketing director, engaged in cross-border e-commerce research and practice.
This is. #Chrome浏览器插件在外贸业务上的应用 # For the third article in the series, the first two reviews are at:
1. Plug-ins that Chrome can't miss
2. Use LinkedIn to develop customer, unknowable plug-in technology flow
Toolkit For FB by PlugEx
Powerful Facebook Bulk Operations Aids
Price: Full version $15/6 months, free version has some feature limitations, but still powerful.
•  Condition: Can only be used on Facebook.
•  Purpose: The plug-in is one of the most comprehensive plug-ins ever developed for Facebook, with a rich and built-in functional module.
•  The free version features include: automatically inviting friends to follow the page, inviting friends to participate in Event, inviting friends to join groups, bulk likes, bulk agreeing to friend requests, downloading Facebook videos, bulk pickup pages, bulk exiting groups, bulk unbesting, backing up friends/groups/page lists with one click, quickly opening 8 shortcut pages, quickly finding emoticons, and more.
•  Premium features include: sending messages to groups of friends, bulk messaging multiple groups, automatically recommending friends, automatically applying for group administrators (only groups that don't currently have an administrator), automatically getting a friend's phone number, and more.
•  Use: After installation, click on the plug-in icon in the title bar, the plug-in window will pop up, once select the corresponding function button, you can use;Because the plug-in features a lot, half a year 15 dollars price I think the price is very good.
•  Related: There are several plug-ins that fit a small part of the plug-in's functionality, such as:Invite All Friends on Facebook、YAAP - Yet Another Auto-Poker、LikeItAll、 Group Auto Likesand so on.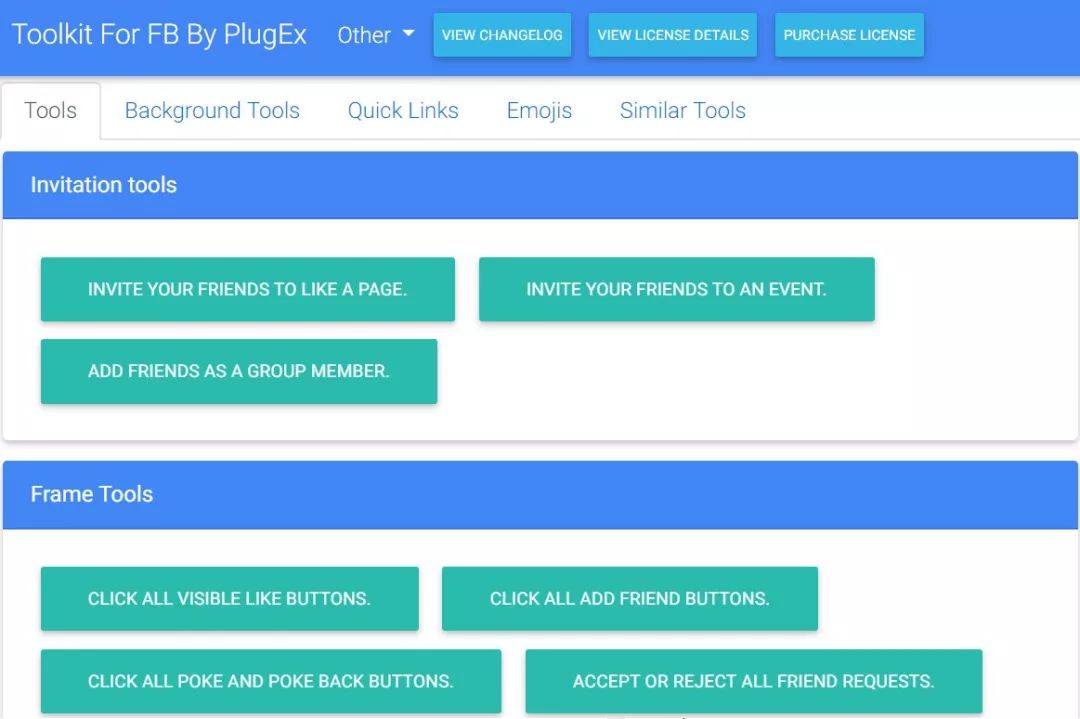 Facebook bulk-action plug-ins

Buffer
Social media automatically publishes content on a timely and automated date
Price: The free version can bind to 3 social media accounts, which is fully sufficient, and the paid version has several packages.
•  Condition: Can be used on a variety of websites and pages after installation, without any restrictions.
•  Purpose: Buffer is a big name in social media operations, defining it in one sentence as a function of setting up content in bulk and posting it to multiple platforms at the click of a button; it's not just a Facebook plug-in, it's an operational weapon that supports multiple social media, including Facebook, Twitter, LinkedIn, Google Plus, Instagram, Pinterest; as long as you bind to those platforms, You can publish your content to these bound platforms on the Buffer platform.
•  Use: Buffer itself is a website that can be used directly by visiting www.buffer.com, and since this article is about the Chrome plug-in, it's natural to search for Buffer plug-ins and install them in Chrome, so that when you see good content, you can click directly on Buffer's icon, add information to the list, send it to multiple social media platforms on a timely and efficient way.
•  Related: And Buffer has a lot of similar features, such asHootSuite、Zapier、SproutAnd so on, this category belongs to the advanced operational tools, basically have to charge.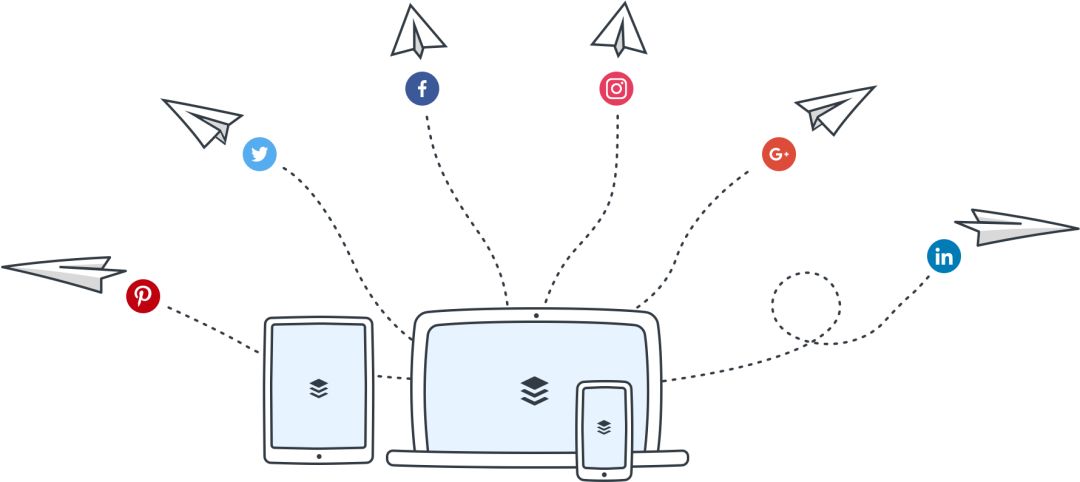 Buffer allows you to distribute content to multiple SNS platforms at the click of a button
Social Media Advanced Search
Easily search for a user's specific information
Price: Completely free.
•  Conditions: Can only be used on Facebook personal information pages, such as: https://www.facebook.com/username.
•  Purpose: Facebook's personal information page content is very much, for a frequently updated user, the timeline of various media, want to investigate the customer's background, looking for effective information, often make people foggy;
Social Media Advanced Search exists to optimize the process,Users can easily access a user's information page, such as: pictures, tag pictures, places to go,stories, uploaded videos, liked pictures, friends' pictures, and so onAfter combining this information, the customer's understanding will be more comprehensive three-dimensional, follow-up communication, you can do targeted.
•  Use: After installing the plug-in, just click on the plug-in icon, a list of shortcut links will pop up, click directly to jump to the current user's designated page.
Social-Media-Advanced-Search
Other comprehensive class plug-ins
The above listed are and foreign trade sales and promotion of highly relevant plug-ins, the next few are belonging to the high overall quality of the "special forces." It may appear that they are not as relevant to foreign trade operations, but once they are mastered, the productivity gains will be considerable.
iMacros
Web page automation
Price: Completely free.
•  Condition: Can be used on any website and page.
•  Purpose: As stated in the subheading, iMacros can make your web operation completely automated, a large part of our daily work is actually a mechanical repetition of work that does not require effort to think, iMacros's role is to record the daily repetitive tasks, record them into scripts, and then run with one click;
From simple access to the mailbox, download files, to slightly more complex registration sites, landing check-in, and even complex large-scale tasks, it can be said that as long as there is a certain law to follow the repetitive work, can be handed over to iMacros to complete;
Seeing here, someone might look around and sum it up in a nutshlined:iMacros can record and repeat your actions, and we can modify them to make them more obedient and flexible.
•  Use: The simplest use is to install the plug-in - click on the icon——Select Record——Do the action in the browser that you want the program to perform, such as inging on a website——After dening, click to complete the recording Stop, so that the next time you want to repeat this operation, just click the Play button below iMacros, the program will automatically repeat your action;
Of course, using this plug-in has certain requirements for the operator.But once you've mastered the basic rules of getting started, it's like opening the door to a new world, so the author insists on recommending it to everyone.I would like to see the small partners can study a little bit, will certainly bring no small convenience to the work.
•  Related: You can search for Web Automation in the Google Web Store to find the same tools, but overall, iMacros is the most fully functional;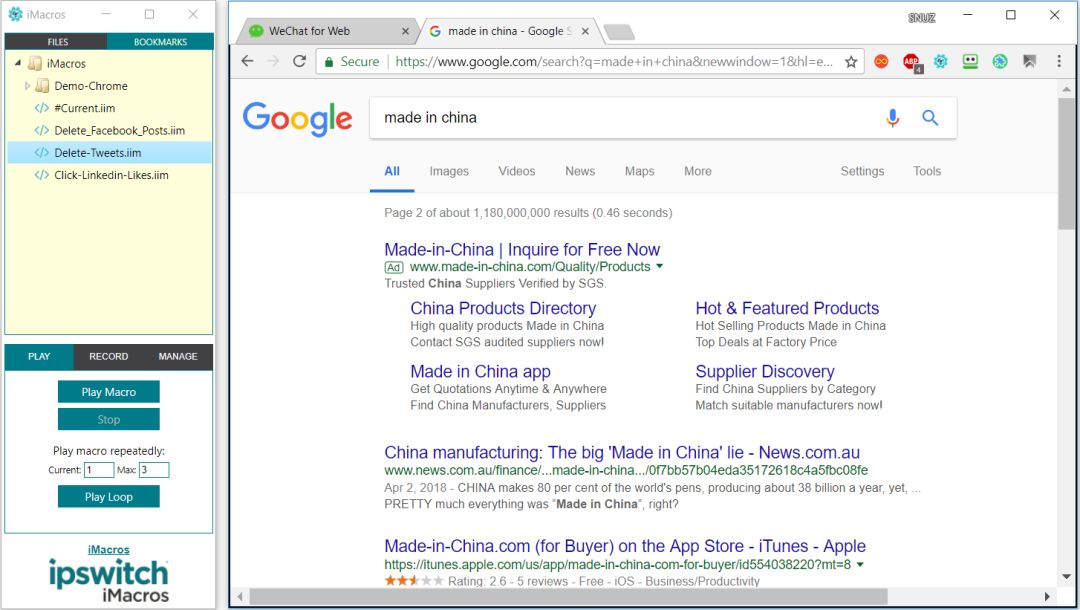 Web automation plug-in iMacros

Data Miner
Integrated information acquisition
Price: Completely free.
•  Condition: There are no restrictions, installation can be used on multiple websites and pages.
•  Purpose: Used to collect information, which has always been a common task in foreign trade work;
For example, to see a post has a lot of customer information, or there is an article content is very suitable for editing and re-creation, or in a website to see a lot of good product information, or even their own B2B background statistics need to be recorded, etc. , are the need for information collection;
Data Miner is a tool that allows users to collect a variety of information in bulk, whether it's looking for customers, collecting product information, or scraping content, Data Miner automates the entire process with simple configuration;
Not only that, Data Miner has integrated a number of off-the-go scenarios, which can be used with direct clicks after installation, such as: collecting Google search results URLs, collecting Facebook group contacts, downloading Amazon sales data in bulk, collecting Followers in Quora topics with one click, collecting LinkedIn search results contact information, and so on;
•  Use: After installing the plug-in, sign up for an account with any email or sign in directly with your Google account.
•  Once logged in, there are two ways to collect data:
a. Click on the Public tab to check the existing scripts for the current page, such as searching google will come out and collect Google-related scripts, and then click run to perform tasks;
b. According to the official tutorial, learn how to make a script (it's actually very simple, just do it yourself and let the plug-in remember the order and operation of each step), and save it and you'll be ready to use it. Collected data, can be exported to CSV, Excel and other formats, easy to operate later.
•  相关:和Data Miner类似的插件有Link Klipper - Extract all links、Agenty - Advanced Web Scraper、Web Scraper等。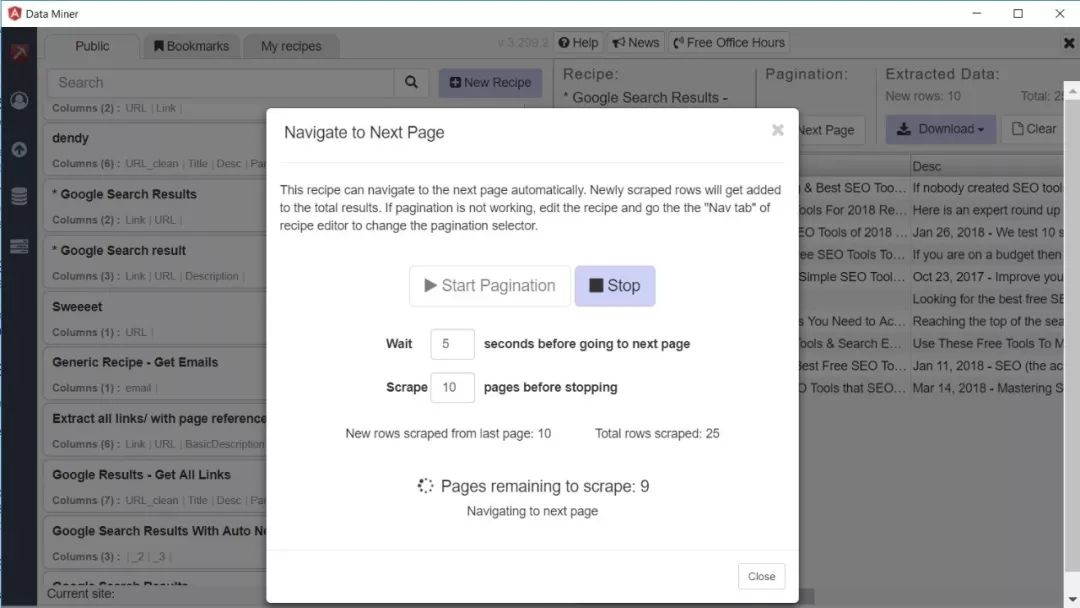 Use Data-Miner to collect Google search results pages
One Click Extensions Manager
Manage all Chrome plug-ins with one click
Price: Completely free.
•  Condition: There are no restrictions and can be used after installation.
•  Purpose: After installing a large number of plug-ins, Chrome browser speed will be affected, because after all, a lot of programs run, if the computer configuration is not high, even will cause Caton;
If you use Chrome's own setup interface, you need to click 3 times to reach the interface, and after all the plug-ins are stacked together, very insuperable to manage, if you need to do this often, is undoubtedly a headache.
•  Use: One Click Extensions Manager can solve the above-mentioned problems, after installation, as long as you click on its icon in the Chrome menu bar, it will pop up all the current installed plug-ins, mouse click can open/close this plug-in, the interface is simple and intuitive, extremely time-saving operation, when not using certain plug-ins, you can temporarily close, so that the computer runs faster.
•  Related: Similar plug-ins can be searched"extension manager", there will be a number of options, interested in children's shoes to explore their own.
Space is limited, compared to the huge number of Chrome plug-ins, the list here is only a drop in the ocean, and there are many new plug-ins are being developed.
The author hopes that through the introduction and listing here, small partners can try to use these Chrome plug-ins after reading, improve their daily work efficiency.
In the actual use of the process, there will be a variety of problems, such as plug-ins can not be installed normally, click no response, no data out and other situations, this time do not panic, the use of search engines to find some tutorials and instructions, such as the use of Google search "ClearBit Tutorial" such keywords, there will be a lot of guidance articles for learning reference.
In addition, many plug-ins complement each other in functionality and design concepts. For example,Using Email Hunter plus SalesLift gives you a greater margin of finding your target customer's mailbox, combined with ClearBit to find your customer's social media messages, plus Ta as a friend, a set of combination punches down, whether it's getting closer to the customer or facilitating subsequent conversions, all more effective than adopting a single strategy.
This also requires everyone in the daily work, to develop self-learning, and more to the Chrome Web Store "hanging out" habits, through keywords, related recommendations, all kinds of sharing content to find more plug-ins suitable for their own needs, so that the productivity of foreign trade work continues to improve.
(This article appears in the 59th issue of Focus Vision magazine)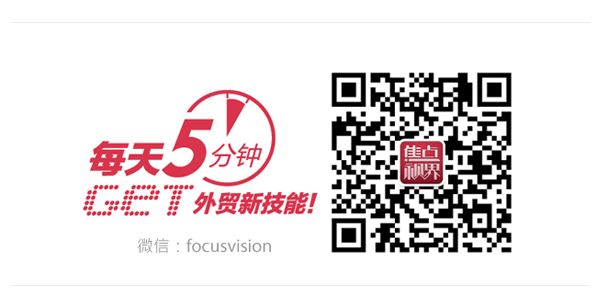 ---