Ten mistakes cross-border e-commerce companies should avoid when marketing on Facebook

Author: WQA Collection Marketing


Having a kitchen doesn't mean you can win the next issue of Kitchen King!
(I also have a kitchen, but my only dishes are tomato scrambled eggs and instant noodles).)
For.FacebookThe same is true.
Your business may haveFacebookaccount, but you may not be using it correctly. Even if there isFacebookOperation.10We've been making mistakes on social networks for a long time. They happen all the time, and we have to try to understand.
But all of us began to thinkFacebookIn the next10year will bring something before I have to figure out thatFacebookpresidentZuckin the past10What we've done in the middle of the year, and how do we use it?
Before we joinFacebookAs you prepare for another decade of social innovation, here's what your business needs to avoid10Big mistake.
1) plain tone
Everyone has some different habits and special habits. Sometimes the contempt, humility, or deep city you show in your communication will impress others and make up your identity.
Brand style works in the same way, and what you say has an important impact on your overall message, purpose, and long-term goals.
Let's take a look at the tone in which Philippine Airlines posted this post.

What's the most exotic food you've ever eaten? Where did you eat it?
If your response is:"What's the tone?"That means you understand what I mean.
Because this post is nothing special at all. It's vague and extremely simple, and almost anyone can publish it.
What brands like Philippine Airlines fail to understand is how a brand speaks, which ultimately affects customer expectations and increases their engagement and loyalty.
The point is, the pattern is not suitable, do not move hard sets. You have to create your own identity.
2)Too much content
Contrary to popular belief,FacebookThe content is not content, but micro-content, so pay attention to the length of the content you publish.
With all sorts"Micro."Platforms are a big part of it, for example"Micro."Letter"Micro."Bo, for example, abroadSnapchatAnd.VineAnd so on, we found that by streamlining the content, the reader has an unlimited appetite to digest the information.
The dominant brands in the industry are aware of this shift in information consumption habits and are beginning to simplify marketing content one after another. As a counter-example, Mercedes·Mercedes didn't remember that……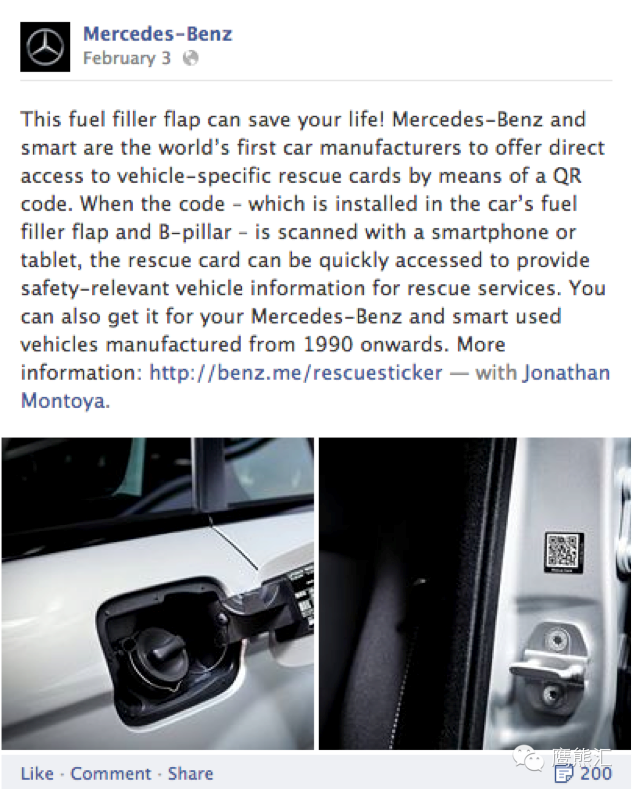 It's so long in one breath, who wants to read it patiently?
Don't just becauseFacebookcan be comparedTwitterWaiting for the platform to send longer messages means you should write so long. For example, if I attach Lu Xun's "Scream" to this article, how many more people do you think would like to see it?
In fact, according toBuddy Mediainvestigation,80Content within characters receives more attention than longer content27%.
Believe it or not, a streamlined block of information is more inciting to the reader than a lengthy explanation.
Simply put: less is more.
3) One-way participation
What are you.FacebookThe content published should be an attempt to stimulate the reader's discussion, not just a one-sided dissemination.
Traditional marketing ideas d'Itchy messages to their readers. AndFacebookBetter suited for publishing highly interactive content——It is designed to be more like real communication than static indoctrination.
Don't forgetFacebookIt's oneSocial.Network, its development does not rely on the one-on-one pull of the throat to shout to the reader. It's about talking to the reader and generating valuable content through that conversation.
Take a look at the status of these two BestWeisers: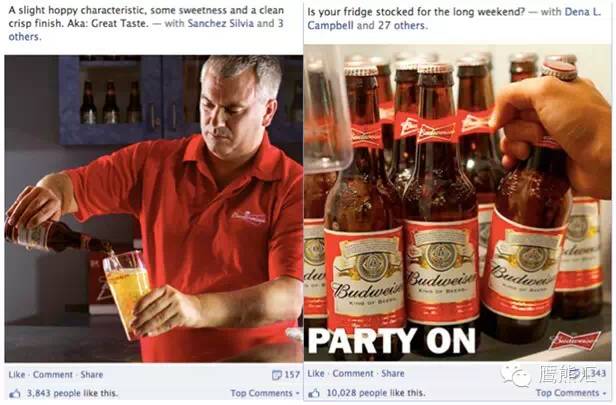 Left: fresh and refreshing, fragrant aftertaste, this is a good taste! Right: Is there enough stock in the fridge for you to have a long weekend?
The poster on the left speaks to the reader, while the poster on the right asks an interesting question."Is your refrigerator stock enough to read this weekend?"Naturally, the poster on the right earns more likes and shares.
Now you understand why you should take the time to understand the situation and increase your user engagement.
In order to sell, you must first interact with the reader. So you have to publish content that is relevant to the reader, which is necessary.
4) Chaotic brand
Creating a strong, consistent brand image is the most substantial possible competitive advantage.
Look at what's in your closet, there's always some branded clothes in it. No matter what it isNike swooshOr.Polo ponyEvery time you wear that oneTYou act as a billboard for the brand.
you to your businessFacebookThe same can be said of the pictures posted by the account. If they're not branded, you'll miss the opportunity to increase your brand awareness. Look at this post and it seems that people forgot to tellKleenexThis: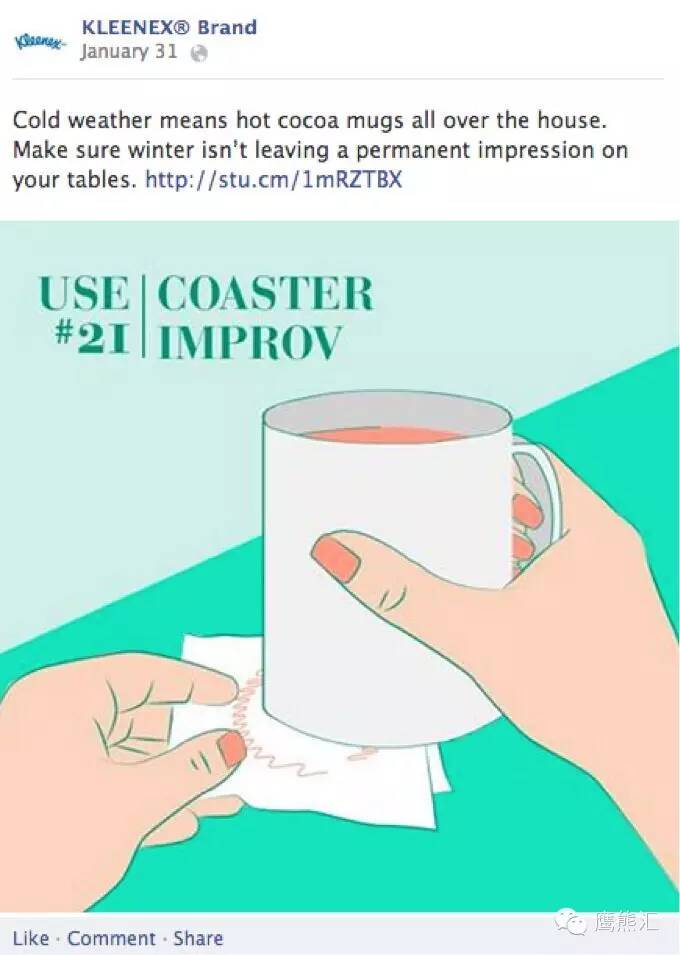 Very wonderful paper-and-paper ideas, but which ad are you?
When we praise them for being cute and creative, when fans share pictures, no one can see their brand. In the end, their cuteness and creativity don't create real marketing value.
In addition, trademarking your image can effectively prevent it from being illegally reproduced. If another brand steals your picture, a simple trademark will let consumers recognize your brand without straying into someone else's trap.
5)Embarrassment on the mobile side
"2014The year is the year of mobile marketing."That's what every marketer says.
Strictly speaking, even primitive people can not avoid the advent of the mobile era. In this case, there are only two solutions, as always: adapt or be eliminated.
Poor mobile optimization advertising wastes not only your time, but also your readers' time.
Let's take a look at this womenswear retailerZaraThe post, clean, minimalist and unique style may make your eyes shine. However, we have trouble reading the text.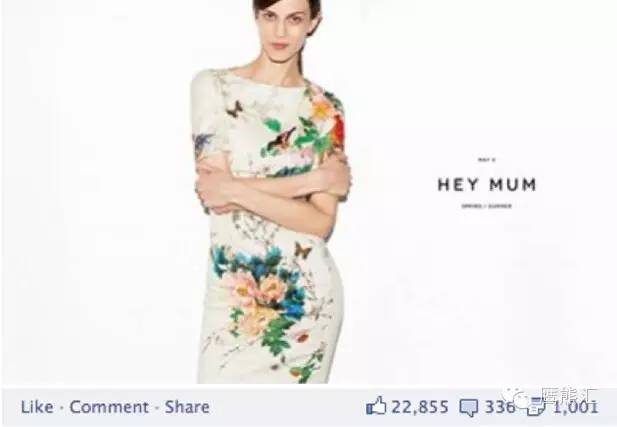 ………………Hey, Mom!………………
I own it5.0vision proud, however"Hey Mum"The text up and down is more illegible than the smallest line on the vision table. And it all makesZaraThe design was a waste of time, because if the text is not available on the desktop, there is no hope of appearing on smaller mobile devices.
FacebookMonthly.12.3of the hundreds of millions of users9.45If your content isn't mobile friendly enough in any way, you'll have to get out of the way.
6)The timing was not right
It is well known that attracting and maintaining the interest of today's Internet users is a huge challenge. News pushes tend to be dense and confusing, makingFacebookThe process from creation to consumption of posts has also become difficult to grasp.
In.FacebookThe best time to post is really due to your industry, specific products/Services and readers' personal information vary, which you should take into account.
On Super Bowl Sunday, Heinz ketchup was inFacebookTwo different football-themed posters were released, one at the start of the game and one at half-time: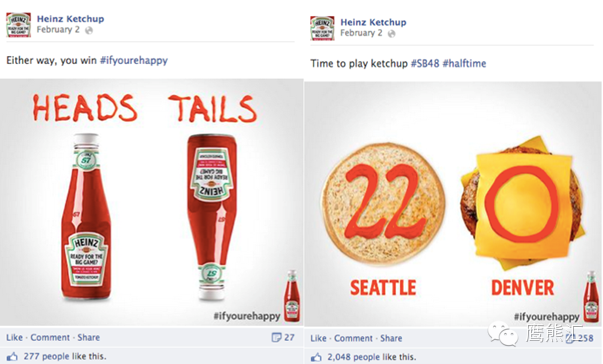 Notice the difference in the number of likes. External factors, such as timing, do affect the number of likes each post receives, and it's timing that sea reports perform so well during the halftime break.
At the start of the game, everyone was staring at the TV, but at half-time, the audience would take a break, have a beer, snack, and take a lookFacebook.
By understanding how your readers behave, you can gradually find the best time to post during each time period to get more attention.
7) The link was published in error
This misunderstanding doesn't seem to be the most important because it really isn't. When you're inFacebookWhen a link is shared in the new state, the platform automatically generates a thumbnail, along with a description of the page that can be clicked to direct the reader to the page. This means that there is no need to keep the attached textURL。 Its problem is not just repetition, it's more likely to obscure your message.
Take a look at this low-level error from Tyson Foods: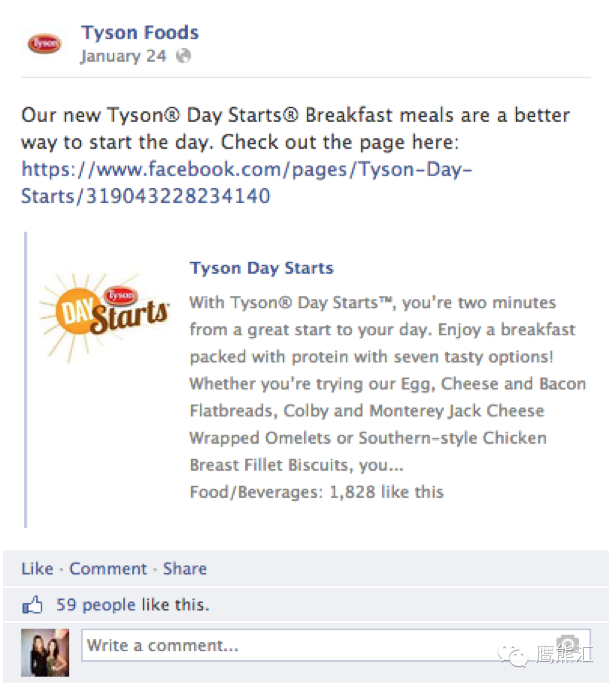 Due to dependencyFacebookFilling their posts with link previews has reduced their engagement. However, when they used concise text clips and large visually appealing images, their click-through rate more than doubled: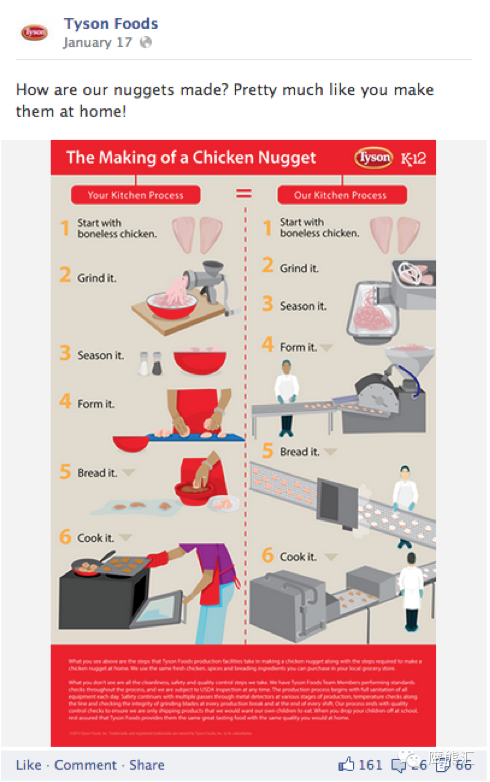 Instead of relying on a large piece of text to promote a thumbnail, a more attractive picture with a simple line of creative text can win more attention and sharing.
8)Avoidance of complaints
13%Unsatisfactory users will go to other20more than one person complained about their negative experience. (Source:ClickSoftware)
Simply ignoring the complaint doesn't make it go away.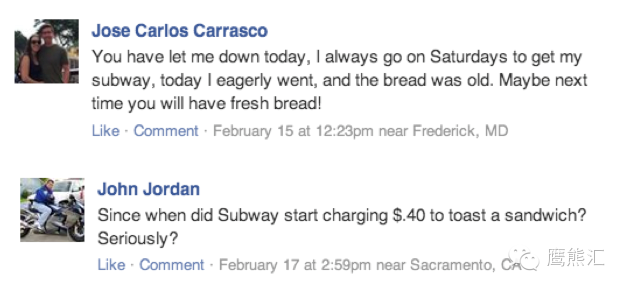 Netizens are rightSubwayComplaints that bread is old, or heating actually charges
Ignoring the customer's complaints, ignoring the problem, not solving it, all this letSubwayThe reality is getting worse.
Look around. We are living in a data age where information is spreading at an unprecedented rate. If a business simply thinks they can cover up such grievances, let's see what happens to him.
Rather than treating the barometer on a customer's face as a burden, use it to clarify their problem and correct it accordingly.
9)Ignoring the cover photo
Cover photos make up almost a quarter of the screens of most of your devices. Visitors are entering yoursFacebookpage when yoursFacebookThe cover photo will come into view, it can be said that this is one virtual welcome ceremony. This is a visual element that you can't simply ignore, although many businesses do. If you squeeze all the product promotional messages together, full of misced text and pictures, users will think that our home page is still in the process of finishing. I thought it was the worst-case scenario until I saw it……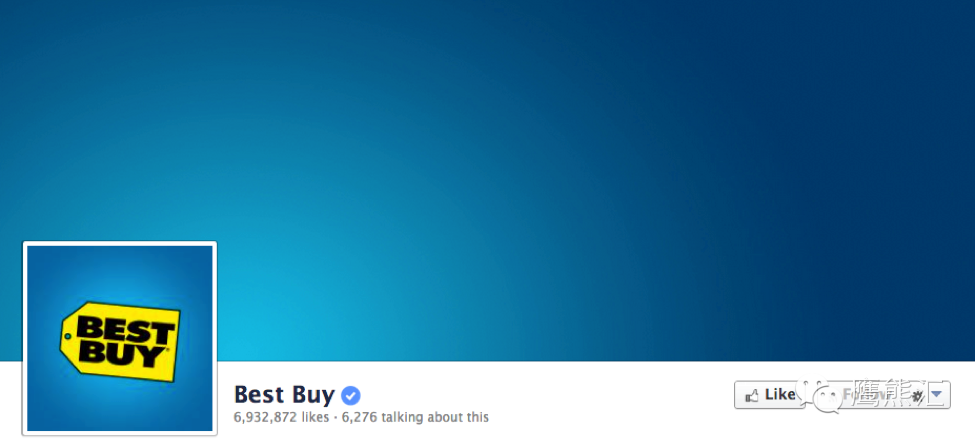 A clean and fresh piece……
I really can't understand what kind of discussion management will have to go through before deciding to use this cover——Maybe it's not discussed at all. In the face of this situation, I can only say that the lack of creativity is almost an adfront to the reader.
Everyone knows, don't let the text be too complicated, don't let your profile be longer than your content, don't ignore the size of the picture, but you can't always have nothing?
10)"Unscrupulous."
Have you heard the news?
Plug-in advertising provides marketers with a unique opportunity to insert their business into real-time cultural events to get more attention and maximize their marketing message.
The problem is that a small percentage of the ads inserted did not achieve their intended purpose at all. For example OXICLEANWhat you do during the tax return season is simply crying out to the crowd for attention: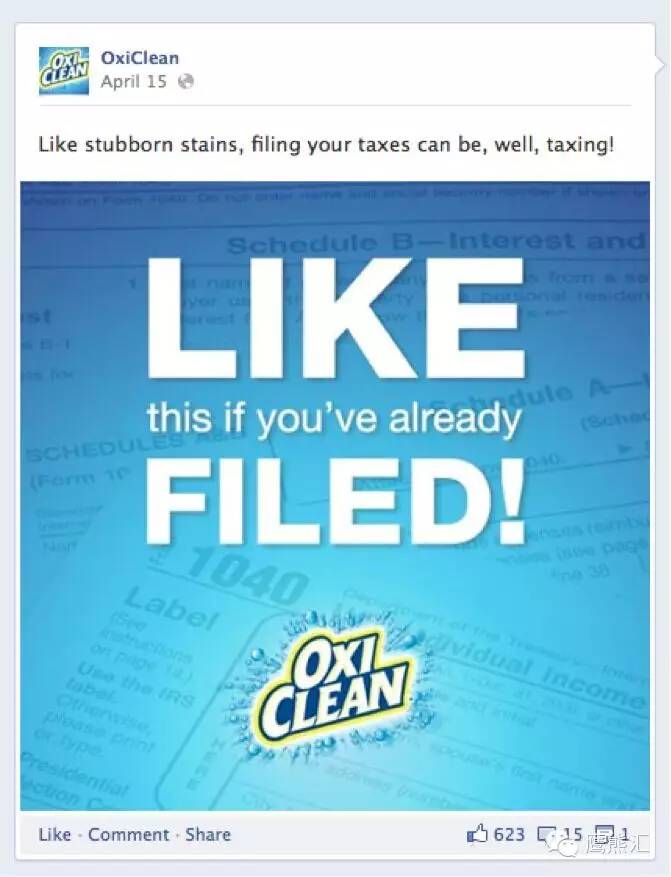 If you've filled out the tax bill, let's do it"Like."Let's go!
A brief review of our target customers and audience reveals who else will be responsible for the tax bill, in addition to the amiable old cleaners?
It's important that you choose to be picky when you insert an ad; Don't rush and make sure the topic you're trying is relevant to your brand. If you have to"Unscrupulous.", the result can only be laborless and unappe generally plattering.
Now you know what exactly will keep you thereFacebookMarketing is struggling. Some post-developmentappFor example.Jelly、SnapchatAnd.VineIt is indeed easy to avoid these problems, howeverFacebookThat's what your readers are most looking forward to so far. So next time inFacebookPost, be sure to check this article again. If you can avoid it Avoid this10Mistakes, I can't guarantee that your business will stand out, but if you can't avoid it, that business is thereFacebookIt's doomed to suffer.
WQAis performed and managed by a thorough British and American local team
To collect customers marketing way for Chinese customers to carry out all-round overseas marketing
WQACollecter marketing microseal public number:JIKEYINGXIAO
...........................................................

If reprinted,Please indicate the transfer from:

"WeChat Public Number: Eagle Bear Hui".
...........................................................


"Eagle bear sink" has gathered the cross-border e-commerce industry as follows, forming a strong industry aggregation effect, do you want to join? Please contact usMarkpersonal microscopy KJDS003
1, almost all domestic foreign trade cross-border export e-commerce enterprise executives (such as Lanting, DX.com, Jintong Cloud Merchants, Panli Network, Dalong.com, Indulgence, Haofang, Tree, Ai Taocheng, Aoji, Global Tesco, Global Market, Ze Bao, Kyushu Eyers, Sevi Network, Milan Network, Whole Wheat Net, Tinydeal, Blazing Forcalprice, Tongto Totop, Wanfang Network, Pandawill Danhong Tian, Le Fox.com, Persistence, Lending Network, Jinning Electronics, Stick Valley, Sogou, Baye, Waver, Price Chain, Osa Apparel, Pando, Four Seas Merchant Boat, Miaoso, Blue Hot Technology, Expansys, etc.)
2, almost all domestic foreign trade cross-border import e-commerce executives (such as Jumei excellent products, ocean terminals, Haitao.com, catwalk network, product-only, British small cows, food collection, Mei Yue preferred, Shunfeng Haitao, NetEase koalas, seven-day excellent products, Haiping Club, Wanquan, Western Touring Countries , European products vera, Haitao City, Dolphin Village, Doo Taobao, Tmall International, Haitaotong, German Debao, Taobao Technology, Cool Haitao, Eurotundra International, All-China Excellent Products, German Shopping Mall, Meiyue Tao, Haitao Flower, Taohai Tao, One Tao, One Sail Sea Purchase Network, Cross-border Tao, Diapers, Tesco, Spicy Mom Gang, Honey Taobao, Street Honey, Honey Bud Baby, Little Red Book, Cloud Monkey, One Hundred, Magpie.com, Russian Pinhui, Temple Library, Dot Taobao, Vara Taobao, Tesco, Taimeili, Meida.com, 55 Haitao, etc.)
3, foreign trade cross-border e-commerce third-party platform (such as Amazon, eBay, Express, Dunhuang, Wish, New Egg Network, DD4, Allbuy, Lazada, Global Resources, Alibaba, Online Canton Fair, China Merchants Holdings, Tmall International, JD.com Global Purchase, Store 1, etc.) company executives or heads.
4, foreign trade cross-border e-commerce service provider logistics business executives (Shunfeng International, Export Easy, Yixin Express, Yiheng Logistics, Vietnam Airlines International Logistics, Bird Logistics, Noseda Logistics, Fast Vietnam Logistics, Feit Logistics, Combined Logistics, Four Seas Mail, Royal Logistics, North American Express, Shunyou Logistics, One World Express, Cloud Road, Sai Rabbit, Local Executives, Tri-State Logistics, Xiu Yi Logistics, Internet Easy, Singapore Post, 4PX Delivery Quartet, Yanwen, DHL, UPS, XRU.COM, OX, UCS, Transshipment China, Transshipment Quartet, Minming Supply Chain, China Post, Yuantong International, Rookie, Collet, Imperial Post, Central Shipping, China Shipping, China Eastern Airlines, Tianjin Airlines, China Southern Airlines, Global Tesco Trade, Clumsy Logistics, With Bao Transshipment, Easy Customs Clearance Cross-border easy, Zhuozhi supply chain, former Haibaohong, ex-sea e-commerce supply chain, Weishi Peiyun, COSCO, postal courier EMS, Zebra Logistics, Xinyi Logistics, Full Express, Xin Baifu Logistics, Yi Yatong, Haibao Fengyun, etc.)
5, foreign trade cross-border e-commerce domestic and foreign financial, payment enterprises (Qianhui, Qianbao payment, Shenzhen Rongxin, WQA, fast money, Dingpay, Huiyuantong, Qianhai, Yixin, Payoneer, Yijifu, Huafuda, Industrial and Commercial Bank of China Executives of MasterCard, VISA, UnionPay International, PayPal, Easy Huijin, Yibao Payment, Caipay, Alipay International, Global Collect, Yibao Payment, Paypay, Liantong, Tonglian Payment, EasyPay, Baifeng, etc.
6, a large number of foreign trade cross-border e-commerce major product suppliers, such as Baijia products, ROXI jewelry, Xiaolei Technology, Hui baizhou mobile phone supply wholesale platform, Zhuop mobile phone, foreign trade distribution Jiang Yuyan, Dajie drone, E-air drone, Flypro drone, Havit brand, Lansheng Technology, Zhengbai Technology, Superstar International Start Power.
7, a large number of third-party platform e-commerce small sellers.
8, social and promotion platform Facebook, VK, Google, Yandex and other relevant personnel in China.
9, all over the competent cross-border e-commerce government or agency heads, cross-border e-commerce pilot cities pilot enterprises, industrial parks, such as customs, inspection and quarantine, commerce, foreign trade, bonded zone, Shanghai Free Trade Zone, Shenzhen Forehai and other government departments, such as Dongguan Songshan Lake e-commerce industrial park leadership, Yiwu City e-commerce office, Shanghai Jiading Industrial Zone, fast-viable cross-border e-commerce park, South China City e-commerce industrial park and so on.
10, cross-border e-commerce service platform website: easy customs clearance, cross-border network, cross-border easy, cross-border communication, Chongqing Seymatt, Jiangsu cross-border e-commerce platform, Haitao excellent productsWait a minute.
11. Professor Wang Key of the University of Foreign Trade and Economics, Associate Professor Wang Weibai of Zhejiang University and Qiu Qiang of Shanghai University of International Business and Economics, and Mr. Feng, expert in cross-border e-commerce law.
12, capital investment enterprises (IDG, TongTronWeiYe, Sequoia Capital, Junlian Capital, Zhedi Investment, Shanda Capital, Bosch Fund, CITIC Bore Investment, Jinsha Capital, Qingdao Enduring Investment, COFCO Capital, Far East Hongxin, Walden International, Yongkai Investment, United New Capital, Qingke Ventures, Weiwei Ventures, etc.)
13, domestic giant brand overseas business or cross-border e-commerce business executives (Haier, Pinsheng, OPPO, Gome Online, sofa purchase, new seven days, Huawei, Lenovo, ZTE, Yagor, Skyworth, Huadi, Changhong, Op Lighting, Foxconn Group, Huaqiang Group, Evergrande Group, Jinba, Kangjia, Supor, Flying Fish E-commerce, SKG, Arctic Velvet, etc.)
14, a large number of foreign trade cross-border e-commerce practitioners.
15, foreign countries mainly gathered from Australia, Germany, France, Russia, Brazil, South Korea, New Zealand, Japan, the United States, Canada, the United Kingdom, Thailand, Vietnam and other 40 countries cross-border traders. Overseas warehouse providers from all over the world, etc.
16, foreign trade cross-border e-commerce service providers: such as cheetah products, inspiration photography, line cloud translation, business network, language networking, horse gang, translation cool, Han-Otong, Siqi software, adjacent interaction, rice lessons, mission, South China City, building blocks e-commerce, win education, language network, Jiangsheng technology rich business software and so on.
17, all over the e-commerce associations, organizations: Shenzhen e-commerce service center, Shenzhen Logistics and Supply Chain Association, Shenzhen Public Trust Network, Shenzhen Internet Merchants Chamber of Commerce, Shenzhen E-Commerce Chamber of Commerce, Qingdao Internet Chamber of Commerce, self-improvement school, small Marcoma bee, Haiyinhui, Qiao help master LeTao gang, Shanghai cross-border e-commerce association, Silicon Valley High-tech Association, Guangdong Province Internet Merchants Association, global cross-border e-commerce association, Wenzhou cross-border e-commerce association.
18, the media: Hugo Network, Edgy Power Network, Ennet, Foreign Trade Helper Network and so on.
It's still expanding at a high rate...
---