With only three days left to sign up for the course, the last lesson in off-site marketing before the peak season, Shenzhen Topology Facebook Operations Training 008, is about to begin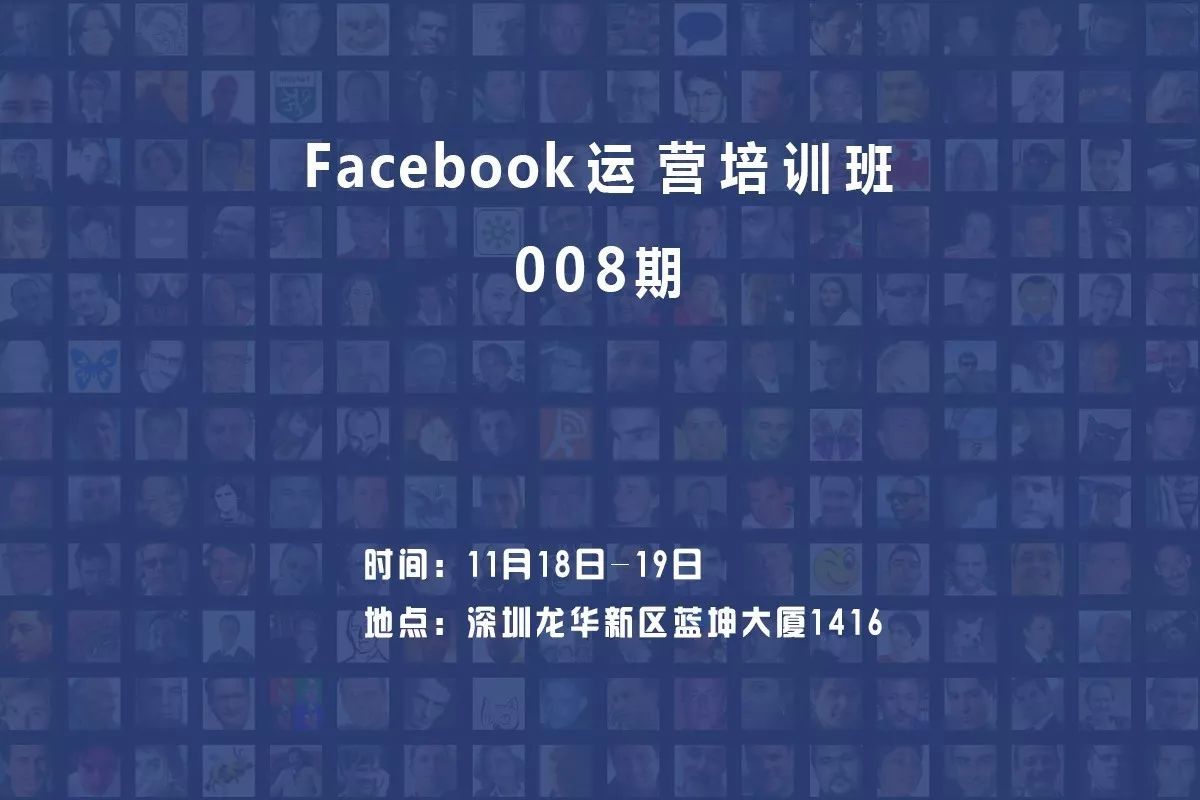 Facebook Operations Training 008·Shenzhen is about to start classes, the current total number of applicants 25 people, only 5 places.
Since the opening of Shenzhen Topology 001 in March 2017, the course has been held once a month in Shenzhen, while the course has been continuously opened in the field, so far more than 17 sessions have been held!
  Shenzhen Topology founder Mr. Lu Cong has many years of overseas life experience, has been engaged in Facebook and other overseas marketing work for 6 years, in training at the same time is also operating the Facebook page for customers, and provide customers with operational guidance. For the end of the year foreign trade / cross-border e-commerce peak season, he combined the theory with success stories, with two days and a night to explain how to prepare from Facebook for peak season marketing, both for the use of small white students from zero to one, but also for 10 to 100 students with operational experience, a system to learn the main knowledge and skills required for Facebook operations. Combined with the end-of-year peak season, this course will also have a large length to explain the Peak Season Facebook marketing strategy.
  Shenzhen Topology is not only a professional Facebook training company, but also to help many customers run Facebook, in 2016 has served 100 foreign trade, Amazon sellers, overseas merchants customers,Successfully operated more than 50 Facebook business pages。
First, Facebook's relationship with cross-border e-commerce sellers
1. How do platform sellers see Facebook correctly?
  Facebook is the world's most widely used social media tool, with more than 2 billion monthly active users and an average of more than 50 minutes of online time per day. Facebook's own strong social and weak business characteristics also determine that cross-border e-commerce sellers use Facebook and e-commerce platform is not the same. Although Facebook launched Facebook Shop in September 2016, Facebook has not yet widely promoted the Shop feature and opened payment links (except in the U.S. and Australia), and cross-border e-commerce sales cannot be sold on Facebook. For sellers who target overseas consumers,Facebook should not be seen as a sales platform, but as a traffic portal, brand display window, and auxiliary platform operation。
2, cross-border e-commerce platform sellers how to use Facebook correctly?
  Cross-border e-commerce platform sellers want to achieve good results in the operation of Facebook, not only need to understand the characteristics and functions of Facebook, but also need to cross-border e-commerce platform rules, the use of the focus of a full grasp, combined with the characteristics of both, in order to run Facebook to achieve good in-site operational results.

  When comparing stand-alone stations and platforms, sellers need to pay attention to the difference between the two when using Facebook, so there is a big difference in running Facebook:
  (1) The stand-alone station itselfThere is no traffic, the need to obtain traffic from the outside world, independent station sellers concerned about the traffic indicators are mainly the ROI of traffic, the relevant marketing factors indicators are:The unit price of traffic, the accuracy and conversion rate of traffic, the value of traffic conversion (customer unit price), and the second purchase rate after conversionand so on;The platform itself has a large numberFlow., the platform seller's main concernHow to get more in-station trafficAnd.Factors that affect traffic and conversions within the station
  (2) The profitability characteristics of the platform, doomed to the platform for sellersThe importance of store traffic conversion rate, the high and low traffic conversion rate will affect listing's search ranking on the platform. Because, when platform sellers introduce out-of-station traffic, need to consider its conversion rate, from the source of traffic, characteristics, conversion factors and other aspects of control,This also makes it more difficult to stream out of Amazon stations. The ranking of independent search engines is not affected by conversion rate, because you don't need to pay too much attention.
  (3)Facebook Pixelit's an important aid to running Facebook, with the help of Facebook's analytics toolsFacebook Analytics, can more specific grasp of the traffic conversion situation and conversion process, further use of real-time marketing, advertising for the site crowd secondary delivery, thereby greatly improving the conversion rate of traffic, reduce customer acquisition costs.Cross-border e-commerce platforms can't install Facebook Pixels, and there are gaps in traffic statistics and marketing.
  (4)Facebook ad traffic costslower cost of ad traffic than Amazon, Google, etc.Therefore, we should make reasonable use of the current Facebook traffic dividend period, can reduce the cost of traffic.
  (5)Conversion goals for Facebook traffic:Stand-alone stations have only one conversion goal: to bring sales, and for Amazon, there are several conversion goals: to bring in natural sales, to get VP Review, and so on, through discount code orders.
  Based on Facebook's features and Amazon's platform rules and features, plus our experience running 100 Amazon sellers, Facebook is as followsAt different stages, Amazon sellers use Facebook's focus: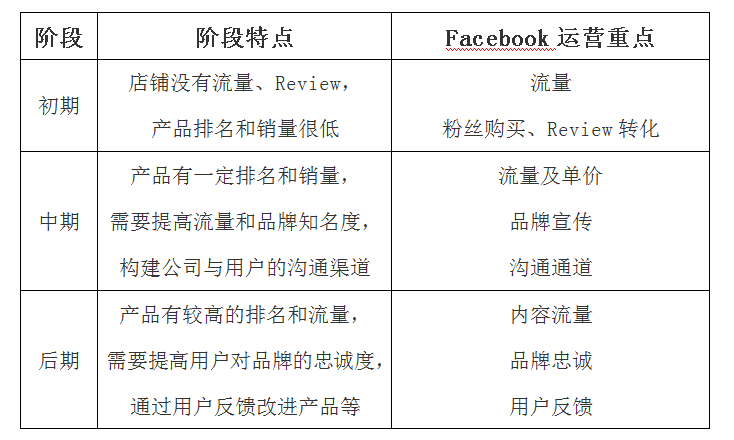 3, 2017 cross-border e-commerce seller operation problems
  Amazon, for example, has more than 800,000 new sellers in 2017 and more than 300,000 new sellers in Amazon America. Amazon has expanded into new categories and regional markets (e.g. Singapore, Australia, India, etc.), but the pace of expansion has fallen far short of the surge in sellers. With increased sales competition, sellers are increasingly facing the following competitive situations:
  1)The decrease of natural ranking and the decrease of natural traffic。 For the same product, our natural traffic and sales may be less than one-third of what it used to be.
  2)PPC ads have increased dramatically in click-per-view prices。 In the case of a sharp drop in natural traffic, more sellers rely on advertising for traffic. For the same product keywords, we may face several times the cost of clicking on past ads.
  3)True review is becoming more and more important, and getting it is getting harder and harder。 In the past, the risk of brushing a single brush view is getting higher and higher. Towards the end of the year, Amazon's crackdown on single-accounts was growing. If you rely on their own customer population, reasonable conversion of review, is the seller's operation must be improved to build.

  4)Inventory risk from falling store sales。
4. How to view Amazon's relationship with Facebook
  Comparing Amazon and Facebook, you'll see a clear introspective relationship:

  Based on this, we found it based on the case of Facebook, which has operated 100 sellersEffective, universal, low thresholdFacebook Solutions, combined with its own experience running Facebook, has compiled a "Facebook Operations Collection for Amazon" and openedFacebook runs training courses"。 From the perspective of platform operational requirements, the system learns and uses Facebook to facilitate cross-border e-commerce platform site operations. 
Second, the content of the course introduction
1, the content of the basis:
  (1) Facebook page that successfully operated in 2013. With a very low advertising budget, it has 10,000 active followers in three months and more than 100,000 active followers in less than a year;
  (2) Facebook, which serves more than 100 foreign trade, Amazon sellers and overseas merchants since 2016, has successfully operated more than 50 Facebook business pages. 
2, content settings:
  Based on our long-term service to Facebook, a cross-border e-commerce seller, we summarize Facebook's operational knowledge points and skillsTwelve modules:

▲Facebook's 12 modules, from getting started to mastering
  One night, Saturday and Sunday, November 18th and 19th, we will hold in room 1416 of the Lankun Building in Shenzhen.Facebook Operations Course 008"Course. This course combinesMore than 200 participantsFeedback and year-end, based on the original twelve modules, we have changed and added the following:
  1、Red Man's Blast Process (What's New)
  Combined with our recent use of YouTube's Red Man Push products (e.g., an outdoor sports product, 300 additional visits per day after launch, 8 days to become Best Seller). We have summarized the whole red people marketing, the target of red people marketing, not limited to Facebook, but to join YouTube, discount sites, professional red people sites.
  2、Facebook's peak season marketing strategy(What's new)
  Combined with Facebook's user marketing funnel model, it tells the story of Facebook's operational strategy at different stages. For high season,How to effectively prepare from Facebook, we from the fan accumulation, improve traffic, customer viscosity maintenance and other stages of planning, but also includes all-day ads and time-phase ads, the difference between the effectiveness of Facebook traffic conversion rate at different stagesthe impact of brand building on late-stage traffic and conversion rate.
  3、The Importance of Video in the Mobile Age(What's new)
  Video is becoming increasingly important in the mobile age, it is estimated, by 202075% of the traffic on the phone side comes from video.The same content, sent via video, sends a wider reach and achieves higher conversion results than other ways. Combined with the phenomenon that users use and shop more than the PC side, we will talk about the changes, requirements, etc. of the Facebook page footage on the mobile side.
  4、Facebook Recent Updates (What's New)
  These include new Facebook ad formats and ad spaces, new metrics in Facebook's data results, Audience Network changes, and Instagram Shopping.
  5, independent station operation overview
  With the increasing competition of cross-border e-commerce platform, the risk increases, and the importance and necessity of operating cross-border e-commerce in the form of independent stations is increasing day by day. Compared to Amazon, the advantages of stand-alone stations are as follows: (1) more autonomous operations, not subject to platform rules, risk reduction (2) no platform fixed fees, such as transaction fees, storage fees and other fees (3) a wider range of countries to choose from (4) operating space, such as the use of Facebook Pixel, Google Analytics and other tools to improve page conversion rates.
  This time, we will explain in detailThe process of independent station operation, the difference between independent station and Amazon operation, how to use independent station as the middle page to do traffic filtering, tracking, how to make better use of independent station for operation services, how to use independent station with Amazon operation and so on.
Most people take their own experience of breaking blood flow as experience, often repeated mistakes to form experience;
A wise man has experience with the experience of breaking another person's head, so he has experience of making no mistake at once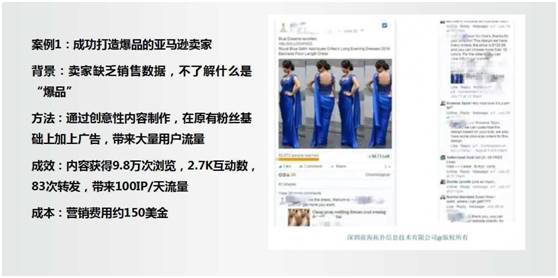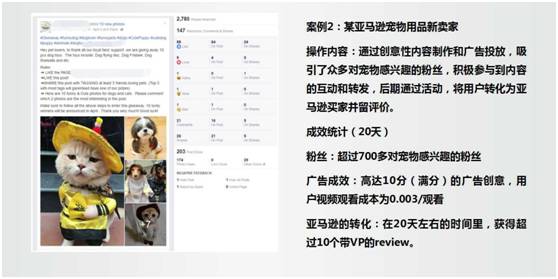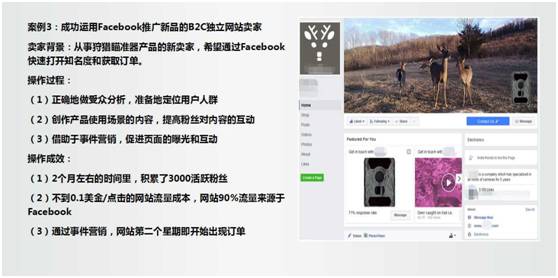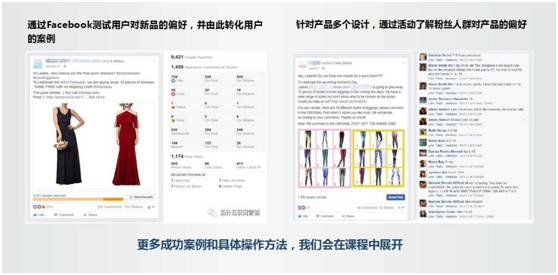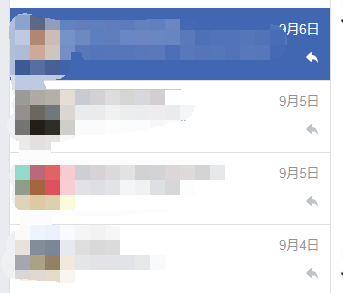 As shown above: a B2B foreign trade factory customers. With the right market analysis and targeting, accurate user selection and ad delivery, you receive 4 accurate inquiries the next day. The result has changed the doubts many sellers have had in the past about the effectiveness of using Facebook to promote B2B.
  We used YouTube's Red Man marketing to add more than 300 exposures a day to a new product of electronics, pushing Best Seller into the category for eight days, and successfully built the burst.
Review of previous trainings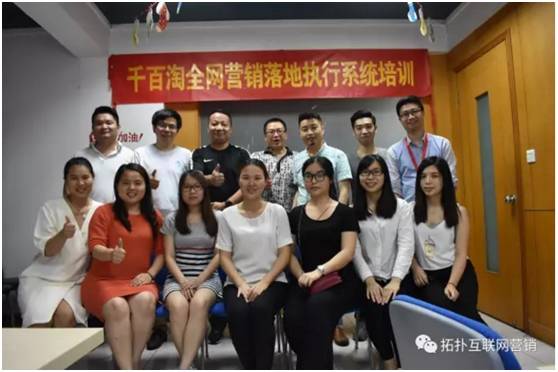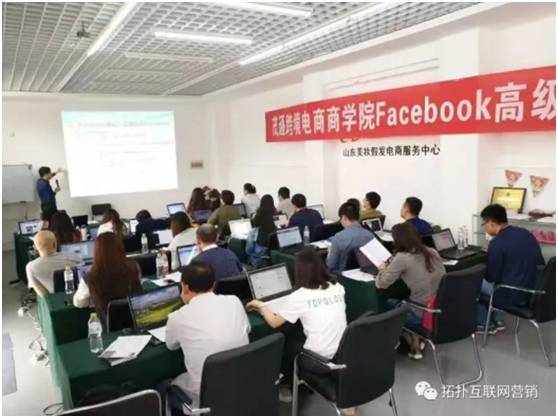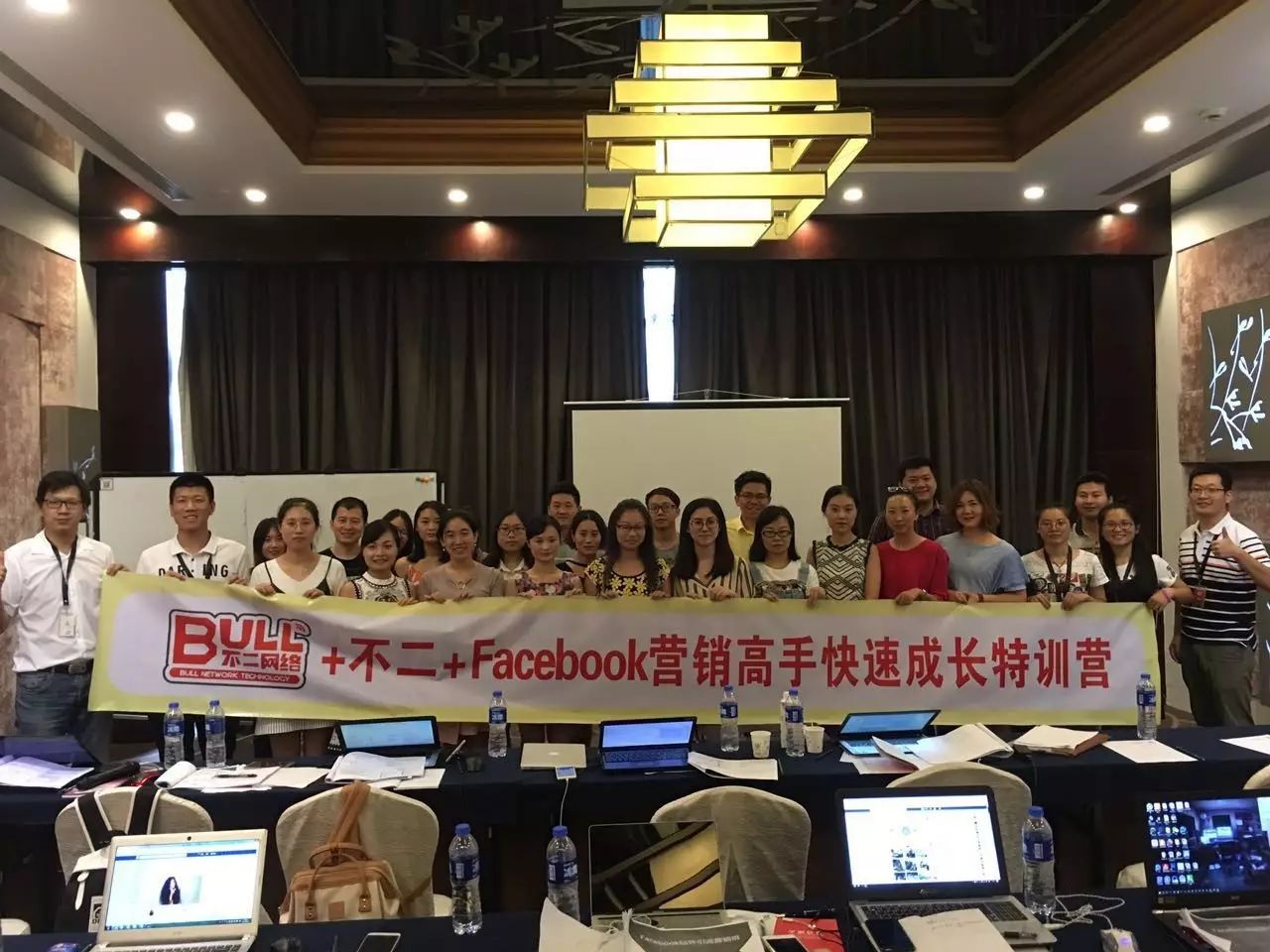 ▲August 11-12, Changzhou, Jiangsu Facebook Operations Training 001
The course is appropriate for the group and the desired effect
  Based on our course design and practical results, this course is mainly applicableSix types of cross-border e-commerce population:
  1. Amazon and other cross-border e-commerce sellers, especially small and medium-sized sellers and new sellers who have difficulty in pushing new products;
  2. Cross-border e-commerce independent station sellers, want to obtain lower-cost traffic and higher conversion rate, and through the system settings, clear evaluation of network operation ROI, so as to more refined operation in the link;
  3. Have some knowledge and experience, have operated Facebook but the results are not obvious, Facebook lack of systematic understanding of OEM factory, B2B foreign trade company, want to transform to do B2C foreign trade, cross-border e-commerce;
  4. Future promoters and ad optimizers who want to engage in Facebook or web marketing (a large number of industry sellers ask professional Facebook operators, and students with this program give job recommendations);
  5. Consider people entering the field of cross-border e-commerce;
  6. Hope to focus on building overseas brands of sellers / factories.
  Based on our student feedback, the course has the followingThe expected effect:
  1, has never used FacebookSmall white level users: Understand the basic knowledge and basic operation of Facebook, clear the main points of Facebook operation, can complete the basic home page opening, use, and content sending, grouping, advertising production, data viewing and other operations;

  2, using Facebook for 0-6 monthsBeginners: Systematically learn the main points of Facebook operation, according to the content of the course, develop daily operation plan, and learn to view and optimize the operation according to the data;


  3, using the Facebook page for 6 months - 2 yearsIntermediate users: Gain insight into Facebook's core at the thinking and operational levels, establish the right operating framework, and learn to better use Facebook based on different entities (B2B, B2C stand-alone, B2C platform).
  4, senior Facebook operators: according to the demands of many students, in the master of the basic content of Facebook, want to further advance. We've chosenOn January 20/21, 2018 in Shenzhen, opened the "Facebook Advanced Operations Training Course" 001, the starting place: Shenzhen, welcome interested participants, eager to consult and register.
About the organisers and lecturers  
1, the organizers:Shenzhen Forehai Topology Information Technology Co., Ltd
  Founded on July 14, 2016, it is a company that provides Internet marketing solutions for China's foreign trade and cross-border e-commerce companies, one-stop solutions to the entire chain of independent cross-border e-commerce marketing, to promote the transformation of traditional foreign trade, factories from OEM, B2B to B2C, cross-border e-commerce from platform sellers to brand manufacturers.
2、Teacher: Lu Cong
  He graduated from Applied Physics in 2009 and was associed by the Company in 2010 to work at the National Computer System (NCS) in Singapore, providing IT application support and data analysis to 16 countries in Citibank Asia Pacific.
  In 2013, he started an e-commerce business in Singapore and relied on web promotions such as Google and Facebook for business without social connections or funding.Less than a yearThe company's main business keywords inGoogle's local top three, website traffic is inRanked first in the same category of websites。 Facebook operatesThree months after the fans more than 10,000, six months later more than 100,000。 Master the Google SEO, Facebook, Pinterest, Red Man partnership and other traffic acquisition methods, as well as user behavior tracking, user experience optimization, conversion rate optimization and other independent site operation process. Entrepreneurial stories have been published in Singapore'Chinese largest newspaper and mediaUnited Morning Post, Xinming Dailyand other online media reports.
  In 2016, he returned to China to establish Shenzhen Topology, which has been in service to dateMore than 100Google Optimization, Facebook Operations, etc. for Foreign Trade/Cross-Border E-Commerce/Overseas Sellers.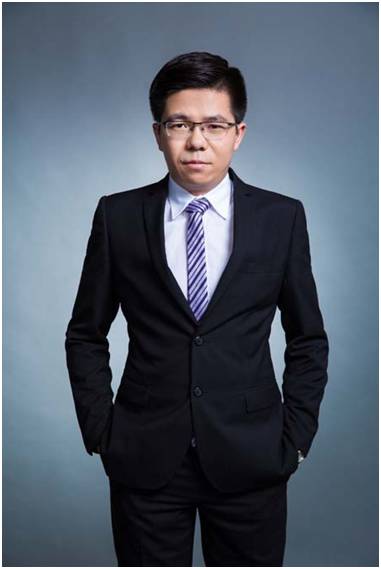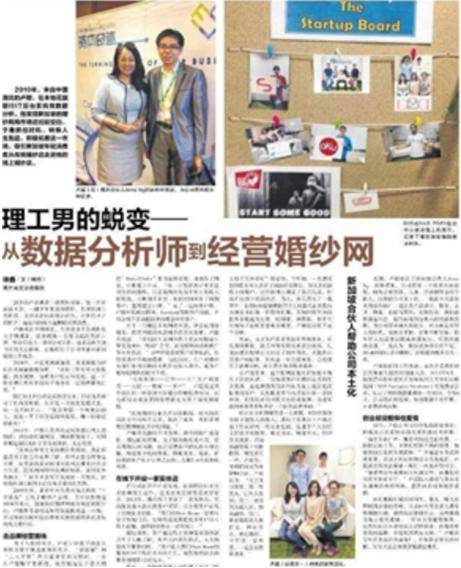 Entrepreneurial stories are the largest Chinese SingaporeUnited Morning PostReport, original address:
http://www.zaobao.com.sg/social/crossroads/general/story20140616-355183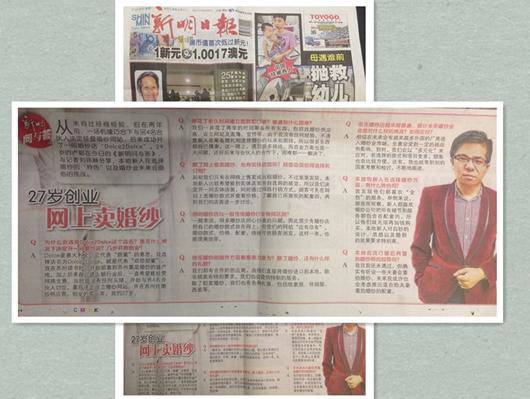 Xinming DailyReported.
Course time: November 18-19, 2017, two days and one night
Saturday, November 18: 9:00-12:30, 14:00-17:30, 19:00-21:00
Sunday, November 19: 9:00-12:30, 14:00-17:30


The location of the course: Room 1416 of The Blue Kun Building, 213 Minkang Street, Longhua New District, Shenzhen (Exit A of Minzhi Subway Station)
Course fees:3888 yuan/person (including training fees, materials, class meals, dinner) 

Number of courses: Limit of 30 people
Special offers:
  Forward this course to a circle of friends, screenshots to our staff, can be reduced by 100 yuan
  How to register(Click in the lower left corner.) Read the original text Fill out the registration form)↙↙↙
  Contact: Mr. Zhang (after payment, please send a screenshot to the contact, WeChat see below)
  Tel: 0755-66605975/13428662680 (with WeChat)
  Payment account number:
   (1) Legal entity accounts:
  Name: Lu Cong (13686840601)
  Account number: 6214 8578 0713 3089
  Account opening bank: China Merchants Bank Co., Ltd. Shenzhen Branch


  (2) Mobile payment:
  Alipay Payment: lucong@tuoputech.com
  WeChat payment: 13686840601
  For course inquiries, please scan the following QR code and contact Mr. Zhang: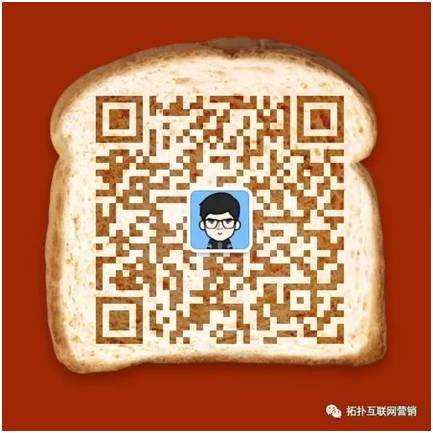 We've been working the seller's way, and we've never stopped on the way to study
Shenzhen topology to help cross-border e-commerce sellers, the use of off-site traffic at the end of the year to sell
---