Facebook Michael Chen: Three Things Facebook Marketing Must Know MS2017 Special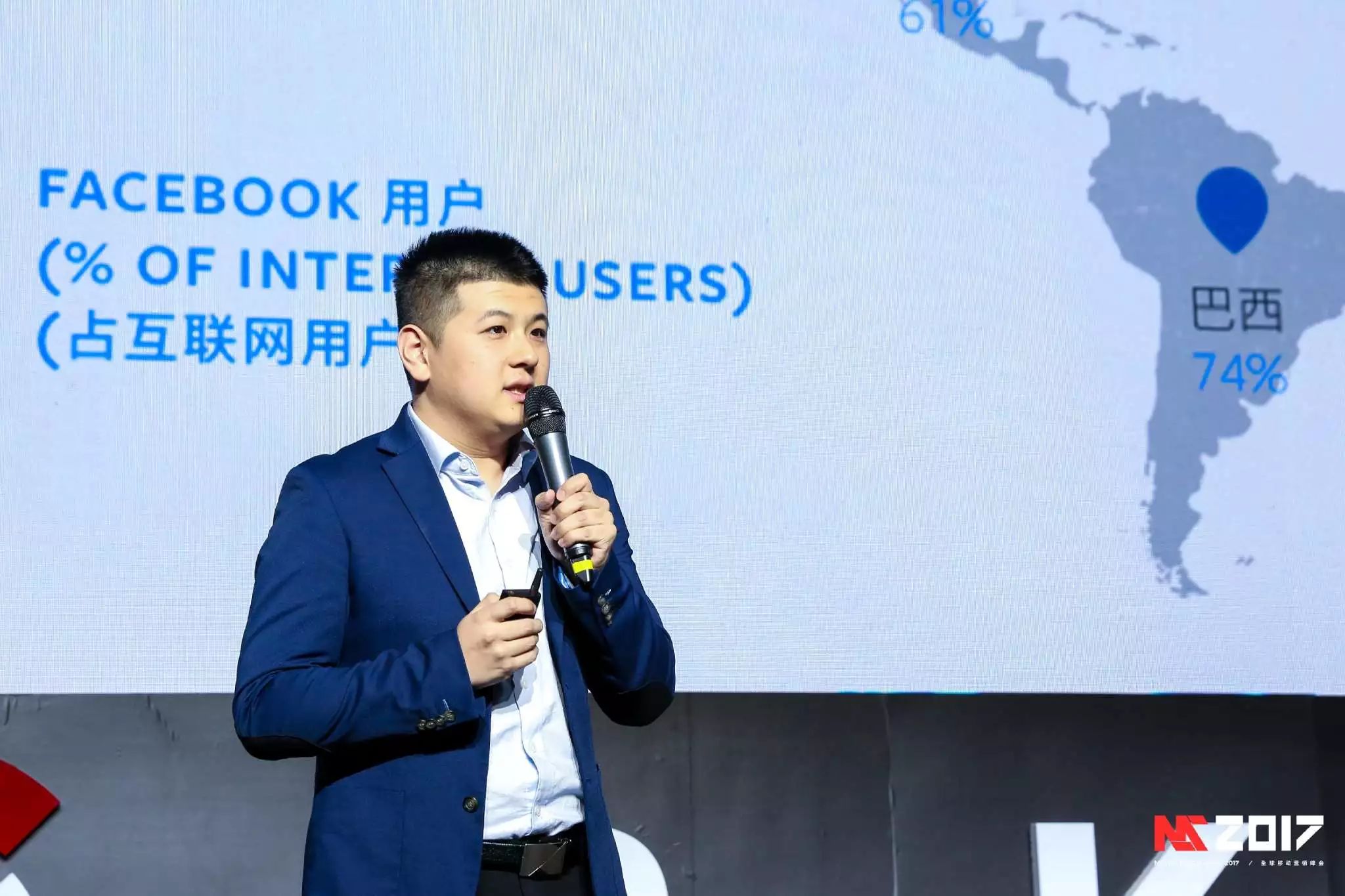 The Morketing Summit 2017 Global Mobile Marketing Summit concluded in Beijing. 140 heavyweight speakers and more than 6,000 professional industry participants participated in the industry feast.
This MS2017 to "parallel world" as the theme, meaning that the marketing world is constantly innovating, iteration, showing more meta-development form.FMichael Chen, director of business development for Greater China at acebook, publishedA wonderful speech on "Created by You and Loved by the World".
Michael ChenShare.: Marketing on Facebook needs to understand three points, 1, Facebook's commercial value is not social, can meet all kinds of business needs, should not only focus onSocial indicators; 2, precision marketing should be people-oriented, focus on how to expand, explore your potential consumers; 3, focus on video, better content innovation will bring you better customers.
Here's the full text of the speech:
before this year, a lot of times only large customers can reachFacebook。This.If.If there is some concern,will be found in many second-tier cities,Facebookand blue cursors, flying booksand so onAgents are slowly giving a lot of new customers more help。
In.The sea-going special I'd like to introduce some of the more dry goods and the latest trends,Because.Not every friend is familiar with Facebook's commercial products.So I'll introduce you firstJust a lookFacebook as wellWe.For.Do it at seaIt's goneWhat the?
First of all, what is Facebook。A lot of people mention itFacebook allwould have thoughtBlue and white website, we just adjusted our mission this year:Let peopleAbility to build communities,Bring the world closer together.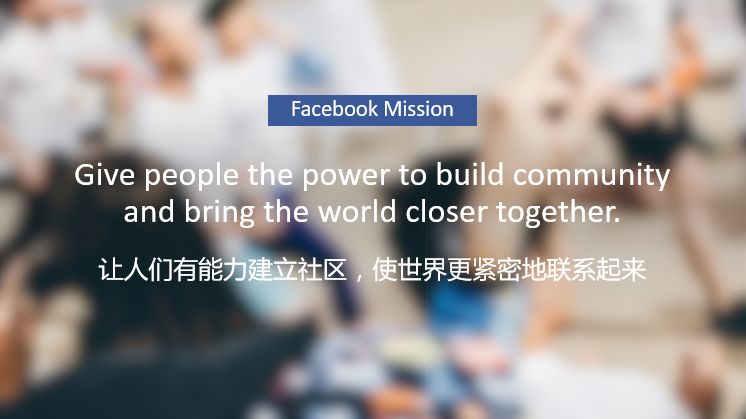 The way we build communities is definitely not just through Facebook's main site。Facebookof the mainStanding so far there are 21Hundreds of millions of active users. Besides, everybodymore familiarInstagramWith more than 800 million users, these apps range from one-on-one communication to letting the world see you,are given a way to build communities and communicate continuously.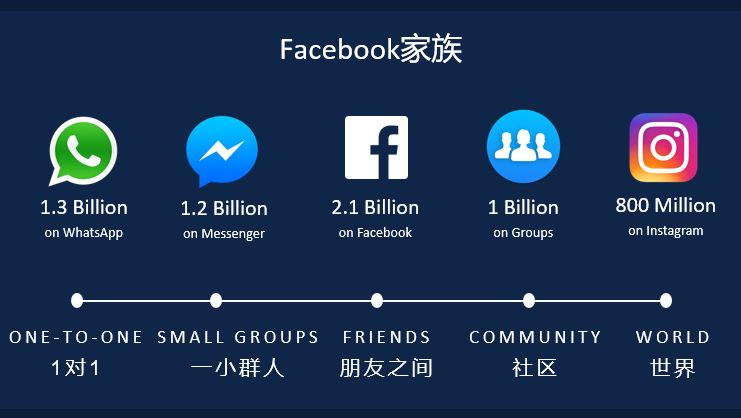 Facebook has itIt's so big on a global scaleActivity, invisibly constructed the world's largestInteraction.the largest amounthuman beingsCommunity. This is.One.A thousand peopleDiverse.World.。
It's getting harder and harder to track users across devices, especially all of themin doingOut-of-sea enterprises, want to locate overseas users, want to go to a you have not yetI've been thereMarketing in the country is a very difficult thing. So often customers ask me these three questions, where exactly is my customer? How is it.Find them? How is it.Find them with precision?
To this end, there are these three directions want to let everyone remember, we often listen to our platform, talk about Facebook has the most important three trends, that is, these three topics, the next will be with you one by oneShare these three piecesThings you want people to remember.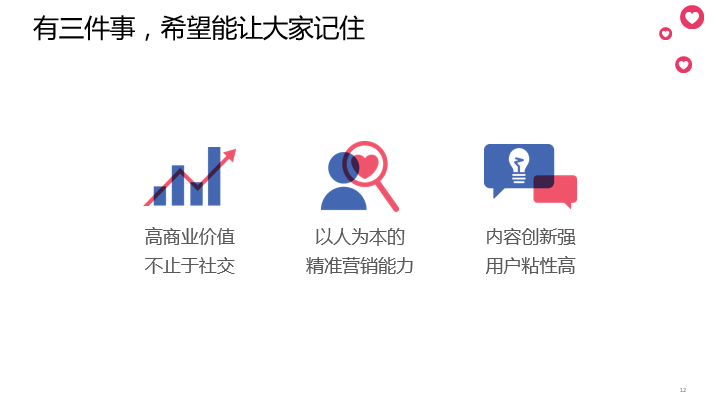 The first very important topic is that huge business value added goes beyond socializing.
Many people think of Facebook first thought of socializing, we have 2.1 billion active users, of which 3.6billion pairs overseasE-commerce has been interested,This.is a very high proportion。Natural.There will be a lot of people who want to know what's on overseas websites. Take, for exampleIn.Facebook doesThere's a lot of social-related content, information about your family, friends, and so on。At the same time, there are also a lot of brand, business-related information. There are 1 billion Facebook usersYes.Access.Business home page, which has a very large businessPotential. Another Instagram that everyone has been following very much, nextUse one firstLet's see what Instagram does.
Instagram is a platform that inspires inspiration and communicates with the world through a single photo, behind these rich contentThere are also a lot of businessesValue, for exampleYou can see that 80% of users follow brand accounts and nearly 30%People save photos and videosIt's commercially relevant。
This is because many businesses have published a lot of rich and interesting content, such as everyone to do e-commerce-related industries, in our platform there is a hashtag key, add a shoe can see a lot of pictures,Only.Shoes.One itemThere are more than 58 million content。By plusA """"""""""""""""""""""Can naturally bring a lot of marketing traffic。
In addition to very direct product words, there are many hot topics,Like what.Past Thanksgiving,"Show me where you stand now"And so on popular tags can help you bring some free traffic.
Speaking of bringing traffic, I know a lot of people will think of Net-a-Go。In.Our new launchFacebook LiveProducts.,Ability to broadcast the process live, insert a paragraph in the middleRelated video ad content。At this time the net red clientwill show a resting interface,You can goDrink water and so on. And because of the high level of consumer attention, the whole process is very coherent,At the end of the adShe'll say welcome back and go on live。This is the new form of live streaming that we have developed.
The first very important concept:Social.It's not a purpose, socializing isn't your KPI, youNeededIt's not just clicks、Comments.、Share theseThere are hot spotsstuff, you want to sell things,An.Install your app and pay for itTransformation.Wait a minute.。So if you only focus on superficial things, it's like an iceberg for youOnly.see a small part of the surface of the water。
Why socializing is only a small part of Facebook, which has 13 marketing goals, and if you're just focused on attracting fans and likes, you're just grabbing a feature like Promoting a Page, and there's a lot of people visiting your app,Came.Your website, you shouldTry moreOther marketingTools.。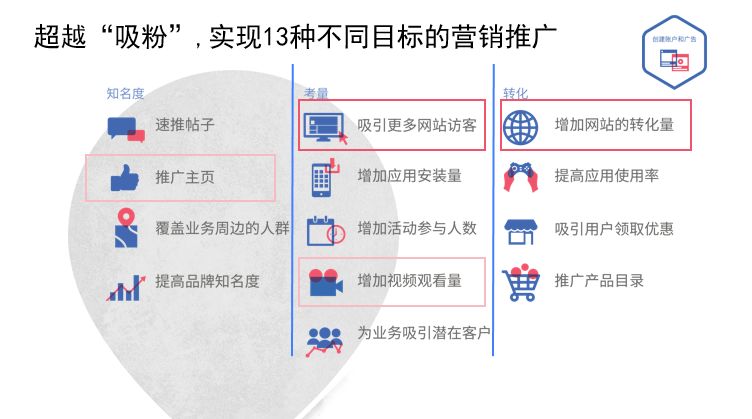 SoFor.Let's start with a concept,FacebookIt's not just a marketing platform,It can help your business in many ways.
The second very important concept, Facebook's marketing is a people-oriented precision marketing。
What is people-oriented? First of all.Facebook now has it2.1 billion active users。When we look closely at these active users,He.Not a scatter of numbers, behind these numbers, is the image of a real user after another。
We can restore one real portrait after another through machine learning and find the real people behind it。FacebookThe method is based on the user's dailyUse.The flow of information, through different people instantly slide different content, follow, click, sharebehaviorTo judge what is a user's interest?
For example, if there is a girl who is 32 years old,Her interests are very special and you are completely different, then sheWhat kind of relationship is it with Facebook's business practices?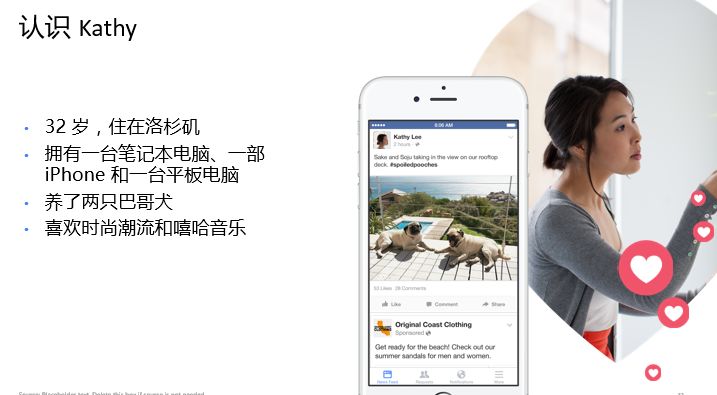 At 9 a.m. at work, while the boss did not pay attention, secretly on the desktop to see her favorite shoes, and then at noonOn the way to dinner, FacebookCell phone.I saw an advertisement for a shoe,It's hereevening inOther websites she visited also saw the shoes pushed for herRelated content, 2 days later she completed the purchase.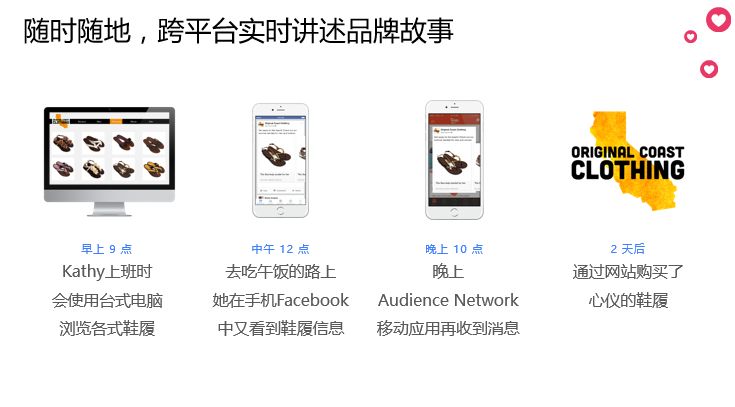 Through the process of Facebook's influence on her, you can see thatThis is.A complete shopping process,AndFacebookWhat you're doing isTake the initiative to help her create demand。That is to say, if not so sustained impact, accurateRecommended.Potential buying needs, most likely"Buy.will"It doesn't happen on the site or offline。
That's itbroughtOne.Marketing new topics for many peopleThink.The first thing that comes to mind when expanding your business is search, search for the most direct words, what shoes you want to buy and what style of shoes you want to buyInput.Guan Jian word。 But when consumedCore crowd is satisfied after howGo on.Expand your businessFind.Potential new customers? That's whenIn fact, Facebook can help you。
On the other hand, a lot of timesYou think the user understands what he wants,You feel your ownProduct heelA certain classThe user fits well, howeverIn fact.Users are thousands of people, how to find consumptionand product correlations, evenConsumers haven't found out exactly what they likebefore finding thisRelevance is very important.
Facebook's approach is to use big data and machine learning。It sounds very mysterious, I think it's usefulA more popular way to explainIt:Facebook overlays our understanding of users and businesses' judgments about the value of their products with those of valued customers, resulting in the most valuable and high-potential consumers.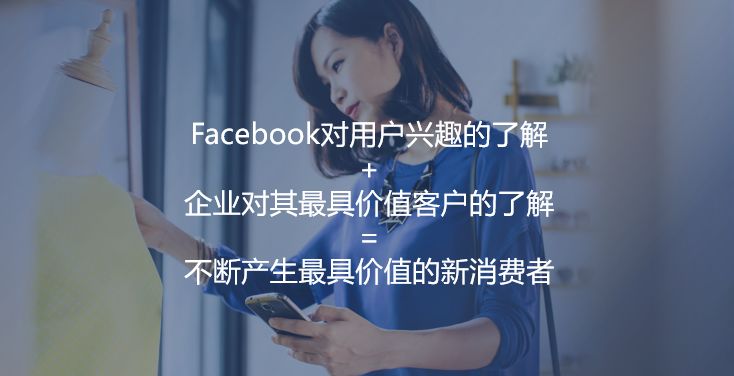 In.The case just nowMachine.Learn.Yes.Put KathyRecognition.For.A goal, i.e. "Customers with potential business spending power",Then it be detected that she was likely to buy a pair of shoes in the near future. And all we have to do isto meet her needs,Push some shoes as browsing behavior continues to optimizeEventually.Find the shoes she wants,At last.Visit your mobile app storefront or offline store to complete the purchase process。
SoWhat is such accuracy? Average.All.The Internet is 65% accurate, Facebook adsPositioning accuracy85%。So, some of our core adsProducts.features, Chinese called core audiences, custom audiences, and similar audiences,Facebook has a specialIntroduce learningwebsite, welcome to understand,With what makes you have a list of 1,000 advertisers,And it canTake itAmplification.to 10,000, constantlyExpand.the size of your own business.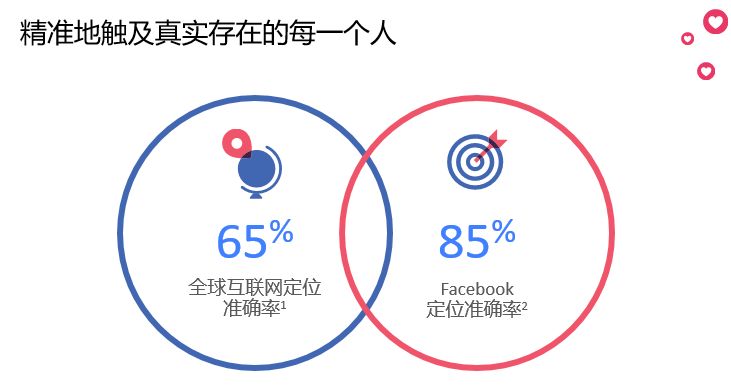 The last oneThe trend is that the user has a high viscosity and contentRich.Interesting.。
It is important to recall that as we all know, goldfish's attention is very short, and now people's attention is averageDispersed.Give a content shorter than a goldfish。 Everyone.You can see that even though I've flipped over 50 pages of PPT in the last ten minutes, there are still people who haven't been caught up in me. In.Very.It's hard to grab user time when Facebook isBy.What can keep such a high user stickyness when the user volume is very large?
First of all, why Facebook?Have a strong user stickyness?Our large number of users,they're every dayspent inFacebook's entire familyThe time is aboutIs.20%,Time for foreign usersBasic.It's all stuck on FacebookSystem.in-app。In addition, our network also accounts for about 6% of the time.
Why are our users so viscous,Of course it isIt's about the content. BecauseFor FacebookHas been leading the innovation revolution in mobile video。OK.Simple.Review the process of developing the form of digital advertising. First if you had a very attractive product, a movie like Star Wars, you would write oneVery bright description,And then.A wild exclamation point:"This movie is really, really wonderful!"
transitioned to the age of pictures,We willPlay life P map,Like what.Hire a team to choose the best angle and the most impacting picture。After the transition to the video stage, and then to the virtual reality and augmented reality stage, this is the whole process of digital advertising development.
As you can see, if you have reached the stage of video and VR and AI, we are still holding on to the picture creativity, it is difficult to attract the user's eyes. There are two data to share with you, one on Instagram The length of time users watch has increased40%, on FacebookThe number of video views has tripled. It is obvious that the entire platform video, motion pictureThe trend has arrived, with 80% of mobile traffic consumed on video within the next three years.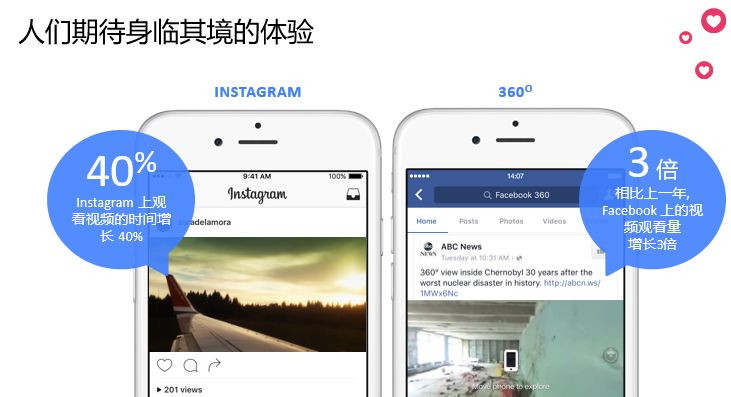 Another important reason is videochanged the way people express them。Now you can send a motion picture, send an expression, send a GIF, and in the case of video, it's hard to notice simplicityof theText and diagramsfilm.
That's itEveryone will say the video is very good, but some people will say itIt's really hard to make videos。 Like what.No one, no experience, we serve so many customers,In fact.I want to tell you:Video productionAnd.It's not as hard as you think.Use.Very simple devices and basic featuresAlsoCan be made to make very good videos.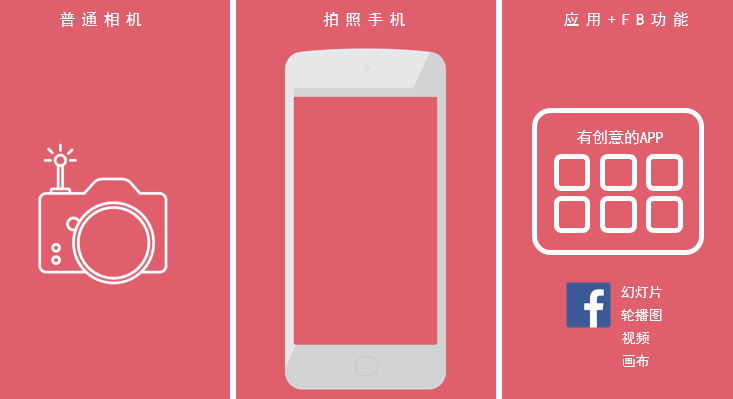 Even sell a bowlThere's also a lot to innovate about, allCan make your products more rich, more eye-catching, in the creative war to win.
There's another reason to suggest making videos:People who have seen the video can do it againDefine it as an old customer, pushRelated products, do a re-marketing。If you're interested in watching all the videos,That's for sureYes to your productsoPay attention, or the same tune as your brand, this time the recommended product is very targeted.
Three were shared todayTopics: 1,Go beyond social limits;2、People-oriented marketing capabilities;3、Material creationa formality, while you remember these three trends, send some dry goods。
What can help Chinese friends learn more about Facebook,I am here.Recommended 4 tools, the first is called FBiQ, a lot of times we go out to do activities,This is.We.Share.Insights, data reporting, now available in Chinese Simplified edition. The second tool was launched in FBiQ this yearof theVery powerful product:"Cross-border opportunities for big data platforms"。If.I do the North American market, the United States promotionThe cost isIf it's a dollar,That.How much do I want in Brazil??This one.Tools.Will visually tell you the situation everywhere, there is big data to help you, in the PC, mobile phone can be seen. Third, a website dedicated to Facebook Chinese, which can see an official list of all agents and partners, and can also be found simplygetting startedFour steps, today we sweep the QR code can use the mobile phone to access the website developed specifically for Chinese users. Fourth.,Blueprint online training teaching, this is usof theLearn about Facebook onlineTutorial.And if you can finish all the modules,FacebookI'll give you an e-certificate.
Thank you for your time, thank you!

---