Facebook Precision Marketing: Teach you how to reach at least two million people a week.
Facebook promotion abroad has long been not new, in our country, for which because of the operation, language and other column problems, can not sell on Facebook merchants, really lost a good opportunity to make money.
Please enter the title abcdefg
    Since 2016, opening a store on Facebook has become a new trend across China's borders and is fast sweeping through. However, there are still some cross-border e-commerce companies on Facebook's official wait-and-see attitude: Facebook opened a shop? Is the precision marketing it promotes really that amazing?
In general, the criteria for examining precision marketing capabilities are based on several factors: the number and structure of docking platforms (traffic sources), crowd data and algorithms (data analysis processing capabilities), and existing customer structures (understanding of the industry and resource advantages).
Docking platform, of course, is home: Facebook is the social starter, is now the social world's estred demons, people all over the world have been deceived, why do you want to pretend wisdom? And the other two points, I believe you understand, you will feel: the word "magic" to describe Facebook's precision marketing is not too much, after reading these points, you will be surprised not to close your mouth:
1, customer information is super complete
To be precise, resources are the premise, in addition to the customer's brand information, Facebook even signed with Datalogix, through their 70 million households in the United States to buy data, the next step, their customer list and information into the cross-matching, on the one hand, can leave the old customers to do Remarketing (also known as Retargeting), on the other hand, you can use the analysis of Insights to more accurately target potential users.
2, the algorithm is super powerful
A. Data retention doesn't matter much
Today, there are more than 800 million active users on the Facebook platform, with 30 billion dynamic updates every month, 8.5 million photos uploaded every day, an average of 31.25 million comments per second... The huge amounts of data are stored in Facebook's data centers, where facebook users' basic attributes - age, gender, occupation, and so on - are filled in when they sign up, and users socialize normally on Facebook, thinking their activities are not spied on, but Facebook retains all the data.
B. Small button hides the mystery machine
They behave more accurately than users' resumes or interests, and Facebook can turn the universal web-based approach of traditional ad models into a precise customer search.
The "like" button, Facebook's biggest idea, can appear in any photo, message, or even the lower left corner of an ad, and when you're interested in that information, click "like" and your interest is on the record.
C. High on the precision marketing tools
AFP software: All user behavior becomes data available to AFP software.
Use AFP software for a variety of targeting functions, target people, upload and publish the corresponding images and text ads, advertising. And the data generated after the advertising, but also through the AFP software data analysis function, feedback to analysts and advertisers in front of, can quickly summarize, adjust and optimize the strategy, and adjust the target population of various parameters, to achieve more accurate delivery.
If an advertiser asks Facebook that I want to target men, 35-year-olds, those who live in California, have a bachelor's degree or above, are married and in the workplace, it's great to have Facebook filter out such a user base.
Facebook promotion abroad is not new, in our country, for those due to operation, language and a series of problems, can not sell on Facebook merchants, really lost a good opportunity to make money.
Facebook Precision Marketing teaches you how to connect with at least two million people a week. On May 20th, Facebook Precision Marketing Advanced Class, tell you how!

Eagle Bear Huihui Business SchoolTo traditionCross-border e-commerce companies on the B2B and B2C e-commerce platforms are also offering the freshest Facebook promotional game. Hopefully, it will help China's cross-border e-commerce companies, taking advantage of Facebook's precision marketing, to fight a beautiful turn-around battle in the country's cross-border borders。
Michael:
Facebook marketing expert, engaged in traditional foreign trade and cross-border e-commerce for more than a decade.
Good at using social media for product development, channelsExpansion and brand building.
Training and service of hundreds of foreign trade enterprises and cross-border e-commerce sellers.
Helped Amazon sellers run their Facebook page, gaining tens of thousands of followers in three months and selling more than $10,000 a day;
Also used Facebook advertising for foreign trade enterprises to conduct global investment, social media combined with independent stations, so that traditional foreign trade enterprises in the mobile Internet era to obtain new growth and vitality.
New benefits
1, forward the article to the circle of friends do not set a group do not seconds delete the offer200 yuan, three forwards accumulate the most offers600 yuan(Forward offers are not superimposed with other offers)
2, add Eagle Bear Hui Jessica WeChat: kjds181 send screenshots to claim the offer.
For more offers, check with Jessica Hawk.
Time:May 20-21

Place:Shenzhen South China City (Eagle Bear Huihui Business School Training Base)
Syllabus: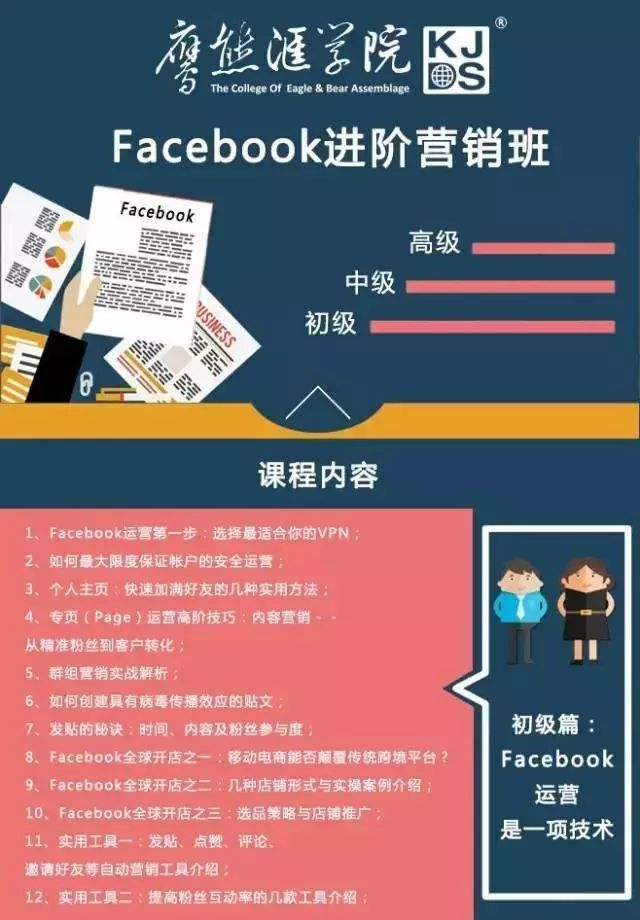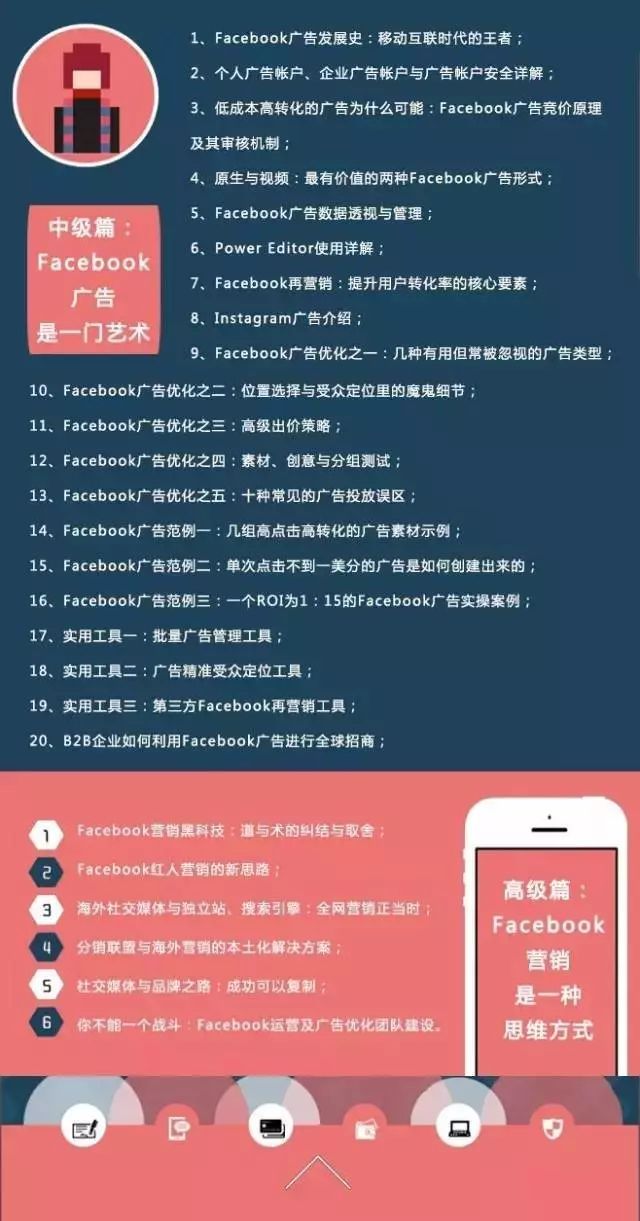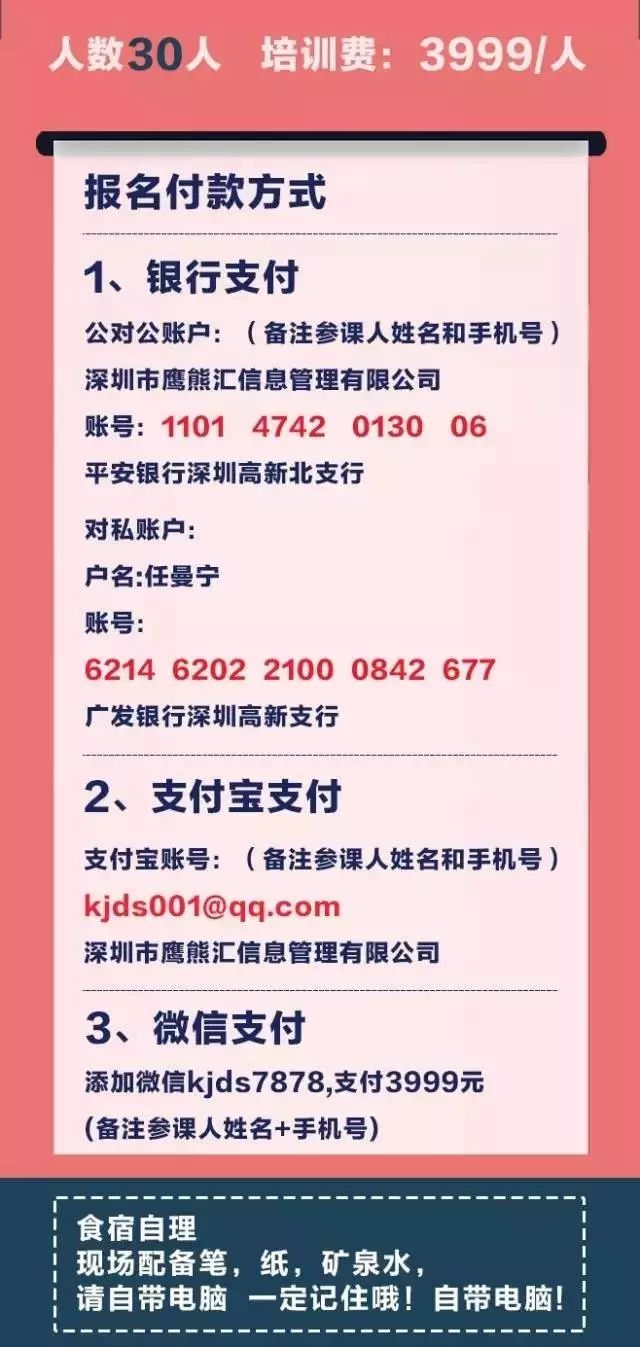 Sign up for advice
Jessica;
Mobile/WeChat:15573053920
Remember to note the participants when you sign up for paymentName.And.Mobile phone number, after payment can be sent screenshots toJessicaConfirm again; send an in-and-out verification text message before class starts.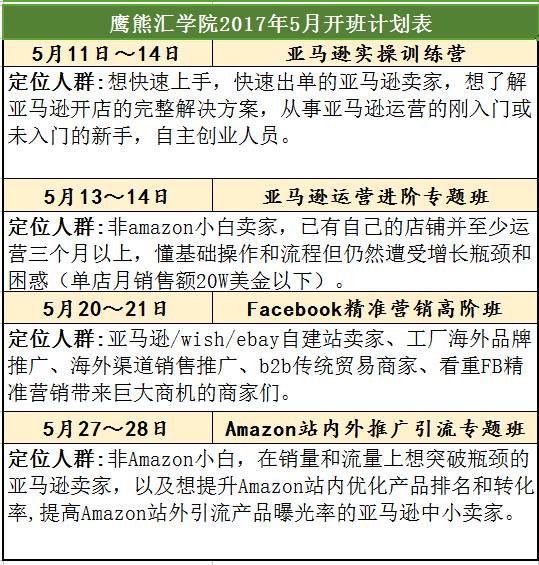 ---