Brands must-read . . 8 Facebook metrics worth tracking
Whether you're investing in Facebook to market or running your own, you need to regularly monitor your Facebook activity.

Goal setting is an important part of content and online red marketing.

To achieve value, goal setting needs to be concrete, measurable, achievable, realistic and time-bound. So you need to measure your campaign in some way. Fortunately, brands can track many Facebook metrics to determine whether they're achieving their goals.
You won't be interested in all the metrics at the same time, and you'll generally focus only on those that show how your goals are achieved. However, over time, you may change your goals. When this happens, remember to change the Facebook metrics you want to track.
Reach refers to the number of people who view your profile on Facebook.To be honest, you may be particularly disappointed with your coverage statistics. Gone is the time for Facebook to push posts in chronological order to all its followers.
In fact, thanks to Facebook's current algorithm, most posts have incredibly low reach. The average natural reach of a Facebook post is only about 6.4% of the total page likes. In other words, only about six out of every 100 people who like your Facebook page will see your new post. If you have 1,000 likes on Facebook, 936 of them won't see your post on their feed.
This is a classic case where quality is more important than quantity. Ordinary posts never increase your reach, only when you create compelling, high-quality posts.
You can find more information about the number of people Facebook has reached in Facebook Insights. If you're working with Net-a-Go, you'll need to rely on them (or the agency you're working with) to provide you with reach data (or other Facebook metrics).
At the bottom of the Facebook Insights summary page, you'll see a graphic description of how many people have reached the last five posts, and more if you click View all posts.
You can also get more details by clicking on the "Reach" option in the menu on the left, and a series of charts appear to show the reach of the post.
There is a subtle difference between the number of people covered and the amount presented.Reach tells you how many people viewed the post, and the amount of impressions tells you how many times the post was viewed.The difference is that if someone returns to your post and views it again (or more frequently), each visit increases your reach, but only the first visit counts as reach.
The amount of data presented is somewhat secretive in Facebook Insights because it is not included in the summary page. To find it, select Posts in the menu on the left, and scroll down the page until you see all the posts you've posted. You'll see a down arrow next to the word "reach," click it, and then select "Impressions" from the list of options." In any case, the amount of presentation will be equal to or higher than the number of people covered.
The amount of presentation can show how much a post has spread.For example, you might see a post in Feed, which is calculated as a presentation.However, if a friend shares the same post with you, it willcountFor the second amount of presentation.When a lot of friends share posts with you, the amount of presentation increases.
Engagement is a key indicator of Facebook, telling you how often people act on a post.Actions include clicking on links, likes, sharing posts, and commenting (or other reactions).
You can find more information about engagement in Facebook Insights. This information appears in several places, including the overall chart of the summary page and each post on the post page.
Don't underestimate the importance of engagement. Your coverage or presentation statistics may be impressive, but they don't indicate whether people noticed what you posted. If someone interacts with you, it means they're taking the time to react to your post.
Engagement is an integral part of Facebook's Newsfeed algorithm. The more engaged a post is, the easier it is to be pushed by Facebook to its followers. What's more, if your posts have been highly engaged, Facebook will show more of your other posts. Facebook provides referral charts (the number of times people recommend your page) and engagement charts (defined here as the number of times people participate in your posts through likes, comments, and shares).
At the bottom of the summary page, you'll see a graphical description of engagement in the last 5 posts, divided into sections. If you click to see all your posts, you'll see more information.
You usually want your Facebook followers and the number of people who like your Facebook page to grow. If you set up an activity with this as the primary purpose, the number of people may rise even faster. But at other times, you'd expect the number to rise gradually to show steady growth. If you see a surge in followers for no apparent reason, be careful that these may be robots, not real followers. Stagnant numbers, on the other hand, suggest that you're becoming less attractive online, and that falling numbers may mean that people are hating you more and more.
You can see your page likes (including this week's additions) and followers on the right side of your Facebook page.
You can also find more information in Facebook Insights, including the number of likes and followers on your page.

Page Likes is defined as the number of new users who like your page, distinguished by pay and non-paid.

This number is an estimate and may not be accurate.

Page Followers is defined as the number of new users who follow your page, by pay-per-view and non-paid distinction.

This figure is also an estimate and may not be accurate. The two statistics are often quite similar.
There are also options on the left that provide additional statistics related to followers and likes.
Page browsing and previewing
Page browsing, as the name suggests, is the number of times people visit a page.Obviously, the more views you have, the more interest people have in Facebook pages. But don't think it's as important as engagement. There's a big difference between just browsing a profile page (or not even clicking on a post) and being actively involved in a website activity in some way.
The page preview is actually a step before you go to the page.

It represents the number of times people have a pointer on your page name or profile picture to see a preview of your page's content.
Page views and previews appear on the Facebook Insights summary page, and you can also reach a more detailed page by clicking the relevant buttons in the menu.
For page views, you can choose to view total views or break them down by section. Alternatively, you can view demographics relevant to your audience.
If one of your Facebook marketing goals is to use Facebook to attract people to your company's blog or website, you'll be interested in the number of people who visit your site through social media. To find out, you need to look at Google Analytics data. If you haven't already done so, you'll first need to set up a Google Analytics account.
You can find data about visitors to your site via Facebook in the "Between" section of Google Analytics. Select the Acquisition (menu on the left) option, followed by Social, and then click Network Solutions. This will show all traffic that jumps to your site through your social activities and is broken down by social network (including Facebook, of course).
If your Facebook referral traffic is declining, it may indicate that your Facebook followers are dissatisfied with your content and you may need to change direction.
Photo source:influencermarketinghub
Video has become increasingly popular on Facebook in recent years and is now a much-watched part of Facebook Insights. You can find reference data for your video on the summary page, show video views that have been played for at least 3 seconds, and break down total views, paid views, and non-paid views.
You can see more details in the video menu on the left, including statistics such as minutes and 3 seconds of video views, and it can also display your best-performing videos in minutes.
Keep in mind that you can create a variety of different types of video content on Facebook, including Feed videos, skippable, non-skipable, story videos, and live streams.
To see metrics for your video, click the Posts option on the Insights page. Scroll down from there to All Posts Posted and you'll see all the videos you've posted. Click on the title of the video (with camera icon) to see the data for each video.
The Audience Retention Chart shows how your video has been retained over time. By resting the pointer on the chart, you can capture the retention rate corresponding to the video, displayed as a percentage.
You can also view metrics about video engagement. You can see the video's total engagement over the 28 days, likes, comments and shares on the original post or retweeted post, and any negative feedback about the video.
Key metrics for Facebook ads
If you run Facebook ads, you'll find a very detailed list of metrics. Facebook provides so much data that it's easy to get lost in it. So it's important to remember the goals you set for your ad campaign, just focus on the statistics that measure progress toward your goals.
You can create ads in Facebook Ads Manager, and the first step in creating a new ad campaign is to select a goal.

Facebook divides these goals into awareness, rewards, and conversion goals.

For example, increasing traffic is classified as a reward target. And if you want to use ads to attract more store visits, it's conversion.
Facebook Ad Management provides a data board that contains data related to your ad campaign.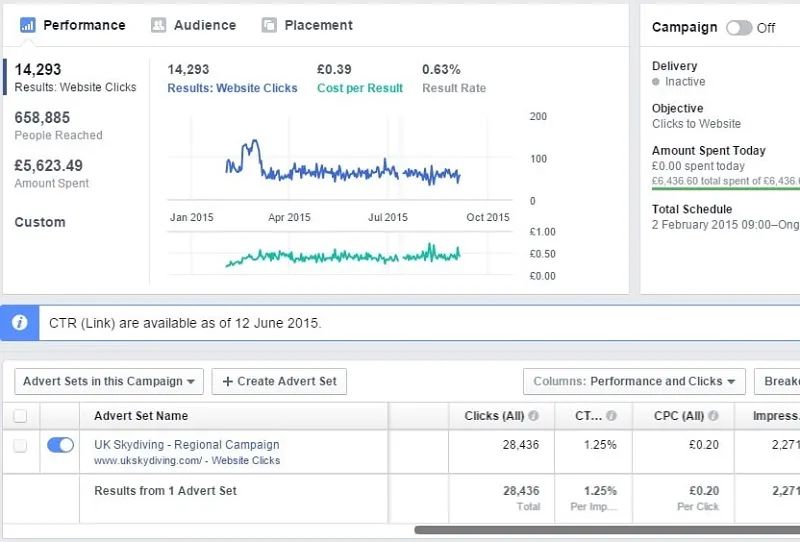 Picture: Moz
Depending on the ad campaign goals you set, some data that may be valuable to you include:
Cost per result Cost

- Shows the average results-based advertising cost (the result is metrics that you customize to specific goals). For example, if your goal is to sell more specific products (related to conversions), you'll be interested in the cost of Facebook ads per sale.
Ad Impressions

Show the number of times your ad has been viewed.
Ad Frequency (Ad frequency)

Show the average number of times your ad has been viewed by an individual. If your goal is to promote your brand, you'll want to increase the frequency of your ads. However, for lead generation or e-commerce ad campaigns, you need to keep your ad frequency low.
Ad Clicks (Ad Clicks)

- Indicates the number of times someone clicked on your ad. In general, you'd expect that number to be higher because it shows that people are interested in your advertising campaign.
Click-Through Rates (CTR)

- represents the percentage of all users who clicked on the ad. Obviously, the higher the number, the better.
Cost per click (CPC) / Cost Per Impression (CPM)

CPC shows how much you pay when a user clicks on an ad. CPM shows the fees you pay for every 1,000 viewings. The more relevant your ads are, the less you'll pay for them.
Conversion Rate

- Tells you the percentage of people who click on your ads to continue shopping and become customers.
Cost Per Conversion

Show how much you pay for each lead or sale.
KOL Direct Employment Reviews:
As a marketing channel, Facebook has huge traffic and influence in the market.
We recommend that brands focus on tracking key metrics when marketing on Facebook to regularly monitor and adjust the layout of their campaigns in a timely manner.
If you want to learn more about Facebook marketing, please follow KOL's direct public number!
文章编译自 8 Facebook Metrics That All Brands Should Track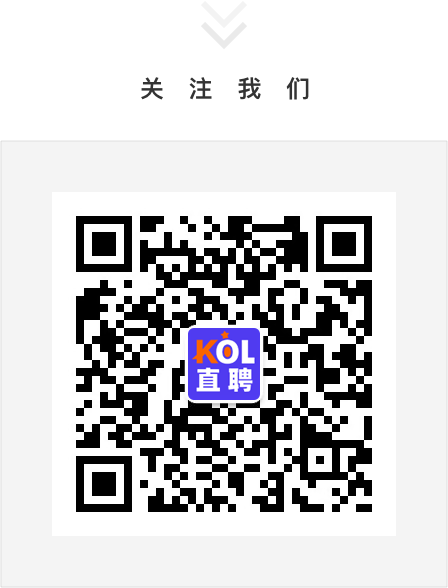 ---