What do you know about these four Ways to Bid on Facebook Ads?

Facebook ads will be based on the user's experience as a priority, will not let your dynamic wall full of manufacturer-bought ads, so ads on Facebook limited layout, how can you make your ads to maximize the display, advertising effectiveness to the maximum?
Analyze CPC, CPM, CPA ad bidding methods
1. Cost-per thousand exposure costs (Cost-per 1,000 impressions, CPM): The cost per 1,000 impressions, such ads are auctioned in a much lower way than the cost of clicks, and are suitable when the advertising target is a large number of exposures.
2. Cost-click per click (CPC): CPC says that when an audience clicks on the content of your ad, you need to pay for it, which may sound good, for example, your ad can be shown 10,000 times, and you don't have to pay anything if the audience doesn't click. But the downside is that if you promote an external site you don't just pay for clicks on external connections, and fans pay for ads that like, share, and leave messages, and if your ad doesn't click, Facebook will try to reduce the number of times your ads appear because it means viewers aren't interested in the content. For Facebook, it's like a bridge between you and your potential target audience, and if the chances of a pairing are low, it certainly doesn't do the hard work.
3. Cost-per-action conversion cost (Cost-per-fact/conversion, CPA): The cost of taking the action you specify, the cost of such bidding will be higher than the click-through rate, but the return on investment is also relatively high.
Brand awareness, willingness to buy, and action transformation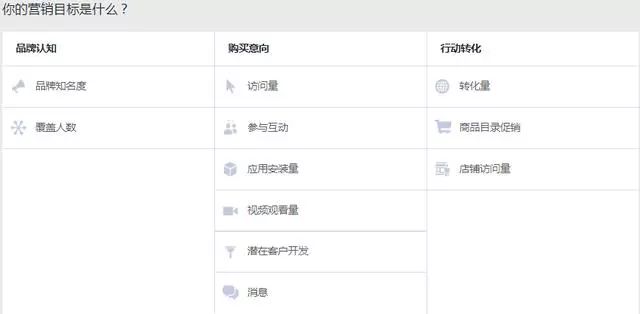 Set the page for three ad types
1, brand awareness: brand awareness, coverage
If you're advertising in the hope that consumers will see you as much as possible, then "brand awareness" will be your primary marketing goal, using bids that correspond to each other to CPM, at a cost per thousand exposures. But on the other hand, you have to consider that this will relatively cost more advertising budget, and may not be converted into real revenue.

How to bid on brand awareness goals
2, purchase intention: visits, participation in interaction, application installation, video views, lead development, messages
If you want consumers to take action, you may choose "willingness to buy" or "action conversion". Here are a few examples of marketing purposes that are often used, which may correspond to CPC or CPA or CPM.

Pay-per-click settings for access targets

Participate in the interactive CPM and CPA bid method settings

Set the CPA bid method
3, action conversion: conversion volume, catalog promotion, store visits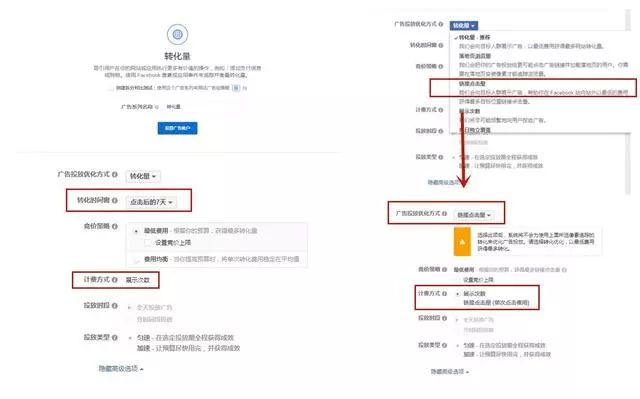 Conversion bid settings
If you're a little confused here, here's an example of an ad to show you how your ad is performing. It sets up four sets of ad campaigns, each with the same budget and target audience, but the only difference is in the form of CPM, CPC, CPA, and oCPM as advertising charges.
You can see the results of 4 Facebook ad bidding methods in the following cases: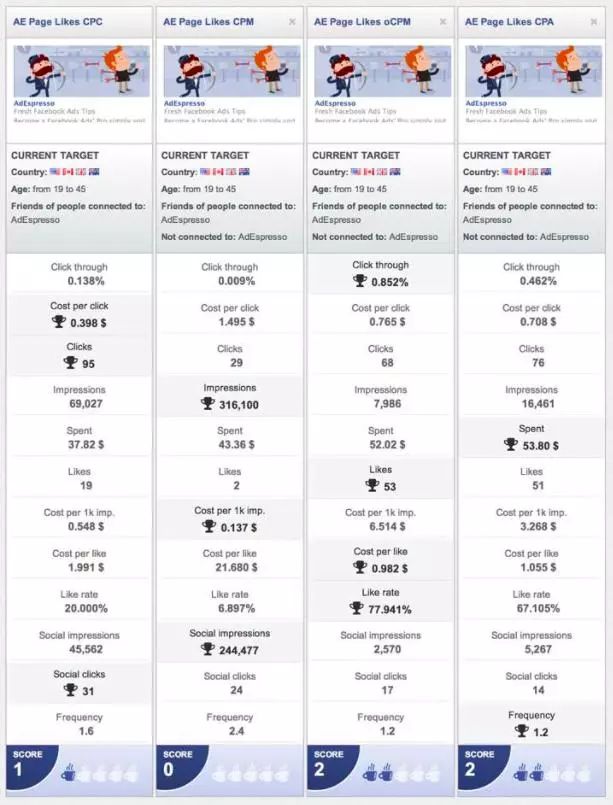 Compare the performance of the four ad bidding methods
In CPC performance, each click cost the least, the total number of clicks is also the most, but only 20% of people on the fan page by like.
CPM was the most impressioned, spending the least per thousand impressions, but the number of conversions was small, with only 2 likes.
oCPM Although the impression cost per thousand times is much higher, but there is a higher click-through rate, the most likes, the lowest cost per click per like, the highest click-through rate by likes, the return on investment effect is very good.
CPA is the most expensive advertising, each by like the price is only slightly higher than oCPM, but its exposure needs to be twice the number of oCPM, in order to have a similar performance.
oCPM is actually to target behavior to do advertising arrangements. You can clearly define the strategy of bidding from the site conversion rate, site click-through rate, audience involvement, fan page by likes, install apps, etc. as a fee, that is, Facebook's current ads for "marketing purposes" to let advertisers choose, and Facebook will automatically help you choose when your ad content will be released, as far as possible for your marketing goals to achieve the purpose of advertising.

Post interactive bid settings
In the case of the above, your desired marketing goal is to increase post interaction with your fans, but there are still two options, Exposure and Post Interaction, at the time of charging. When you choose the number of impressions, it means you're looking at the ad content that's relevant to the post interaction, and as long as it's shown to a potential target audience, Facebook will charge you for the ad, in other words, the ad you're looking forward to may bring more brand awareness and impressions. Conversely, Facebook will charge you for ads if you choose Post Interaction when you choose the time to charge, which represents potential customers interacting with the ad post (e.g., comments, likes).
According to marketing purposes to further advertising campaign choices, relatively speaking, the design of advertising activities is relatively easy, but you must be clear about the purpose behind each advertising campaign, so as not to choose the wrong form of advertising and spend a lot of money on advertising. To avoid poor performance of your ads, remember not to be stingy with your ad budget and absolutely refer to your ad bid price, which is of course important for your primary target audience.
Copyright notice
Article content integration source: Wanquan cloud e-commerce
If there is infringement, please contact the editor backstage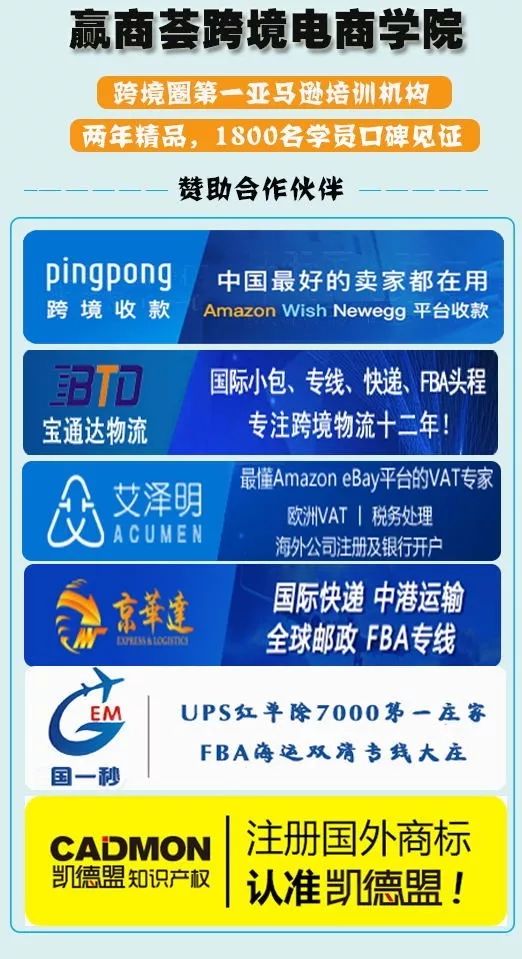 ---