Tips : How do I boost my Google Ads ad optimization rating?
From data white to analytical master, you only pay attention to me!
Introduction to this issue:
Google's advertising platform has changed a lot this yearGoogle AdwordsIf you have noticed that it has now been renamedGoogle Ads。
A new feature of the Ads interface is to optimize scoring. Google Ads Optimization Score is the way Google tells you how your account is doing and what you need to do to improve your results.
But is this score valuable? Or does Google just want us to spend more on advertising? Here we have to study it carefully to confirm its value.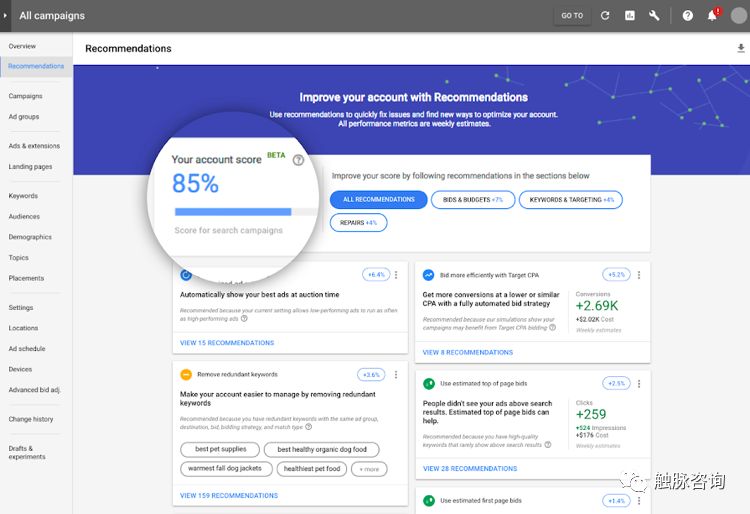 How do I start Google's ad rating optimization efforts?
Before segmenting ad optimization scores, let's discuss what optimization means and how to optimize in Googe ads.
Of course, for most online marketers, there is nothing better, only better. In Google ads, there's always a chance to make your ads more cost-effective.
Let's review some areas where we can improve our ad accounts, and then we'll analyze Google's optimization recommendations.
The type of Google ad optimization
Bid Optimization - Increase CTR or decrease CPA
Spot optimization includes adjusting your bids to maximize your results. Typically, advertisers raise their bids to improve their ad rank, which in turn increases their click-through rate (CTR) and may increase conversions. Sometimes advertisers lower their bids, try to lower their cost per conversion, and increase their profit margins.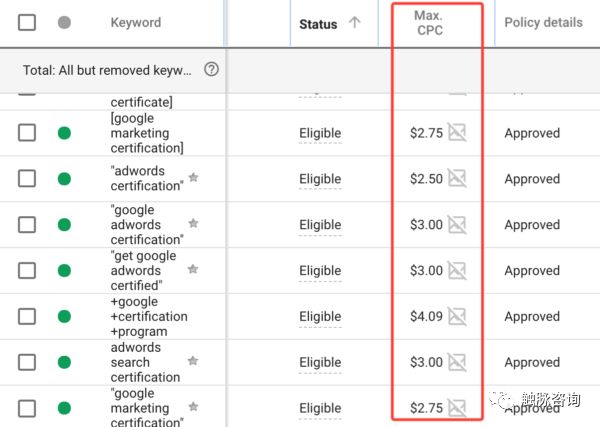 Creative optimization - autoplay and even display
Google Ads will allow you to test and improve your creatives. One of the easiest ways to optimize your creatives is through ad rotation. By default, Google always wants to show the ads with the most clicks in the ad auction. But if you change your ad rotation settings so that your ads appear evenly, you'll get more complete ad data. You can then choose the best ad based on cost and conversion rate, not click-through rate.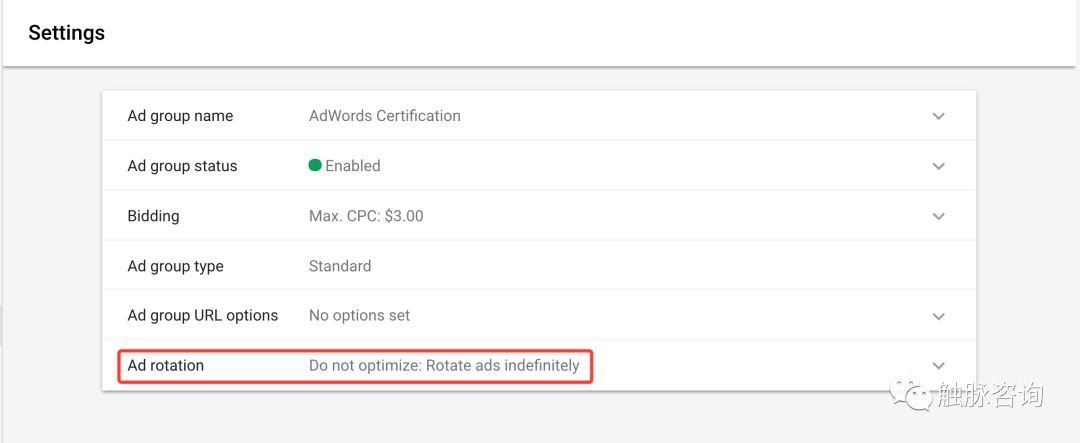 Landing Page Optimization . .
A better landing page experience
More conversions
Landing page optimization is one of the most overlooked adjustments for advertisers. Creating a unique landing page for each ad group allows advertisers to match copies of their landing pages to ads and keywords. Ads and keywords that match a copy of your landing page will improve your quality score, which will lower your CPC and boost your ad ranking.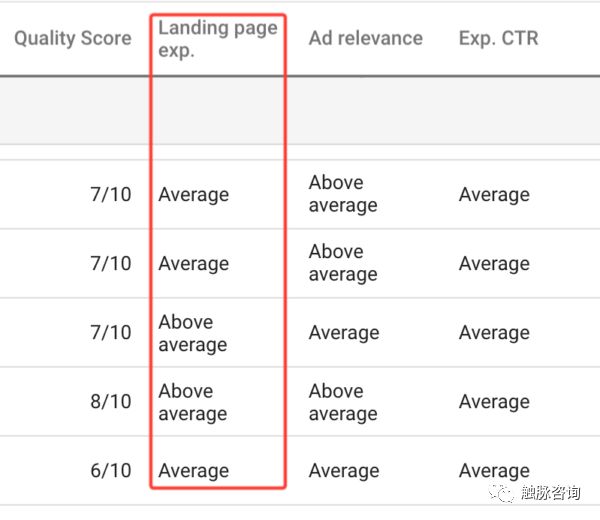 In addition, enhancing the user's landing page experience is one of the best ways to improve conversion rates. If your ad gets clicked, you can almost always get better results by upgrading your landing page.
Keyword match type optimization - different types of keywords with different keyword matching types
Keywords are the driving force behind Google ads, but finding cost-effective keywords to promote them can be difficult.
One of the best ways to optimize keyword ad selection is to test the match type. When you determine the new keywords to test, you need to modify the keywords with extensive and extensive matching so that you can accumulate enough data to learn from the results. However, when refining ad groups, you can use phrases and exactly match keywords to help reduce the waste of keyword ad costs.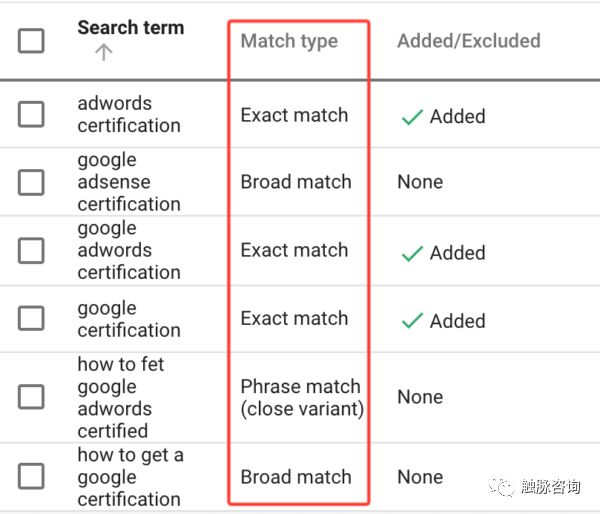 Search term optimization (and negative keywords)
Adopting a broad match keyword strategy will bring you a lot of search keyword reporting data. You can optimize keywords by mining reports. You can pull out the best keyword synonyms and related words and build new ad groups around them. You can add search terms that waste your ad money to your list of negative keywords.

Quality score optimization
Many of the other optimization techniques we discussed will help you improve your account quality score. Higher quality scores lead to higher ad rankings for lower click-to-click costs.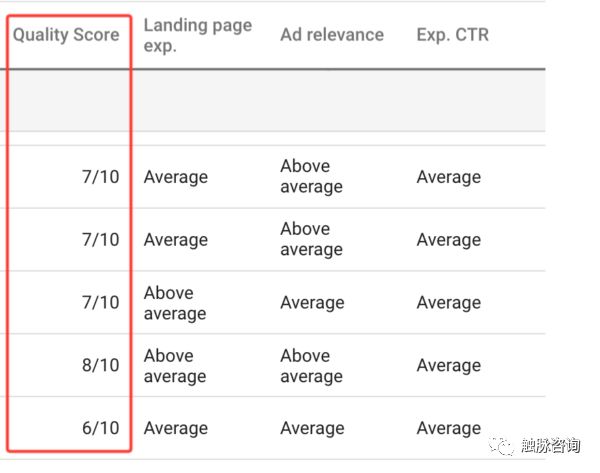 Profit optimization: The most important metrics are not in the ad interface
It's easy to follow all the metrics in the ad interface. After all, there are many things to choose from: click-through rates, average click-through prices, average conversion costs, ROI, and more. But do you know which performance metric in Google's advertising report is not found? Yes, the most important measure is profit. Unless you're a big budget advertiser running a brand campaign, you should always focus on profit. So when you evaluate your optimization score, remember your ROI. If you don't increase your ability to make money using Google ads, then all the optimizations in the world are useless.
Campaign and ad group optimization - why SKAGS
The key to getting better results from your campaigns and ad groups is segmenting people. Building different segments of your audience and different campaigns isn't about adding work to yourself, it's about allowing us to accumulate rich data in our accounts. When you can match search results directly to your search behavior, you can make better decisions.
So, for example, if you use a single keyword ad group, you can directly link the results to specific keywords and their matching types. However, if you mix a bunch of similar keywords in the same ad group, it may be difficult to determine which keywords or keyword match types will work for your results.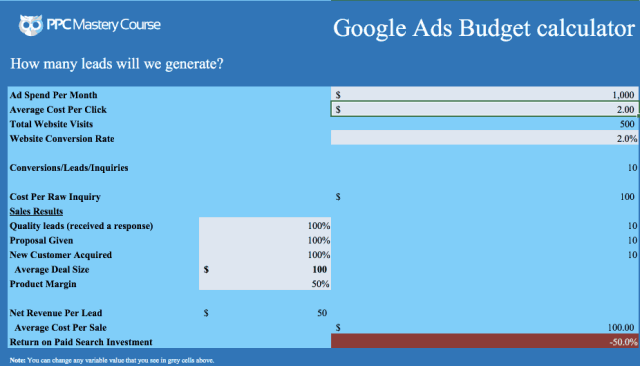 Setting up targeted campaigns and well-structured ad groups is one of the best ways to optimize your account structure and get better results.
Budget optimization: Continuous fine-tuning to maximize results
Budget optimization is the maximum benefit from budgeting based on cost control. How can you get more out of a budget of $1,000 a month, about $30 a day? Where should you spend your money? Sometimes, you can get higher-value clicks by adjusting when your ads appear. Other times, you can maximize your CPC by improving your geographic location or demographic goals. Micro-adjustments to bids, ad rotations, and delivery goals can help you maximize clicks or improve click quality.
Account optimization
There is no end to the work of a PPC professional!
We all want our ads to be successful and Google will give you a valuable return if you optimize your account. If you're signing in to your ad account, check your suggestions to make adjustments and changes every day.
Conversion optimization - important results
In the ad delivery interface, optimizing conversions is probably the most important thing. Make getting results, choosing, signing up, downloading and selling the driving force behind our ad optimization. And, like everything else in Google's advertising ecosystem, there's a better impact if there's a conversion. Google gives priority to ads that get conversion results. This will also increase the conversion rate.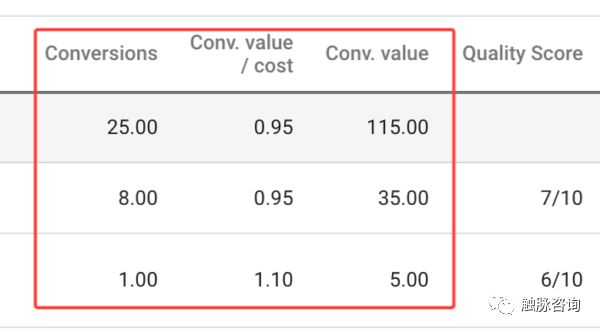 Is there one that can?
Quantify google ad optimization metrics?
We've been hoping for an indicator that will give us a scientific and reasonable reference to optimize Google advertising, and now Google has finally given the answer. That's itAdwords optimization Score(Google Ad Optimization Score Reference)
What is AdWords Optimized Score Value?
Your optimization score is a rating of 0% to 100% account performance. Scores are calculated based on the results you get, your settings, and your ranking as an advertiser. The score determines how well your account matches Google's recommendations. It also measures the impact of the full adoption of Google's automated recommendations on the results of Google's score. However, while this score sounds helpful, we don't want to blindly follow the recommendations of Google Machine Generation. Let's go into my account, look at my scores, and see how we use this information.
Account optimization ratings
As you can see, my optimization score is currently top and center in my Recommendations tab. This is not very good data. If Google publishes alphabet ratings, I'll get a C-plus, and my score ratio is 77.3%.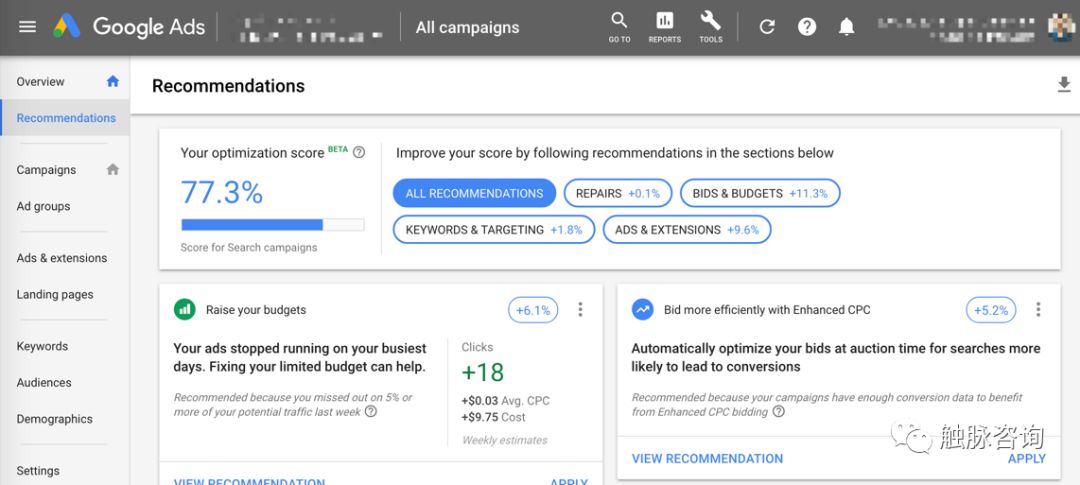 Campaign-optimized ratings
There are other important things to note about this feature. You can also get an optimization score at the campaign level.
Adjust your optimization score
You can improve your optimization score by rejecting Google's suggestions. But if you want to reject Google's suggestions, be prepared for some of your decisions! Google will give you a hint to reject their suggestions directly.

Resolve your optimization score
Let's take a look at my account optimization scores and see what Google thinks I should do to improve.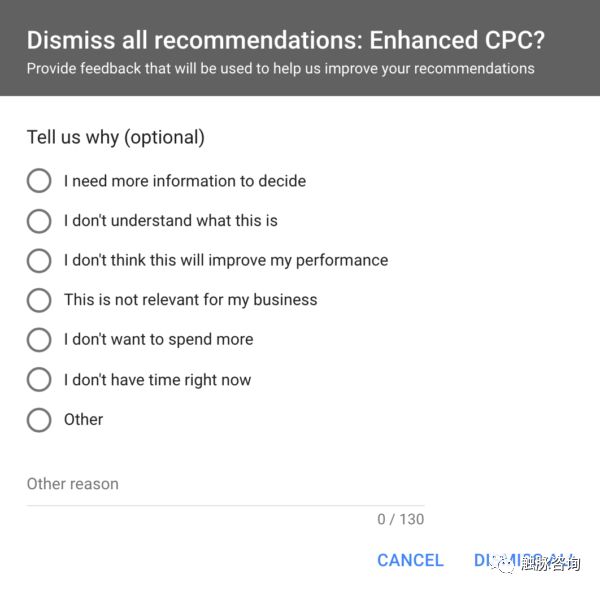 Boost budget recommendations
The most important suggestion in my optimization score is to increase my budget. Now, my budget cap is very low because I use this account to test the technology and create training videos for my courses (as in this article).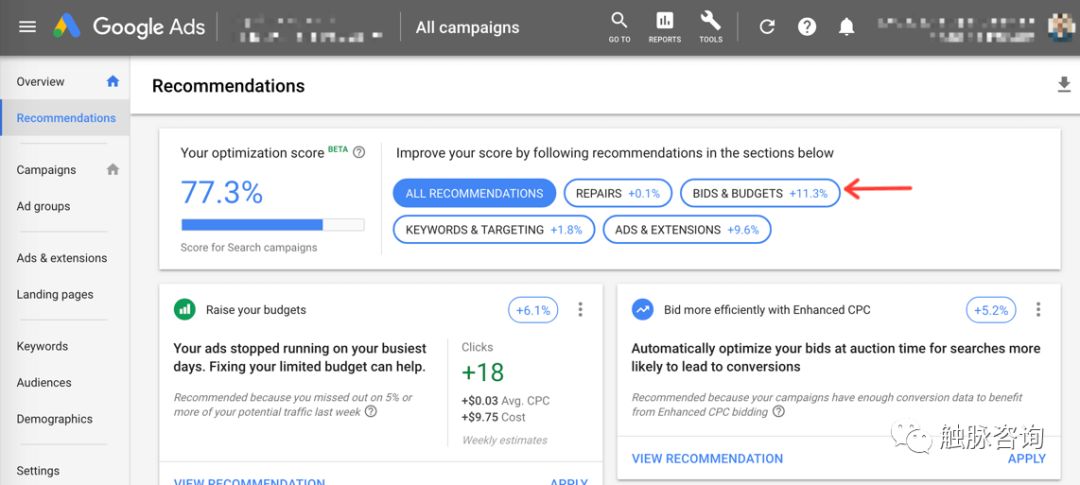 Should you raise your budget?
In this case, Google's budget proposal seems a good fit. Google told me that if I raised my offer by $0.03 and spent another $10 a week or so, I'd get 18 clicks. That sounds reasonable. If I like, I can apply this suggestion once to click.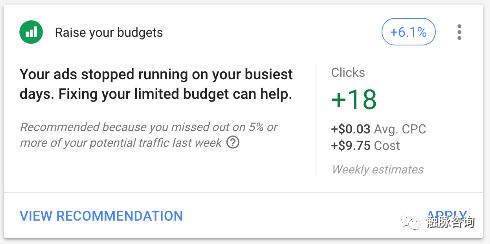 But when I consider an increase in the budget, if I accept the proposal, I will authorize it, and I see a different situation. Google wants me to raise my daily budget from $5 to $50. The bid adjustment is likely to change my monthly budget from $150 to $1,500.Consumption increased by 1000%.。 Google makes the suggestion look appealing in their "beautiful" suggestion box. But there are a lot of suggestions that you need to look at carefully to determine if you want to use them.
Single-click price and keyword level adjustments
A better approach would be to evaluate specific keywords and ads that are subject to budget constraints. Then, if needed, I can increase my keyword level bids and monitor the impact of my budget increase on my conversions and overall budget.
While I agree with Google's suggestion that I should increase my expenses, I do not agree with Google's strategy to increase my offer. Accepting Google's budget advice may not be harmful to small test accounts. But for a large advertiser with a large budget, authorizing a 1,000% increase in the budget can be disastrous.
Enhanced CPC price recommendations
Another budget-related suggestion from Google is that I'm turning to raising click-through prices. This recommendation does not provide any data on how enhanced CPC expectations will affect my results. Therefore, I am not willing to approve this proposal without further analysis.

Don't forget the structured clips!
Google suggests that I add structured snippets, which is easy. I should use structured clips in my ads. However, putting these extensions in place requires configuration. Unfortunately, this optimization does not have the Apply option to click. I should use as many extensions as I can reasonably enable my ads.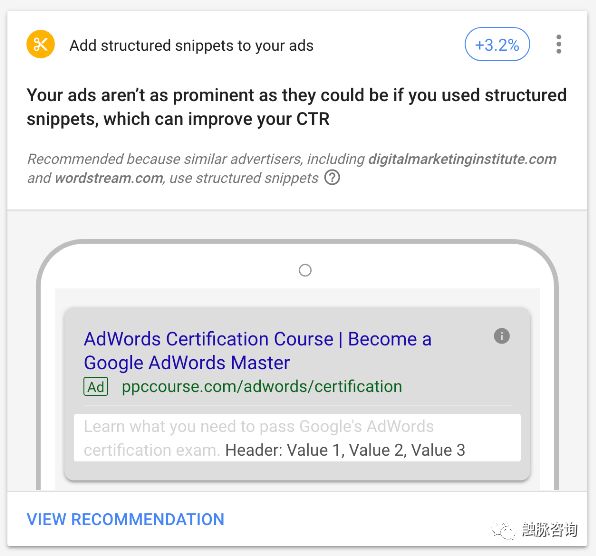 Keyword optimization recommendations
Google's keyword recommendations aren't entirely useful. They want me to remove extra keywords from my ad group. It's important to remember that Google's artificial intelligence technology has generated these recommendations. So while your optimization score provides a quantifiable way to improve your account, in some cases the proposed changes lack a deep correlation.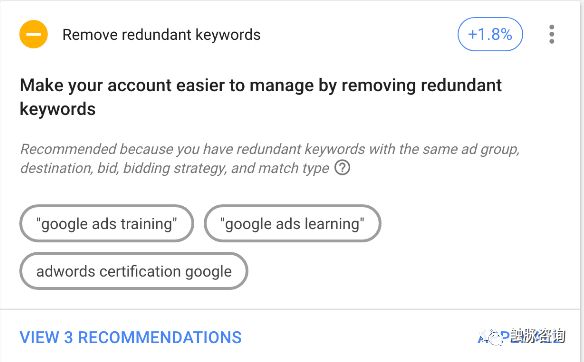 Redundant keywords or match type confusion?
I use a phrase that matches the keyword "Google ad training." Google told me that "Google Ad Training" is an approximation that I should remove from my ad group. But before applying this change, I want to view the search query report and the CPC data at keyword level. Testing approximations is a good way to find new keywords, as long as matching type settings doesn't result in wasted clicks. If these keywords are set to exactly match phrases, there is not much redundancy.

Responsive search ads
We should use them!
This suggestion is on my to-do list. So whenever I have time, I'll go into my account and test Google's new response search ad options.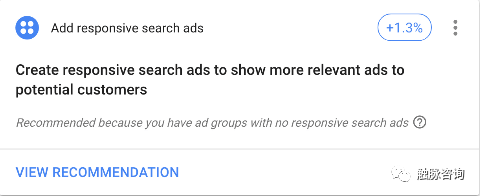 Automatic ad rotation
Google generally recommends that the best one in the ad go to auction. Ad rotation is a suggestion I'll completely ignore. If I take this advice, Google may select my ad rotation based on clicks. However, I prefer to set up my ad rotation evenly so that I have a chance to see how my ad is performing, and I can optimize my ad rotation.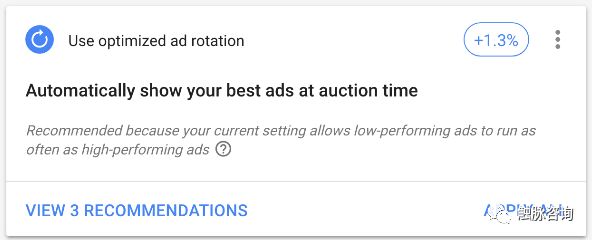 Ad-optimized ratings

Overall, I think optimizing scores is a great new feature. This score can help you understand how your account fits Google's recommended best practices. And the percentage improvement score is a quick way to see which changes are expected to have the greatest impact on your results. Also, if you want to follow Google's guidelines, it's easy to apply the suggested changes.
Remember, it's a good idea to learn about Google's recommendations. Google's goals are not always the same as yours. Google can't take your most important metrics into account in their optimization scores, especially profits.
This article focuses on review
Most of Google's ad optimization score recommendations have reference value.

It's not that I'm exaggerating the value of Google's ratings. However, I suggest that you avoid using the App feature you clicked to make quote adjustments and keyword selections. This feature may make more changes to your account than you want. Instead, I recommend adjusting at the keyword level of the ad interface or using AdWords Editor.
Just like passing the Google advertising exam, a 100% score may not be possible. A 100% optimization score should not be your ultimate goal. Maybe 90% is a good target? As we discussed, accepting all of Google's recommendations may not help you achieve your goals.
Focus on results, not Google scores. Optimizing scores is an interesting new tool. However, focus on deploying policies that can help you get the results you need. Use optimization scores to see if there is an opportunity to synchronize with your ad strategy.
Source:

https://www.jeffalytics.com
Data-driven growth 
Change the way you make decisions on the Internet
ID:TrueMetrics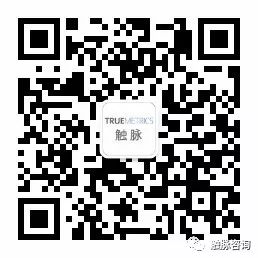 ---