The ultimate guide to Google ads on the Black Friday Network in 2019 (from search ads to shopping ads)
Black Friday abroad is equal to our double eleven.
On this special day, we need to carefully build Google's campaign, and with cyber Monday a few days later, we can get a huge return in a week.
So we need to be prepared when, weak advertising, insufficient bids, the wrong settings may let the peak season traffic flow from between the fingers.
In this article, I'll show you how to prepare for Black Friday and Cyber Monday in google advertising.
Attention:In this article, when I referred to the "Black Five" abbreviation, I was actually referring to the entire Black Friday weekend, and Net-a-1 strategy can directly use the Black Five method, the keyword content replaced. Others will use the Black Friday as a five-day promotional holiday, starting on Thanksgiving and ending on Cyber Monday. So how long will the technique of this article last, we judge for ourselves, random, one by one.
No matter what strategy you adopt, I hope my skills will maximize the effectiveness of your ads. I'll describe exactly what you need to do: ad text and extensions, display and restort ads, keyword strategies, shopping campaigns, and more.
One, black five years ago to prepare Google campaigns
Review last year's performance
Don't think of this year as a separate holiday promotion. We need to think in several ways based on historical performance (not just holiday data, but also weekday data) for this year's ad optimization, including:
Which advertising language is better: describe the advantages/functions of the product, or highlight the promotional price?

How much does it cost to bid for an ad at the top of the absolute page?

How was the performance of the last year's Black Five and the days before and after Net One? (Preparing for holiday adjustments)

How many bids do I need to lower in the days after the promotion to avoid unnecessary losses?
Wait a minute.
Learning from last year's data, we will be able to make more money from this year's promotions.
Second, search ads - black five advertising optimization techniques


The ad for Black Friday and the Peace Day promotional ads are similar.
The principle is to ensure that the promotion is relevant so that users know how strong the offer is.
However, some black five, net one and festival-specific factors need to be added.
1, set up Google Ads promotional additional information
The first step I would recommend using promotional add-ons Istension.
Go to add promotional extensions to your ads: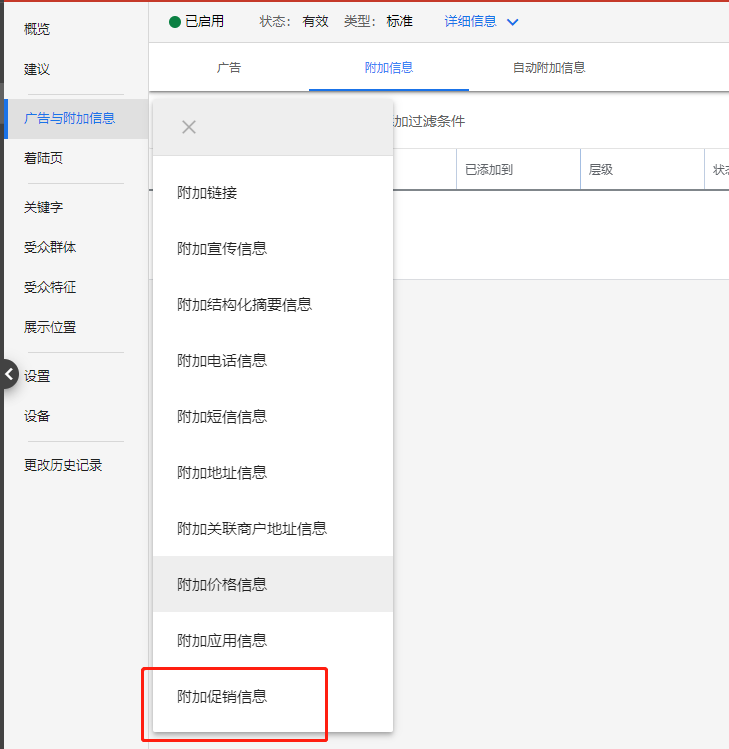 At the time Occasion chose Black Five Black Friday: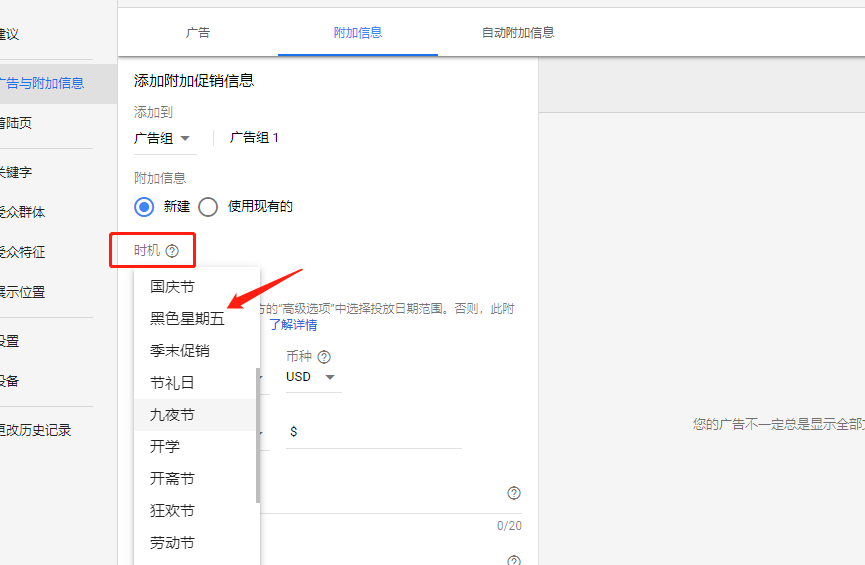 The next net one can also choose the corresponding time here: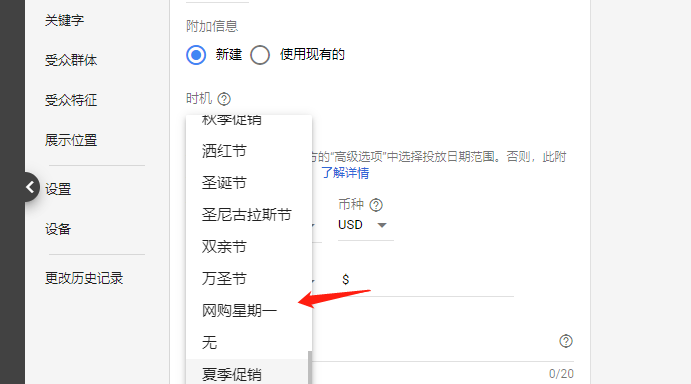 This promotional add-on will be shown below:

It highlights Black Friday promotions and shows the special offers you can offer guests this holiday season (at least as it seems).
Most importantly, you should also set the promotion to take place within a specific time range: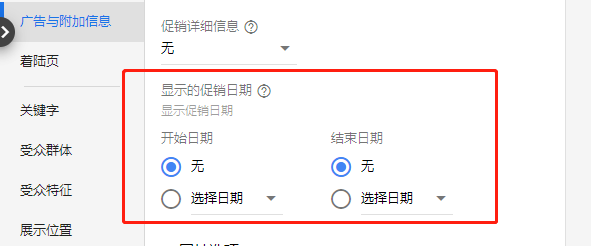 will appear as:

This adds urgency to advertising and discounting campaigns and stimulates the desire for guests to quickly order.
Keep in mind that ad extensions appear only if your ad rank and quality score are high enough.
2. Add black five elements to the ad language
One of the best practices for ad optimization is to make sure that your ad language is relevant, and in high season it's time to add elements like Black Friday to increase ad conversions and increase ad conversions.
It can be expressed in simple terms, such as:
That is, just put the second title in all your ads (for example, it says " Unique Black Friday Sale"Change to black five related promotional text.
Of course, it is best to mention the Black Five in the description at the same time, to enhance relevance and attract clicks.
3. Add a countdown
Countdown timers are especially effective on Christmas Day and Black Friday.
You can write directly on the title of the ad, "Promotion ends in x days" and so on:

The more urgency you add to your Black Friday ads, the better. So this kind of writing is highly recommended by me.
There is also a more complex method, you can try the operation:
Enter a """ in Google description (shift plus keyboard P next door symbol)

Select countdown countdown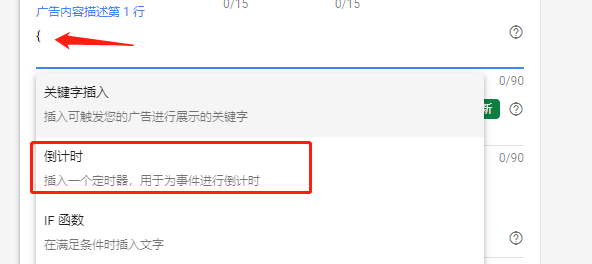 The countdown start and end times can be set: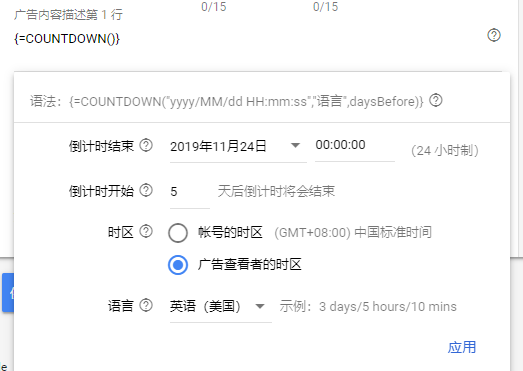 Once set up, under the ad description, you'll see the point in time you've set, how many days you'll see, and then you'll combine your own ad words at the back, such as "And xx days to end."


Experience has shown that the closer you get to the due date, the higher the conversion rate. If you can create two due dates on Black Friday, conversions can skyrocket through the day (you can think for yourself).
4. Change the sitelink to a specific high-demand product
Sitelinks are sometimes overlooked.

Some details may also be overlooked when setting up, and one example of the opposite is Amazon (of course brother-in-law has money to be wayething, as he likes to set it up):


On Black Friday, it may be necessary to add some additional tips to the sitelinks.
One approach is to display a promotional specific product in a sitelink.
Suppose you're casting Google ads for Bluetooth headsets, and you might usually add this type of content to the sitelink:
The most popular Bluetooth headset

The latest Bluetooth headset

Special Bluetooth headsets

Wait a minute.



Or as RunningShoes.com does:

What's wrong with that? No problem! Just at certain festivals, it's not enough to attract.

On Black Friday, consider adding more specific, feature-specific sitelinks:
33% off now

20% discount on all headphones

25% discount on Bose headphones

See all Black Five specials
I'm proposing this connection with all products because you're more likely to convince consumers to browse related or other products during Black Friday, even if they haven't thought about buying those products before.
People usually search to see where A offers are available, but that doesn't mean they won't be interested in B products - if your offer is strong enough.
5. Add an inventory reference
You can write the amount of inventory on the title of your ad (just catch the eye, of course).

Assuming you're selling Bose audio, you can use this in your ads and write "xx pieces left" in the title to create more scarcity:

6. Write an advertisement at least one week in advance
I'm sure everyone has tried to get a Google Ads prompt that your ad has been turned down.
So when you prepare your ads in advance, make sure you give Google enough time to review your ads before you need them.
Otherwise, spending time writing ads, being denied and delaying time online can be costly.
7. Consider using automatic rules
The way to establish the rules is roughly this:

The goal is to have your ads run automatically, pause automatically, adjust bids automatically, and more.
I love automation, but the machine is always out of control, and filling in the wrong part can be a big problem.
Therefore, it is recommended that experienced small partners use automatic rules, there is not much explanation here, so as not to have unfamiliar with the operation of the pot friend set up errors and delay the promotion period.
Third, shopping ads - black five advertising optimization skills


Shopping ads have much less control (such as keywords) than regular search campaigns, but shopping campaigns still make up the majority of e-commerce Google Ads account revenue, and conversions work well.
And during the Black Five, you need to consider: Do you use coupons for promotions, or do you want to lower prices in feeds and reflect them in your ads?
The Merchant Center promotion reads as this:

Using this method in sale_price price is as this:


Choose which way to use based on your business strategy.
Here's how to explain it:
1, the use of merchants to promote Mechant Promotions
I'm not sure everyone knows about this feature point, but it's a very effective form of promotional presentation.

If you haven't tried, now I'll guide you step by step.

If you haven't yet accessed the promotional section of the Mercant Center, you can go to the Manage Programs under TheRowth in the new Mercant Center.
Then install the Merchant Promotions section and click enable to activate: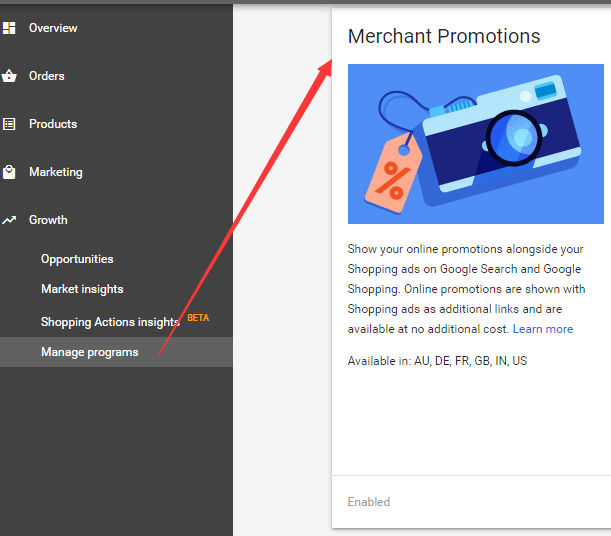 Click on the information requested after activation and you will find the Option option in the Marketing section after the review:

Then, depending on your situation (e.g., whether you discount by percentage or full minus), choose to participate in the promotion of products (specific or all), fill out the form: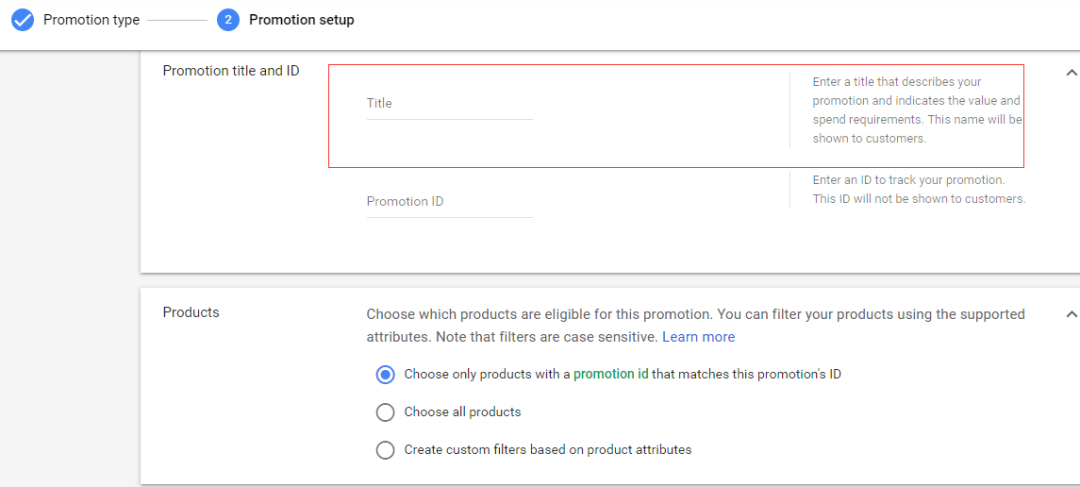 Keep in mind that the title of the form (the red box section above) will appear on the ad display of the search results (the yellow arrow section below), so the itle can't be filled in at will, you can write phrases like Special Offer, or Holiday Promotion:


If you fill in the promo code coupon code, the code you fill in is automatically displayed when the user clicks on the title of the ad (such as The Special Offer above).


This Profile section has other ways to play, you can give it a try, and in the future I'll share the play I've tried to give you.
2. Optimised by Feed
You can add a column of sale price (which is officially recommended) to the Feed and fill in the promotional price: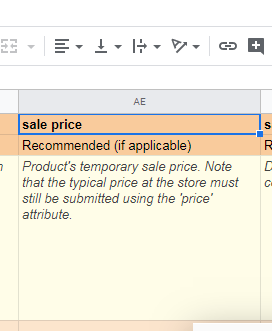 Note, however, that for each item, the price must be the same as the price on its website, which is important because:

If the price in The Feed is not lower than the original price, the ad will show the original price, which will severely affect your chances in The Black Five

Google is likely to find price differences and refuse to advertise your product
Similarly, it can take up to 24 hours from the time the problem is discovered to the time it is approved by Google.
So.Get ready in advance!!
Four, re-marketing ads - black five advertising optimization skills


Most e-commerce companies run dynamic re-marketing, but ads like the one that send peace on Black Friday may not get good results.
I recommend creating a new audience list for Black Friday. That means you're creating a whole new audience on the x days before Black Friday (excluding previous visitors):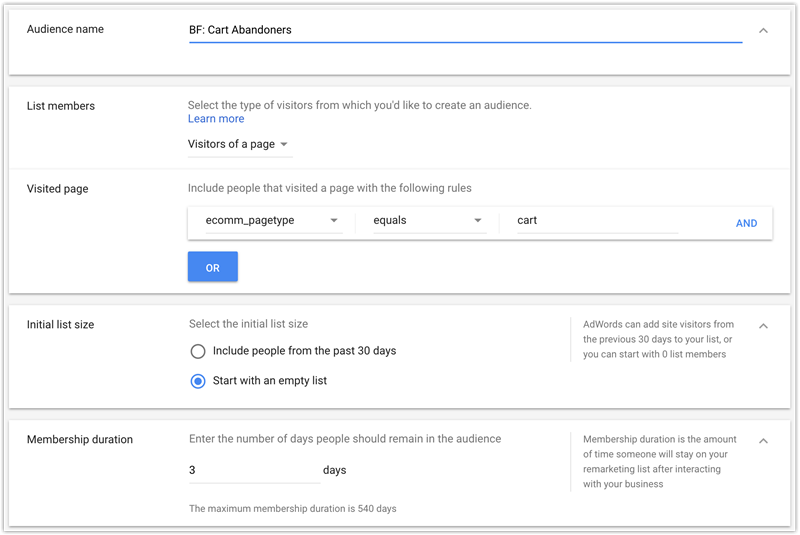 This way, you can set a more competitive bid for people who have visited the site before Black Friday, and another bid for people who have visited the site before Black Five.
Extra tips:
Reduce the number of bids and ads (by a larger margin than other ad types) in the days after Black Friday and Net-a-Z. Most users have already purchased what they need during the period, after which their desire to shop may be greatly reduced, and it won't feel like seeing your ad image again.
 Use more festive images for re-marketing ads
I highly recommend using images that match the festive promotional atmosphere in Black Five's re-marketing portfolio.
Regular dynamic display ads or real-world ads are likely to look like this: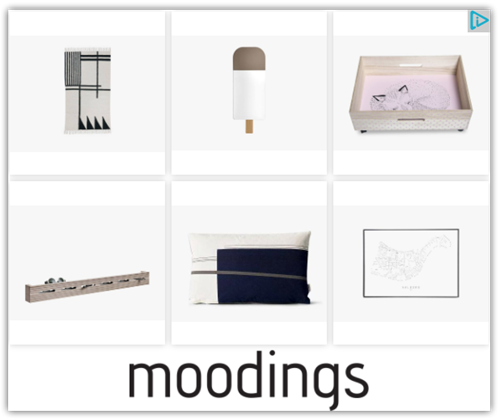 On weekdays, it's okay.

But on Black Friday, you'll need an element that conveys enough to reflect the day's big promotions, like: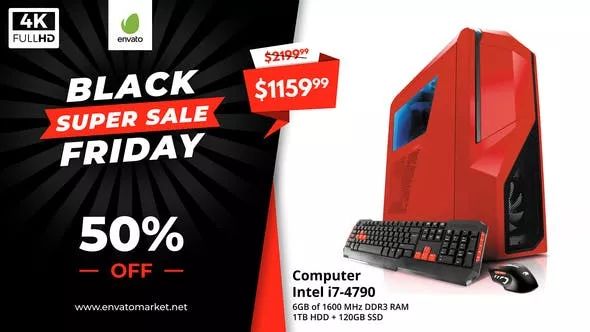 If the company had designers sitting in town, things would be much better. If not, you can look for designers on platforms like filer.
Five, black five keyword strategy


On Black Friday, most keywords will convert better than at other times.
This is an example of a search term that increases 2.32 times compared to the same day the week before Black Friday: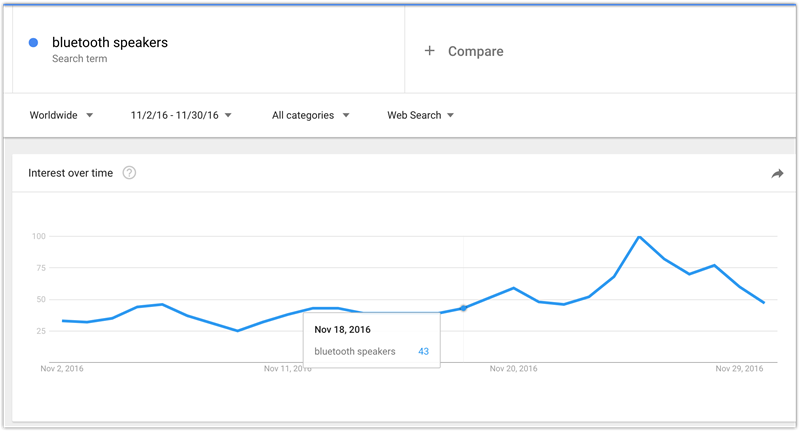 But we should not be content with this seasonal increase.
We also have to reuse the elements of the festival, such as adding the corresponding holiday words before and after the keywords.
1. Should I advertise with "Black Friday plus keywords"?
Of course you should use such a combination. Like black friday cat food
During the holiday season, these search terms may be converted much higher than normal keywords (but the search volume is certainly not as high as normal words), so if your market is large enough, this is a good strategy.
It is recommended to add Black Friday Black Friday to your keyword mix.
2. Should I use the keyword "Black Friday" for advertising?
Not recommended.

However, it can still be used. We can create a campaign that targets only the term Black Friday.
There is a professional term called RLSA - remarketing list of search ads - search for remarketing lists of ads.
How do you do that?
Start by creating a list of your largest audiences, such as everyone who's visited the site in the last 6 months or who's bought something from you.
Use targeting targeting to add all of this to your campaign: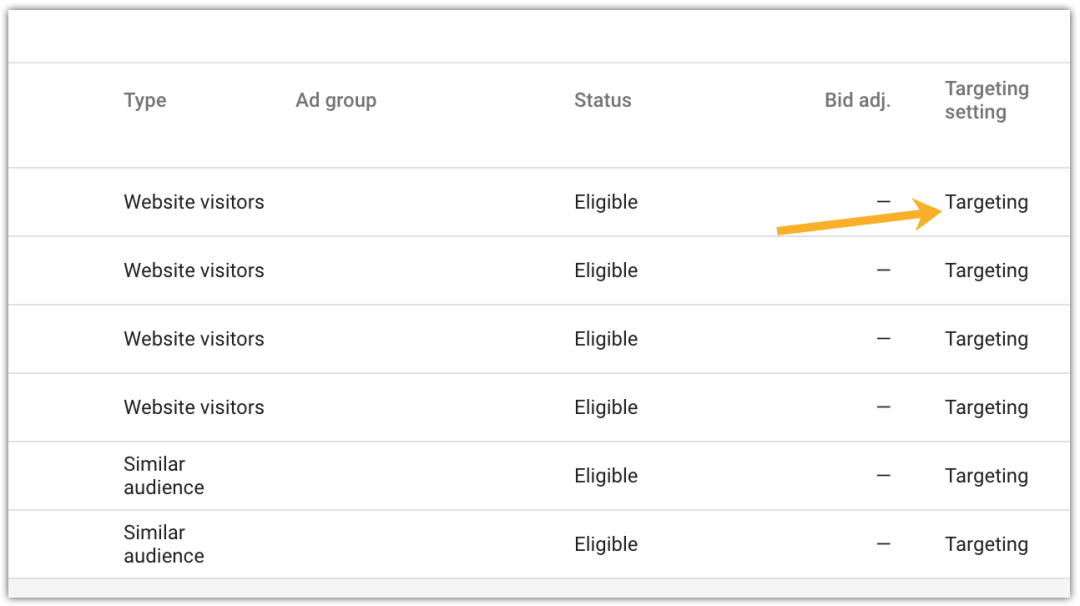 That way, you can show ads to anyone who's visited the site and searched for Black Friday.
Since they have visited our website before and may even have purchased it, we can assume that they have some interest in the products we offer.
Six, after the black five


After the Black Friday madness, the following is recommended:
Restore the old bid

Pause Black Friday ads

See how you're performing during the holiday season (re-offer)



For example:
I believe everyone has used automated bidding strategies, whether it's ECPC or Target ROAS.
If you're using automatic bids, you'll have to switch back to manual bids at least 1-2 weeks after Black Friday because of the influx of data during the holiday season.
Because the conversion is usually much better during Black Friday, and the bid will be high, the system may misjudge after the holiday season, and the post-holiday period will automatically raise the bid, so it is safe to recommend a slight drop in the black five after the bid, and back to the manual bidding method.
This is a good time to resume the market, if the performance is not good, it doesn't matter, in the Christmas season to do it well!


To summarize the techniques mentioned in this article:
Bid:
Based on historical performance, raise your bid early and resume it after Black Friday

Increase the budget
For search ads:
Set up promotional extensions

Add a Black Friday reference to your ad

Consider adding a countdown timer to your ad

Consider changing the add-on link

Consider adding inventory tips
For shopping ads:
Use the Mercant Center promotion

Or include a sale_price
About display ad re-marketing:
Focus your bids on your nearest visitor

A few days after Black Friday, bids were slashed



About keywords:
Consider casting black five related keywords
Whichever skill you choose, it's important to get ready before Black Friday.
I wish you all a big black five!
Peace Out
Sweep the code to pay attention to Mr. Tupa
Get more foreign SEM, SEO dry goods
---