The online core channel Facebook ad delivery process
---
Overseas game fox is committed to creating overseas game exchange platform, timed every day to share the latest information and research reports, but also welcome to share a variety of dry goods spitting slot!
---
Overseas travel promotion, Facebook, Twitter, Instagram and other social channels can be said to be the most commonly used. But how many people know about its ad delivery process? This article will detail how ads are placed on the Facebook platform, which manufacturers can use as a reference.

1. How do I open a Facebook ad serving account?
By binding credit cards, you can directly open a Facebook account;
Through the opening of Facebook first-level distributors, first-level distributors in the country currently have the quality, flying books and multi-league;
Through the network alliance channel opened, many network alliance is mainly through the Facebook first-level distributor opened;
If you are a beginner of Facebook advertising, it is not recommended to take the form of direct binding bank card direct opening, because through the first-level distributors or network alliance channels, they can regularly and irregularly train you how to operate delivery and optimization;
Personal advice, if the company is well-known, Facebook advertising budget is abundant, you can directly talk to Facebook sales staff to cooperate, if the above two points do not meet, through Facebook's first-level distributors or network alliance channels to open, to win a certain amount of rebates and training.
2. How do I get ready to start facebook ad serving?
First, advertisers need to integrate Facebook's SDK or Facebook-approved third-party SDKs into their products. Facebook automatically collects delivery data if it integrates directly with Facebook's SDK, and if it integrates with a third-party SDK approved by Facebook, it needs to be associated with a third-party platform before Facebook can accept data back from a third party. Facebook-approved mainstream third-party platforms include Adjust and Appflyer, which specialize in this section of docking documentation.
If multiple accounts are 1/2, product licensing and Facebook fan page licensing are required to deliver.
Secondly, according to the product itself and the launch area to conduct market research, mainly to know the target region to obtain the user's cost price range, as well as the target area localization work, including user preferences, cultural customs and so on.
Finally, that's itFacebookAdvertising documents and material creation staffing, this part is the core. Through Google Translate's text and through the local translator to do the case comparison, the advertising performance gap is very large; This part of the creative material, mainly focuses on finding certain points of the product to test, the test data to perform well in the material aspects of the full embodiment; (Note:FacebookHard requirements:1.Creative material can only be included at most 20% the text of the,Otherwise, approval will not pass.2.Creative footage size: Normal footage size1200*628, multi-figure rostcast footage size600*600, otherwise you can't upload it.)
3. How do I make a Facebook ad?
After doing the previous series of work, start advertising on the back of Facebook ads. Initially, it is recommended to use the Power Editor provided by Facebook. When you build an ad, a complete ad creation process starts at the campaign level, then the ad set level, and finally at the ad level. Advertising naming should be differentiated, so that they can see clearly, so that after the data, can be accurately optimized. Multi-dimensional targeting of ad audiences and ad bids through ad set, which is fully integrated with the product itself and adjusted during delivery as part of the delivery optimization.
4. How do I rate the effectiveness of My Facebook ads?
After the ad review is approved, if normal, the data can be viewed through theVertising Analytics Dashboard dashboard. Several data metrics that are generally of interest are: Install, CTR, Conversion Rate (CVR) and Cost per Installation (CPI), the most important of which is retention rate, or payment rate, which is a substantial KPI metric that truly reflects channel quality for advertisers.
Installation is the installation data brought by the advertisement, which is the direct assessment index of the advertising quantity level;
Click-through rate (CTR), the rate at which the audience clicks on the ad after the ad is shown to the audience, is a direct reflection of the appeal and creativity of the ad's text and material;
Conversion Rate (CVR), where the audience clicks on an ad and actually takes actions such as downloading installation activation (e.g. creating
The ratio of account, in-app operation or purchase behavior is a direct reflection of the accuracy of advertising documents and materials;
Cost Per Install per installation cost (CPI).
Retention Rate, the data feedback that users have after downloading and installing a product, is also feedback on the product itself, whether the product really addresses the user's needs, or whether the user is really the target user of the product.
Pay rate: Tool app products do not have this data, but the game's pay rate is the most important, some are registered users pay rate, some active users pay rate.
In addition, Facebook ads also have a Relevance Score (relevance score) indicator, in fact, this score mainly depends on the Ad CTR and CVR, that is, CTR and CVR high, RS is certainly high, which means that the overall performance of advertising is good, Facebook will give your ads more display, more download installation, to a certain extent, also reduce the cost of obtaining users.
If data is not used, it is always just a bunch of data. Ad test comparison, advertising optimization work is based on these data, the above is the most basic, but also the most core data.
5. Facebook ads are placed on a flowchart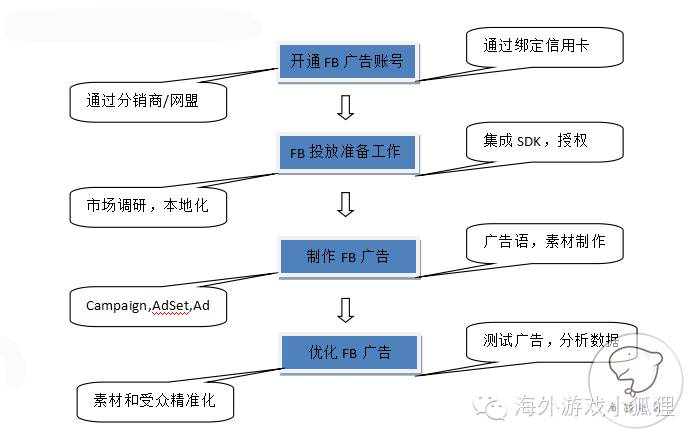 6. Conclusion.
Up to now, personally feel that a successful Facebook advertising, advertising text and material accounted for 80%, accurate advertising audience accounted for 20%, sometimes feel that media Buy industry has no core competitiveness, precision audience operation is actually similar, and is easy to learn to master, the final spell is creative and material, but it is precisely because of this, long-term input into the industry experienced, it is easier to test the breakthrough point of the product, and therefore make creative materials, To achieve excellent results. Individuals engaged in Facebook delivery not long, the above recap is also their own preparation from the beginning, step by step to the present simple version of the water account, for those who intend to engage in the service of Facebook advertising reference, as you know, Facebook traffic is an indispensable and important source of traffic for overseas promotion. In fact, Google Adwords ads are similar to this process operation, I hope to help, you can also add my personal micro-signal communication (wangbaoyang216);
---
This article from the Moby Dick community columnist Wang Baoyang, put a master, welcome to add him, absolute dry goods!
Contribute or ask for the electronic version please contact me on WeChat gamefoxer to leave a message with your email name,
Or send it to my overseasgamefox@126.com
Welcome to forward but please indicate the source,
For more private information click scan follow!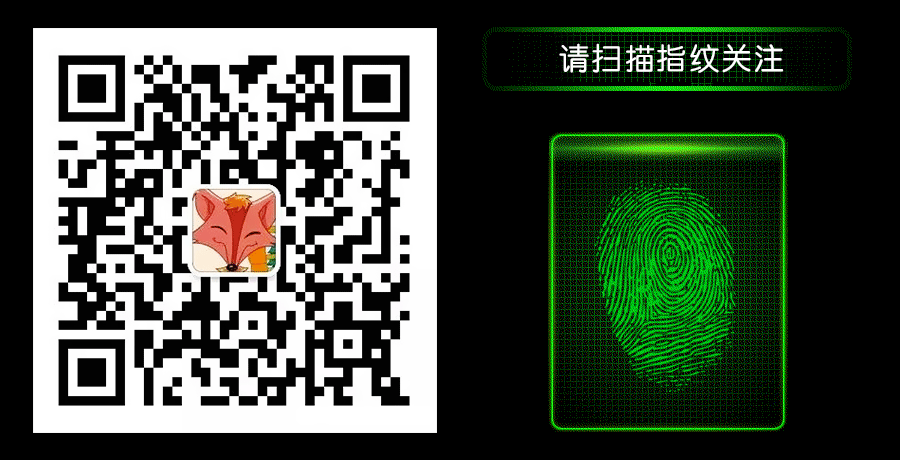 ---