Decrypting Facebook's advertising business: How does a 200-person team achieve $40 billion in annual revenue?

"Doing the core thing well, user growth and revenue growth will follow," as reflected in some of Facebook's recent product changes.
On the afternoon of January 19, zuckerberg announced on his personal Facebook account that Facebook would rate media organizations and algorithmicly prioritize content from premium media in the stream. Stocks at authoritative media outlets such as The New York Times rose in response to the announcement.
More than a dozen hours after Zuckerberg's announcement, Wikipedia co-founder Jimmy Wales talked to Geek Park founder Zhang Peng about "fighting fake news" at the Geek Park Innovation Conference in Beijing. "I'm actually more sympathetic to Facebook.... Now we're going to decide what content is high quality, what's not, what's good and what's bad, so people may be worried that Facebook won't control our worldview, but Facebook doesn't want to control the world. We're going to work with Facebook to fix this, but it's hard. 」
Over the past year, with social events and political scandals in the United States, "fake news", "Tong RussiaGate" and "live shootings" followed, Facebook has taken on a lot of public pressure as a platform for the dissemination of information.
During this time, Zuckerberg did a lot of thinking. At the start of the new year, he offered a solution: make a major change to Facebook's feed, reduce the frequency of media appearances, increase the proportion of friend dynamics, and then release the media rating strategy mentioned above a week later.
Facebook's most important attribute is socializing
In this series of events, Geek Park interviewed Fan Peng, Facebook's engineering director, who believes that this time the flow algorithm has been adjusted much more forcely than before. The problem Facebook wants to solve is that as people spend more and more time on the platform, interactions with family and friends don't increase in the same proportion, and users don't feel that such time consumption improves their personal well-being.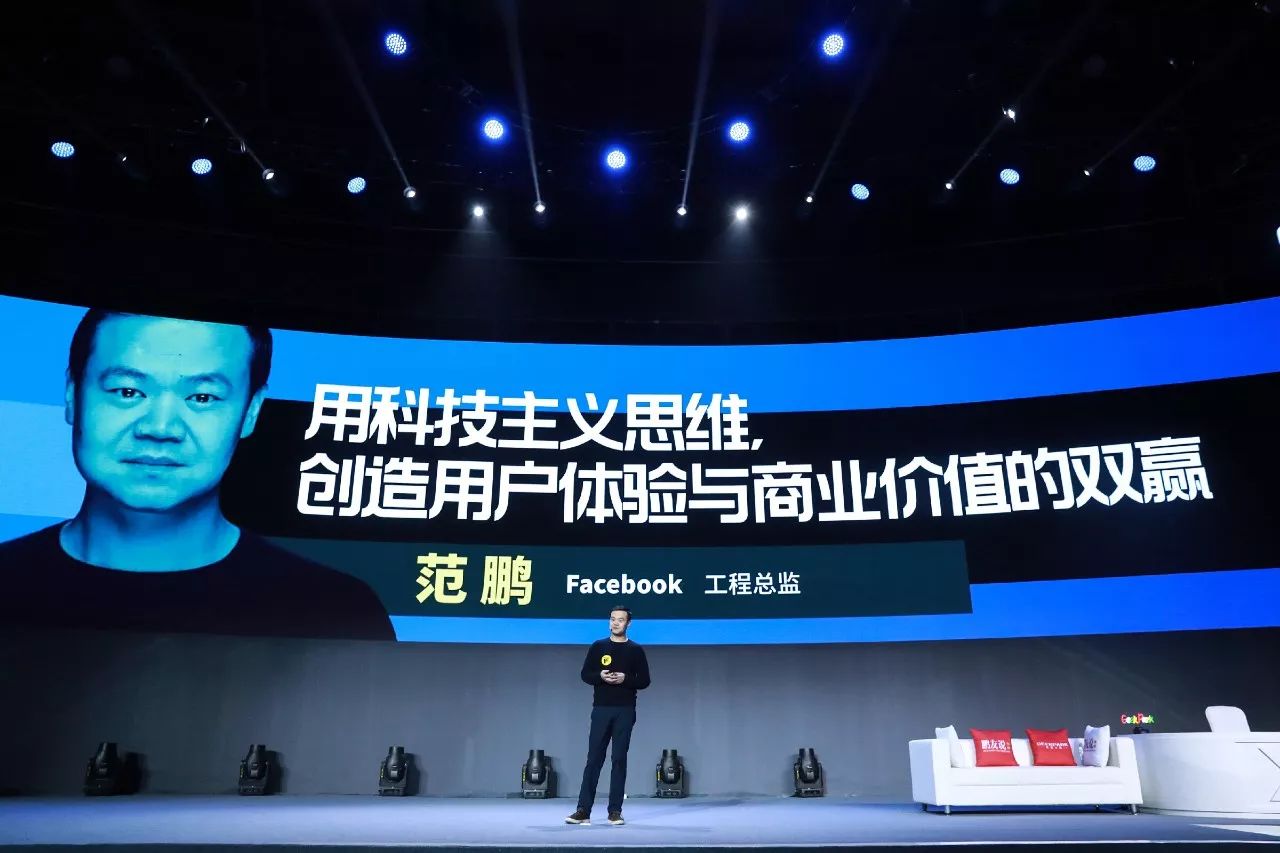 In addition, Facebook, a social platform, wants to adjust to the imbalance between media content and social content due to the explosive growth in media content production over the past few years.
"The most important thing for us is social attributes, " says Fan Peng, who, looking back, believes that Facebook can do well in media attributes and will improve in the future, but "social attributes are something no one else can do, so we want to highlight social attributes more clearly." 」
The ultimate goal of Facebook, fan-peng argues, is to give "particularly high-quality media a chance to say what they want to say through our platform while maintaining their social attributes." That's one of the reasons Zuckerberg released his media rating strategy.
The two algorithmic changes also reflect Facebook's beginnings to make some restrained product changes that, in the short term, could affect user usage, which could affect the advertising business, which accounts for more than 80 percent of Facebook's revenue. Fan Peng, who led the team in creating Facebook's advertising products, believes that Facebook is actually doing a "rebalancing."
"In the short term, we want to do a rebalancing, but in the long run, users will feel that they've found a lot of meaningful things on the platform, rather than consuming something completely passively." When you find something meaningful, you'll be willing to come back. Such a view is in line with the "Father of WeChat" Zhang Xiaolong's product philosophy of "run out and go, walk and come back".
WeChat currently has nearly 1 billion global users, while Facebook has more than 2 billion monthly active users, and the data is questionable whether the sheer size of the data available allows these social platforms to make restrained choices and look at longer-term goals. In the face of this question, Fan Peng gave a negative answer.
"When you use user length or new users as your core metrics, you do some short-term local optimization to keep users stay longer and make more money," such optimizations have an immediate effect. But for Facebook, if its metrics are the length of time users, it won't do anything to crack down on bad clicks.
"If you do the core thing well, the increase in users and the increase in sales revenue should come with it, not the other way around, and there is a major problem." 」
Sell ads while cracking down on the "title party"
Facebook has done a lot of work on advertising, and Fan believes there are two main reasons why Facebook can stay ahead of many domestic companies in advertising.
First of all, Facebook has six or seven million advertisers, and in the training of algorithms, so many advertisers will provide more reference to Facebook's algorithms, and the results will be much better for smaller ad platforms.
In addition, Facebook provides advertisers with a very large number of advertising models, unlike the domestic "click" and "install", Facebook for advertisers for a variety of commercial purposes to make targeted advertising models, and according to the user's advertising behavior to further adjust, and ultimately maximize the conversion rate of ads.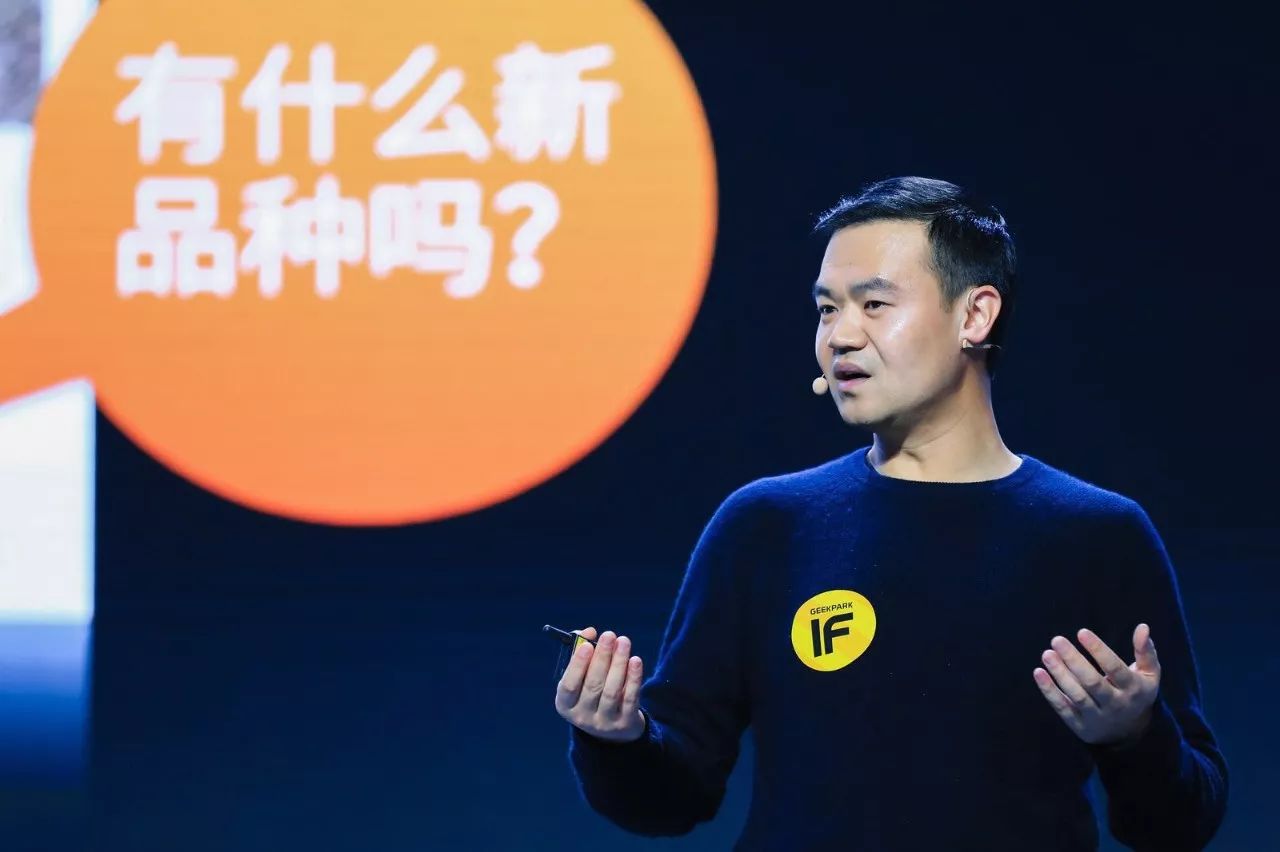 "Our (ad) revenue is not tied to click-through rates, and Facebook ads have a small percentage of click-through revenue... Installation is a charge, the average CPM is a fee..." Fan Peng believes that simply using click-through rate as a fee model, there will be media headlines such an inevitable result, followed by the decline of the entire platform user experience.
Many of the "headline party"'s media content can attract a lot of clicks, Fan Peng believes that such a way of charging for advertising is a good counter-measure against these media. "The user clicks in and as soon as he finds out it's not what he wants, he jumps out, which is a strong signal. These signals are fed back into Facebook's system and used as a reference in later optimizations, "advertisers shouldn't pay for this behavior," Fan explains.
On January 21, 2018, Fan Peng came to the IF 2018 Geek Park Innovation Conference and brought a share of Facebook's advertising business. How did Facebook evolve from an internet advertising successor to an advertising giant in a two-part market with Google? You will find the answer to this question in this dry speech.
The following is based on a slightly reduced statement by Fan Peng, Facebook's engineering director, at the GeekPark IF 2018 conference.
---
Good afternoon, everyone, I'm Fan Peng from Facebook.
I'm excited to have the opportunity to share this, and I'm currently leading a team of nearly 200 people on Facebook, focusing on products, systems, and algorithms in the advertising department.
Today, I'm trying to share some of my practical experience of advertising on Facebook over the past seven years, and I hope you'll get something out of it.
My share is divided into three parts:
The first part, how to build meaningful connections, that is, the advertising industry's big background.
In the second part, what principles does Facebook use to achieve a real win-win situation?
The third part, how to do such a thing through practice.
How to build meaningful links
Let's start with the first part.
Research shows that everyone sees nearly 1,000 ads or business alerts a day, how many can you remember?
When advertising is good advertising, it can really reach people, but we are surrounded by garbage, at this moment, millions, millions of advertisers, are wasting their hard-earned money to waste each of us time.
I don't think it's necessary, I hope we can change this through technology and technology, so before I do that, let's take a look at the big picture of the advertising industry.

This chart shows that advertising as a percentage of U.S. GDP over the past 100 years has remained essentially the same, fluctuating between 1% and 2%, and it seems that because advertising is an important bridge connecting users and goods, it is very important for both advertising and businesses, as it has been for the past 100 years, and I believe so for the next 100 years.
The following set of diagrams, the reason is very simple, that is, 1% of advertising in the world, means that it is an $80 billion market, in other words, the ultimate purpose of advertising is to create or meet the demand for products or services, in more popular terms, is to sell things and services.
So why is it so hard to build meaningful links? I think the core difficulties are nothing more than two, how to match the changing business purposes and user needs, how to quickly adapt to user behavior and media behavior changes.
Classic advertising funnel tells us that, in fact, for the purpose of the business and the needs of users, we can be divided into three categories, brand awareness, purchase intentions and actions of the transformation, that is, to create demand and meet demand.
From such figures we can see that the creation of demand accounts for the vast majority, because there is no demand for creation and there is no demand for creation. From a media perspective, we can see that tv, email marketing and other forms occupy the main part of brand awareness and buying intentions, while search takes up the main part of the action transformation, because you have told me what you want. So it's natural to meet your needs.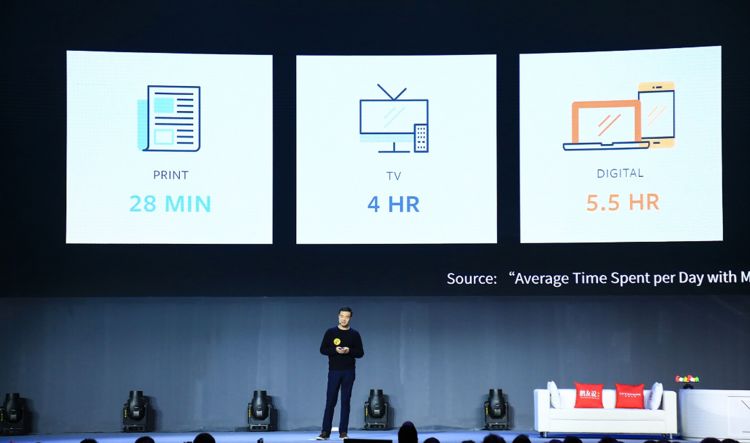 But now the situation is that there is a lot of behavior change in users and the media, this is last year's picture, tell us the truth is that the United States users spend time on digital media, such as mobile phones or desktops, has just exceeded the television, and on paper media spent very little time.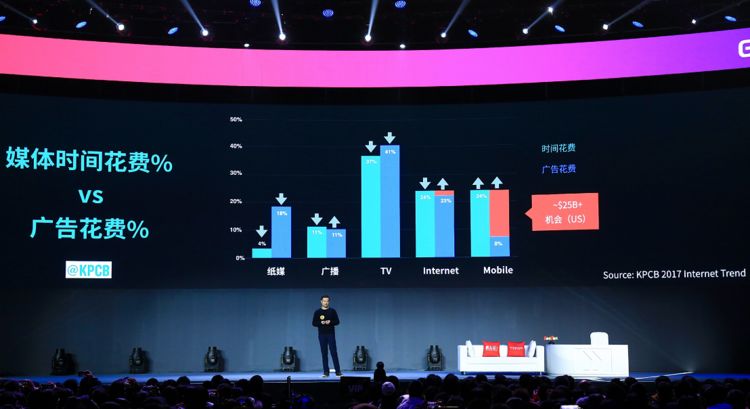 So what does this trend mean? In fact, advertisers are always following the user, in the beginning, advertisers are in the paper media and advertising above, with the popularity of television and it as a more powerful media, it has become the advertiser's favorite, where are the users now? So I think this picture tells us that the money that's still being spent on some traditional media today is going to move with this irreversible trend, and that's why it hasn't quite happened yet, that advertising is relatively a more traditional industry, that advertisers need time to make changes, and that companies like Facebook and Google need to do iterations of their products to move this trend forward.

What I want to say is that Facebook, as an advertising platform, has grown from $3 billion to nearly $40 billion in annual revenue over the past six years, which is a proud thing to do, but for our team, what we're most proud of is that we're approaching that vision and building meaningful links between users and businesses.
What principles does Facebook use to achieve a real win-win situation?
Let me just say that we look at both from what perspective and principle. The main problem here is simple: either a rush to cash in, or an overdraft user or an over-biased side. I think there's also a big cognitive misunderstanding, that isUser experience and business value is not a zero-sum game, but to consider how to create a win-win situation, because users get benefits from advertising, it will certainly benefit businesses.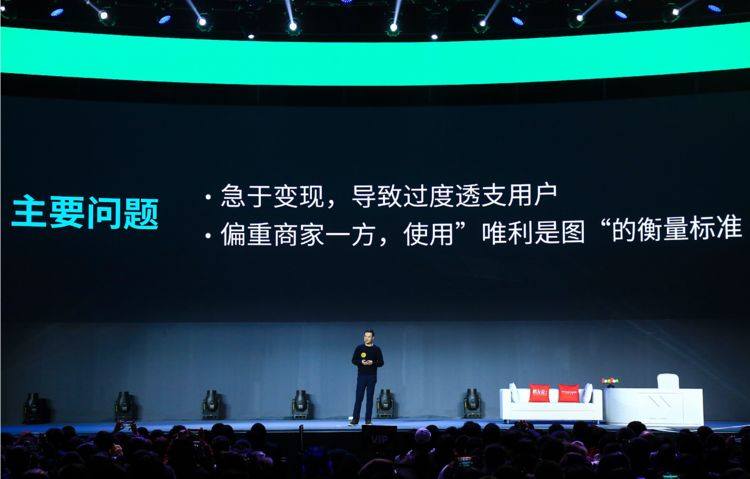 What principles do we have?
First, the user product form drives the commercial product form.
When you consider a new form of commercial product, you should consider user behavior and user product form first, not the other way around. Let me give you an example of how social media has changed over such a long period of time that it has actually changed from text from the beginning to pictures, to pictures, to multimedia, to video, including live streaming now, AR/VR in the future, and so on.
In this process, the form of advertising follows, rather than appearing in advance in the form of the user's product, because the most natural form of advertising is the form that the user is already familiar with.
Take Facebook, in our past through text, pictures, video ads, from desktop to mobile advertising, as well as today's multimedia, multi-dimensional embedded advertising, are completely all in the interpretation of the user product form as the core principle.
Second, to the user product experience as the cornerstone, mining native business practicesWhat do you mean?
1, do a good job of product user experience.
2, from the user experience can be found, these users are not some potential business behavior.
3. Help users and businesses build such native connections, rather than business practices, and iterate on this basis to create your ecosystem.
4, launch a large advertising solution.
Let me give you an example, famouslyStreaming adsHow did it come about? In the beginning, users through the Facebook page of products, and businesses to establish contact, become a fan of the business, and then there is a lot of interaction between them, for example, I can ask me how the goods are now, what kind of new inventory you have now, and so on, slowly build more trust.
Merchants see the value of such connections, and they want to expand their connections and reach through Facebook, including having more fans, getting people to know their brands better, and so on.
And that fits with our vision of "building meaningful links," so we launched the first version of the ad, but at the beginning, we took a very small step, you're not an ad that everyone can see, just friends of your existing fans can see, because we thought that people on Facebook were looking to see information from acquaintances, not from strangers, and on that basis, we learned what people think of these ads, and we started with quality pages, This includes iterating continuously from dense areas, like the United States, and finally launching an open advertising platform.
The second example, what I want to say to you, is Marketplace, is the open product trading platform, at first we found that there are many groups on Facebook, not the traditional sense of interest social groups, but buy and sell groups, where users send a variety of information about the sale of goods. And then we found out, very strange, because our products do not provide a variety of functions to help you complete the transaction, such as merchandise display, or ratings, but why do users like it so much? The reason is that because both sides know who they really are, that I can trust you, that I can trust those who buy me, that I can trust who sells me things.
With this recognition, we made some adjustments at first, including helping these users complete their transactions. On such a basis, to ensure that users really like, and a lot of use of such products, we finally launched an open second-hand market trading platform.
Here I want to leave you with a question to think about, what are some of the original ecological behaviors in your product that you should explore for potential commercial value.
The third principle is to approach real value through its own unique product innovations.
Let me give you an example, redefine the goal of the business, remember what I just said about the marketing funnel? Before Facebook launched this product, all advertising platforms were selling exposure and click-through rates, which is definitely not the real value to the business, because the core purpose of the business is its business purpose, absolutely not click, for Facebook, we are characterized by a high degree of matching user needs and business purposes. Therefore, on this basis we have launched a direct business purposes of the product. At the same time, all the algorithms in our background are optimized for different targets, and the products in the fore desk are customized to their advertising formats for different targets.
The question left to think is, what is the real value on your platform? How can you achieve this through your own strengths?
The last principle is to maximize the long-term interests of all participants.
This may sound simple, but to really implement it, you have to be profound and focused to change every corner of your product, for the advertising platform, to meet such a triangular relationship, it is particularly delicate.
Let me give you an example, Facebook is at the heartAd bidding algorithmEvery ad on our platform is valued based on this algorithm, which means that we think the overall value of the ad is.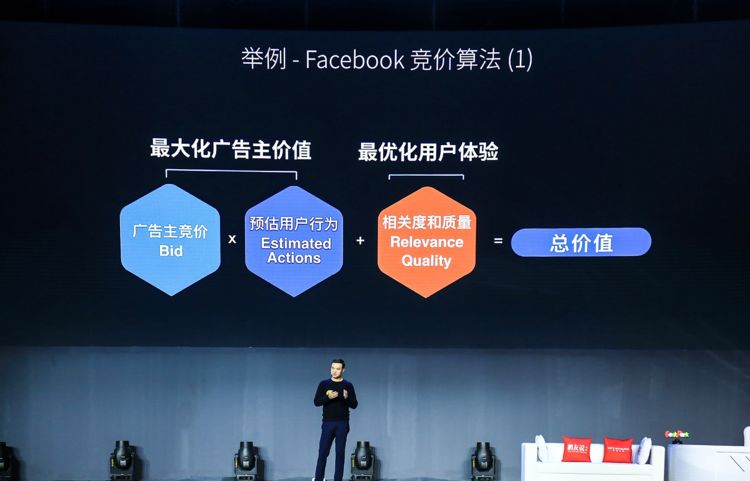 It's made up of two parts: one is advertiser value. The other part is the advertising experience.
For advertiser value, is the advertiser's bid for a certain user behavior multiplied by the possibility of this behavior occurring, for the user experience, is the user's interest in the ad and quality, it includes positive and negative feedback signals to determine, so its value is positive and negative. Positive feedback includes likes or shares, negative feedback includes blocking, and so on.
To give you an example, for example, the purpose of advertisers is to install the app, it's such a formula will reflect this, I think it is said that when your ads negative feedback is very high, even if advertisers are willing to pay more money, even for Facebook, we can make more money, such ads have no chance. Conversely, when your positive feedback is high, your ad is very promising. So this is how to weigh the two, if we all like it, we even spend a little less money, we will put it out, if everyone does not like, that in the long run no one benefits.
Then this example, let's take a deep look at how to really optimize the long-term benefits, which is such as a user, it is possible to see three kinds of ads, in such an example, the advertiser will be based on the behavior of a certain user, give a bid, for example, the installation is 4 yuan, the site conversion is 5 yuan, click is 2 cents. We make a probability judgment based on a variety of signals, that is, this user has this behavior, what is the probability of this advertisement? Click-through rate, installation rate, and more.
This is actually the result of our core machine learning algorithm, which uses user characteristics, advertising characteristics, and comprehensive features. When you have bids and probabilities, it's natural to come up with a reasonable exposure price, CPM.
In this example, we can see that the CPM for website conversion is 50 bucks, which is the highest, but we have a principle that is to maximize the long-term benefits of all participants, so we are only a little higher than the second place.
One of the questions I've left for you is that there's something in your product that really thinks about maximizing the long-term benefits of all the participants, which is a difficult question to answer, and sometimes you have to sacrifice some short-term benefits to do that.
How to implement these principles in engineering and products
In the last part, I'll show you how to use this thinking in engineering and products to realize many of the principles I just said above, and I'll talk about two things about the relationship between time.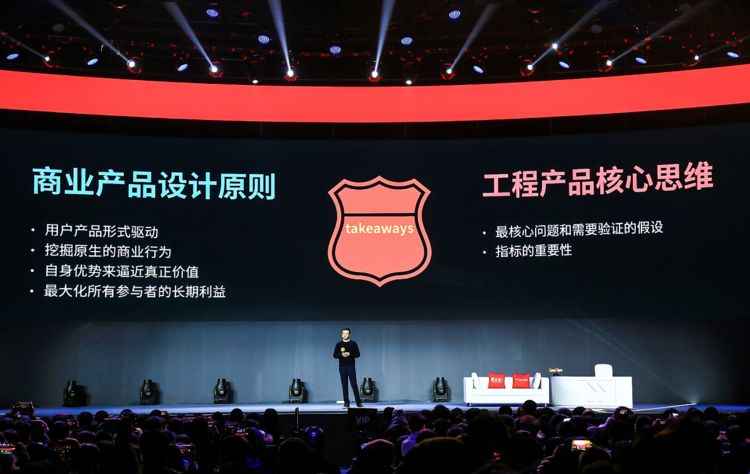 First, you have to focus on the core issues and the assumptions you want to validate, to start solving this problem, to know what, Who, Why, know what to verify, and then to start boring technology, not to pursue new technologies, to break down big problems into small problems, to make complex problems as simple as possible.
Let me give you an example, five years ago we made this product, in fact, its core meaning is very simple, is to help merchants through existing customers, to find similar new customers, many people understand that this is a very important scenario. Know what, Who, Why later, we still have a lot of assumptions do not know, for example, how to advertisers existing customers to us, algorithms to do how good, we will give up the previous method, at least how many seed customers, algorithms can be optimized, wearing a variety of product problems and technical problems hypothesis, especially algorithms, we did not choose the very popular tree model algorithm at first, but according to the characteristics of the data, selected logistic, We started with an offline model, not through an online machine learning model, and we didn't start with a huge number of features, but with the 100 features that have been told to be very successful in the tree models of the past.
What I'm trying to say here is that boring technology will help you simplify problems and validate assumptions, and then we've done a lot of 1-100 iterations, and today's product is already one of our fist products.
Second, the importance of indicators.
Good indicators definitely reflect your strategic direction and are a beacon of your product growth. The question comes, how to choose a good indicator, what is a good indicator.
1, it must be critical, related to the true value of your product. Everyone on your team should think that this metric is closely related to the success or failure of the company, that it will bring the overall value of your product line into line, that it will bring all your team's efforts into line, and that it will be a critical interaction between active users and users and our core products.
I'll say a few more words, and recently, in terms of changes to Facebook's very important flow algorithm, one of the signals it's trying to send is that we're going to focus on meaningful user interaction, not all user behavior, or the user market.
I'm not saying these two metrics don't matter, I'm saying that this shift means a shift in a company's values and product direction, and of course it helps teams develop complementary new product strategies. In the short term, it does have an impact on the user's length of time, and we all know the indicators well, including Xiaoza himself.
I think this seems to be more literary, seems to have some ideal practices just reflect a company, it is willing to assume a greater sense of social responsibility, willing to put the user's happiness, as well as the user first, in the long run, should be a very right initiative. On the other hand, of course, if you're focusing on user time today, just your financial revenue, I think it's an inverted behavior, because you do have the potential to increase user time in the short term, or increase revenue, we've seen a lot of examples like this, but if your goal is five years, 10 years or more, you can do that, and I think you're overdrafting your potential for the future.
Second, your indicator needs to be controllable, what do you mean? It's the people, the technology, the systems that your team needs to influence it and control it. If you have these two points, congratulations, you already have a very bull's-bull Metrics, but in reality, important things (key things) are often not controllable, good control is not critical, so you need to do trade-offs.
For example, let's focus on the growth of new advertisers, which is your goal. But you'll find that a lot of potential new advertisers come from the work of teams like the Facebook page, and when you get to know that, you feel good, and now that I don't control everything, what should you do? Finding that team, sharing such metrics, and then coming to that end, I don't think it's necessary, there's certainly the best.

1. Your indicator should not be easily brushed. You're focused on active users, and how many of your side are fake accounts.
2, the indicator reaction to be fast. The speed of the indicator response is actually the iteration speed of your product, for example, you are concerned about annual user satisfaction and monthly user satisfaction, the results reflected in your product are not the same.
3, the indicator as far as possible decomposition. Because when it breaks down, you'll find some interesting behavior. For example, active advertisers, if you break it down and find out why big customers in North America grew three times faster last week than big customers in Europe, that might tell you something about potential improvements.
In my opinion, the scientific and technological thinking is actually human beings to continuously improve themselves, iterate themselves, by solving more difficult problems, so that they become stronger thinking, I am through this thinking to sum up some principles and engineering ideas, I hope to help you.
Responsible editor: Chris
This article was originally caused by Geek Park
Reprint the contact zhuanzai@geekpark.net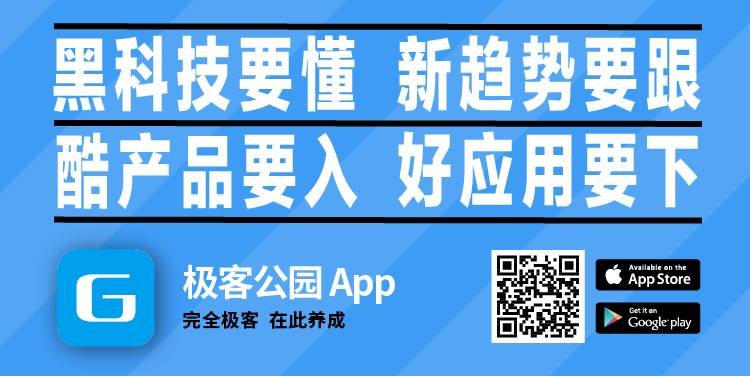 ---