The U.S. House of Representatives has ruled that the four largest U.S. technology companies have monopolies
October 15, 2020 21:55 Cctv. 
  Original title: The U.S. House of Representatives ruled that the four major U.S. technology companies have a monopoly
  Source: CCTV News Client
  After a 16-month investigation, the House Judiciary Committee's antitrust investigations into Facebook, Amazon, Apple and Google have made substantial progress. On October 6th the House Judiciary Committee released a 449-page report that found the four companies were using their monopoly to crush competitors and suppress industry innovation, and recommended that Congress overhaul antitrust laws to adapt to changes in the Internet age.

From left to right are Facebook CEO Zuckerberg, Google CEO Pichay, Apple CEO Cook, and Amazon CEO Bezos
  The report notes that these once-weak, under-favored start-ups are now the kind of monopolists we saw in the days of oil and rail tycoons. By controlling market access, these companies choose who wins or loses in the entire digital economy. They have enormous power to enforce overlord clauses and make big profits from them.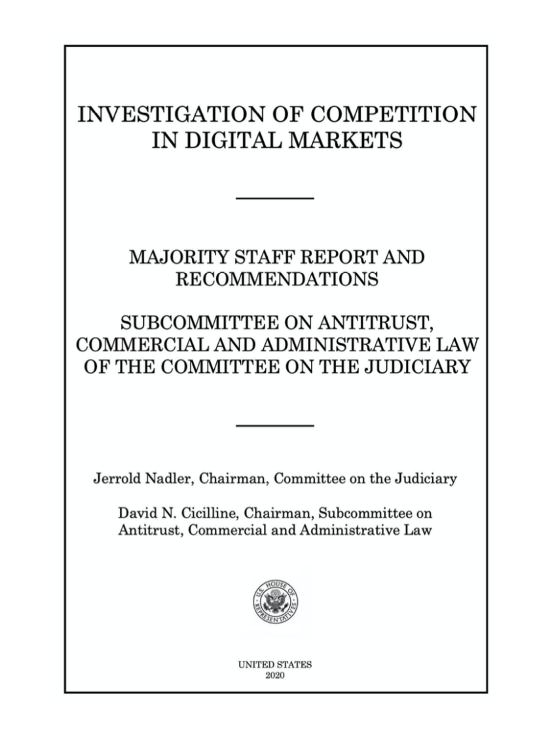 Investigation report released by the U.S. House Judiciary Committee
  The report also lists legislative measures recommended by Congress, including a ban on technology companies owning different business categories, which could lead some companies to split up existing businesses.
  "Through this investigation, we have discovered a shocking business model," said Valley Demings, a member of the House Judiciary Committee. This model depresses competitors and stifles the ability of other companies to innovate. We will take the necessary measures to hold violators accountable. "
  Facebook
  Facebook has a monopoly on online advertising and social networking, the report said.
  A lawyer for the Judiciary Committee's antitrust subcommittee noted that Facebook's $715 million acquisition of Instagram in 2012 was suspected of stifling potential competitors.
  Kevin Weststrom, then Instagram's chief executive, wanted Instagram to grow naturally and do business extensively, according to a former senior Instagram employee. But Zuckerberg made it clear that he "can't compete with us."
  Today, Instagram has more than 1 billion users. Instagram brought in about $20 billion in advertising revenue for Facebook in 2019, a quarter of Facebook's annual revenue that year, Bloomberg reported. Instagram is now Facebook's future focus.
  Amazon.
  Amazon, the largest online retailer in the U.S., is using its market advantage to sned up potential competitors, according to the report.
  Amazon collects, analyzes sales and product data, discovers popular products and replicates them to launch its own competing products, the report said.
  Amazon has a conflict of interest as a seller on an online platform and as an operator that manages third-party sellers, acting as a dual player and referee. Such conflicts of interest have prompted Amazon to use its access to data and information to unfairly compete, preventing small businesses from attracting customers in a favorable way, and forced millions of independent retailers out of online stores.
  The report also noted that Amazon dominates the e-commerce industry by acquiring sites such as Dippers, a mother-and-child e-commerce site, and Zappos, an online shoe store, to expand user data and increase its competitive advantage.
  apple.
  Apple has a major monopoly on the iOS device app installation market, the report said.
  Apple has taken advantage of its monopoly to make extraordinary profits from the App Store and its services business. Under Apple's App Store policy, users can't pay directly to app developers for using apps or digital services, only Apple, which takes a 30 percent commission.
  Apple is also using its control of the App Store to punish competitors, including lowering its ranking in search results, limiting the way it communicates with customers, and removing it directly from stores, the report said. Such a business model hurts competitors, reduces the quality and innovation of application development, and reduces consumer choice.
  Google.
  Google's monopoly is largely reflected in the online search and search advertising market, the report said.
  Using information asymmetry, Google secretly adjusts its search algorithm so that the terms of paid ads are not clearly bounded by the terms that are naturally searched. Often Google's own vertical content or ads are placed in a more prominent position.
  When users look for information or products using a browser, search results will be given priority to Google's own products, including business services, travel bookings, and regional business listings. In addition to these problems, Google's signing of Google as its default search engine with smartphone makers such as Apple is also seen as a monopoly on online search.
  The report concludes that these companies are using their dominant market power in their respective fields to consolidate their monopoly position and undermine orderly competition in their industries. In addition, their control over data information in their areas is threatening the digital economy.
  After the antitrust investigation report was released, all four tech giants disputed the report. Challenge the conclusions of the antitrust investigation report and argue that the Company does not have monopoly or anti-competitive practices.
  At present, the U.S. Congress antitrust investigation report is not the final conclusion, still need to be decided by the court. But at the same time, the voice of "splitting up the tech giants" has been heard in the U.S. government and legislature.
  Supervised by Wang Shanshan Zhanggu
  Producer Wang Wei
  Editor-in-Chief Li Wei
  Editor Zhang Wenjun
(From Sina.com)

---