How much will it cost to defeat Trump?
"Someone wrote to ask me how much I had.


I have a wife and three sons, all priceless.

In addition, there is an office with a table, three chairs and a large bookshelf in the corner, and the bookshelves on the shelves are worth reading for everyone.

I am poor and thin, my face is very long, will not be blessed.

I really have nothing to rely on. The only thing you can rely on is you. "
160 years ago, Lincoln began his presidential campaign without a car, without a band, with only a few friends and a rented carriage.
$100,000 was Lincoln's campaign cost that year。
According to one of the post-Civil War Treasury policies:
"From January 1, 1879, gold was exchanged for green back notes at pre-war parity of $20 an ounce."
By this standard, in 1860, $100,000 was equal to 5,000 ounces of gold, about $1,890 an ounce at current spot$9.45 million。
Over the past 100 years, the president of the United States has changed dozens of places, and the cost of competing has more than doubled.
In 2004, George W. Bush spent $360 million and Gore $330 million;
In 2008, Obama spent $760 million, McCain $350 million, and the two parties spent $5.3 billion on the election.
In 2012, Obama spent $1.2 billion, Romney $1 billion, and the two-party campaign spent more than $6 billion.
And in the last election, clinton raised campaign money even though she didn't make it to the White House.$1.4 billionstill set a new record.
Despite this year's outbreak, with all kinds of money stretched, the intensity of the election is still not weaker than before, and only presidential candidates have raised enough money
$3.172 billion
。
Where did such a large sum of money come from and where did it go?
Of course, there is a more worthy question to think about: How much will it cost to defeat Trump?
Where does the money come from?
"To win a campaign, you need two things. The first is money, the second I don't remember. Mark Hanna (who helped McKinley win the election in 1896)
There is no denying that successive U.S. presidents, with very few exceptions, were mostly wealthy before the election, mostly middle-class people with top educational backgrounds and well-paid jobs like Obama.
But in the face of hundreds of millions of dollars in spending, even Mr. Trump, who has always boasted that he is worth tens of billions of dollars, is unlikely to get it. During the 2016 election, Comrade Trump boasted in front of the media that he was going to pay $100 million, but in the end, he paid only $66 million of his own money.
Tens of millions of dollars are a lot of money, but for the cost of the entire election, it's a small sum.
The real big source of funding isDonations.。
The first is voter donations. It's like a live broadcast on the platform, where the candidates are on stage, and the voters are watching, and they're rewarding the anchor. In 2016, all voters raised $1,462 million.Individual contributions amounted to $1,081 million, or about 74 per centOf these, 75.4 per cent were contributions below $200, totaling $815 million.
Long ago, to prevent the wealthy from manipulating the presidential election, U.S. law limited such donations to $2,500.
The 2020 election raised the cap on individual donations to $2,800
。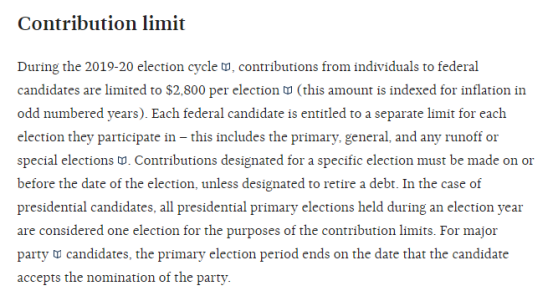 Source: Presidential Campaign Finance
It can be said that the amount raised by the candidates largely represents the support of the voters.
As a result, the amount of money raised is often used by candidates as part of their campaign strategy, not to say that they can advertise all kinds of ads to buy people's hearts, or at least to demoralize competitors.
It is well known that there is no shortage of investment and operations by interested interest groups in the general election, but the setting of a cap on donations allows these operations to cross the red line. After all, the United States is still a country governed by the rule of law, and elections involving corruption scandals are not good. Wall Street, for example, wants the government to loosen financial regulation, and campaigning is a good bet, but $2,800 is thrown in without a voice, and how do you invest in the future?
So, under a mixed attack from the lobby and the legal team, the U.S. Supreme Court declared in 2010:
Political contributions are an expression of freedom of expression that involves not only individual contributions, but also all businesses, interest groups or trade union organizations.
This means that businesses and groups can use unlimited money to support elections as long as they don't give money directly to candidates, but instead spend it on campaigns that support candidates.

Since then, so-called"Super Political Action Committee (SPAC)"And then there's the flood of rich and corporate bigwigs who are investing in what they see as the "next president." Four years ago, Soros, a financial investor, "donated" $13 million to Hillary through SPAC .... )。
In addition to these clear data records, there are many non-accountable donations, "dark money", and indirect general election aid that doesn't involve money, such as buying advertising for black opponents, which is not the case here.
As for this year's general election, the official website saysThe total amount raised so far in 2017 is $3,172 million, of which 1,367 million yuan has been donated by individuals。 It's worth noting that the candidate has $1,442 million out of his own pocket, a phenomenon not seen before, and it's about a big guy.Bloomberg., I'll talk about it later.
On paper, of the two men in this year's showdown,Biden raised $541 million, more than Trump's $476 millionMost of the money comes from individual donations from voters.
In addition, some of the public data also see a lot of political, business, technology tycoons, such as
Facebook, Bank of America, Belarus Oil Company
are on the list of donations.
Before you talk about spending money, let's talk about the U.S. election process, with formal campaign schedules focused on the final year:
From July to August, the parties identified presidential and vice-presidential candidates

August-November campaigns (advertising wars, campaign speeches, meetings with voters, press conferences, public debates, etc.)

Voters across the country cast their ballots on the first Tuesday in November, presidential election day

On the first Monday after the second Wednesday in December, official elections were held
The end of the four-yearly general election is also the beginning. As soon as the president takes office, the next campaign is almost ready.
Despite federal law,Just raise $5,000 to runBut no one would be foolish enough to believe this.
The campaign is essentially a marketing campaign to push itself to the masses, gain the attention and support of voters, and ultimately get their votes.
We all know that the campaign burned money, raised billions of dollars is not placed in that set up, but the specific how to burn money, or worth a look.
The first is the campaign team.


Election is an extremely complex and huge social engineering, political engineering, all the participants in the election, candidates are bound to have a professional campaign team to serve.
This team is not only responsible for raising funds, deciding on campaign strategy, but also bear the first-line ticketing and registration work, from the presidential candidate's political appeal, speeches to clothing, hairstyles, big and small matters in control, directly related to the probability of success in the upper position.
Therefore, the quality of the team strive to be top-notch, all composed of high-level professionals, some from professional fields, such as executives of large enterprises, lawyers and so on, some from professional election firms, election companies. While volunteers are recruited in large numbers to save money, the salaries and day-to-day expenses of such a large group of elites are still staggering. Four years down, you can imagine.
The last time Mrs Clinton campaigned, there were 783 people on the team, including former executives at Coca-Cola and Google. His campaign manager, Robbie Muk, earns $10,000 a month, according to public data.
And then there's the real big headPublicity fees。
With the development of science and technology, there are more and more ways to promote oneself and spread personal charm.Newspapers, radio, television, Internet...... The channels to be covered by the campaign are getting wider and wider, with billboards up and down New York's Times Square and road signs down the country road, all of which are opportunities for candidates to compete with each other.
In 2012, Mr. Obama spent $480 million on ads while seeking re-election.
In the first half of this year, Trump spent $80 million on ads and Biden $65 million.
Of course, these are just the data we found, such as smearing competitors, others pay for free advertising, can not be counted.
In addition to advertising, there are important activitiesRoadshow。
Before the election, candidates will conduct national roadshows, speak to states and key constituencies, meet local gentry, and gas supporters. Travel costs, venue fees, equipment, security personnel, etc., the cost of this activity is not small. (The editor wants to check the speeches and expenses of several general election candidates, but unfortunately he can't find them.
In addition, there are expenditures on various strategic resources. For example, Trump's $500,000-a-month legal aid, Biden's 1,000-member legal team. For example, small benefits for the public when pulling tickets, T-shirts, hats, flags, badges, umbrellas and so on.
So the election is a game for the rich.
What else is there besides money?
No money is 10,000, but money is not really 10,000.
In previous elections, the party that spends more money is indeed a lot more likely to win, but after dozens of hundreds of years of learning, in addition to some emerging trend of the times, such as the 2016 rise of social networks, the two sides in fact in raising money, spending money will not be too big difference, can do perfect.
It's like a master showdown, fighting hundreds of rounds up and down, and finally winning by their respective ends.
For a candidate, it'sPolitical ideals。
Advertising, speeches, slogans, in the end, we are all bragging, to the bosses, the masses patted their chests and said, if I take office, make the country better, people's living standards improve ... Let's have a bunch of things that don't have any reality, and in the end it depends on whose ambition is the most moving.
So Bloomberg, the big man mentioned earlier, smashed $900 million of his own money and raised $1.118 billion, more than Biden plus Trump and a bunch of other unsung contestants combined, with 2,100 on the campaign trail, three times as much as the Trump team, and double the salaries he paid his staff, but was eliminated in the party's primaries.
Beyond spending money, Bloomberg has no clear political ambitions, no policy ideas, no promises, and the only campaign slogan remembered is"Get rid of Trump."。
Mr. Trump, on the other way, has made his political message clear: unite the rural people of the county, follow the mass line, and hope that America will be strong again and that immigrants will be gone.
And his "man-set position" is clear"Political circle silk"。
High-profile and unreliable remarks, no official rhetoric, swords go the other way, successfully shaping the image of a political "outsider", reaping a large number of voter support for traditional politicians, but also attracted the majority of young people.
A variety of eye-catching operations, outright political ideas and high media exposure, so that a real estate tycoon, billionaire very grounded, in a short period of time to build popularity, so that the American people and even the world, have impressed him.
The phrase "no one knows marketing better than I do" is true.
The right direction, money can play a role.
The U.S. election is essentially a marketing campaign, and money is the basis for candidates to spread their personality traits.
Beyond that,More importantly, "people set the position" is the "political ideal" that directly touches the interests of the voters.。
It should be believed that the vast majority of voters do not understand politics and vote on the basis of likes and bads, apart from their own interests.
In the last election, Mr. Trump was staring at the American people's jobs, "feeling for the people and understanding the needs of the underlying," and while many of his statements were extreme, the last victory was a test of voter attitudes.
If what Mr. Trump says is in line with public opinion, it doesn't matter if he burns the White House one day, he can be re-elected.
UltimatelyThe United States created "Trump."。
---