The ERA of TV drama "audience segmentation" has come, and the advertising operation of video sites is accurate
TV dramas into the "audience segmentation" era, a drama for the vast number of viewers happy to see the era is gone, different themes, national TV dramas have formed a more stable audience. According to the Iain Inquiry,2013-2014China TV Drama Market Research Report,2013The number of users of video sites in China is4.28of which TV dramas are the most watched content. Video sites continue to innovate in content operations, advertising operations for advertisers to provide more accurate delivery strategy, according to the tv series country theme of different segments of users, from "audience" to "consumer" efficient transformation.
Korean drama: Handsome Oba+Fashion dress up as the "heart of beauty" for all girls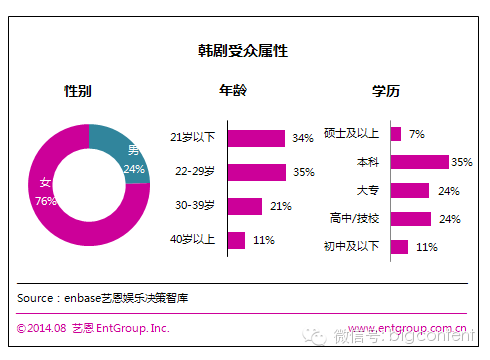 Because of its cultural background, Korean drama has always had a very broad audience base in China, second only to domestic drama. In recent years, "Korean Stream" hit again, Korean drama innovation, relying on warm plot, handsome long-legged Oba and fashion gorgeous scene modeling, once again captured the Chinese audience, triggering a wave of audience. The analysis of the audience attributes of Korean drama by Yien Consulting found that the majority of Korean drama's audience is female, showing a younger trend.21Percentage of audiences under the age of 1034%。
This year, various video sites to strengthen the "Korean drama" strategy, Ai Qiyi mainly broadcastMBCTV series, Tudou.com andSBSWith this cooperation, Tencent's video Korean drama has been coveredKBS、MBC、SBSSouth Korea's three major television stations have television resources and increased traffic with exclusive rights. Advertising operations, combined with young women-oriented audience characteristics, mainly in cosmetics, clothing, fashion3CProducts, e-commerce brands. Take Tencent video as an example, launch the strategy of chasing you to Korea,Big Man"The discovery of love" and other Korean dramas successfully attracted Coca-Cola, Chinese toothpaste, Mei Baolian and many other brands.
American drama: the plot is rich without taboo "high cold" tactics to capture the elite audience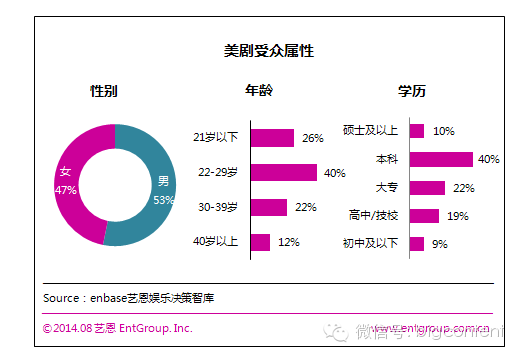 American drama drama a thousand times people can never guess the ending, the subject matter involves politics, supernatural hundred no taboos, but there is no shortage of social, human meditation, American drama in the country has a lot of fans. "American drama fans" to highly educated groups, this part of the audience because of good education, with an international perspective, the Understanding of European and American culture is stronger. In terms of audience gender distribution, male audiences are more than female audiences, but the gender differences between different themes are greater. In terms of age, the age of American drama is higher than that of Korean drama22-39The age of the crowd as the core.
Because the U.S. drama locks in the "tall" elite group, video sites generally put the group has the ability to buy luxury goods, automobiles, electrical appliances, electronic products. Sohu Video, which focuses on American dramas, has recently teamed up with Heineber and Kia Motors to focus on the male elite user base owned by American dramas.2014Tencent's video-only "Tyrant" received the most attention in the summer's American drama. Tencent Video makes good use of its users' high-coverage big data advantages and unique integrated platform resources, enabling the Anglo-American drama channel to win the choice of nearly 100 heavyweights, including Volvo, Burberry and Samsung.
Domestic drama: family ethics cage aunt idol antique youth favorite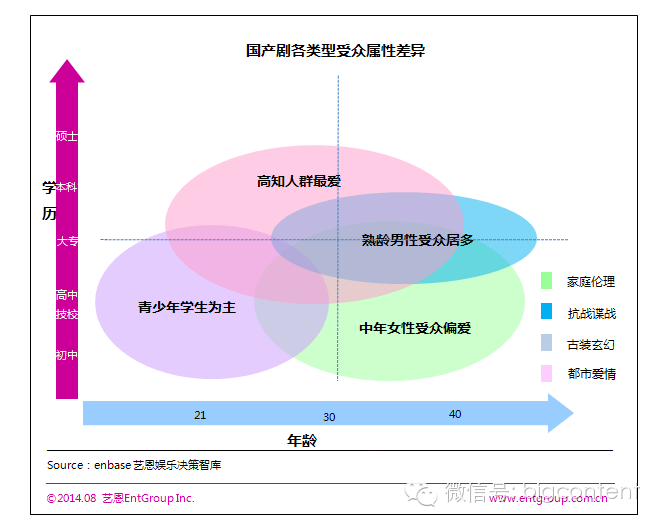 The theme of domestic drama types is more diverse, and the audience of TV dramas of different theme types is more different. In terms of advertising operations, video sites analyze the audiences of various types of TV dramas and tailor their delivery strategies to match their product consumer groups. Family ethics dramas (such as "Mother-in-law Meets Mom") have an audience dominated by middle-age mothers, and japanese products and food delivery can affect their main buyers;, with electronic products, school supplies and other brands more matching; anti-Japanese espionage dramas are favored by male audiences, this group in electrical appliances, automobiles and other consumer goods purchase decision-making has a dominant power, manufacturers need to focus on the impact of the crowd; urban love drama is the most popular tv drama type in recent years , the audience is more widely distributed. Higher education level than family ethics drama, low age, so matching products should also be relatively high-end, fashion.2014Tencent Video won the exclusive rights to Divorce Lawyers, attracting Chrysler, Estee Lauder, Nestle, Beijing Hyundai and other co-brands.
(From: Eon Consulting)
---