Tencent's algorithm contest has set sail again, looking for social advertising algorithms to reach people

Recently, the 2nd Tencent Advertising Algorithm Competition has officially opened online registration, focusing on one of the most important technical capabilities in social marketing: similar crowd development (Lookalike), to the whole society's algorithmic experts to collect effective business development and high-potential customers of social marketing solutions, to promote marketing precision, promote the development of the core technology of the advertising industry.
Compared with the first Tencent Advertising Algorithm Competition, this contest has been upgraded in all aspects in terms of registration scope, technical guidance, defense link, competition reward and so on. Tencent Social Advertising, in collaboration with Tencent Big Data, Tencent Cloud, Tencent Recruitment, Tencent University Cooperation, T-Campus and other major Tencent resource platforms, together with the strongest brain and industry-renowned academic experts, with a highly simulated real business fun game entitled the industry to bring an advertising algorithm competition feast.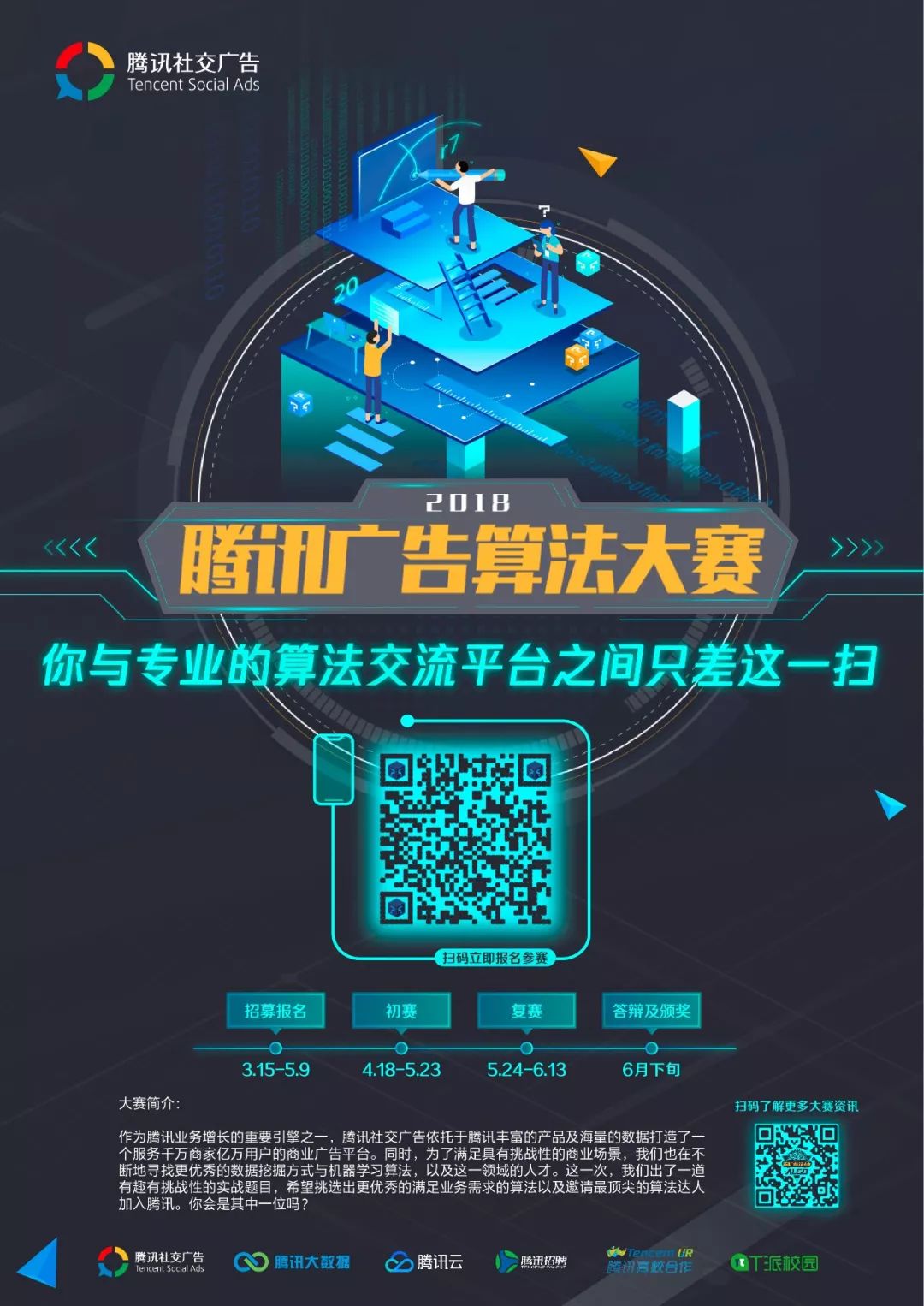 Tap into similar audiences 
Win rich rewards through Tencent

As one of the advertising industry's "winning treasures", similar audiences have been a valuable resource for advertisers to dig deep, and the Internet has provided a more convenient way for such mining, Tencent's social advertising similar group development (Lookalike) technology came into being. The principle of this technology is to find similar users based on seed user portraits and social relationship chains, combine advertiser first-party data and advertising performance data, and based on Tencent's rich data tags and technical capabilities, through deep neural network mining, to expand advertisers with similar characteristics of "high-quality potential."
This advertising algorithm contest focuses on Lookalike technology, and the organizers will offer similar crowd outreach productsPackets that simulate a real-world business environmentAs entry data, select outstanding Lookalike algorithms and technical talents. In order to collect more and better creative algorithms, this year's advertising algorithm contest has expanded the scope of participation. Open to the whole society, non-Tencent and competition-related institutions of higher learning, scientific research units, Internet enterprises and other algorithmic elites can register to participate.
At the same time, this year's Tencent Advertising Algorithm Competition also set up a valuable prize, a maximum reward of 300,000 bonuses, in the course of the competition, the weekly champion will receive a Kindle, the outstanding team in each link also have the opportunity to win the competition custom prizes, at the same time, the top 20 can also get Tencent social advertising campus recruitment free green channel, start Tencent career journey.

The authoritative algorithm sits in town 
Enjoy exclusive technical guidance for the contest

In addition to the generous rewards, this year's advertising algorithm competition also enhances the judging lineup and fan interaction. Tencent Social Advertising General Manager Luo Zheng, Tencent Vice President, Technical Management Committee Director Wang Juhong, Tencent Data Platform Deputy General Manager Jiang Jie, Tencent Cloud Vice President Wang Long, Tencent Social Advertising Vice President Yang Yiguo and other Tencent experts will be present to review and interact with the contestants.
In order to create a more relaxed and professional competition environment, this advertising algorithm contest to add a unique technical guidance and communication links, inviting the first winning team and the contestants to close exchanges, for the contestants to teach the game and algorithm dry goods.

Leading the advanced algorithm of advertising  
Stay tuned for the final "surprise" session

Tencent's social advertising has always been based on the concept of "empowering business to always be human" and establish the best connection between people and business. Under the guidance of this concept, Tencent Advertising Algorithm Competition has always focused on advertising marketing pain points, is committed to providing better marketing solutions. Following the first college algorithm contest with mobile app conversion rate estimate as the title, similar crowd development (Lookalike) became the new competition, helping the industry to improve the overall advertising efficiency.
Tencent's products cover a wide range of user applications, with a wealth of social big data. Based on strong social networking chains and proven algorithmic technology, Tencent's social advertising, using Lookalike technology, can help advertisers reach the maximum level of similar people under the premise of accuracy, so that brands find more "right people", thus effectively promoting the transformation of marketing goals.
In order to further attract technical talent, Tencent optimizes the core technology of advertising through top algorithm competition, and has a mysterious "surprise" link in the final defense. Stay tuned for more exciting collisions of cutting-edge technologies.
Click."Read the original text"Sign up for the event right now。

Click on the image below to read more

Gain insight into industry-leading algorithms to go to the top brain-burning feasts
"Three highlights to help Tencent's social advertising 'University Algorithm Contest'"

---