3C new product debut social advertising new play, watch Samsung, Dell, Gree with the delivery of data to speak
In the 3C industry, every new product listing is a hard battle. Brands must grasp the short promotion window period, in the possible amplification of brand volume at the same time, taking into account the effect of sales transformation.
As one of the most influential social media, WeChat friends circle advertising by more and more 3C brands, 3C new products to launch and even appointment, the preferred platform for sale. Since March this year, Gree, Dell, Samsung and other 3C brands have chosen to launch new products in the circle of friends. Today, we share their examples of advertising in our circle of friends, combining the core appeal of the launch of new products under the 3C brand.

It's widely known
Short, precise exposure
New product debut, the primary marketing goal is to "tell the public." WeChat friends circle advertising traffic is considerable, with the help of Tencent's social big data, in a short period of time to help brands reach a wide range of target audiences.
In March-April this year alone, new brands such as Gree Electric and Samsung's Gareth S7 Edge were launched in a circle of friends, with more than 80 million exposures per case. Among them, Samsung Gareth S7 edge's circle of friends video ads, the outer layer of small video playback times190 million timesTotal.More than 33 million visitsWatch. It's all thereJust 24 hoursimplemented during the delivery cycle.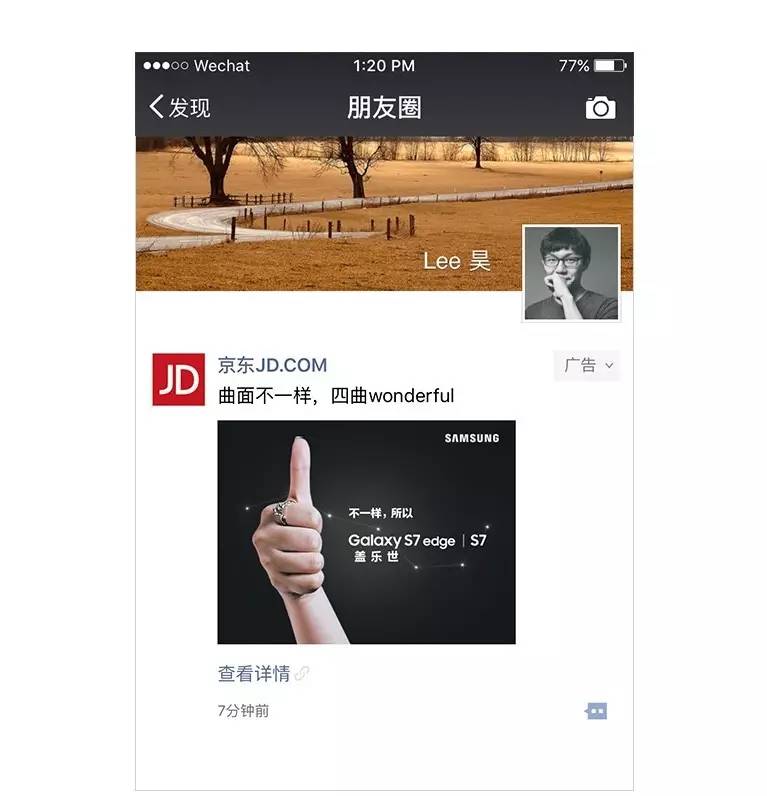 Screenshot of the Samsung S7 Friends Circle ad
In addition to fast mass exposure, Friends Circle ads help brands reach their target users with precision.
Take the launch of Dell XPS in the circle of friends in March this year as an example, this launch is Dell's new signing spokesman Wu Yifan debuted with new products, in order to give full play to Wu Yifan's fan power, building momentum for the brand, Dell in the launch based on Wu Yifan fan portrait refining targeted labels, accurate target audience, the effect is remarkable. In the end, Wu Yifan starred in the ad video broadcast volume reached64.57 million times, the number of plays per capita5.55 timesand reaped it227,000A friend circled the comments.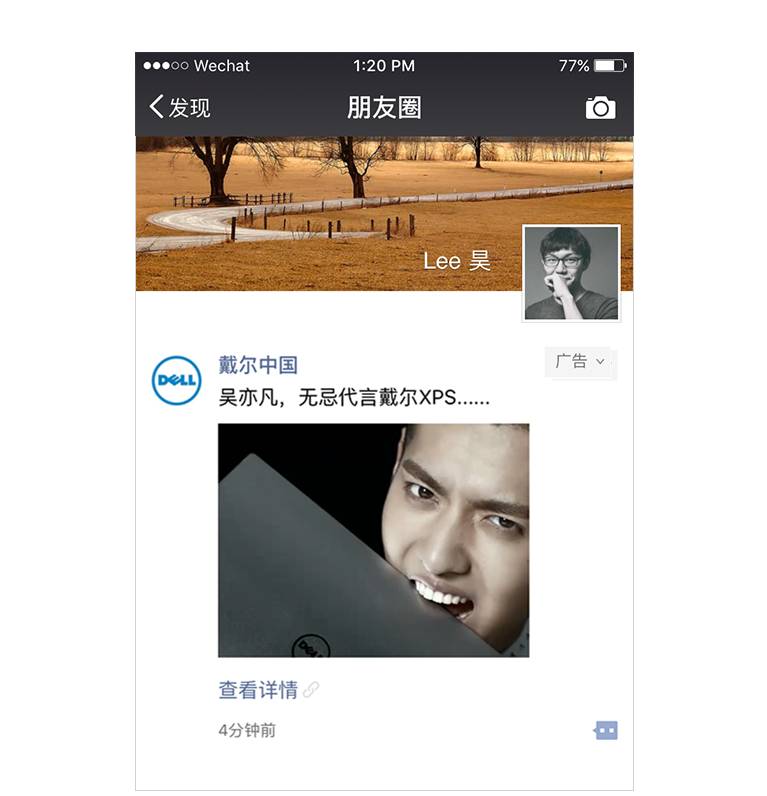 Screenshot of the Dell XPS Friends Circle ad
Xiao Sanle, executive director of Dell's Greater China marketing division, said: "We want advertising to reach our real target audience, and WeChat advertising helps us find people who are interested in both 3C products and Wu Yifan.
Social interaction
Topics stimulate discussion and sharing
Social interaction is a unique advantage of friend circle advertising. If you can make full use of this functional advantage, in the advertising to choose the right topic point, causing users to spontaneously discuss and disseminate, for the new product debut can be said to do more with less.
Mr Xiao said Dell had also considered how to fully motivate users to interact when discussing ideas for 6S small videos outside of friends circle advertising. Eventually Dell chose to show Wu Yifan's image as the main, weakening the product's exposed, "there are users concerned about the topic to cause discussion and secondary sharing, which is more important than a few seconds of product exposed." "
Gree Electric's new dasong rice cooker ad, launched in March, also fully demonstrates the importance of topics for social advertising interaction.
This circle of friends advertising to Gree chairman Dong Mingzhu image-based, with "I am Dong Mingzhu, improve the level of Chinese manufacturing is my life's pursuit, I decided..." the text, there is a story of "Ms. Dong" has always been the topic of the topic, with chinese-made national feelings, further enhance the topic, especially in the "two sessions" period, the topic attention doubled, access to very good social interaction effect.
The total exposure of the ad83.26 million times, the number of likes and comments is as high57.48 million, in the history of the home appliance industry in the interactive rate of the highest.

Screenshot of the Gree Electric Friends Circle ad
Promote conversion
Increase sales and achieve product efficiency
New products listed, and then fancy marketing and promotion means to finally implement to the sales.
Friends circle advertising online for more than a year, with the continuous enrichment and improvement of product and service capabilities, advertisers "product efficiency in one" delivery needs have been better met.
Tencent's social advertising team conducted a comparative study on the improvement of the conversion rate of user-switched machines after mobile phone brands placed friends circle ads. The study showed that in the three months after the ad was placed, the conversion rate of the ad exposure group was higher than that of the unexposed group among the four new machines in the study. The average conversion improvement rate is close to 30%.
This year's Samsung Electronics and Kyeon Teng program launched the Samsung Gareth S7 Edge first case conversion results are excellent. Based on users' buying and usage habits in JD.com, it is targeted to users who may have expectations and willingness to buy Samsung brands and S7s. In the end, the number of appointments for samsung's Gells S7 edge grew from 2 million before the ad for Friends circlesMore than 6 million, breaking the record for the first appointment of apple 6S in JD.com. Visible, in the circle of friends can also achieve heart-tinging action, product efficiency is no longer a dream.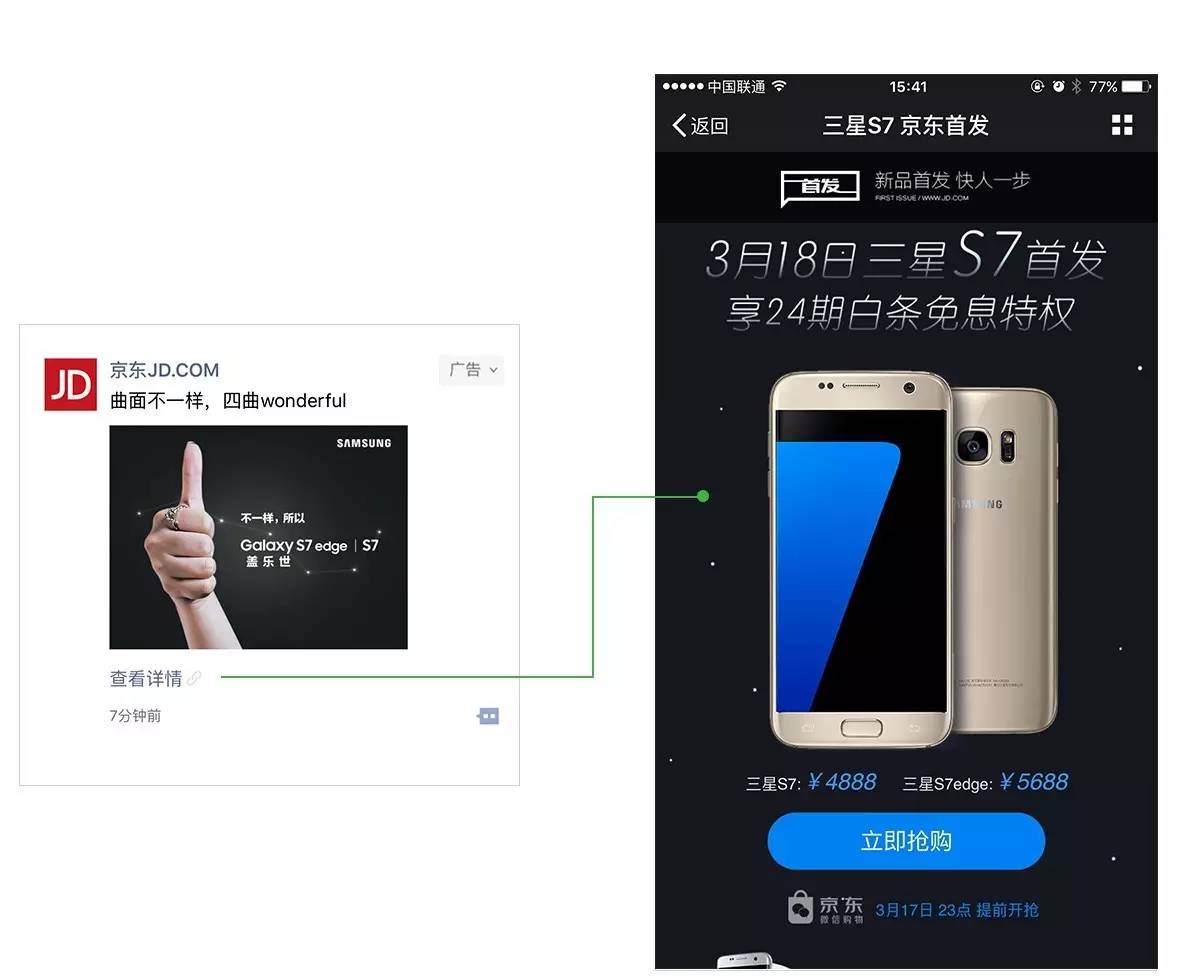 Samsung S7 Friends Circle ad booking purchase process
Through the above series of cases can be seen, friends circle advertising from all angles can meet the marketing needs of 3C new products, for advertisers to provide a set of not only to get sufficient brand exposure, but also to achieve high sales conversion of social advertising solutions.
With the classic product form and rich social big data of friends circle advertising, advertisers can achieve good marketing results with the right delivery strategy and high-quality creative materials. Looking forward to the second half of more advertisers in the circle of friends advertising to create beautiful marketing data.
---