With product thinking to do social advertising, at the forefront of WeChat are extremely serious
Last week, a WeChat topic advertisement appeared in many users' circle of friends, this "guardian program public service action" launched by the circle of friends advertising, at first glance seems to be a regular anti-fraud public service advertising link, but users click, will enter a short video, small program modules and selected message area composed of multi-functional page.After the topic advertisement was launched on August 9, the user feedback was good, promoted the public welfare products, but also let WeChat social advertising another kind of upgrade into more public view.

Based on innovations in social advertising, this issue of ID:quanmeipai combs through and analyzes the deep work of social platforms represented by WeChat in social advertising.
It's not just the Circle of Friends ad
Public numbers, small programs and circles of friends constitute the main scenarios for the dissemination and feedback of social advertising in the current WeChat ecosystem。At this stage,The public number has taken on the task of connectors, open an article, long, H5, small programs, short video, KOL and so on, everywhere can be seen vivid cases;Small program began to evolve from the initial e-commerce, small game functions into an APP-level application plug-in;Friends Circle ads are gradually saying goodbye to pure algorithmic distribution and like comments, moving further and further along the interactive path.
This time the upgrading of the circle of friends advertising, will undoubtedly aim at WeChat ecological brand launch more imagination space, polymerized topic advertising has the potential to produce:
1, with the help of diversified content, the brand can tell the story more complete and vivid;
2, set jump to the floor page, for small programs or other pages to increase exposure and diversion;
3, special topic message area to help brands timely receive user feedback and respond.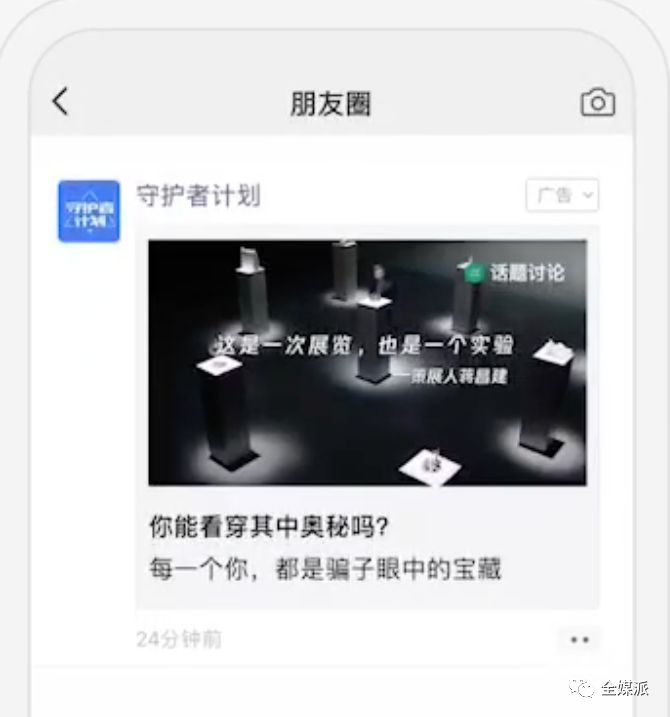 WeChat topic ads push scenes in the circle of friends
SoTopic advertising is not only a circle of friends advertising, but also a "product and content" linked brand community zone。On the one hand, WeChat in the past two years the main push of small program products has become an important part of the new advertising pattern;On the other hand, short videos and topic areas demonstrate proven content creation and operational capabilities.
In fact, WeChat is used to do product thinking in the update platform advertising pattern, review the development of WeChat circle of friends advertising, such a concept.Starting with the first burst of advertising by brands such as BMW in January 2015, more precise push, more interactive carriers, and more diverse categories have never stopped.Prior to the recent emergence of WeChat topic ads, friends circle advertising in the main mode of presentation in just a few years has experienced from images, website chain to H5, short video, small program evolution.
Combined with the platform ecology to the advertising pattern of hard work, and soon got feedback.According to the Mobile Social Advertising Industry Report,In 2017, just two years after the ad was born, more than 75 percent of advertisers are inclined to run it。
It's not just WeChat
Over the past few years,Social media users around the world have witnessed the enormous power of strong advertising on social platforms。
On Instagram, social ads can be pushed according to different levels of need, typically as follows:
1, push specific products or deepen awareness, brand-related images or videos in a hard and wide form into the user's timeline.
2, for the brand account streaming, you can brand Instagram stickers directly into the timeline.
3, precise positioning of certain groups of people, can be highly relevant KOL content implanted.
4, access to user preferences and needs, with story video to achieve close communication.
5, directly converted to sales, can be accessed in advertising e-commerce sales page.
Videos and images aggregation ads on Instagram

Other popular social platforms, such as Facebook and Snapchat, are also creative in similar instant experience ads, scroll ads, slide ads, aggregators, and story ads.A common user feedback is that on these social platforms, ads are sometimes more fascinating than normal information.
WeChat's concept of productization of social advertising is also a basic consensus on platforms such as Facebook, Snapchat and Instagram.Observe the current stage of good social advertising, its characteristics are also very product-style:Either.Interference with the user is low, for example, stand-alone display ads on YouTube do not interfere with users' viewing by plugging in;Either.The ad itself captures the user's heartFilter ads, such as Those on Snapchat, can be secondaryly processed with dynamic filters, adding to the fun of the ads.
It's not just temporary air
According to the traditional saying of the advertising industry, where consumers are advertisers, in the social platform MAU has broken billions, broken 1 billion background,Social advertising represents an important trend in digital advertising in the future。But it needs to be clear that this is not just a short-term culture derived solely from the explosive growth of social media, which works well and is likely to create long-term prosperity.There are three main reasons:
First, the data show thatThe number of social media users worldwide has reached 2.7 billion, and that number is growing year by year。On the other hand"After 00" is gradually becoming the main force of mobile Internet consumptionThis means that in the coming decades, social advertising's already sturdy audience base will multiply, and the spring breeze of socialism will continue to blow in an age of bubbles.
SecondBehind the catering of social advertising to the needs of users, there is a change in the user's view of consumption。People today are getting used to spending on social media and even relying on it.This has helped social advertising gain irreplaceable advantages in communication and reality.
Third, the global boom in advertising revenue on mobile devices is visible to the naked eye.Music, video and social media platforms have become the most direct dividend-sharers under the national social trend。
Therefore, this is undoubtedly the best time for social advertising.However, if the advertising as a decade as a day of repetition, then advertising to the user is constantly preaching and disturbing, and then the great advantage will eventually be exhausted, social advertising is only a flash in the pan.
And the productization of advertising, is a decade as a day to pursue subversion.WeChat, which is at the forefront, has been sending a signal that:Advertising should not be just advertising, but should be like a product, can upgrade iterations, can please the user, and only in this way can stand the long-term test of the user and time.
---