Tencent's next growth engine: social advertising

Tencent's revenue structure has also been adjusted as it accelerates its layout around its two strategies, Connector and Escalator. In addition to game value-added services, online advertising revenue is rising rapidly. In 2015, Tencent's online advertising revenue was 17.468 billion yuan, up 110% year-on-year, with more than 65% coming from mobile platforms.
Social advertising will be an important part of Tencent's Internet plus connection to the business world.At present, the development of social advertising in China into a new cycle of shift speed, in the long run has a very large growth potential. Tencent, As China's largest social platform, has proposed AD Plus (Advertising Plus), which will take advantage of innary advantages and strong growth momentum to promote innovation in social advertising upgrading and build a new digital marketing ecosystem.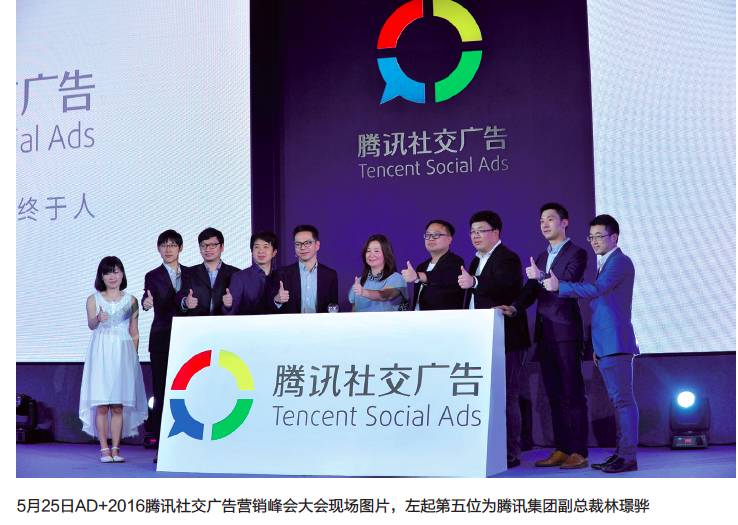 Three trends in social marketing
1. Social advertising has become a trend.
More than two-thirds of advertisers increased their social marketing budgets and workforce spending in 2015, according to a Nielsen report released in early 2016.Tencent's internal research also found that users were more accepting of social advertising than they were.
Why is social advertising so popular?There are three main reasons:(1) The degree of interference is low.In the era of mobile social, users have unprecedented control and control over social media content, and social advertising is to respect this experience, under the premise of users to bring interactive, interesting advertising content;(2) Can be delivered accurately.Based on a large amount of user data and strong precision targeting ability, social advertising can be done in the right time, right place, in the form of pairs in front of the right users. In this way, social advertising will not only not interfere with users, but also has value;(3) "Immersive" advertising experience.Social advertising is a kind of rendering form of advertising, which can make users enjoy and satisfy the content of the advertisement itself. In addition, Tencent's social platform, for example, has its unique basic capabilities of public numbers, vouchers and payments, which allow advertisers to communicate deeply with users and lead to more leads.
Take BMW's video ad in WeChat's Friends Circle, which is about 14 seconds long and appears in the target user's circle in a silent, auto-playing format. If the user is interested in this ad, they can click directly on the video screen to watch the full ad content. As a result, social advertising balances less interference with precise interaction. In addition, if users want to learn more about BMW's offline purchase information, you can also directly click on the link to book a test drive, which is not possible in ordinary video ads.
2. The integration of product effects will be further intensified.
In the PC era, there is a clear distinction between brand advertising and performance advertising. Brand advertising focuses on building word-of-mouth and expanding brand awareness, while performance advertising tends to focus on promoting buying behavior and increasing sales. In the age of mobile connectivity, however, the distinction between the two is becoming increasingly unnecessary.Today, "product-to-effect" conversions don't happen on a case-by-case note, and if users are really interested in advertising content, buying can happen at any time.Social advertising not only has a good brand rendering power to impress people, but also through payment, application market, public number and card coupons and other connections and smooth experience, to stimulate user purchases, app downloads, offline consumption and account attention and other conversions. In addition, the unique interaction and diffusion effect of social advertising can also further amplify the effect of "product efficiency in one".
The WeChat Friends Circle ad for skincare SK-II is a representative case. It is also in the form of video advertising to the target user personalized advertising display, in the same social scene, if the user is really interested in advertising content, products, will use the public number, payment and other closed-loop capabilities, direct attention and purchase. On the day the ad was launched, SK-II's sales were about 5-6 times the historical level, and the number of fans of official public subscriptions grew by nearly 20,000, equivalent to the usual two-month increase.
3. Social video ads will be the next tipping point.
Why do social video ads explode?First of allAt present, the social platform has a very large number of users, such as WeChat and Wechat combined monthly active accounts reached 762 million, QQ monthly active accounts reached 877 million, which compared with the television audience size is only a lot more, not to mention the number of social platform users continue to grow;SecondlyThe era of mobile socialization is an era of "golden times", through which advertisers can reach hundreds of millions of users for most of the day;At lastSocial video advertising is a very powerful form of advertising, not only to deliver creative content to users, to provide an "immersive" experience, but also to better stimulate the user's next steps, such as access to the brand's official website, discussion with friends and complete the purchase.
Drive marketing evolution with data and technology
In 2015, Tencent's Guangtong and WeChat Advertising Center merged to form the Social and Performance Advertising Department. During the year, Tencent Social Advertising made three attempts to better drive the development of social advertising:First, the integrity of the advertising system itself.We use the advertising system as a pipeline to build systems such as data collection, data operation and data mining, so as to understand, segment and optimize user data, and clearly identify target users in the vertical field;Second, advertising as part of the content of the platform, the common evolution.WeChat founder Zhang Xiaolong has proposed the two values of "all based on user value" and "let commercialization exist invisibly". We believe that bringing value to users is the basis for commercialization, and advertising should also be valuable content. Therefore, Tencent social advertising and WeChat, QQ, QQ browser and other product teams in-depth docking, and product evolution, and constantly optimize advertising content;Third, the introduction of professionals to serve advertisers.Because the number of advertisers is relatively large, and from different industries, have different marketing demands, so in the past year, on the basis of the merger of Guangtong and WeChat Advertising Center, Tencent social advertising from outside the introduction of many professionals to help advertisers better use the system capabilities, better according to product form advertising ideas.
In the future, Tencent hopes to build an advertising ecosystem centered on users and advertisers. Tencent has always insisted on putting user value first, hoping to ensure that the user experience on the basis of continuous business upgrades.In order to do this, advertising must be part of the value of content, while personalizing, scene-based, and accurate delivery and other related optimizations.Tencent is currently working with some of the world's leading 4A companies to help advertisers gain a deeper understanding of the social marketing environment, resulting in high-quality branding and sales promotion. In addition to some traditional metrics, Tencent is also actively building social indices to make future social advertising performance evaluations more specialized.
Compared with Facebook, Twitter and other international social platforms, Tencent has a clear comparative advantage, that is: because Tencent's revenue mainly from game value-added services, unlike Facebook, Twitter and other major rely on advertising for commercial realization, so in the process of commercialization of social advertising, Tencent will be user-oriented, and have more residual power, can develop more calmly and attentively. In the development of social advertising, Facebook and Twitter through algorithms and product form optimization, etc. , has made a lot of efforts, Tencent in the future will fully learn from its strengths and based on their own advantages, to provide advertisers with more valuable services.
Lin Yu, Dictation, Essays, Interviews, Li Jian, Editing
Lin is vice president of Tencent Group and Wen Wei is a special contributor to the Chinese Business Review.
See harvard business review July 2016 social advertising, the future has come.
Harvard Business Review and Marketing
Editing by Ma Xuemei xuemeima@hbrchina.org
Press and hold the QR code to subscribe to your "Excellent Password".
---