50% waste of social advertising, is there a better solution? (with private PPT)
Have you ever thought about it?
Why invest a lot of social advertising effects but "invisible"?
Do you know?
Coca-Cola pays $1
Traditional advertising pays $2.13
Digital advertising, on the other end of the day, pays just $1.26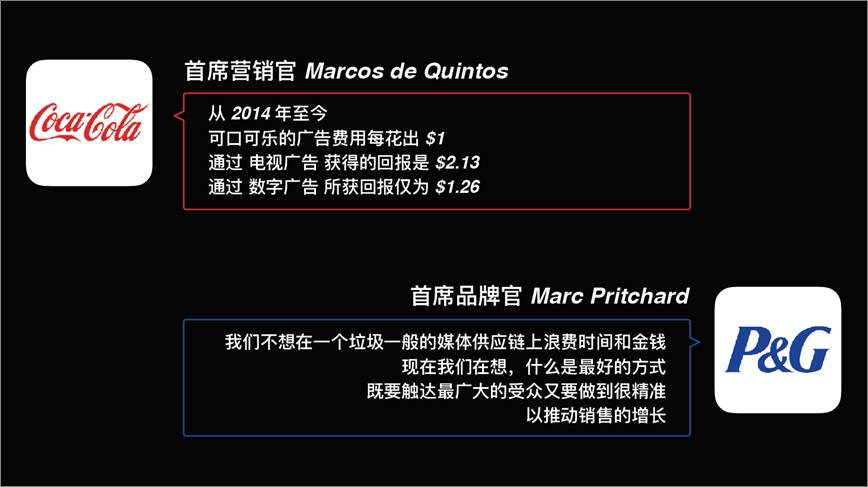 We reflect
Why data mining has grown to this day
Still can't steadily add brand value or sales growth to advertisers?
Why social advertising is still a seemingly effective and seemingly ineffective ad
Even almost all advertisers waste 50% of their advertising spend?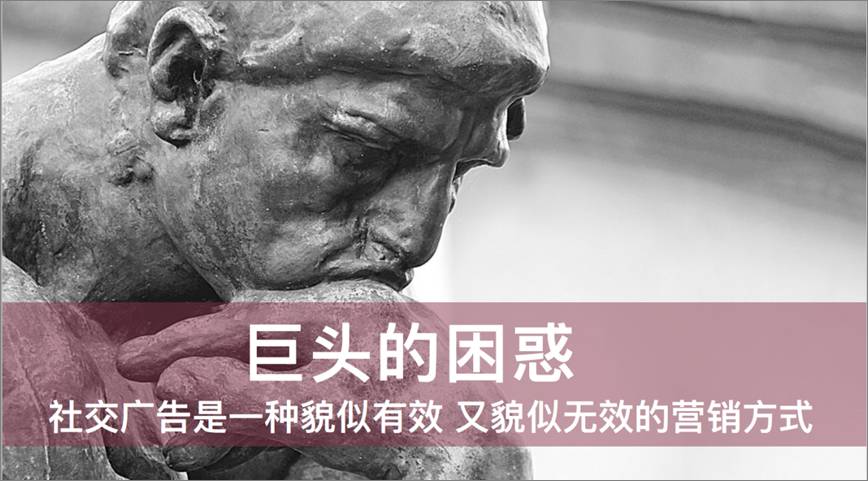 Recently hosted by a trick, Changjiang senior management education and Omei Group for the support of the "new media content marketing private meeting."With Uncle Dao and Mimi Meng and book co-founder Zhang Deqian for the first time exposed the "3 billion U.S. dollars of social advertising waste truth", and boldly put forward efficient social advertising "new example" solution, caused a strong reaction in the industry.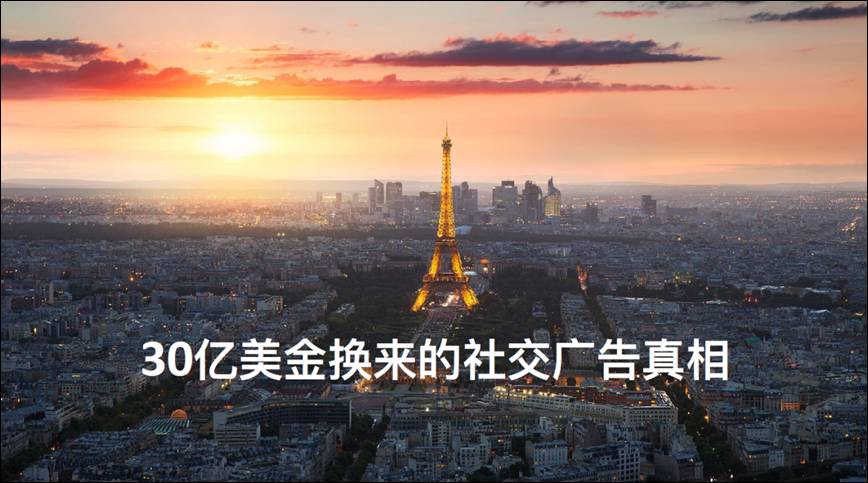 007 Specially refined four parts of the content and Jun think about how to make social advertising "effective", "efficient", promote growth, and even continue to promote sales growth.
Digital advertising mystery three keywords
It is believed that almost 100% of businesses have invested in social advertising
Contains KOL self-media.
Why Mimimon 680,000 / soft article, customers are still flocking to it?
Because a lot of customers say "effective"
What is "valid"?
It's not just KPI-based data such as reading like-and-forward sharing
More importantly, does it have an impact?
Directly or indirectly bring fans, users, and even sales and opportunities?
Many advertisers complain that they have invested so much money, but sales don't seem to be growing too much, or even negative growth...
There are three common logics to this: the first is effective, the second growth, effective growth must be driven, if growth is of course effective, but if the long-term large-term large-term investment is still not growing, then there must be a problem, this problem is the third "water".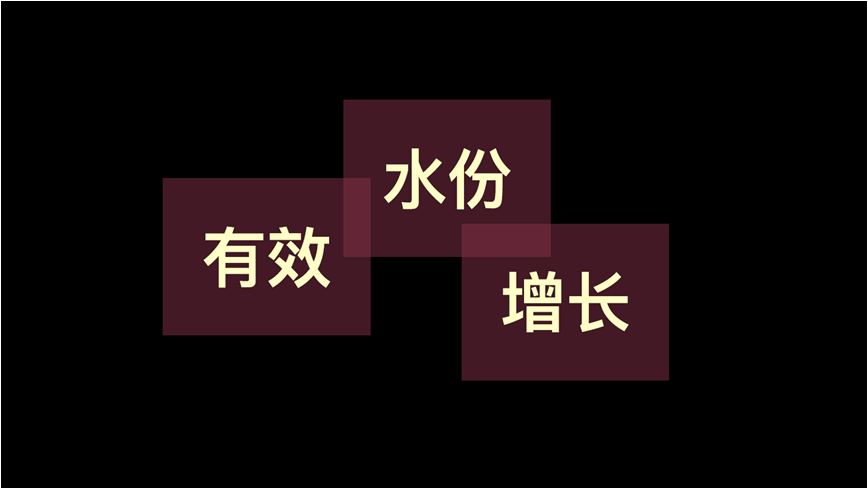 Peel off the inefficient onions of social advertising
The advertising industry has a problem like Goethebach's guessIt was proposed by john wenamek, a famous advertising guru: I know that half of my advertising expenses are wasted, but unfortunately, I don't know which half is...
Q1, on the "water" reflection, the essence is to solve the visibility of advertising.
100 million displays, of which "false traffic" can be lost 36%, "invisible" will lose 54%, "non-focus" and 41%, and finally "user blocking" removed 23%, the last how much? There are 13 million left, from 100 million from the beginning to 13 million left, and that's the visibility of advertising in the advertising system.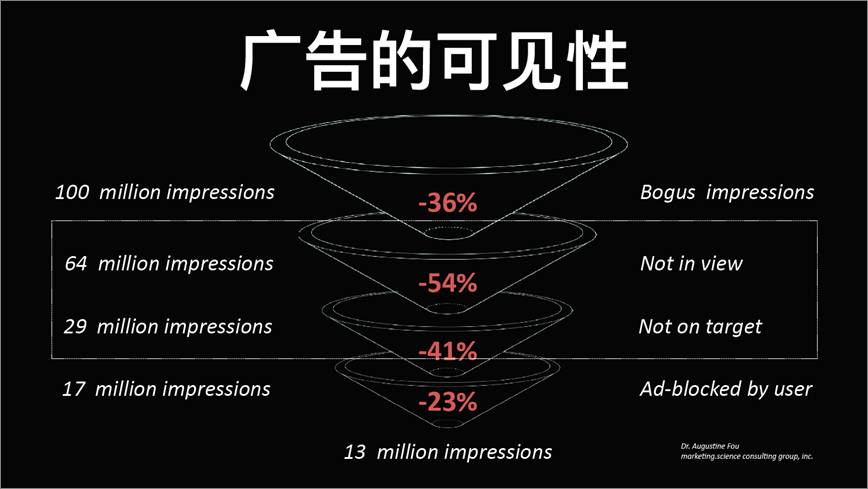 Uncle TongDao said, the user's mental unit is very small, can not see and no focus, such ads do not do.If we can have a good way to improve the visibility of advertising, then advertising efficiency will be greatly increased.
Q2, on the "effective" reflection, the essence is based on the cognitive psychology of people rather than the form of display.
The traditional advertising theology holds that the essence of advertising is to occupy the mind, and the emerging technology school holds that the essence of advertising is precise informing.When we do marketing, we confuse the two, the occupation mind is aimed at the public, accurate notification is for the individual. So the essence is the difference between mass marketing and precision marketing.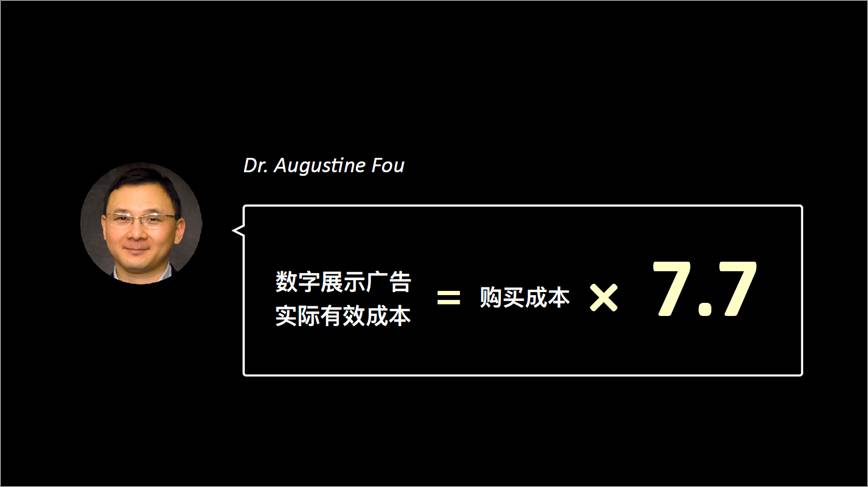 For example, including BAT and other well-known companies in the annual advertising is hundreds of millions of billions, why finally look for "PUBLIC relations 007" such a public relations marketing vertical number to run it? Because accurate coverage of the industry, can affect influential people, and this is the mass media and the mass KOL simply can not do, and the cost is relatively other can be described as "nine-and-a-kind", but "influential effect" is really visible.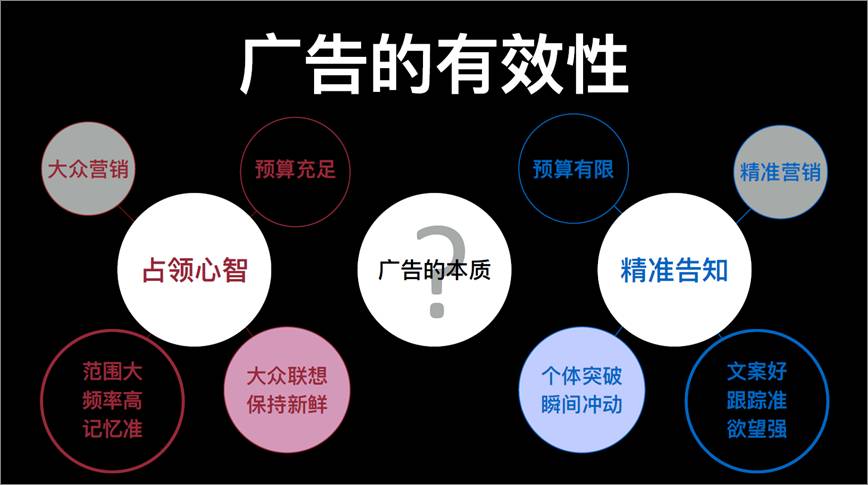 Q3, the essence of "growth" reflection is "mind" and "channel".
Companies invest a lot of money in advertising, and the ultimate goal is to drive sales growth. So what is the nature of growth?
If the market target group is drawn into a circle, as the total number of target groups, there are at least two types of customers: one is called "heavy customers", is loyal customers, accounting for no more than 5%, one is called "light customers", is the average customer, accounting for more than 90%.
On this point, we can easily fall into the "new media idealism", the idea that through a series of operations of the new media can lie down to make money.
This approach is very conducive to maintaining the early fan base, to obtain brand satisfaction. But from a brand pragmatism perspective, more than 90% of customers are not loyal at all. The 1990 law of the Internet, for every 100 people who watch your content, only 1 person will interact with you, 9 people just like, and the remaining 90 people will go after reading it. How brands do doesn't matter to them at all.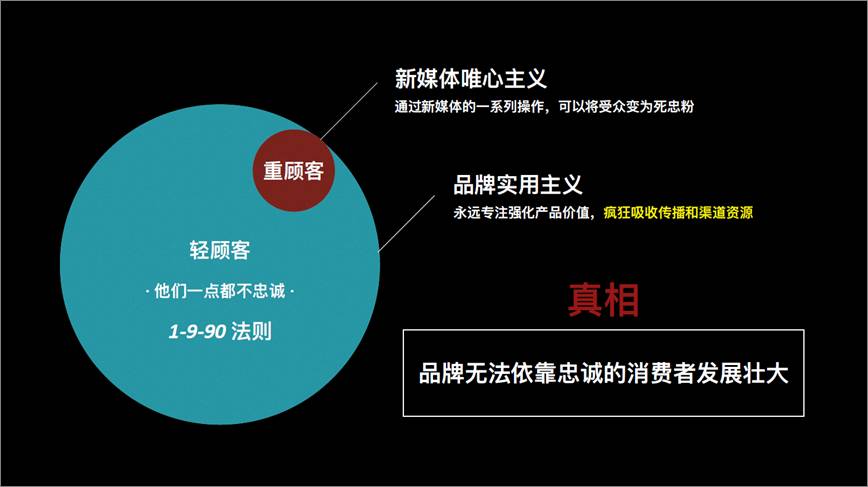 Therefore, the brand pragmatism approach, is always focused on strengthening product value, crazy absorption of communication and channel resources. Product value, only positioning, in order to provide identification through creativity, through advertising to let consumers "remember" and "remember for a long time", only crazy absorption of communication and channel resources, in order to let consumers "don't forget" and "buy."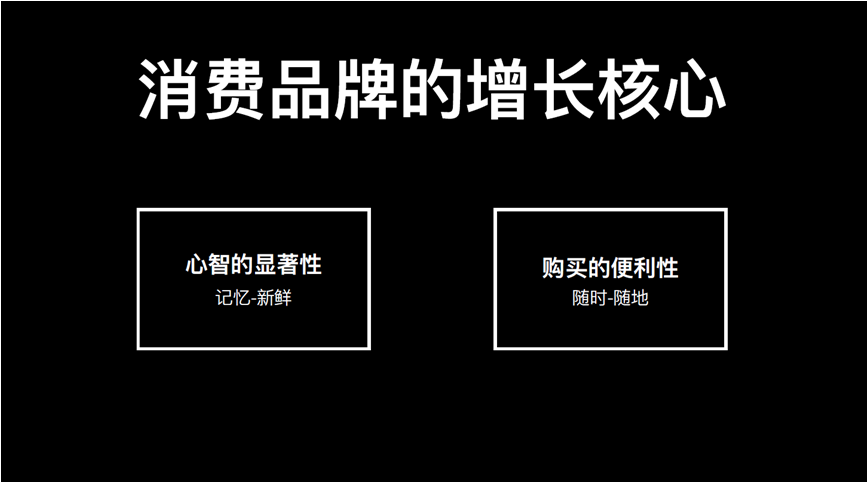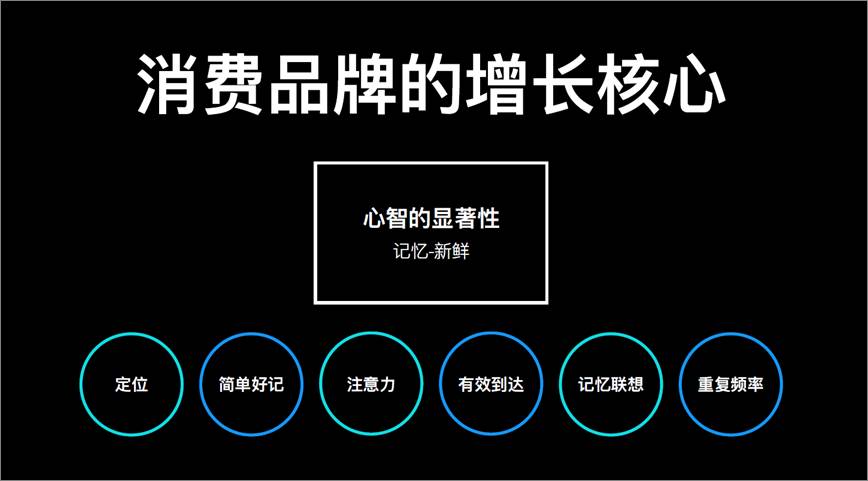 With mobile phone brands as a reference, we found that: the popular brand, it is absolutely impossible to rely on loyal users to grow and develop.
In 2016, China's Huawei, vivo and OPPO brands sold particularly well because their advertising and publicity were particularly good, with extremely high rates of notification, arrival and frequency. In terms of channels, you can see their products on sale in the cities of May 678, and you will see many stores doing promotions, piles, and even store packaging, reminding consumers to buy my products all the time. Two other brands are falling, the first is Apple and the second is Xiaomi. On closer inspection, we found that Apple's decline in two quarters has narrowed a lot, that is because every year in March and September Apple issued new products, as long as he issued new products will always occupy the media position, is a media focus, this is the period of Apple's arrival and frequency increased, so this stage will shrink. Now we find that Xiaomi has started to ask the spokesman, began to large-scale advertising.
Solutions for efficient social advertising
Whether it is traditional marketing or social marketing era, "remember", "remember for a long time", "don't forget", "buy" is still the magic weapon of mass marketing, and the premise of this is to do "visible", "focus".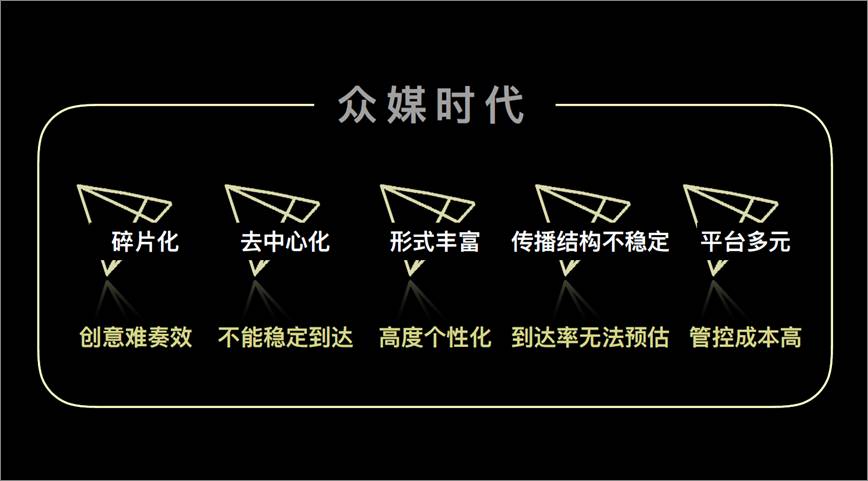 We are familiar with the way television ads are evaluated, gross reviews, including the frequency of advertising and display frequency two parts, in which the frequency of display in the new media is often ignored by us, how can we solve this problem?
A new media marketing platform industry first, put forward the "data fraud - strict selection" and "display frequency - new examples" of innovative social advertising solutions.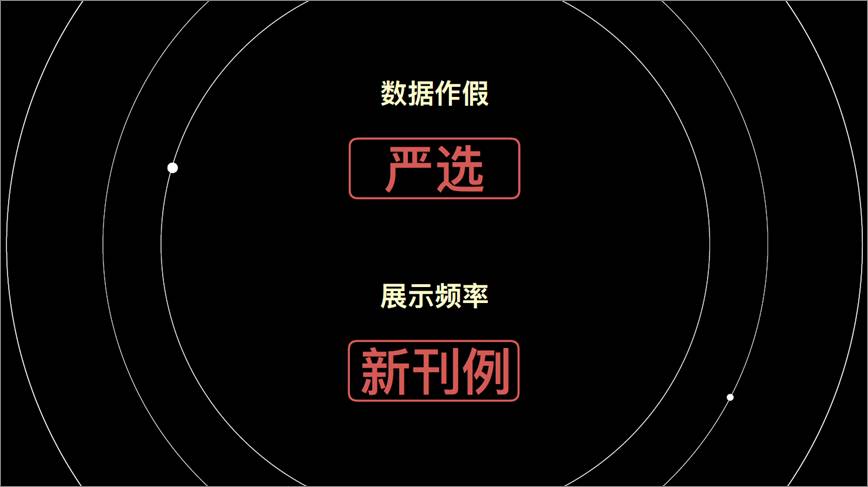 First, in response to the question of "water",A new media marketing platform to launch a "one-trick strict selection", monitoring screening to ensure the authenticity of the data, at the same time with Mimi Meng, uncle, book and other self-media have in-depth cooperation, mutual commitment to the authenticity of the data, while the data can be released, business and content integration.
Second, for the "frequency" question,"One trick" boldly put forward a "new example" solution. "New example" is in WeChat ecology, in addition to the native content advertising implantation, including the title of the picture, separator, original motion picture, end-of-text activities and other forms of exposed implantation, to do not interfere with content reading, enhance the reader's memory point as a prerequisite.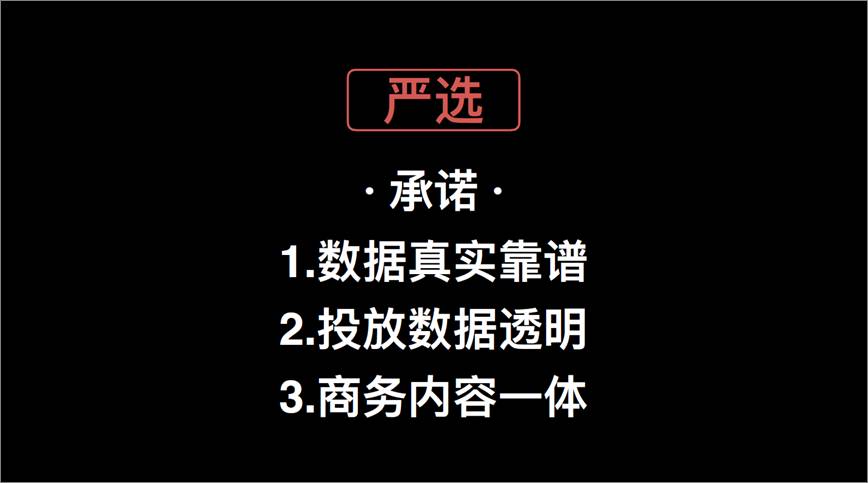 Innovations and advantages of the "New Journal"
What's the difference between a "new publication" and other third-party social advertising platforms? What are the advantages? 007 found that the "new publication" self-media coverage of the population,Mainly the current brand launch and creativity is very concentrated in the three categories of people, the new generation, new women and the new middle class.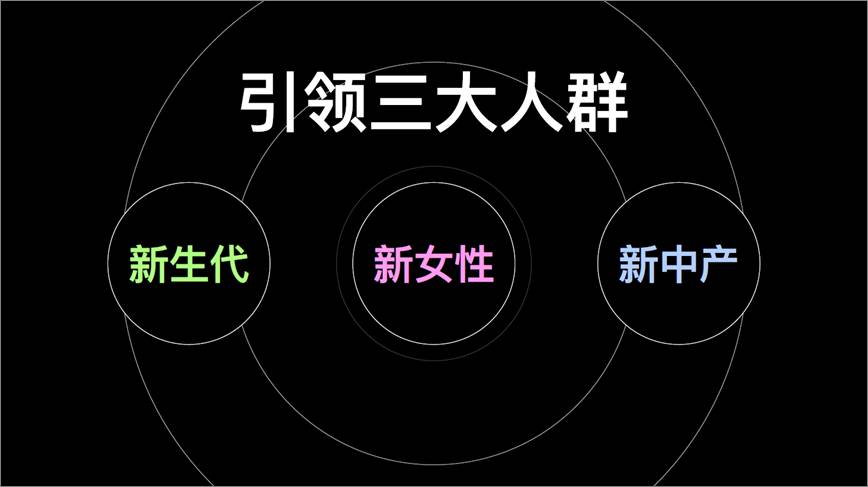 What is the specific form of cooperation and operation of a "new publication"?One trick co-founder Zhang DeqianDetailed explanation: For example, if there is now a new product release, you can through the "new publication example" under the leadership of a group of self-media, together to interpret a new product, through soft implants and hard display of the form of a combination of a certain frequency display, consumers in a certain stage, can maintain the memory of the brand.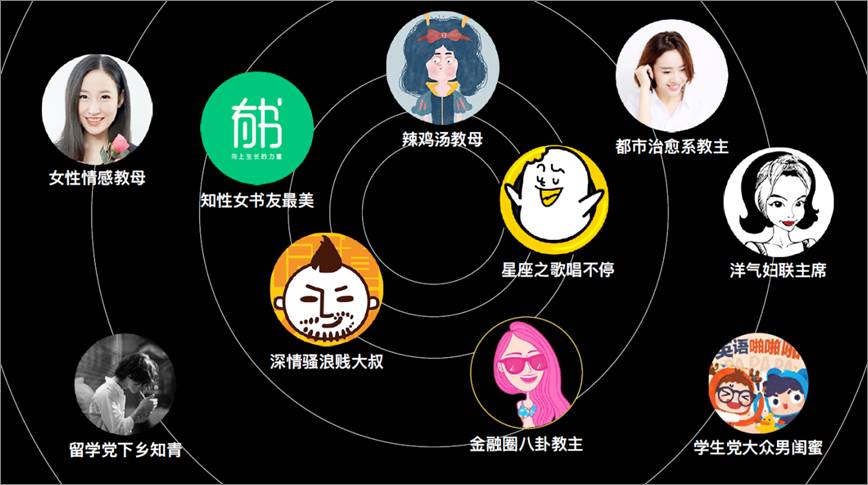 For example, the characteristics of Uncle Tongdao in the "new publication example" display: first, fans will find the "author's name" this new publication form, "favorite brand uncle", and then can then do a motion picture, by the same way personally to demonstrate the product. Follow the reading habits slowly and then down, not at all interfere. At the end of the text can have "discover eggs" in the form of a new publication, in fact, "white on a white background", after the election will find the brand-related text content, through voting, messages, gifts and other forms of interaction with fans.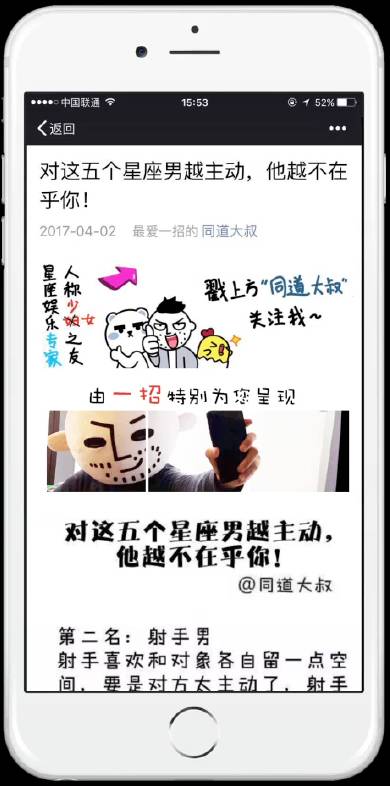 An advertiser who has teamed up with a "new publication" to get a taste of the sweetnessRepresentation: The effect is indeed more than expected, in addition to the fan matrix unified stable delivery and rich and diverse forms, the most important thing is to use gross reviews to evaluate, which is its strength. Uncle Dao's WeChat fan base has about 1.5 million readers and an ad reach rate of 20%. Our brand has 3 shows in a single, 3 times a week with frequency promotion, gross reviews will be 180%. For consumer goods, can reach 5000 gross reviews, in fact, in the minds of consumers memory is already quite high, can now do 1-2 million is simply very cattle.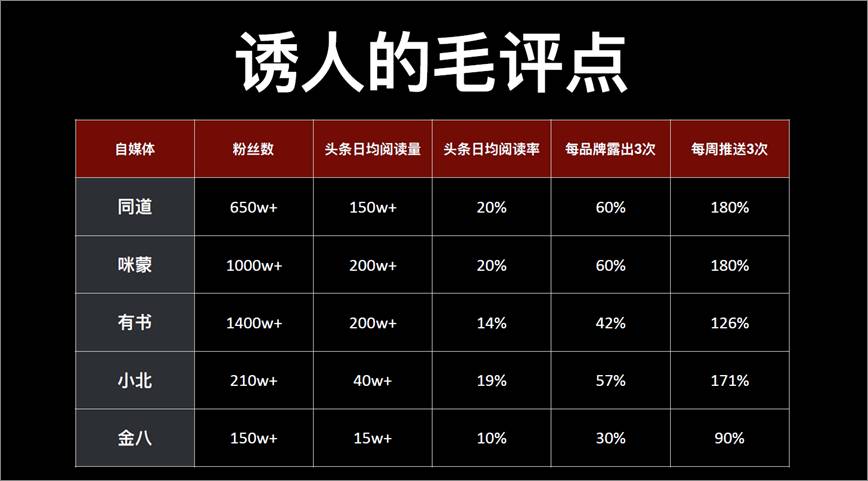 According to a veteran new media industry observer:At present, WeChat channels, especially since the media launch, for many popular brands, the delivery is relatively extensive, communication costs are high, can not be unified to form a joint force, low effect, a "new example" of accurate population matrix coverage, to ensure that can greatly reduce wear and tear, while solving the frequency of the problem, not only can be customized delivery frequency, but also through soft interpretation, interactive memory and effective display, greatly maintain consumer memory freshness, improve advertising efficiency. In the past has not been that third-party platform to do so, is very "bold" exploration and attempt, from the current effect, really achieved "efficient".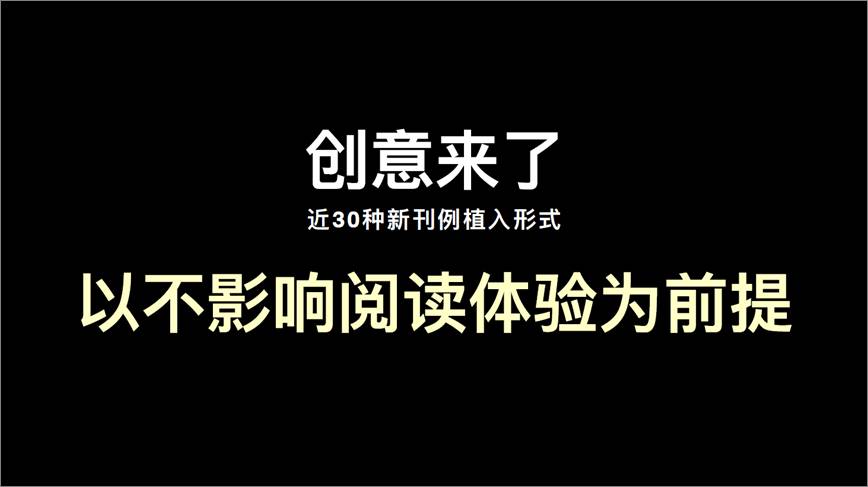 Einstein said that without some kind of bold and unbridled speculation, there is generally no progress of knowledge. A "new example", as an "efficient" social advertising innovation solution, for "seemingly effective, it is not effective", 50% of advertising wasted advertising environment, no doubt like a needle of chicken blood, let us see the real "therapeutic effect."
Long press and hold QR code plus a little help!
Ask for the truth about the $3 billion waste of social advertising
Full text of the speech PPT andEfficient."New Example" of Social Advertising

Contains real data from the media KOL, effect gross reviews, co-price...

----------

---------
PR marketing「Case review」First from the media


PR 007 (ID: PRSPY007)

Qingbo 2015-2016 most commercially valuable new media
Panda 2016's most influential original PR spread from the media

Reprint please sign the author and ID number / violator must be investigated

Breaking news, contributions, collaborationThe community

Hook up: QQ/WeChat 896271031
Cooperation:QQ/009 Girl 2154284698
---