Social Marketing . . A guide for foreign social media nods -- efficient integration of SEO, social and content (above)
Today's SEO is no longer dependent on social media.
The role of social media in SEO (search engine optimization) and whether social media has an impact on SEO is a topic of discussion. The article is divided into two articles, analyzing the latest cutting-edge knowledge of the efficient integration of SEO, social, and content on foreign social media, and further demonstrating the importance of social marketing: today's SEO is no longer inseparable from social media.
The position of social media in marketing strategies has changed. Now when people talk about SEO, they tend to talk about online marketing, which is when people confuse SEO with online marketing. But if you've studied digital marketing before, you should knowSEO is not the collective name of all online marketing activities, but refers to a series of key optimization measures (such as website restructuring, content construction, off-site promotion, etc.) to improve the ranking of web keywords.
Online marketing typically includes the following:
SEO (Search Engine Optimization)
SEM (Search Engine Marketing)
PPC (pay-per-click)
SMM (Social Media Marketing)
SMO (Social Media Optimization)
These five activities have a direct or indirect effect on each other. We must first distinguish between these five concepts before we can better understand the interaction between them and the process of change of role. To understand social media today and tomorrow, let's take a look at his yesterday.
A few years ago, it was widely believed that social media marketing (SMM) and social media optimization (SMO) directly affected SEO, and not only did SEM and PPC activities improve search results rankings. Companies and marketing agencies around the world have incorporated their social media campaigns into their SEO strategies, hoping to use their social media operations to improve content quality, broaden their audience, and increase their reach to improve their ranking in Google's search results. Marketers campaign around specific keywords.
Not everyone agrees, but most people agreeSocial media has a direct impact on search results ranking.In particular, a 2010 statement that social media was one of the factors affecting the ranking of search results was widely accepted.
Interestingly, Matt Cutts, a Google employee who publicly stated that social media had a direct impact on SEO in a 2010 video, released another video in 2013 clarifying that Google does not incorporate social factors into its search algorithm, i.e. that social media does not have an impact on search results rankings (source: Kissmetrics)
So what do these events mean about the relationship between social media and SEO? Let's analyze it.
1, Google clarified in 2013 that its search algorithm did not take social media into account. I think it's becauseGoogle currently has no ability to crawl and process all content on social media for the time being。 That means not everything that can be retrieved is incorporated into Google's algorithm.
2. You will find that the first page of Google search results usually appears search term-related page description and URL address, so if you want to enhance the SEO effect, then you can try to build a suitable social networking site page description, optimize your URL name.
3, 2010 video communication is based on google and Bing research. Bing has not publicly denied the impact of social media on Bing's search results. Bing indicates that in its search algorithm, theHow often and how often a link is retweeted on Twitter, and the authority of the user who forwarded the link"As an argument. (Source: Kissmetrics). Why Bing? Because Bing search engines in the U.S. account for 30 percent of all searches in the U.S., many devices and platforms (such as Apple's Siri, Kindle Fire, Amazon Fire phone, Xbox, Twitter) use Bing by default. (Source: Entrepreneur)
In addition, social networking itself is a search engine. Users can search for tweets on Twitter and discover businesses, products, and service providers on Facebook. Instagram is a great platform for fashion, beauty, food, fitness and more. In addition to these, there is YouTube.
No matter which channel or platform you use, potential customers will sooner or later search for public accounts on corporate social platforms, so your social media pages will rightly appear in Google's natural search results.
A description of the special content on Google's time stream
Some social media content, such as articles on Twitter, appears at the top of google search results, as follows: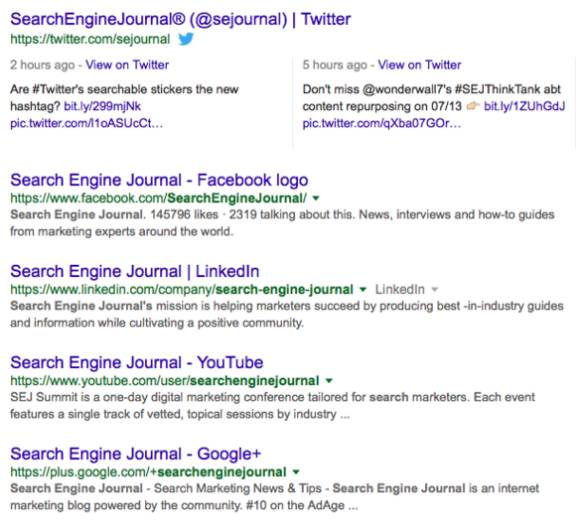 If what you post on social media becomes a hot topic right now, you're still likely to be retrieved by Google and displayed in search results. Of course, this is very demanding for content, and usually only very unique and popular content can be retrieved by Google. Previously, this content generally included current hot news, Wiki essential content.
Businesses can optimize social media marketing by inserting current hot words into created content, choosing the right time to release, and attracting traffic. It should be noted thatWhile Google doesn't have the ability to retrieve all content on social platforms, that doesn't mean it won't search for hot spots and essences.Google can monitor tweets in real time through Twitter's Firehose data interface - so the timeline of tweets is important.
Establish and consolidate the regional advantages of the enterprise
Social media can help companies establish prestige in a region and capture a geographic market. When companies post content on Facebook and Instagram, they can plug in their locations and stream it live on Snapchat.
Content engagement - including getting comments, likes, sharing, click-to-read, etc. - is key to social media marketing. Of course, you can't pursue these metrics at all, and businesses can increase user engagement by running ads.
Design an effective social media marketing strategy
In either industry, the social media strategy revolves around three fulc points:
1, connection (connect)
2, communication (communication)
3, coordination (coordinate)
Let's take a look at how to penetrate these three points into your business's marketing activities.
1, connection
The first task of corporate social media marketing strategy is to choose the right platform through which to reach and interact with customers. To achieve this goal, marketers must first identify the target customer base of the business. Use big data analytics to get a complete understanding of potential customers' behavior, preferences, needs, and clear content audience. In the process, marketers are likely to make the mistake of limiting their customer base to a very small range, such as 25-45 men. But in fact, companies can jump out of this box and use Google's Analytics and Facebook Audience Insights to find potential customers.
How do I use Facebook Audience Insights to filter prospects?
Marketers should try to identify 3-5 different segments first. These 3-5 sub-groups are all possible potential users of the enterprise, after which the enterprise can filter out the most desirable target group. When looking for potential audiences, you can't just think about whether users have ever liked the company's content, whether they've frequently visited the company's website, and whether they've combined conversion data.
For example, marketers can extract the email addresses of corporate news subscribers and existing customer accounts and upload them to Facebook, which matches them to find those customers' Facebook accounts. This makes it easy for companies to find their existing customers on Facebook.
To upload customer email profiles, use FacebookAudience insightsFeatures to log on to your Facebook page and then work under the Ads Manager menu. After completing the steps above, move the mouse to the upper left corner and select the "audiences" option.

Then create a new customer cluster.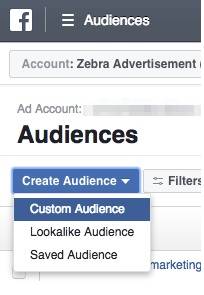 A window will then pop up and select the first option, Customer Folder.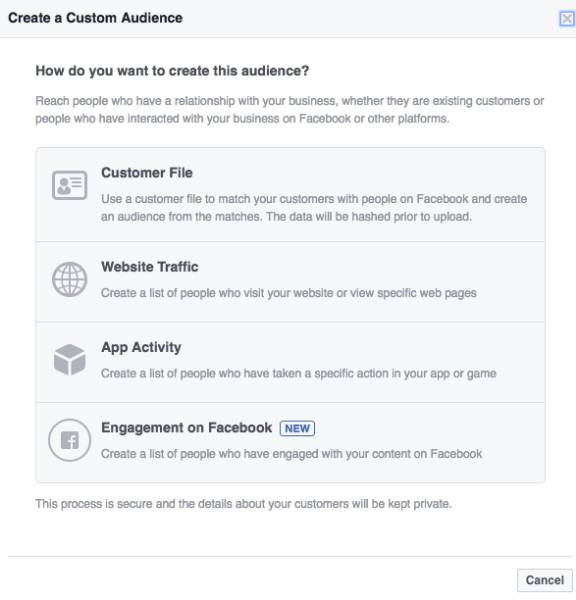 Then click the upload button.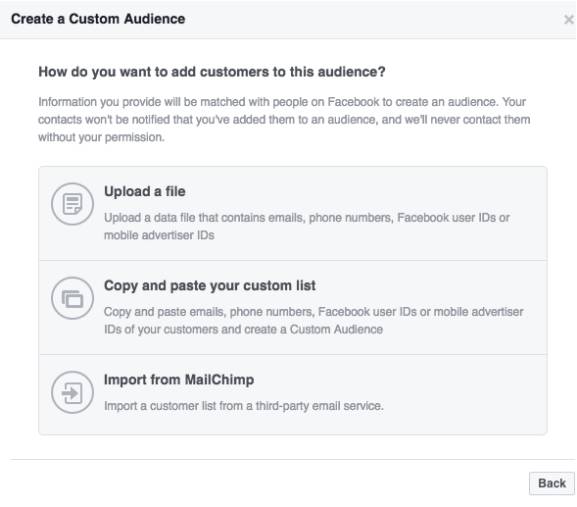 After the customer's email information has been uploaded, move the mouse to the upper left corner and select Audience Insights


Then select A Custom Audience and Facebook will start targeting people based on your criteria.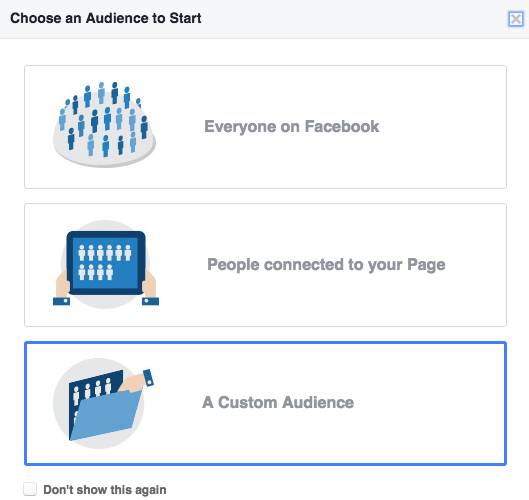 The next step is to set the conditions for target group positioning. In this article, the location is based on the user's mailbox:

Once the conditions for targeting are set, Facebook returns matching user profiles, including but not limited to: gender, education, income level, property under the name, medical information, fertility, age of the child, etc.: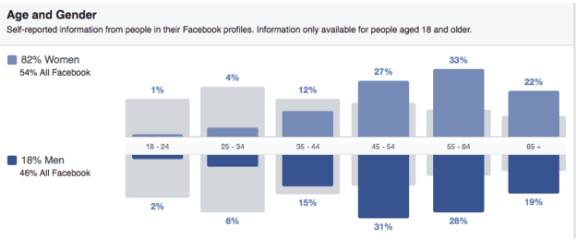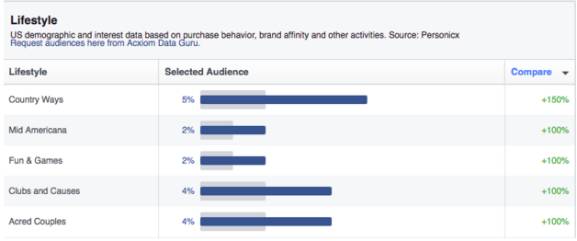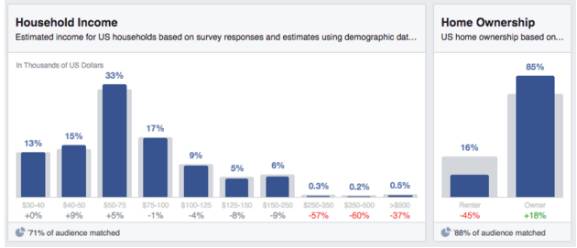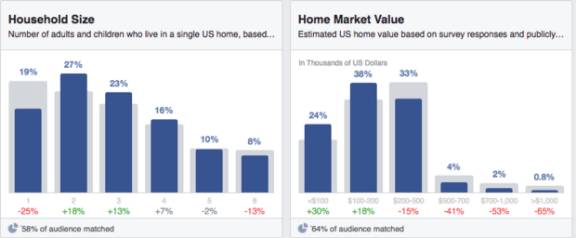 At the end of the last article
More social articles

Emoji | Picture design | Powdering | The law of twenty-eight | Increased engagement | Character rules | Template download | Brand. | Social.Video. | Information updates | Content discovery | Make a report | Video trends | Promotional forms | black growth | User segmentation | do optimization | Live. | KOL | seo Social . .
Note: The content of this article is translated by the Jiuzhilan team, reprinted please add Jiuzhilan WeChat ID:jiuzhilan or QR code. For those who do not sign, Kyushua will reserve the right to pursue.

Originally author: Christina Baldassarre (searchenginejournal)      
Translator: Lei Mengyun . . . . . . . . . . . . . . . .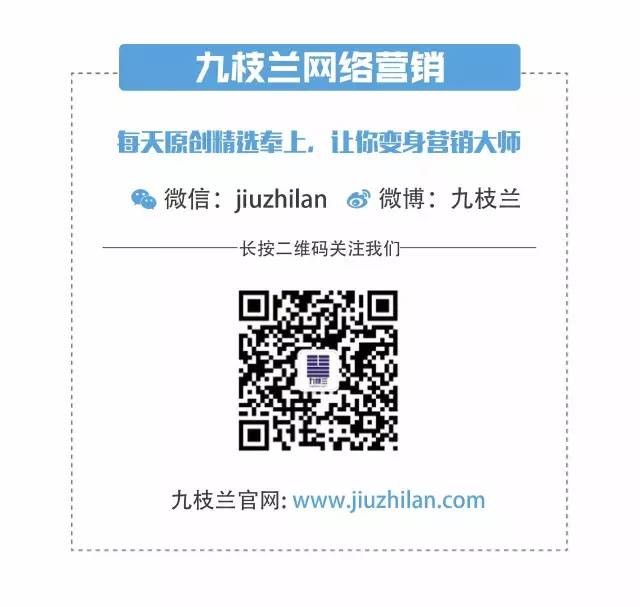 ---