Reveal the advertising strategy of Longhu as soon as you learn
The weekend was a bit of a leisure, a few hours on the pitch, which would have been a bland thing, but it could have been a bit of a scuffle because of the pitch10The month is going to be the U.S. Tour, after this course9The hole has not been officially opened, we are an early trial, treatment can be satisfied. Life is really not high, contented people are much happier.
In the afternoon, a friend of a friend interview cooperation, had not met before, a meeting, the other woman said, originally thought Shen old wet and swollen is also a man in his 50s, but, actually is a thirty or forty-year-old young man. In this industry mixed for nearly two decades, occupied numerous media pages, feel that there is still a name-for-name, fooling business accounted for some cheap, with Zhang Ailing's words, famous to be early.
Afternoon and a friend talked about how to use the spirit of the Internet to do traditional industry topics, in fact, a few points of view are still relatively clear;1There is no sunset industry, only sunset thinking;2The so-called innovation transformation of traditional enterprises is often to wear new shoes to go the old way;3Products without experience and interaction are difficult to form new business models;4Play, good things are played out;5The name of the case is important, and the name itself is a strategy;6Business models that don't make money are all nonsense…
Well, into today's small topic, because the team to serve a project, the first two days of a simple look at the Longhu Jun's ads, and made a little tips inside, feel the real estate marketer can also look at, look at a small picture.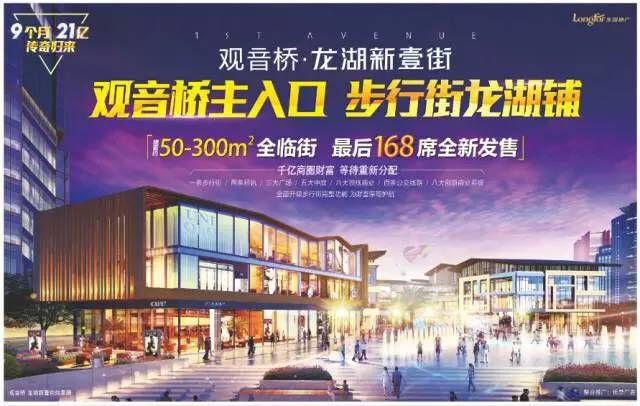 See this picture, in the company team WeChat group left a paragraph: from a small sign to see the Operation of Longhu advertising ideas:1)"9Months21billion, the legend returned "What is this?" It's a sign of trust, and every service we serve needs to find its own trust; (see my public number's past article "For you what your ads no one believes.) ")2"Guanyin Bridge main entrance", although this is ordinary, but after all, the lot is the core value of real estate projects, is to say clearly, of course, the weakness behind this is also obvious;3The "Walking Street Dragon Lake Shop" is separated from past air shops or other rivals…
Several of the standard pieces of this small picture are still dry goods, better than the general idea. Do you see that?1Category,Perhaps it is based on competitive category expression;2Trust,Numbers speak to prove that they are indeed popular;3)CharacterIt's a good segment…Of course, what kind of business and telephone on the map and so on needless to say, should be on.
Is Shen too good a teacher? Or a fuss?…These things are simple, the essence is only an internal marketing communication, but perhaps practical. If you were a competitor to Longhu's project, how would you do it? In fact, the method is also more drops.
There is weakness behind every advantage, isn't there? If you've studied Commercial Warfare, what should you say?
Of course, Longhu Jun sauce purple strong, marketing system is certainly very strong drop, but, we can also see in the art, learn to count.
---