Overseas delivery theory: Take excellent Instagram streaming ads as an example to analyze the ways to promote the rapid growth of ROl
The following articles are from Zixuan's operations , author Zi Xuan

Sub-Xuanxuan operation
A non-famous paragraph hand muttered to himself, sharing different operational notes, reading feelings. Thank you for your attention and let's make progress together.
Author: Zi Xuan  
Source: Sub-Xuanxuan Operations
Is advertising trying to persuade you to buy something you don't need? Or give you what you need?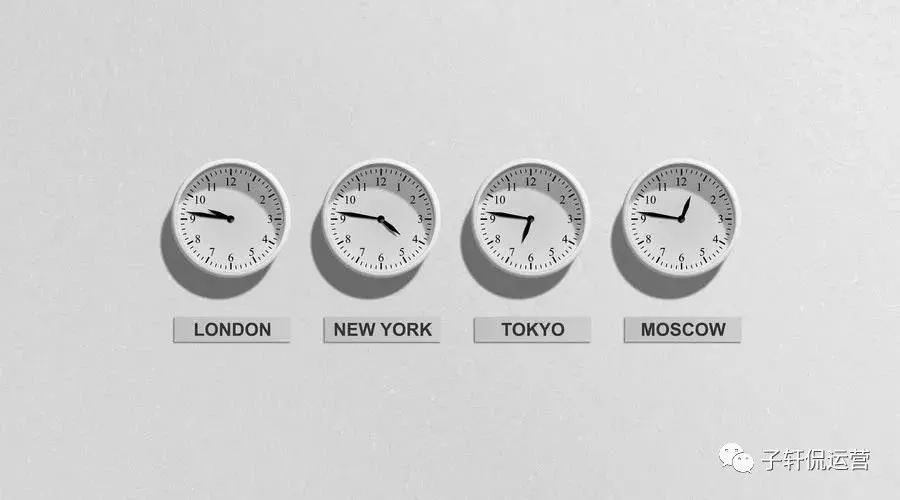 The era of supply shortage is the former, the era of overproduction and consumption upgrading is the latter. Should the information the user receive be the same? Or should it be different? The era of big brands, big media and big access is the former, the Internet and data are the latter. The idea of traditional advertising is the former, and data-driven information flow advertising is the latter.
It first appeared on mainstream social giants abroad in 2006, followed by domestic social media and news clients. It integrates into the user's accepted message in a very natural way.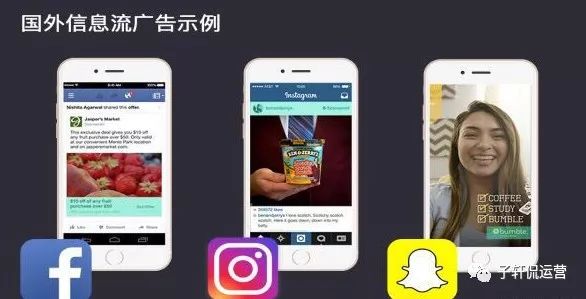 For example, we often see Baidu streaming, microblogging fan advertising, WeChat friends circle ads, Tencent News, today's headline front page of the original ads are infoflow ads.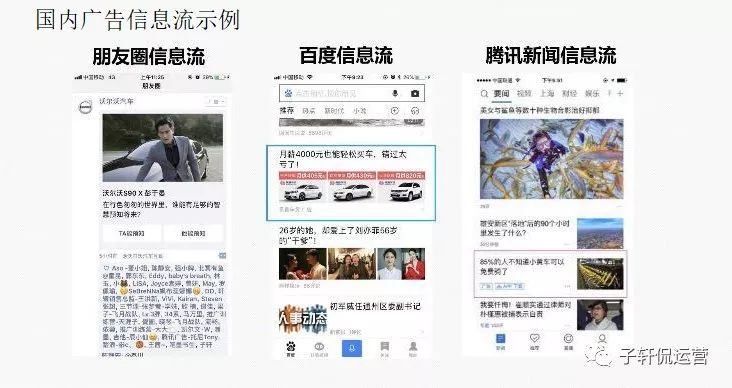 According to official data released in March 2017, Instagram has more than 600 million community users worldwide, and advertisers have more than 1 million monthly actives, up fivefold from 200,000 in the same period in 2016! Mainly the credit of information flow advertising.
Back in China, the mobile advertising market reached 175 billion yuan in 2016 and is expected to reach 264.8 billion yuan in 2017, according to Aerey Consulting. Among them, the information flow advertising market size of 32.57 billion yuan, in the rapid development stage, is expected to reach 55.7 billion yuan in 2018.
What are the common forms of mobile advertising?
Mobile ads include: native ads, cast ads, open-screen ads, in-screen ads, points walls, search ads, and more.
Native advertising has been the focus of digital marketing since it was first proposed in 2013. Simply put, ads and content merge to make them part of the content.
Native advertising takes many forms, such as information flow, video, in-app functional implantation, emoticon implantation, game level implantation, etc. Infoflow advertising is a kind of native advertising, most well known.
So what are the characteristics of information flow ads?
Understand real users through a sophisticated labeling system, including their basic attributes, media behavior, user environment, user status, business interests, user behavior, and so on.
. Basic attributes: gender, age, occupation, education, permanent address, etc
. User status: marital status, level of consumption, school students, etc
. User behavior: e-commerce shopping behavior, APP behavior, PC behavior
. User environment: device model, LBS information, networking methods, operators
. Business interests: travel, shopping, luxury goods, cars
Take friend circle advertising as an example, information flow advertising supports targeting by geography, gender, age, mobile phone (brand model, mobile phone system and networking environment), marriage situation, education, interest label (business interest/APP interest), LBS, keyword targeting, re-marketing and other attributes.
For example, in the launch phase of Mercedes-Benz new car, information flow advertising can be based on browsing, search, attention, participation in discussions and other user online behavior, access to the Mercedes-Benz user population, and through the integration of third-party vertical platform data, access to the new car may be interested in high-related people, combined with the label system, in the precise targeting of information, such as: user mobile phone number, device number and so on. Draws a user's Behavioral Scene Portrait. In order to accurately touch, the formation of internal transformation.
In addition, the information flow advertising support more accurate strong exposure and wider coverage, can achieve step-by-step tracking, secondary marketing, can be targeted at different decision-making groups, the same product of different ads, but also to the vertical industry high correlation of the crowd reach.
Two excellent examples of streaming advertising
Many foreign brand information flow advertising cases, in addition to the use of label combination strategy to achieve accurate delivery, but also will add a lot of interesting forms of interaction.
First, in Instagram's streaming adsThe Music Chips team hopes to reach millennial consumers, encourage them to participate in Flavor Swap events, taste classic and new-inspired fun chips, and vote for their favorite flavors.
The overall goal of the campaign is to increase offline sales at a lower cost per show, launch a Flavor Swap campaign on Facebook and Instagram, and launch four Video Ads to encourage popular voting by comparing classic crisps with new flavors. Joining Instagram ads increased reach by 5%, cost per impression 3%, and sales by 5% compared to running Facebook ads separately.
Second, the Ohio theme park Cedar Point promotes Halloween offers on SnapchatTake advantage of the 24-hour burn feature to keep users focused and observe ghosts that are floating fast, and you're rewarded with successful screenshots. The ad attracted more than 140,000 hits, increasing the brand's engagement rate by 233%.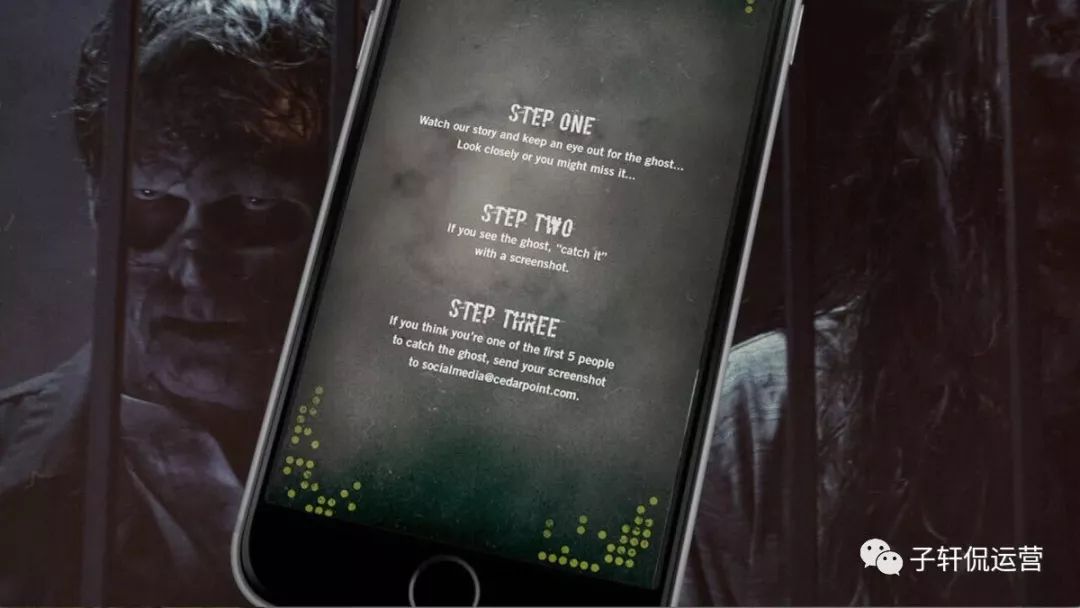 Native ads on Snapchat
Of course, it's not enough to deliver with precise orientation and interesting interactive content, but also to understand how to increase conversion rates and reduce the cost of access. Typically, we put the effectiveness of streaming ads down to the key points of two actions:
. Reduce customer costs:Enable fixed advertising costs to bring more customer base, resulting in more final transaction conversions.
. Increase conversion rates:Let the advertising fees to bring in a greater proportion of the customers to generate transactions, to achieve revenue increases.
So how to reduce the cost of access and improve click-through rate has become the majority of information flow advertising optimizers headache, often appear "try a lot of methods, the cost is not down", "landing page repeatedly modified, conversion rate is still low heinous", this kind of situation.
First, a detailed analysis of the two indicators related factors
Now the mainstream information flow delivery platform is mostly divided into cpc billing mode and cpm billing mode, here is a single cpc billing mode:
The cost of the customer - Delivery amount/visits - Single click price , clicks/clicks - Arrival rate - Single click price / arrival rate
From this we see that the cost of access is dismantled and what we can directly regulate is the click-through price and arrival rate.
Click on the price The next bid is the next click-through rate/own click-through rate of 0.01
Arrival rate Website visits/clicks
As a result, we can increase the website browsing experience (speed) guaranteed arrival rate, increase the click-through rate of ads, thereby reducing the click-through price, so that fixed delivery more clicks, thereby reducing the cost of getting customers.
Conversion rate . . . . . . . . . . . . . . . . . . . . . . . . . . . . . . . . . . . . . . . . . . . . . . . . . . . . . . . . . . . . . . . . . . . . . . . . . . . . . . . . . . . . . . . . . . . . . . . . . . . . . . .
The resulting conversion rate is determined by the sales process, and the online consultation rate (retention rate) and unit rate determine how many of the fixed visiting customers can be converted into consumer customers.
In summary, CPC billing mode, click-through rate, online consultation rate (retention rate), single rate determines the effectiveness of advertising
Second, comprehensive consideration of the impact of the indicators
Many times, the effect is not good is often caused by a combination of factors, not unilateral. As we mentioned above, the effect of the decision indicators are click-through rate, lead rate and single rate, so what kind of impact indicators exist behind these three indicators?
. Hits:Traffic accuracy (platform, orientation), ad style (big, three, small, video), presentation location (pre-test, back-to-back, list page, content page), text, drawings
. Lead rate:Traffic accuracy (platform, orientation), documentation, landing page guidance
. Single rate:Activities, landing pages, traffic accuracy, sales capabilities
Count down to say less than a dozen influence factors, so in the view of the effect to have a certain logic, I put click rate, lead rate, single rate of these three indicators called the effect of the decision indicators, the three indicators below the relevant indicators called the depth impact indicators, in the analysis of the reasons for the poor first look at the decision indicators, and then look at the depth impact indicators.
Repeated A/B tests
In the information flow advertising process, the most critical factor is actually creativity, that is, the text title, drawings and styles, how to write a good idea, the only way is to try, because, you feel good, not necessarily high click-through rate, you may learn a large V of the text writing method, click-through rate is really good but the conversion effect is very poor, then how to do? Write a lot of ideas, with a lot of drawings, and constantly carry out A/B testing, after a certain data base, to get more reliable results, what kind of products, with what kind of selling point cut into what kind of paper, with what kind of drawing effect will be good.
The key to A/B testing is to keep all other variables (crowd orientation, ranking, bids, landing pages, etc.) unchanged, in addition to changing ideas, and to measure a result in large numbers in a short period of timeTo test the idea of comparing at least 10 sets of different selling points and different drawings.
A/B testing is difficult to use because most of us can hardly guarantee that test results are not affected by other factors (competitive environment, ranking), so A/B test must ensure the first short period of time (about 30 hours), the second large number of delivery (clicks more than 1000)
In addition, A/B testing is not only for creative testing, but also for people, rankings, landing pages, and more.
Fourth, improve the delivery method
So, when you've done a lot of delivery, you've done a lot of A/B testing, and you've found out what's affecting the results, how do you improve the delivery method?
. Click-through rate:
1, the account structure clearly divide the crowd, circle the precise crowd at the same time, to ensure adequate traffic, choose to the conversion rate of the high crowd more adequate budget and better advertising space.
2, choose a high click-through rate and conversion rate of good ideas, according to this kind of selling point extension of a variety of writing, here need to pay attention to the idea is not the higher the click-through rate of the better, can not be too hard (click-through rate does not go up), can not be the title party (inaccurate crowd click caused by waste of advertising costs), the need for product selling point highlights plus soft writing.
3, bid choice to stay within an acceptable range, through other aspects to improve click-through rate to get a better ranking.
4, style and drawings are an important factor affecting click-through rate, usually the click-through rate of large graphs will be higher than other styles, but a good case can save the lack of style, at the same time, the technique of drawing needs A/B test to get the right picture type, background color and so on.
At this point, do a good job of information flow advertising effect of the basic logical level is generally described, the history and trends of information flow, information flow of advertising forms, crowd orientation, creative writing methods, content play and production, A/B testing and other content, are involved and shared, but the entire information flow delivery is not my article can be clear, clear, I just throw bricks and mortar, point to the end.
This article was edited and published by jqyjr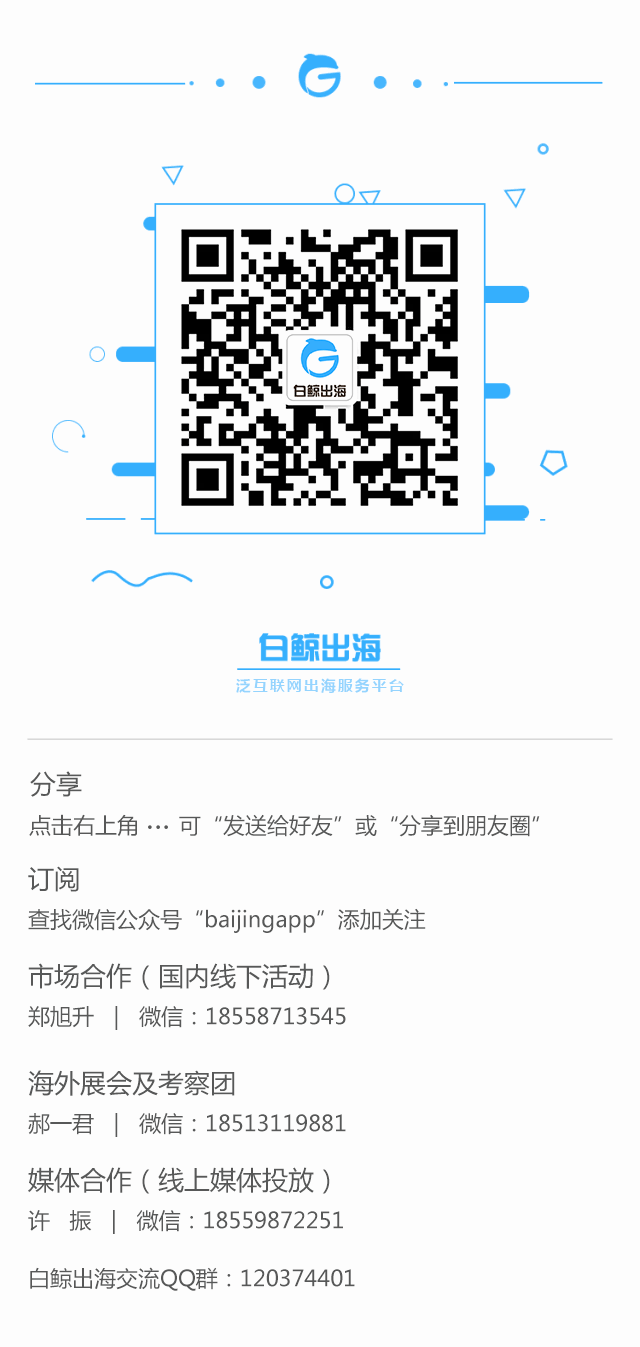 ---