Is Instagram naturally plummeting and ad space saturated?

Recently, many marketers in the social media reflectInstagram's natural reach has plummeted, saying its tweets were less exposed and user engagement than expected. Others have responded to Instagram ads that have drowned out friend dynamics.

Some even called out on Twitter that natural traffic had been killed by Instagram.
Most people now speculate that Instagram's algorithm changes have led to fewer users of natural touch, and that a large number of ad recommendations have curbed the coverage of natural traffic.
Matt Navarra, a British social media commentator and consultant, analyzed on Twitter the reasons for the decline in natural reach on Instagram, which he believes is the reason for the declineIt has to do with more ads, users, and changes in content and algorithms on Instagram.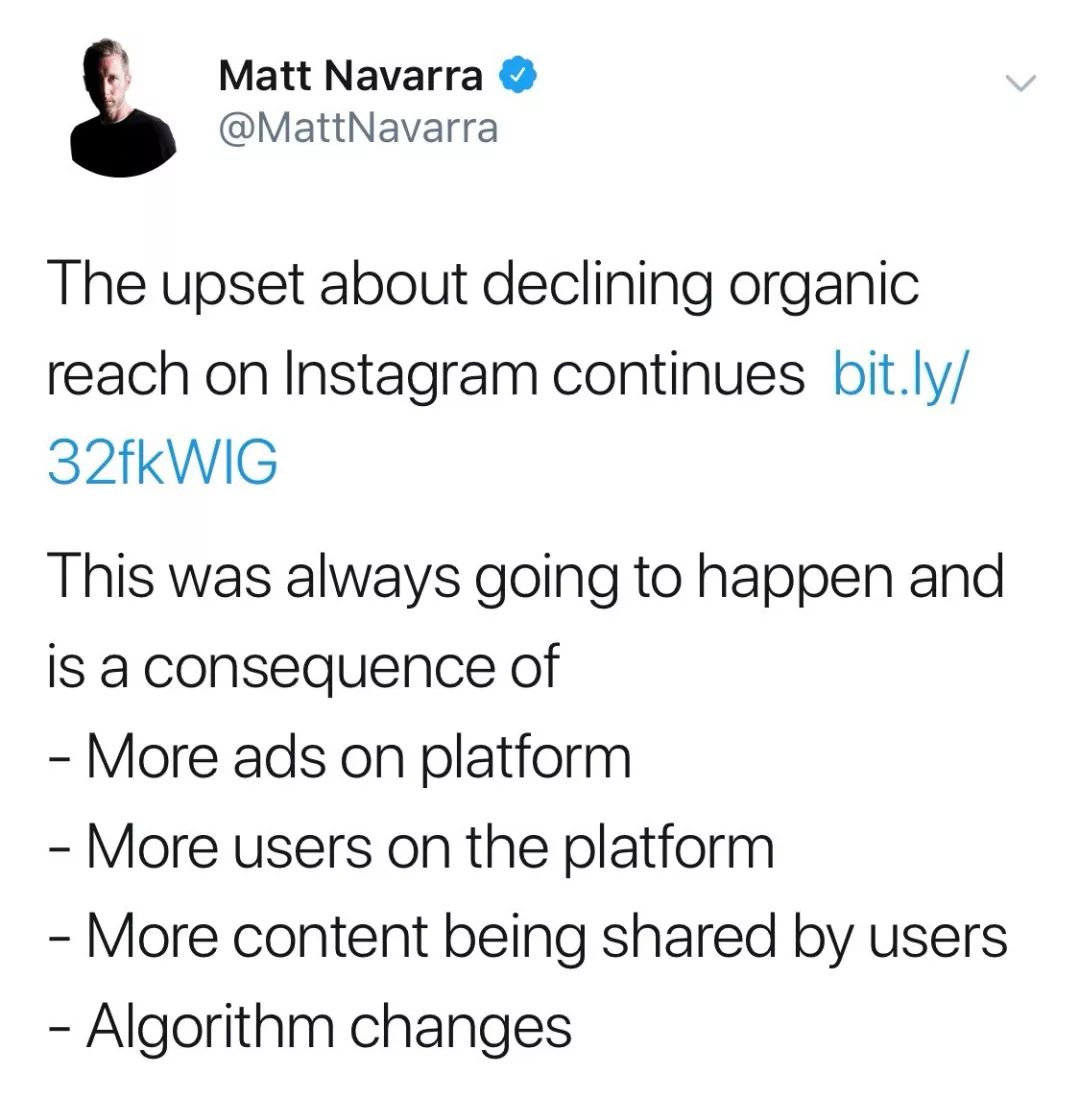 In addition, others say that the decline in natural reach is due to the decline in the quality of their content.Others argue that the drop in natural reach in the stream of information has shifted to IGTV, the long-running video stream it created last year.
Trust Insights' latest report shows that analytics data does not include fast-shooting ads.Engagement with Instagram-branded accounts has been declining slowly since January.And since May, the rate of decline has acceleratedInstagram user engagement is expected to continue to decline over the next few months.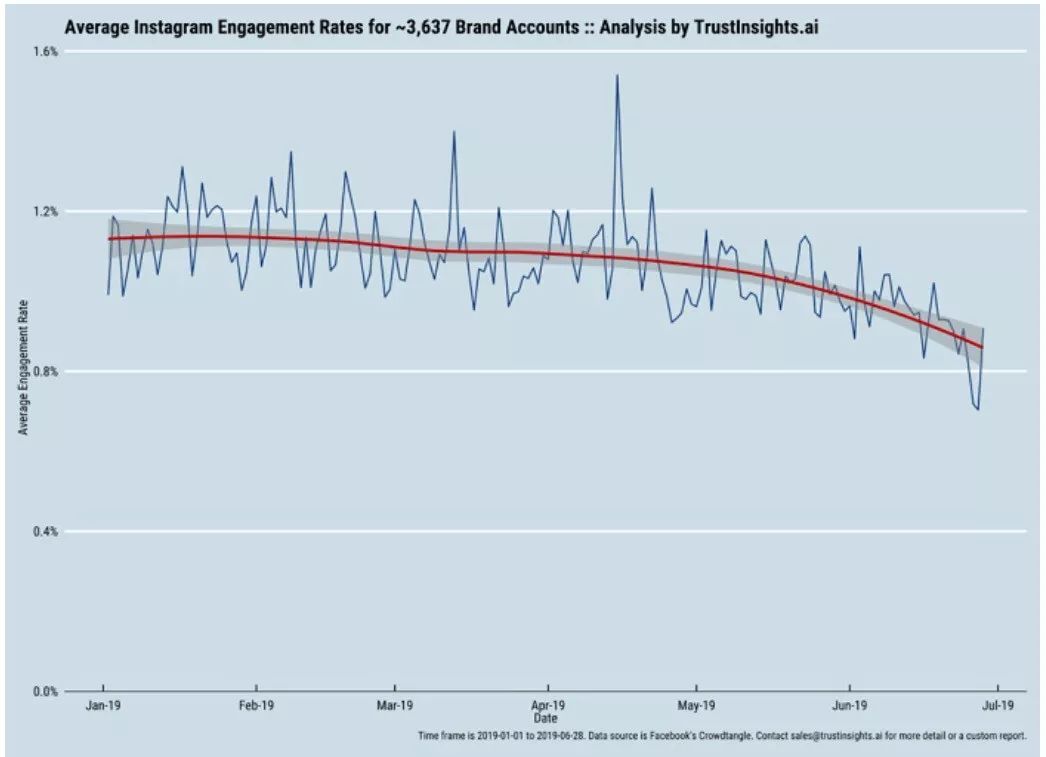 Trust Insights: Changes in average user engagement for Instagram brand accounts

In fact, Facebook had a similar problem in 2014 because it initially provided natural traffic to brands, and as the number of brands it moved in began to decline, brands chose to buy ads to achieve the desired results.In addition, the decline in participation is essentially due to people wanting to see more about their friends and family dynamics in the information flow.
As a result, it is thought that the decline in brand participation on Instagram is also due to Instagram users' rejection of recommended content.But in fact,Eighty percent of Instagram users follow brand accountsThis also partly indicates that users want to see brand dynamics in the information flow.
In addition, it's not just brands, according to Trust Insights.There has also been a marked decline in fan engagement among fashion bloggers, the main force on Instagram。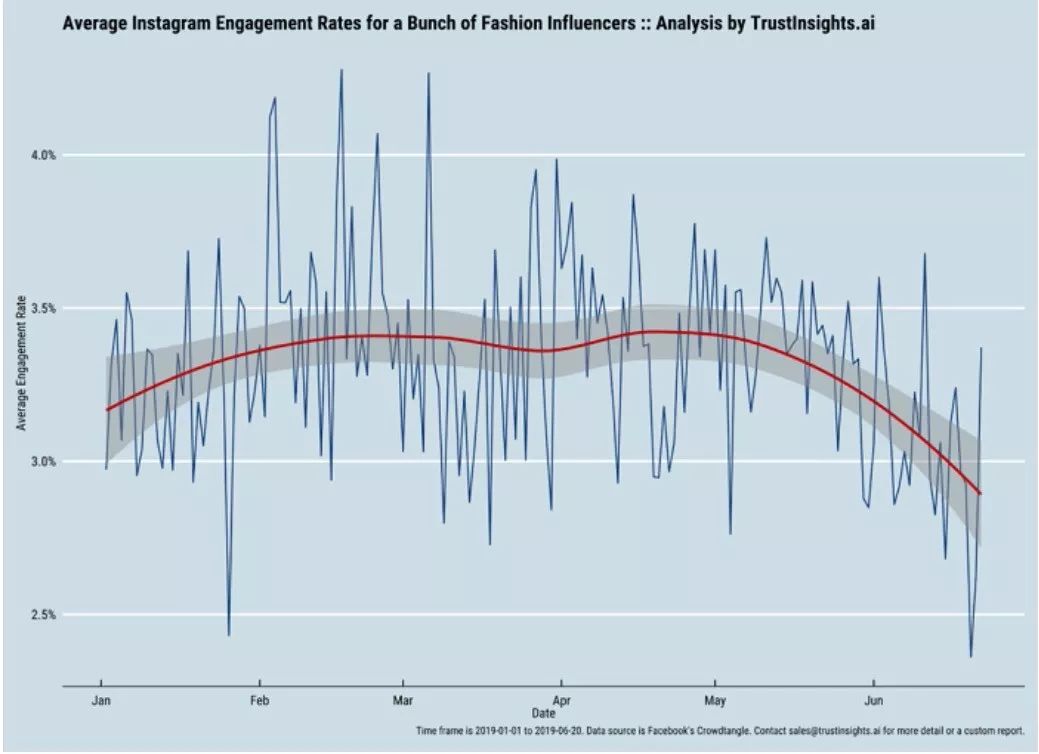 Trust Insights:InInstagram fashion blogger accountnumberChanges in average user engagement
Debra Aho Williamson, senior analyst at eMarketer, says the decline in natural touch on Instagram needs attention and marketers need to be prepared.The logic of "spending money to reach users" has become increasingly necessary on Instagram.
When the commercialization of social media to a certain stage, the user's high participation in the golden period gradually faded, the natural flow of shrinking has become an inevitable result.At this time, broadening the form and space of advertising is the first choice.
Clearly, Instagram has also been trying to develop more forms of advertising to meet the different needs of advertisers.
As recently as late last month, Instagram announced that it would open"Explore"Ad bits on the (discovery) pageThis is another important advertising product on Instagram in addition to fast shooting and traditional information flow.In."Explore"Interface, Instagram makes recommendations based on a user's preferences, so users can discover content from other people they've never followed before.Williamson, a senior analyst, says it's time to browse"Explore"Users of the page like to discover new things, and the acceptance of advertising content is relatively high.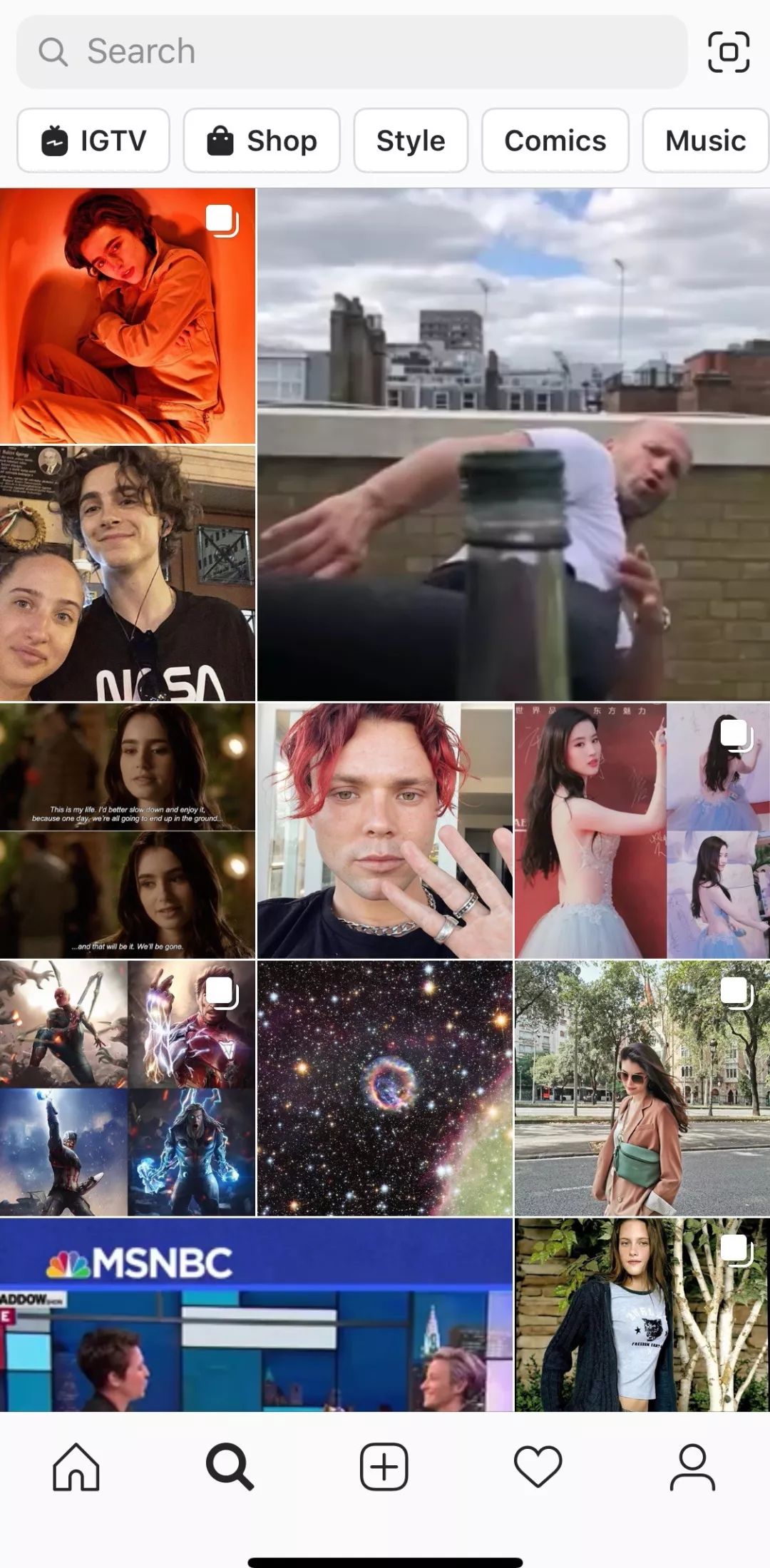 Instagram "Explore" interface

Unlike streaming and fast-shooting ads, users are"Explore"The interface doesn't see content with the "Ad" logo, and when a user clicks on a video on the interface and starts slipping to see other videos, they don't see the ad content associated with the video.This ensures that your ads reach more target audiences and reach potential consumers who are truly relevant with each ad run, increasing conversion rates.
In addition, Instagram is improving its social e-commerce capabilities.In."Explore"Before the ad comes,Instagram also posted an in-app checkoutand add in-app purchase links to shopping ads so that users don't have to jump to a web page when they buy, enabling a seamless connection from browsing ads to paying for orders.E-commerce ads that support direct purchases are also included in the Shopping category in the Explore interface after the Discovery ads are online.It's not hard to smell Instagram's ambition to dominate the social e-commerce world.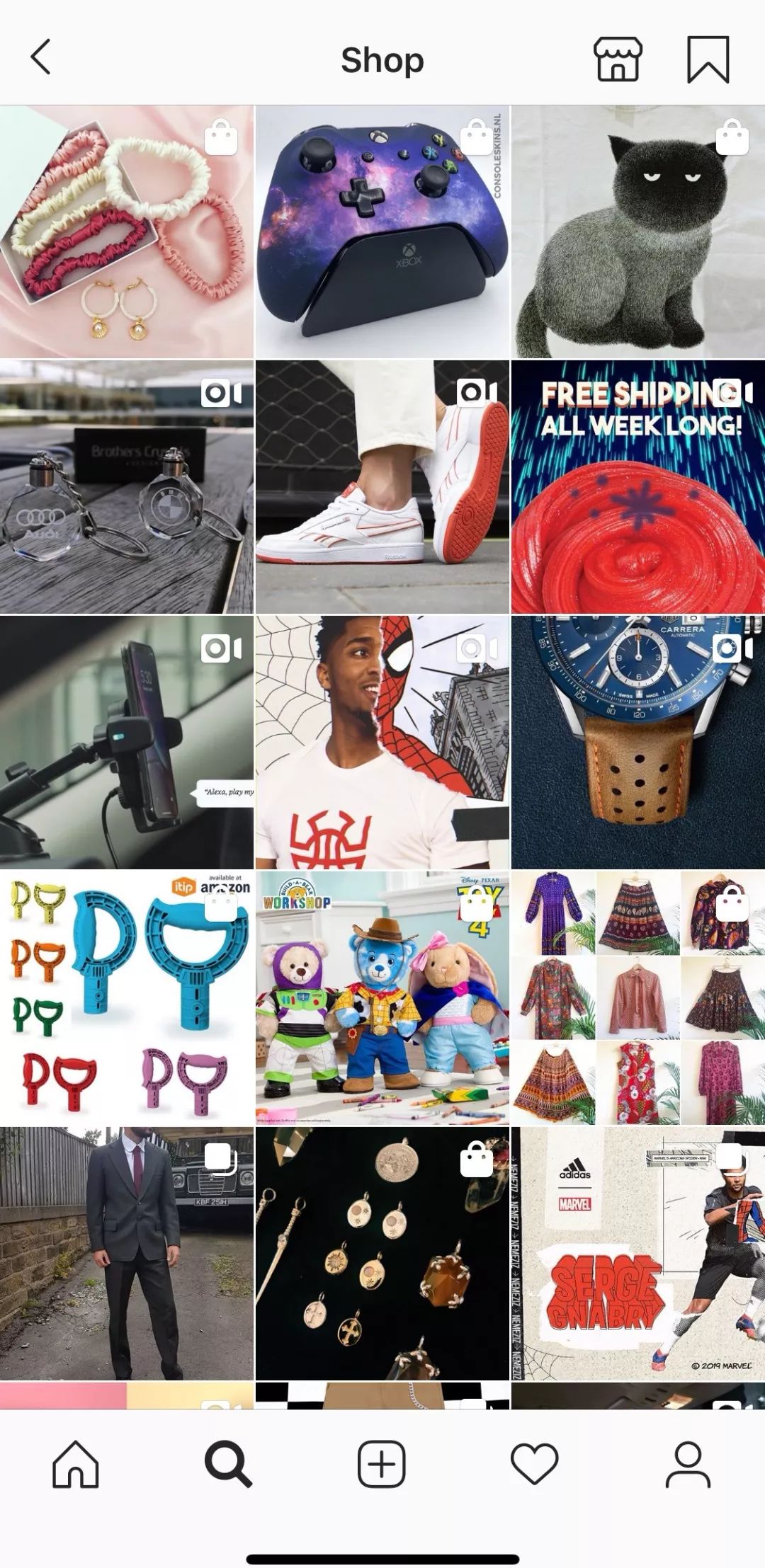 Instagram "Explore"The "Shopping" category interface in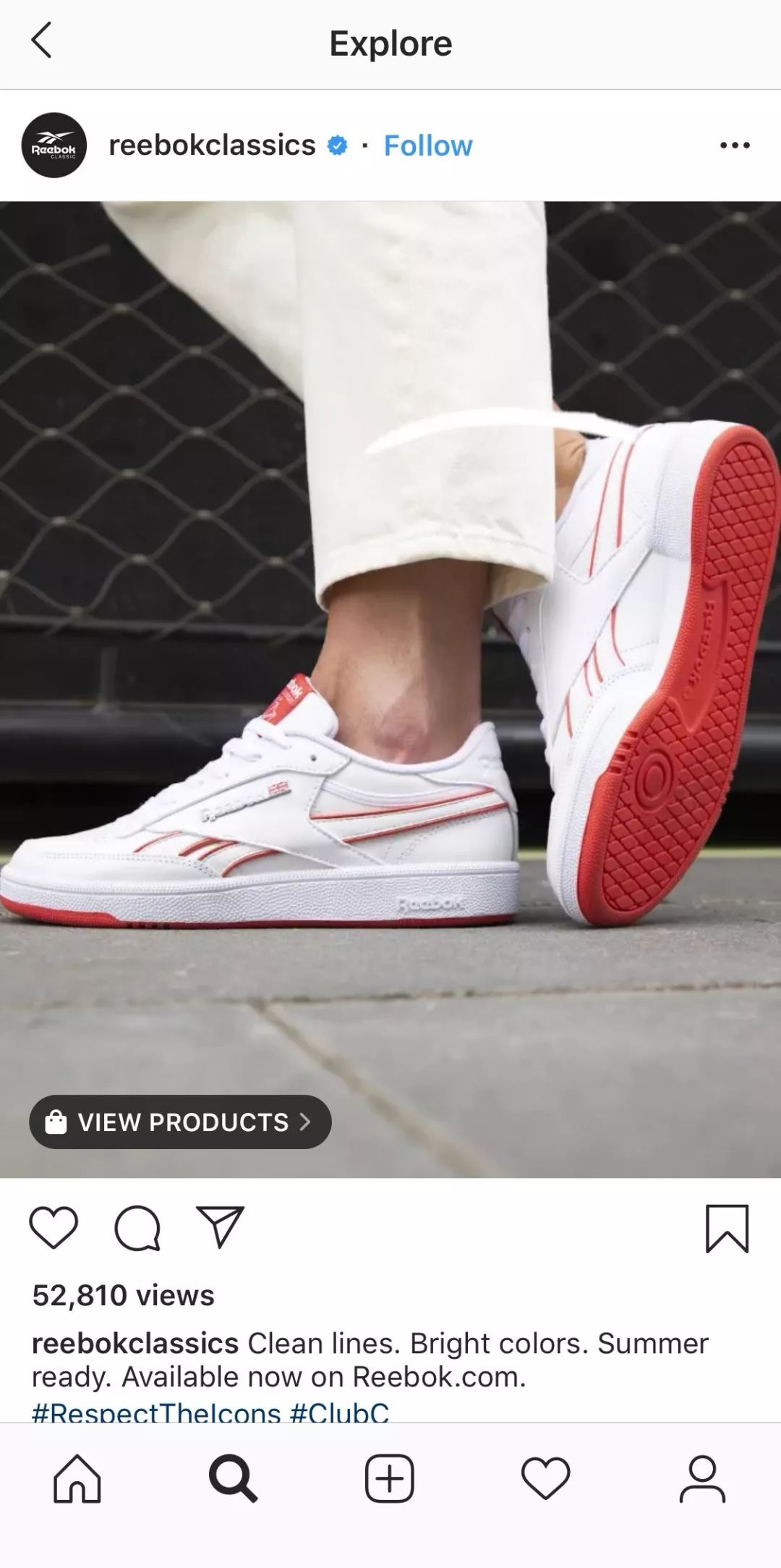 Instagram "Explore""Shopping" ads in
And in early June, Instagram released a new feature.Advertisers can pay for KOL's tweets to appear in streams of people who don't follow them, which allows it to reach a wider audience by not being limited to KOL's fan base.
According to eMarketer, Instagram's ad revenue is growing much faster than Facebook and its other apps, suggesting that many advertisers are advertising on Instagram and want more, so it's not hard to see why Instagram's natural reach is declining significantly, and Instagram is expanding its advertising products in a short period of time.
eMarketer predicts thatInstagram's advertising revenue in the U.S. will grow 46.8 percent this year to more than $9 billionFacebook's total ad revenue, excluding Instagram, is expected to grow by only 11.2 percent.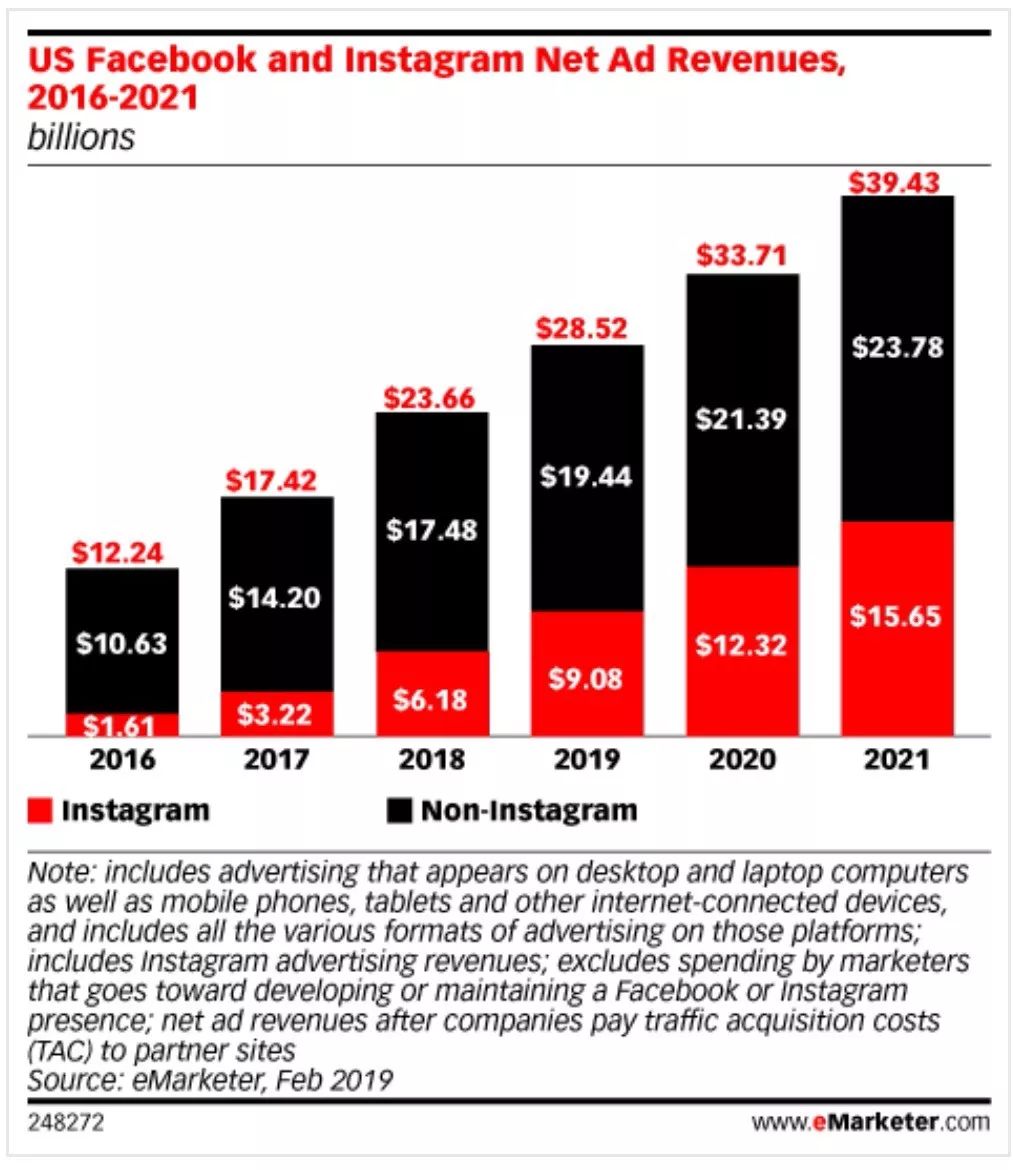 eMarketer: Facebook and InstagramAd net income comparison forecast
Williamson, a senior analyst, believes Instagram is still growing in terms of user numbers and ad revenue, at a time when the introduction of new advertising products is more conducive to its growth.Instagram has continued to grow in terms of user usage, while Facebook has declined over the past year.

According to eMarketer, the average American uses Facebook for 38 minutes per day this year, the same length as in 2018.In 2019, Americans will spend 26 minutes per day on Instagram extending 2018 to 27 minutes per day.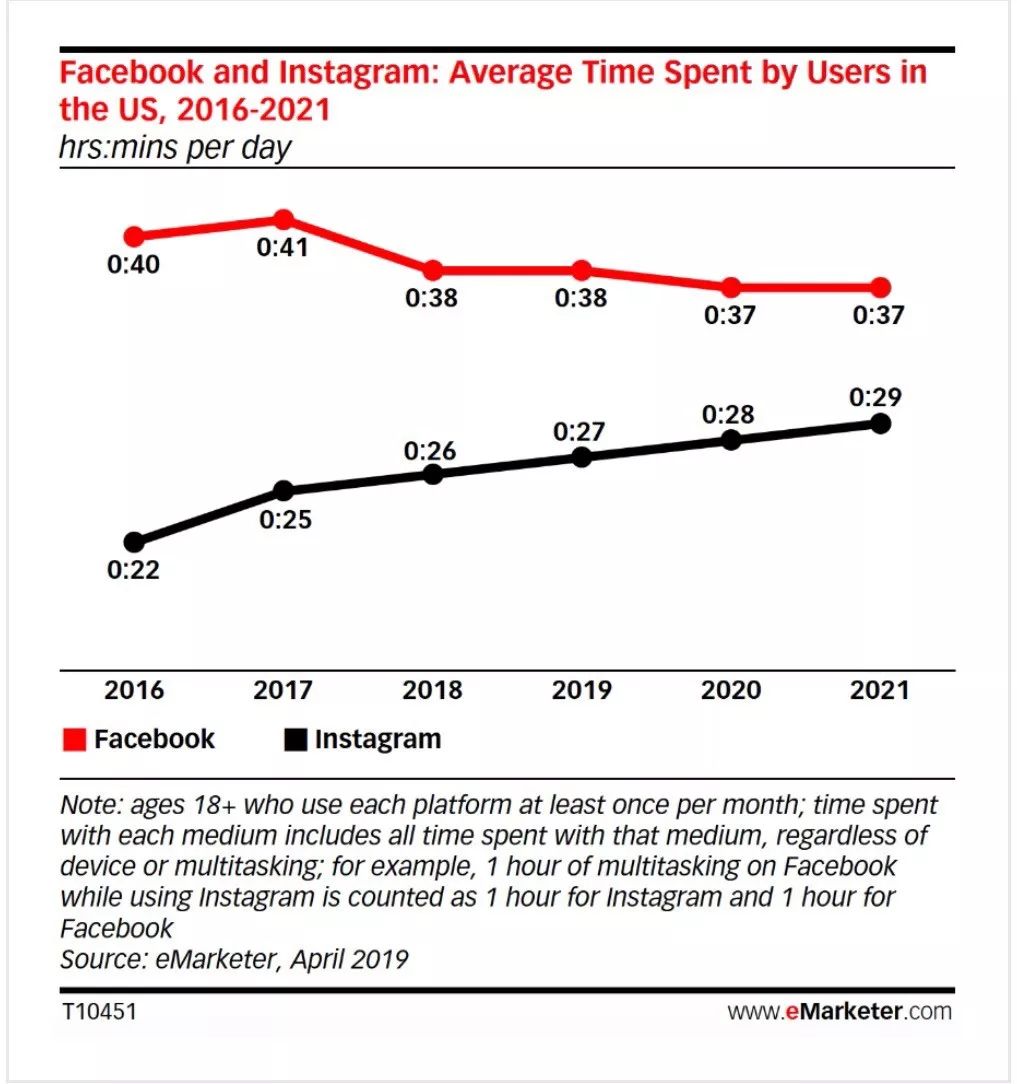 eMarketer: The average length of time Facebook and Instagram users in the U.S. use itCompare predictions
Even so, with Snapchat, TikTok, Pinterest and many other unsaturated emerging platforms, Instagram still needs to grow its advertising business while taking into account the user experience and maintaining user traffic.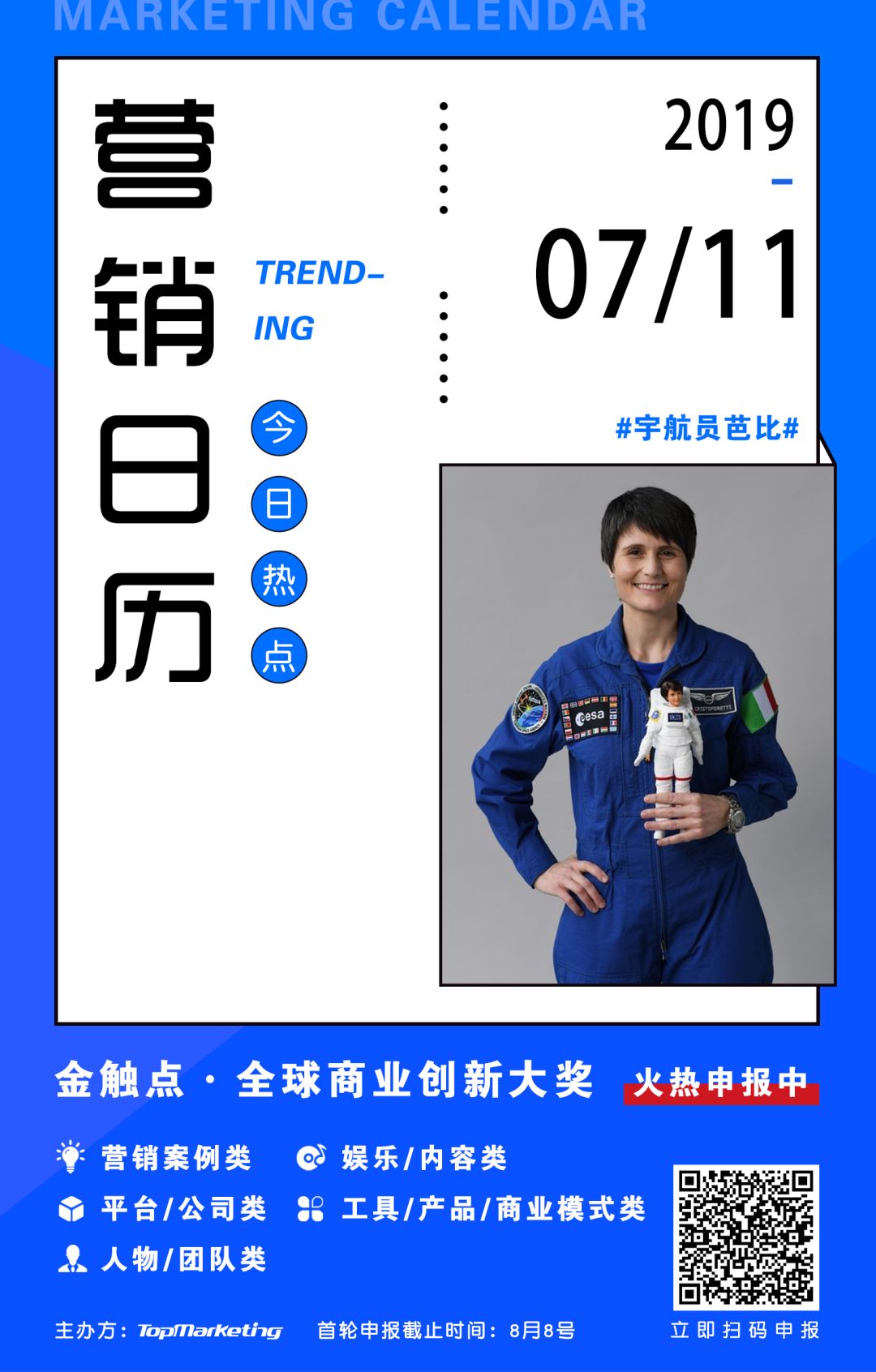 ---