Don't like ads? See how Instagram and Snapchat create addictive ads
Penguin Smart Cool . . Research products

Findings:
Instagram ads come in three forms: images, videos, and slideshows, with videos the most-watched form of advertising




Snapchat's advertising is dominated by vertical video, and the new live video feature is beginning to be commercialized




Snapchat's product model makes it difficult to collect user data for accurate ad serving, but the sheer number of young users it has is Instagram's biggest threat
Preludes There are thousands of Internet companies, but the vast majority still make money from advertising
There are thousands of Internet companies around the world, but there are still only a few ways to make money. Advertising is the most common tool.
Banner Ad was once the main form of Internet advertising, but as the mobile Internet became more and more popular, it became increasingly out of character. Banner ads are less interactive and consume more power than the latest advertising products. Even more deadly, it takes up too much of a place on the "inch gold" phone screen.
Facebook launched Newsfeed Ad in 2011, which quickly expanded from the PC side to the mobile side, changing Facebook's revenue structure at an overall level. After the info streaming ad was a big win, Facebook began applying it to more products , including Instagram, which it acquired in 2010.
I. Instagram ads: Variety, but still the most-watched video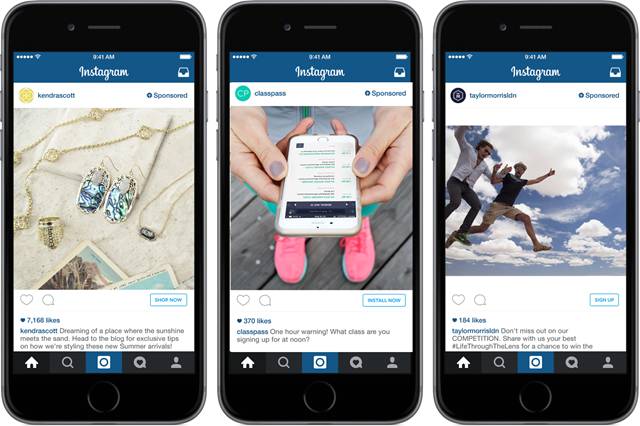 (Instagram's common ad patterns, from left: e-commerce promotion, app installation promotion and interactive promotion)
According to the latest statistics, Instagram has more than 400 million monthly active users, 75 percent of whom are from overseas. Inspired by its huge user base, Instagram generates an average of 80 million new images and 3.5 billion likes a day - making it the perfect advertising platform.
Instagram, like Facebook, has a picture-based content and a focus on users aged 18-34, so ads are more focused. It has been reduced to four more targeted forms:
Product exposure, Instagram allows advertisers to show new listings on slides made up of images, videos, and multiple images
Web promotion, advertising can be through images, videos, multi-image slides, guide users to the off-site website (usually e-commerce) experience consumption
App installation, Instagram allows advertisers to direct users through images and videos to download and install promoted apps
For video promotion, the maximum video length allowed by the average user is 15 seconds, but Instagram allows advertisers to shoot short videos for 30 seconds to fully showcase the brand or product. Instagram video ads can be pre-downloaded in a WiFi environment and play automatically when a user slides into the area
There is no doubt that video is the future of Instagram advertising. Just after Halloween, Instagram launched a new video channel. Like Twitter Moments and Snapchat, Instagram's video channels collect user videos uploaded over a specific period of time. Although it hasn't launched ads yet, it should be only a matter of time to open up to advertisers.
Instagram charges more for ads than Facebook, but it works better. According to Salesforce, Instagram has about twice as many ad hits as Facebook. In addition, its image social attributes have attracted specific businesses, fashion, cars and other visual-conscious advertisers are more willing to advertise on Instagram.
Facebook is currently reluctant to make too many Instagram ads public. At its second-quarter earnings meeting, Facebook executives kept lowering expectations for Instagram ads. But its potential is hard to hide. Instagram's advertising revenue is expected to reach $600 million this year, according to market analyst eMarketer, and it is likely to surpass Google and Twitter's mobile advertising revenue over the next two years.
II. Snapchat ads: The form is simple, but must be vertical video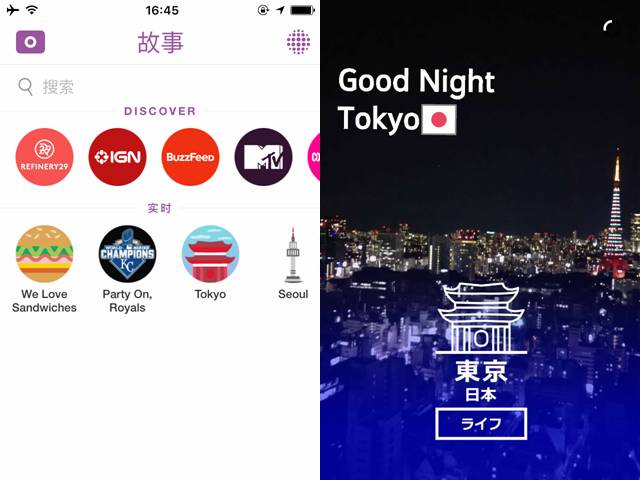 (Snapchat's Discovery and TheOur Stories channel, pictured right with video footage from theOur Stories channel)
Social networks are more interesting than traditional sites, but they also have greater privacy risks. Social networks are becoming more vigilant after several privacy incidents.
Snapchat, which was born in 2011, is trying to dispel fears that the social network is leaking privacy. With Snapchat, messages and images sent by people automatically disappear within 1-10 seconds of each other's acceptance, so files don't leak because they're stored locally.
Snapchat's "burn-and-burn" product model has attracted a flood of users worried about privacy breaches. It quickly went viral after it went online in November 2011. In May 2012, Snapchat users shared more than 2 million times a day, and five months later that number rose to 20 million. In May, Snapchat announced that it had more than 100 million daily active users, about 65 percent of whom share images every day.
With such rapid growth, Snapchat soon began experimenting with commercial profitability, and advertising became its ultimate choice without ad. Snapchat sums up its advertising model as a "3V" principle:
Video, which is easier to express goods and brand forms than words and pictures, is also more attractive to users




Vertical Video, Snapchat requires video ads to be vertical, not landscape video that traditionally requires flipping your phone to watch. Snapchat's internal assessment says vertical video is more than nine times more "competitive" than horizontal video




With more display space (View), Snapchat's video ads are displayed in full screen when they're on, and they're more attractive than the usual plug-in video ads
Snapchat's "Our Stories" live stream, launched last August, is also commercializing this year. Through "Our Stories," burberry, the fashion brand, became the first brand to use Snapchat to produce and stream ads in the spring and summer of 2016.
In addition, advertisers are using Snapchat's "burn-and-burn" feature to create a sense of urgency and stimulate users to quickly access ads in a short period of time. Promotional time-limited coupons and merchandise snap-ups are expected to be important forms of advertising for Snapchat.
Conclusion: Users are the greatest competitiveness of social advertising
In its latest analysis, Business Insider classifys Facebook's approach as three: 1, reaching less developed emerging markets by optimizing product performance at low Internet speeds;
Instagram also uses this approach to develop advertising products, and its global reach has attracted many non-international brands to serve ads. During this year's two sessions, CCTV News, a domestic news agency, attracted nearly 200,000 new fans through Instagram ads, raising brand awareness by four points. Its promotional work with Instagram is well worth trying:
Warm-up phase, through overseas stars and past content reviews to attract attention, gather the first batch of fans




During the two sessions, actively update high-interest topics, covering the economy, haze and other hot areas, to attract more attention




During the overall promotion, through the topic title to guide users to participate in interaction, in addition to part of the interpretation of the focus on promotion and guidance, to shape the brand image
Compared with Facebook and Instagram, Snapchat's ad format is still relatively inno- But now it's experimenting with advertising in a number of areas, and in addition to the high-profile live video, the Discovery Channel, which launched in January, is also one of Snapchat's most important forms of advertising.
Snapchat's product model, however, gives its advertising business an innate short board - Snapchat's original goal was to help people avoid privacy risks, preventing it from running accurate ads by collecting data and other breaches of users' privacy.
Precision advertising is hailed as the future of Internet advertising, and it is one of Facebook's best advertising tools. Over the past few years, Facebook has accumulated a wealth of user data that allows it to run ads based on breakdowns of people's age, gender, hobbies, education, and more. In the third quarter of last year, Facebook launched Atlas, an advertising platform that improves ad accuracy, and in March it bought TheFind, a nine-year-old social shopping site, to further improve ad delivery accuracy, technologies that could be available on Instagram in the future.
But Snapchat's biggest threat to Instagram is its young users, after all, the price of social platforms and ads depends entirely on platform activity. Whose social advertising will be better in the future? It depends on who is more attractive to young users.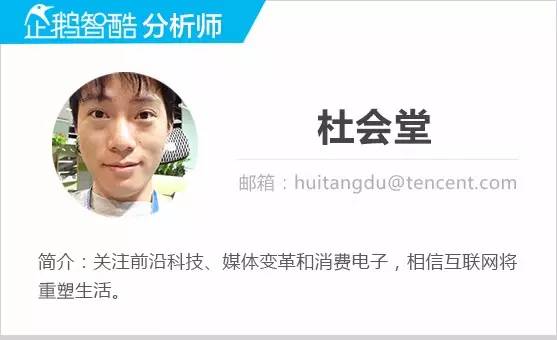 --------------------------------
Statement.:Penguin Zhiku published articles, reports, charts and survey data on platforms such as WeChat Public, PC-side website and Tencent News Client, which, if not specifically noted, are exclusive and original and are copyrighted by Tencent Technology Channel.

If you approve of our article and wish to reproduce it, please be sure to indicate it " Source - Penguin Zhiku "And The name of the author (analyst) for each issue。 In addition, after the reprint behavior is complete, please send an email tovikwang@tencent.com, feedback on the new link you reprinted.
If other malicious reprints are found, we reserve the right to complain and further liability. In addition, Penguin Chiku reserves the possibility of changing the reprint specification in the future, and we will notify you if there is any change.
Reprinting is the most sincere compliment to the original - but only if respect for the creator and the creator is maintained. We hope that the sharing spirit of the Internet can be better demonstrated.
---