McDonald's advertising ideas, cattle forced to blow up
Speaking of fast food advertising

The most luring appetite but also the most bland advertising
Non-instant noodles
Say it seduces appetite
It's because the form of advertising is too realistic
Red roast beef, red oil peppers...
These ingredients all seduce your expectations of instant noodles
It's not surprising to say it's bland
Because instant noodles advertising ideas are really the same
The only thing I'm probably impressed with is Wang Han's
"Someone imitates my face and wants to imitate my face."
……
To say fast food advertising ideas
McDonald's is doing really well
Today's recommended ads
Simple and fun, but enough to make a big hole in your head
Like this one
▽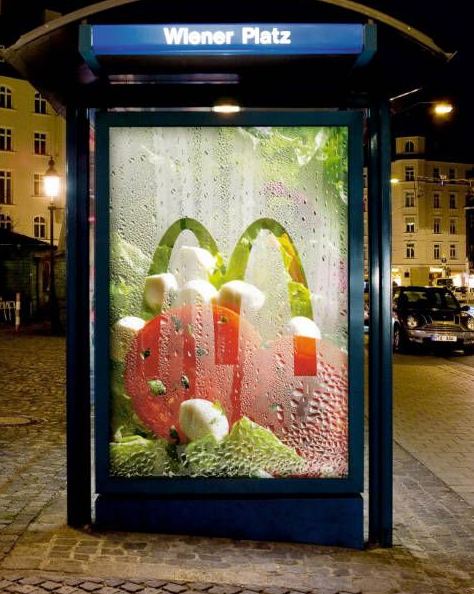 Fruit salad ads at bus stops
There is a large "M" logo on the station sign
The glass was hazy
You can see the presence of water drops
It feels like a very fresh fruit salad
The highlight of this ad is that
Smart use of water drops to convey fresh concepts

Pepsi Has a similar expression of fresh advertising
▽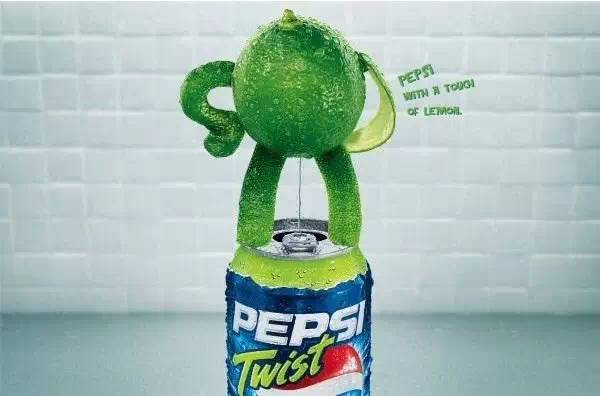 McDonald's ideas are simple and novel
Like a clever craftsman
You can give you the whole idea at your hand
▽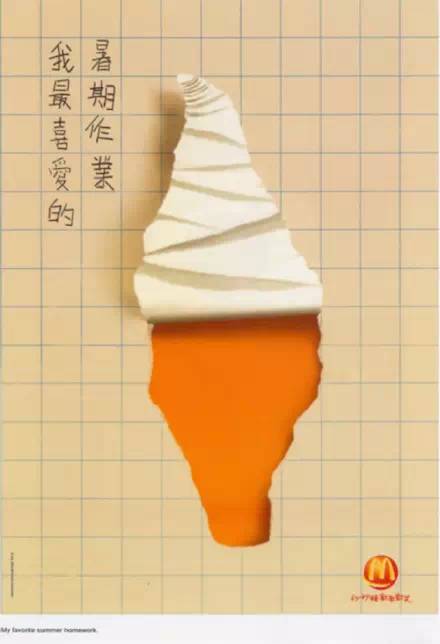 My favorite summer homework
Summer, ice cream, summer homework
Can you say it's not clever?
Similarly
▽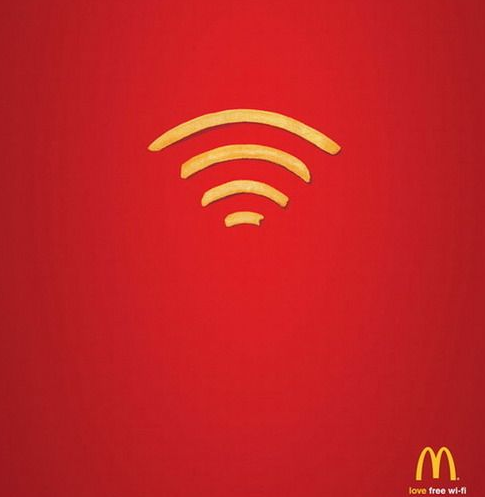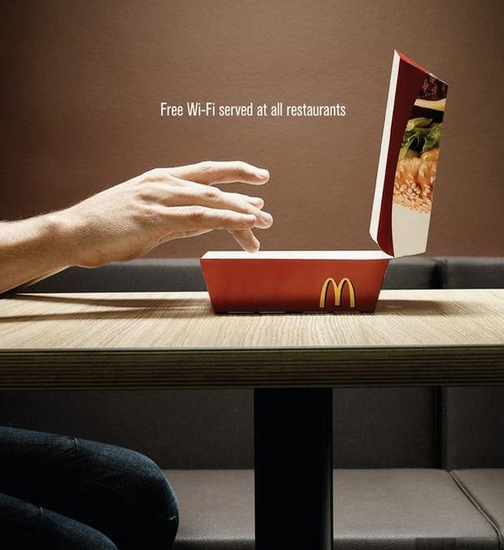 Free WiFi
Use food to express free Internet access
McDonald's is open 24 hours a day
How can consumers be informed?
The idea is still simple
▽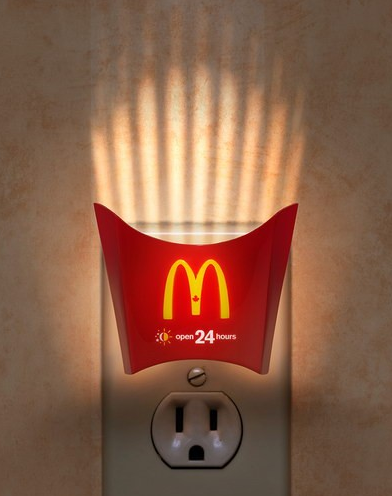 Open 24 hours a day
There's this in the 24-hour commercial
▽

McDonald's is open 24 hours a day
But the other shops basically closed at night
So McDonald's printed the ads on the curtains of other stores
Tell consumers
You see, they're all closed
We are open 24 hours a day
▽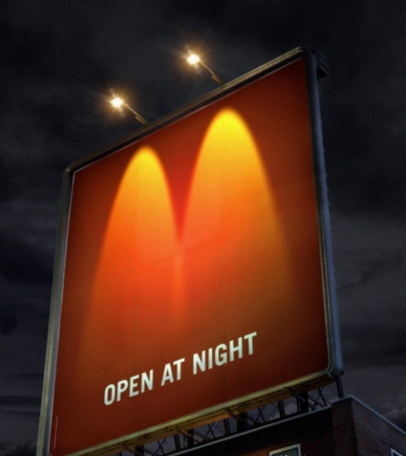 It is also open in the evening
McDonald's ideas are certainly not limited to planes
Running physical ads online is also great
▽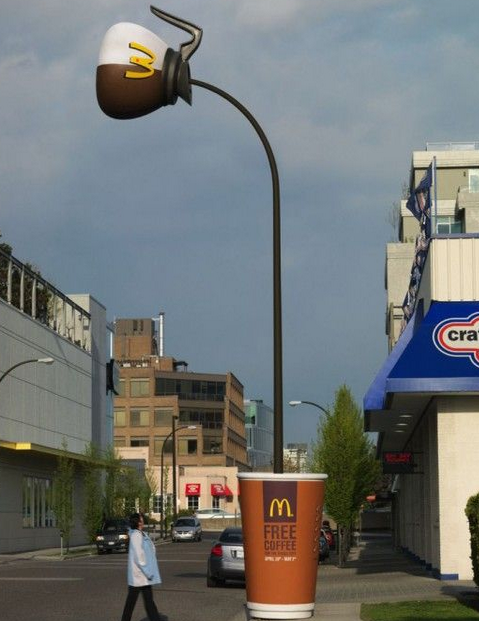 In the heart of Vancouver Road

McDonald's made a lamppost
Turn the streetlights into coffee pots
The street lamp seat becomes a coffee cup
The lamppole is pouring coffee down
The whole picture is creative and eye-catching
▽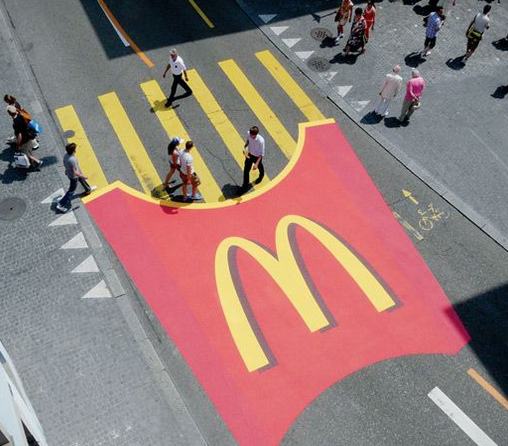 In Switzerland

McDonald's turns zebra wire into French fries
The warm-colored big M stands out in this field of vision

▽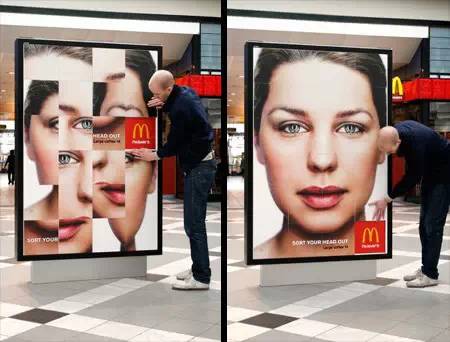 This is a creative advertisement in Sweden

Make an ad a jigsaw puzzle
If the customer can successfully complete the puzzle

you'll win a euro for a big cup of coffee
Obviously.
This game is very simple
McDonald's strategy is not to directly introduce offers
It's through fun little games
Both convey a consistent concept of happiness
It also enhances the user's taste for the brand
If you're going to make a promotional idea
Prompt consumers to act quickly
What would you do?
McDonald's does this
▽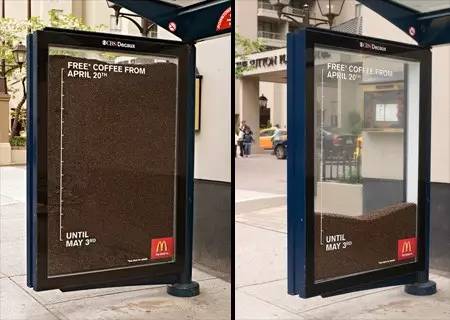 Bus stop on the streets of Vancouver

A glass container is easily filled with coffee beans

This container is a funnel

Over time
Coffee beans are slowly decreasing
Hints that McDonald's free coffee campaign is coming to an end
Such an image of promotional advertising
I have to take it
▽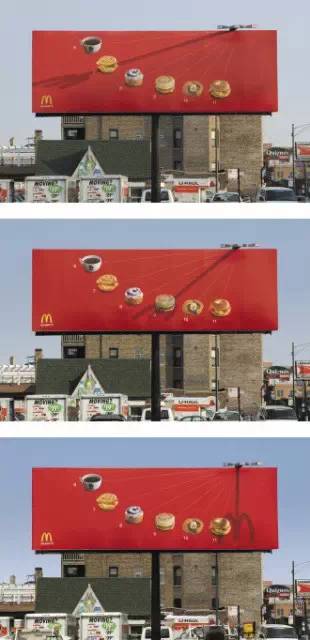 This is a sundial ad for McDonald's by LeoBena Advertising
Billboards are transformed into sundials
The M-pointer will be between the morning and noon

Point to different varieties over time

Tell the consumer what to eat at which time
Although consumers may not follow the instructions
But such creative advertising
Who else would say no?
It is said that the advertisement was at its best at that time

McDonald's criteria are customer first, customer first
So how do they convey that?
▽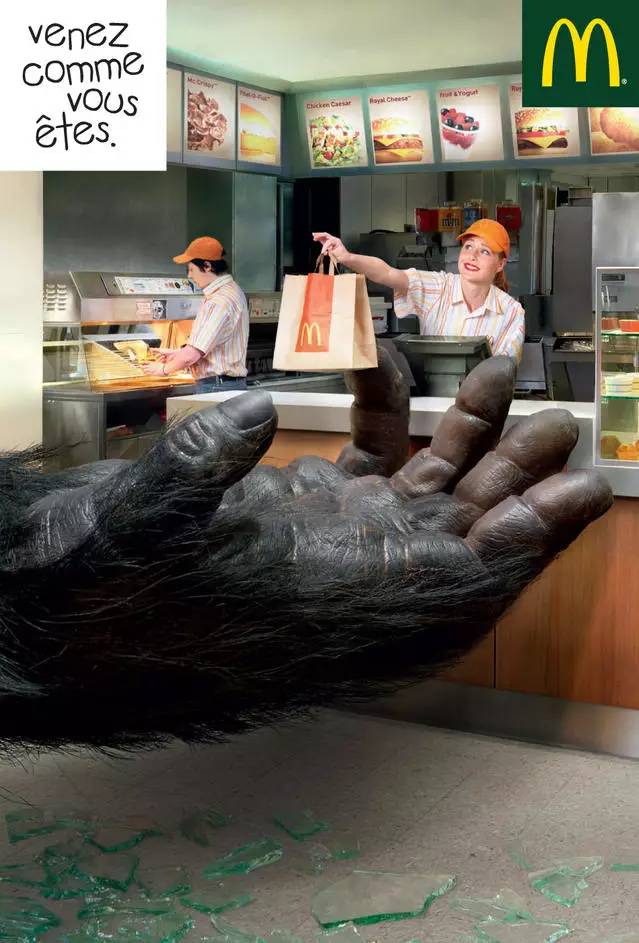 The chimp broke the glass
extended the big hand of the black hand
The waiter's face is no different
Smile and hand the chimp food
The advertisement is more obscure
But think it over
should be wanted to express
Come here for dinner
That's what it's all about
Just be yourself
There are two other similar ads
▽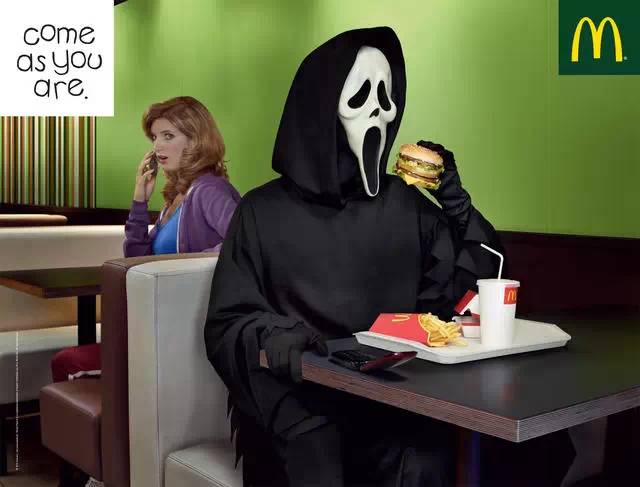 The ghost of eating hamburgers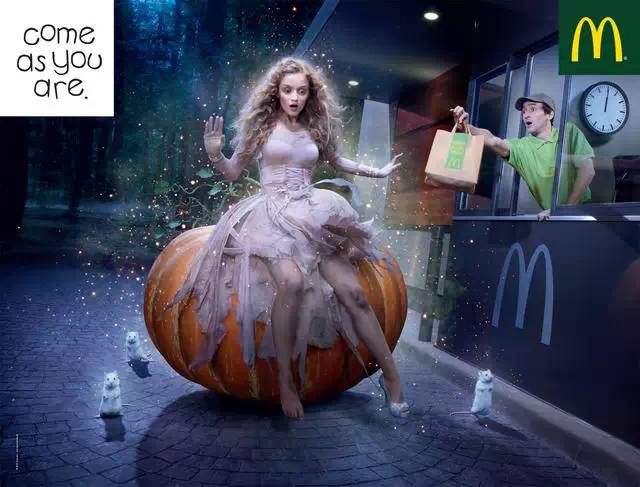 Cinderella riding a pumpkin
This is a McDonald's Halloween ad
"come as you are" in the upper left corner

It means "be who you really are."
The ad wants to communicate
Even if you're eating weird ghosts
Cinderella without crystal shoes
McDonald's still welcomes you
Come to McDonald's for dinner
No restraint is required
Just be who you really are
Humor in the form of advertising
Not only does it reduce the distance between brands and consumers
Also cleverly convey their own business philosophy
The means are not high
That's what McDonald's ads are all about
Sometimes simple, but clever enough

Sometimes it's weird, but it's fun
Sometimes practical, but creative
These colorful and creative ads

All-round display of McDonald's business philosophy
Let people have that warm "M" image
Give birth to infinite good feelings
——END——
Please indicate the reprint
From Creative Text Workshop (cywzf2013)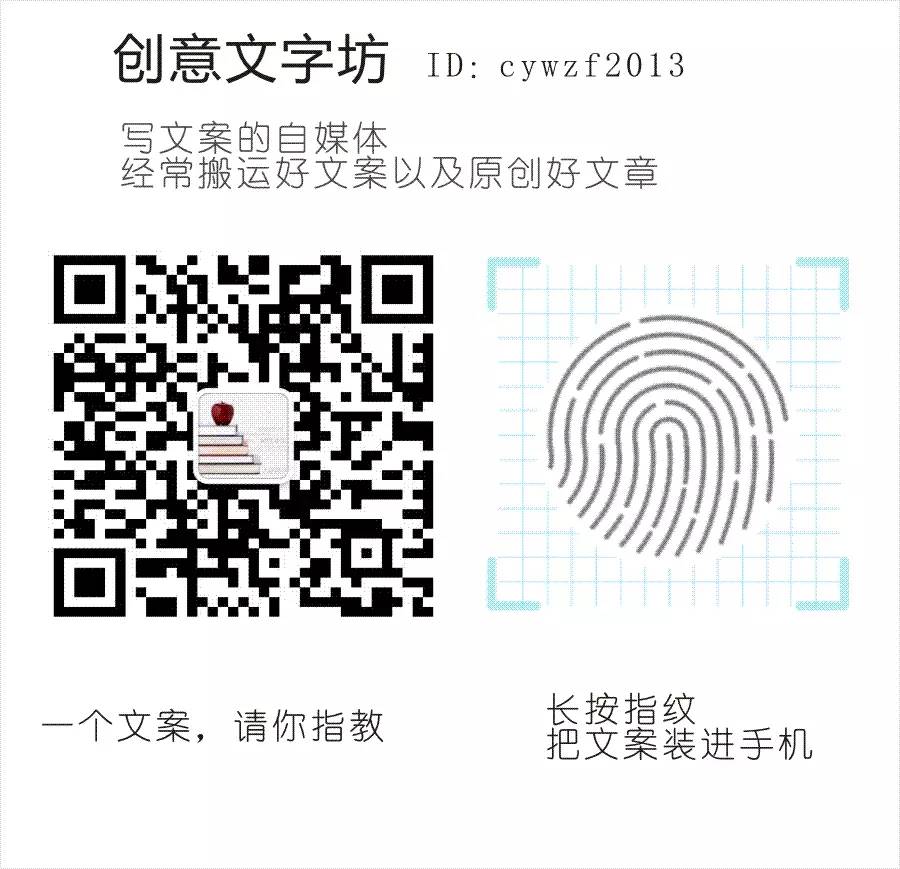 Weibo: smh.com.au
WeChat: yy287867460
Click on "Read the original" to have a surprise.
---