Industry authority data revealed: China's digital advertising fraud chaos
In the first half of 2016, domestic digital advertising experienced an average of about 28% of false traffic per day; vertical and Internet media had the highest proportion of false traffic, reaching 41% and 34% respectively;P The above data comes from the most authoritative and comprehensive Advertising Fraud White Paper released recently by AdMaster, a leading marketing data technology company. Seeing these data, have you already felt the fraud of Chinese advertising?
In fact, not only in China, low-quality exposure, false traffic problems are common in the world, which is the past decade the digital marketing industry has been in a multi-party game but has not yet solved the problem. Uniquely, Incapsula Global Machine Traffic Report 2015, a well-known website monitoring and security service provider, also shows that in 2015, fake machine traffic accounted for 29% of total traffic, with less traffic and less traffic from the more popular websites, and more. This phenomenon is on the mobile side, just as grim.
Such large-scale false traffic, directly led to the expulsion of bad currency, resulting in a serious waste of advertisers' marketing budget. In January 2016, the National Federation of Advertisers (ANA) predicted that global waste of marketing budgets due to fake traffic would reach $7.2 billion ($) in 2016, an increase of nearly $1 billion ($) over 2015. In different online launches, the proportion of ghost clicks completed by machines will be between 3% and 37%, up from 2% to 22% in 2015.
AdMaster's White Paper on Advertising Fraud summarizes advertising anti-fraud techniques and experiences through leading advertising anti-fraud solutions, from single-dimensional data analysis, to multi-dimensional algorithms, to real-time false traffic filtering, to pre-delivery traffic quality pre-judgment. The Advertising Fraud White Paper provides detailed interpretations of non-Human Traffic, video-type fake traffic, and effects-type fake traffic, including: Non-Human Traffic, content bias, unexplicated footage, false leads, multiple activations/repeat conversions, and device brush volume. 
Industry-authoritative research for 500 plus advertisers:
In the first half of 2016, China's digital advertising industry accounted for an average of 26.23 percent of fake traffic per month, according to the Advertising Anti-Fraud White Paper. This data comes from real data from AdMaster based on its own monitoring of 500 plus advertisers, and is highly referenced.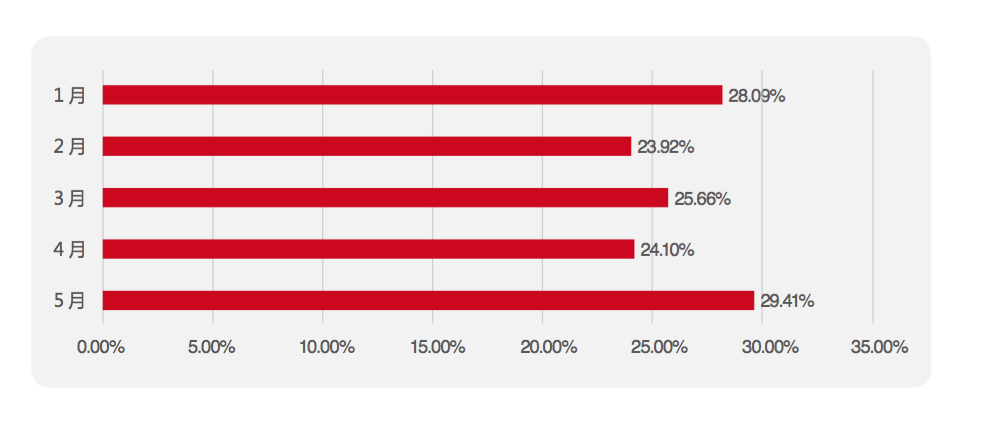 False Traffic Ratio in the First Half of 2016 (Monthly) Data from the Advertising Anti-Fraud White Paper
According to the Advertising Anti-Fraud White Paper data show that false traffic in different projects accounted for between 5% and 95%, 7% of the project false traffic is higher than 50%, the abnormal situation is quite serious.
In addition to the macro data above, the details given in the report are also of very high reference value:
Vertical, network alliance platform is the disaster area of false traffic
Fake traffic, the oldest and most fundamental form of ad fraud, is implemented in a variety of ways, and it iterates as technology upgrades are taking place, most notably in the form of non-human traffic.
The following image shows the distribution of false traffic across different media types and terminals: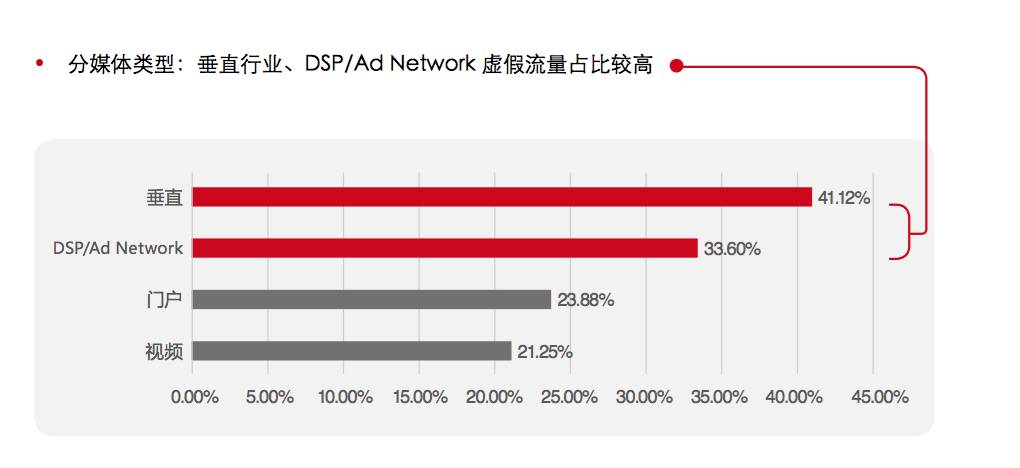 Through the data can be found at a glance, the false traffic distribution map of sub-media types, vertical, network alliance-type virtual traffic far exceeds the portal, video, up to 41.12% and 33.6%, respectively. In the false traffic distribution of sub-platforms, the PC side is nearly twice as large as the mobile side.Vertical, network alliance platform is the disaster area of false traffic. From the marketing equipment, the phenomenon of false traffic on the PC side is not optimistic.
Gold flow is scarce, the play orientation is abnormal, the material is not shown as a persistent disease
Video, one of Facebook's most effective forms of advertising, is a big part of the brand's advertisers' budget, but recent revelations about the amount of video sites that list prices on a treasure trove have raised concerns in the industry about fake video traffic. According to AdMaster's White Paper on Advertising Fraud, the main forms of video advertising fraud are: abnormal targeting of plays, unexposed material, multiple exposures, suborient anomalies, and so onThe most serious are the play orientation exception and the material is not displayed.

The play's directional abnormal popular point is to top up secondAt present, the domestic mainstream video media in the sale of patch ads, all support content orientation (movies, variety arts and other different channels), frequency control (the same user to see the number of ads), geographical orientation (first-line, second-tier cities, etc.), down-position orientation (positive one, positive two, medium plug, etc.) and other fixed investment functions, and for this reason to charge a certain premium.
For drama targeting anomalies, you can identify them by parsing the name of the play played when the ad is exposed and matching it to the content of the play that the advertiser has ordered. For exposure code is called but the footage is not displayed, the video content is usually recorded by means of large sample sampling method, and the image recognition technology is compared with the real footage to determine whether the footage meets the requirements for display.
High advertising costs, large profit margins, high fraud techniques
In view of the demands of effect-type customers in recent years, some special forms of advertising fraud have also surfaced. For example: automotive and other customers pay attention to the website registration retention and other information, and the information collected as an important clue for follow-up sales follow-up. Driven by limited volume and high profits, false leads have entered the public eye. And these false leads are sometimes done by real people. 
Uniquely, APP customers need to purchase a large number of ad-driven app new user downloads in order to increase their daily and monthly activity. Demand was edging in, and many studios began to swipe app downloads. 
There are two cases: the true machine brush for the amount of brush and the amount of the simulator brush. Identifying ad fraud in APP download ads requires better hardware parameter acquisition and support from powerful data analytics models. For brush volume, AdMaster's App Attribution Analysis product, Conversion Master, enables automatic identification. At present, a large number of brush volume studio will be through the brush machine software to the device's Device ID one-click emptying and reset, thus forging Device ID, "conversion master" can get the device's real ID, if a device is repeatedly cleared with one click, can be initially identified as a brush machine. At the same time, AdMaster uses the rules and algorithms of advertising anti-fraud that it has accumulated over the years on the PC and mobile side to determine whether the device is a brush machine based on the behavior information of the device itself, such as the time difference between click-to-activate, the distribution of IP and Device IDs, and whether device IDs behave in accordance with normal human behavior and trajectory.
Regarding the data and technology related to the Advertising Anti-Fraud White Paper, TOP Junte interviewed the principal person in charge of AdMaster's advertising anti-fraud products, and AdMaster's Vice President of Product, Ren Pei.
Ren Peixuan introduced, advertising fraud, false traffic and other industries, the lack of standards for the standard of disarray, not only for advertisers' budget losses, but also hinder the prosperity of the entire Internet advertising business ecology. Faced with the erosion of false traffic, the industry is facing unprecedented difficulties. In the long run, not only will advertisers' rights and interests be damaged, but the media of high quality and integrity will also be forced into a cycle of nausea because of bad currency. AdMaster and advertisers, agencies, and the media are working tirelessly to address the growing problem of ad fraud. However, to solve this problem fundamentally, it is no more than regulating feasible industry standards, as well as the establishment of self-restraint and supervision mechanisms for all sectors of the industry.
Advertising fraud has always been an industry problem that AdMaster has spared no effort to devote to its large-capacity research and development and technical resources. To this end, AdMaster has established a "high-quality media authentication mechanism" to help media filter and swipe fake traffic, so that advertisers can run ads with peace of mind. Since the general brush volume studio is cross-media brush volume, if only look at the exposure of one media, the data may be normal, but put it in the entire large media environment, you will find that other media have similar exposure, which means that the traffic is likely to be false traffic. In order to get out of this part of the traffic,Media can confirm the quality of their traffic through AdMaster's cross-media ad anti-fraud library.
On August 10, 2016, the China Media Rating Council (CMRC) was officially established. CMRC is China's first joint industry consensus and the creation of the media evaluation and certification body, joint Internet integrated services companies, Internet advertising technology companies, advertising agencies, advertisers and other institutions and ecological leading representatives to build a composition. It is reported that CMRC will also learn from the successful experience of the United States, the introduction of the IAB (American Interactive Advertising Association) issued industry standards, and by the MRC (American Media Classification Commission) responsible for the media and third-party monitoring agencies certified advertising ecosystem.
believe in CMRC's leadership and norms under the domestic advertising industrywill usher inHealthy development.The publication of AdMaster's White Paper on Advertising Fraud will also fully support the industry from the technical level of advertising fraud, jointly promote the establishment of quality standards for advertising traffic in the industry, and promote the healthy development of the Internet advertising ecosystem.
---
TopMarketing's 2016 Golden Touch Global Business Innovation Awards, created in partnership with the industry, are now fully launched, covering five categories: Case, Entertainment/Content, People, Company/Platform, Product/Tool. Looking for bold, knowledgeable, dry goods of you, about the entire industry, together ignited the 2016 cross-border innovation passion.
Step 1: PC-side Baidu search "TopMarketing", enter the home page and click on the upper right corner "Golden Contact" Banner ads;
Step 2: Go to the event page to select "Award Declaration" and download the return;
Step 3: Pack the case and upload your return to the website to topads@126 28.
Or ask the sponsor directly for the declaration materials: WeChat 13811881154, 010-56202159
---