Winner-eat-all digital advertising 2.0 era
This article was compiled by Stratechery and original author Ben Thompson.
Every day we use the services of major Internet companies: WeChat, Weibo, Taobao, Google ... 

Basically, we don't have to pay for it. But commercial companies are clearly not charities, and advertisers paid for it for us. In this regard, the Internet spread the truth: when you are a free user, then you are also part of the product.
What do you mean? That is, free users are a tool for industrial companies to cash in. Commercial companies can not unconditionally serve the people, their bandwidth costs, operating costs and labor costs if not directly borne by the user, that is borne by advertisers, customers need to pay attention, time and even privacy. Commercial companies should be more deeply aware of this, but many are not doing enough.
Twitter is a prime example. I previously wrote an article, How Facebook Crushed Twitter, and received a response from John Gruber, a well-known technology blogger:
All along, I think Twitter's biggest problem is that it's wrong to think of itself as a competitor to Facebook. Facebook already has billions of users, and objectively it's basically a national site in the United States. But Twitter isn't, and of course Twitter has hundreds of millions of users, which is a lot and has great commercial value, but it's not Facebook. Tying Twitter into more and more features is getting heavier and heavier, and it's unlikely that it'll become a second Facebook. Doing so can only dilute Twitter's appealing qualities.
From the point of view of an ordinary user, I fully agree with this view, but back to that sentence, the number of users is king, traffic is king. From an advertiser's point of view, it's important to get ads out the fastest and most widely, and Facebook is not much different from Twitter. Now, advertisers have reached a simple consensus: Facebook or Google, other talk-free.
The blood and rain in the field of consumer services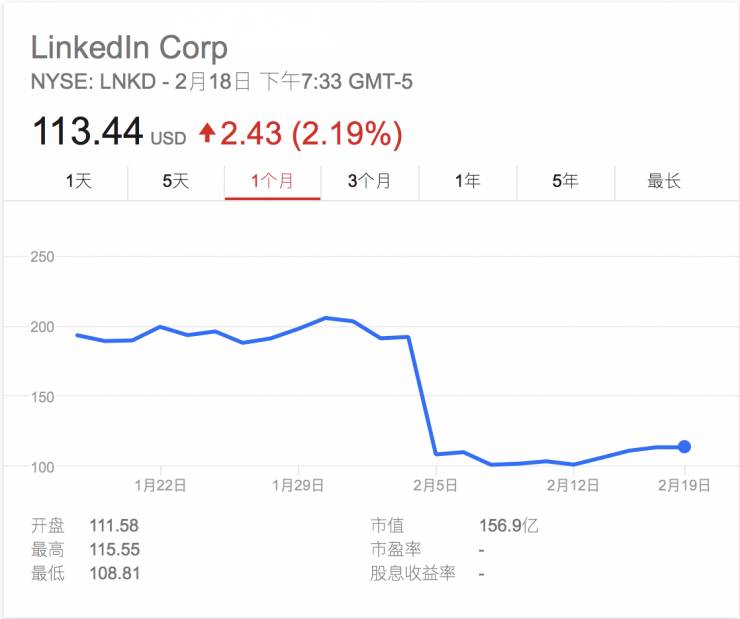 Earlier, LinkedIn had its darkest day in history, with its share price plunging 40 per cent despite earnings exceeding analysts' expectations, sparking panic among investors.
The lesson LinkedIn is that the company's share price is not significantly related to current earnings, and that the share price reflects expectations of future earnings. There is no denying that LinkedIn's core business, a business-oriented social platform, is doing well, which is why its earnings have outperformed expectations. But the market is too small to support its $20 billion valuation, and LinkedIn's previous promise to make a breakthrough in advertising has not paid off. With the off-site advertising project Lead Accelerator out of business, it's getting harder to come up with new profit points.
Meanwhile, Yelp (O2O Food Reviews) posted a not-so-bad earnings report, but its share price is still down 11%. Last summer, the company experienced its biggest one-day drop of 28%, and yes, it also reported lower-than-expected revenue, in line with Yelp's decision to end its brand advertising program.
After a sustained slump in revenue, Yahoo's core business is worthless (90.9 percent of alibaba's 15 percent stake is worth the company), with Twitter valued at less than $10 billion, while Google, the two giants, has a market capitalization of $460 billion (the highest in the world) and Facebook has a market capitalization of $267 billion.
The root cause of the difference is still "customers": it's not the website users, it's the gold owners who buy the advertising space.
Review: A Brief History of Traditional Advertising
Newspapers are the oldest advertising platform. At present, although the media is much richer than before, but the newspaper advertising still has its unique value. On some special days, newspaper advertisements are still popular with many advertisers. From a commercial point of view, advertising is the newspaper's main revenue, the other content is secondary.
In the first half of the 20th century, total revenue growth in U.S. newspapers kept pace with GDP, growing at an average annual rate of 1.2%. In the second half of the year, growth slowed due to the emergence of new media broadcasting and television.
Compared with traditional paper media, advertising on radio and television has obvious advantages: strong performance, the emergence of multimedia so that storytelling has a new approach, and compared with the single point of communication of paper media, radio and television spread more widely, which advertisers value. Although paper media no longer monopolize the advertising market, it has not been significantly affected, because traditional paper media has several unique advantages:
Television and radio boards are fixed and can advertise less and are expensive

Advertising on television and radio costs an order of magnitude more than paper media

The return on investment in television and radio is difficult to quantify, and newspapers can calculate the spread of advertising by means of coupons.
In the end, advertisers (also known as "brand managers" in the consumer packaged goods industry) came up with marketing strategies that balanced the three media with on-site promotions to attract more willing customers: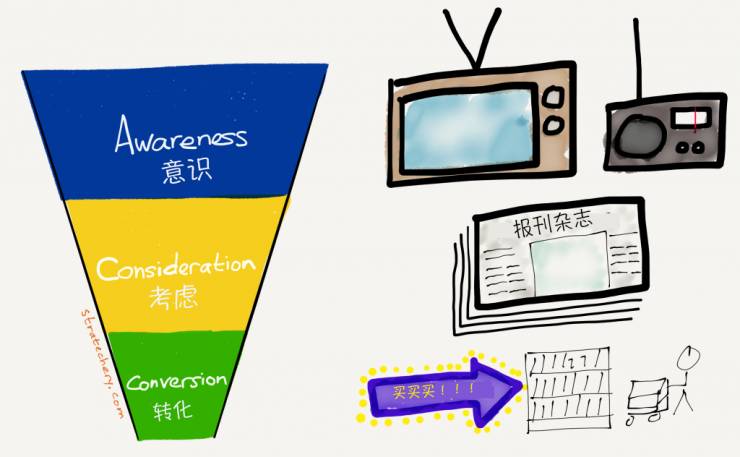 Television and radio can efficiently complete the "consciousness" step, because brainwashing on television and radio is so effective that it is easy for consumers to remember the brands and products that have been advertising on it for a long time. But in the middle of the "consider" link, newspapers play a bigger role, with coupons attached playing an important role. In the end, the brand spent money and time finally taking customers from the top of the funnel to the bottom, but there is no guarantee of the ultimate effect.
The 1.0 era of digital advertising
The first wave of digital advertising was aimed at the bottom of the buying decision, the "transformation" segment. As we all know, computer servers have almost unlimited capacity, so they record all the information, and it's easy to record whether a user made a purchase for a purchase link. Google, the search giant, has a huge advantage in this matter. When people search google for insurance, lawyers or travel information, they're often ready to pay, so get out of the first two rings, and Google just needs to give advertisers a chain on the right column in due course.
In the era of digital advertising 1.0, the advertising industry has brought surgically accurate advertising delivery, which traditional advertising can not do. But traditional advertising still has unique value at the top of the "consciousness" layer, Nike's omnipresent giant banner ads, the brand image of NIke deeply imprinted in the minds of consumers, this is the charm of traditional advertising. In the era of digital advertising 1.0, there was no unified understanding of how "conscious" advertising should be delivered.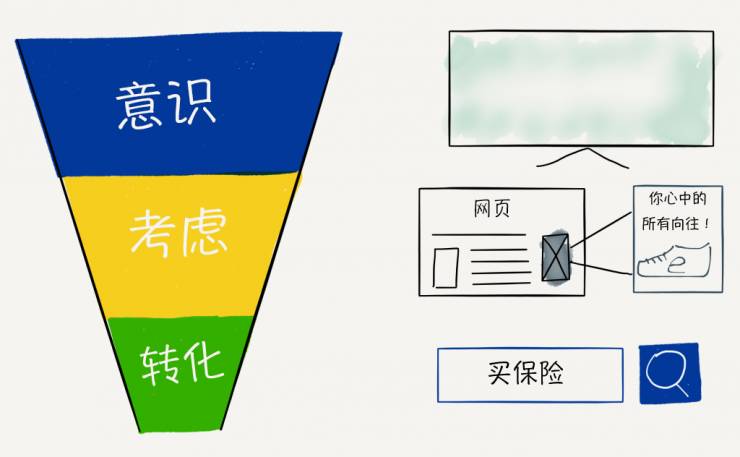 Because this seems easy, want to do a good job to solve two problems first:
First of all, there is no good presentation. Large-scale banner advertising is a poor imitation of the paper media, affecting the speed of web loading, but also occupied valuable screen display space. Second, brand advertising is speculative, and it has been proved that advertising bombing in a short period of time is more effective than banner advertising, and advertising is more inclined to do so.
Now, a new change is taking place quietly.
Digital Ads 2.0
Sheryl Sandberg, Facebook's head of operations, said in a recent conference call:
Shop Direct, the UK's second-largest online retailer, has launched a dynamic image ad to promote its brand in preparation for Black Friday. They only put ads on people who were shopping online that day, and after using our carncast ads, they got the most successful Black Friday ever.
Sandberg says this little thing: Facebook helps Shop Direct carry ads from the top of the upside-down funnel model to the bottom: branded dynamic ads delivered with precision on Instagram, Facebook's carnation ads introduce specific products, and ultimately build long-term relationships with users through Facebook Messenger after they've made their purchases.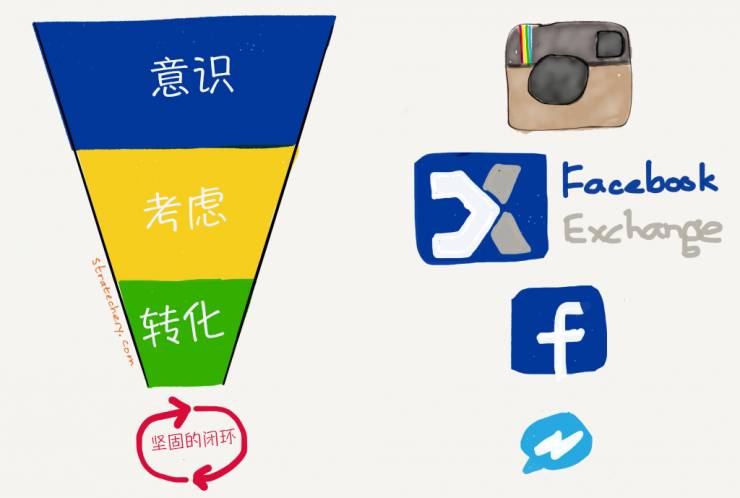 Google has made similar commitments to advertisers: branding video ads on YouTube, DoubleClick addressing the "consider" segment, AdSence's advertising platform addressing the final conversion process, and both Facebook and Google are making sure advertisers get better results using their services: because both companies have excellent customer targeting and conversion identification capabilities, Their services will undoubtedly enable advertisers to achieve better results, and advertisers can monitor the effective conversion of ads through the interface provided by the two companies, thereby managing the overall cost allocation of ad delivery.
Compared to the pre-Internet and paper media eras, Facebook and google address the following issues:
1, Facebook and Google have a lot of display space, and both have growing user numbers and ad loads, and neither company has time limits. To further expand its ad reach, Facebook also plans to apply its data to platforms outside of Facebook.
2. It's cheaper to create ads for Facebook and Google than other ad platforms with different specifications.
3, Facebook and Google have outstanding tracking capabilities that not only track online purchases, but also offline purchases.
Both companies, most notably Facebook, dominate the advertising industry, and the advantages of both platforms speak for themselves compared to other digital platforms: efficient, widely accessed and with a significant output-to-output ratio. Smaller platforms such as LinkedIn, Yelp, Yahoo and Twitter mentioned above are struggling.


Outlook: Winner-take-all is the trend of the future
"Is there a bubble in the Internet industry" has long been a hot topic. I have written in defence of technology companies that their valuations are not seriously high. The share prices of technology companies that make money selling ads are a good testament to my view: the big six technology companies (Google, Facebook, Yahoo, LinkedIn, Twitter and Yelp) rose 19 percent overall last year, but the latest four fell 53 percent, and a 31 percent increase in Facebook and Google made up for the decline in the larger four companies.
In fact, there is a reasonable explanation: advertisers are limited, the major platforms play a zero-and-zero game, such things we have experienced in the era of paper media and broadcasting, after the brutal growth of institutions began horizontal integration, a large number of small and medium-sized media died. According to aggregation theory, Facebook and Google are now effectively reaping a large chunk of territory.
This trend will accelerate in the near future. First, in digital advertising, there is currently no strong competitiveness for companies other than Facebook and Google (the potential challengers are Verizon, who, after acquiring AOL, want to include Yahoo, and Snapchat, which is popular with young people). Other internet giants are growing weakly, proving to advertisers that advertising on their platforms is worth it.
You could say that the polarization in technology is too extreme: Facebook and google eat most of the profits, Yahoo LinkedIn struggles, and small and medium-sized businesses die in large numbers. But this is a more stable state than previous brutal growth. The winner will suck up the blood of all the competitors and become an unprecedented tech giant.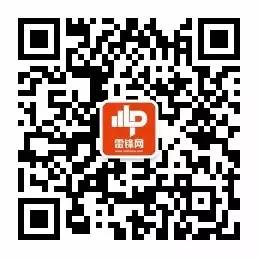 Smart hardware first media Press and hold the QR code to focus
---