I've had enough! We're going to open our own Facebook advertising account!
Building blocks foreign trade e-commerce selection: This is the cross-border e-commerce circle, follow us, click below the article"Building blocks of foreign trade e-commerce selectedThen click Follow. If you like our content, please click on the top left corner to share with your circle of friends. Share, let you and I grow together, your share can let more people grow.
Facebook account opening is a big problem, with the launch of Facebook Business Manager, want to open your own account is not a problem, of course, provided that you do not violate Facebook's advertising policy. Let the agent cry!

Why don't you want an account with an agent?
1, usually have to pre-deposit an advertising fee, for people like small amount of testing and learning, a sum of three or five thousand dollars is not so pleasant.
2, agents can always enter your account to spy on your delivery strategy, bid method and optimization ideas. (I've found that the account opener copied my ad targeting and campaign structure directly))

3, Games, Non-gaming, E-commerce accounts have strict attribute distinctions, you can't vote for games using non-gaming accounts, Facebook has the right to keep your ads zero display at any time
If you haven't been exposed to Facebook ads before, asking an agency for help isn't a good idea, or even a good choice, but if you're an experienced affiliate or agent, watching something that's been painstakingly tested out for hundreds or thousands of dollars is immediately taken away by someone else, are you willing?
How do I open an account with Business Manager?
Step 1: Sign up for an account at https://business.facebook.com, and if you already have an FB account, use your account to complete the sign-up process
Step 2: After completing registration, go to Business Manger'setting, find payment methods in the left navigation bar, click add payment method to start adding payment methods, sorry, credit cards are only supported here.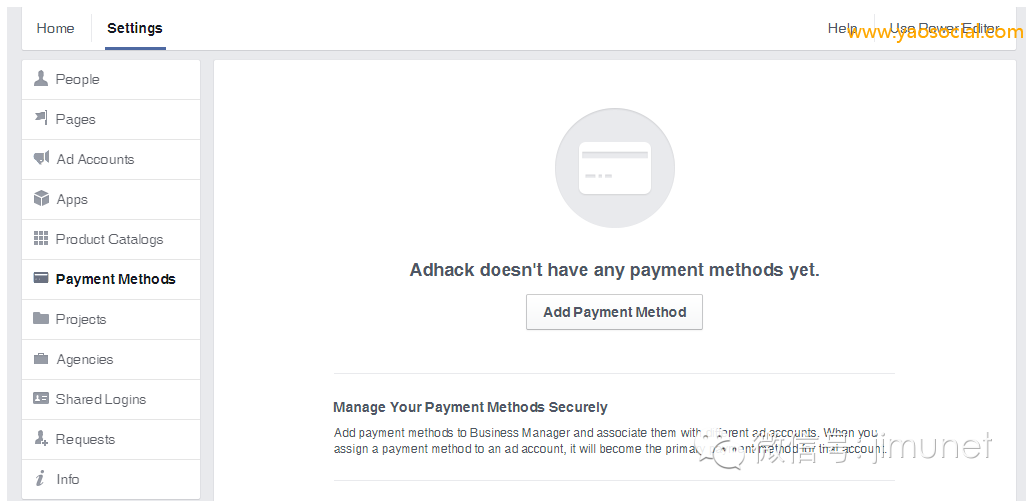 Step 3: Start adding an ad account and don't forget to select the ad account time zone and primary payment

Don't think this is over, the real tutorial is still behind you
When a new account is opened, be sure to make sure that the products you serve comply with The Terms of Facebook's advertising policy. Since the credit card starts with an advertising account with a daily spend limit of only 5000, after spending enough $5000 for three consecutive days, an email to Facebook asking for an increase, the entrance to E-mail support can be found at ads manager. The account I applied for myself has already mentioned $20,000. By applying for such an email, your account is equivalent to having a file on the FB side. Most importantly, you get an email address that can reply directly to FB customers!
If the account is blocked in the subsequent delivery, contact directly to obtain the email address through the above method, according to his request for card number information (card number after four, cardholder name, your relationship), unsealed bar, as long as do not throw illegal goods, basically will not have problems.
Source: yaosocial
Cross-border e-commerce payment solutions, online collections, small language and local collections, Amazon accounting please contact Guangpay: 400-188-2589
---