How to set up a Facebook ad account

Source . . adespresso
Compilation . . Chain scene
This is the first of Facebook's getting started guides for advertising2section, we'll discuss how to set up yoursFacebook ad account.
In addition, you can find answers to the following questions:
What is.Facebook Business Manager(Business Management Platform)?
How to set up yoursFacebookBusiness Manager account?
How to set up yoursFacebook ad account?
How to manageFacebookBusiness Management Platform permissions?
If you don't know how to get startedFacebook ads, please don't worry - Here's what you want to know.
Next, you'll read the settingsFacebook ad accountDescription of the steps, including useFacebookBusiness management platform andFacebookGuide to ad management.
What is Facebook Business Manager?
Business Management Platform is designed to manage youTools designed for Facebook pages and ad accounts.
By using business management platforms, you can:
Manage it for youAccess to Facebook pages and ad accounts - See who has access to themYour page and ad account, and remove or change its permissions.

Work with agents - You can also share yours with your agentBusiness Manager accounts so they can helpYou manage your campaigns.
You can be thereMerge multiple ad accounts and users under your Business Manager account.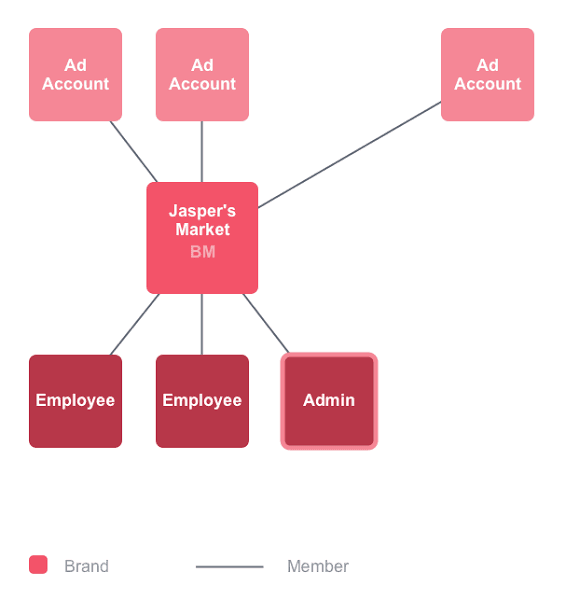 The following image is a description of the permissions for the two roles of Business Manager: Administrator and Employee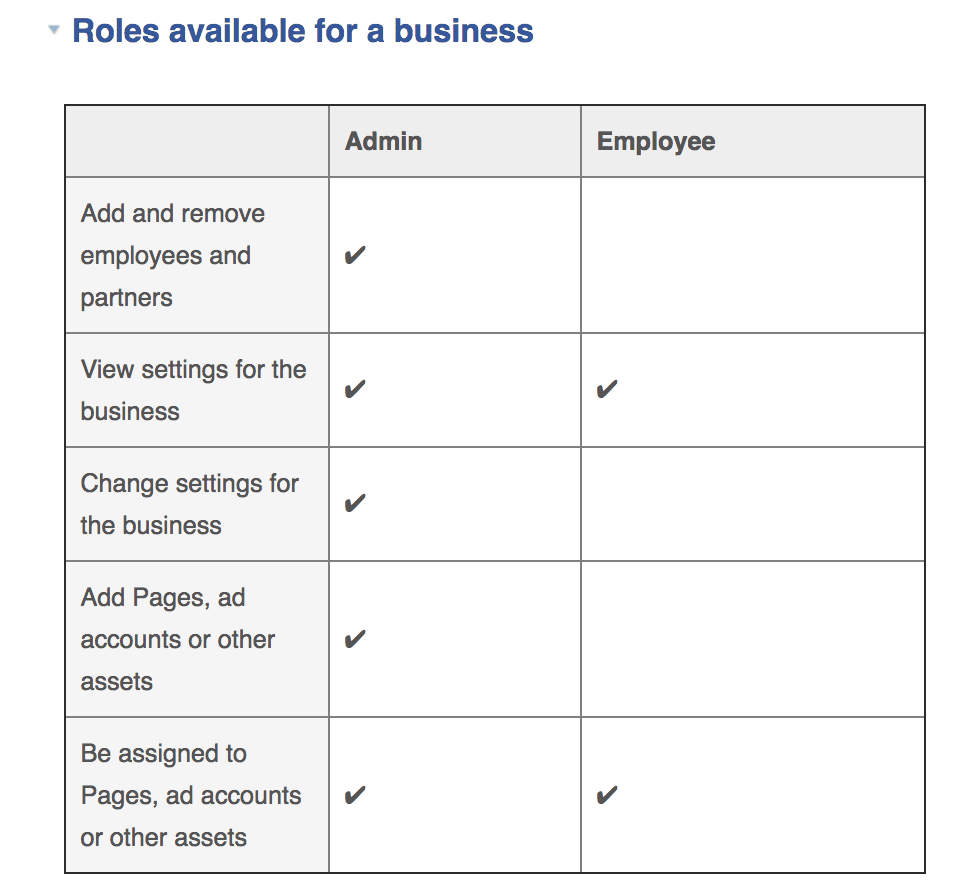 Facebook's ad accounts have a different set of roles.You can also manage it in the Business Management Platform.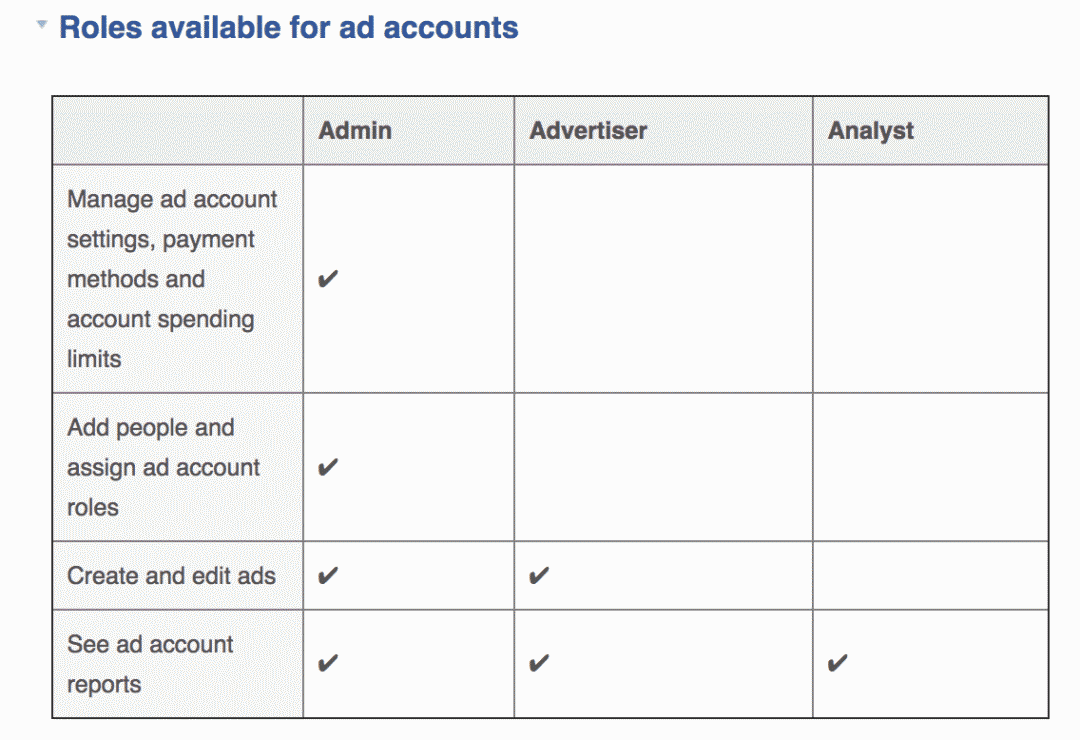 To be inAds on Facebook,You need one for managing at least oneFacebook pageBusiness Manager account.
To addFacebook page:
1. EnterBusiness management settings page
2. Under the people and assets tab, select "Page"
3. Click "Add a new page"
4. Select one of the following 3 options: "Declaration Page," "Request access to page, or "Create a new page"
5. If you choose to request access to or declare a page, please enter the name or URL of the Facebook page
Add an ad account to Business Manager:
1. EnterBusiness management settings page.
2. Under the People and Assets tab, click "Ad Account"
3. On the right side of the page, select "Add a new ad account"
4. Choose from 3 options: "Declare ad account," "Request access to an ad account," or "Create a new ad account"
5.If you choose to request access or declare an ad account, enter an ad accountID。
Before you start advertising, you need toFacebook offers otherAccount information and enter your credit card data.
Set up your ad account information
You need to enter a valid payment method and share some business information otherwiseFacebook won't let itYou start spending money on advertising.Go to your Business Manager navigation menu and click "Ad Account Settings".

Enter the name, address, and other relevant information about the company.You can click "Add payment method" and enter the billing information.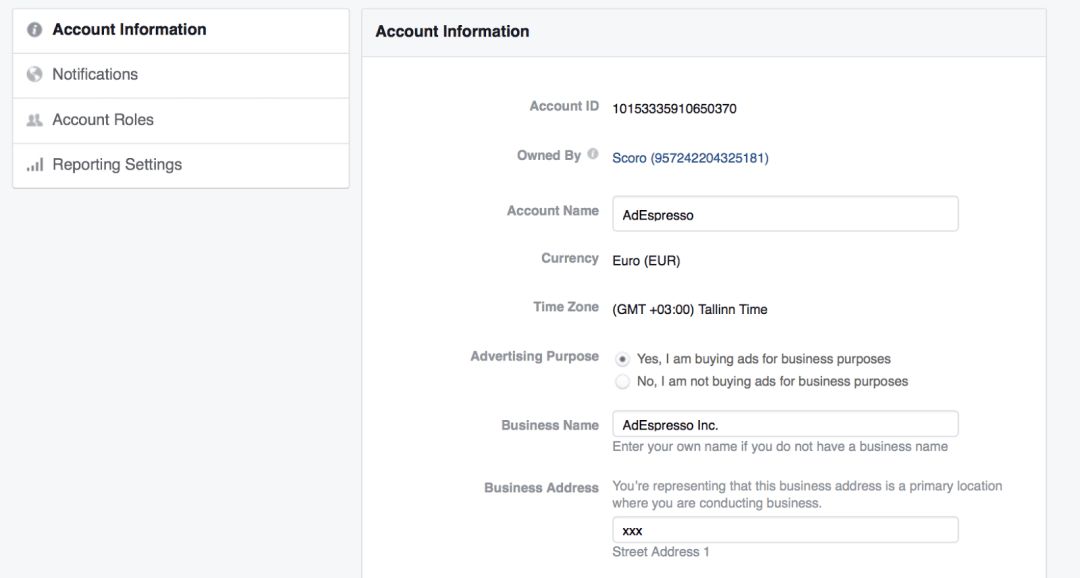 If you are an EU business, you will also be prompted to enter a VAT number.Facebook also allows itYou choose the settlement currency and time zone. Be sure to fill in this information carefully, which cannot be changed after you create your account.
Once you're filling in your ad account information, clickSave changes button, and then go to the Billing and Payment Methods page.
Set up payment information
Now, add your first credit cardIn a Facebook ad account. To do this, you need to go to the Business Manager navigation bar and click "Billing and payment methods".

You will log inThe Settlement page,You can:
Add a new payment method

Modify your current payment method

Set the spending limit for your account
To add a new payment method:
1. Click on the green oneAdd a payment method button
2. Choose how you want to add it
3. Fill in your information
4. Click"Go on"
Facebook accepts a variety of payment methods, including credit cards and PayPal payments. If.If you need additional help, please referRead.FacebookHelp Center。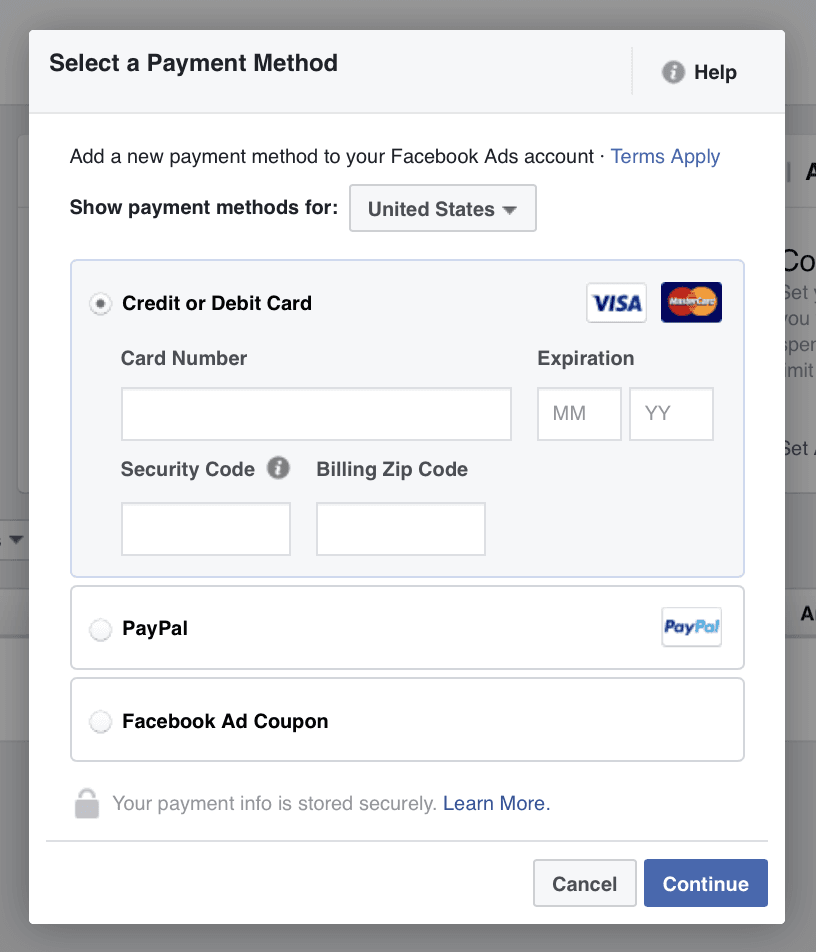 Tip: Add multiple payment options

As you cast more and more ads, we recommend that you add ancillary payment methods. That way, your ads won't stop running even if your primary card expires, reaches your monthly limit, or is disabled for other reasons.
If your primary card billing fails, all of your campaigns will stop immediately and won't run until you've paid your outstanding balance. You also have to manually restart them one by one. If you're running multiple campaigns, this is a tedious task. But if you set up a secondary payment method,Facebook will startPay with it and everything goes smoothly.
Edit your payment options
If you want to modifyFacebook ad paymentsinformation that you can clickEdit Payment Methods to make changes on the same page。 If you enter more than one payment method, you can choose which is the preferred payment method.
Note that you can't delete the primary source, so you'll need to use other options as the primary source before deleting the current primary payment method.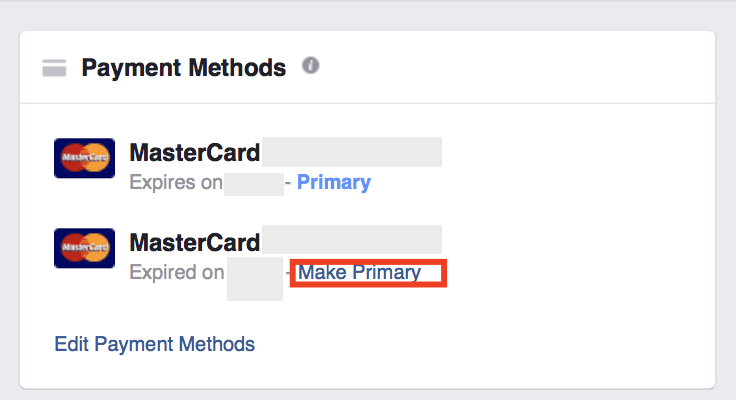 Facebook adsHow and when will I be charged?
There are two times you can get fromFacebook gets the bill:
At the end of each month

When you reach the settlement starting amount (if you use direct payment to pay.)Facebook ads)
Settle the starting amount, which means that each time a specific amount is reached, you are charged through your primary payment method. Thresholds vary depending on your billing history.
The first time you advertise (usually$25), the threshold is very low, and you'll be charged $25 per Facebook ad.As payments increase, your threshold will automatically rise$50, $250, $500, last $750.
These thresholds don't affect your campaign, they only affect how often you pay. One of the great advantages of having a high threshold is that you can handle fewer invoices. If you want to change the threshold or have billing issues, you can contactFacebook。

Set an account spending limit
If you want to make sure your campaign doesn't cost more than your monthly ad budget, you can limit itFacebook ad account spending.
This is useful when working with agents to ensure that they don't spend more on advertising than they budget.

Setting limits is also easy. Just clickJust set an account spending limit and set an amount.

Don't set it too low, or you'll update it frequently. Keep in mind that every time you reach the limit, all of your accounts are suspended at least15 minutes.
Finally, rest assured that your account spending limits have no effect on the speed at which your ads run.
Facebook ad account restrictions
Whether you like it or not, yoursThere are some restrictions on Facebook's advertising accounts. Most of the time they don'tIt'll bother you, but it's best to get to know you from the start.
Here's howLimits for Facebook Power Editor:
Users can manage up to25 ad accounts

Each account's ad account can contain up to25 users

Regular ad accounts can be included at most5,000 ads

Regular ad accounts can be included at most1,000set of ads

Regular ad accounts can be included at most1,000 campaigns

Your ad account can contain up to50 ads that weren't deleted by ad set
These restrictions apply only to ads and campaigns that have not been deleted. When you reach any of these limits, you can delete your old campaign and its ads.
Set up.View notifications
There's no doubt you need to know about important updates that happen in your ad account.
Receive.FacebookNotifications are a good way. However, they also fill your inbox very quickly, so you may want to change fromHow often Facebook receives email notifications.
Edit notification settings:
1. Go toThe Ad Account Settings page (this is.)The page where you set up your ad account information).
2. Select from the menu on the leftNotifications.
3. Add or remove check marks before notification, depending on what you want to receive.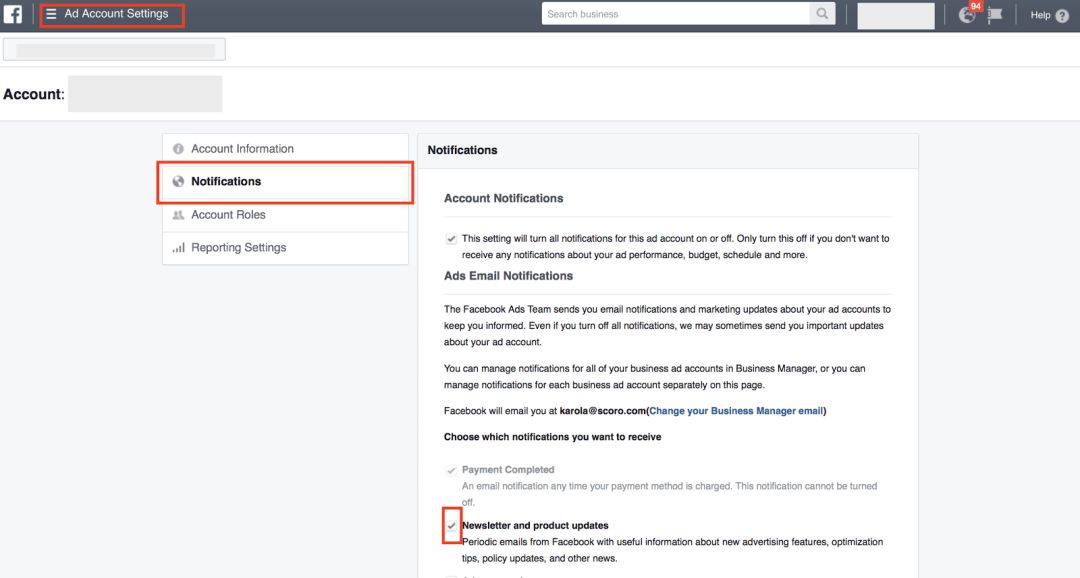 Set up notifications so that your mailbox receives the most important notifications, while other notifications appear as general message notifications in the top menu of your Business Administration home page.
View ad account roles
If you want to add a new user's administrator, go to the navigation menu to clickAccount RoleSet up.

You can add new users (invite your team members) and edit permissions for existing users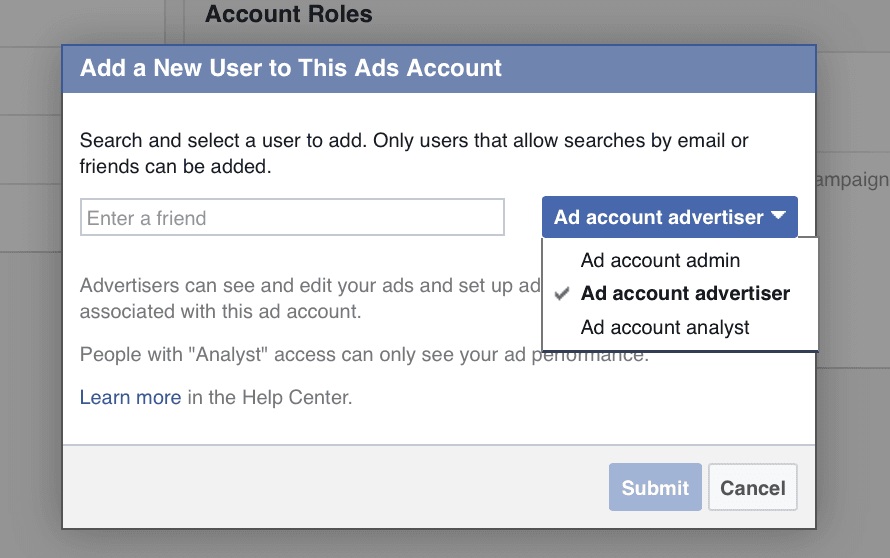 Once you've completed account management and invited your team members, you've set up your Facebook ad account.

Congratulations! You ready!
Yours.The Facebook ad account is ready.Just wait for the campaign to be set up!
Under-update No.Section 3, understandHow toSet up in Facebook's ad management platformYour first oneFacebook ad campaign。
How much do you know about global social media?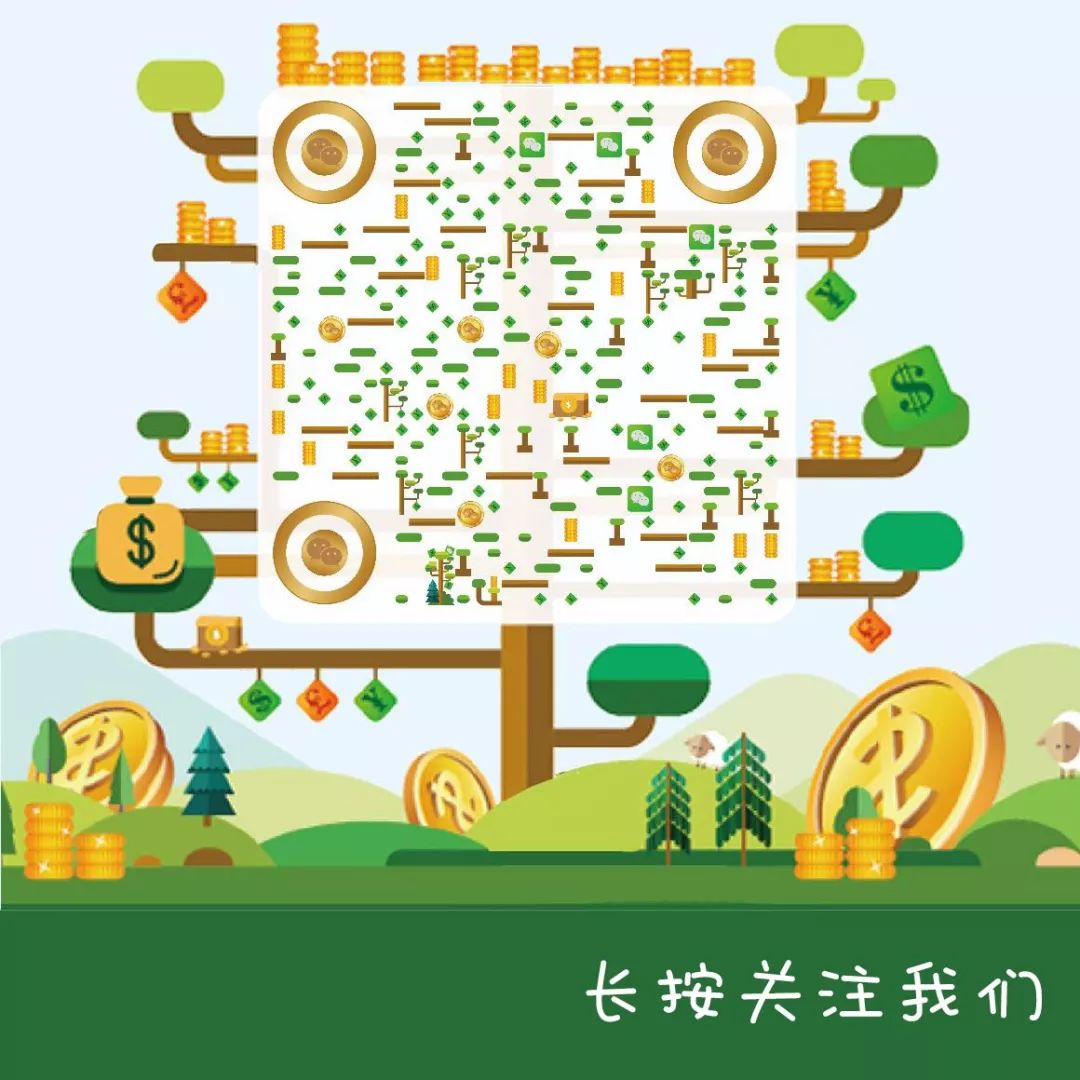 ---