How does the retail industry use Google Shopping ads to get high conversion traffic and play Black Friday and Cyber Monday?

Summer officially ends, for PPC (pay-per-click advertising) advertisers, the end of summer means the end of the back-to-school season, the holiday shopping season officially begins!

Based on Google's historical search traffic research, the article will forecast holiday Google search trends in 12 major retail industries, focusing on the United States, Canada, the United Kingdom and Australia.The 12 retail sectors include:ClothingComputerDigital products,Food and groceries,Hobbies and leisure,Home and gardening,Household appliancesFurniture,JewelrySports and fitness,Toys and games,Full retail.
When does an industry start holiday shopping marketing?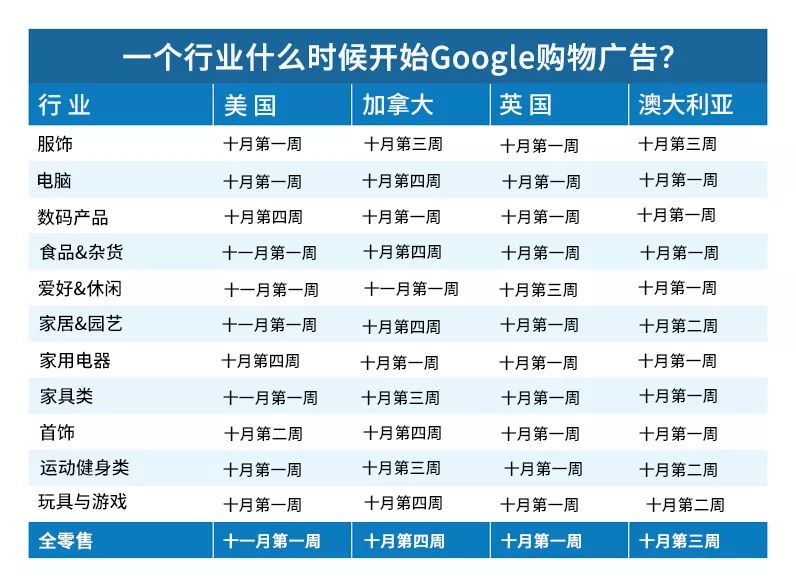 Many retailers notice holiday traffic as early as the first week of October! In the UK in particular, holiday shopping starts earlier than most people expect. In North America, some industries need more time to prepare for big holiday purchases, as customers typically don't start buying until late October and early NovemberHome and gardening, household appliances, furniture.But by the first week of November, almost every retailer should have noticed a significant improvement in activity, and advertisers can expect advertising to grow by at least 10%.
How will Google Shopping ads grow in 12 industries before Black Friday?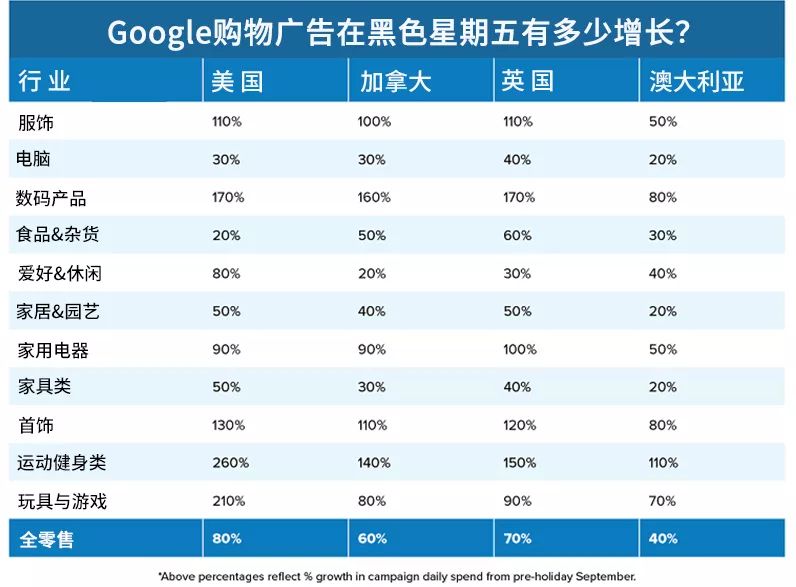 Sooner or later, all retailers will see holiday shoppers flock to SERP (so engine results page) to buy their products. While Black Friday and Cyber Monday are the biggest shopping days, many people will see a pick-up in traffic before the big events begin.
In the U.S., retailers increased their searches by 80% throughout November!Some industries, such as sports fitness, toys and games, digital products and clothing, more than doubled their sales before Black Friday. Some industries and markets are growing faster than others, and all retailers can expect at least 20% growth before the holidays.


How much traffic does Google Shopping ads have on Black Friday and Cyber Monday?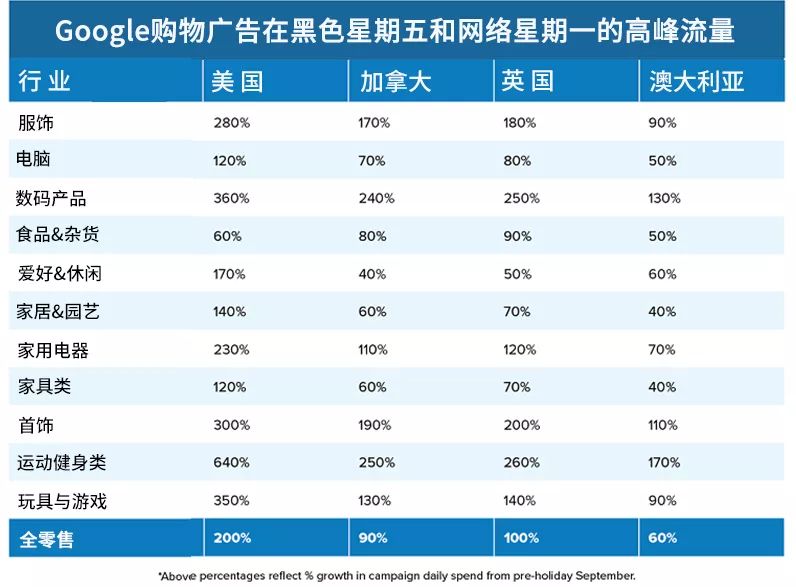 Black Friday and Cyber Monday are two of the biggest days for online retailers, and the google Ads trend is just that.Advertisers can expect their ads to reach more than six times their daily visits these days.
In the U.S., retailers can expect Black Friday and Cyber Monday to see three times as much traffic, spending and sales as usual at the peak of the holiday season.High-priced items - jewelry, home appliances, digital products, computers, etc. - are iconic items of the holiday season, and retailers of high-priced goods can expect more searches than usual on these important days.
Even outside the U.S., Where Black Friday and Cyber Monday are becoming more popular, international retailers should expect more opportunities to attract potential customers on Google Search these days, with a full-than-double the number of visits.


What do you expect from Google Shopping ads in December as a retailer?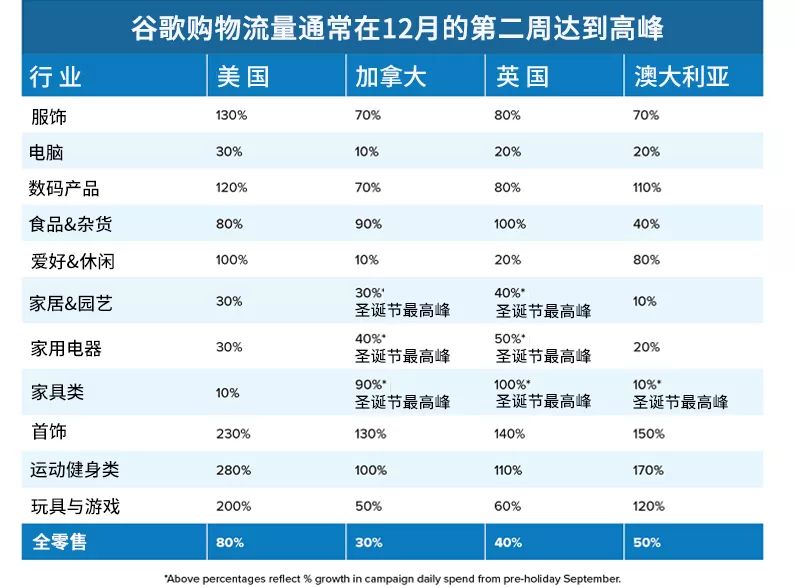 Although Black Friday and Cyber Monday are the biggest shopping days of the holiday season, shopping traffic continues to grow from November to December. Online holiday shopping traffic on Google typically peaks in the second week of December, with the exception of some regions, where traffic may even occur later.
On average, Google's shopping traffic is as high as it was before Black Friday. However, some retail sectors peaked after Cyber Monday. For example, in the second week of December, grocery and grocery shopping was the highest on record in a year. Other sectors - home appliances, home and gardening, furniture, etc. - began to slow in December, although this also typically saw small growth during the Christmas week, particularly in international markets.


What happens to Google Shopping ads after the holidays?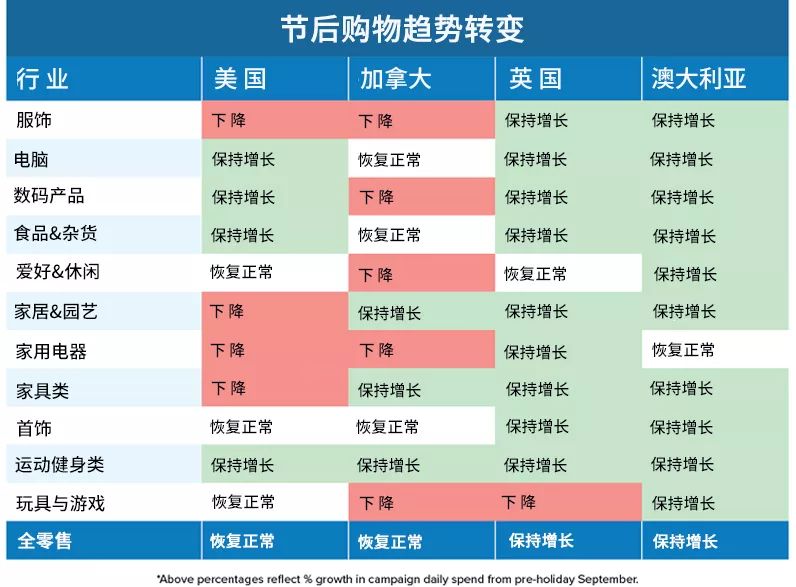 Even after every gift under the Christmas tree is opened, some shoppers continue to flock to Google after the holidays to get last-minute gifts, or end up squandering the gifts they've been paying attention to all season.

While e-commerce transactions in January were certainly slower than in December, shopping searches in many industries were still at least 10 per cent higher than the day-to-day level for the year. In the United States and Canada, many industries hibernate in winter, while Australia enters summer. Across the globe, however, people are leaving holiday parties and Christmas dinners eager to solve New Year's plans. Sports and fitness clothing retailers expect Google shoppers to be at least 40 per cent more than usual after the holidays.
Google's full holiday forecast for the industry
▼
Here's the full Google Holiday Forecast for each industry in the U.S., Canada, the U.U. And Australia.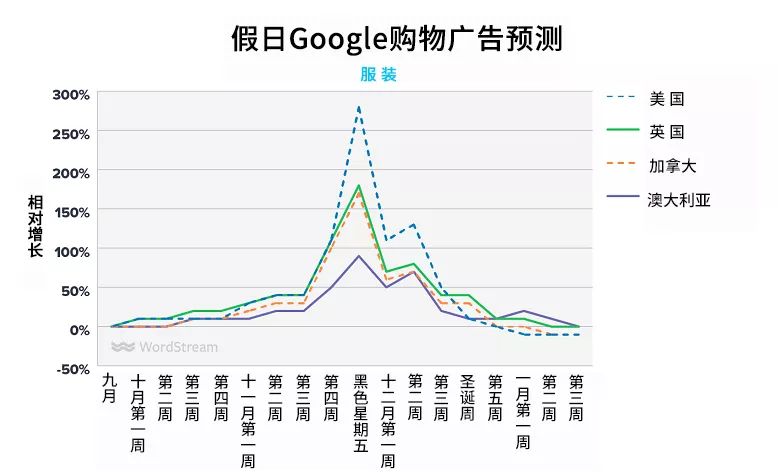 The holiday Google Shopping campaign grew in early October and continued to grow in November and mid-December. After the holidays, coverage was slightly lower in North America (the US and Canada), while in the UK and Australia it increased after the holiday.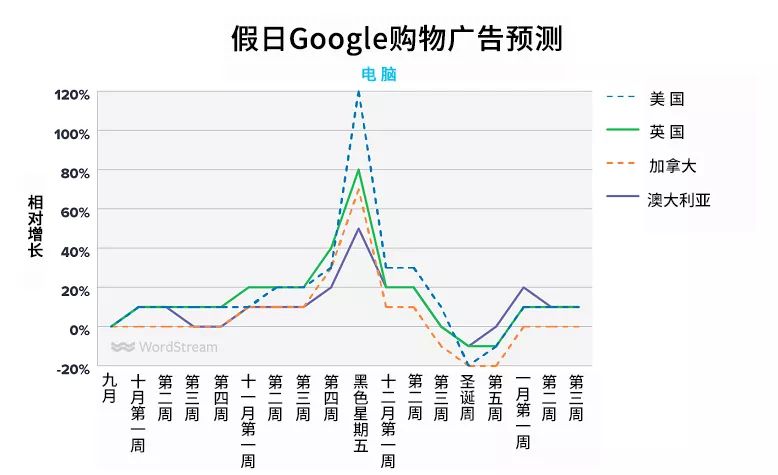 Holiday Google Shopping campaigns grew at a moderate pace at the start of the quarter, with strong growth in the weeks around Black Friday and Cyber Monday. After the second week of December, many computer shopping activities have decreased.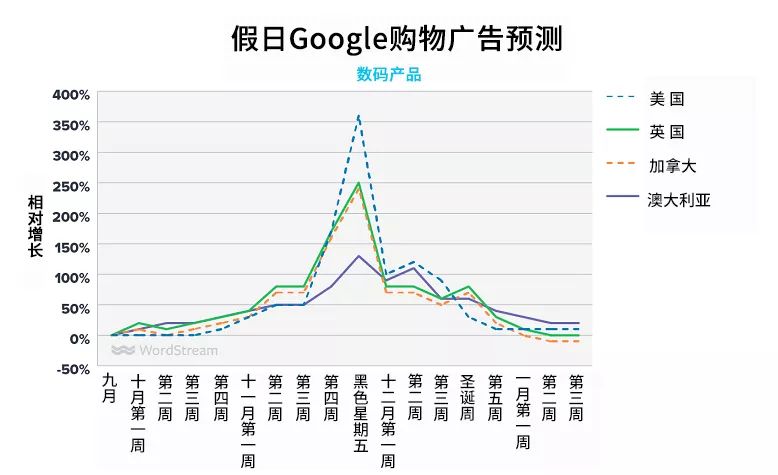 Google Shopping campaigns grew on average to two weeks before Black Friday. The weeks around Black Friday and Cyber Monday are peaks. These Google Shopping campaigns are likely to see a second smaller increase outside the U.S. this Christmas week. A slight increase is expected in early January.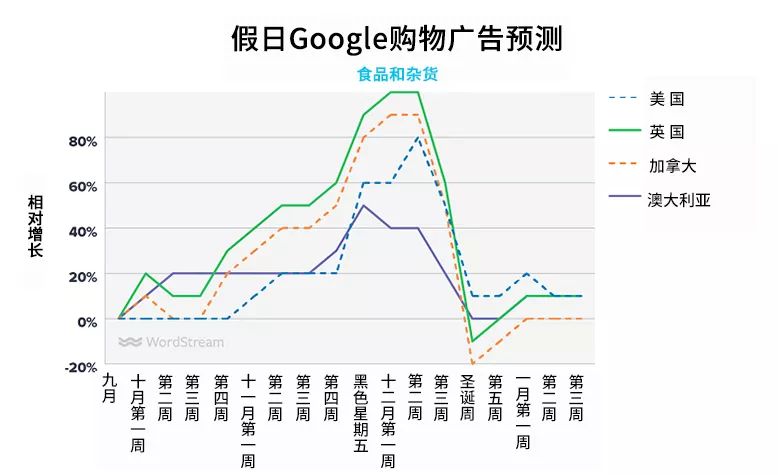 Throughout the season, Google Shopping campaigns have been steadily on the rise. While many may notice significant growth around Thanksgiving, the campaign will continue to grow until the week before Christmas, before plummeting.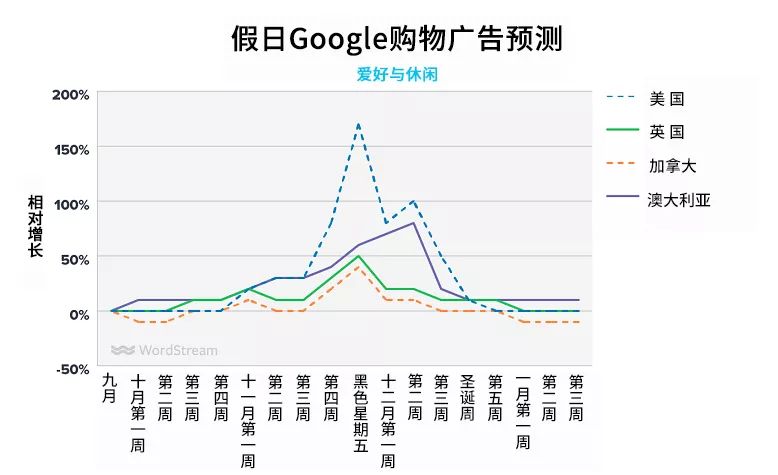 Until November, the industry's Google Shopping campaign was growing at a limited rate. Black Friday, Cyber Monday and the second week of December were particularly strong, but the growth was concentrated in late November and December. Until January, these activities will continue until the holidays.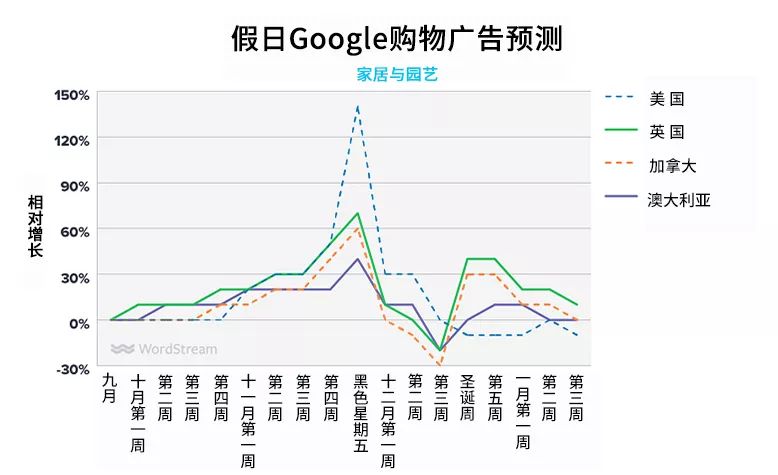 Google home and garden shopping usually begins later in the season and ends early, usually returning to pre-holiday levels before Christmas. Outside the U.S., Google has seen its second mini-shopping boom since Christmas.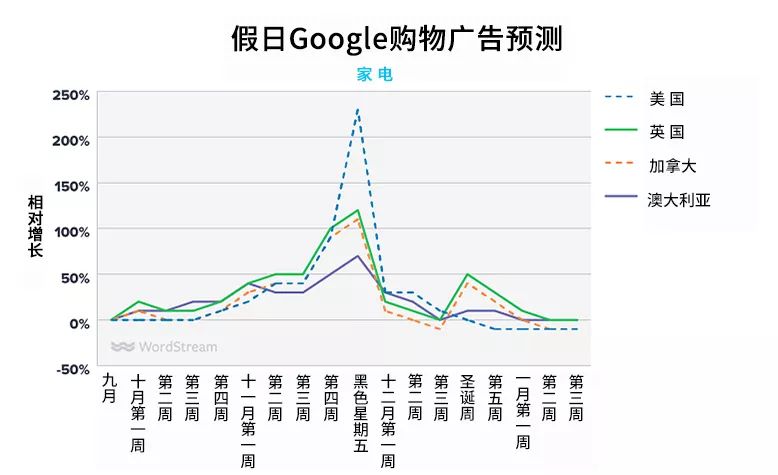 Big ticket appliances are usually planned before they go on sale, and the weeks leading up to Black Friday are the largest in the industry. Most Google holiday shopping ends in the first week of December. The week of the new year is likely to see small gains in international markets.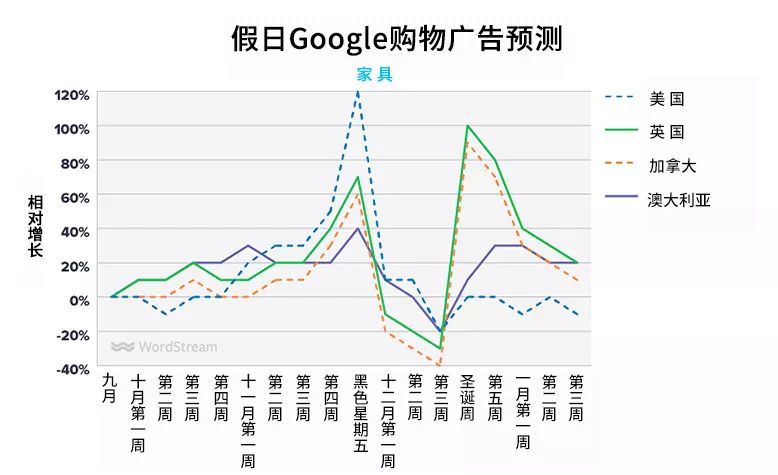 November is the biggest month for furniture shopping on Google, and December may be the worst month. Take advantage of these sales as early as possible by setting up these campaigns as early as possible and preparing an adequate budget for the November peak. Outside the U.S., it is also preparing for another big rally in January.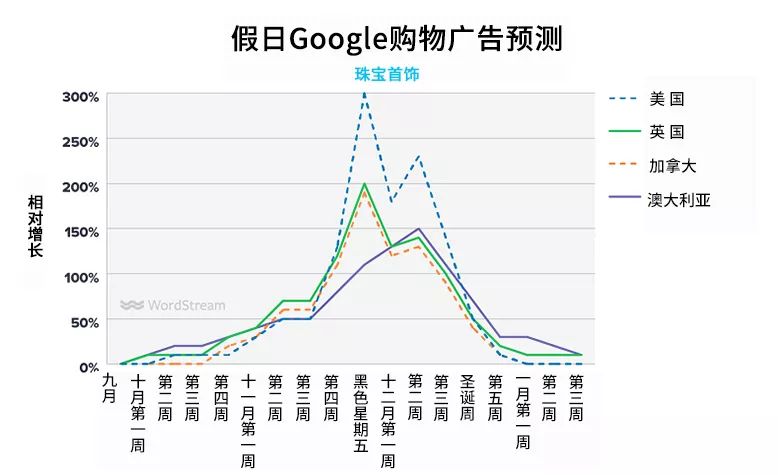 Throughout the holiday season, Google's shopping campaigns have grown steadily and expected, peaking around Black Friday, Cyber Monday and the second week of December. Even after the holidays, jewelry shoppers flock to Google, and advertisers should never expect to fall below pre-holiday figures.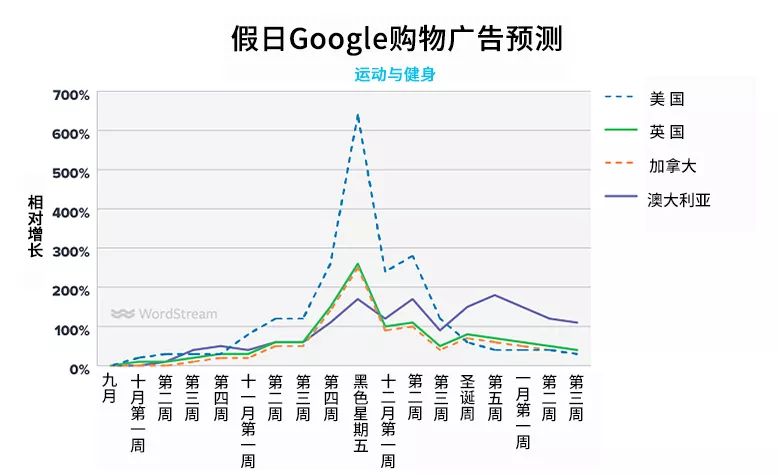 Summer goods are made in winter, while fitness shopping is first done in autumn. Throughout the season, the reach of these campaigns will be greatly increased, up to 640% of their pre-holiday spending! Even after Christmas, expect these campaigns to cost at least 40% more than in September.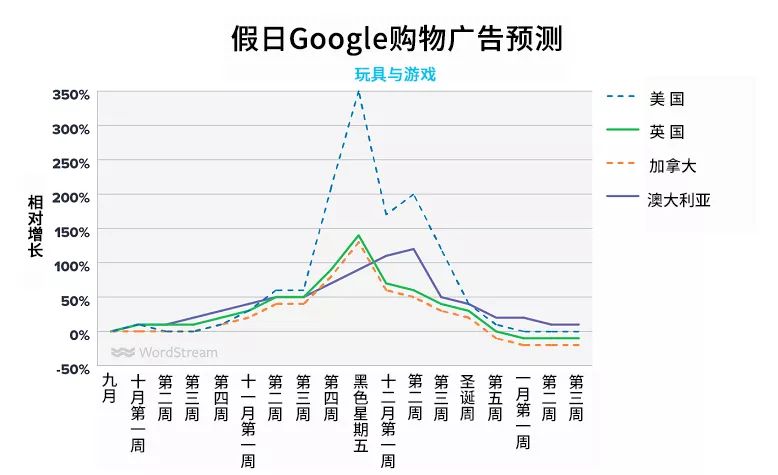 During the holiday season, Google's shopping campaign grew slowly in October and did surge in November and December. After Christmas, however, these campaigns typically fall below pre-holiday spending in January.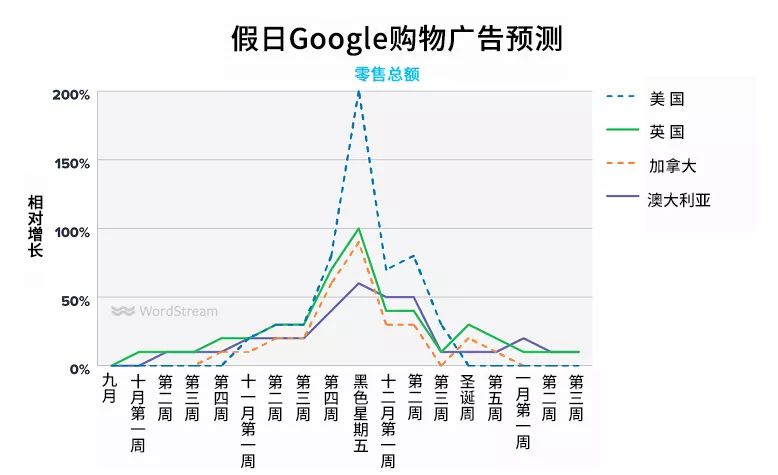 Until the first week of November, Google Shopping campaigns in all markets should see double-digit percentage growth. U.S. advertisers should plan to peak at 200 percent on Black Friday and Cyber Monday and 80 percent in the second week of December. Internationally, advertisers should expect a similar trend, by only about half.
Is your Google Shopping campaign ready for this holiday season?

For e-commerce advertisers, the holiday season is the biggest opportunity to create sales, so you have to make sure your campaigns are well prepared.
1. Start your shopping activities now:If you haven't started using Google Shopping ads yet, it's not too late! Get started early so your campaign can make the most of the season. However, building a feed, organizing products, and launching your first Google Shopping campaign can be difficult for you.
2. Get your budget ready:All searches are seasonal, but we'll see huge changes in demand during the holidays. Depending on your industry, you may need to increase or triple your daily budget. During Black Friday and Cyber Monday, some industries should spend more than six times as much on everyday advertising!
3. Make good use of plug-ins to rate your Google Ads shopping:Whether you're just starting your first Google Shopping campaign or running a shopping ad for years, there's room to increase reach and reduce waste. To see specific opportunities for your Google Shopping campaign, you need a comprehensive understanding of the performance, opportunities, and competition of your shopping campaigns with similar advertisers, all of which can be achieved through the Google Scoring plug-in.
4. Check the performance of your industryBenchmark:In this busy season, it's hard to know how your campaign competes with competitors. We recently reviewed hundreds of Google and Bing Ads shopping campaigns in 16 popular industries to create shopping benchmarks with their average budget, click-through rate (CTR), CPC, conversion rate (CVR) and cost-per-conversion (CPA). Review the impact of your shopping activities on your industry in this article.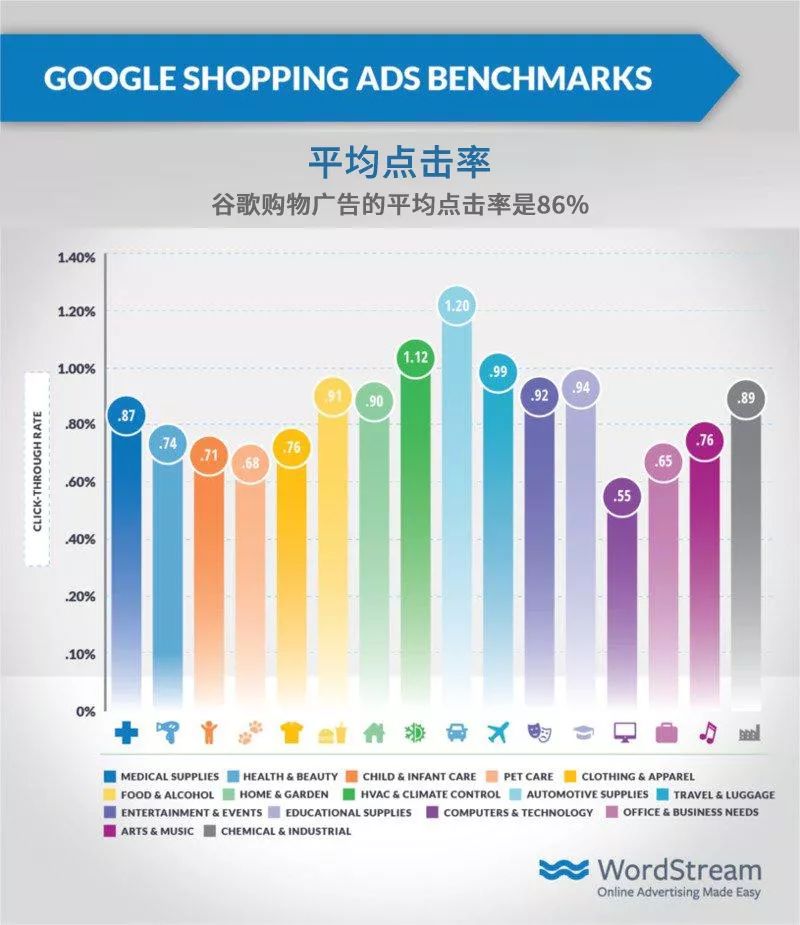 ---
Source: Wordstream
By Mark Irvine
Translation: Shenzhen Topology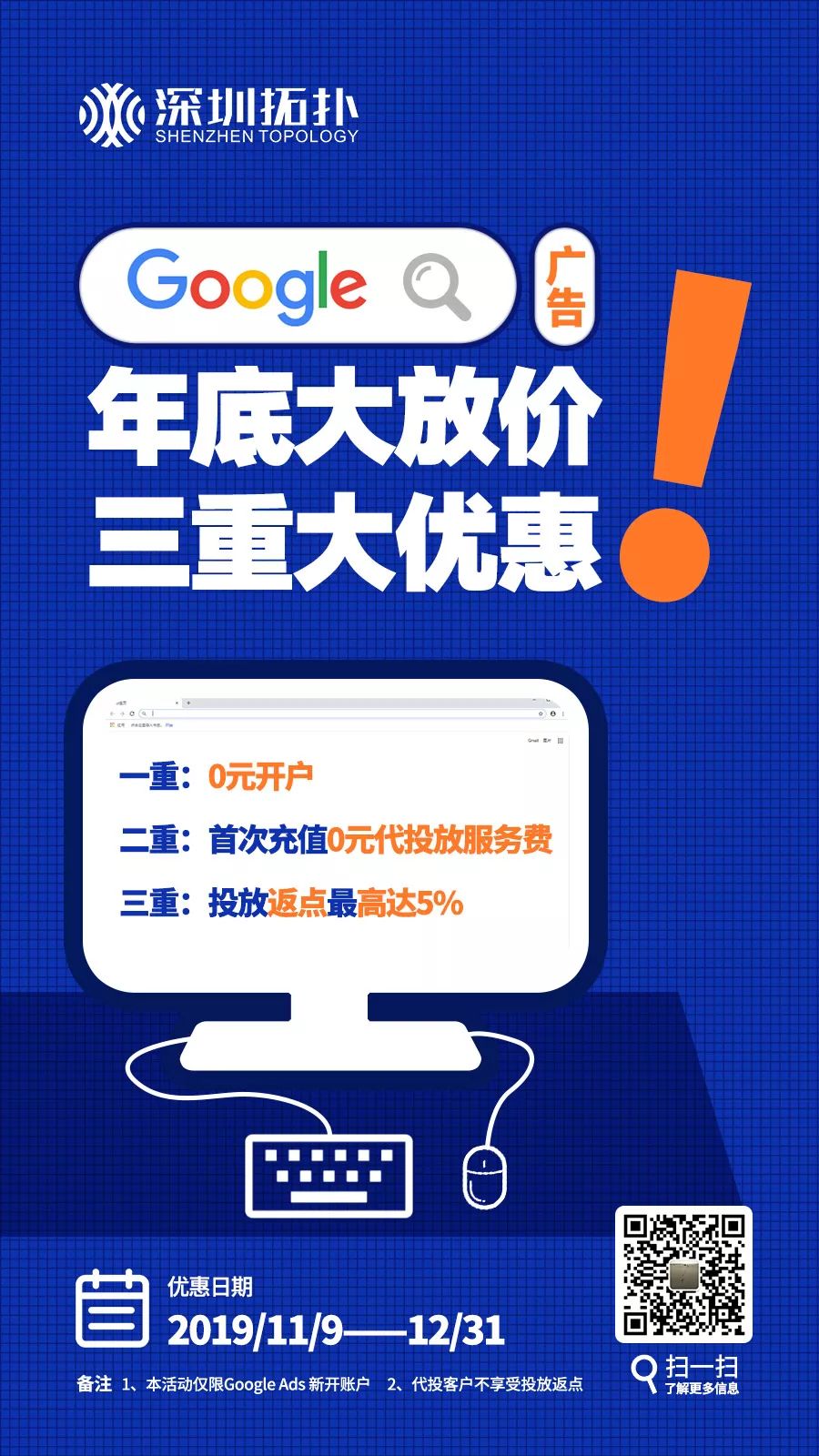 Poke.

"Read the original text"

See more Google dry goods!
---