How do I play with social traffic? JD.com's domestic helper ads reveal new playthings for e-commerce marketing growth

Reply."E-commerce"Receive."1000 cases of e-commerce operations dry goods"
Edit the . . Zhang Yi (TOP e-commerce master pen)
Source . . TOP e-commerce (ID: itopec)
E-commerce track competition intensified, in the search for growth consensus, brand merchants not only to solve the rising cost of customers, pull new difficulties, traffic difficult to convert into sales and other difficulties, but also to deal with traffic dispersion, brand exposure can not be accurately reached, new products difficult to achieve the plight of the explosion.Especially at a time when the value of social traffic is highlighted, how can brands penetrate the segmented social scene, deeply cultivate private domain user operations, explore the incremental blue sea of marketing, and obtain and continue to operate long-tail traffic value?
Recently, in Beijing held the first JD.com domestic helper advertising business seminar, at which the team and category of merchants open question dialogue, based on product development and business usage, issues from JD.com domestic service advertising macro-level product matrix to all kinds of domestic helper advertising / function of the use of experience, effect and deficiencies, merchants have put forward upgrade proposals, and further improve the performance of expectations.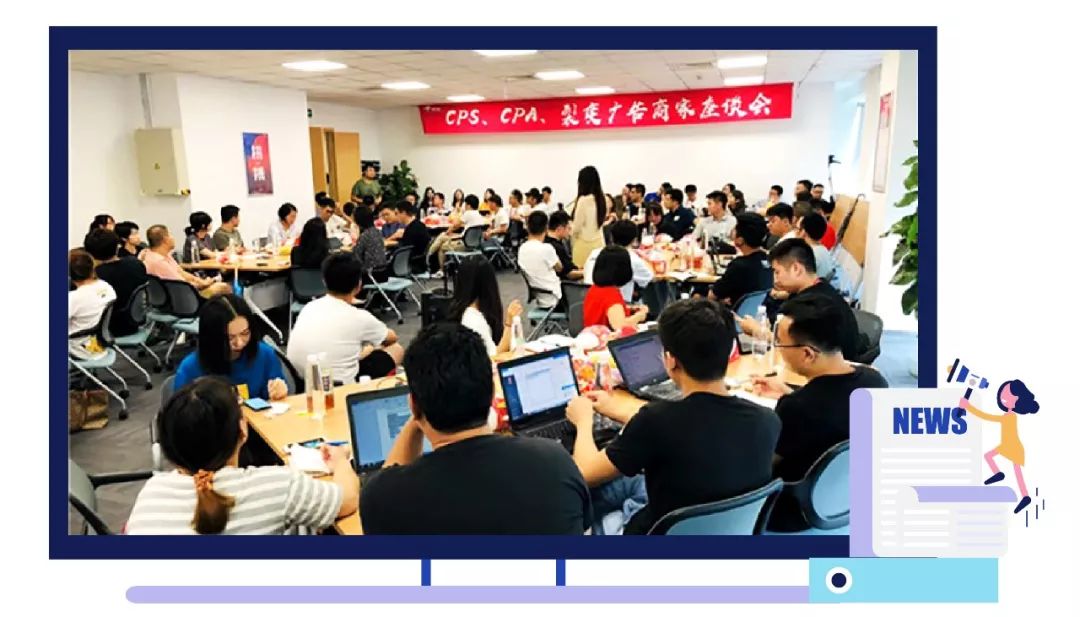 JD.com has been on-line advertising products, for brand marketing cost-effective, expand incremental space to provide a more refined solution.It is understood that, as a key member of JD.com Marketing 360 advertising product matrix, the serviceman advertising has included fission advertising, Beijing picker, Beijing mission, JD.com rice grain four categories of products, and will fully increase the GYD station outside the social traffic exposure, brand promotion and market measurement.At the same time, pay-per-go ads offer a multi-social play combination to help optimize delivery.With the continuous enrichment of product features, pay-per-go advertising has become a powerful engine to drive the growth of brand traffic and sales.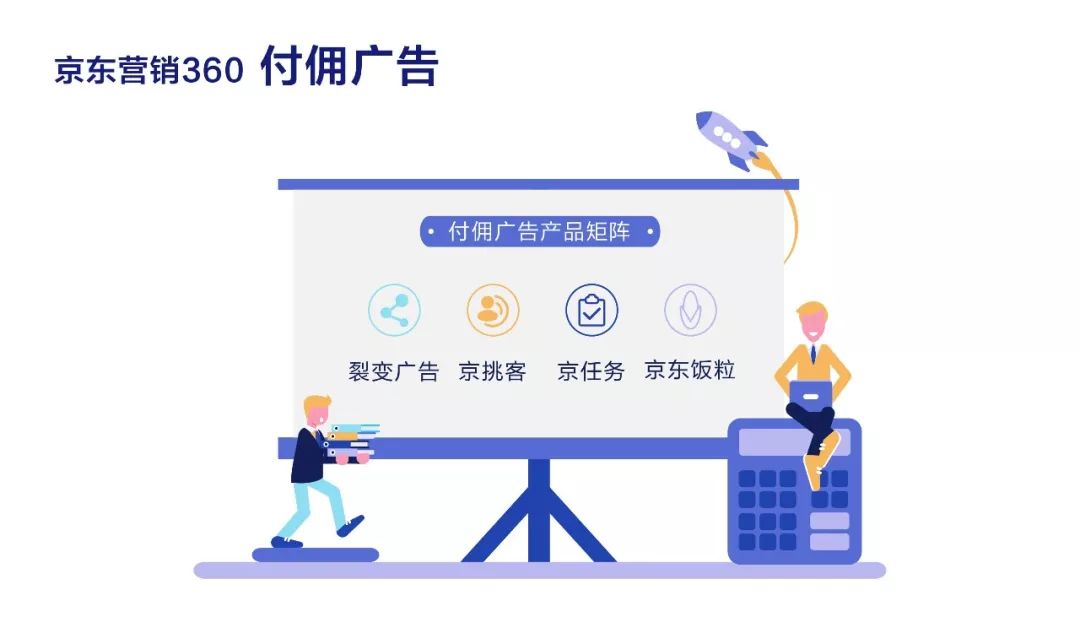 Deep-ploughed fan operations
Fission ads ignite the value of social traffic
Driven by social sharing, people tend to have friends who plant grass for shopping information and are prone to impulsive weeding.For brands, private domain users are beginning to become new incremental tipping points.Stimulating the social fission communication of brand fans creates a continuous, large-scale, active user traffic pool at a lower cost of diversion, and allows for higher actual purchase conversions through fission sharing.
JD.com fission advertising through open tools, play plus holding, for the brand private domain traffic operation to provide a strong grasp, covering the "one cut in the end, 0 yuan raffle, group tickets, group lead Beijing beans, answer questions to get coupons" five play, applicable to different marketing scenarios.Users start a group, share a friend invitation to help, the success of the group can win advertisers preset various benefits.Fun play to create a deep sense of participation, attract users to share fission, for the store a wide range of powder, and with the help of discount coupons and Beijing bean rewards, guide the order conversion.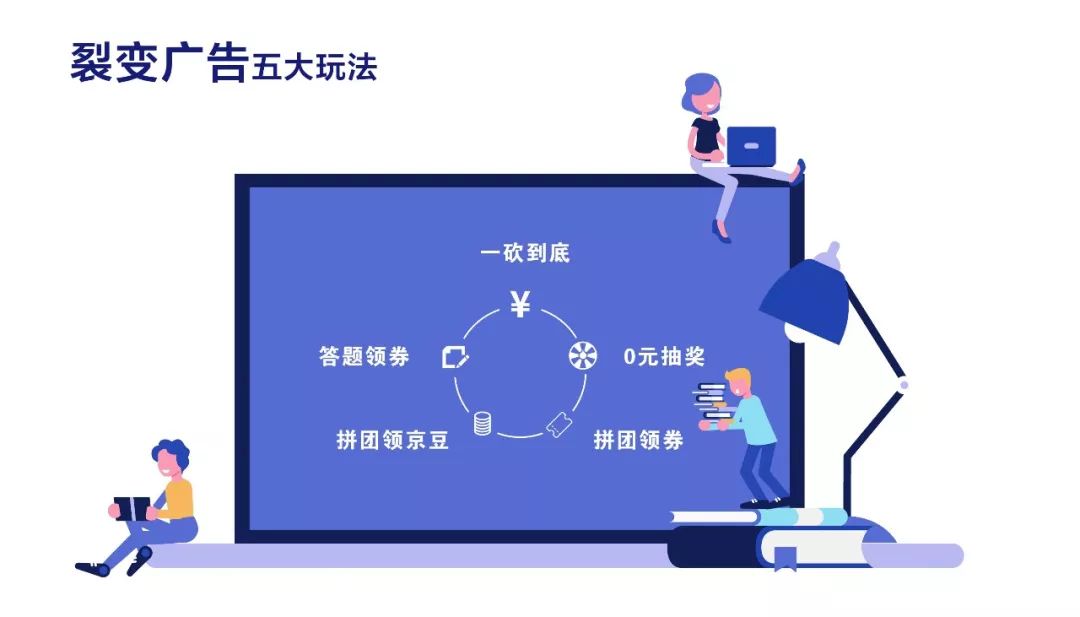 Fission advertising can also link the Beijing quasi-pass advertising products, the use of accurate crowd pack targeted circle layer crowd delivery, guide the brand exposure touch JD.com station inside and outside the entire network fan base.Event performance data and user assets will be precipitated to JD.com for user lifecycle management to help advertisers solve subsequent new customer and traffic co-construction issues.Help brands truly transform from traffic operations to user operations, from crowd insight and selection to closed-loop construction of reach and precipitation.
During this year's 618, TOPSPORTS in the store 618 event venue page implanted "0 yuan sweepstakes" fission ads, based on the precise flow of in-store for fission start seed flow, with the brand's quarterly burst draw activities detonated fission transmission, expand exposure, for the big increase in powder storage, and in the outbreak period, continue to optimize the store page vision, centralized store drainage, and ultimately precipitate a large number of fans.The raffle was launched nearly 30,000 times, with a cumulative exposure of more than 1 million TOPSPORTS stores and 13,000 powder increases.
Focusing on the diversion outside the station,
Beijing pickers to help B-side business effect directly
Intensified competition in the industry, so that brand business operating costs rise, how to use lower promotion costs to achieve out-of-station traffic coverage?Boost your money with low budget risk?Beijing picker effectively solves these pain points.
As a network of open station director cooperation promotion, in accordance with the actual turnover billing (CPS) off-site advertising delivery tools, Beijing pickers to help merchants efficiently upgrade the off-site GMV, and for new products to break zero, to create bursts, to provide intelligent and convenient service support.
Click, display free, only pay according to the transaction amount, ROI controllable and other characteristics, so that Beijing pickers with low-cost, low-risk, high-return natural advantages.Platform operation is simple, commission setting is flexible, as well as covering the entire network outside the network in various areas of long-tailed value flow of promotion channel resources, so that Beijing pickers competent for fans to pull new, brand exposure, promotional activities, inventory clearance and other types of marketing needs.At the same time, merchants can choose their own "universal" or "targeted" delivery plan to create, to help the new business of the initial construction plan, or already have CPS promotion experience and special needs of the business, to develop the corresponding promotion program.
A food category business 618 promotion for the first time to try Beijing picker delivery, under the guidance of the general planning strategy, by increasing the commission ratio, enhance the competitiveness of the main push commodity, seize more traffic resources, with fission advertising, JD.com rice grain and other multi-scene linkage to reach users, Beijing pick Customer 3D station director and targeted cooperative resource coverage, as well as 618 categories, store activities with high commission explosive promotion joint assists, successfully on June 1st, the opening day of the event to introduce nearly 30,000 orders, CPS channels to introduce GMV nearly 3 million.
Integrated content marketing
Beijing mission to release brand grass belt cargo strength
KOL grass belt goods has become a new trend of consumption, in various fields of creative people and brand merchants high-quality PPC content output, in improving brand user stickiness and consumer shopping experience increasingly prominent role, in order to better through the content, create a deep link between brands and users, the Beijing task came into being.
Beijing Mission is JD.com's official content cooperation trading platform, designed to provide JD.com platform brand merchants and high-quality creators with two-way cooperation trading space in line with content marketing trends, has opened the JD.com station found good goods, will buy albums, express, JD.com live, JD.com video and other channels, bringing together 10 million plus platform content traffic.And with the major MCN institutions, the introduction of 200 plus station outside the big curry red people, since the media and other high-quality resources, with the station 6000 plus high-quality people, to build a huge resources of content ecology.
JD.com merchants through the Beijing task can publish pictures (single products, articles, lists), video, live broadcast multi-form content form needs, senior task people to complete the task, according to the Cost Per Action billing model to obtain merchant compensation.Brand merchants can undertake the Beijing task of the common traffic, through the content of the grass to achieve powder absorption, and put into private domain operations, precipitation user assets to promote subsequent realization.
Well-known women's clothing brand Inman in order to enhance brand exposure and transformation, with the help of the Beijing task, select the product selling point characteristics in line with the content channel output scene content, to map information and leaderboards to establish brand awareness and word-of-mouth, grass target users, the use of JD.com, will buy albums, will buy list accurate content push, promote store collection and purchase, step by step for the camp, to achieve harvest transformation.The total PV of the event eventually reached 1.86 million plus, high-quality content grass for the event brought orders of nearly 10,000.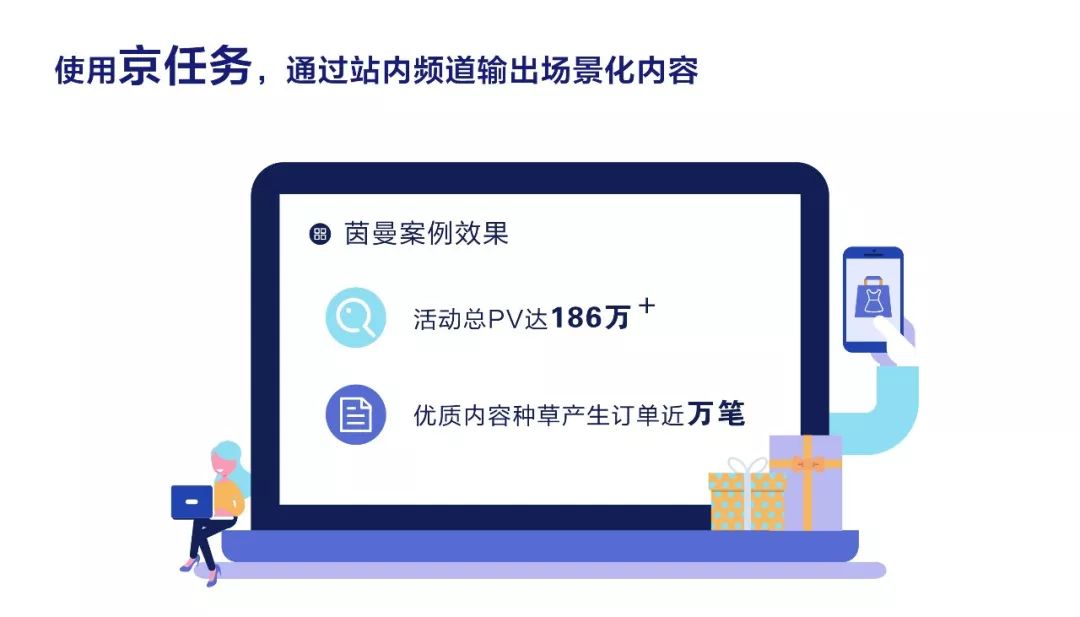 Rebates stimulate consumption,
JD.com rice grains open the delivery of a new way of playing
In CPS, CPA and other billing models to help merchants to achieve volume control, JD.com rice grain as JD.com's official rebate guide purchase platform, not only can help consumers calculate carefully, but also through the merchants to provide advertising fees in the form of high rebate concessions packaging, thereby helping it attract more external user traffic and order conversion.
In terms of traffic channels, JD.com's exclusive million-level user exposure and high retention users provide adequate traffic protection for merchants, while also providing support for self-built communities, public numbers and other cooperative media resources.Relying on JD.com rice grain independent drain, the middle waist business from this can obtain certain promotion resources.
JD.com rice grain has now achieved single-product savings, brand groups, public number operations, single-product limited-time concessions, large-scale bar and other multi-marketing scene coverage, to meet the new product breaking 0, test new models, explosive detection, horizontal category promotion and other types of marketing needs, with a lower threshold to allow more middle-waist merchants to participate in large-scale activities, detonate sales growth.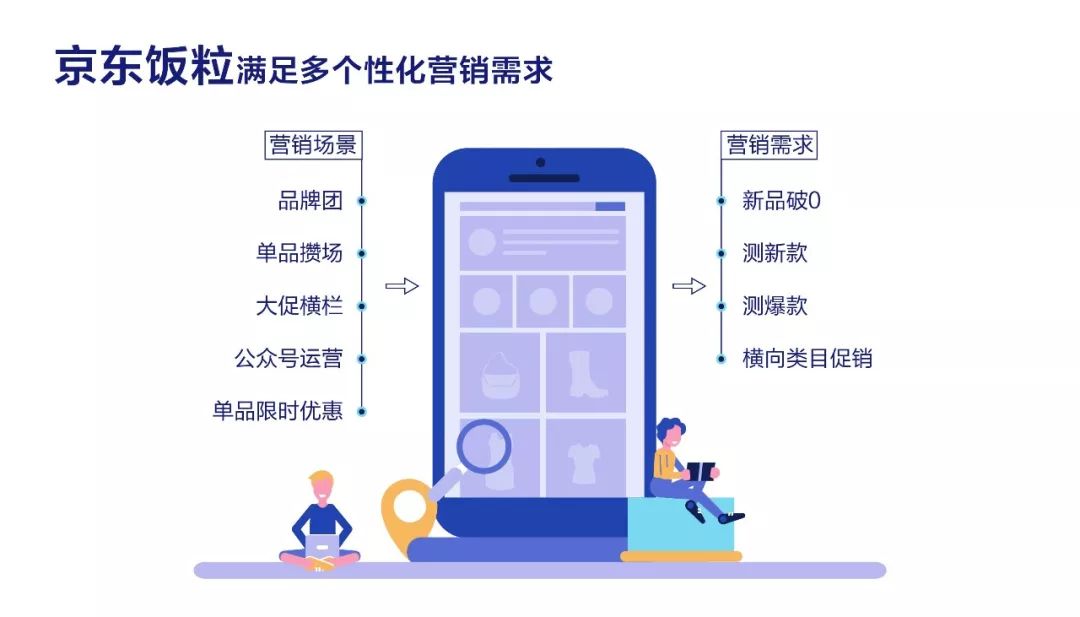 Efficiency and effect is the goal that the marketing industry has always pursued, JD.com payer advertising through deep cultivation brand private domain traffic, to social fission-type communication, effectively solve the brand business exposure is difficult to reach accurately, difficult to activate the efficiency of conversion, but also through flexible, effect-oriented advertising transaction model, to help the brand reasonable control of operating costs, and with the help of multi-dimensional marketing play, drive effect growth, for more types, a wider range of brand merchants to provide effective operational growth solutions.
The article has been publishedModify.
---