Google Ads Learning Notes Series: Keywords - The smallest component of an ad
The last note explains the concept of advertising from a more macro perspective and creates an ad from zero, and generally understands the situation of advertising. However, there is clearly no way to create an effective advertisement by understanding some of the general ideas at the macro level alone. The basic structure of an ad, we know, is an ad from a campaign- ad group, and it's the keywords typed in the search box that triggers the ad. This note will look at the basic unit of your ad from a keyword perspective. The most important elements of this section are:
What are keywords?

How to choose keywords

Use the keyword tool

How keywords are combined efficiently
What are keywords?
First, let's talk about what keywords are. Simply put,Keywords are the soul of the entire ad. The keyword of the ad is the basic point that triggers the ad, and the relationship between the keyword and the website allows the ad to appear on the page. What keywords we choose, and how competitive the keywords are, determines the performance of the final ad.
Keywords don't just refer to products or services that websites peddle. Keywords are relatively broad, and one of the most common keyword strategies is "Heat" 。 For example, when a movie is popular, many businesses force their brands or products to correlate with the movie, and then choose to add some movie-related keywords to their campaigns, generating a short-term benefit.
Do you think this seems to work? Many marketers think of something broader when it's a brain hole keyword, such as adding a description of some activity classes: "Packets are limited to 50% off", or the above-mentioned heat-up behavior. Some people will think that this extra keyword will bring some additional benefits. In practice, this approach is effective, but the content of the site needs to be adjusted, this follow-up in the content optimization and advertising ranking section will say. That is, when an ad optimizer creates an ad and adds keywords, we need to consider a number of issues, including not limited to:Product situation (this is the basis of everything), keyword construction (this is an advertising trigger), external environment (market trends, or new words bubble), special times (e.g. Black Five promotions).
How to choose keywords
Choosing keywords should be the most important thing for many new people who are just starting to get in touch with ads. In the course of my study, I personally feel that this matter has not yet reached the most important part, advertising concept is the basis of everything (For more information, please refer to the previous article)。 Once we have some clarity about advertising, we can start using keywords as a small building blocks to form the advertising toy. We can understand keywords as Lego building blocks, add them bit by bit, press Tussauds, and spell them into a last-in-a-kind toy.Keywords are building blocks, and concepts are the logical basis for stitching.
How to choose keywords is a headache. You can understand a scenario very well: you need to find a pair of shoes and then you search for it on a shopping site, and at this point, you face several questions:
Am I going to find the shoe information? Do I want to understand its size, shape, shape, price or anything like that?

I already have information about it, I just want to compare how it costs, how the service, how bad the reviews are.

I already know what shoes I want, and I feel that the general service and price are very satisfactory, I just need to order it.
We can make a basic classification of the population,The first type is information searching for people. This kind of group, the probability of buying is very low, but also a very large group, this is advertising to avoid confrontation with the group. They often search for some of the more popular words, or use some question words, such as: how, where and so on. The second group is the comparative group. This kind of crowd already has an intention, and he's starting to want to come up with the best of the many comparisons. Obviously, he'll never find the best one, but more searches will make him feel at peace, a group that needs guidance and belongs to an alternative group. The third, and most central, category is named: Customer/Buyer. These groups already have precise targets, their pockets are always ready, and now they need a reasonable argument that they can spend a lot of money, and these groups are the people we need to pay attention to the most.
When choosing keywords for an ad, we need to make a judgment about which people we want to reach, which words are the words that these groups want to trigger, and which products will eventually flow to the site? Obviously, we can tell from the above category that the customer/buyer group is the one we need to operate on, so how do we find out our keywords based on that group of people?
Here's what you need to be aware of: First, you need to find your people based on your product, or you need to summarize the common characteristics of your group based on your original customer base, and then find your group.
Browse the content of the website. In a high probability situation, when you're running an ad, you should already be familiar with the site. Now browse the site with your ad goals to figure out which products you want your ads to traffic to, and whether the layout of these keywords currently matches the wishes of your ad. Adjust the refinement and layout of keywords for a page or product based on ad expectations.

Watch to learn about your competitors. There's no way you can think of everything, there's always something you need outside help to do, and your competitors are your arsenal replenishers. Their websites and their ads are hinting at ways you can use and what keywords you can use to attract effective people. Your competitors' keywords for similar products can complement you, which means that you can stick to your choices while properly putting the keywords they use on your site and ads.
There are many ways to find competitors, such as using sniffing tools, such as searching for keywords on shopping sites, and so on.
Ask your customers
We all know that the people who use keywords are customers, and probably no one knows better than them why they found you. Between ads like TV ads, they look at ads and buy things, and advertisers don't know where they're coming from. Google Ads provides some data to support us, which keywords, which regions of the customer came to us, but since we didn't cover all the keywords, we didn't know if they had other keywords that would trigger our products. When advertisers ask customers, it's clear which keywords are key, which are common, which are clearly regional, and which are typos but are often searched for. All these can give us some better advice and help.
Of course, in addition to asking our customers, we can also ask about our friends and family, but please note that they should have an idea of what you're doing, not nothing. Don't talk to a 5-year-old about what keywords to use for a fabric sofa.
Use the keyword tool
Everyone knows that being a Google Ads can't be done without itKeyword planner This tool. Of course, you can find many other tools to help you, such as SEMRush. But the biggest advantage of keyword planners is thatIt's the son of Google's advertising family, and its results come from Google's massive accumulation of search data, which is fully in line with the ad's search situation。 Tools like SEMRush can give some other help, but in terms of keywords alone, nothing is more appropriate than the keyword planner tool. The point is more than that, it's free, even when you're not running ads, on the premise that you just need an ad account that doesn't necessarily require you to top up.
Use keyword planners
Now that you're in the keyword filtering phase, when you're using the above-mentioned methods for keyword accumulation, theoretically, you should have a more complete list of keywords. Let's not say how many keywords are available in this list. But you can start adding some new keywords, or you can delete the original keywords. Keyword planners can help with this.
Let's take a look at the keyword planner's interface.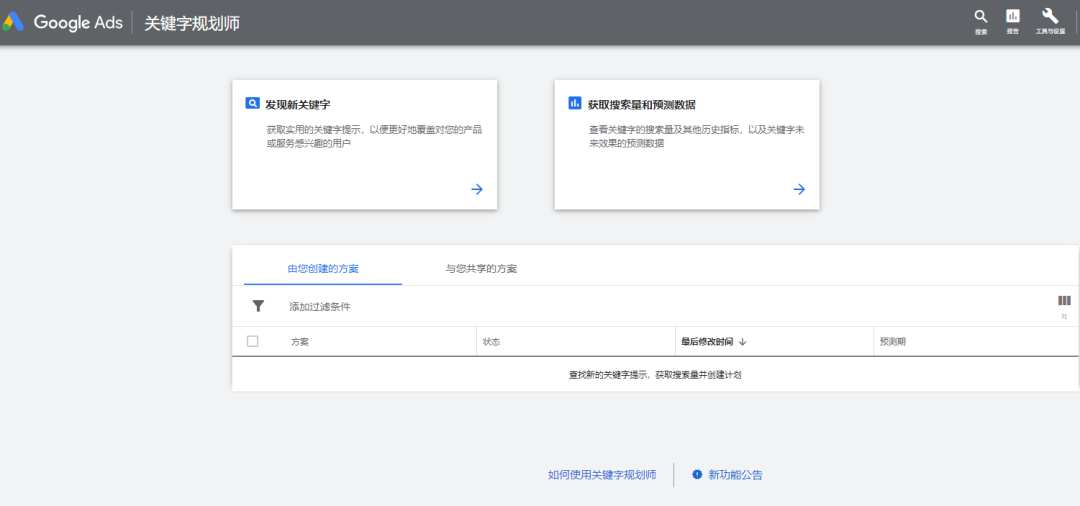 First, let's go to Google Keyword Planner's interface, which is in the upper right cornerTools and settings Click on the keyword planner, enter the interface, you can see the overall structure of the keyword planner. As you can see from the interface, there are several key parts, the first part being the discovery of new keywords, which can help you better find more keywords that can reach a wider user base and scope. Side-by-side, you can analyze some keywords for search volume and forecast data, and this tool can batch-process keywords that you've prepared based on the steps above to filter and confirm which keywords might be the part you need more. Below these two modules are used and shared scenarios, where you can save and manage confirmed keyword scenarios and manage data for existing keywords. Further down, is the official website guidelines and new features released. You can learn more about keyword planner's actions and usage by learning the official keyword planner guidelines than by viewing this note.

Official documentation is the most authoritative and up-to-date, so reading official material from time to time during the process of learning advertising can be more effective than reading any study sharing or taking any course. Of course, the official documents are also very easy to understand, or free, even if you do not understand, at least will not be cut vegetables. In fact, most of the tutorials, including the notes I'm writing now, are basically organized after learning from official documents.
Now that you understand what the overall structure of a keyword planner is, let's go into more detail about how to use it and how to get this powerful tool to help us find the keywords we want.
Suppose you don't have keywords on hand right now, just want to see what keywords the system will recommend to us, this time, you can click on the Discovery Keywords module, and then search and process keywords. Here's the picture.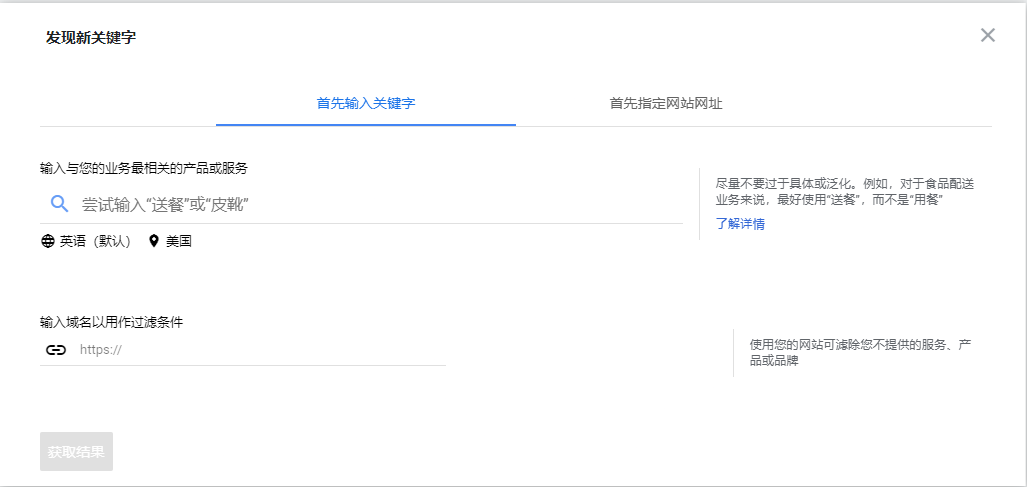 After entering this interface, there are two ways to find keywords, one way, through direct input keywords, direct search. This time, you'll get the entire Google search for keywords. For example, let's enter a keyword, Shoes. At this point, you can see the entire Google keyword situation, these keywords may seem very outrageous to you, but it will give you some tips. If you want more accurate search results, you can limit the range of keywords by entering your domain name. Google filters and troubleshoots keywords based on your site, and then provides a batch of keywords that match your site and make a difference in your ads. By this time you've basically found a more appropriate keyword. If you don't want to limit some of your keywords, you can expand and confirm your keywords by clicking directly on the section of your preferred selected site URL, and in the process, you may find that it will provide some keywords you don't want, but these keywords only indicate that they have a certain layout in your site, and that these words may result in search-related results.
Let's go into more detail about both.
Enter the keyword first

You've seen this section above that enters keywords first. Now let's try entering shoes as a keyword. You can expect this keyword to have a lot of relevant keywords. Let's try to enter it, and then we don't limit the URL. Because we are using English, we can choose English in the language bar, while regional, our target market is assumed to be the United States, we can choose the United States.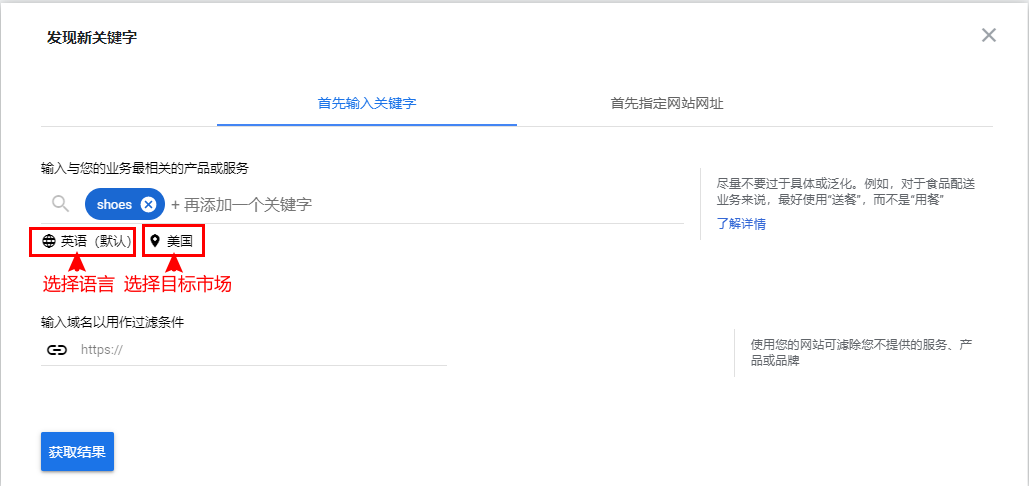 Then click to get the results, and you can see the following results at this time: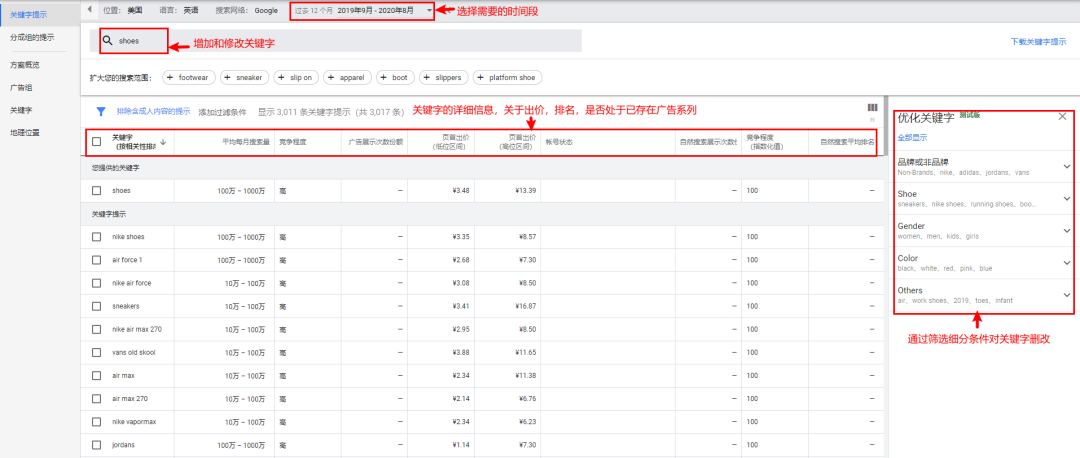 In this results interface, we can see the keywords that have been obtained. This interface basically belongs to the basic interface of our operating keywords, it contains: qualification criteria (region, language, time), keyword qualification (you can enter keywords to search for), keyword details (search volume under limited conditions, competitiveness, etc.), keyword optimization (segmentation criteria, brand, attributes) and so on. At the same time, in the menu bar on the left side of this interface, we can also see the combination of similar keywords that the system has made for us by dividing them into groups. This group classification, in fact, is also a bit similar to the optimization keyword part, through similar, similar properties to merge similar items, for those who do not have similar items, the system will summarize themKeywords that are not grouped 。

At this time, you will encounter some keywords that are not relevant. Assuming you're selling shoes now, but you're selling sneakers, the scope of the shoe is too broad for your product, and some of the brands listed may not be necessary. At this point you can choose to add URLs to filter the results.

Start by specifying the site URL

Above we used one of the modules to filter keywords, if the site itself has been more detailed and effective keyword layout, now I hope the system to provide effective matching keywords for advertising, this time, you can use the second module, that isStart by specifying the site URL.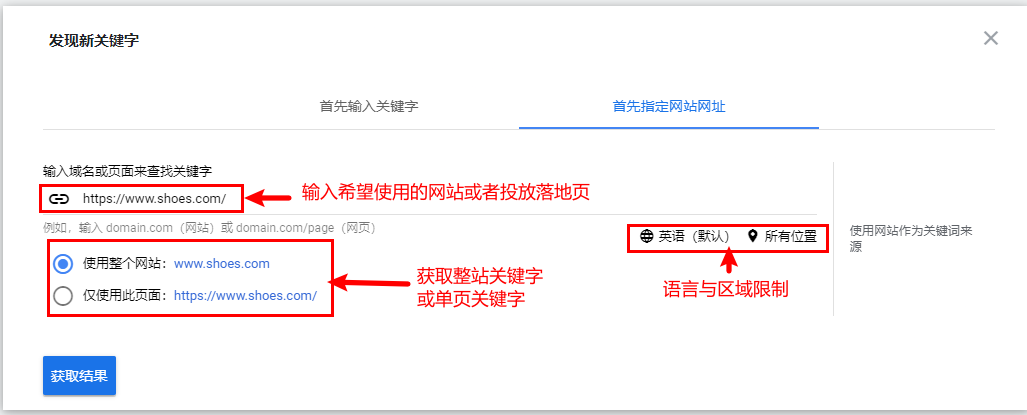 At the location of the specified site URL, you can choose to enter the site's domain, or you can enter a single-page (such as product page) domain, and you can also view keywords by limiting the search language and search area.This is the time to click to get the results and get the results of the keywords.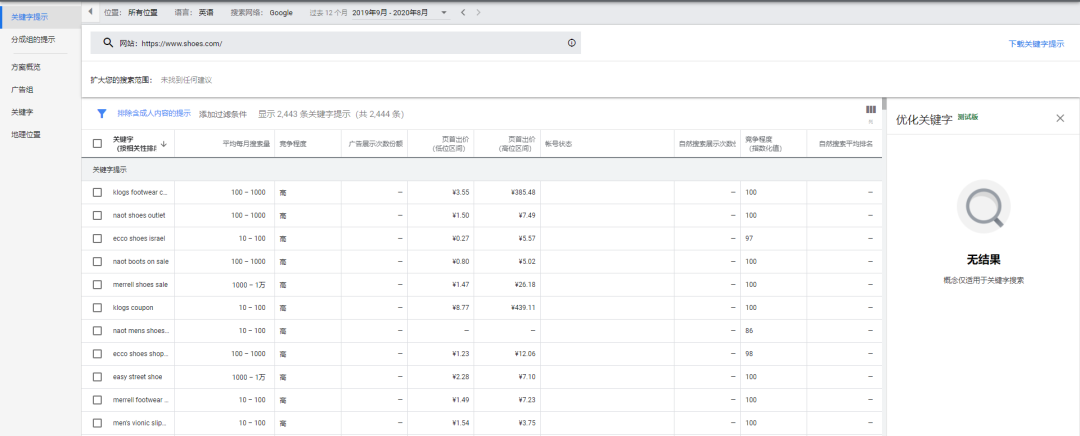 We can see a clear difference. When we enter a keyword, the relevant words for that keyword are provided, and when we enter the domain, some keywords that match the site are provided based on the domain's keyword layout and keyword search.
In the selection of keyword planning tool, according to their own actual situation to use the tool, in general, when looking for new keywords, directly enter keywords, and then filter through the domain, if the site's keywords are enough to meet advertising needs, then, by entering the URL to let the system recommend, is also a good choice. Of course, you can also use Google Analysis to view your site's search term source determination and add ad keywords.
When you've selected the relevant keywords, you can put the confirmed keywords into a keyword scheme.

At this point, you can see a scenario that has been added appear on the keyword planner's page, and for ease of reference and use, you can rename the scenario (general system custom naming is time, etc.).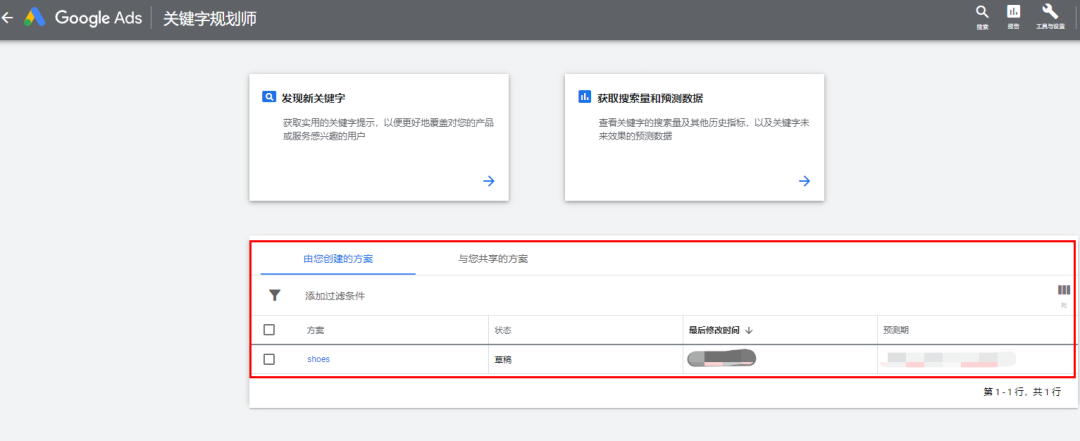 Click on the name of the scheme and you can go to the data analysis interface of the scheme to see if the selected keywords can gain gain in website promotion.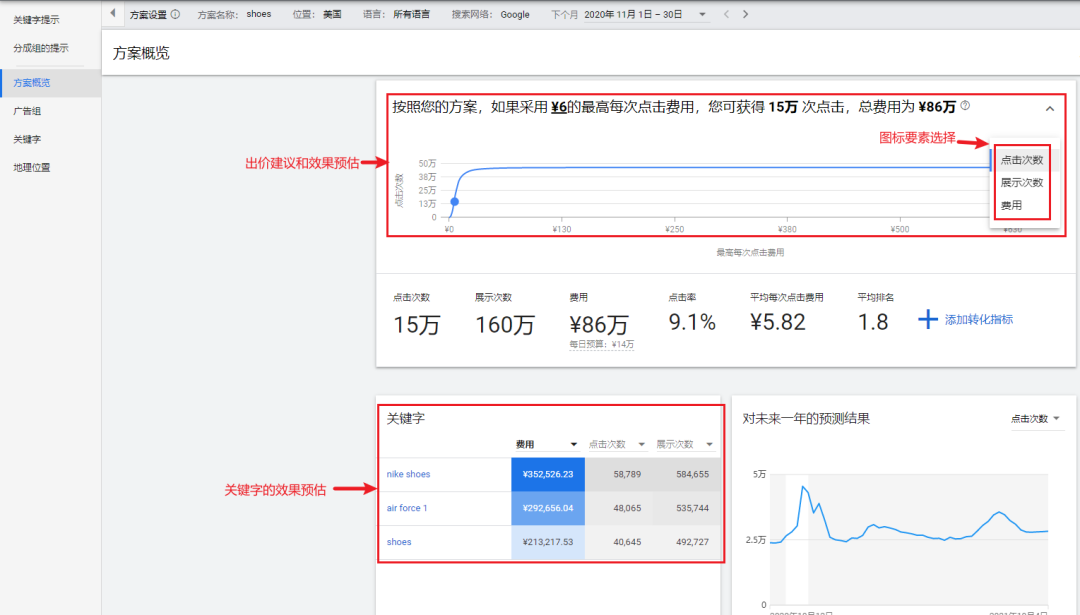 Here you can see an analysis of the system's keywords and estimated performance, including clicks, impressions, and fees in the case of a certain bid. You can also see the estimated click-through rate and cost-per-click, even including the estimated average ranking. You can also see estimates of keywords, as well as different devices and cities (screenshots are not rendered because screenshots are incomplete). At the same time, in the menu bar on the left side of the interface, you can see estimates of the ad group using the keyword scenario, keywords, and the target market.
The above section basically explains the core part of the keyword planner tool.is to help advertisers identify keywords and estimates, and the system provides relevant keywords based on correlation and system cumulative data. However, we've only discussed one situation where we need to add keywords, or where we need to help provide keywords. If we already have relevant keywords on our side and want to get some data support to determine whether we can run ads, then keyword planners, provide another module to advertisers, that isGet search volume and forecast data。 This module is very simple, is to paste your keywords on it, or upload your files on it. It's important to noteEnter or paste keywords, one word or phrase per line, or separated by an English half-angle comma 。 Click to start to see the relevant data assessment.

There are other details about keyword planners that advertisers can familiarize themselves with in the background. As for other keyword tools, follow-up opportunities to introduce some of the tools that help advertise when you do a separate introduction.
How keywords are combined efficiently
With the Keyword Tool, advertisers have got a more complete keyword document or list. So this time, you need to ask a question:How many keywords are appropriate?
We all know that the advantage of click ads is that click-to-in costs, if you don't click, just show, then there's no cost-generating. Theoretically, if our advertising keywords are more cases, if there are no clicks, are display, advertisers are also stable. In fact, of course Google won't let that happen, because when your click-through rate is too low, you may lose the possibility of exposure, and every click after multiple exposures will cost more because your ads are of lower quality.
At the level of confirming the number of keywords used, it needs to be evaluated based on budget, keyword estimates, keyword performance. At first, you might have 200 keywords, and this time you'll need to filter those keywords. If your cost is limited, then don't lay out too many keywords, because the meaning is not big, each keyword is only a very small number of clicks, there is no way to determine its conversion effect. If your budget is adequate, you can treat keywords as you like, but make sure they're effectively displayed and clicked. In the process of keyword confirmation, you need to make some keyword combination layout, the already good keyword layout and cut.
There are several main ways to combine keywords:
Wide matching

Broad matching is one of the simplest and most basic ways to match, it does not need to do anything, a direct keyword is a broad match. For example: shoes. This is an ad match. The trigger conditions for this match are simple, and some of these keywords can trigger its ads. So its advantages and disadvantages are extremely obvious, the advantage is that the traffic is very large, and then the production of keywords is relatively simple, do not need other operations, directly copy and paste on it, but also can quickly test the effectiveness of keywords. Its disadvantage is also very obvious, that is, too much consumption, not enough precision.

Of course, in a broad match, there are some conditions that can be limited, for exampleAdd a match modifier。 Typically, the modifier we use is "plus" to indicate a connection. It's important to note that you don't add spaces between the prefix and the words you want to decorate. For example, the shoes are right, and the shoes are wrong.

You can control the words that must appear and the order in which they appear by matching modifiers. If we select shoes, then the search for "buy shoes" can appear, but the search for "buy shoes" can not appear. So this modifier, to some extent, gives a wide match a more precise ability.

The phrase matches

Phrase matching is also, in a sense, a broad match that increases the matching modifier, which controls the order in which words appear, generally using quotation marks to achieve phrase matching, such as "shoes." The advantage of phrase matching is that it is relatively flexible, it is not as broad as broad matching, and not as rigid as exact matching, the process of making keywords is relatively simple. Phrase matching is more effective than broad matching when we know our customers and want them to show ads only to customers who search for specific terms.

Exact match

Exact matching is a match for searching for the same keyword or tightly deformed form, so-called tight deformations include: misspellings, sing-pludic forms, dry changes (ing forms), abbreviations, re-reading forms, rearranged but identical words (e.g., "men's shoes" and "shoes men"), adding or removing virtual words (mainly for languages with such words, such as in or to in English).

Perfect matching controls not only the order of words, but also the meaning of words. That is, no other words will trigger an ad other than the tightly deformed body mentioned above. So its advantage is absolute precision, the disadvantage is that traffic is very low, while testing advertisers' understanding of advertisers accurate.

Advertisers who can't confirm exactly match keywords can get exactly matched keywords through broad matching and upfront delivery of phrase matching. If a keyword consists of only one word or text, an exact match is valid, but not entirely valid, because if its meaning has multiple meanings, it triggers a tight deformation. So, unless it's very segmented, it's a good idea to use multiple words or single-word keywords for ad serving.

Negative keywords

Negative keywords mean eliminating them, not serving them, and blocking the possibility that they trigger an ad. Negative keywords can also use the above three matching methods to constrain their scope, so as not to create some unnecessary masking. Negative keywords, as an important part of the keyword mix, need advertisers to segment customers, which is of great help. If you don't like price-sensitive customers, you can block them by blocking the words "discount."
When all the keywords are ready and the combination is complete, you can start the next step, which is to write the ad and then run it.
Finally, to summarize a little, this note is primarily based on keywords to discuss how to find keywords, using keyword tools and understanding how keywords can be combined to make our keywords work better. However, keywords are not static, keyword additions and deletions need to be constantly adjusted according to the performance of the ad, so that the keywords of the ad can more match marketing objectives, to achieve conversion benefits.
Finally, advertising is an investment behavior, learning is harmless, delivery needs to be careful.
For a better experience due to typography and picture compression issues, click below to read the original text for more information.

---