Google Ads Learning Notes Series: From ad ideas to ad online
Before you start writing the text for this series, there are important statements to be made clear: there is more subjective content about this series, which may not be in line with the reader's environment, and reading the text of the series does not allow your ads to be better converted or promoted. If you're inglying about reading text and getting an improvement in your ad optimization technology, break into the Google Ads team and change your ad rules as you wish. Secondly, the content of this series of text belongs to the writer's own learning process, the content does not have the skill and gray operation of the fancy, basically belongs to the category of simple to no longer simple.
This series of texts applies to people:
People who are interested in Google Ads

Maybe it's someone who wants to know about Google Ads fur

You may already know Google Ads, but people who still feel like they're cooking, and then want to see if there's a crowd that doesn't have a better dish to get a sense of superiority

Boring to look at the crowd
How to use this series of text:
Review the relevant official text and correct the wrong text. If you prefer, you can comment below the text on what went wrong or what's out of date, and I'd appreciate it.

Question subjective views. Any point of view is limited, and all you have to do is challenge it as you read it and prove that you're right.

Use your own actual data to verify the correctness and error of the operation. It's what I'm doing on paper, and you obviously need to do it to know if I'm lying.

Forget what this series says, pay more attention to your product itself and your data, summarize your own ideas, and share them with others who need them. Only by sharing more will more people understand, and you will meet more people who know more about advertising. Don't begrest the common sense we all know, share your thoughts and go out.
This will be a series of about 7 texts, this article belongs to the first, but also with the advertising operation itself is the least associated. In this text, the focus will be on some of the ideas that I agree with, which may come from my understanding of advertising, from my approval of someone, or from sentences that are simply meant to piece together the number of words.
First, let's talk about the ad itself. As we all know, there are many types of advertising, from the earliest verbal selling, to later paper advertising, to later television advertising, and then now streaming advertising. There are very, very many types of ads, but they have only one goal:Let the world know I exist and pay for it。 There's only one goal of advertising, so there's only one thing it has to do, and that's itConvince.。 No matter what kind of ad you see, it's trying to convince you to do something, whether it's focusing on an account, sharing an article, or buying the same thing.They use content and form in the hope of building trust and persuading the other person to pay the price the moment they reach out to the audience。 As you know, most ads are very explicit about their claims, whether it's a purchase or something else.
Unfortunately, advertising as a form of persuasion, it is not so easy to accept, because advertising itself is a kindPrivilege.existence. When a privilege becomes a common thing, its charm becomes less special. From the time the ad existed, it was different from other ordinary messages. Shouting is higher than the usual chat of the dB, when the television can be broadcast to cut off the continuous broadcast of the program, can appear in the initial place of the streaming program. These are the privileges of advertising. The platform puts its own resources, in the form of transactions, for advertisers to pay for them, and then gets the results they want. Obviously, this is an unethical transaction. Because what advertisers can do is not the ownership of the platform, but a short, rule-based operation. Advertisers pay, advertising platforms charge commissions, and platform users may or may not pay for these ads, depending on the rules recommended by the ad platform and the advertiser's ability to convince them.
As mentioned above, platform users don't necessarily pay for the ads themselves.The essence of advertising is an investment behavior。 Investment is about return on investment. Advertisers will pay great attention to the effectiveness of their advertising after they invest their money. Advertising efficiency depends on the purpose of advertising, different advertising purposes will lead to different advertising efficiency concerns. Therefore, advertising is not only an investment behavior, but also belongs toTarget management behavior。 How to target your ads by targeting your product or brand is a critical part. Some people will say directly, I need to sell, and some will say directly, I just want to inquire. This kind of crowd advertising, not only investment behavior, has been a big turntring behavior, really rely on the sky to eat, because they have not yet understood their real goal. With regard to the goal management part, it is not carried out here, as has been said elsewhere.
Once you've identified your ad goals, can you start planning an ad run? Don't worry first. I often see a lot of people saying, I'm going to vote for this ad, I'm going to vote for that ad. Or because you see someone else's ad success, and then you start running your own ads. In fact, running ads requires strategy, not blind behavior. You don't buy something because someone else buys it, you buy it, and your peers' behavior and your behavior itself are actually separate events. Many people don't understand that they and their peers are independent of the two individuals, and then they are fooled to run ads.Remember, belong to you already belong to you, do not belong to you, you can fight, but can not fantasize about fighting to get。 Don't forget, advertising is an investment, you need to do asset planning, you need to plan for failure, you need Plan B to remedy the failure. So when you're ready to set your goals, ask yourself, do I really need to advertise? What do the best results of advertising bring me? What's the worst outcome of advertising? How can the ad itself achieve my goals? If I'm going to achieve my goals, how do I plan my ads and implement optimization strategies? These are common, but easily overlooked, issues. These problems, most people will be ignored in the course of operation, but these issues for new users or new advertisers, there is a little help.
Well, I guess you think the above content is irrelevant and long-term, you want to start your ads, and you know your goals, and you know your advertising platform choices, you want to achieve your future through Google Ads. Then you can start advertising the infrastructure paving.
To create a Google Ads ad account is a very simple thing, you only need to have a Google account to open. From.https://ads.google.com/Visit Google Ads and click Get Started to get started on your ad account page.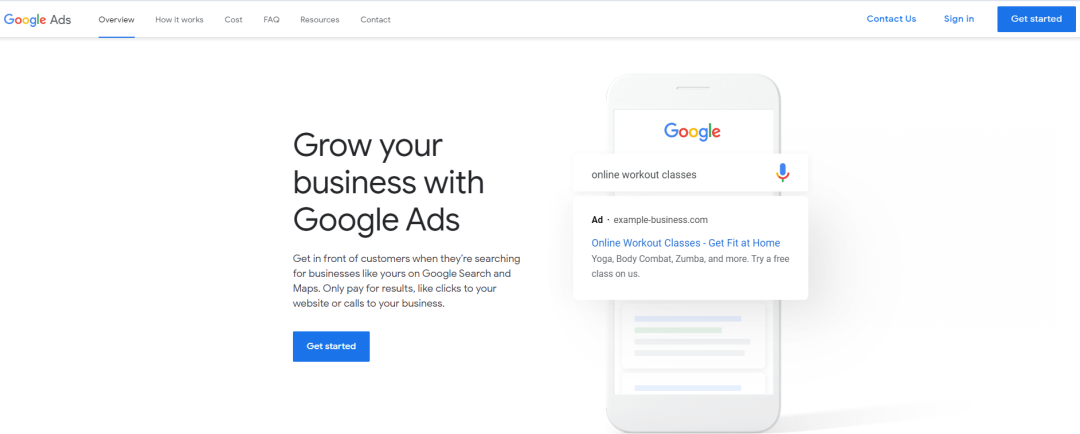 After you create an ad account, you'll see a prompt that suggests you set up your campaign. If you're not ready to create an ad and you want to learn more about the ad action's platform interface before setting up your ad, you can switch to Expert mode, then choose to skip the ad settings, and then go to your account settings to set up your ad bill. Once you've set up to do this, you're ready to get started with your ad platform.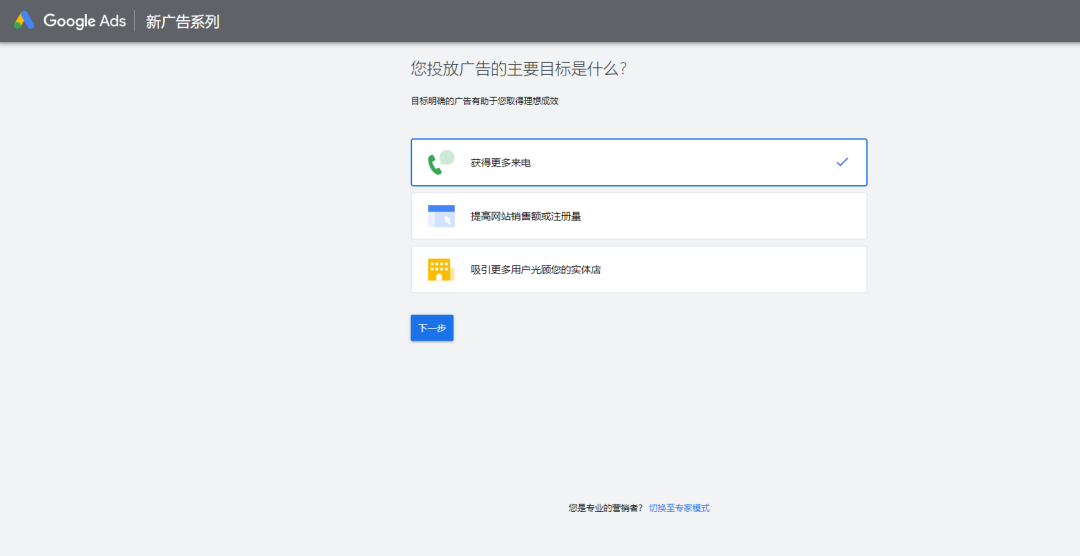 Once you've created your ad account, you'll see official suggestions to create your campaign.You can choose to switch to transfer mode for more selection and action ads.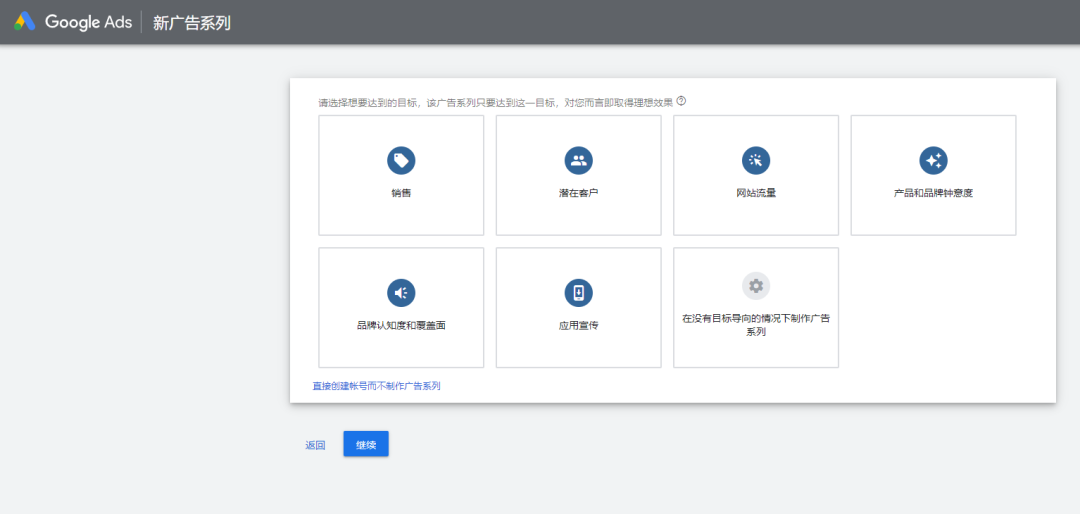 If you want to learn about your ad account before you create an ad, you can choose to create an account directly instead of a campaign.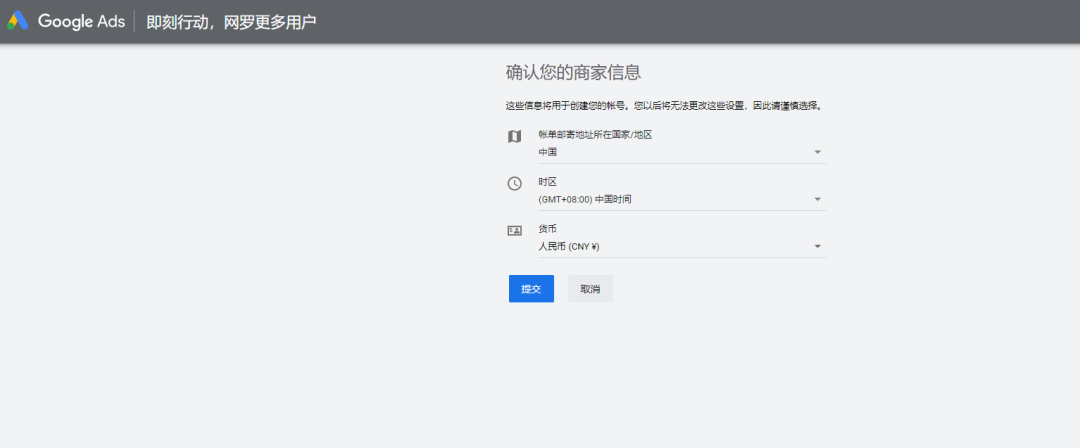 This time you willJump to the ad account information confirmation interface, this time according to their own circumstances to fill in your business information, after submission, you can start to enter the advertising operation of the interface.


Congratulations, wait a few minutes, finally you can enter the ad back office interface, next, you can familiar with the interface of the ad, and then put your ads online.
The ad interface looks very simple, the left column is the campaign's collection display, the second column on the left is a few common options, including overview of the situation, all campaigns, campaign settings, ad location, ad change history, performance goals and campaign groups. On the right is what happens when you're online, and in the upper right corner, you can search for ad content, view ad reports, and other ad tools and settings. These settings and tools are used during ad operations.

In this ad interface, you can clearly see how many tools and settings Google Ads has provided you with, you can see the keyword planners you've heard of many times, you can see the overall site data by binding google analytics, you can also manage your ads by authorizing other accounts, or you can see how your ads are spending in the budget section. In fact, the Google Ads interface is very simple, much less than the office suite or photoshop software operating buttons, just take a little more time to see, more, probably know what it means, and know how to use it.
When you get an overview of the above interface, you can start by creating an ad to understand the process of creating an ad, and you can put your ad online.You can't learn how to advertise by reading a text or listening to a lesson, you need to really manipulate advertising to learn about advertising itself。
First, the basic structure of advertising is campaign-ad group-advertising. Let's start by creating a campaign, starting with creating a new campaign and going to the campaign's target selection.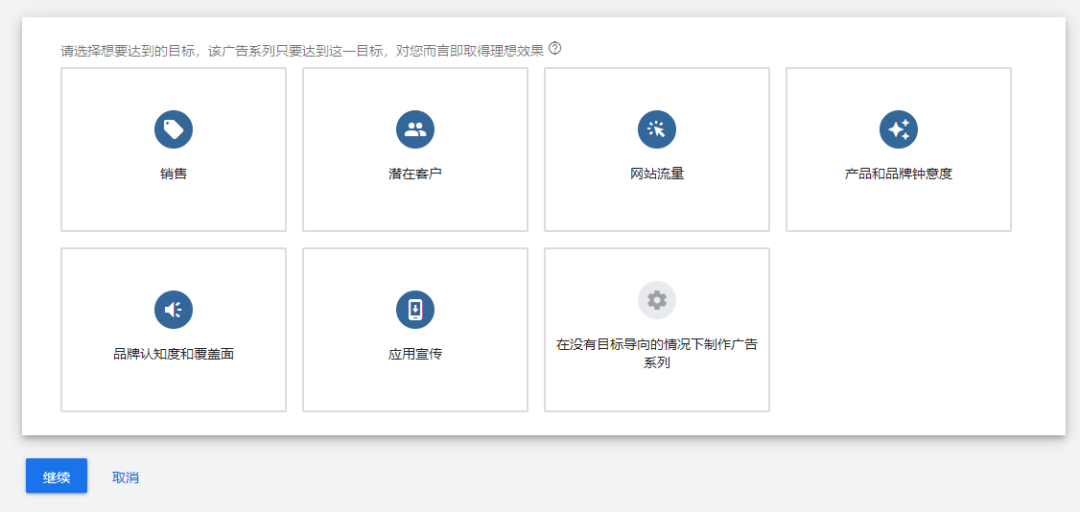 In the familiar process, you can choose an advertising target, such as you choose sales or potential customers, feel free to choose one to be familiar with.In the process, we will choose the sales target to familiarize ourselves with.After clicking On Sale, we'll see the campaign type, which includes search, showing multiple categories, and this time, we'll select search ads to show.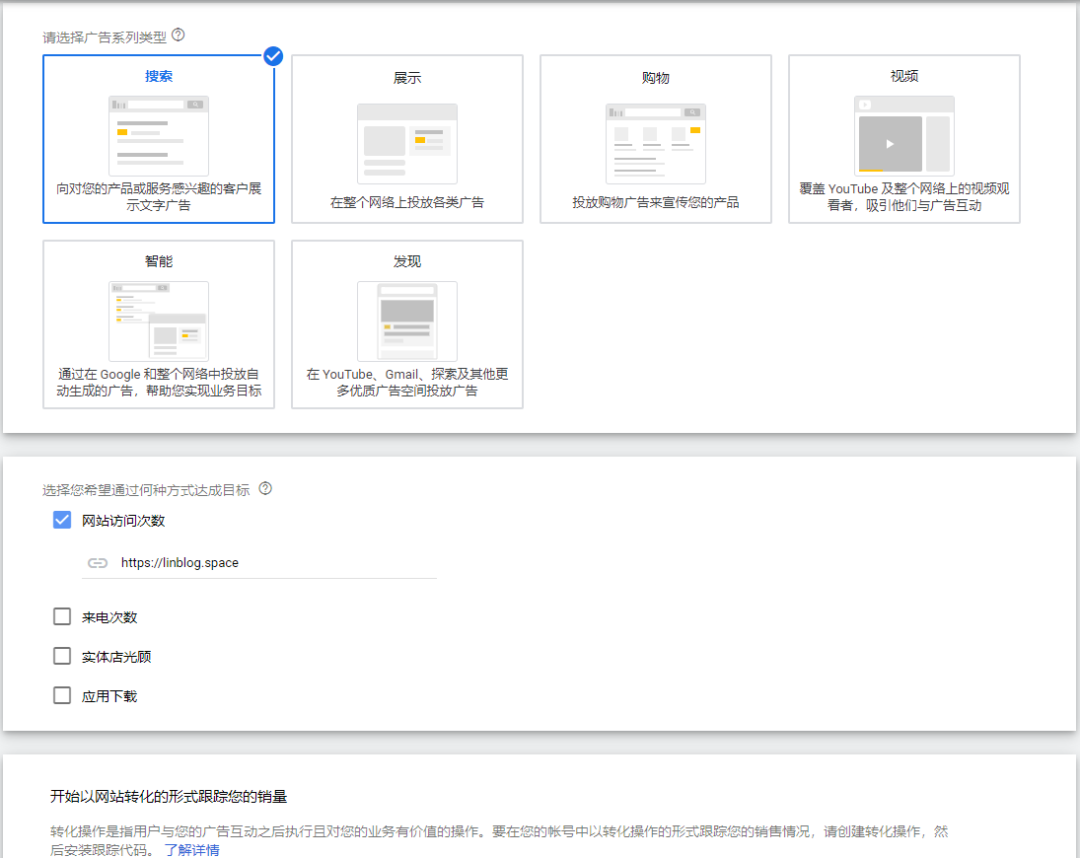 Once you've selected a series, fill in the number of site visits and fill in the site link.Regarding website conversion, we'll talk later, skip this side for the time being and move on to the next step.

When you move on to the next step, start setting up your campaign, including the name of your campaign, where it's run, when it's running, targeting and groups, budgets and bids, ad extensions for your campaign, and more.
Campaign names can be selected with a name that identifies your ad target, mainly for identification and management;The network refers to the location of the ad display, where the default selection is good, the follow-up actual line ads, you need to choose according to the actual situation.Simply put, the more locations you choose, the more opportunities and costs you'll have to show your ads.More settings, follow the default settings, and then adjust to the actual situation.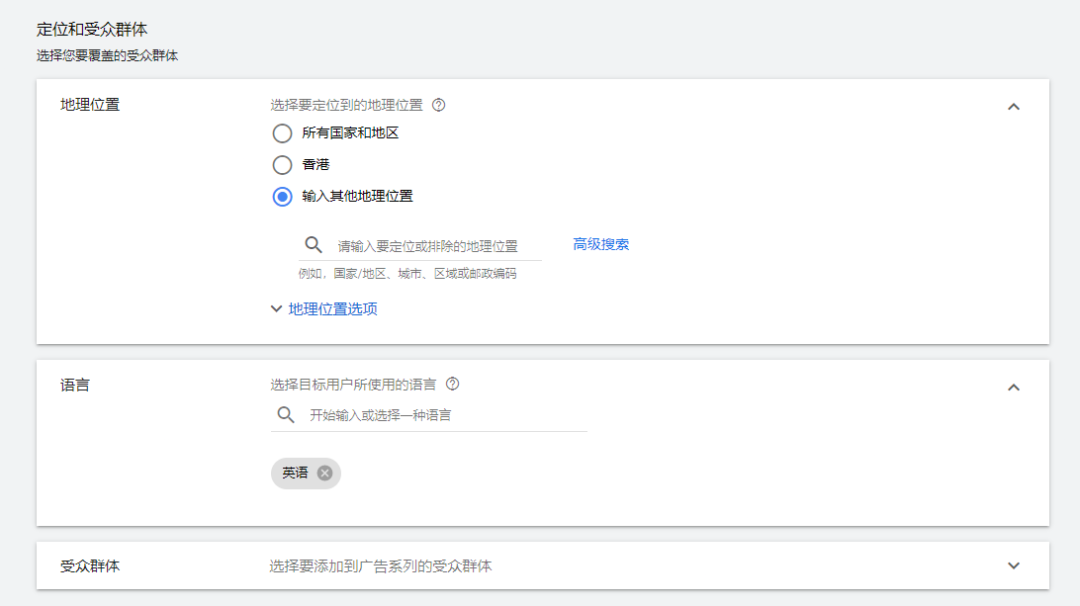 Once you're set up, you can target and deliver authorized groups. You can choose your launch based on your target market and language. You can also target specific keywords for authorized groups.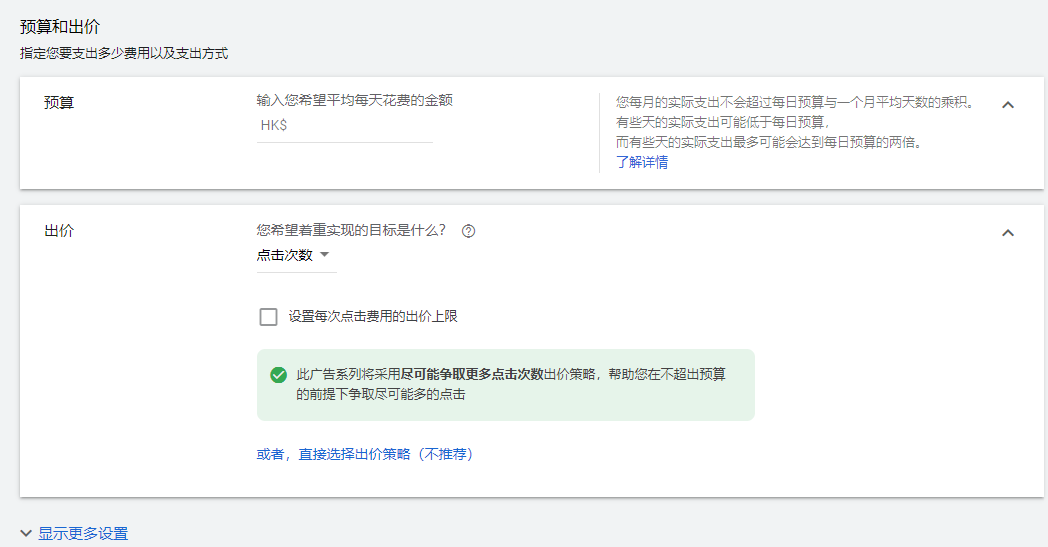 Then there's the more concerned ad budget and bid section. About this section, you can fill in a price that feels reasonable and then bid in a way that you can choose to match yourself. Select clicks by default, you can also select conversions, and more.

Once you've set your bid, you can start adding some ad extensions to your ads. The purpose of this extension is to increase the reach of your ads. At the same time, you can limit the number of words, show more advertising information and content, increase the persuasive power of advertising. By completing this section, you've ended the relevant campaign settings and you're in the ad group settings.
Setting up an ad group is a relatively simple but the most important step, compared to the overall content set by the campaign, the ad group set the keywords of the ad, which is the most direct content that triggers the search ad.The choice of ad keywords can be added according to your habits, or you can choose to add them through a keyword planner.On this interface, Google Ads also provides us with some keywords, and then we can add some ourselves to add them as needed.On the right is what you can see based on your daily budget and current ad keywords.

Once you've set up your campaigns and ad groups (and keywords), you're one step away from going online, and that's setting up the ad itself. Advertising is a sales person who faces the consumer directly, and you need to dress him up, so your ad needs to show your sincerity. How do I describe an ad language? This follow-up will be devoted to the text to explore this matter. At present, you can fill in the advertising language according to your preferences, the only thing to note is:Don't exceed the number of words and use brand words indiscriminately, will infringe!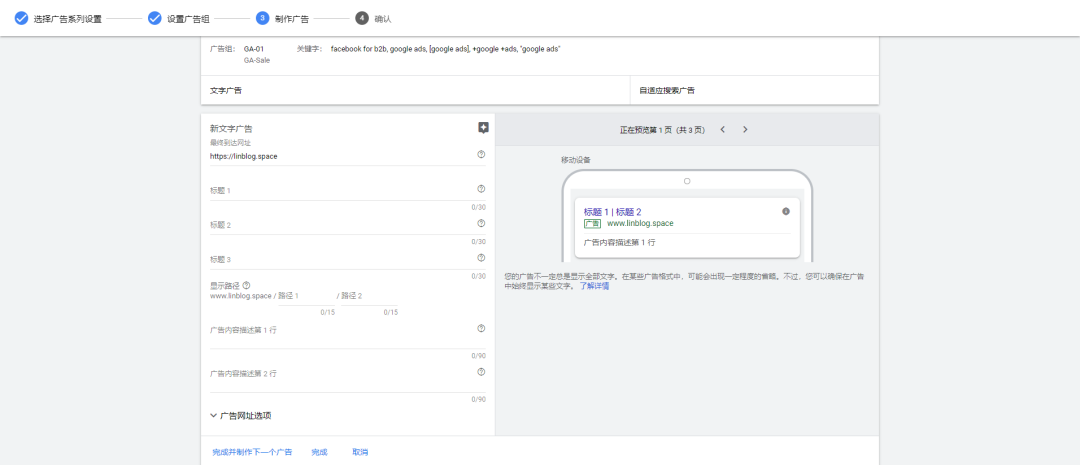 When you fill in some of this, you'll get congratulations from the system, and yes, your campaign is online.

So far, you've finished creating and going online for a campaign. When you return to the ad management interface again, you'll find that the content on the left has increased a lot, and this time you can better understand what's covered in a campaign and see how they're changing by clicking into the corresponding content.Remember, if you don't want to run ads yet, pause your ads。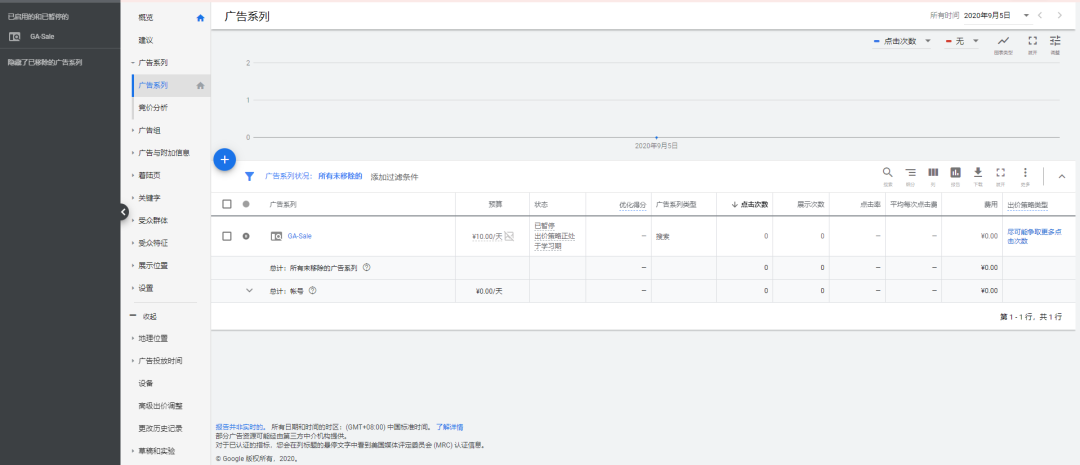 From.Understand the advertising related information to the advertising online, has walked a circle of you, you should be able to understand that the advertising operation itself is not a difficult thing, but how to create valuable advertising.Obviously, I'm also trying to create valuable advertising, and that's one of the goals this series is trying to explore, whether it's going to take time to come to a positive conclusion and wait and test.
Finally, advertising is an investment behavior, learning is harmless, delivery needs to be careful.
For a better experience and more due to image compression and typography issues, click read the original text to get it.

---