Ultra-detailed Google Shopping Ads Getting Started with advanced tutorials (with lots of dry goods, optimized cheats!). )
Google Shopping advertising has become one of the most effective ways to win consumer clicks, as giants have become more and more available in retail search.
Google Shopping Advertising (PLA) is seen as one of the key ways to attract consumers and new customers early.
The current trend of PLA growth continues, although text advertising is still the most popular form of advertising in many advertising categories, but in the retail category there is a different picture, PLA ads spend far more than text ads. A study of 40 million search ads from Adthena of more than 260,000 retailers shows that PLA mostly dominates retail search marketing. In the US, PLA advertising accounts for 76.4 per cent of total paid search advertising, compared with 82 per cent in the UK.
Why is PLA so good?
First PLA shows at the top of the SEARCH Engines Pages search results page, potential buyers do not need to click on the ad, the first time you see product-related information including: images, prices, brands, titles, if he feels expensive, you can also click on the "next batch" for a wave of products to see, very convenient. Why not use such a valuable form of advertising?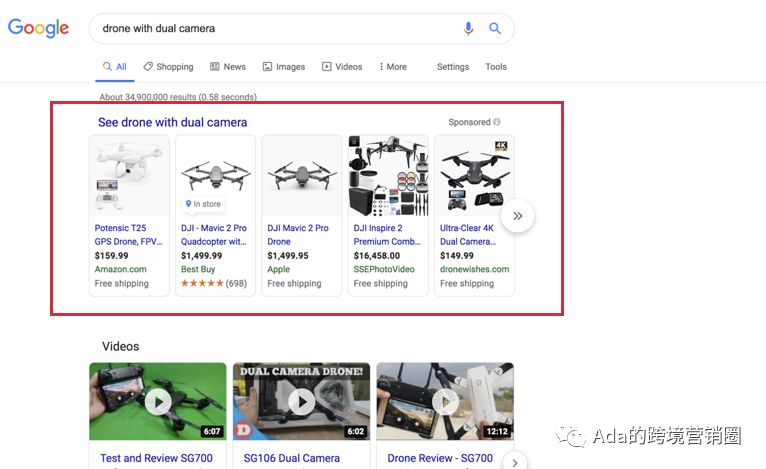 Next, by reading this article, you'll get a general understanding of the basics of Google Shopping ads and the key points of action, including:
Part 1 How Google Shopping ads are configured

Part 2 How the Feed of Google Shopping Ads is optimized
Part 3 How Google Shopping ads are optimized
The content is a little long, you can collect follow-up study.
Body.

As far as I know, many sellers reject the use of PLA and find it cumbersome because part of PLA is separate from Google ads. That is, we also need to configure the Merchant Center.
Then I'll put it simplyHow to configure PLA ads。
How part 1 Google Shopping ads are configured

Before you configure the PLA, the site first ensures that the following are done:
1, the website must use a secure checkout method (HTTPS).
2, the website must have a clear contact information, terms of service, after-sales service.
Without this, Google will not allow you to advertise PLA. Next, configure the Merchant Center account for PLA ads.
The first step:Create a Google Business Center account:
Visit https://merchants.google.com
Sign up for a Merchant Center account.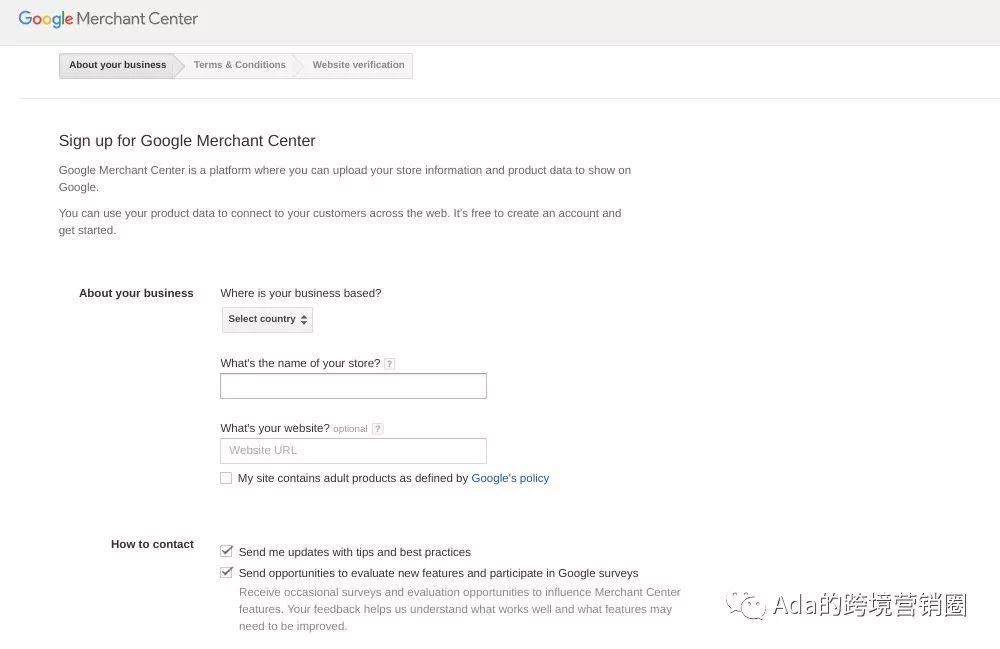 Then you need to authenticate the ownership of the site. There are 4 ways to authenticate, the first one is recommended: Google Analytics account authentication. If the site has added the code of the Google Analytics account, you can create it directly with this account.
Step 2: Set up your tax and shipping rules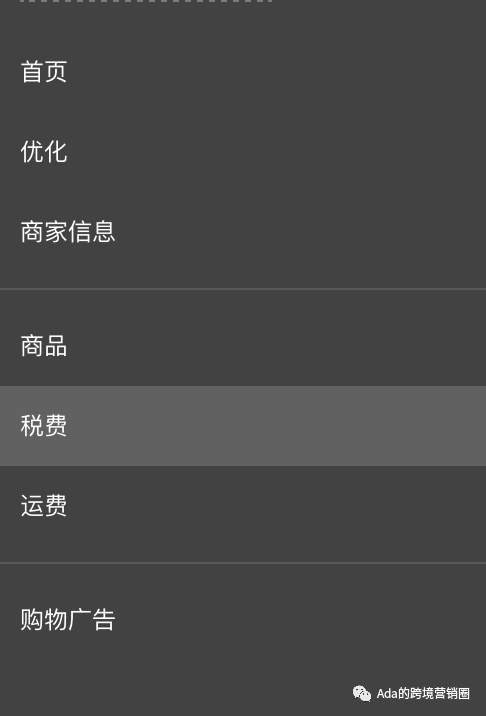 Log in to your account and click on the tax

For convenience, if the United States chooses the second one. Other countries do not need to set it up.
Then there's the shipping setting, click on the shipping cost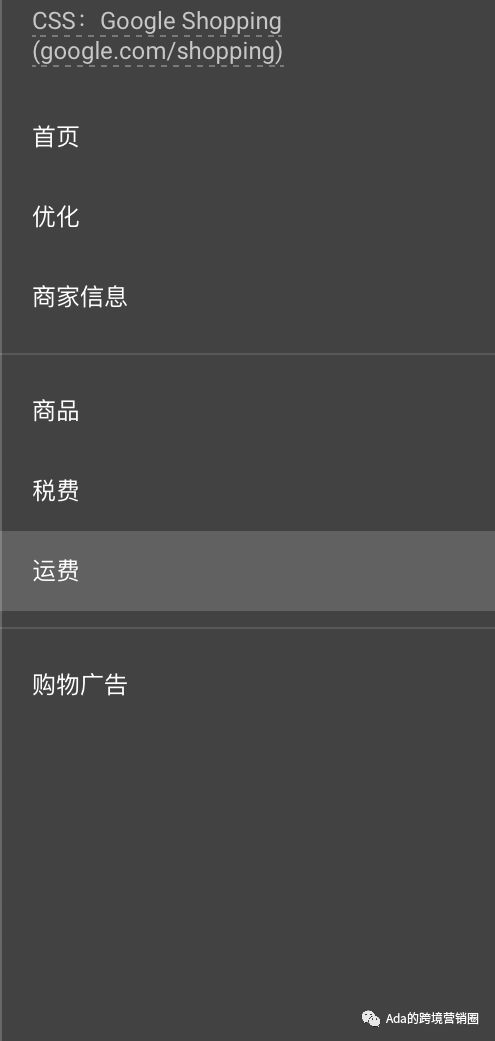 Then click on the "plus" button, and if you want to advertise PLA for multiple countries, you'll need to set shipping charges for each country.

Then set a name for the freight template and select the country where the shipping fee applies.

Once selected, set the currency to be consistent with the uploaded product data. There are also order deadlines to fill in, order processing times, and shipping times. For example, if you enter an order processing time of 1-2 days and a shipping time of 3-5 days, the delivery time will be 4-7 days.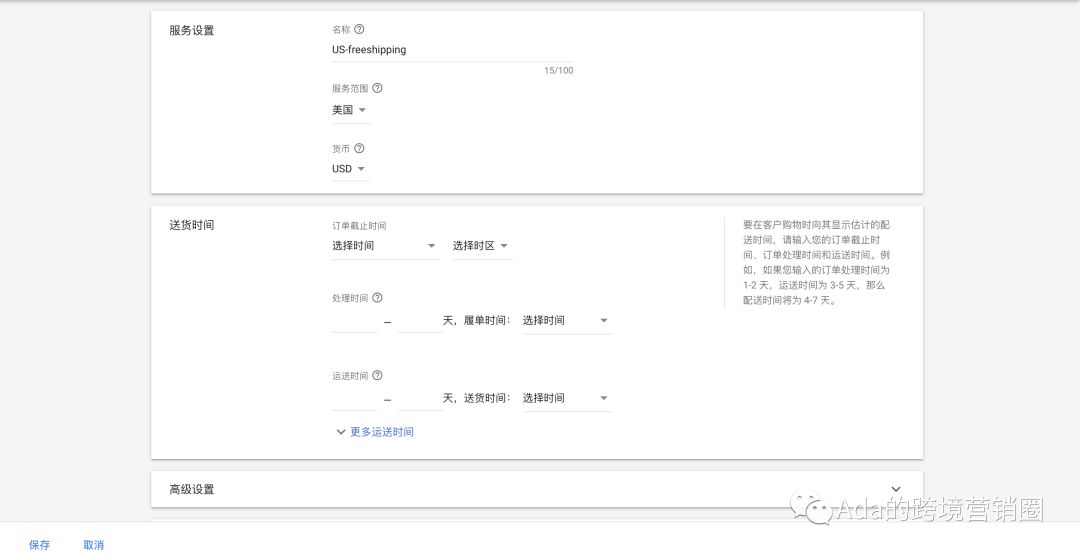 Add down to set shipping charges and click on the "plus" button.

Then click Create a uniform shipping charge for all orders.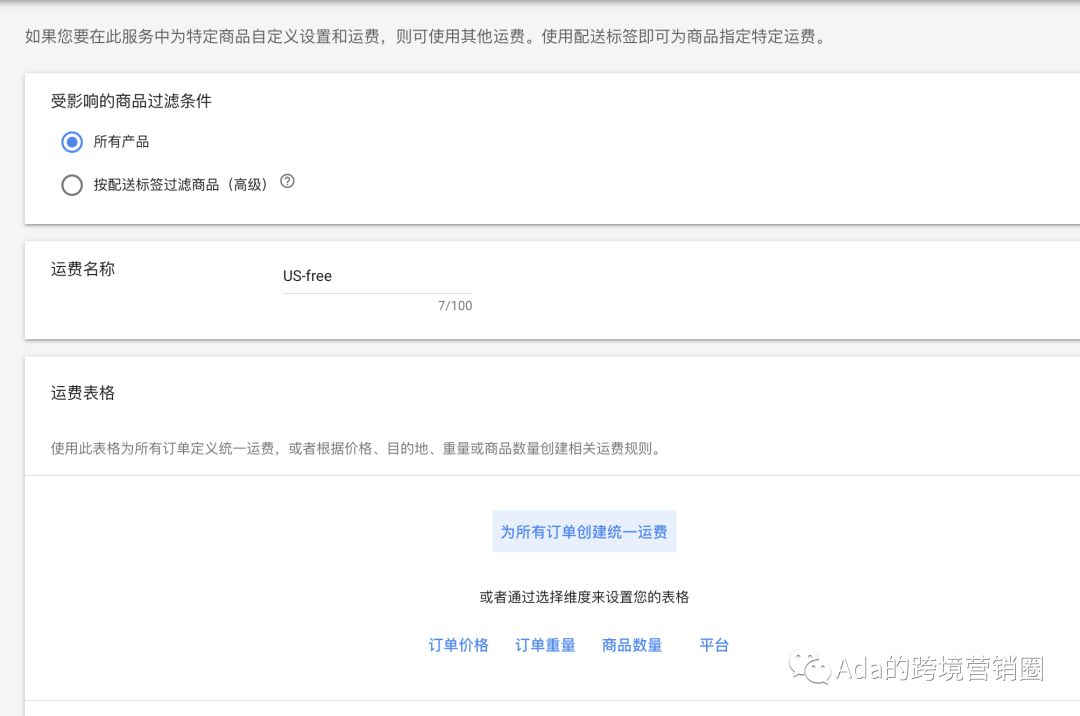 Next, if it's a parcel, fill in "0" on the shipping cost.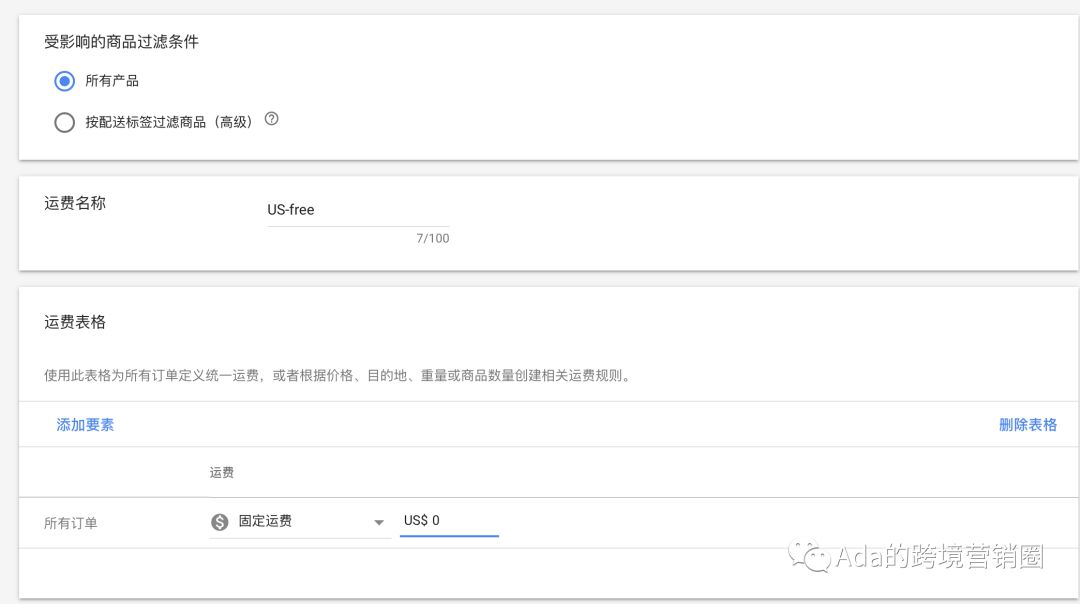 Step 3: Organize the product data you want to upload(Feed)Go to the Google Business Center
Some of the uploaded product parameters are required to view Google's official documentation:
http://bit.ly/2X9PAiO
Of course, platforms like Shopify already have a lot of plug-ins that can automatically create build feeds without the need for manual setup. Just search for "google shopping" in the shopify app hub.
Step 4: Upload product data to the Google Business Center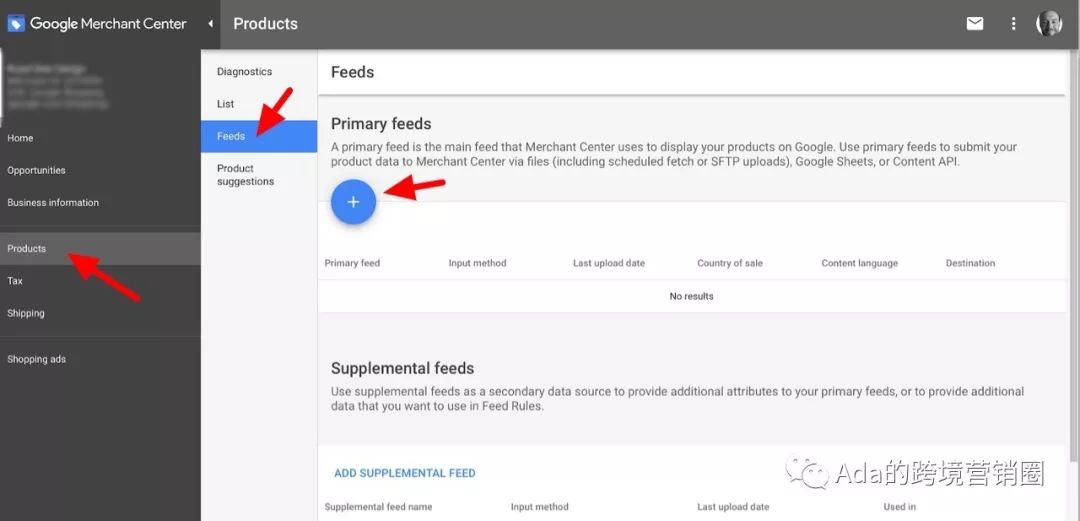 Here are 4 upload methods to choose from depending on how we provide the data.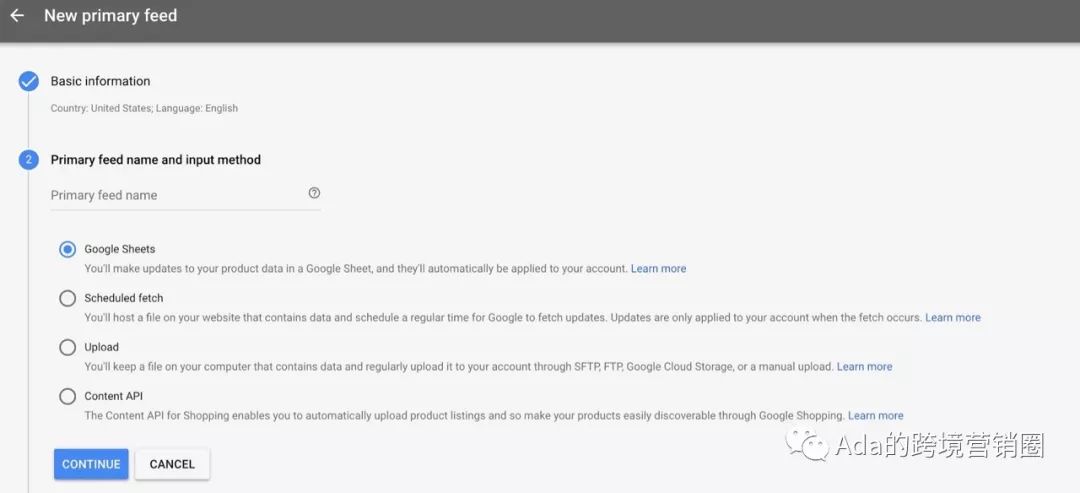 If your product data is updated frequently, it's a good idea to create an update time so that you can keep your product data up-to-date.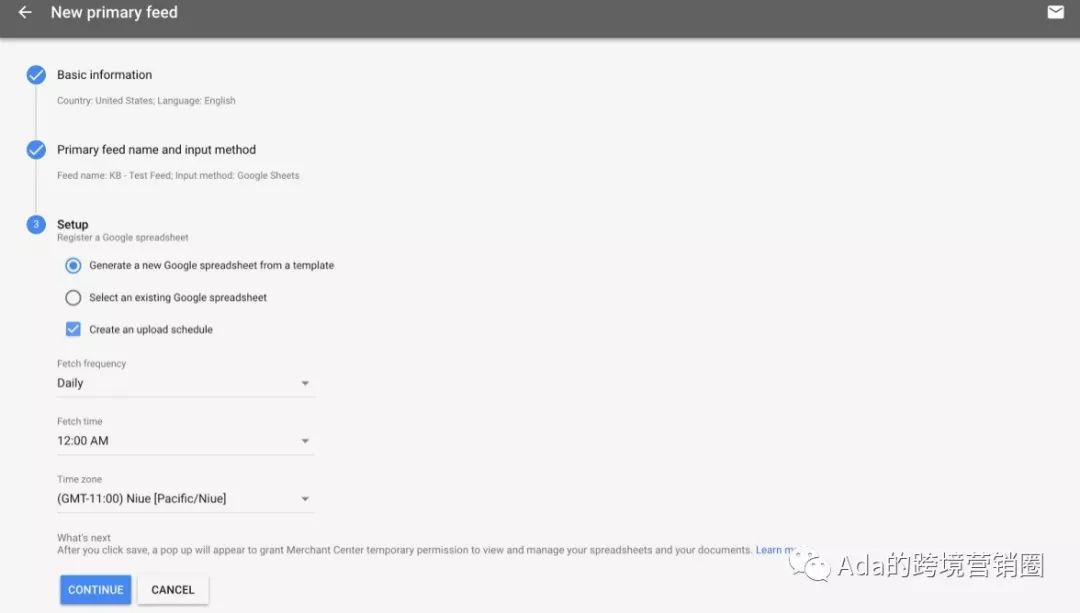 Once set up, the product is crawled and reviewed by Google Merchants Center. When the review is complete, the configuration of the Google Business Center is complete.
Step 5: Link your Google Business Center account to your Google Ads account.
Log in to your Google Business Center account. Click "Account Association".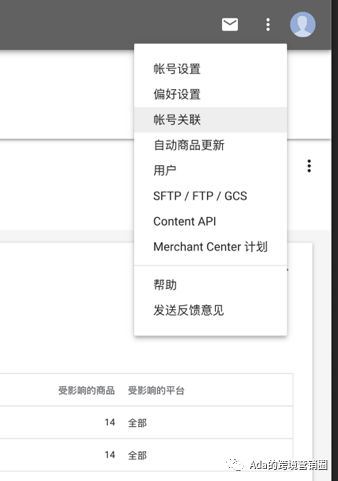 Then click on "Associated Account"


Then enter your Google Ad Account and send an association request,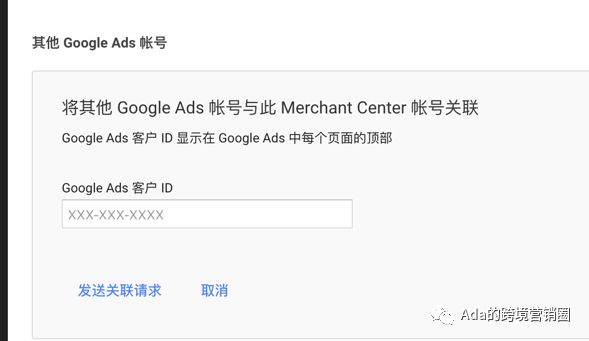 Log into your Google Ad Account, click Tools and Settings, and then click On Linked Accounts.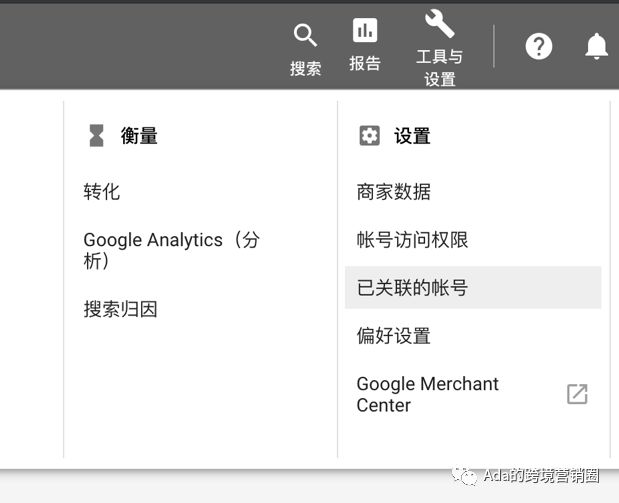 Find the Google Merchants Center and click on the details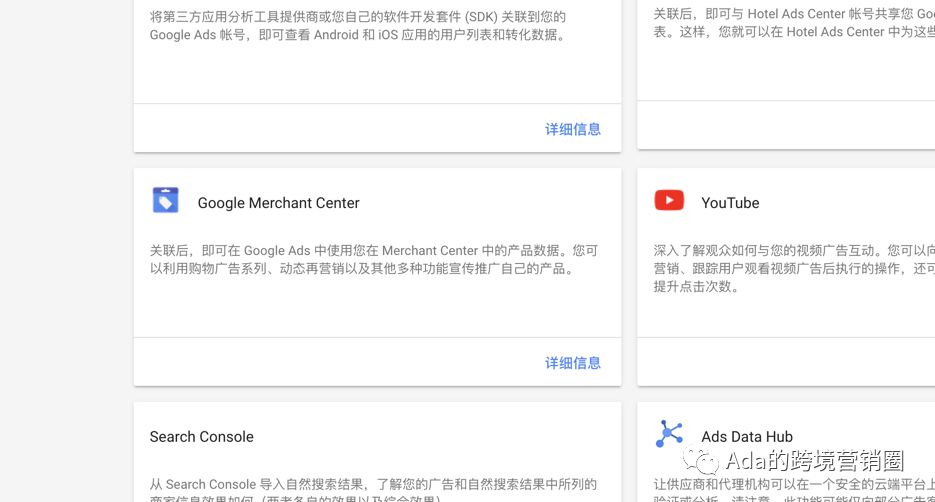 After the next few steps, click "Approve".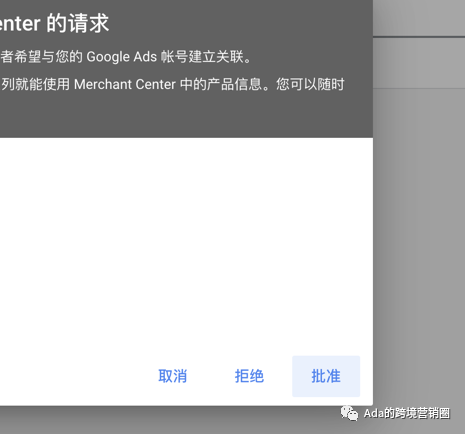 Step 6: Set up conversion tracking.

If you've already joined a Google Analytics account, just choose the fourth one.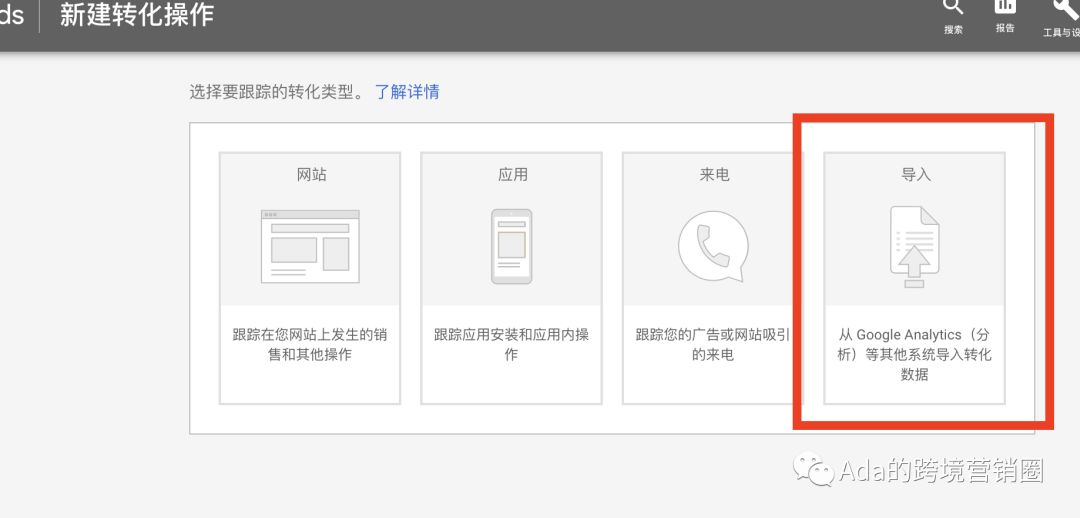 So all the configurations we need are complete. You can then release the PLA directly.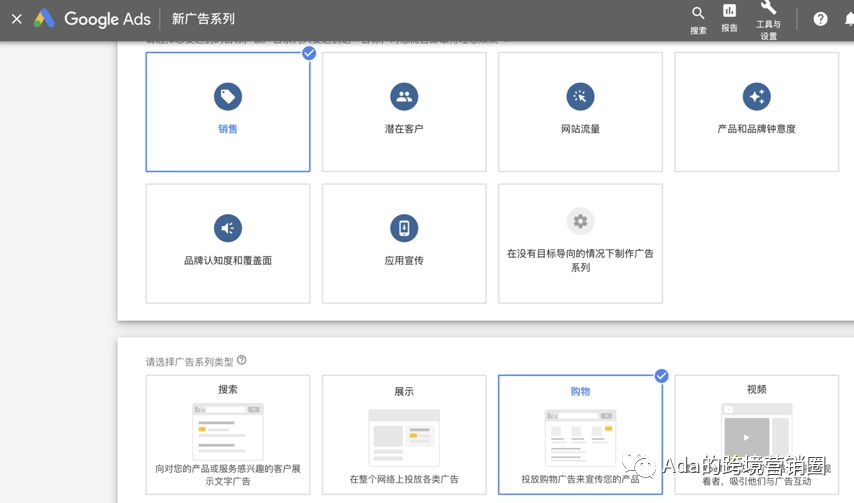 Before we release PLA, we also need to learn how to optimize our shopping ads and know exactly what the logic behind optimization is. I want to be the most troublesomeProduct data (feeds) begin with how to optimize。
How the Feed of Part 2 Google Shopping Ads is optimized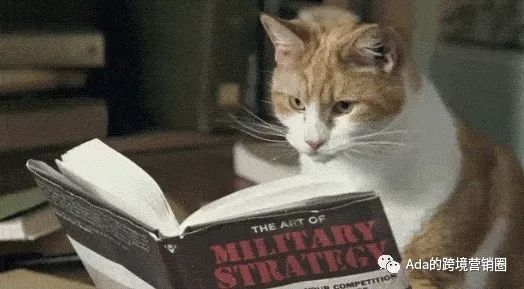 How do I optimize my uploaded product data?
Standard upload parameters include:
 id – title – description – google_product_category – product_type – link – image_link – condition – availability – price – sales_price – gtin – brand – mpn – identifier_exists。
Some categories also need to upload special parameters:
 item_group_id – color – size – gender – age_group – adult – custom_label
So let me talk briefly about the meaning behind each parameter and the points that need to be optimized for attention.
id
Product id is the product's unique identification code, followed by this and google to confirm which of our products specifically refers to, especially when we use supplement feed, we can use id to operate the supplementary content. We can use the SKU or SPU of the product, or we can customize: like 1, 2, 3, 4, as long as it is unique.
title
The product title is the text message that appears on the ad

You must not exceed 150 characters. But in fact, the ad only shows the first 35 characters of information, and we want to put the most important content first.
In addition, 75-100 characters of content can be displayed on the Google Shopping search results page, but the average user will not come to this page.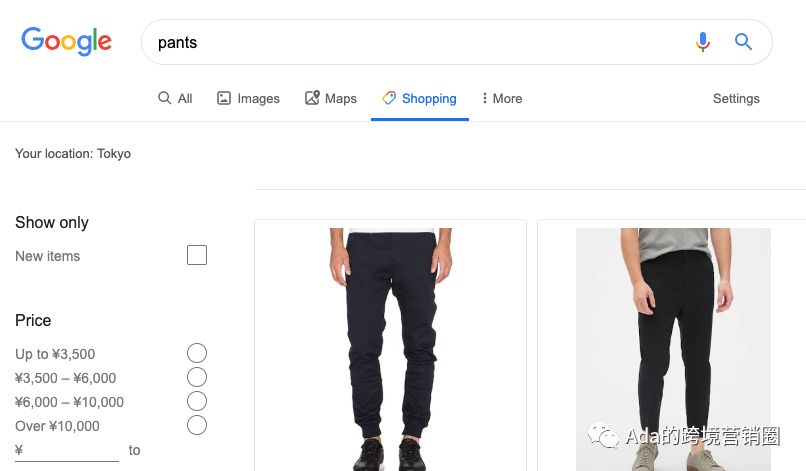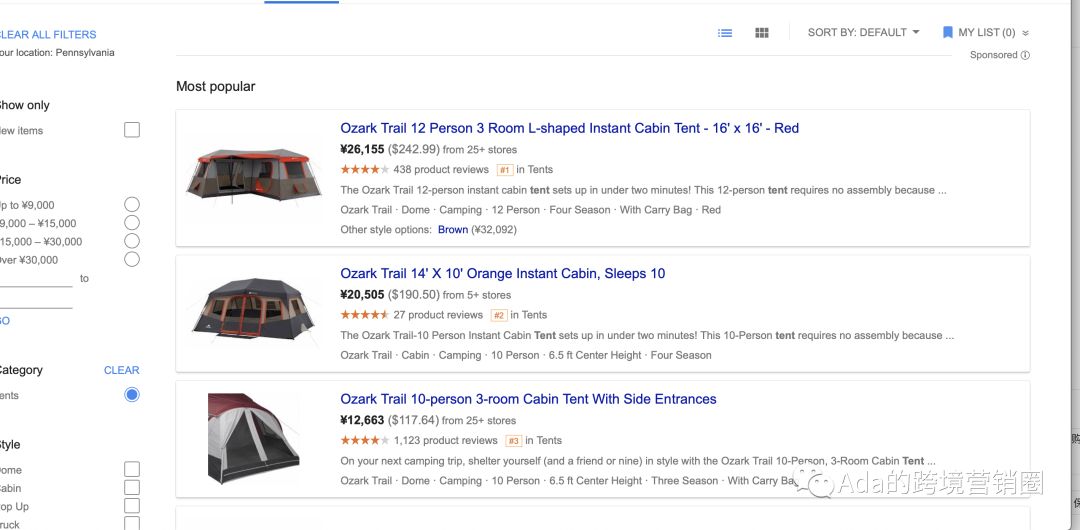 So the first 35 characters of the title need to fill in what needs to be combined with your target market crowd, they are looking for what special keywords such as: brand, category, size, model, etc. put them in front.
Studies have shown that good titles can increase click-through rates.
This structure can be followed before the title:
"Brands, categories, models"
Or.
"Brands, categories, colors"
Also if the structure of the entire title can be written like this:
"Brands, categories, models, sizes, materials, colors"
Don't put promotional content like "Free Shipping" on the title so it doesn't feel good.
By the way, a good title is also very good for SEO.
description
Product description is a description of the specific information of the product, it is best to include the user's concerns about product data such as: product features, 3D, use of the scene.
In addition, the product description does not appear in SERP, only in the "Shopping" section.

The description has a 5,000-character limit. However, only 175 characters are displayed on the product list page above. So put the most important content of the product in front. It also gives Google a faster understanding of what your product is.

Also, as with the title, do not appear in the promotional content.
google_product_category
Google's product category is to tell Google what category your product belongs to. But there is no need to provide this data now. Google can automatically identify what category your product is. If you want to provide it manually, refer to Google's catalogue of product categories.
If you don't have confidence, you can check the product's specifics in your Google Business Center, find the category, and see if it matches correctly.
In addition, the product category is as accurate as possible, because Google's classification is also very fine, so that more users can find your product.

product_type
The type of product is not required, but it is very important when it helps us organize the product classification.
Of course, we can also use custom labels as categories to create subclasses. However, setting up categories is a highly recommended basic classification method. Our PLA is also price-adjusted and optimized according to the grouping classification.
When you automatically transfer product data like Shopify, you'll usually put the following image here.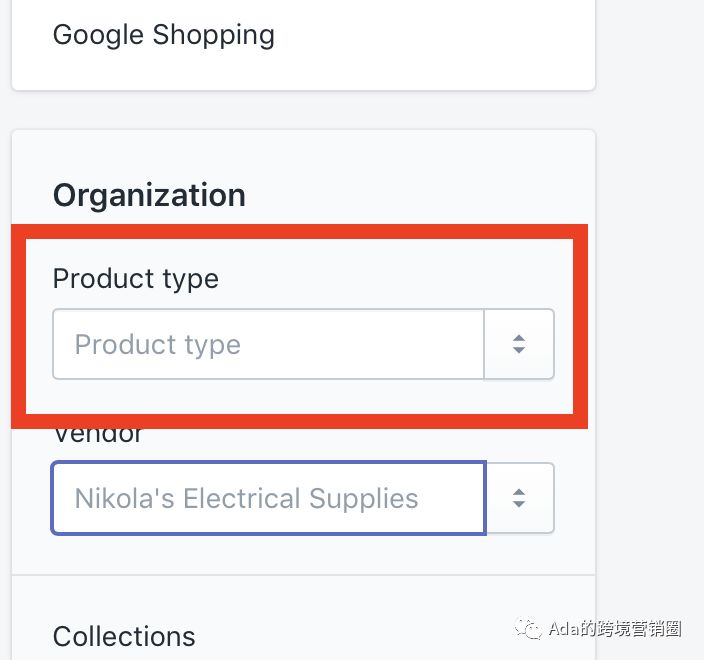 link
Provide a link to the product details page, including https://or http://sections. If you want to optimize the mobile side, the mobile side loading, picture size, you can provide additional mobile links.
image_link
This is a link to the main diagram. If you have multiple diagrams, you can fill additional_image_link the parameters.
Pictures are best provided with high quality pictures. 800px x 800px is best. But it's best to be taller than it is, and it's better to have a white background. It's best not to be smart enough to add click-on text or logos to your picture, which can look like a lot of work.
Some do Drop Shipping merchants, directly with the supplier's picture, some of the picture quality is not good, will make the picture quality is very poor.

condition
This is required and has three options: new, used or refurbished
availability
This is required and has three options: in stock, out of stock or preorder.
price
Product price and currency, required content. Prices in different currencies must match the prices of your website, including different currencies and different countries.
sales_price
Promotional prices are not required, but if set, promotional information will be displayed to customers to improve the performance of the display.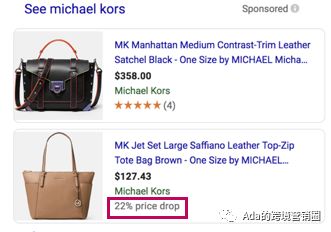 Again: condition, availability, sales price, and price these products Google will be strict requirements. Once there is a difference with your website, it will be blocked. So be sure to update your uploaded product data frequently.
gtin
Gtin is GTIN's Global Trade Item Number, the product's unique logo. You can simply think of him as a commodity barcode. There are four types of codes internationally, depending on where your product is used:
· UPC 12-digit North America
· EAN/UCC 8, 13, 14 digits are mainly used in countries other than North America
· JAN 8, 13th place number Japan
· ISBN is used for unique identification of books
You can use one of them.
brand
Product brand name, do not fill in your storefront name.
mpn
This is the code provided by the supplier. If you don't fill in the gtin, you'll have to fill in the Mpn.
identifier_exists
There are two options: true, false. If you sell custom, or second-hand products to choose false, google won't let you provide gtin and mpn. The default is true.
Also, don't fill out the false smartly, it doesn't match the product information correctly.
For most products: 2 items must be filled in for brand, gtin, and mpn. But sometimes suppliers don't know the code of the product, so we need to check it ourselves. For example, we can log in to website queries like upcitemdb or barcodelookup.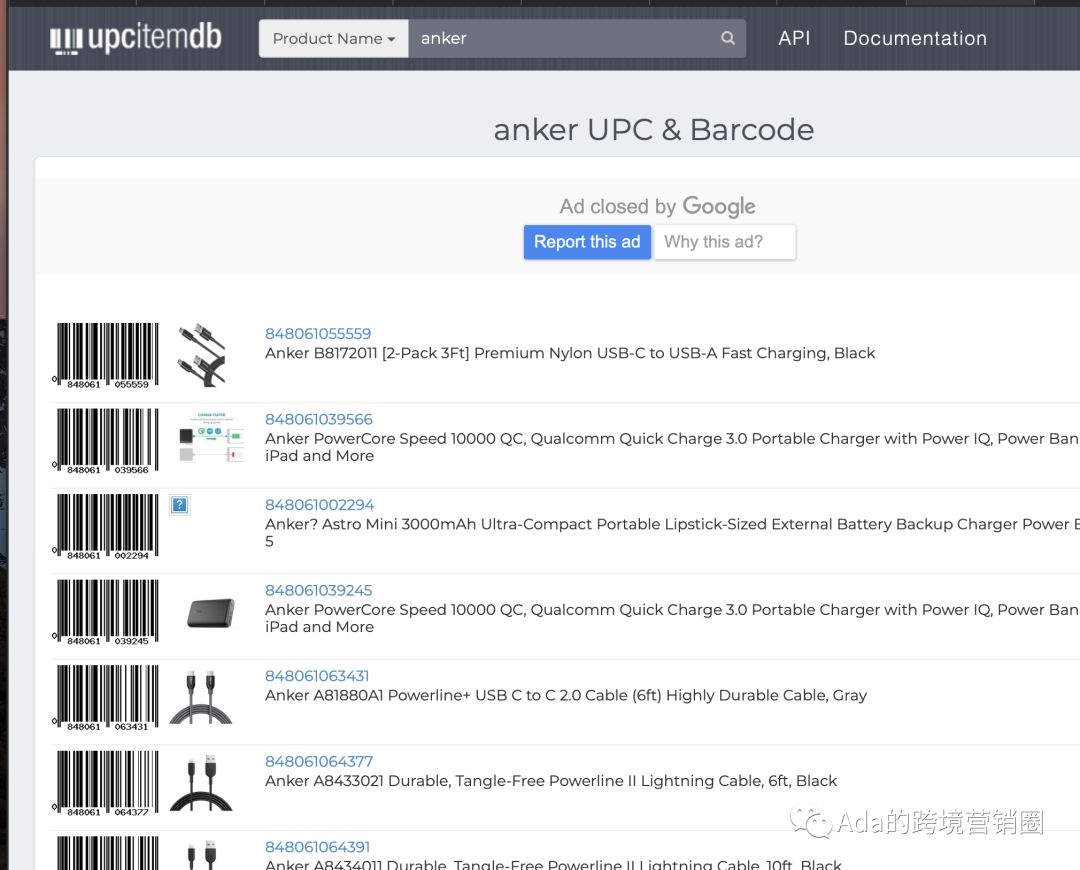 It's also worth noting that if you use the correct coding, google will know exactly what your product is. But if not, then google can only identify your product by your title and description, so you are likely to miss some keyword matching, because the product is not only one name, users search for other calls, perhaps your product can not be searched. So use the right coding as much as possible and you'll share the traffic from different keywords with your competitors. Because the same code is the same in Google's product database, so is the logic of matching.
Special product parameters
Special product parameters are special categories, or in special cases, additional required content, such as apparel products.
item_group_id

If the product has different specifications such as color, size then this option is very necessary to fill in. Because of this content, users in Google Shopping can choose the size:
Additional parameters are item_group_id for the same parameters. Like what:
格子衫 32 :item_group_id :32——color:blue —— size:32 —— age group :adult
格子衫 34 :item_group_id :34——color:green —— size:34 —— age group :adult
color
The contents of the apparel color must be filled in. The content is filled in with a specific color name.

If you have a variety of colors, you can submit them with a backslash, such as red/blue/yellow
gender

Gender is currently also required in the clothing category, with 3 options: male, female or unisex.
size

Size is currently also required for clothing categories, fill in the size parameters to ensure consistency. Do not mix with different size standards.
If the size includes 2 dimensions can be used in this way: 34/36.
如果只有一个尺码可以填写:one size, OS, one size fits all, OSFA, one size fits most, or OSFM
age_group

Age groups are also currently required for clothing categories, and the current options are:
New: 0-3 months

infant: 3-12 months

Toddler: 1-5 years old

Kids: 5-13 years old

adult: 13 years and older
This group fill-in will help users match when searching for age keywords, such as: "dress 2 years"

In most cases, the "adult" is filled in.

custom_label_0-4
Finally, we'll talk about custom tags, which are labels used to group products into groups and are typically used to optimize advertising. For example, if we want to take out some special products for special festivals such as "Double 11" to increase exposure, we can use this grouping to classify them.

Google Merchant Center policy
In addition to filling out the feed, we often log in to our Google Merchants Center, and sometimes we submit information that will go wrong, and Google will suspend our product display until we fix the problem.
Landing page policy

Google also has requirements for product landing pages, such as not being able to submit invalid links or chaining all links to the home page. In addition, the site popup is also required, if blocked the page, Google is not allowed. Specific requirements can be accessed:
https://support.google.com/merchants/answer/4752265?hl=en&visit_id=636978132999948018-1276898790&rd=1
Refund return policy

In the website must fill in a clear after-sales operation method, if the site does not explicitly appear, then the account will also be suspended.

In addition, after the account is corrected, submitted to the Google Merchants Center, a few hours to 3 days can basically be resolved. Google will send someone to your website and account to see the content of the changes, and if the situation is urgent, you can call customers to speed up the progress.

Google Merchant Center feed rules

This feature is equivalent to implementing the editing function of the website in the Google Business Center, so you can edit product information on the website without having to edit it here. Mainly to see where everyone edits convenient bar.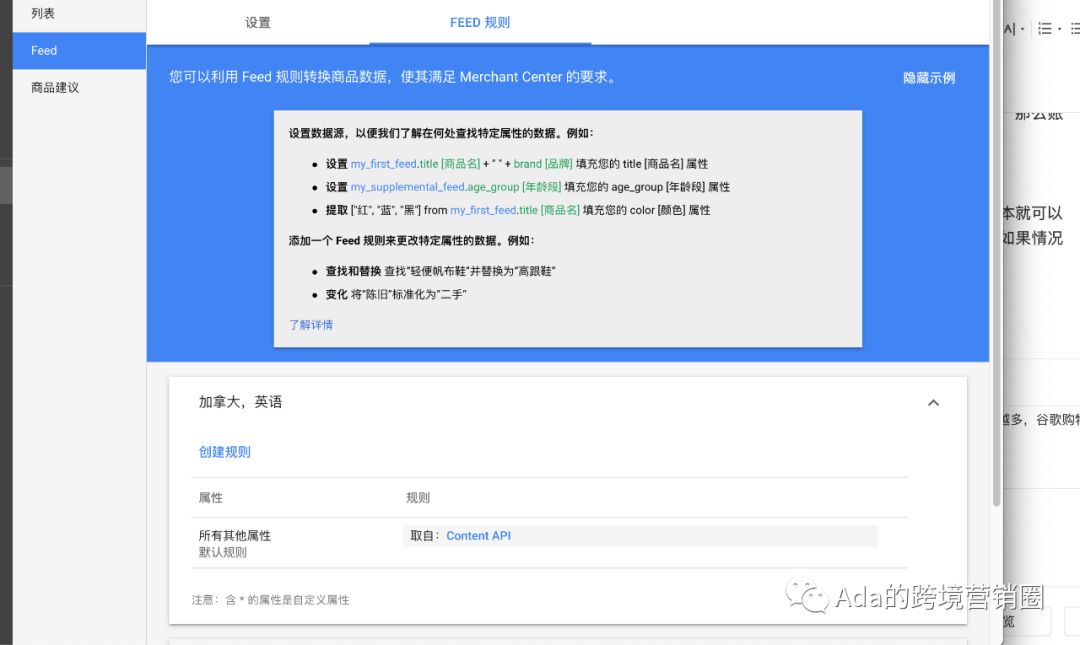 In addition, upload product information is actually troublesome, no technology students need to manually fill out the form upload, but similar to Shopify provides an app plug-in can organize and upload on their own, the operation is more fool, can be reluctant to use, because some parameters fill in is not very complete.
Supplemental Feed
There are times when we need to update some field content for the Feed we upload, such as we want to sort out the best-selling products individually, or separate the products that are ready to do double 11, then re-editing the main Feed can be very cumbersome, we can use supplementary Feed.
I recommend uploading supplement feeds that you can use Google Online Documentation, entrance to the following image (adding supplements feed Google will let you choose):

Because the product supplement Feed such words, can be edited by more than one person. We can have small partners in operations, or research partners, single out products that require special optimization budgets and place them on this online document for joint maintenance.
Entrance: Merchant Center, feed, bottom, click to add a supplement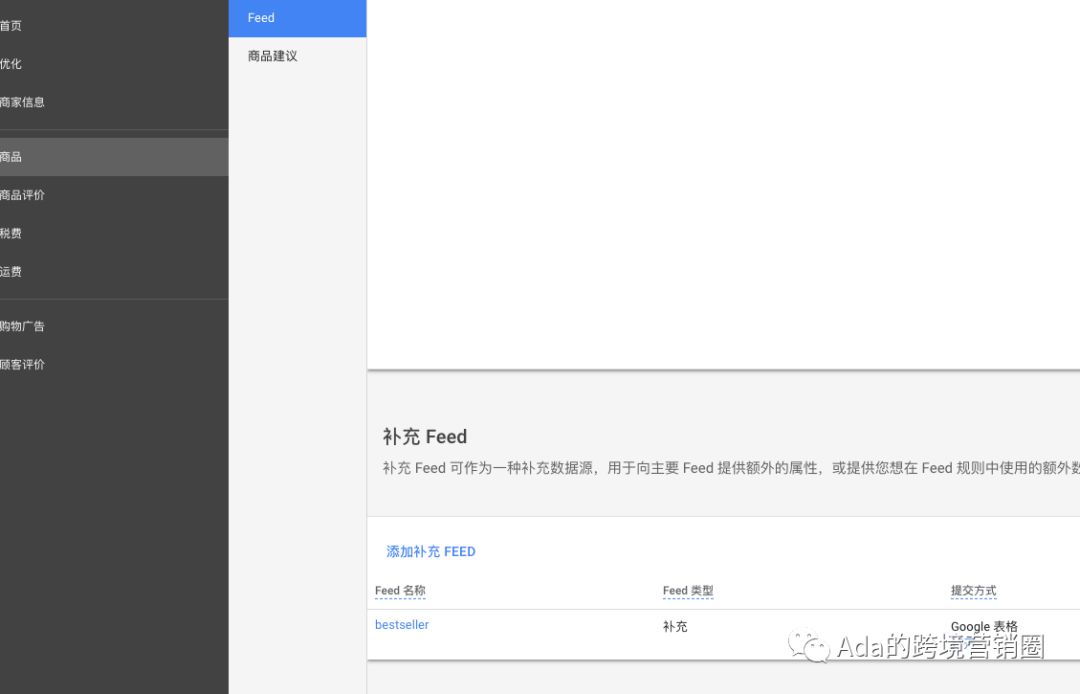 Also uploaded the first column of the document is the id I previously provided this field, this id is to tell google which product you are specific to supplement. Example: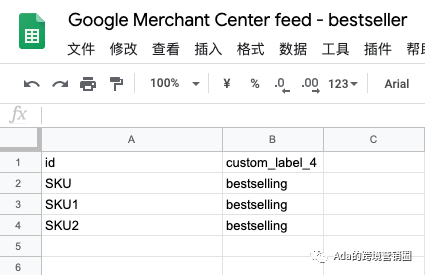 Product upload information optimization and business center optimization is over, then we also need to optimize our PLA ads.
Because the optimization of product information, just give us PLA advertising down a good foundation, did not learnHow to optimize your ad budget, which is equivalent to not learning.

How Part 3 Google Shopping Ads Are Optimized
There are a few points I'll look at to optimize PLA:

1, bid strategy
2, regularly monitor your competitors
3, negative keywords
4, group optimization
Bid strategy
PLA advertising bids are divided into 2 types: manual, automatic.
The core logic of a bid strategy is to increase or decrease the maximum click-through and cost-to-click (CPCs) for your ad based on your product's performance.

The easiest way to do this is to use PLAManual Bid Strategy (Manual CPC):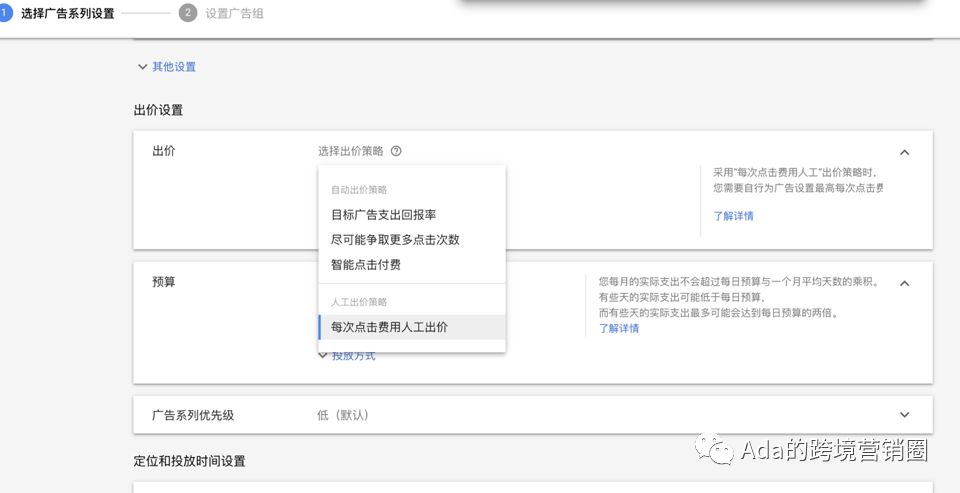 How do I do this?

For example, if your PLA ad has a product that sells well, but doesn't have many clicks, you can adjust by adding a maximum click bid of $0.2.

Get as many clicks as possible (Maximize clicks)

This is an automatic bid strategy, ads know the cheapest cost of clicks, it automatically adjusts the bid.
We didn't click early on, and we didn't know how to optimize our bids, so we could use this automated approach.
Smart Pay-per-click

Smart pay-per-click (or tick-off Smart Pay) is similar to manual bids, but Google can automatically adjust the maximum click bid based on conversions, the technology explains, explaining that Google uses additional similar crowd information to match your bid. This bid strategy recommends that you have enough clicks in different product groups, so if you use this bid, you can get enough clicks with a manual bid before using it. It is also possible to combine different combination bid strategies to more fine-tune the application of smart bidding, after all, the user data judgment and conversion data judgment is still different, not to mention different festivals, different categories and competitors intervention.

Target Ad Indicates Return (Target ROAS)

Setting this bid strategy means very simple, for example, the setting in the figure below is that I can get 4 yuan for 1 dollar.

But if the ROAS setting is higher, there may be fewer orders per month.

This setting requires us to have enough conversions, as if 20 order data were available.
Ad optimization is much easier if you can set up a ROAS bid strategy.

But sometimes convenience can also cause problems, advertising set up ROAS is not a big success, we also need to detect ads may be problems. Special factors, such as competitors' promotions, can affect automated data processing.
In addition to the bid, our first consideration is how reasonable the CPC is right or wrong? If the CPC doesn't meet the industry average, then we're probably dragging our feet.
First of all, it is important to know the current industry average, you can refer to the following category average CPC to optimize your bid (or ask agents, peers now HOW much CPC ah):

Average Shopping Cost Per Click (CPC)
| | |
| --- | --- |
| Industry | Average Shopping CPC on Google Ads |
| Medical Supplies |  $0.63  |
| Health & Beauty |  $0.87  |
| Child & Infant Care |  $0.36  |
| Pet Care |  $0.82  |
| Clothing & Apparel |  $0.69  |
| Food & Alcohol |  $0.42  |
| Home & Garden |  $0.58  |
| HVAC & Climate Control |  $0.47  |
| Automotive Supplies |  $0.56  |
| Travel & Luggage |  $0.40  |
| Entertainment & Events |  $0.48  |
| Educational Supplies |  $0.83  |
| Computers & Technology |  $0.89  |
| Office & Business Needs |  $1.09  |
| Art & Music |  $0.34  |
| Chemical & Industrial |  $0.66  |
The data comes from WordStream in May

In addition CTR (click-through rate), CVR (conversion rate) data as a late-stage creative, ranking optimization reference is also important, please refer to the table below:
Average Shopping Click-Through Rate (CTR)
| | |
| --- | --- |
| Industry | Average Shopping CTR on Google Ads |
| Medical Supplies | 0.87% |
| Health & Beauty | 0.74% |
| Child & Infant Care | 0.71% |
| Pet Care | 0.68% |
| Clothing & Apparel | 0.76% |
| Food & Alcohol | 0.91% |
| Home & Garden | 0.90% |
| HVAC & Climate Control | 1.12% |
| Automotive Supplies | 1.20% |
| Travel & Luggage | 0.99% |
| Entertainment & Events | 0.92% |
| Educational Supplies | 0.94% |
| Computers & Technology | 0.55% |
| Office & Business Needs | 0.65% |
| Art & Music | 0.76% |
| Chemical & Industrial | 0.89% |
Average Shopping Conversion Rate (CVR)
| | |
| --- | --- |
| Industry | Average Shopping CVR on Google Ads |
| Medical Supplies |  2.94% |
| Health & Beauty |  2.78% |
| Child & Infant Care |  2.20% |
| Pet Care |  1.07% |
| Clothing & Apparel |  2.70% |
| Food & Alcohol |  2.16% |
| Home & Garden |  1.31% |
| HVAC & Climate Control |  3.30% |
| Automotive Supplies |  1.29% |
| Travel & Luggage |  2.07% |
| Entertainment & Events |  1.98% |
| Educational Supplies |  1.88% |
| Computers & Technology |  2.20% |
| Office & Business Needs |  2.45% |
| Art & Music |  1.77% |
| Chemical & Industrial |  0.83% |

The data comes from WordStream
Monitor your competitors regularly
PLA ads aren't just about you, your competitors are also publishing PLA ads. Researching your competitors' ads gives you more inspiration to optimize your ads.
Research on competitors can be viewed in the background of Google ads. How to get in:

Log in to GoogleBehind the scenes of an ad, click on the campaign, click on Spot Analysis, click on the shopping ad


You'll see the adImpression share (IS)

The meaning of this data is very simple, for example, 100% display share is when a user searches for keywords related to your product, your ad always appears in his eyes. (Generally speaking, brand search we always want to be in the front row.) )

There are 2 reasons why it doesn't appear in your users' eyes:
1, the budget is insufficient
2, advertising ranking is too late
In addition to the 3 data of shopping ads we can analyze like this, entrance: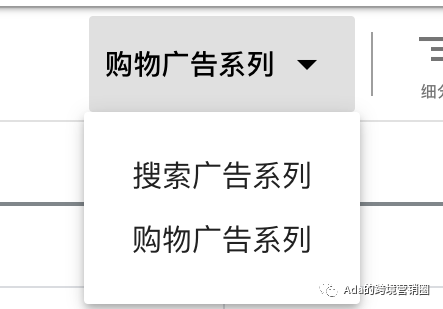 The data for this report can be viewed as simple as this:
Overlapping rateIt's how often your ads appear with other businesses, and if your competitor's product is the same as yours, and your frequency is low, then there's a problem:

1. Budget too low?
2, product information correlation is too low?
....

Then take a look at the optimization with questions, and it's not going to unfold here.
Ranking winning rateIt's your product that exceeds your competitors. If the ratio is generally low, you see that most of your competitors are big sellers like amazon, etsy, ebay, which means that these big sellers are also increasing their budgets on these products, and the best thing to do is to find out which products they're spending so much money on. There are tools on the market to analyze this piece. I'll have a chance to talk about it separately.

Keyword optimization

In the background shopping ad optimization, we can see a list of keywords, which shows what keywords users search for to see your product.


Deny irrelevant keywords
For example, we can deny some colors, sizes and other keywords that do not meet our audience. Other strange keywords are also on the list here, and we look at the data to exclude them.
Competitor keywords

Sometimes we see competitor keywords in this list, such as "pants and amazon", which sometimes lead to orders, so we also need to look at the actual CTR and CVR.

In short, the optimization of keywords, we want to see the actual ranking performance, combined with the situation of competitors to exclude keywords. Our keywords CTR, CVR and our competitors are all closely related. In addition, the lily market and different categories of markets are actually different circumstances, we have to analyze according to the specific situation.
Group optimization
PLA's fine price adjustment is basically in the product group this operation. Product groups are not grouped by default and are all products available in our Feed. If you want to group products by category or custom groupings that we set up, you need to set them up when we submit feeds, which are mentioned above.

Grouped, you can price each group individually.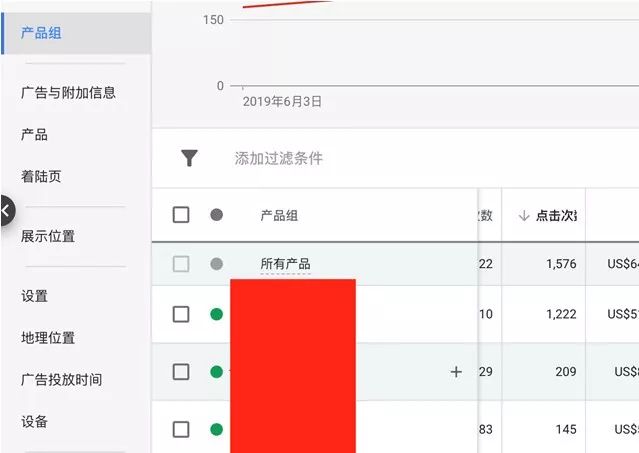 Grouping action method: Back-office shopping campaign, click on the product group, put the mouse on the ""All productsYou can open the grouping panel when you see a "plus" sign.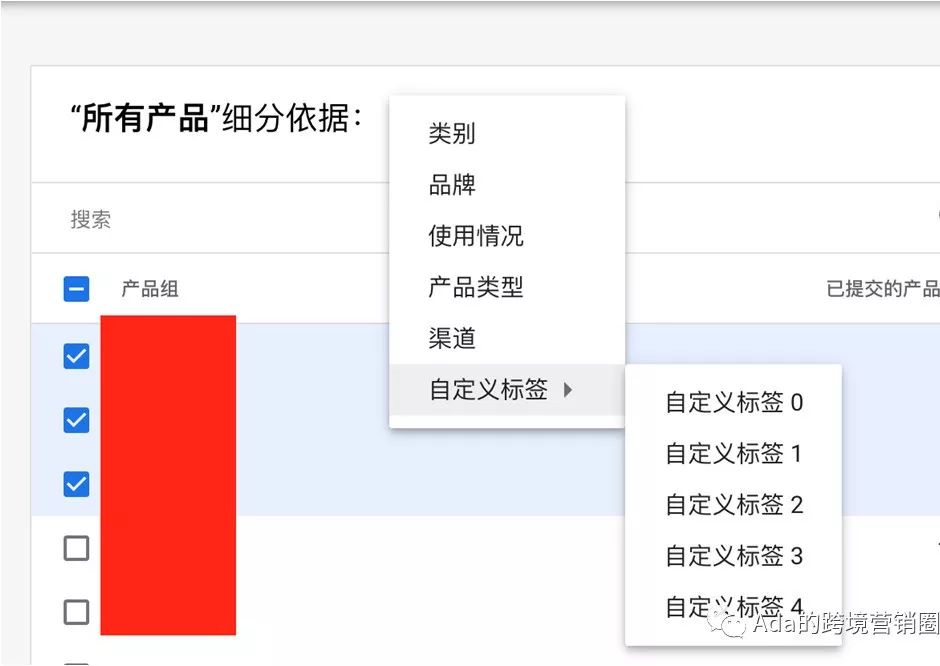 Each group can then be further refined into two-tier groups.

Level 2 team,We can organize bids according to different crowd situations such as:
Low price - Skirts . .  Mid-price - Skirts . . High price - skirt

Or different product strategies, such as promotional policies, testing, etc., to organize groups.
My simple listing is just to tell you that group optimization helps improve our advertising performance.

These are the getting started guides for Google shopping ads. People who don't understand can collect it, now know about it, and then come back to see how to do it. Understand the people, I also hope you can learn something through this article.

More.For exciting content, please add WeChat's public number:
👇Ada's cross-border marketing circle👇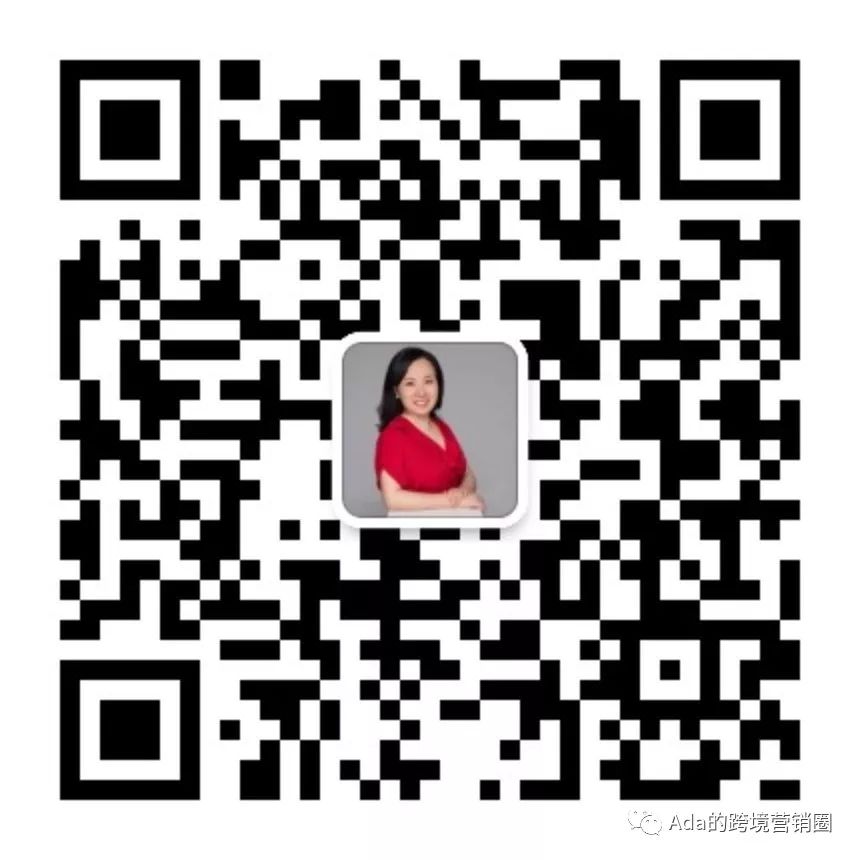 👇 please add WeChat for cooperation👇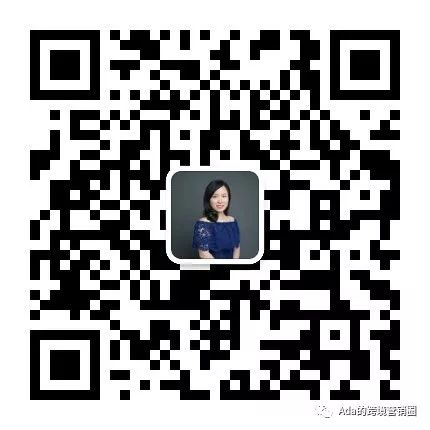 ---