How can Amazon break the duopoly of Google and FB when it enters the online advertising market strongly?

"Both Google and Facebook are fat by eating other people's lunches, but Amazon may be the only company strong enough to eat both as lunches."
Martin Sorell, founder of advertising giant WPP, told Wired about Amazon's threat to Google and Facebook, and its late start in digital advertising. Despite all the exaggerations, there is no denying that Amazon has begun to eat into the market share of the two giants. Amazon, which has changed and captured the online retail market, is committed to a new, high-margin area: online advertising, and is fast becoming a major competitor to Google and Facebook, the New York Times reported on September 4th Beijing time.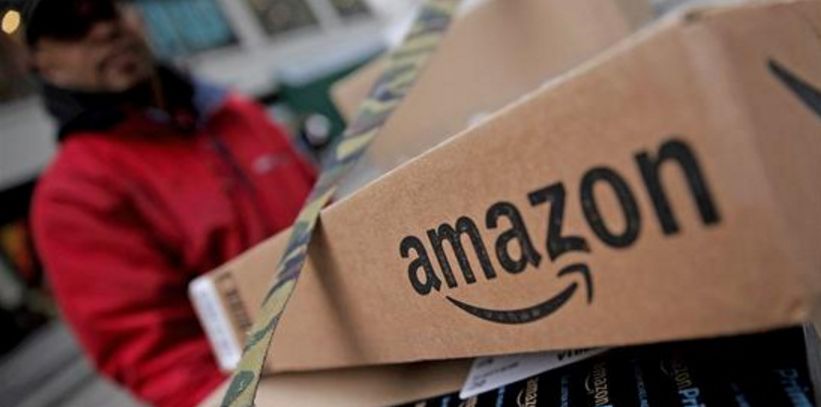 In its most recent second-quarter results, Amazon's advertising revenue rose 130 percent to $2.2 billion. The growth reflects its potential as a digital advertising giant, with Alex DeGroote, a media analyst at securities firm Cenkos Securities, predicting that Amazon will have an $8 billion share of the North American advertising market and $20 billion in global advertising by 2020. So why is Amazon's advertising business so popular? And what will it do to break Google and FB's duopoly?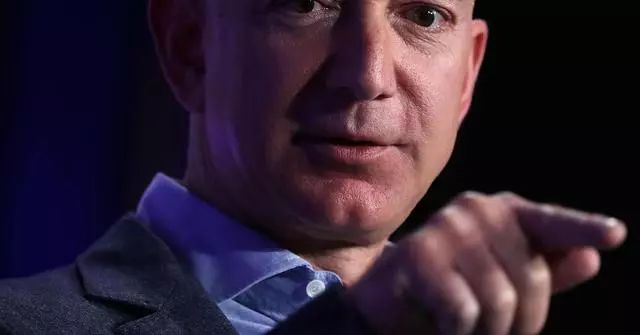 Google and FB are in a crisis of confidence
Amazon is becoming a new favorite of advertisers

In fact, Amazon's advertising business could grow so fast in 2018 that it has been linked to scandals at Google and Facebook, in addition to increasing its advertising layout. Data security has long been the focus of attention for brands and consumers, and the ongoing scandals at Google and Facebook that have exposed user privacy have not only disgusted consumers, but have also led advertisers to rethink their advertising channels. In the after-50 million-user data breach, the British Advertisers' Federation, which includes fast-food giants such as Unilever and Procter and Gamble, said it would consider ending its partnership with Facebook.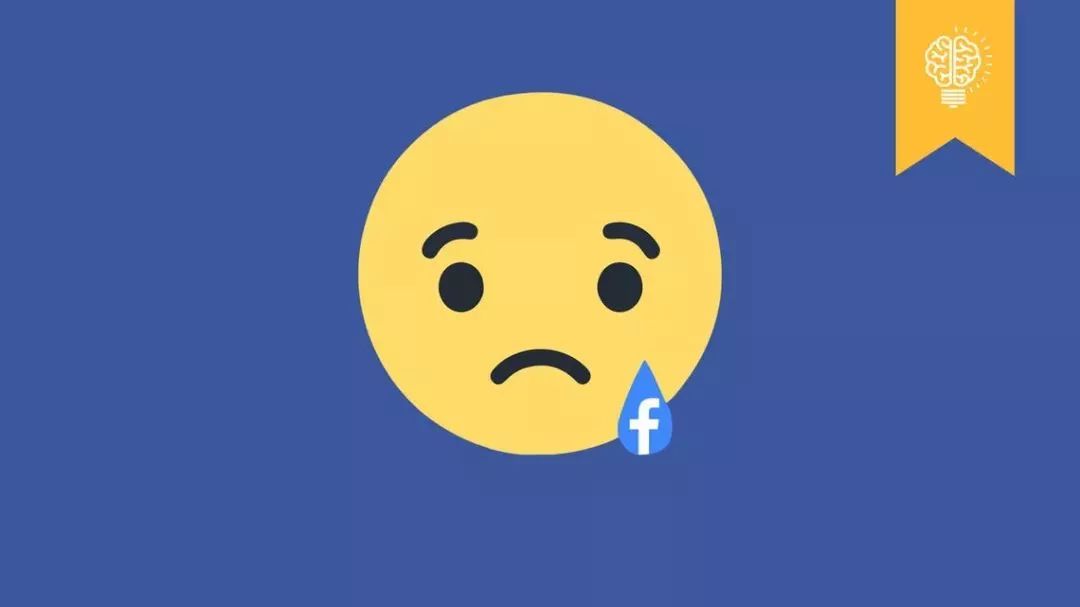 By contrast, Amazon's data is primarily in-site search data, not so easy to leak, and Amazon has its own unique advantages. As an e-commerce platform, Amazon has a vast amount of consumer data that predicts consumer behavior based on customers' browsing and purchase history, helping brands deliver ads more accurately and efficiently on their websites. What's more, when users see ads on Amazon, they can shop directly without having to jump to the page and search again. That's not what Google and Facebook can do.

And research shows that many consumers tend to use Amazon when looking for product information. The proportion of first-time searches is between 31 and 55 percent, and a study by Kenshoo, a marketing technology company, shows that 72 percent of people actually browse Amazon when they want to know about the product online before they actually buy it. Where there are users, where there is marketing, brands tend to advertise on Amazon is naturally a matter of reason. Seth Dallaire, Amazon's vice president of global advertising sales and marketing, has said amazon is also working directly with a number of brands. HP and Lego have both worked directly with Amazon, which is becoming the new darling of advertisers.

Take advantage of natural search
Create a range of advertising products

There is no denying that direct brand cooperation with Amazon can greatly improve marketing efficiency, but to do so, can not be achieved without the help of tool products. Data show that searching the site to find the seller's products is the most important way for consumers to complete their consumption on Amazon. The direct streaming of in-site search is Amazon's natural advantage as an e-commerce platform, so creating search advertising products is undoubtedly an important step for Amazon to enhance its advertising business.
Amazon ads currently have three types of advertising products, namely, promotional ads, headline search ads, and the brand's flagship store. Product promotion is a click-per-click ad designed to capture Amazon's visits by increasing product exposure, promoting items in search results and product detail pages, targeting relevant keywords and attracting people who are ready to spend.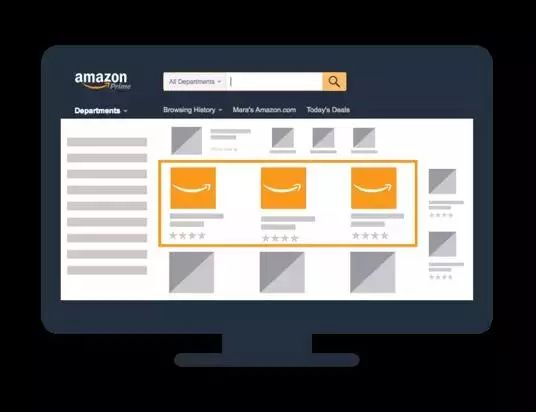 Amazon merchandise promotion ads

Headline search ads are also ads that target keywords and are billed by clicks. The headline search shows the merchant's brand logo, three products, and a custom headline. Not only can the product be displayed in the prime location of Amazon's search page, but it will also enhance shoppers' awareness of the brand. Shoppers will be allowed to access the product collection page or the pages of Amazon's flagship store by clicking on the ad.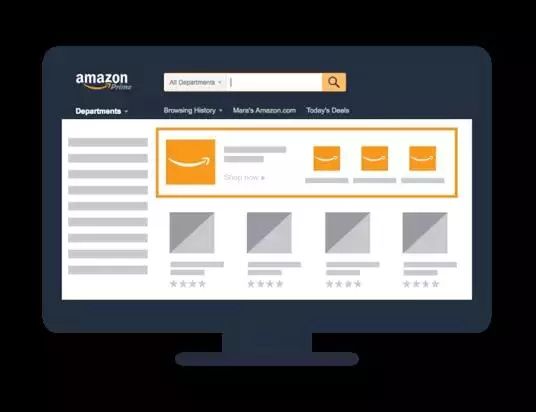 Headline search ads
The brand flagship store is a brand-centric multi-page shopping store. Merchants can create brand flagship stores for free, add pictures or videos, showcase new or best-selling products, and use widding to provide a customized experience for each shopper. Amazon also offers a reporting tool to optimize traffic at its flagship store, the brand's flagship dashboard. The Perspective dashboard not only views the number of visits to a brand's flagship store, page views, and sales generated by customers viewing pages by page or traffic source, but also creates a source tag for the brand's flagship URL URL to track traffic from specific sources.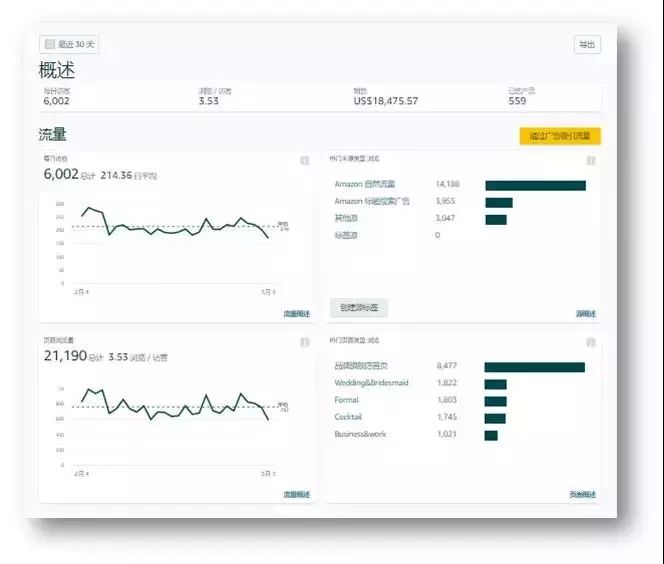 Display ads and search ads complement each other
Capture the advertiser's heart

Whether it is product promotion, headline search ads, or brand flagship stores, are through the consumer's search behavior analysis to optimize advertisers' advertising, the crowd conversion path is a single, single station search conversion force is obviously thin. Off-site conversions are just as important, and Amazon's other advertising product, AAP Display Ads, helps merchants deliver accurately off-site. AAP display ads are a programed delivery platform for Amazon display ads in two creative forms, a regular static banner and a Dynamic E-commerce Ads (DEA), or dynamic e-commerce advertising.
The entire ad space of a dynamic e-commerce ad is divided into images and CTA (Call toAction). The image section can be available between the seller's design and Amazon's grab seller's product map pushing ASIN. Search ads are triggered by keywords to grab people who want to buy for sellers, and display ads are to let sellers take the initiative to target the business through 7 crowd-oriented ways to accurately serve the business, the two complement each other.

Seven ways to target people
Amazon's advertising products on the brand's transformation effect is also obvious, founded in 2011 outdoor clothing brand An Zhi, is the use of foreign outdoor sports boom and Amazon merchandise promotion, has become the leading online outdoor brand. In the early days, Angie also encountered the situation of insufficient exposure of goods, in order to reverse this situation, An zhi began to use Amazon station advertising products promotion, after gradual optimization, exposure has been greatly increased, the first month of advertising products sales accounted for 60% of the total sales.
Significant conversion results are bound to deepen the brand's recognition of Amazon's ad line, and it's only a matter of time that advertising revenue will rise. And as users increasingly choose to search for product information on Amazon, it will further encourage advertisers to spend more on Amazon, which has overtaken Google and Facebook for the future.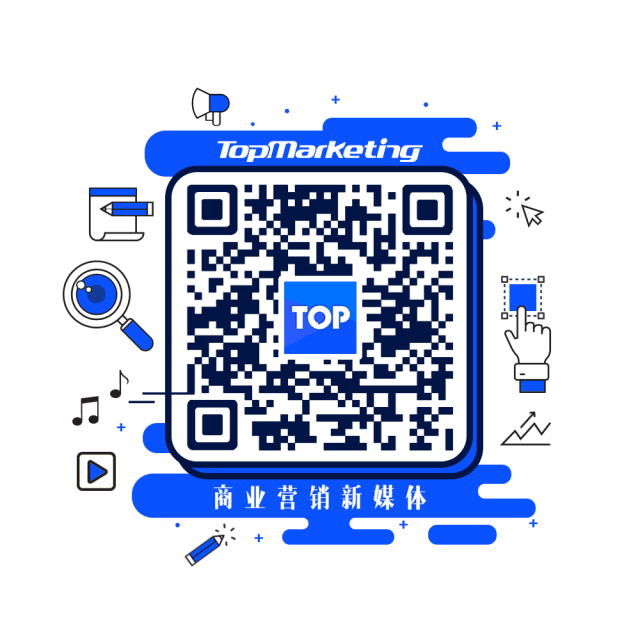 ---