Google Ad Optimization Tutorial - 5 Keyword Match Types for Google Ads (In-depth Analysis)
To run Google keyword ads, you have to understand several common keyword match types.
A lot of new to Google ads, when you're operating a Google ad account,
Because the wrong keyword match type was chosen, resulting in a large advertising budget spent, can not find overseas customers.
WordPress Garden provides customers with professional Google ad account optimization and keyword research,
You will often document some useful experiences and strategies and share them with you.
So in this tutorial,
We will work with you in an easy-to-understand way (not simply to translate documents),
Describe the types of matches for Google keyword ads.
And at the end, recommend which keyword match types are best for you.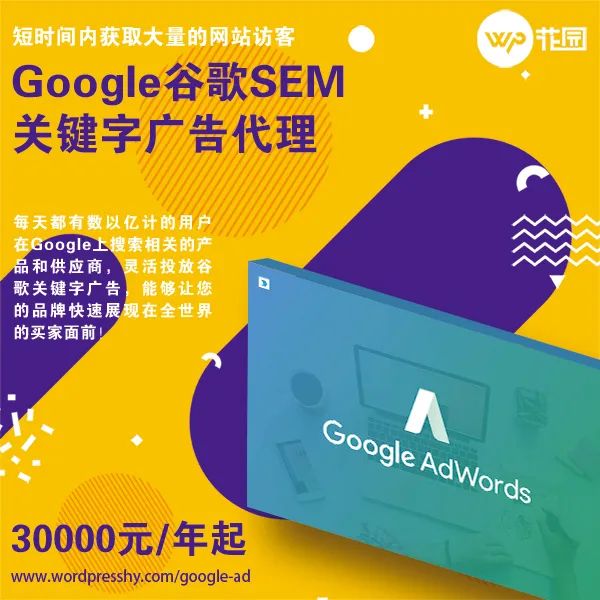 When we used WordPress to make a stand-alone station for foreign trade,
In order to quickly let everyone know about our website,
Often open a Google advertising account and then set up some keywords related to the company's products,
When an overseas user searches for these keywords on Google, they'll click on your WordPress foreign trade stand-alone station.
This is a common Google ad running logic.
But
Many nods often don't set the number and accuracy of their keywords behind the scenes when using Google Ads.
(Even if Google ads actively pushes some relevant keyword suggestions in the background,
As a result, a lot of money was spent and there was not enough effect.
So there are a lot of reasons why Google's advertising ROI is low.
The wrong keyword match type is one of the most important factors!
Let's give you an example.
For example, if you're selling men's shoes for man, in the back of Google ads you rack your brains to come up with 10 shoe-related phrases,

For example, blue men's shoes blue man shoes, red men's shoes and so on, and unfortunately set up a perfect match mode (what is the exact match mode, we will discuss below).

This leads google, the search engine, to find your 'carefully set' search customers for these weird keywords in order to bring traffic to your site.

Because you set up 'precise matching', which results in a small number of people meeting your search needs, Google will have to work hard to find customers, so your unit price is often very high.
Google ads such as Google Adwords keywords match the wrong settings,
We've seen a lot about WordPress Garden to help customers optimize their Google Advertising accounts, which will be detailed below.
Broad Match is widely matched.
As the name suggests, in Google ads,
Broad matching is about getting all users to show your ads when they search for words that have a little connection to your ad keywords!
Sounds good, we all want as many customers as possible, right?
Be careful, if you've all set up a broad match, you'll spend a lot of Your Google ad budget on non-target customer base!
Or take the men's shoes men shoes just now, if you use a wide range of matches, then someone may see your ads when searching for girls' shoes wommen shoes or men's clothes men's clothes!
This broad match is one of the easy mistakes that all New Google advertisers make.
Remember, you can't get anything!
So when choosing Google ad keywords, don't choose to match broad matches widely.
Unless you're rich!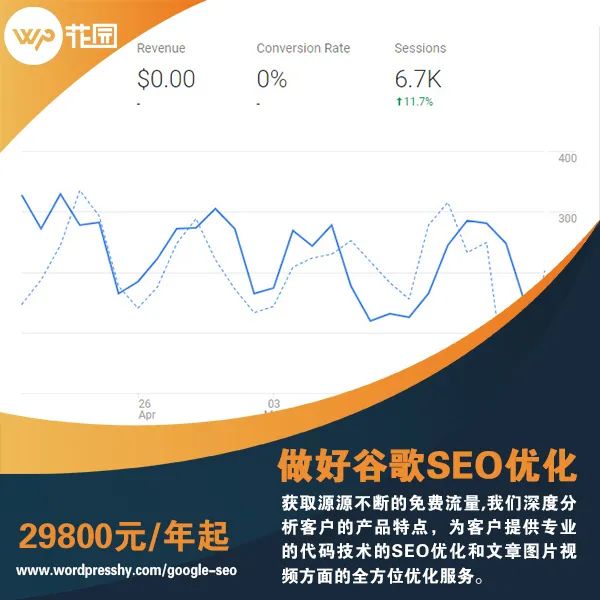 Extensive modifiers match Broad Match Modifier.
This is one of our favorite Types of Google ads keyword matching,
It's also a common strategy our WordPress Garden uses to help customers optimize their Google advertising accounts.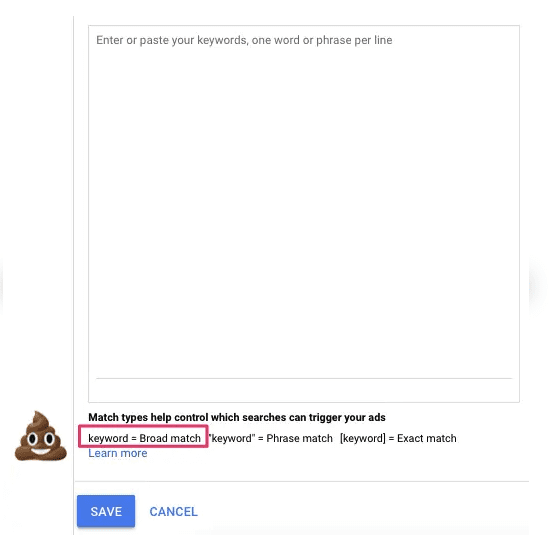 So why is the wide-ranging modifier in Google ads matching Broad Match Modifier (a foreign god likes to be called BMM) popular?
Let's take a look at his form first:
When setting keywords for Google ads, you'll need to add a modifier Modifier with a "plus" in front of each word, so it's called a 'broad modifier' match.
Don't look down on this plus sign, he is a good helper for your customers who will continue to live in the future.
Take, for example, men's shoes shoe men. In the background of Google ads, you want to set the following status:
+shoe +men
will be a wide-ranging off modifier match.
Such a matching pattern will match all sentences or keywords that contain both the word shoe and men, such as:
Blue shoe men

Men hiking Shoe

Shoe men with low price

Men Nike shoe with discount
Compared to the 'broad match' that the comer does not refuse,
Google's 'extensive modifier matches broad match modifier' with precision and scalability.
So it's one of our most commonly used ad keyword matching patterns.
The phrase type matches the Phrase Match.
If you find the broad match modifier still a little too elusive (because sometimes disrupting the order of phrases often leads to less precise customers),
Then phrase type matching may be more appropriate for your product.
Behind the scenes of Google ads,
Set the match of phrase types by using double quotes.
Or take our men's shoes as an example, which is how we set the phrase to match the phrase match:
"men shoe"
Then the following keywords will be matched on:
Blue men shoe

Men shoe with low price

Men shoe nike
However, such a keyword group cannot be matched:
Men hiking shoe

Shoe for men

Men nike shoe
The reason is simple, because we set men and shoe to have to appear in order at the same time.
For our long-standing Google Keywords google adwords customers in WordPress Garden.,
We'll set up two ad groups, one of which is a broad match modifier ad group with a wide match modifier,
The other is the phrase match type phrase match ad group, which, after several weeks of running, looks at which ad group is more efficient.
It is estimated that many friends who have just come into contact with Google Ads,
Should be very familiar with exactly matching the Act Match pattern,
Because everyone more or less knows that broad matches burn money,
So I think we should use more to exactly match such a 'conservative' model to find accurate customers.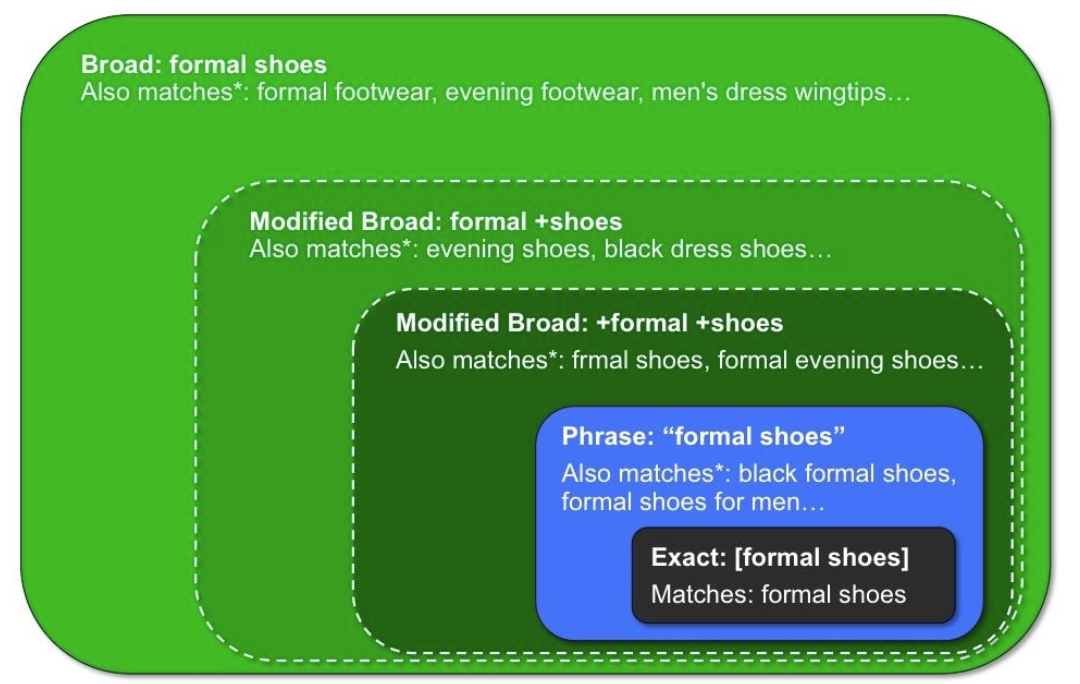 But unfortunately, exactly match the pattern, if not used well, but will cost more money!
Why is this happening? The exact match in Google ads in Google ads brings customers,
It shouldn't be very precise, should it?
In fact, there are two reasons:
The so-called precision keywords you set are often just the ones you feel are accurate, and you don't necessarily have to search for them (so you need keyword mining tools like semrush to help you at this point).

Because it's too precise, Google has to put extra effort into helping you find these few customer traffic, so the unit price goes up (but the customer volume doesn't go up)
Friends who know a little about Google ad will slowly bypass the so-called exact match pattern.
But
Is it really worthless to match exactly what happens in Google keyword ads? So why would Google set him as one of the default options?
In fact, when we help customers optimize the ROI of Google's advertising account, we occasionally test the performance of some long-tailed keywords with a pattern that perfectly matches the fact match.
What the? Don't you understand what a long tail keyword is? Then take a look at our WordPress-related articles!
We'll use the semrush keyword mining tool to find some valuable long-tailed keywords and then match them exactly.
For example, if we're looking for a potential customer for a "25-year-old red men's soccer shoe", we'll set up an exact match mode like this:
[25 years old red football men shoes]
In this way, when someone searches the 25-year old red football men shoes group on Google, your site will be displayed, with one more word and one less word.
Negative keyword Negative Match.
This keyword match type is the easiest to ignore.
But it's the one that saves you the most money!
I'm not kidding, it's really saving money!
What's going on? Let me walk slowly.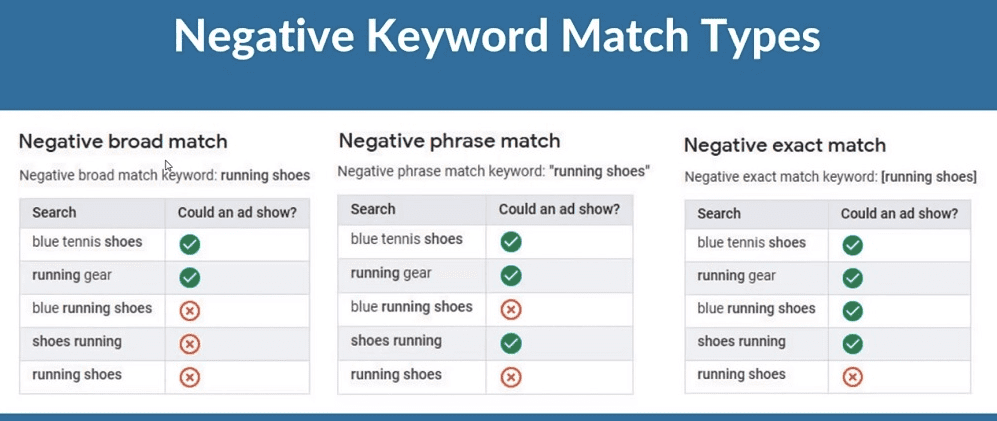 When you run ads with these keyword matching types for a few weeks, you accumulate some data and, of course, some customers (hopefully).
At this time, many people will not continue to specialize in Google advertising, feel that the current situation seems to be very good, live.
But as a professional Google ad account optimizer, We WordPress also look at some additional data in the back of Google keyword ads to help customers improve their Ad ROI.
So why look at negative keywords?
Because by looking at some of the statistics behind the ad, we find that there are some customers that are not our target customers.
Let's take men's shoes as an example, and we might see:
Amazon men shoe

Free men shoe

Men shoe DIY
So including search tendencies like amazon/free/DIY is not what we want.
So, we're going to veto them!
Behind the scenes of Google ads,
You can easily set negative keywords and customize your own list of negative keywords.
In another WordPress article, we'll dive into how to optimize negative phrases.
Don't forget to check more!
The conclusion of the WP garden.
Okay, learn here.
Believe that you should know which Google ads keyword match type is worth our investment?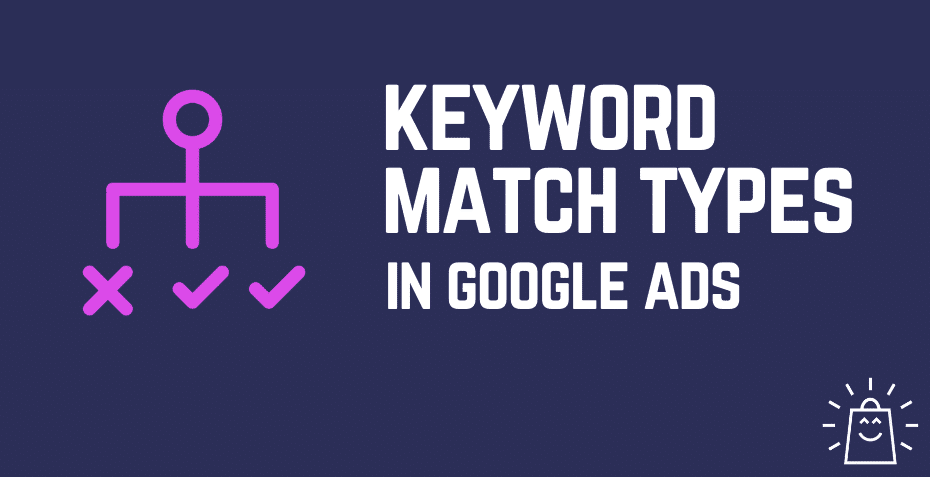 To sum it up here,
Extensive matching of modifiers and phrase matching allows us to optimize the two types most commonly used in Google ads.
And look at how negative keywords are used.
WordPress Garden helps customers optimize Google Keywords wide accounts
Often based on the semrush software to find a large number of valuable product long tail keywords for everyone to put.
If you don't know how to open an account with Google Keywords, please contact WordPress Garden!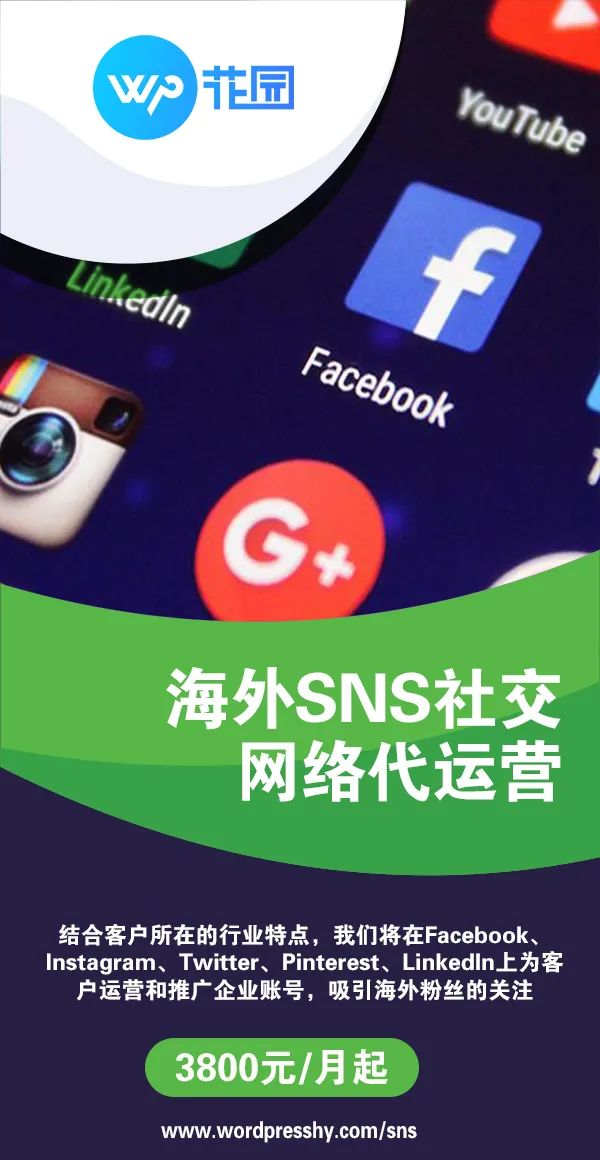 The past is wonderful.
WordPress Baidu SEO Optimization Tutorial: Fair allocation of website keyword tips.

WordPress website Baidu SEO optimization tutorial: long tail keywords.

WordPress New Video Tutorial 9: Global information settings such as site title and subtitle.

WordPress Novus Video Tutorial 10: Common must-have plug-ins Plugin recommended and installed.

WordPress Novies Video Tutorial 11: Which is better for theme template Theme?

WordPress Novies Video Tutorial 12: User Reviews of Management.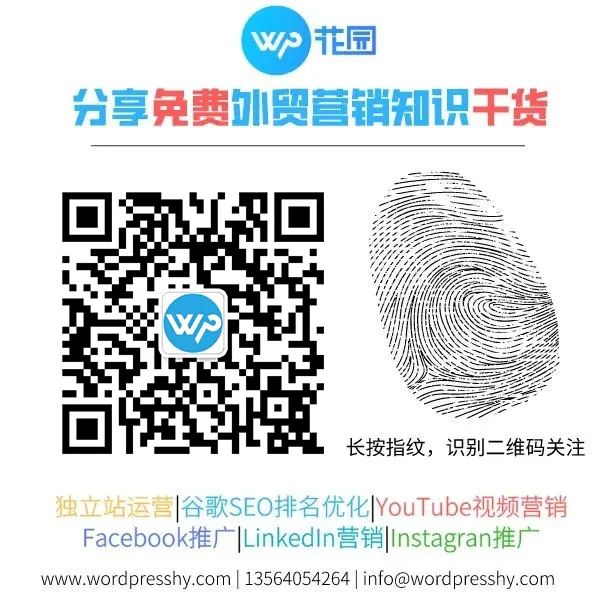 Click on "Read the original" below to view it.Our services.☺
---